"The Taming of the Shrew"
Les Ballets de Monte Carlo
Forum Ludwigsburg
Ludwigsburg, Germany
July 23, 2022
by Ilona Landgraf
Copyright © 2022 by Ilona Landgraf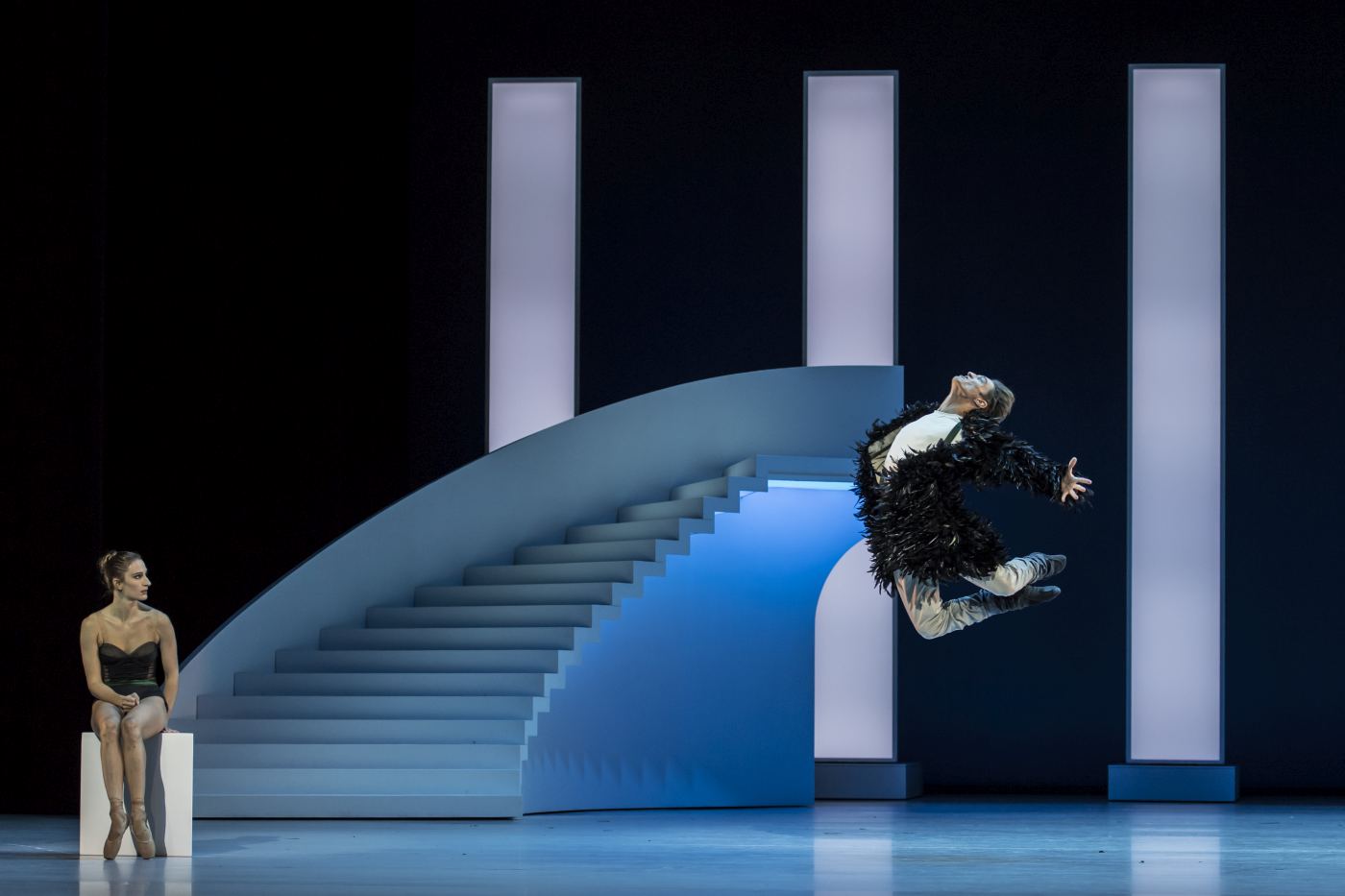 The gender dynamics depicted by Shakespeare in "The Taming of the Shrew" render it one of his most controversial plays. Staging it risks setting off a litany of accusations. Some deem the comedy to be misogynistic, chauvinistic, and sexist. Nevertheless, Jean-Christophe Maillot found the guts to choreograph a new adaption for the Bolshoi Ballet in 2014 that has become hugely popular. In 2017, he modified it for his own company – Les Ballets de Monte Carlo. Last weekend, the troupe performed the piece on tour in Ludwigsburg.
Following the lead of earlier choreographers of the work, Maillot omitted Shakespeare's frame story (the drunken tinker Christopher Sly is fooled into experiencing a make-believe world). The frame story allows the central story (about Baptista's struggle to marry his two daughters – the much-courted Bianca and the wayward Katherine) to appear so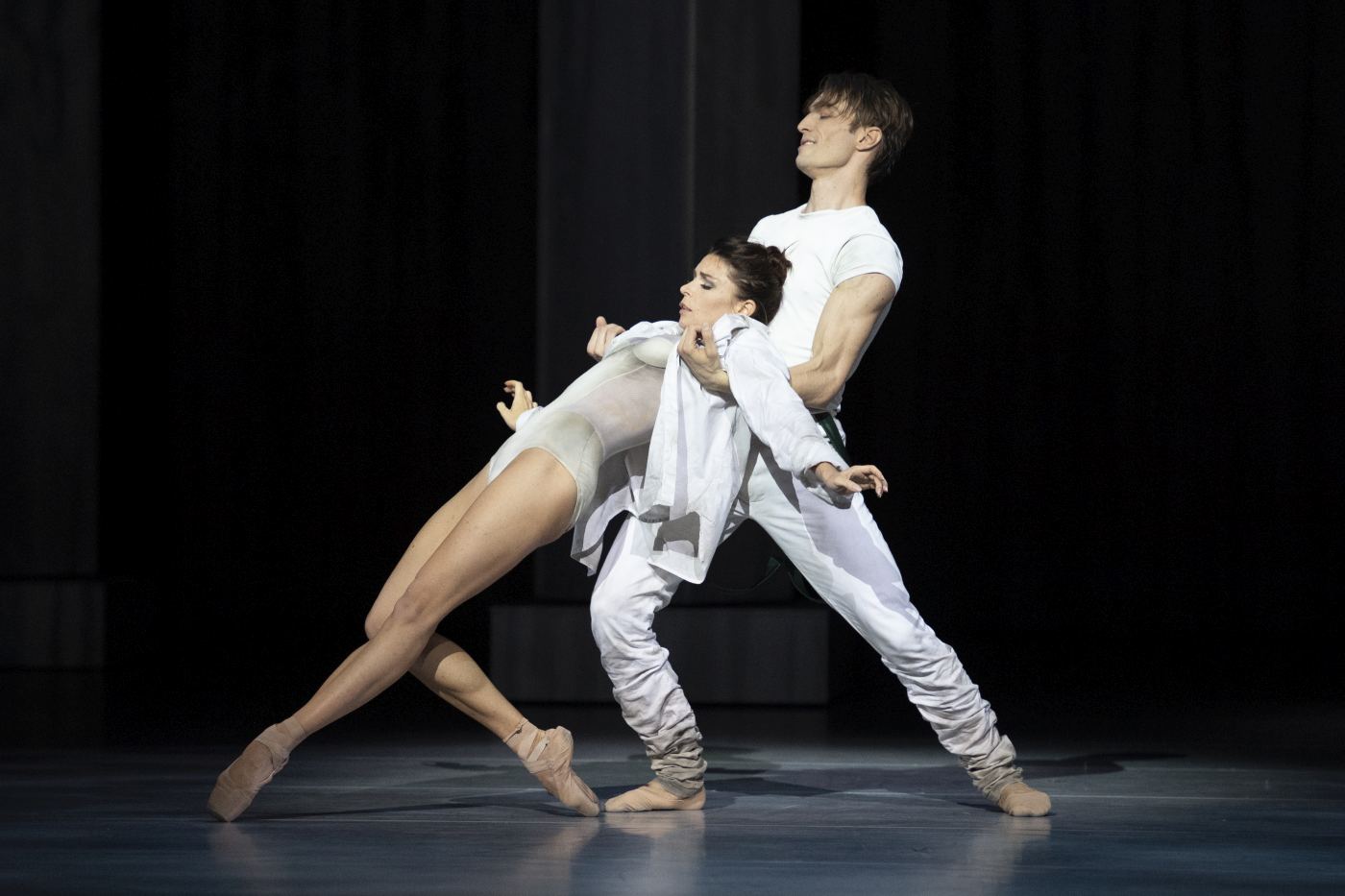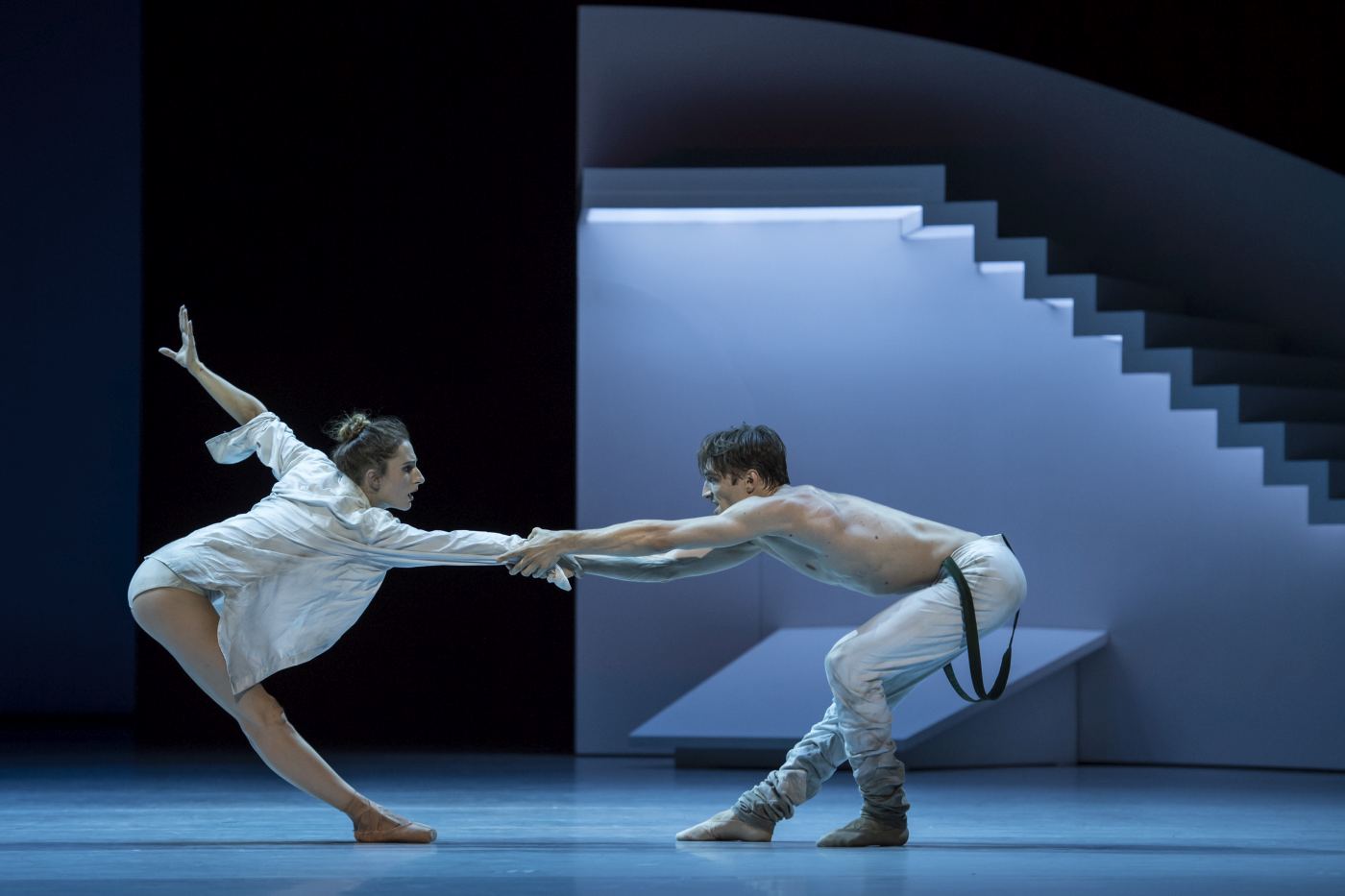 implausible that the critique mentioned above practically does not apply. Instead, he chose to tweak some of the main characters' motives. His "Kate" (Alessandra Tognoloni) is eager to find a partner but is unable to admit it. Sure, she's cantankerous, bitchy, and terrifying to men – but these are merely errant compensations for an unconscious desire that is soon to be awoken by an involuntary kiss. Assessing Maillot's Petruchio (Francesco Mariottini) is difficult. Is he really that vulgar and sexist (and later tamed by Kate?), or does he merely play-act? In any case, he's no bounty-hunter, and longs for Kate. Her oh-so-virtuous sister Bianca (Katrin Schrader) reads as simpering arm candy rather than as dream wife. She ultimately marries the refined and caring Lucentio (Jaeyong An), her love-at-first-sight. It later becomes clear that he's a bore.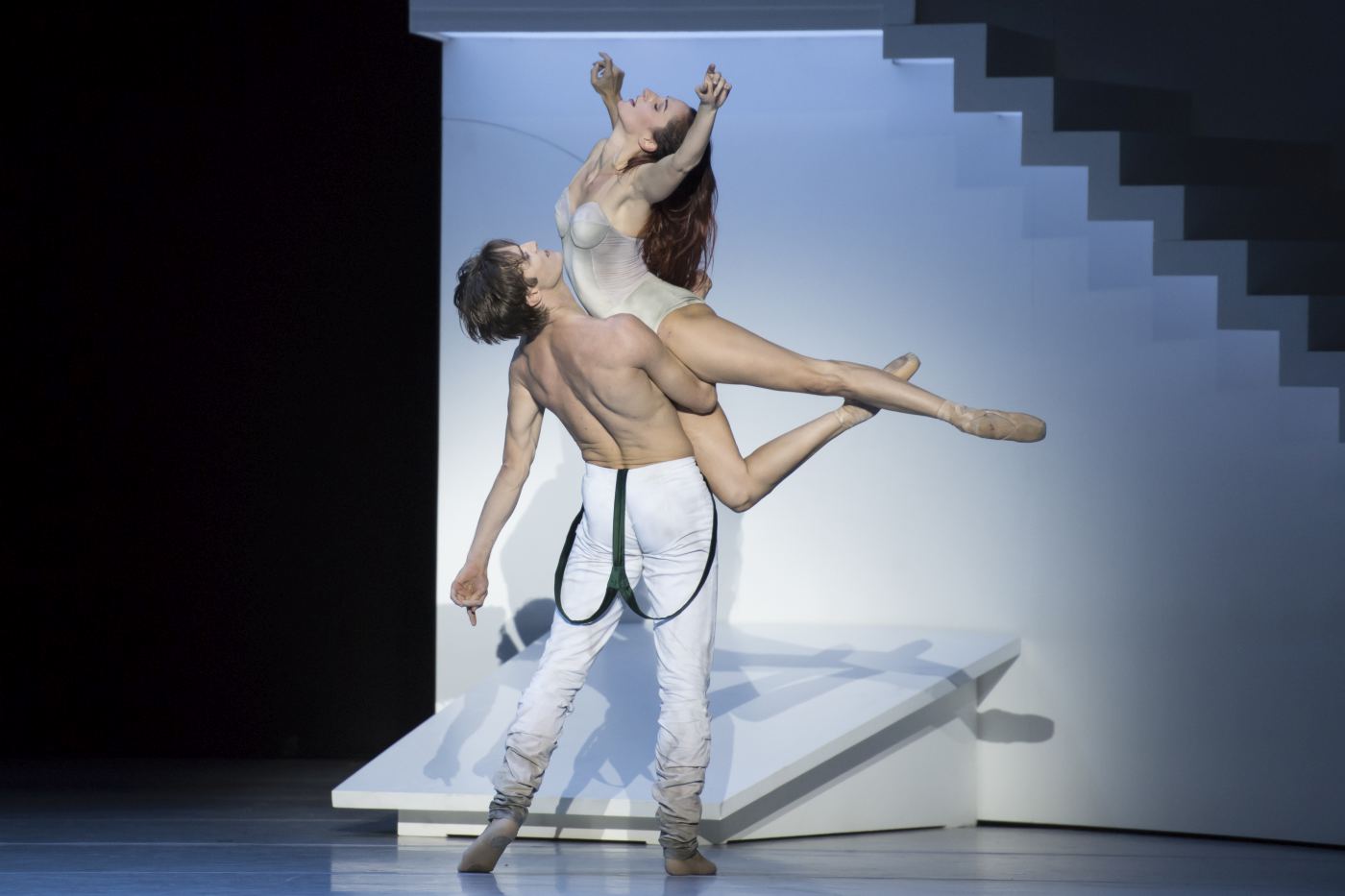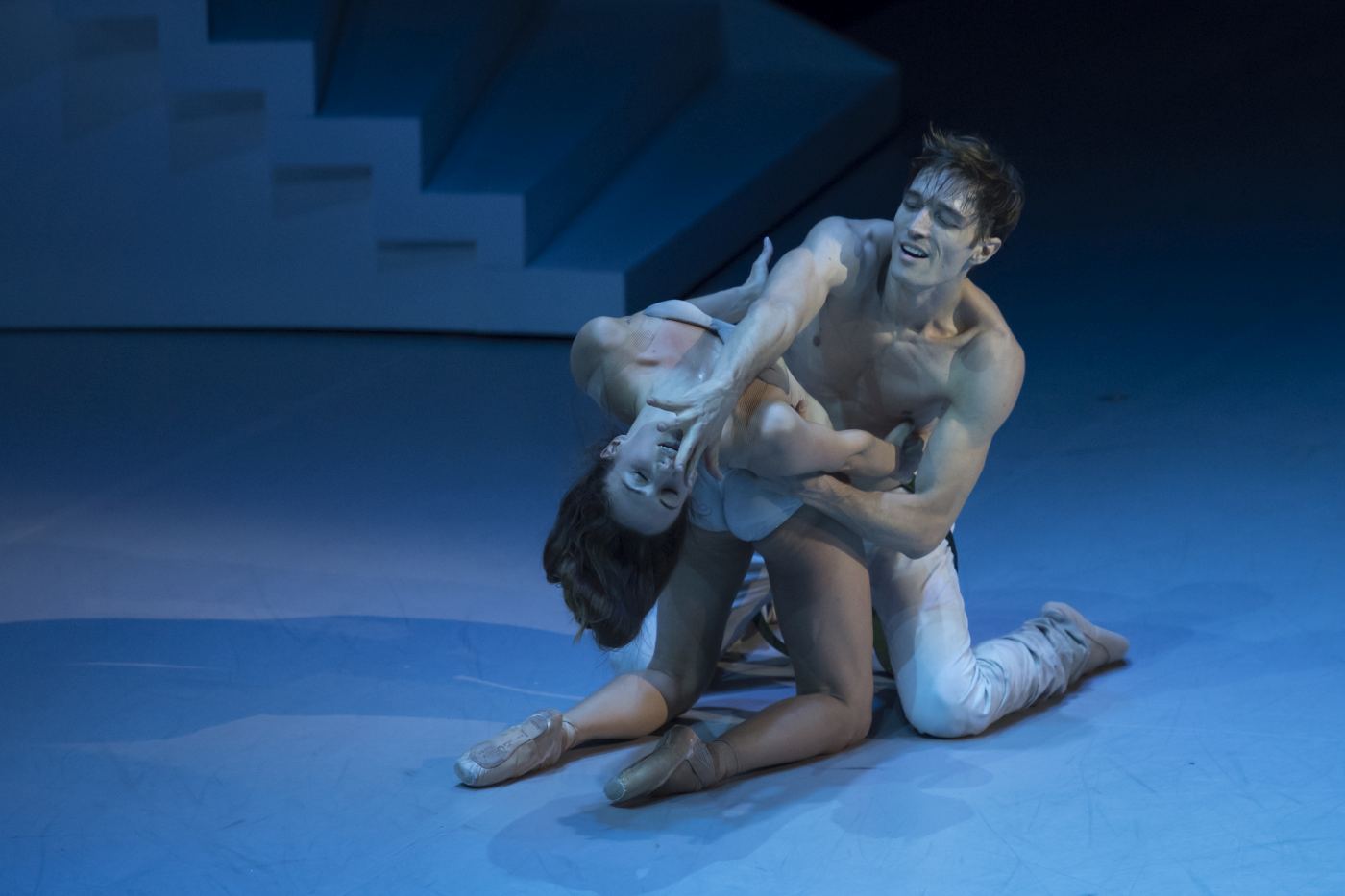 Just as every Jack finds his Jill, the two suitors rejected by Bianca conquer other lonely hearts. The sleazy Gremio (Michael Grünecker) – as hot for women as he is for bling – hooks up with the sexy housekeeper (Victoria Ananyan) who works for Baptista (Jaat Benoot). Her presence appears to surface some of Gremio's lost decency. The overconfident and macho Hortensio (Cristian Assis) is attracted to a beautiful widow (Candela Ebbesen) who, unfortunately, soon becomes a pain in his neck. Only the two most unorthodox and independent characters – Kate and Petruchio – having sufficiently locked horns and played mean games, enter into a happy and bright romance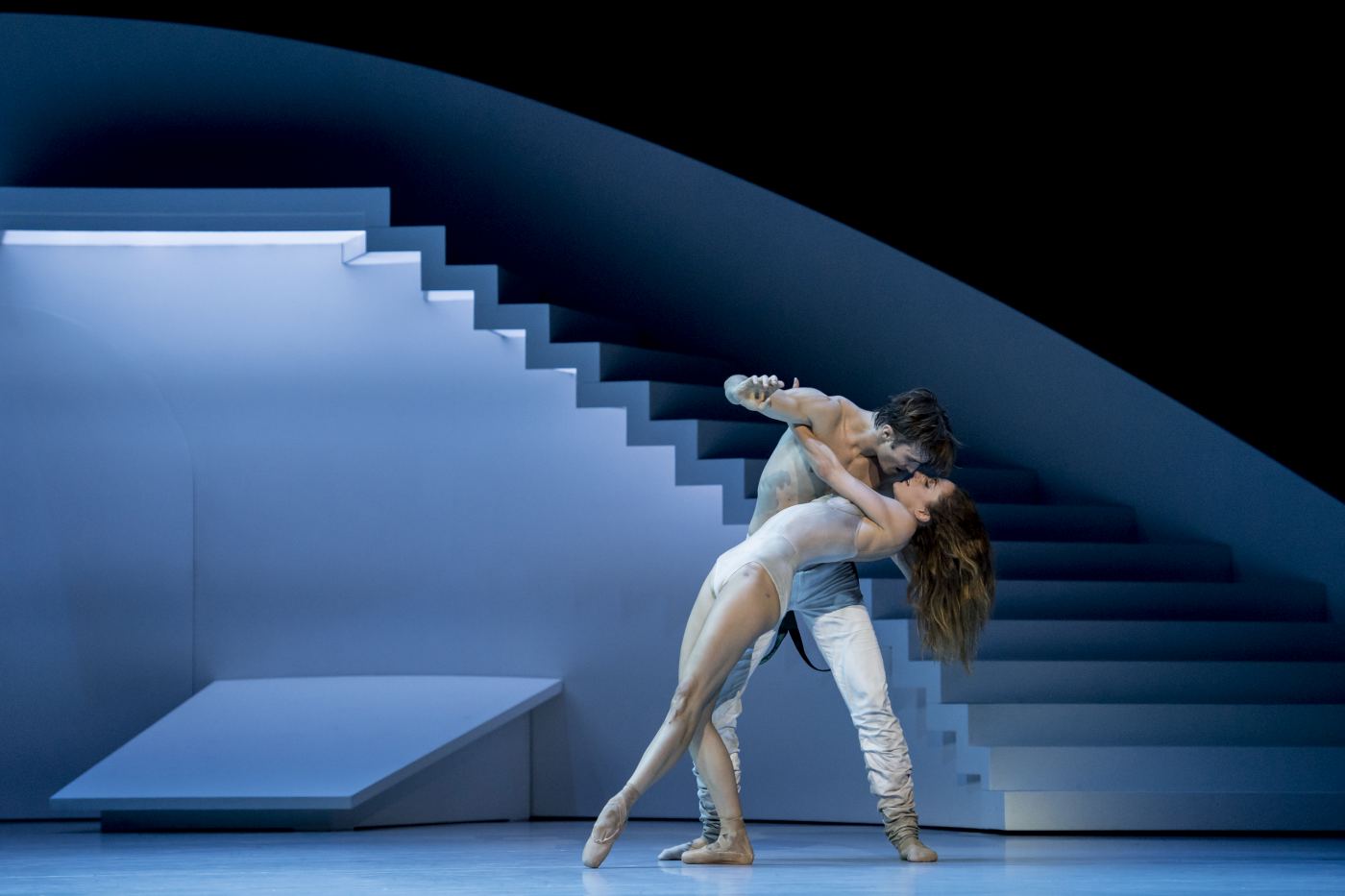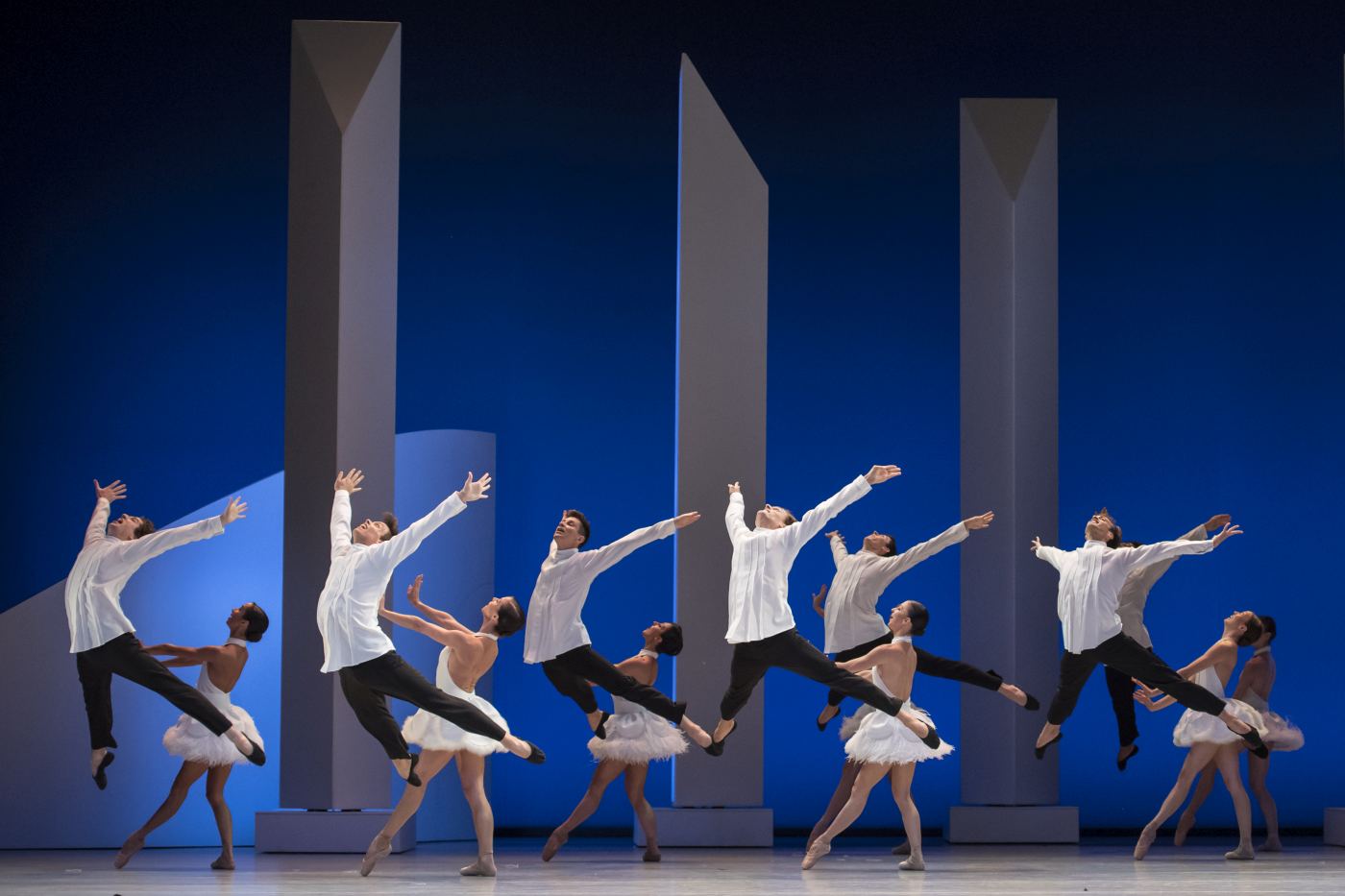 (perhaps coaxed into being by the allure of sex).
Grumio (Adam Reist), Petruchio's lackey, has vivid sexual fantasies as well – but for him, there is no match in sight.
Maillot choreographed extensive pas de deux and solos to deepen our understanding of the protagonists' personalities. Bustling group scenes (featuring disrespectful servants and a gang of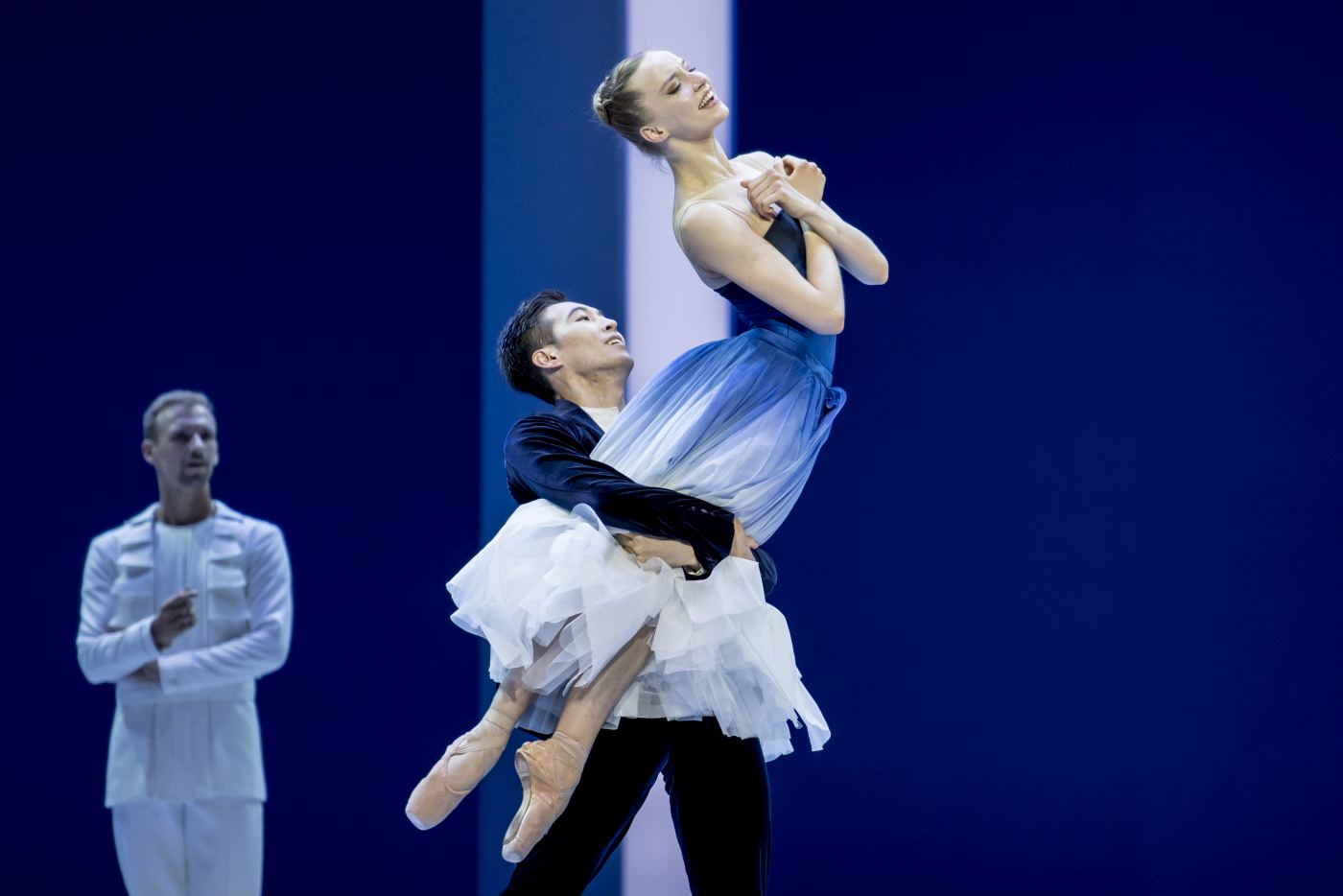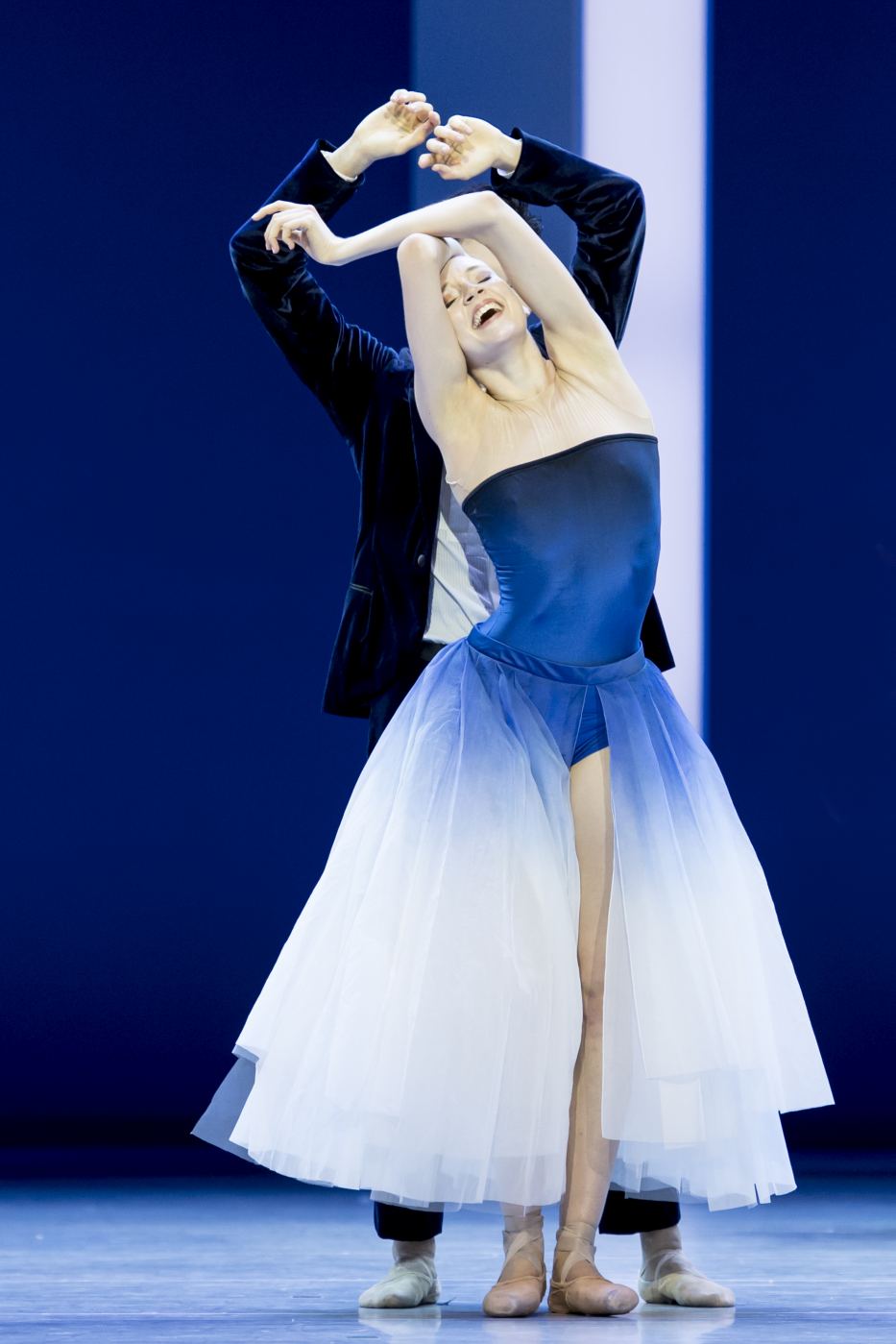 robbers) frame and carry the action. A compilation of music by Shostakovich weaves from the romantic to the satiric. While Ernest Pignon-Ernest's white set (two movable staircases, pillars and cubes) is modern and timeless, the costumes by Maillot's son Augustin (a senior designer at Chanel) recall the Hollywood chic of the 1930s.
It's unhelpful to compare the performance of Les Ballets de Monte Carlo with the Bolshoi's. What matters is that Maillot's company was enthusiastically received in Ludwigsburg. Ticket sales had fallen to fifty percent during the recent Ludwigsburg Castle Festival, and I'm happy to report that "The Taming of the Shrew" attracted a huge audience.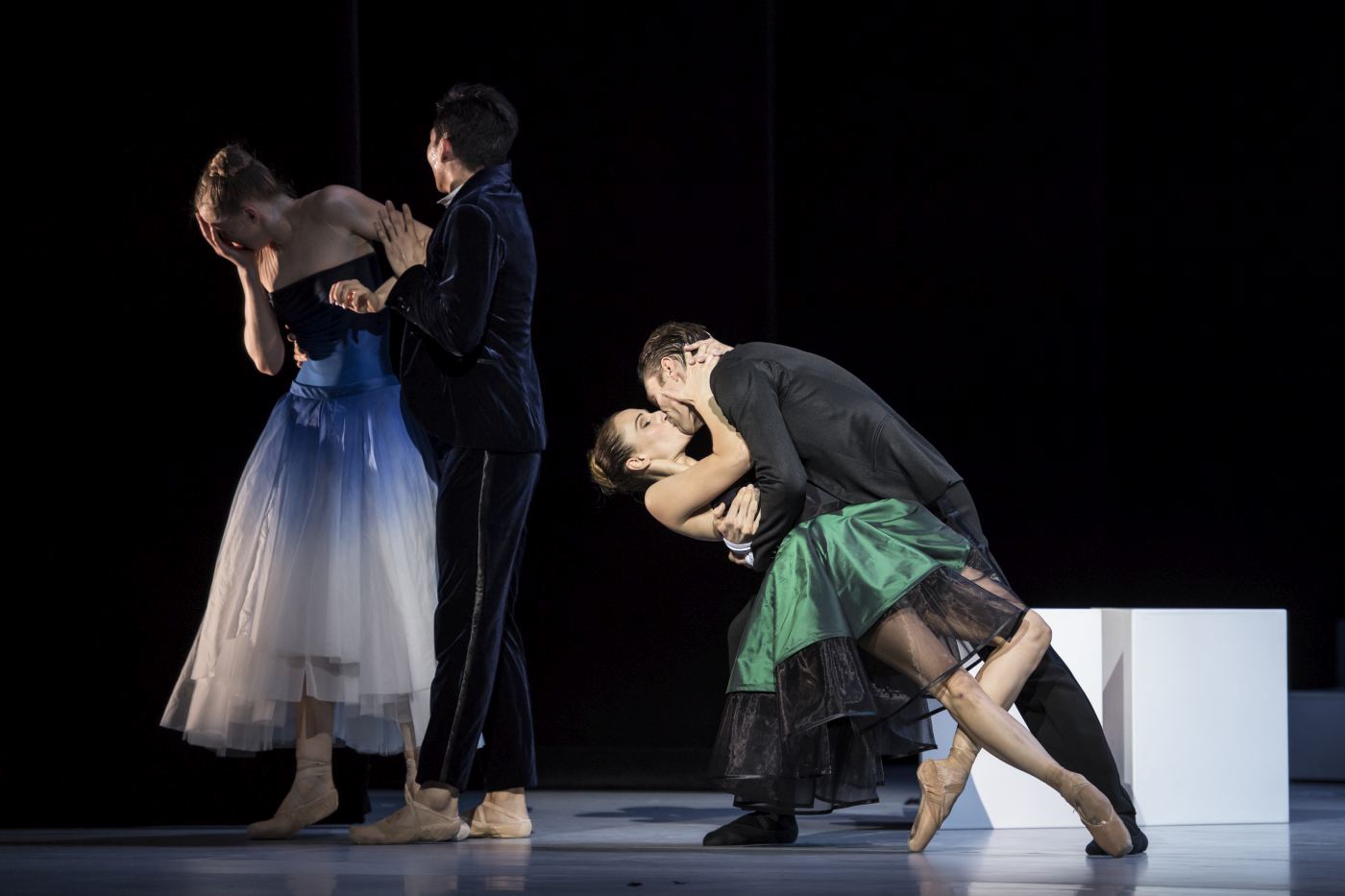 Links:
Website of Les Ballets de Monte Carlo
Website of the Forum Ludwigsburg
"The Taming of the Shrew" – extracts (video)
"The Taming of the Shrew" – a dreamy flashback (video)

Photos:

1.

Alessandra Tognoloni (Katherine) and Francesco Mariottini (Petruchio), "The Taming of the Shrew" by Jean-Christophe Maillot,

Les Ballets de Monte Carlo

2022

2.

Alessandra Tognoloni (Katherine) and Francesco Mariottini (Petruchio), "The Taming of the Shrew" by Jean-Christophe Maillot,

Les Ballets de Monte Carlo

2022

3.

Alessandra Tognoloni (Katherine) and Francesco Mariottini (Petruchio), "The Taming of the Shrew" by Jean-Christophe Maillot,

Les Ballets de Monte Carlo

2022

4.

Alessandra Tognoloni (Katherine) and Francesco Mariottini (Petruchio), "The Taming of the Shrew" by Jean-Christophe Maillot,

Les Ballets de Monte Carlo

2022

5.

Alessandra Tognoloni (Katherine) and Francesco Mariottini (Petruchio), "The Taming of the Shrew" by Jean-Christophe Maillot,

Les Ballets de Monte Carlo

2022

6.

Ensemble,

"The Taming of the Shrew" by Jean-Christophe Maillot,

Les Ballets de Monte Carlo

2022

7.

Alessandra Tognoloni (Katherine) and Francesco Mariottini (Petruchio), "The Taming of the Shrew" by Jean-Christophe Maillot,

Les Ballets de Monte Carlo

2022

8.

Jaat Benoot (Baptista), Jaeyong An (Lucentio), and Katrin Schrader (Bianca),

"The Taming of the Shrew" by Jean-Christophe Maillot,

Les Ballets de Monte Carlo

2022

9.

Katrin Schrader (Bianca) and Jaeyong An (Lucentio),

"The Taming of the Shrew" by Jean-Christophe Maillot,

Les Ballets de Monte Carlo

2022

10.

Katrin Schrader (Bianca), Jaeyong An (Lucentio),

Alessandra Tognoloni (Katherine), and Francesco Mariottini (Petruchio)

,

"The Taming of the Shrew" by Jean-Christophe Maillot,

Les Ballets de Monte Carlo

2022

all photos

©

Alice Blangero

Editing:
Jake Stepansky