"Paper Story"
Laterna magika
The New Stage
Prague, Czech Republic
September 03, 2022
by Ilona Landgraf
Copyright © 2022 by Ilona Landgraf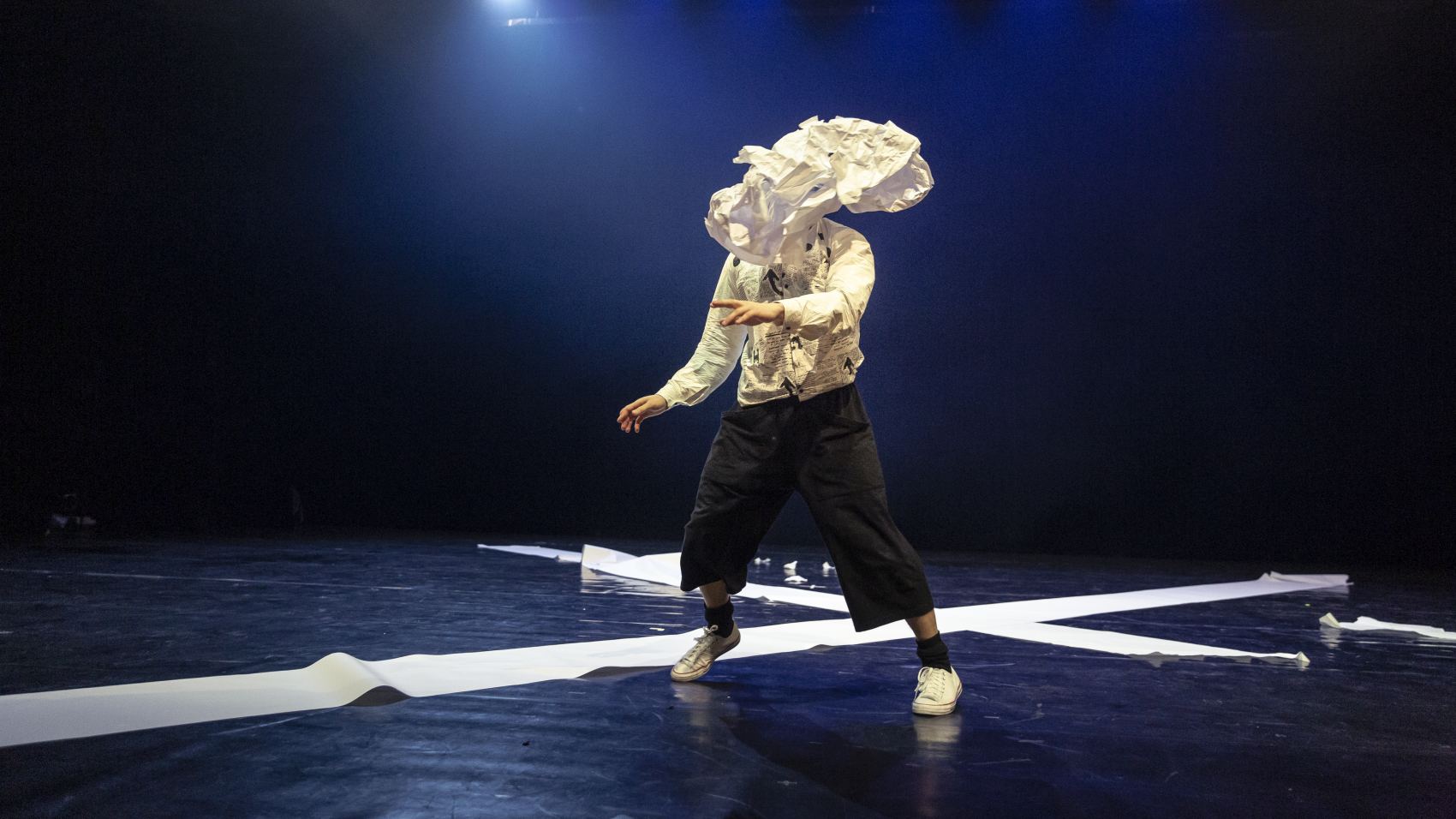 Laterna magika's 2021 "Paper Story" is a winner with young audiences. One young nipper, curious about the stage set – a halfway-unrolled reel of white paper – escaped the watchful eyes of his mother and triumphantly ran across the stage before the performance. The bored boy (Matěj Petrák) was pelted with laughter and sneering when it became clear that he had discovered that the paper reel had a life of its own. The reel escaped his headlong dives, pulling him here and there, flying magically, ambushing him, mocking him constantly, and even folding around his head into a Napoleon-esque hat. The wad of paper that Petrák throws into the distance doesn't end the magic, but instead opens the doors to a fantasy world made entirely from white paper.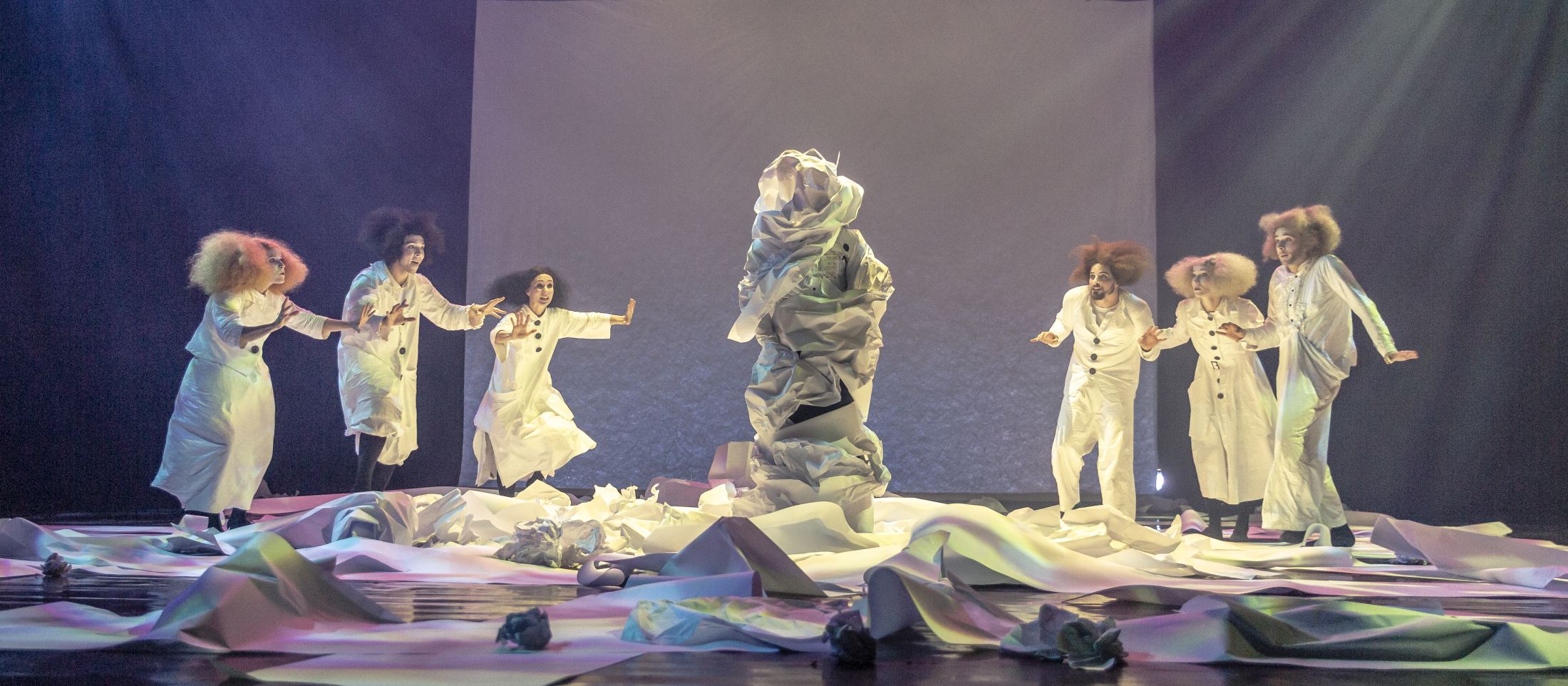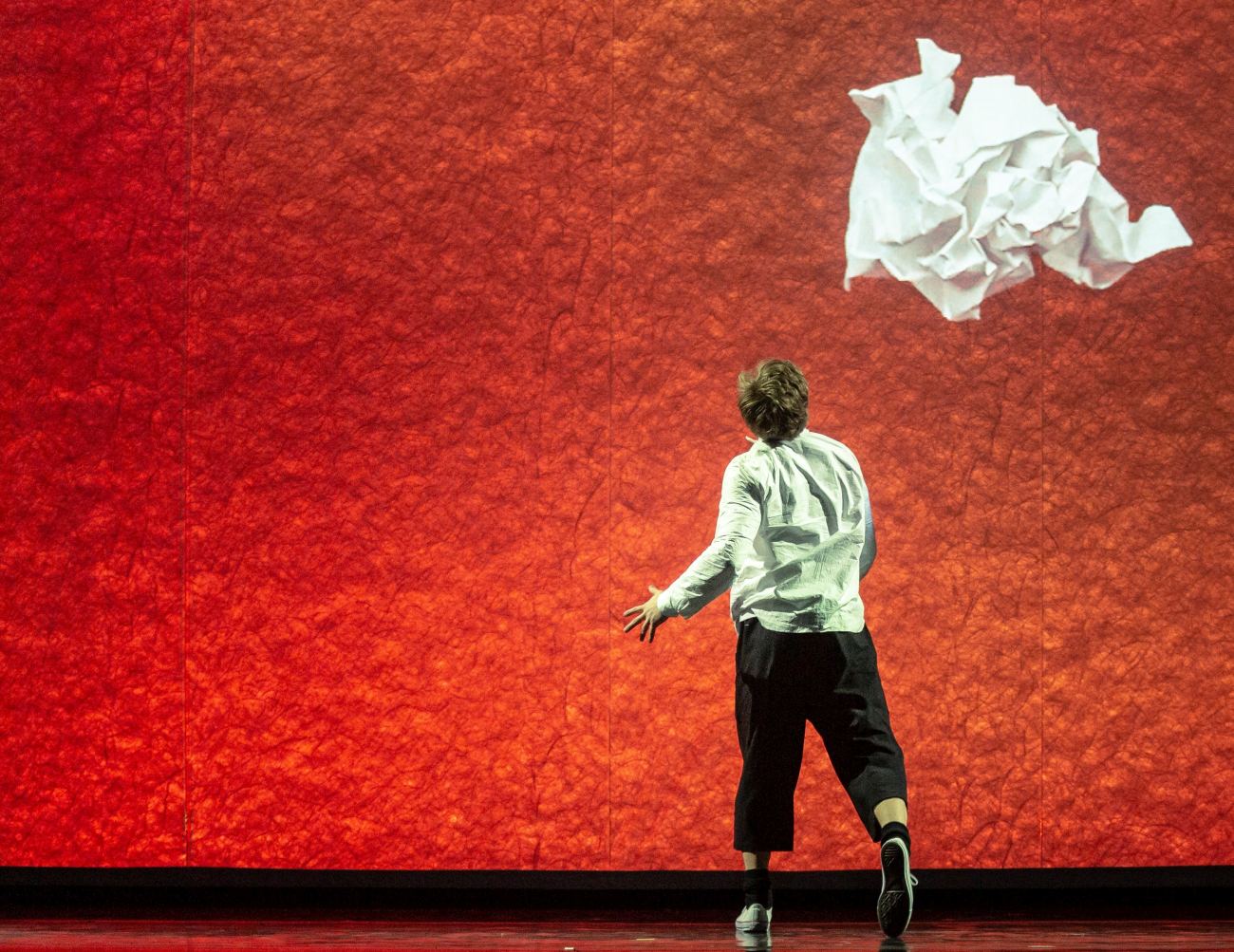 This new world is populated by six good-natured paper people (Pavlína Červíčková, Zuzana Herényiová, Tereza Kučerová, David Stránský, Alexandr Sadirov, and Jindřich Panský), all wearing bushy mop-head wigs designed by Marek Cpin. They teach Petrák how to make music by rustling paper and, later, dress him up as a cook. Though they are a bit shy at first, they soon gather the courage to slap a huge (paper) cream blob into his face and climb onto his shoulders, piling up to a two-tear cake with a cream topping. Small balls of paper thrown upstage towards the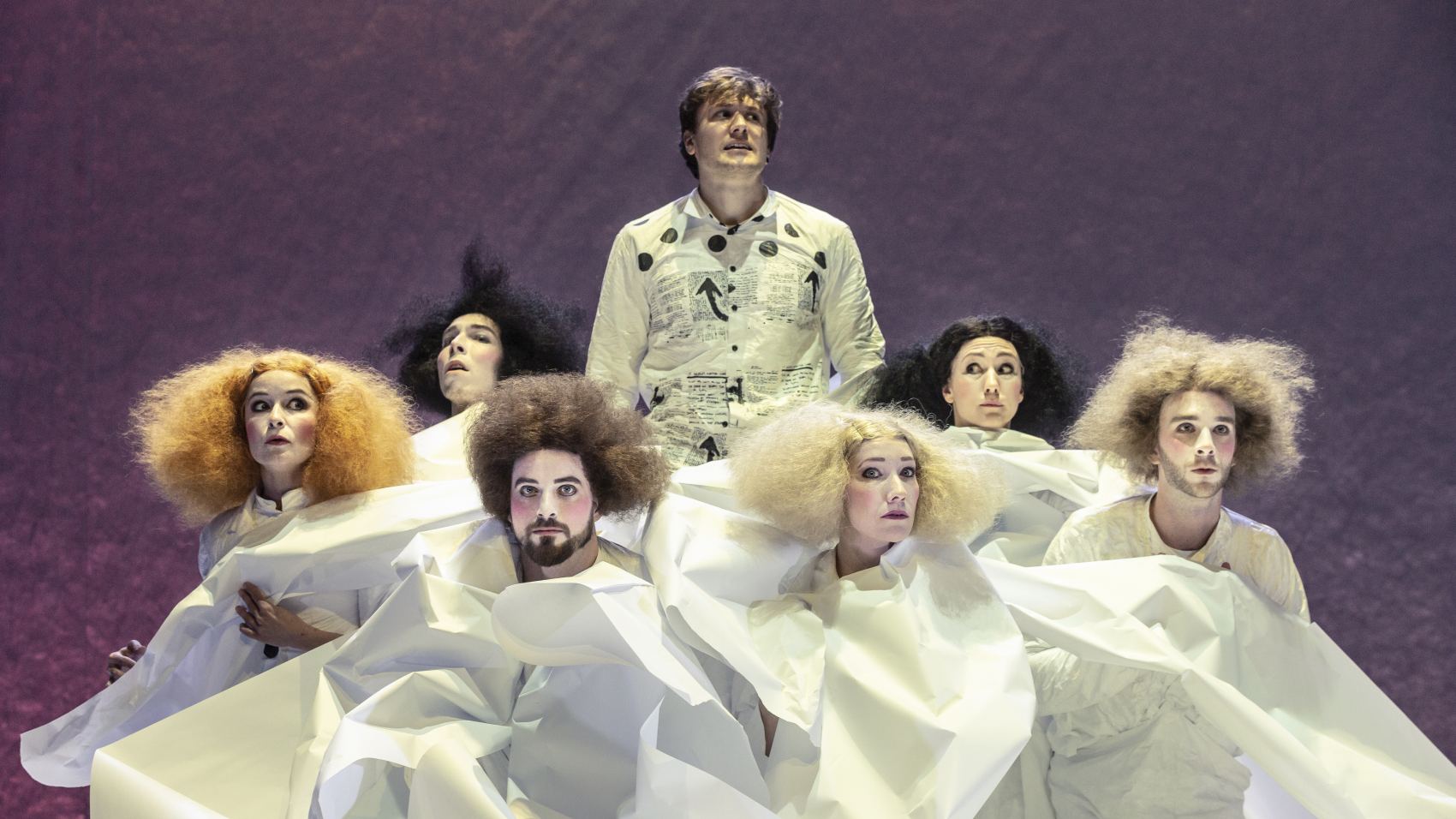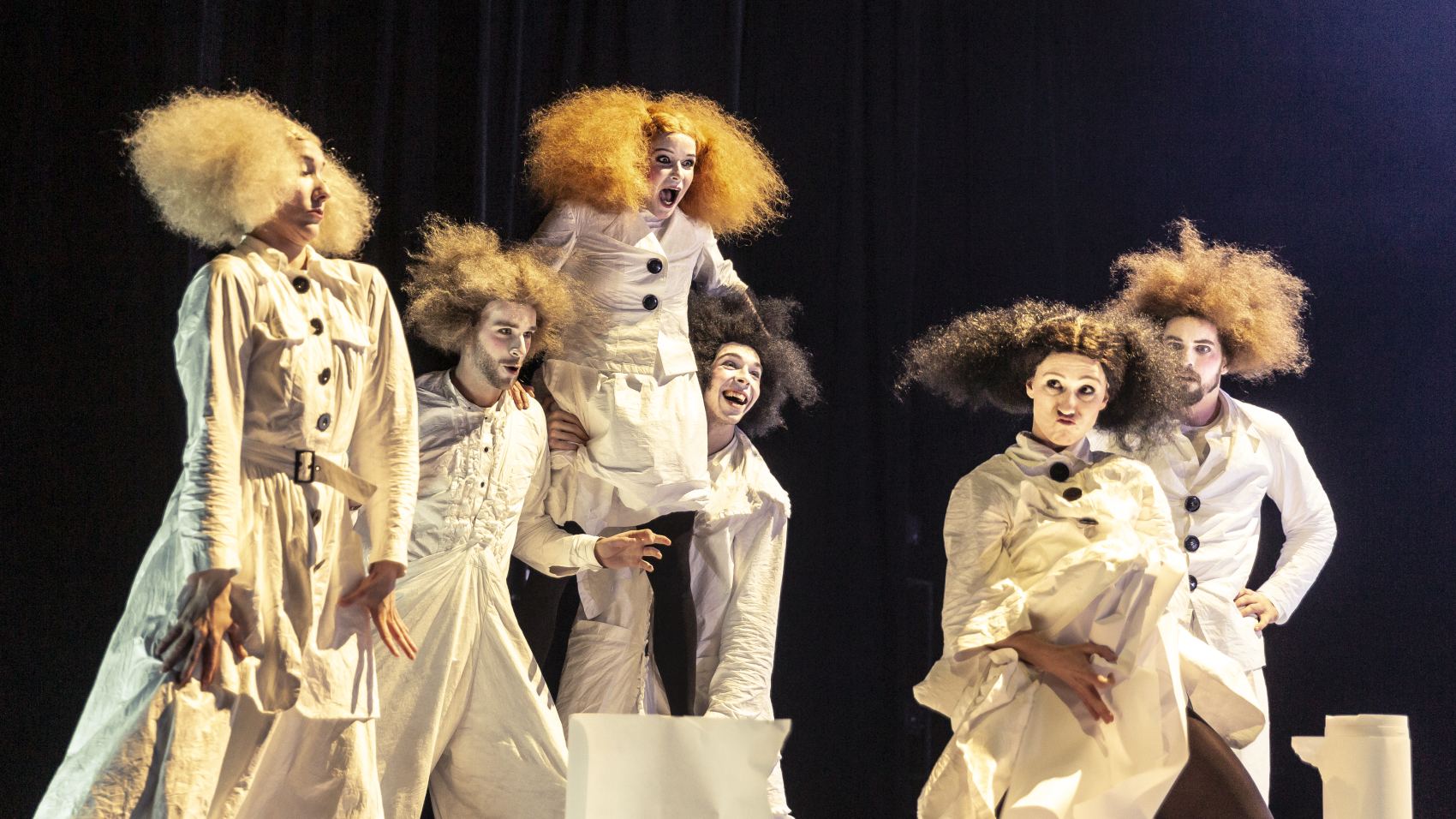 horizon become the stars of a nighttime sky (video animation by Maria Procházková), sending the paper people into a short slumber under paper sheets. In no time at all, beaming sunlight beckons them to further explorations of the paper world. Petrák learns that a beautiful (paper) flower dies when plucked, and gets caught in a downpour that gives rise to a wavy sea of paper. The water morphs Petrák into a king-size (paper) deep sea frogfish, menacingly dangling his angling rod. He is quickly overwhelmed by the paper people, though, and the swarm of butterflies that emerges from his paper corpse flutters through the entire auditorium.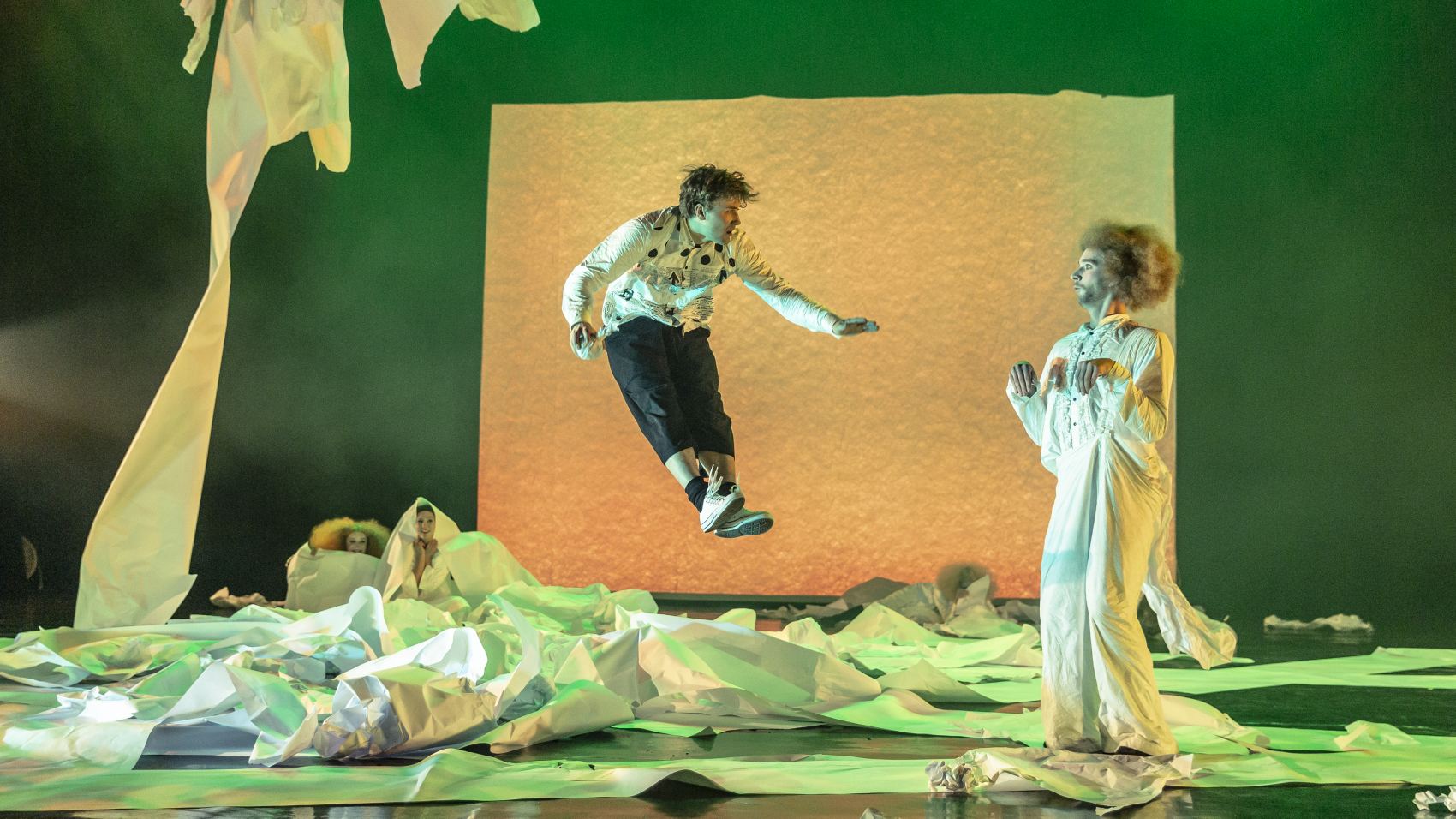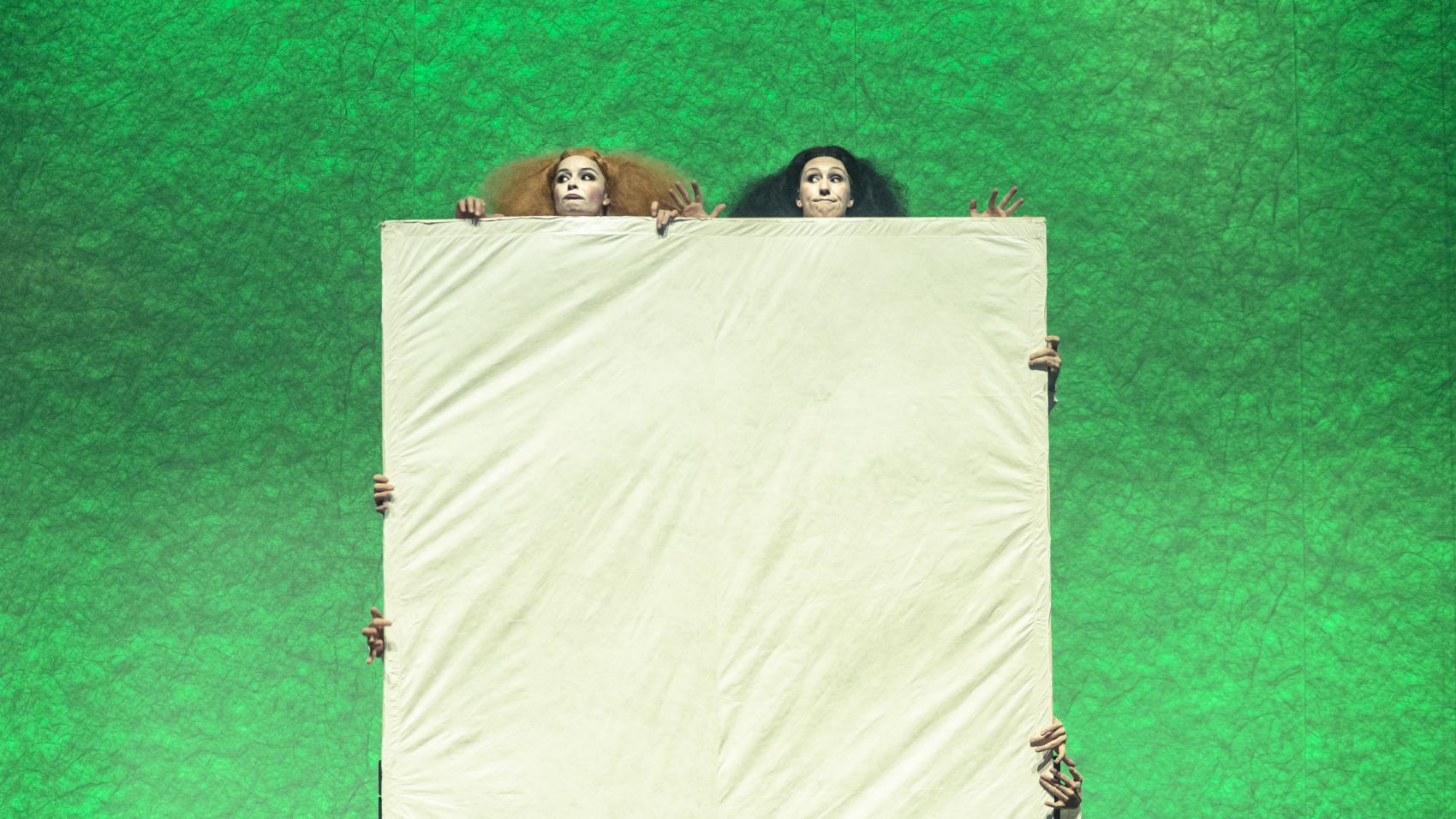 A trip to the paper tropics acquaints Petrák with monkeys, giraffes, elephants, an ostrich-like bird, and a kangaroo (which he'd better not pull by its tail!). A snake presents him with an appetizing apple, which – as in the biblical example – determines his fate – but first Petrák encounters a dangerous dragon (which, luckily, flees) and gives a heart to a paper girl. You may have guessed it – a boy, a girl, affairs of the heart and an apple – sounds like a romance with a snag. The snag is the apple – or, in fact, Petrák's unwillingness to share it with the girl. When Petrák realizes that selfishness makes no friends, though, he and the girl reunite in front of a picture book sunset.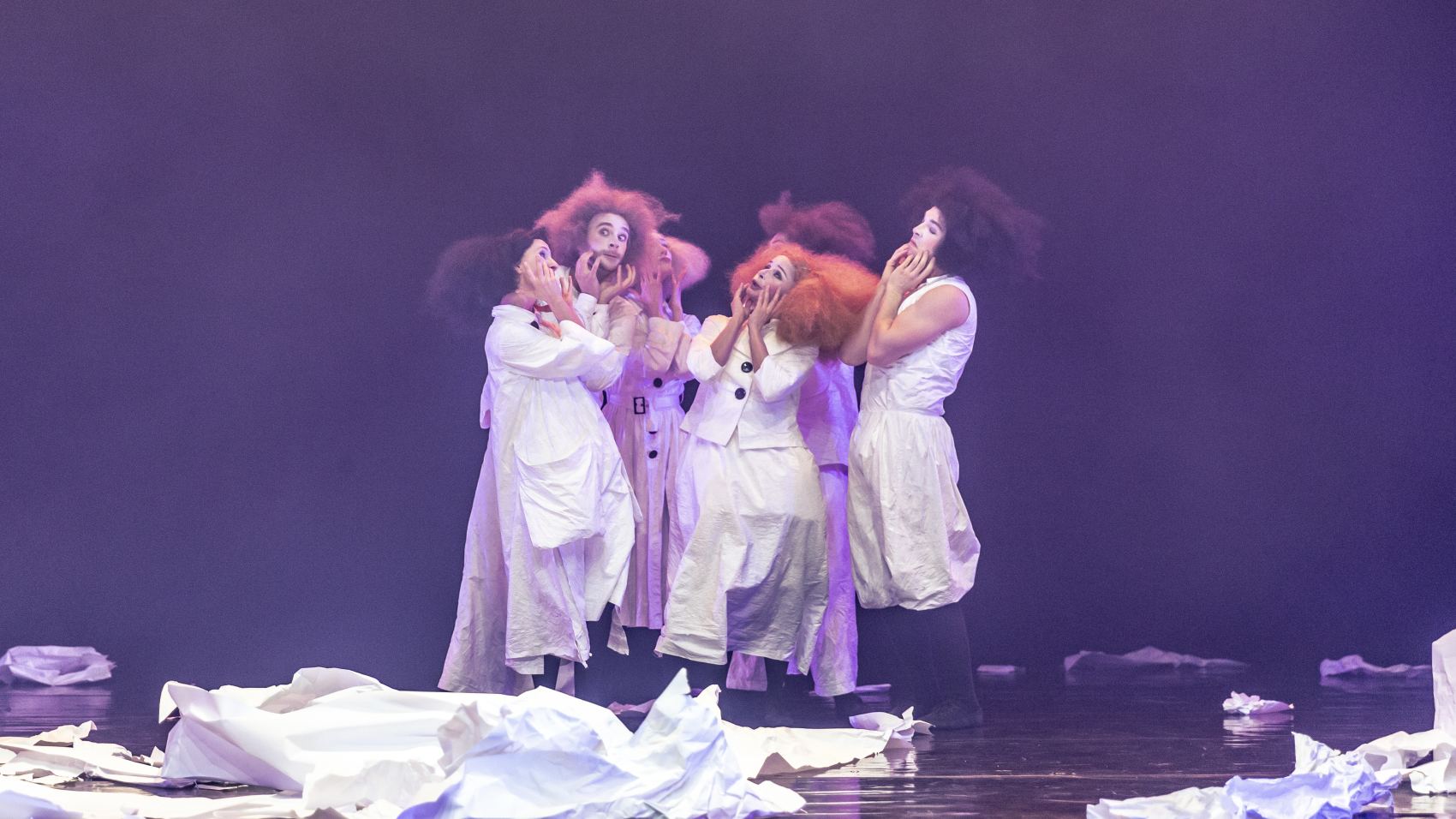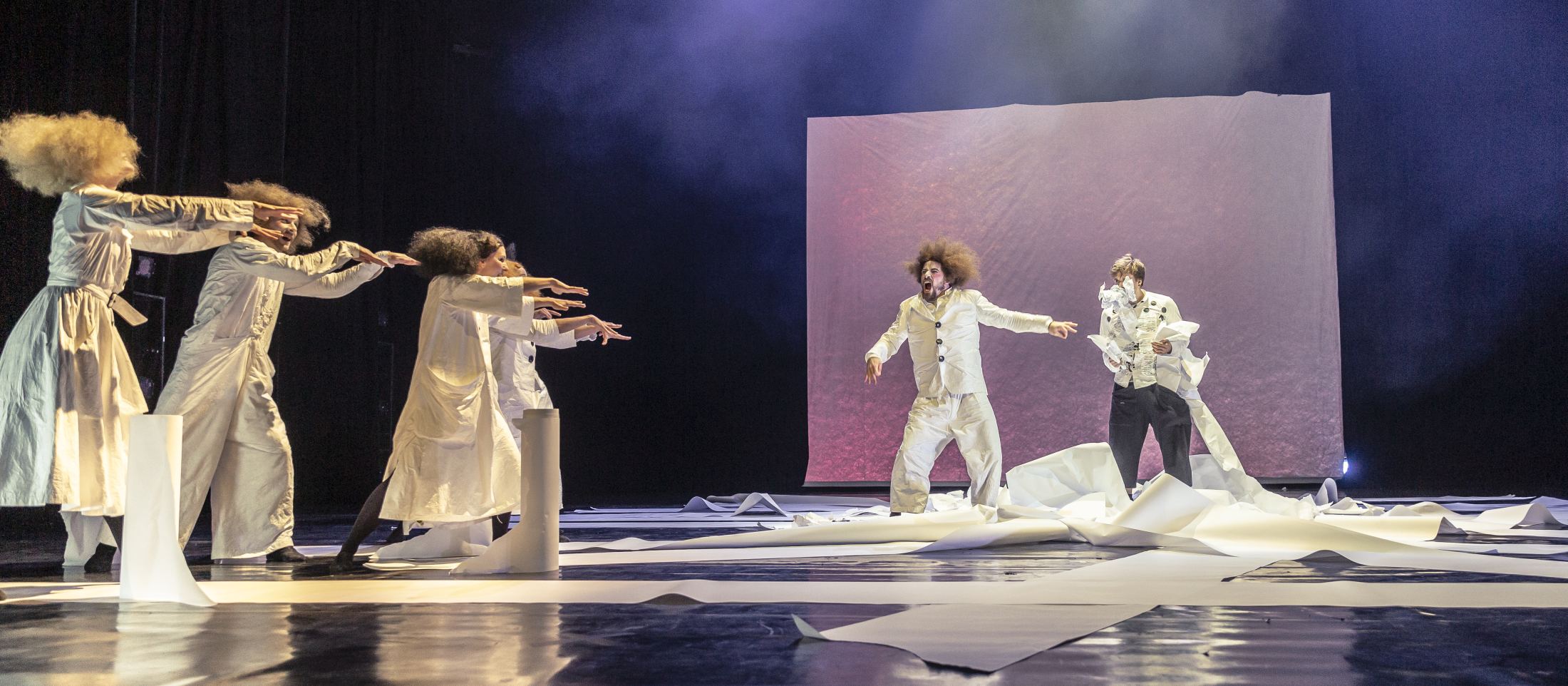 The fun continued after the curtain calls when all the children were invited to rummage through the remnants of the paper world.
Compliments to Radim Vizváry for writing a script which was entertaining and educational, but never didactic. Matyáš Ramba provided acrobatic choreography. The accordion music that accompanies the opening scene is a great representative of the heart-warming atmosphere of the entire production (music by Ivo Sedláček).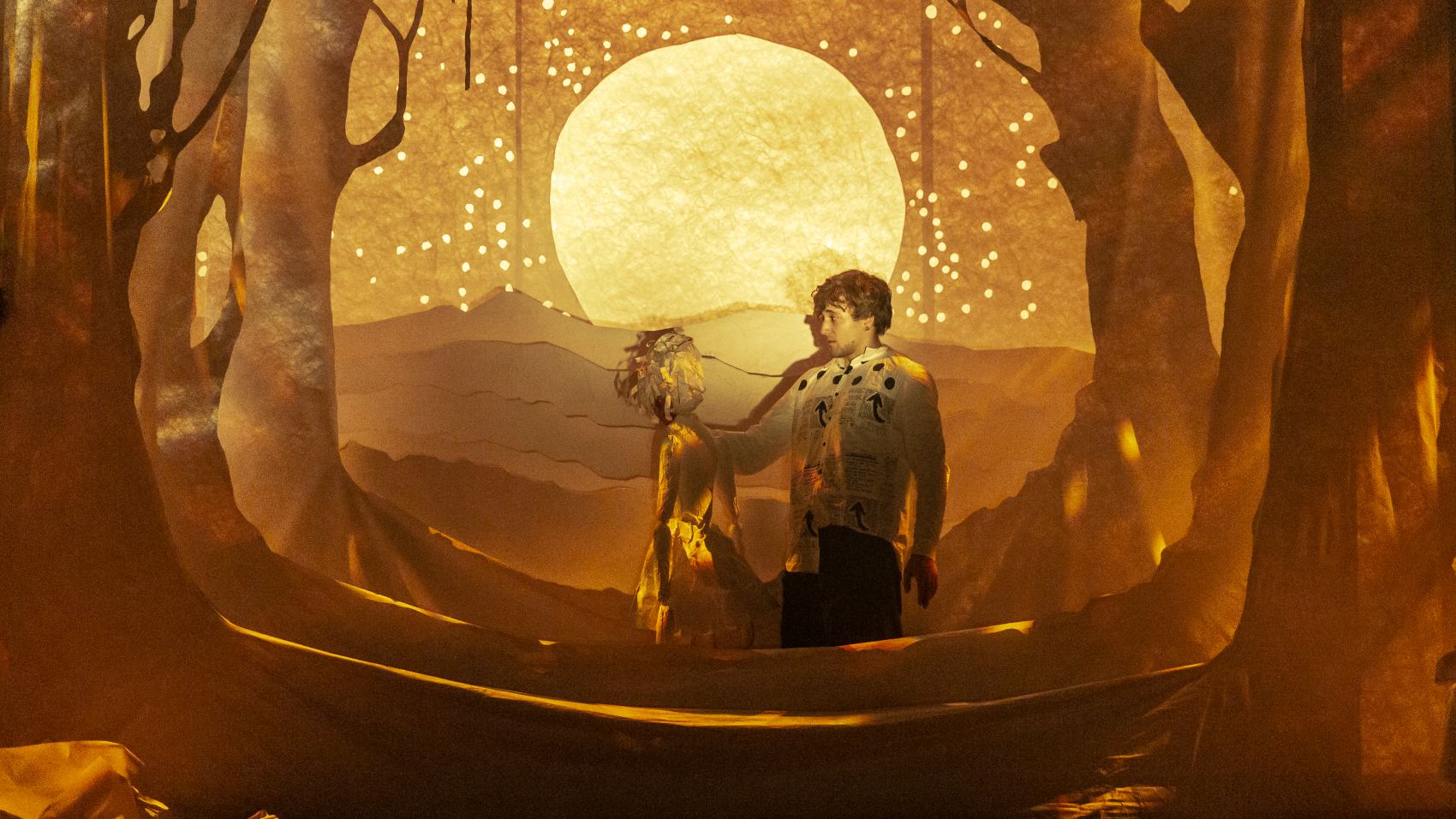 Links:
Website of the Czech National Theatre / Laterna magika

Trailer

"

Paper Story

"

Photos:

1.

Mat

ěj Petrák

(Boy)

, "

Paper Story" by Radim Vizváry (theme, script, stage direction) and Matyáš Ramba (choreography), Laterna magika 2022

2.

Matěj Petrák

(Boy)

, "

Paper Story" by Radim Vizváry (theme, script, stage direction) and Matyáš Ramba (choreography), Laterna magika 2022

3.

center:

Matěj Petrák

(Boy);

Zuzana Herényiová, Patrik Čermák,

Tereza Kučerová

,

Jindřich Panský,

Pavlína Červíčková

, and

Alexandr Sadirov

(Paper People),

"

Paper Story" by Radim Vizváry (theme, script, stage direction) and Matyáš Ramba (choreography), Laterna magika 2022

4.

center:

Matěj Petrák

(Boy);

Zuzana Herényiová, Patrik Čermák, Jindřich Panský, Pavlína Červíčková, Tereza Kučerová, and Alexandr Sadirov (Paper People),

"

Paper Story" by Radim Vizváry (theme, script, stage direction) and Matyáš Ramba (choreography), Laterna magika 2022

5.

Pavlína Červíčková,

Alexandr Sadirov

,

Zuzana Herényiová, Patrik Čermák

,

Tereza Kučerová,

and

Jindřich Panský

(Paper People),

"

Paper Story" by Radim Vizváry (theme, script, stage direction) and Matyáš Ramba (choreography), Laterna magika 2022

6.

Zuzana Herényiová and Tereza Kučerová (Paper People),

"

Paper Story" by Radim Vizváry (theme, script, stage direction) and Matyáš Ramba (choreography), Laterna magika 2022

7.

Matěj Petrák (Boy) and Alexandr Sadirov (Paper People),

"

Paper Story" by Radim Vizváry (theme, script, stage direction) and Matyáš Ramba (choreography), Laterna magika 2022



8.
Ensemble, "Paper Story" by Radim Vizváry (theme, script, stage direction) and Matyáš Ramba (choreography), Laterna magika 2022

9.

Pavlína Červíčková, Alexandr Sadirov, Tereza Kučerová, Zuzana Herényiová,

and

Jindřich Panský

(Paper People)

, Matěj Petrák

(Boy),

"

Paper Story" by Radim Vizváry (theme, script, stage direction) and Matyáš Ramba (choreography), Laterna magika 2022

10.

Matěj Petrák

(Boy),

"

Paper Story" by Radim Vizváry (theme, script, stage direction) and Matyáš Ramba (choreography), Laterna magika 2022

all photos

©

Patrik Borecký



Editing:
Jake Stepansky