"The Sleeping Beauty"
Vienna State Ballet
Vienna State Opera
Vienna, Austria
October 24, 2022 (livestream)
by Ilona Landgraf
Copyright © 2022 by Ilona Landgraf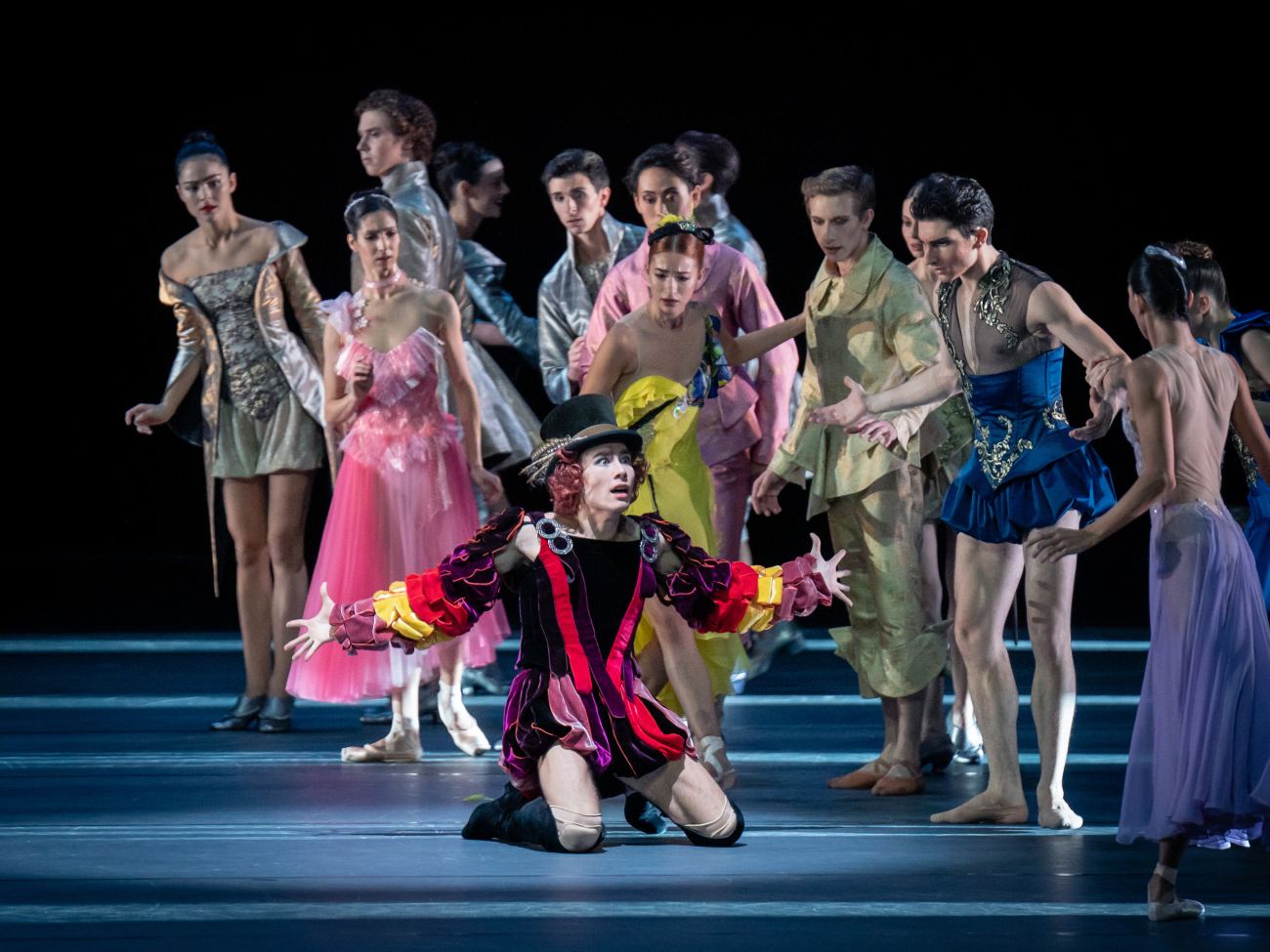 A few months before the premiere of his "Sleeping Beauty" with the Vienna State Ballet, artistic director Martin Schläpfer stated that he did not intend to alter Petipa's original – that he was not creating something "a bit Schläpfer and a bit Petipa". There are already enough of these blended works in the canon; instead of adding another, he preferred to stick with the original. Back then, though, he did not have a detailed vision for his production. So – how did his version finally turn out?
I'll make one thing immediately clear: Schläpfer did not deliver a radically new take on the fairy tale. The three-acter still unfolds at court, includes the key characters, and follows the well-known storyline. Florian Etti's modern and unsophisticated set includes an open yard looking out on a king-sized garden of red roses. Nestled among the twigs is the crib of the newborn Aurora, her birth an airy dream. At certain moments, white lines section off the floor. The roses turn night-blue once the grown-up Aurora (danced by the radiant Hyo-Jung Kang) pricks herself with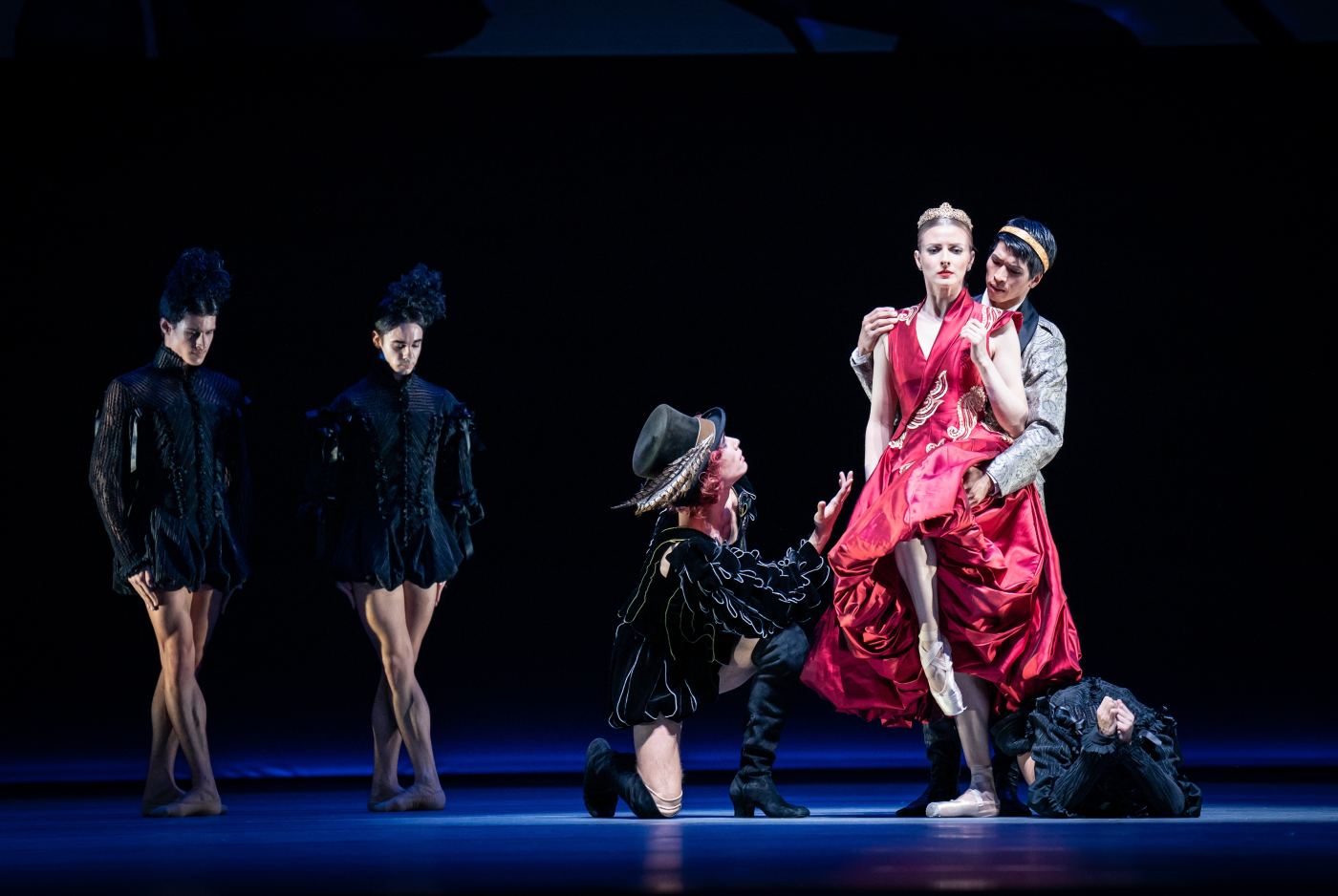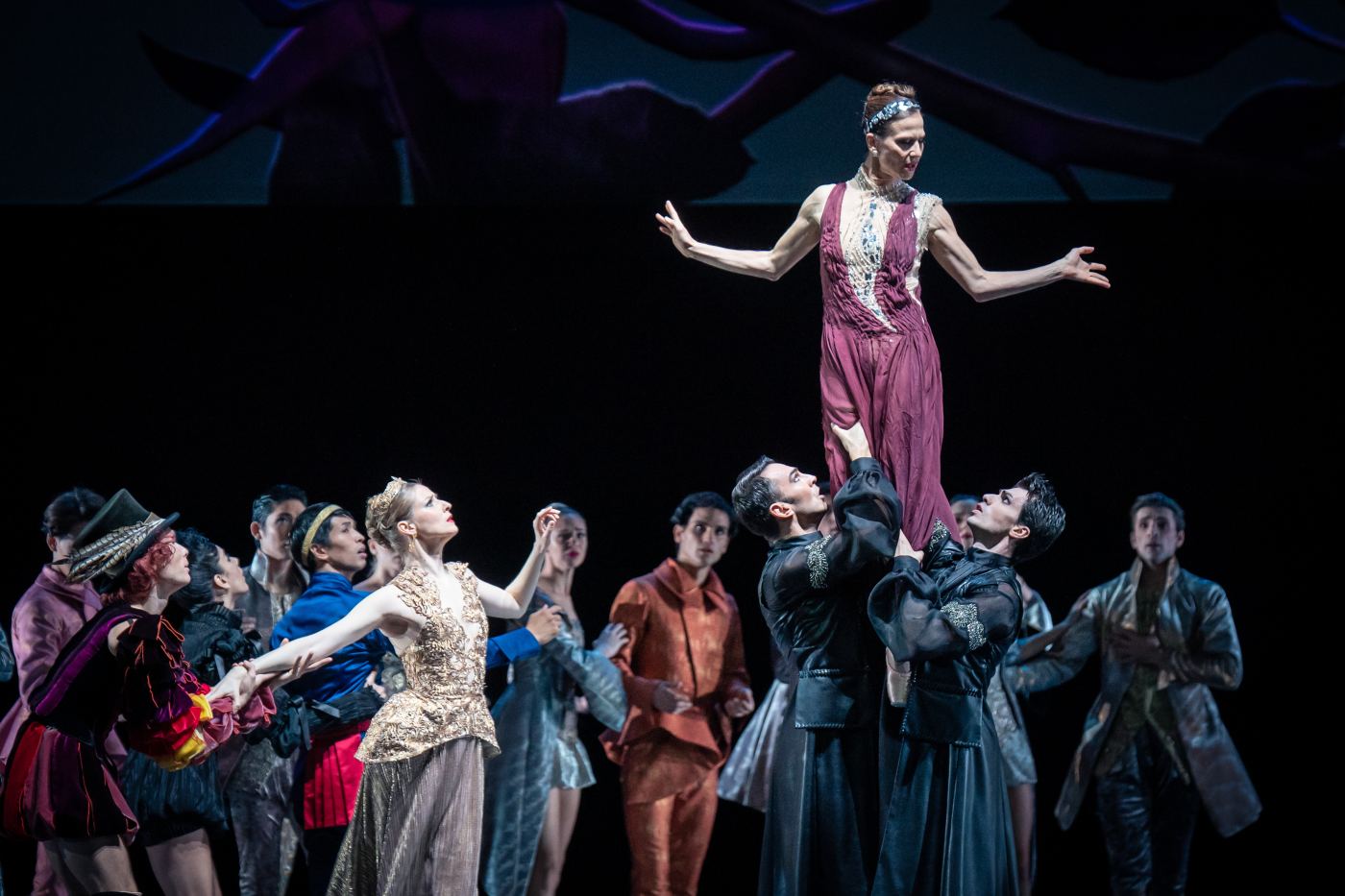 Carabosse's wicked spindle. One-hundred years later, Prince Désiré (Brendan Saye) finds the sleeping Aurora in a bed overgrown with lush foliage. Their wedding takes place in an unadorned hall whose geometric back windows open onto a green thicket.
Among the structural changes made by Schläpfer are the inclusion of a prologue (in which the royal couple, kneeling next to their conjugal bed, pleads for progeny) and an epilogue (in which the royal veterans die). The hunting party of Prince Désiré is replaced by an encounter with a faun (Daniel Vizcayo) and a woodswoman (Yuko Kato), whose animalistic sensuality is supposed to kindle the Prince's desire. Instead of Tchaikovsky's hunting horns, this sequence is accompanied by "Anahit: A Lyrical Poem Dedicated to Venus for Violin and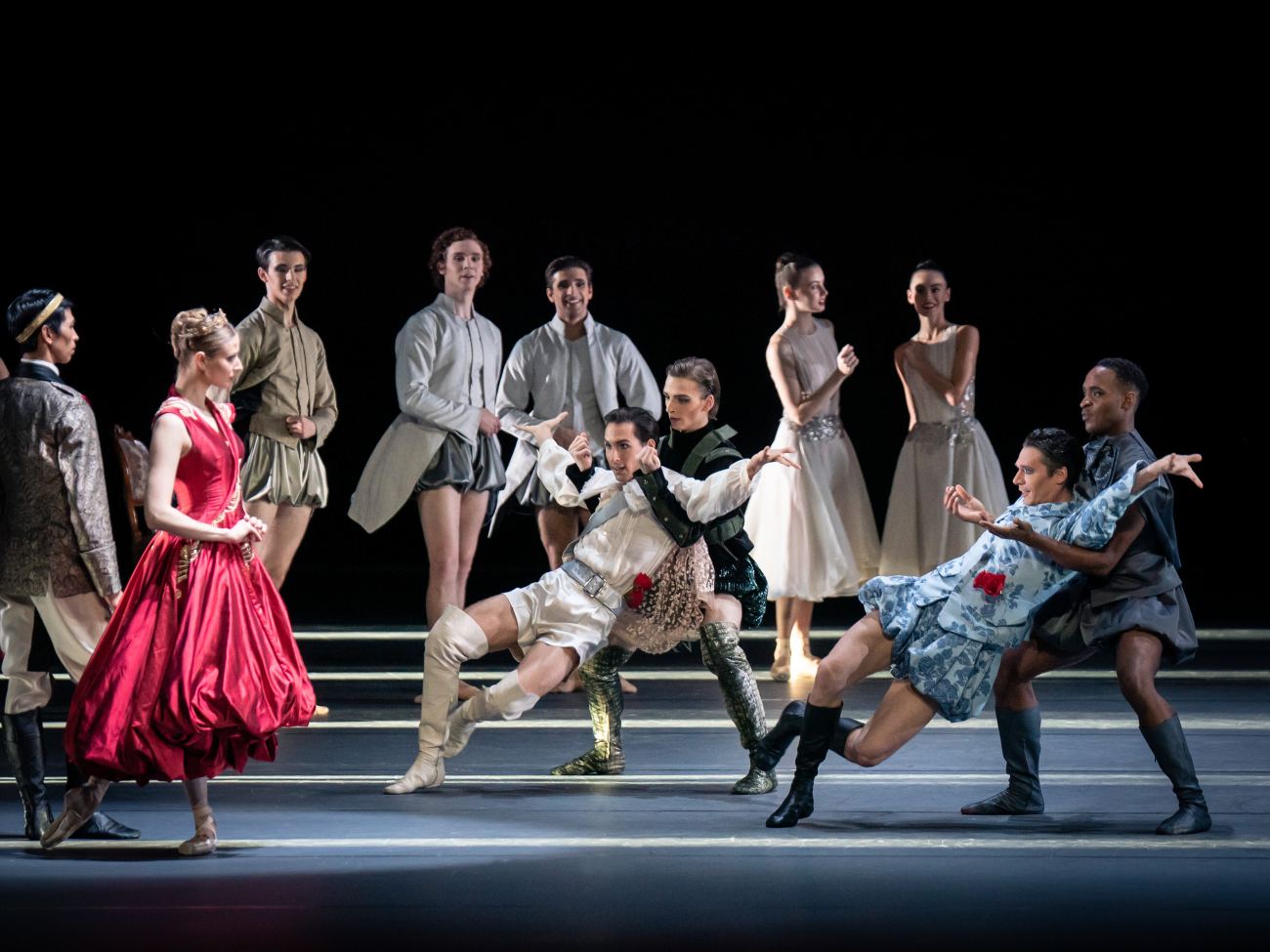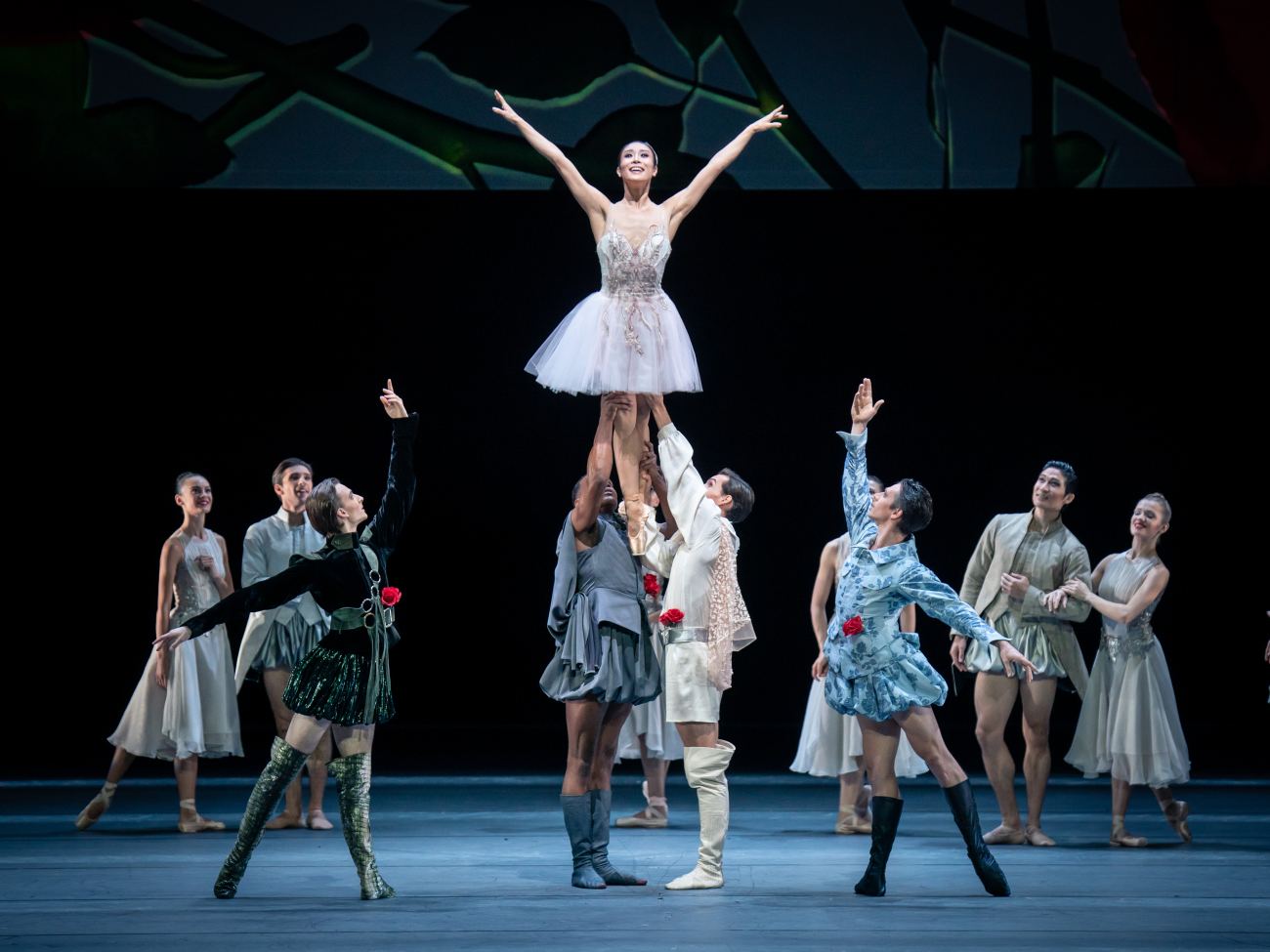 Chamber Orchestra" by Giacinto Scelsi. As mysterious forest sounds morph into a sluggish gloom, the disoriented Prince seems to undergo a lengthy shamanistic enlightenment ritual – one that must have failed, though, since he appears to be in a deadly serious mood at his wedding, dancing with the rigor of an officer.
Schläpfer scrapped most of the fairy tale characters that usually participate in the wedding. Their variations (such as the diamond and sapphire variation of the Pas de Quattre) are either taken on by wedding guests or replaced by new choreography. Petipa's pas de deux for the Blue Bird (danced by an unusually hectic Davide Dato) and Princess Florine (Kiyoka Hashimoto) was kept, as was the Grand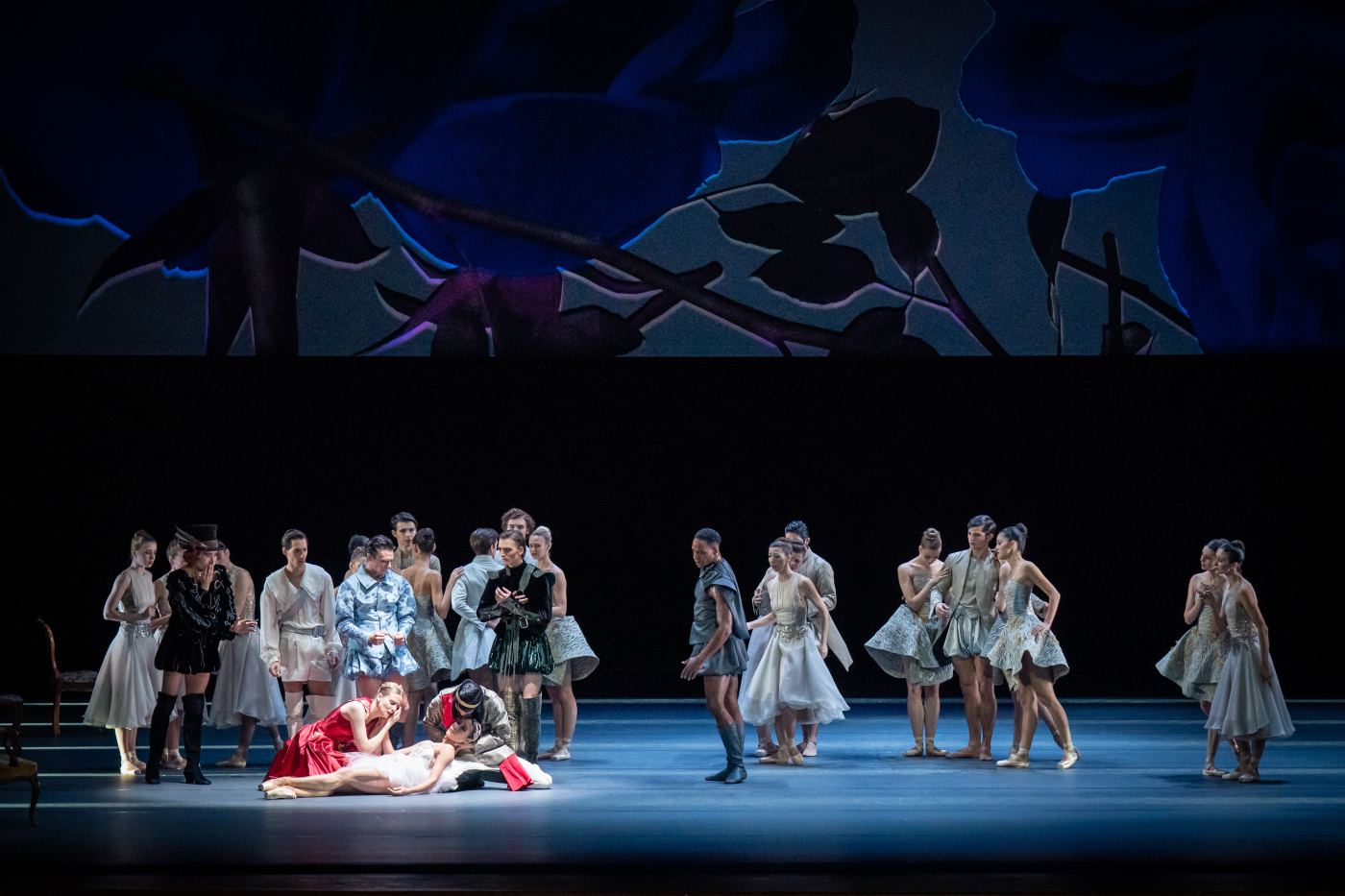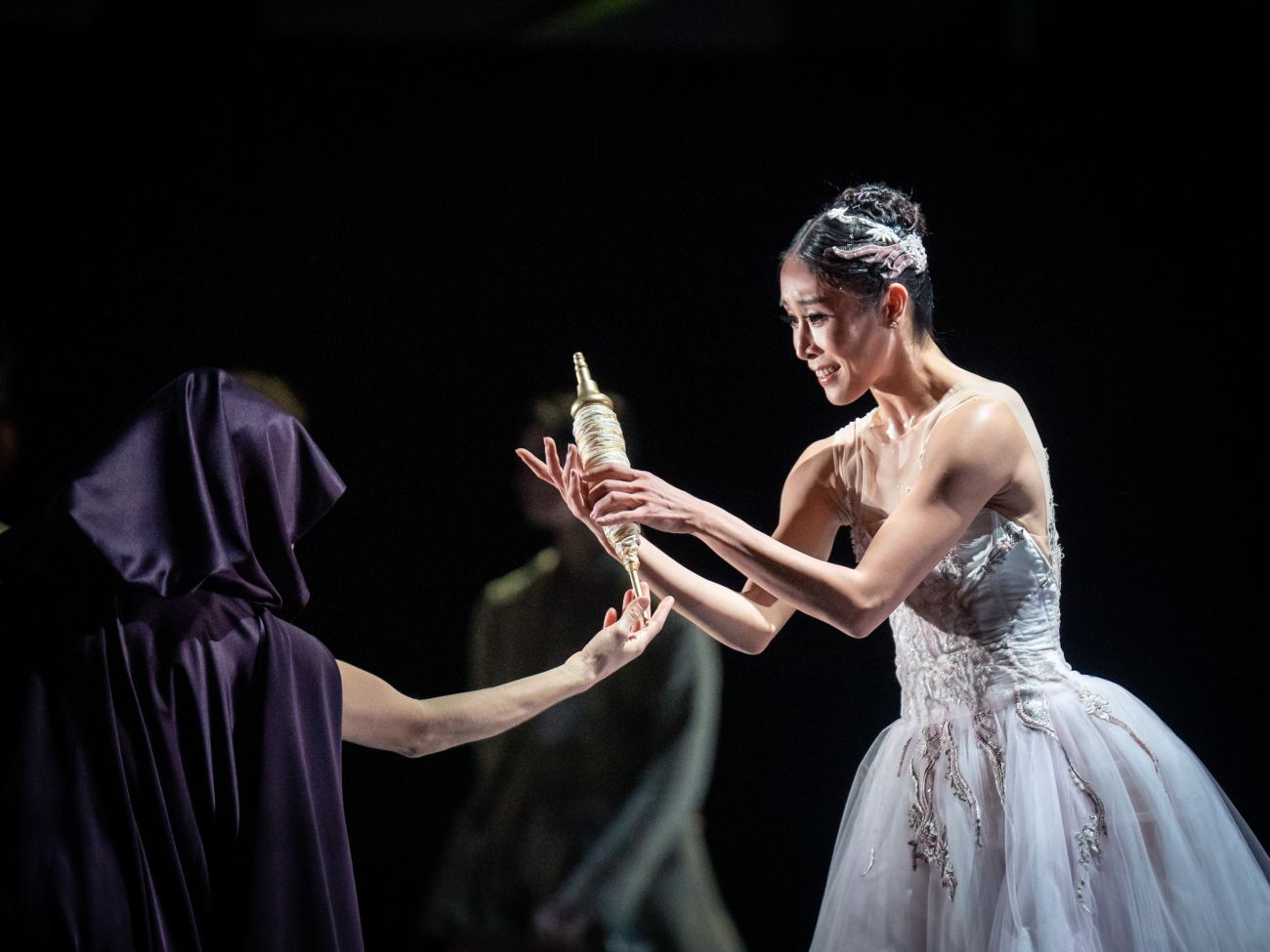 Pas de Deux – but in the latter the King (Masayu Kimoto) joins in on the Prince's variation. The music for Little Red Riding Hood and the Wolf is given to the faun and the woodswoman, who perform an earthy, meaningful duet instead of the original tongue-in-cheek hunt. A salacious couple (Eszter Ledán & Marian Furnica) stand in for the White Cat and Puss-in-Boots, but their costumes hint only slightly at the feline archetype.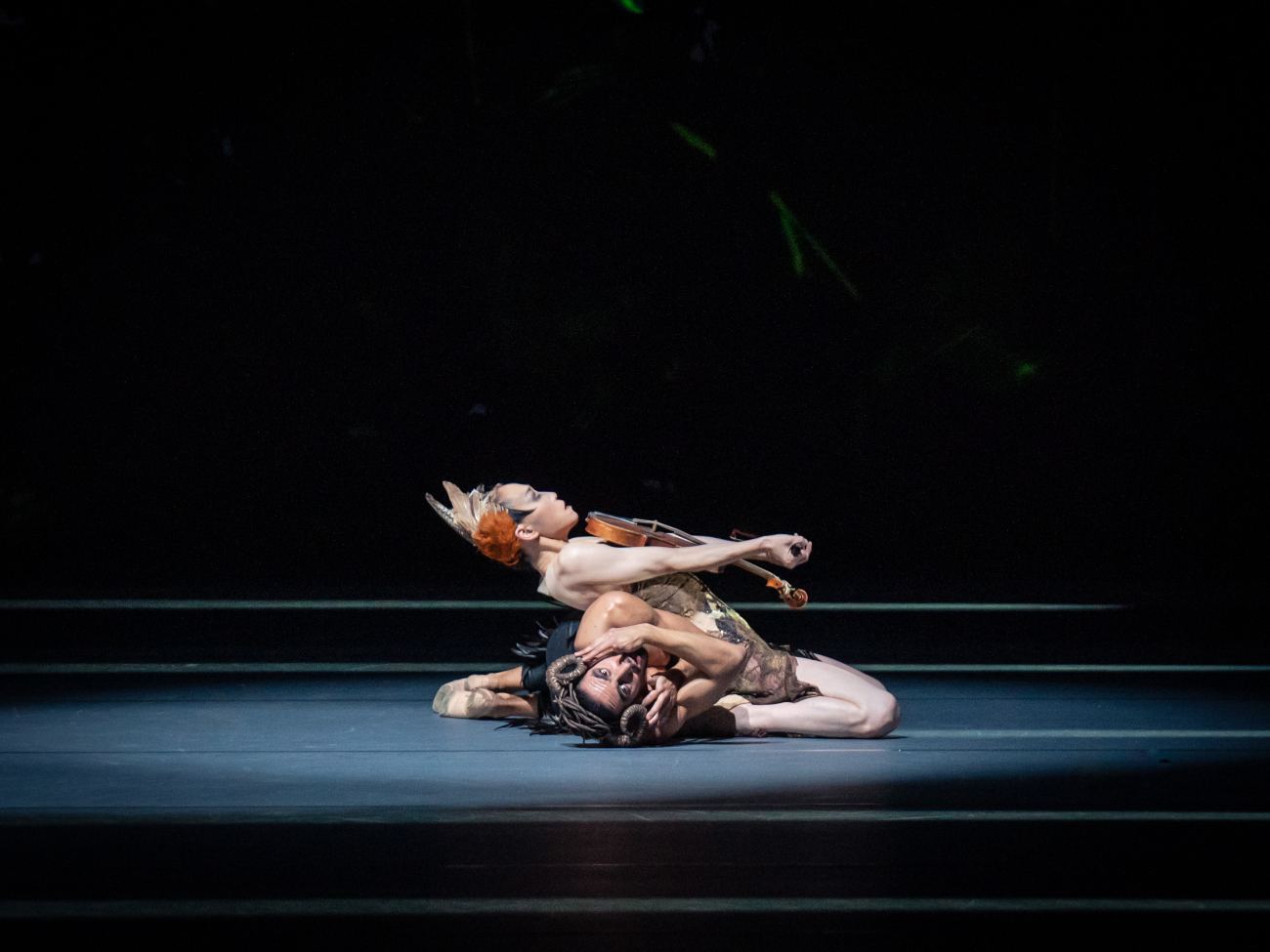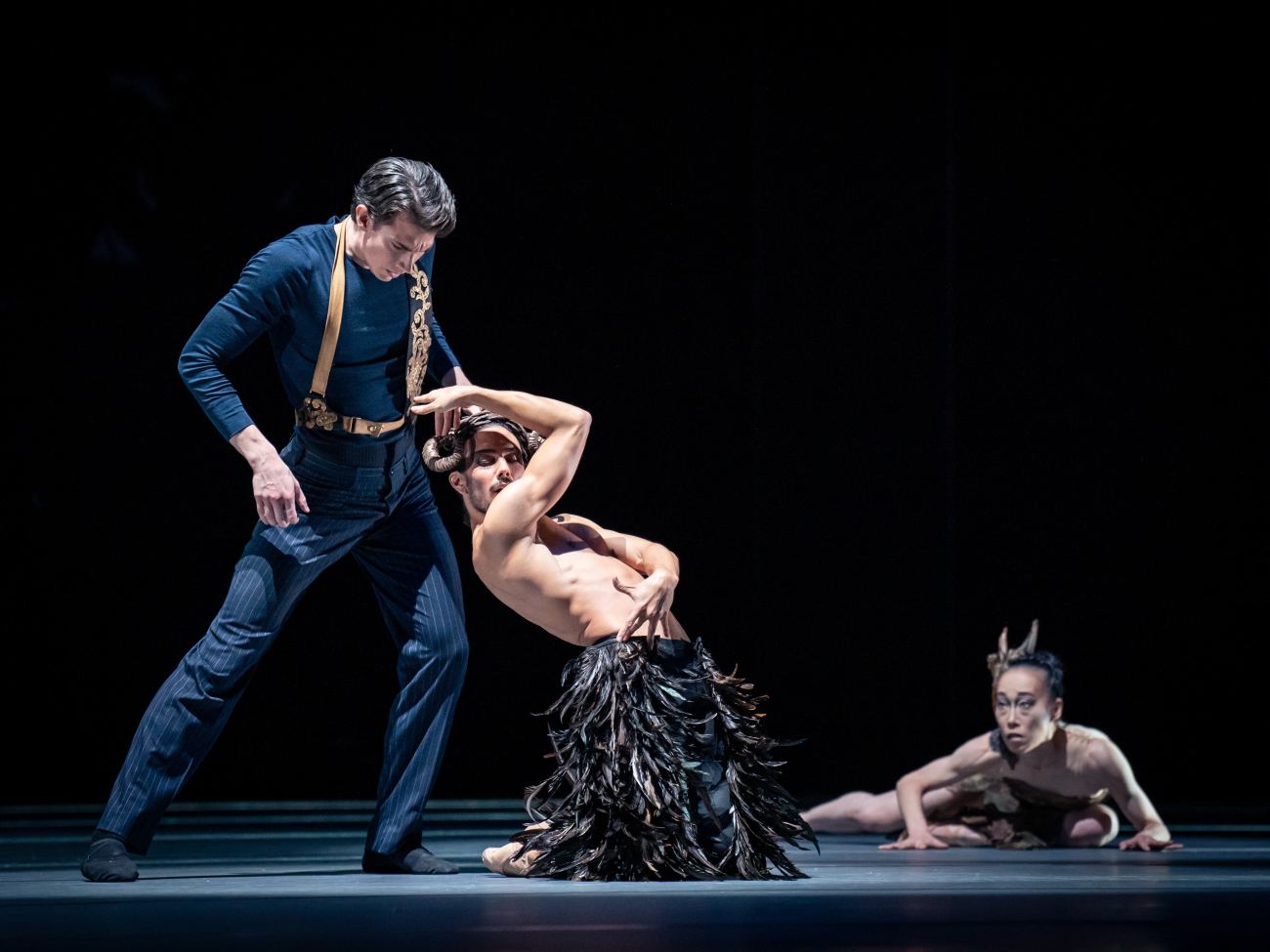 Schläpfer also preserves the Rose Adagio, which – set at a modern court and featuring Catalabutte (Jackson Carroll) and his pages jumping clownishly about – feels like a museum piece. The four princes (Rashaen Arts, Kristián Pokorný, Arne Vandervelde, Géraud Wielick) enter Aurora's birthday party giddily, as if drunk on liquid courage. Their individual introductions in simultaneous solos hides the blandness of their respective choreographies. For their group dance (and for a solo at the wedding party), Schläpfer took inspiration from Hans van Manen.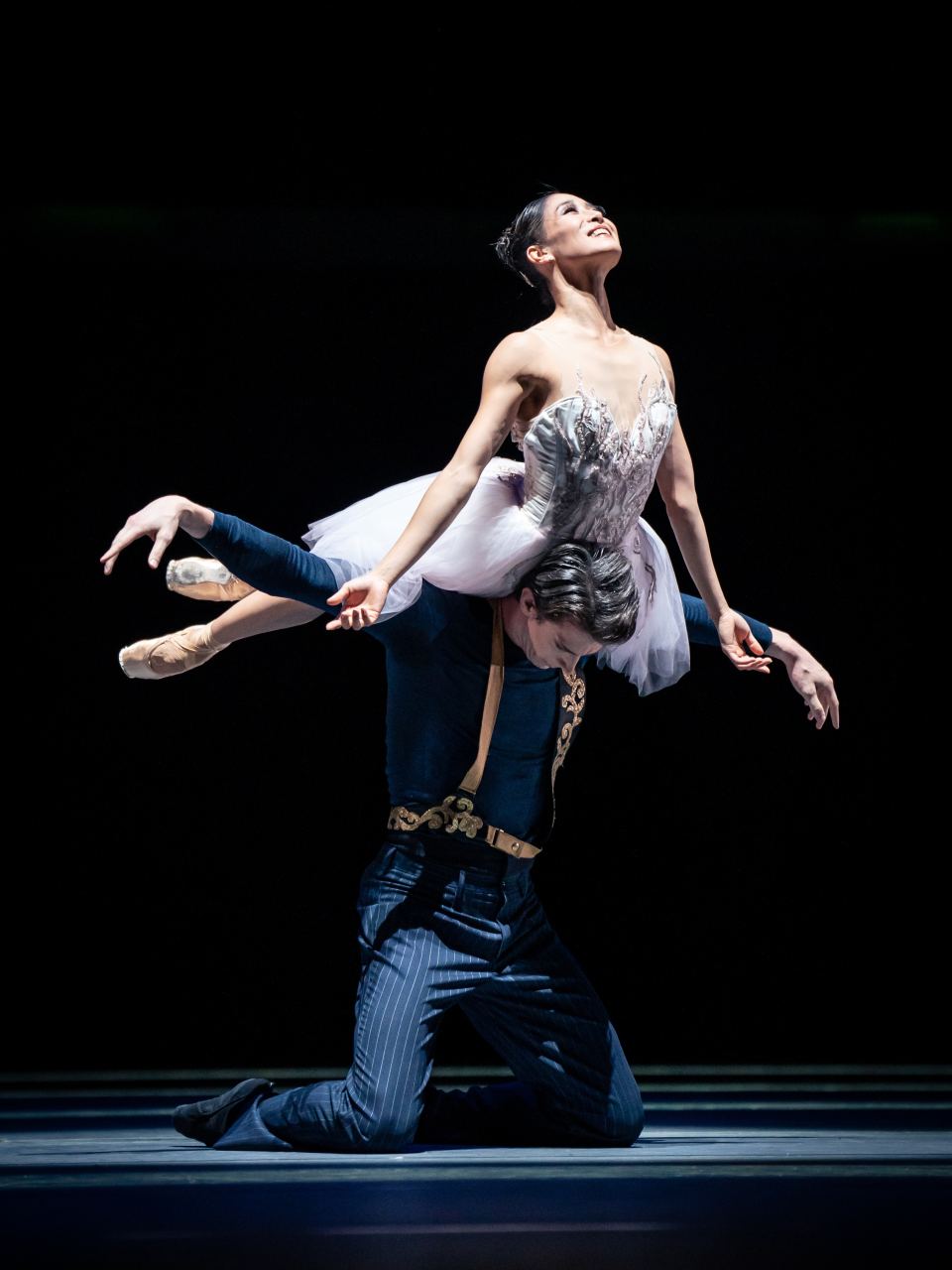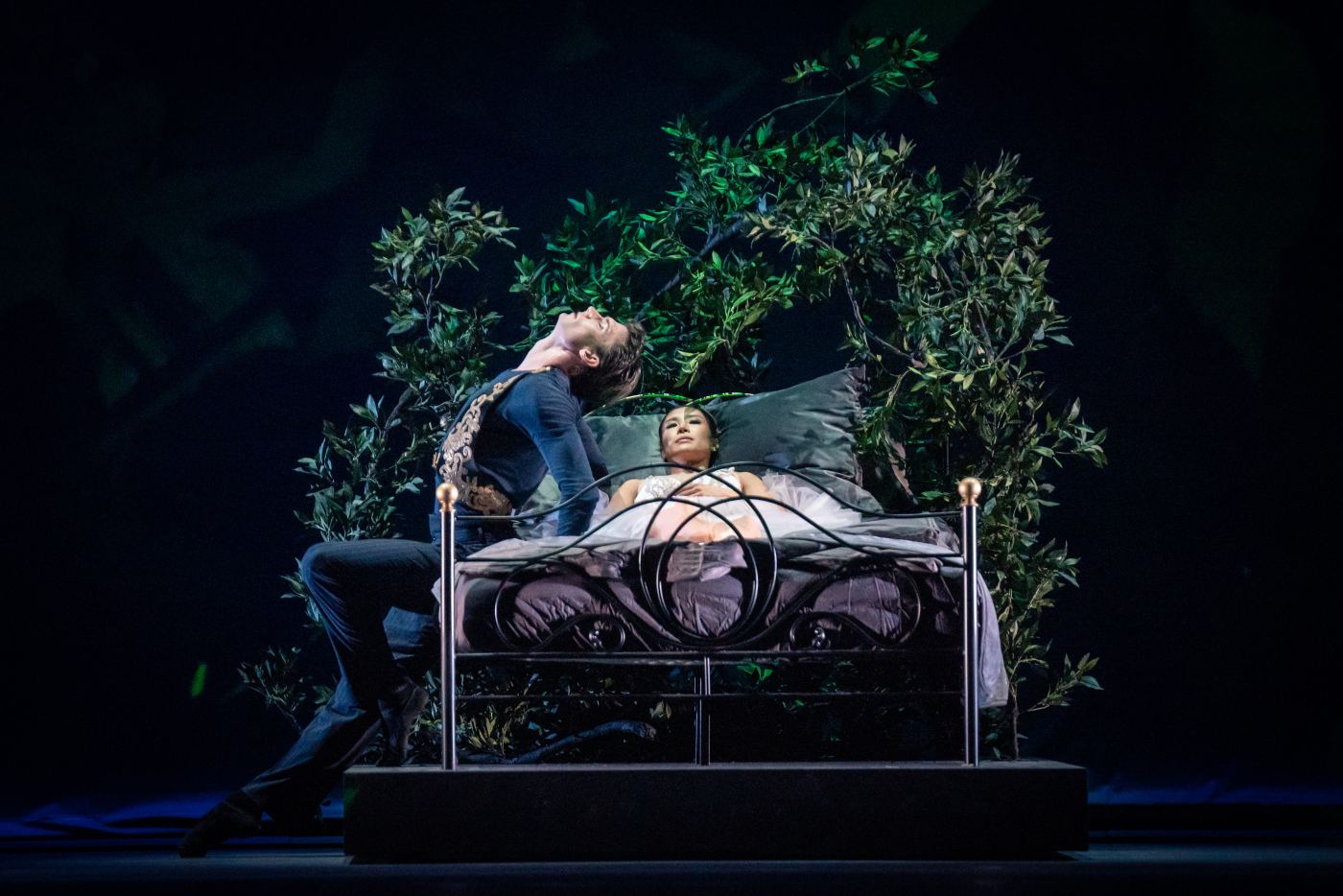 Awkwardly modern movement impairs the grace and purity of the Lilac Fairy (Ioanna Avraam). In Schläpfer's reading, she and Carabosse (Claudine Schoch – her wasp-like opponent) are on opposite sides of the same coin. Acknowledging her defeat, Carabosse literally kneels in front of the Prince. For the other fairies, Schläpfer wove some of the distinctive movements invented by Petipa into new variations. The resulting movement – together with Catherine Voeffray's cheap, skimpy dresses – is an affront to their dignity. Dignity is also a foreign concept for the Queen (Olga Esina), a wanna-be grand dame oozing a Black Swan-like sex-appeal. It's clear that she is finding it hard to resign. As her husband, Kimoto fades next to her, crawling on his knees in front of Carabosse (he later lives up to his kingly status in various solos). Aurora discovers her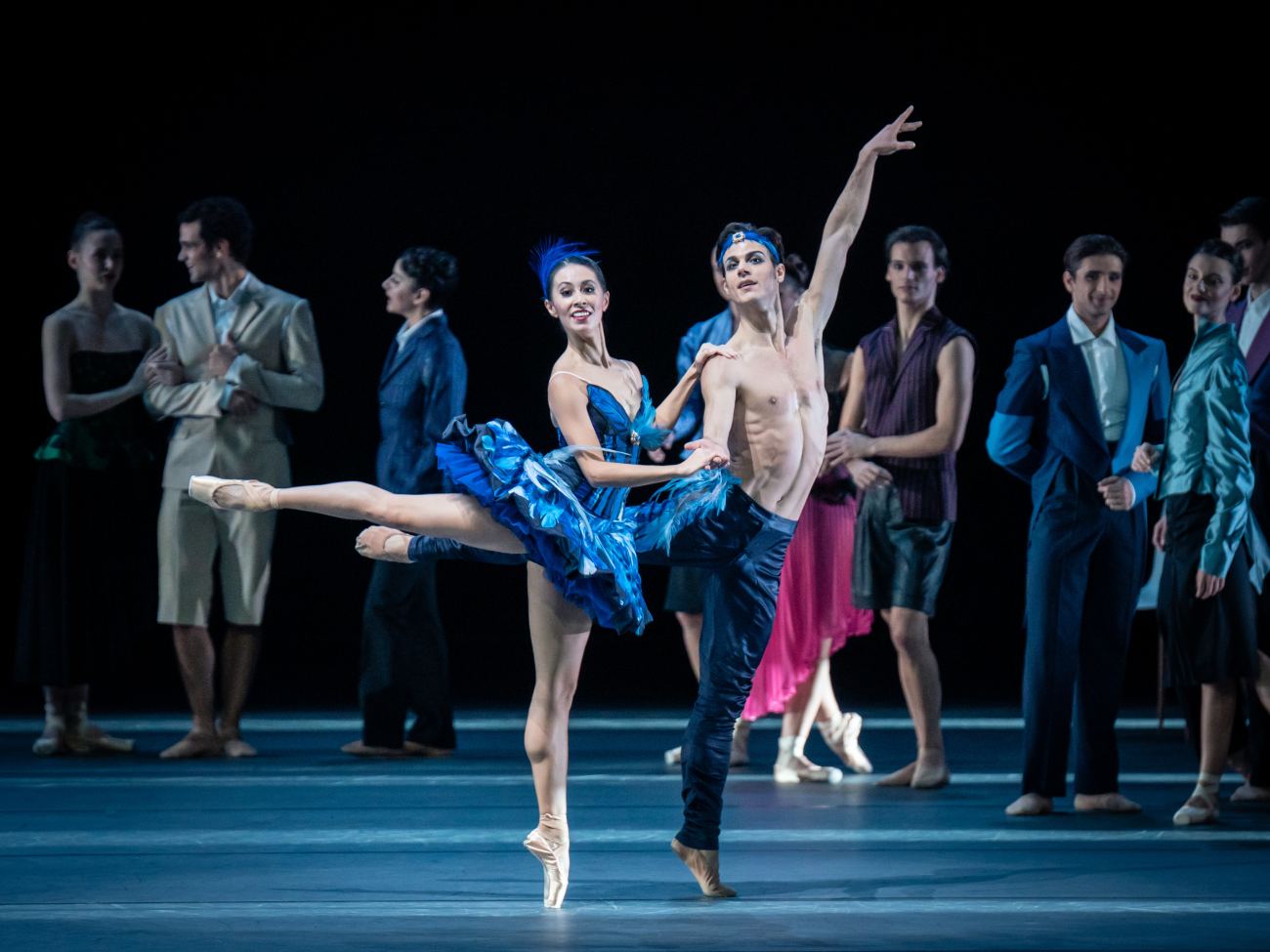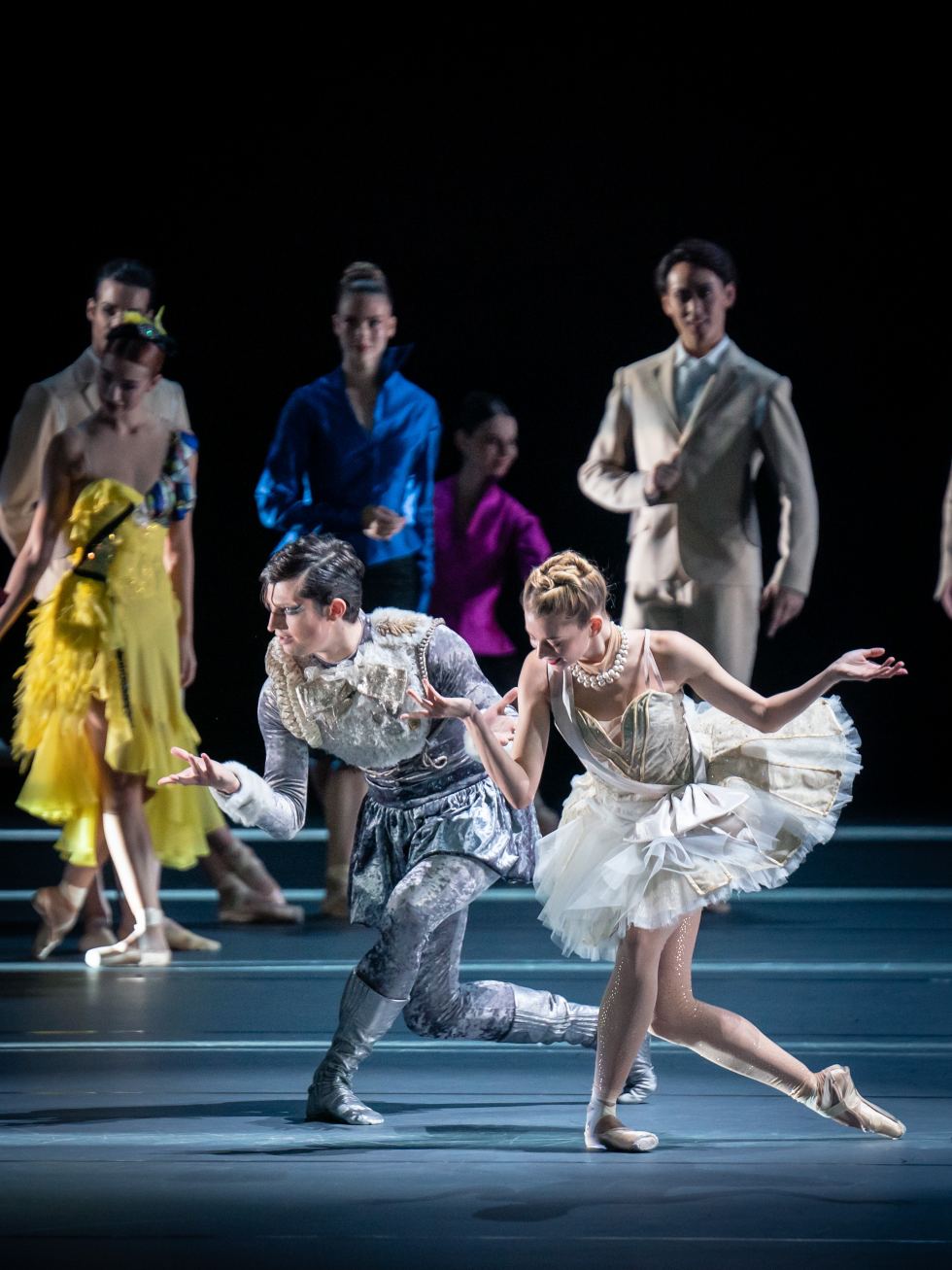 modern side after awakening, gradually exploring a contemporary vocabulary. Though the hybrid of classical and contemporary elements flows together in this case, it feels random and indecisive in many others. Notably, these contrasting movement vocabularies ask us to notice that she is no longer the epitome of societal beauty. It raises the question: was Schläpfer seeking to create beauty? Or something else? That might explain why he decided to chop Petipa's choreography into pieces and combine it with diametrically opposed language of his own. It is a project destined to fail. It would also explain why he allowed Voeffray to dress the dancers in costumes whose cut, color, and lack of consistent style offend good taste.
Unperturbed by the shortcomings on stage, Patrick Lange and the Orchestra of the Vienna State Opera gave a refined rendition of Tchaikovsky's score.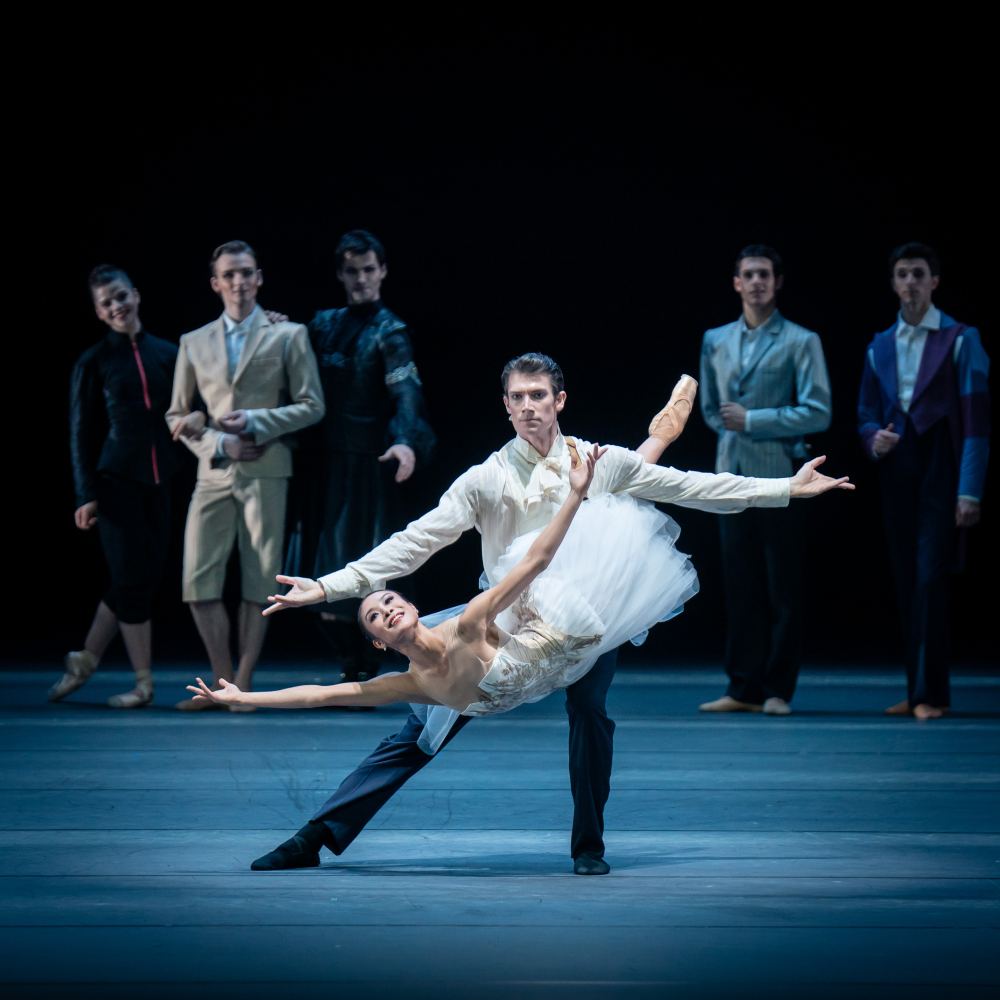 Links:
Website of the Vienna State Ballet
"The Sleeping Beauty" – Trailer
Rehearsal of "The Sleeping Beauty"
Martin Schläpfer on "The Sleeping Beauty" (video)

Photos:

1.

Jackson Carroll (Catalabutte) and ensemble,

"

The Sleeping Beauty"

by Martin Schläpfer

and Marius Petipa

,

Vienna State Ballet

2022

2.

Jackson Carroll (Catalabutte), Olga Esina (Queen), Claudine Schoch (Carabosse), Igor Milos and Calogero Failla (Carabosse's entourage), and ensemble,

"

The Sleeping Beauty"

by Martin Schläpfer

and Marius Petipa

,

Vienna State Ballet

2022

3.

Gaspare Li Mandri and Javier Gonzáles Cabrera (Pages), Jackson Carroll (Catalabutte), Olga Esina (Queen), Masayu Kimoto (King), and Adi Hanan (Page),

"

The Sleeping Beauty"

by Martin Schläpfer

and Marius Petipa

,

Vienna State Ballet

2022

4.

Masayu Kimoto (King), Olga Esina (Queen), Arne Vandervelde (Prince), Kristián Pokorný (Prince), Géraud Wielick (Prince), Rashaen Arts (Prince), and ensemble,

"

The Sleeping Beauty"

by Martin Schläpfer

and Marius Petipa

,

Vienna State Ballet

2022

5.

Hyo-Jung Kang (Princess Aurora),

Kristián Pokorný (Prince), Rashaen Arts (Prince), Arne Vandervelde (Prince), Géraud Wielick (Prince),

and ensemble,

"

The Sleeping Beauty"

by Martin Schläpfer

and Marius Petipa

,

Vienna State Ballet

2022

6.

Claudine Schoch (Carabosse)

and Hyo-Jung Kang (Princess Aurora),

"

The Sleeping Beauty"

by Martin Schläpfer

and Marius Petipa

,

Vienna State Ballet

2022

7.

Olga Esina (Queen),

Hyo-Jung Kang (Princess Aurora),

Masayu Kimoto (King),

and ensemble,

"

The Sleeping Beauty"

by Martin Schläpfer

and Marius Petipa

,

Vienna State Ballet

2022

8.

Yuko Kato (Woodswoman) and Daniel Vizcayo (Faun),

"

The Sleeping Beauty"

by Martin Schläpfer

and Marius Petipa

,

Vienna State Ballet

2022

9.

Brendan Saye (Prince Désiré), Daniel Vizcayo (Faun), and Yuko Kato (Woodswoman),

"

The Sleeping Beauty"

by Martin Schläpfer

and Marius Petipa

,

Vienna State Ballet

2022

10.

Brendan Saye (Prince Désiré) and Hyo-Jung Kang (Princess Aurora),

"

The Sleeping Beauty"

by Martin Schläpfer

and Marius Petipa

,

Vienna State Ballet

2022

11.

Brendan Saye (Prince Désiré) and Hyo-Jung Kang (Princess Aurora),

"

The Sleeping Beauty"

by Martin Schläpfer

and Marius Petipa

,

Vienna State Ballet

2022

12.

Kiyoka Hashimoto (Princess Florine), Davide Dato (Blue Bird), and ensemble,

"

The Sleeping Beauty"

by Martin Schläpfer

and Marius Petipa

,

Vienna State Ballet

2022

13.

Marian Furnica (

Tomcat)

and Eszter Ledán

(Cat)

,

"

The Sleeping Beauty"

by Martin Schläpfer

and Marius Petipa

,

Vienna State Ballet

2022

14.

Hyo-Jung Kang (Princess Aurora), Brendan Saye (Prince Désiré),

and ensemble,

"

The Sleeping Beauty"

by Martin Schläpfer

and Marius Petipa

,

Vienna State Ballet

2022

all photos © Vienna State Ballet / Ashley Taylor
Editing:
Jake Stepansky