"Consagracíon" / "Polvo, palabras, sombras, nada"
Danza Contemporánea de Cuba
Forum Ludwigsburg
Ludwigsburg, Germany
December 17, 2022
by Ilona Landgraf
Copyright © 2022 by Ilona Landgraf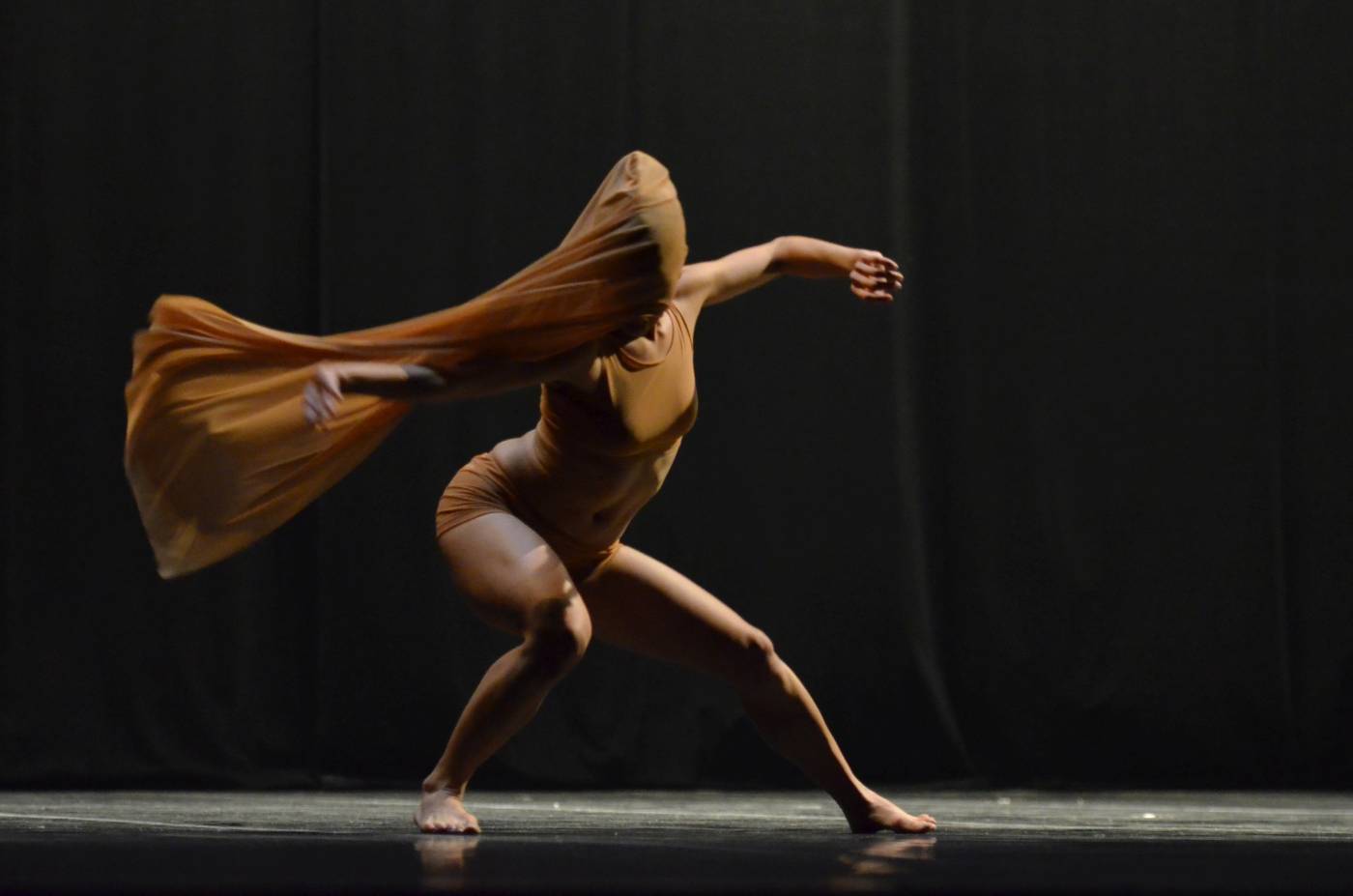 Danza Contemporánea de Cuba – a contemporary ensemble from Cuba – is in the middle of a tour of Europe. After performances in France and Switzerland, the group presented a double bill in Ludwigsburg, Germany, last weekend. I expected exhilarating Latin American pyrotechnics infused with burgeoning Christmas spirit. However, the two pieces – "Consagracíon" (2018) and "Polvo, palabras, sombras, nada" (2021) – spoke quite a different language.
Stravinsky's "Le Sacre du printemps" has provided a spark for choreographers throughout the ages. Nijinsky's pioneering version augmented the music's primeval power, as did some of his colleagues' later works. Many "Sacres", though, have turned out to be fairly insignificant entries to the canon. Though it's true that the strength of a performance can depend on its venue (or on the perseverance that is needed to stomp the energy out of the ground), the Ludwigsburg Forum's stage was not the reason that "Consagracíon" gained its momentum slowly.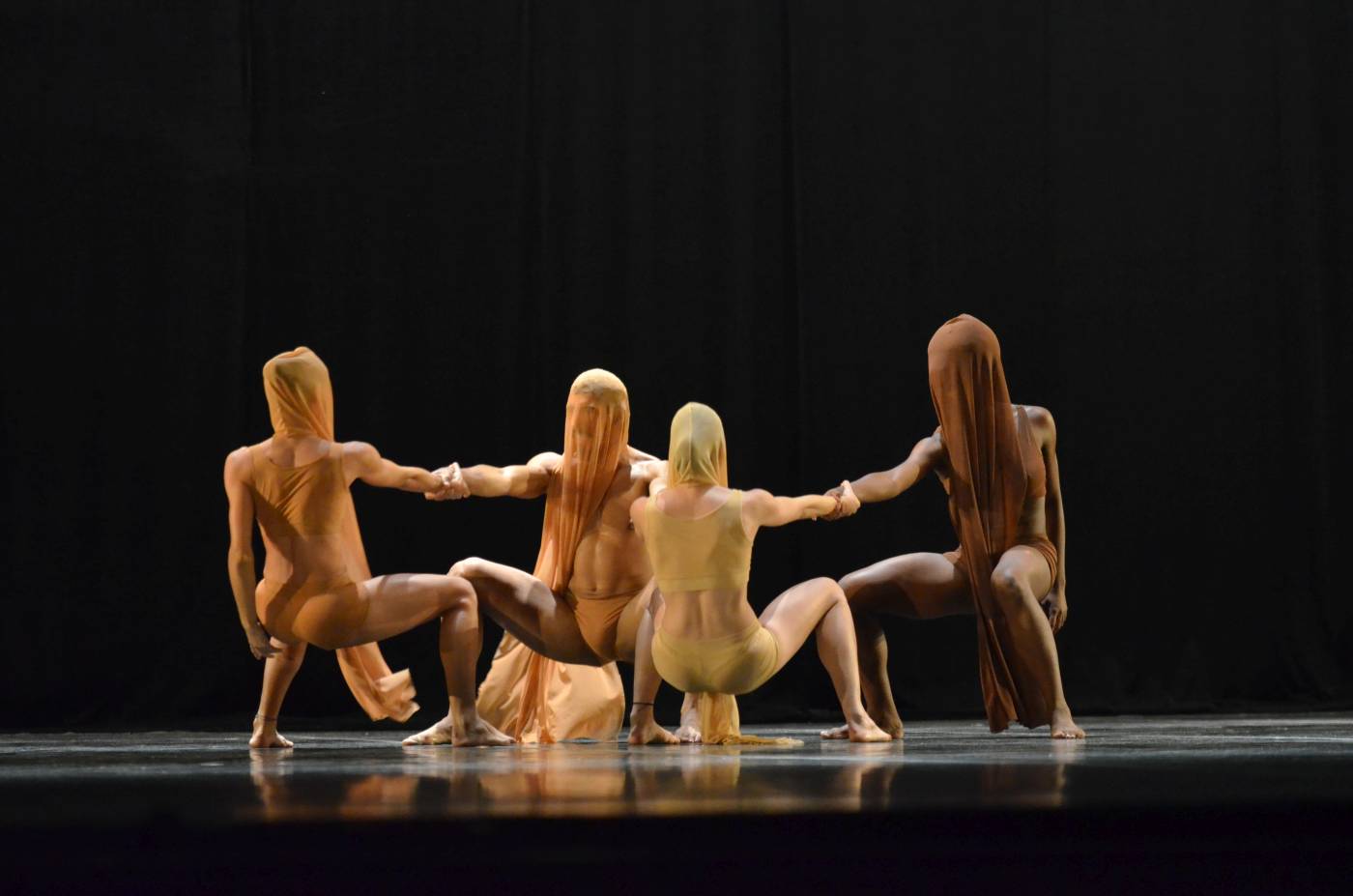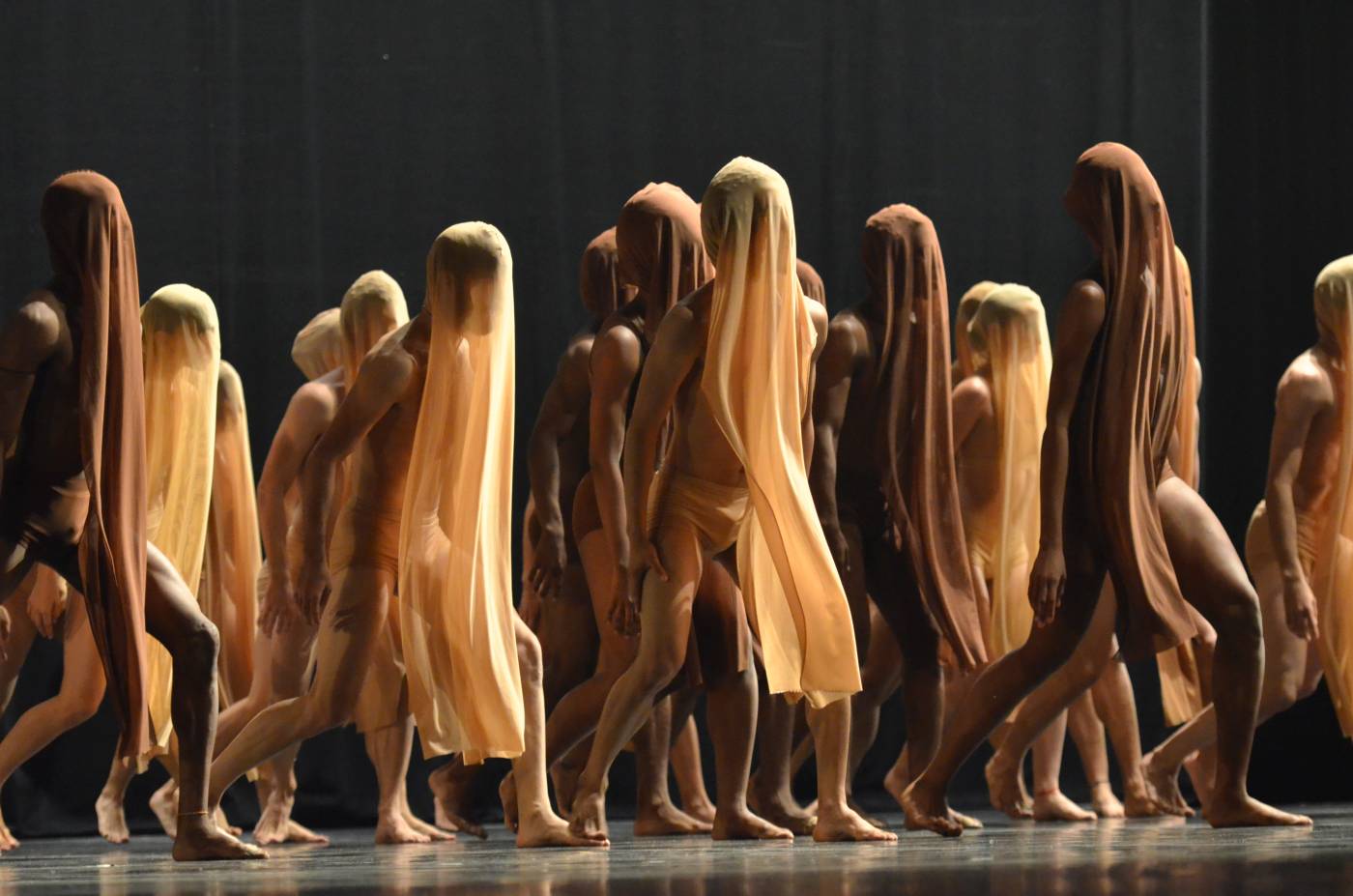 My guess: it wasn't helpful that the choreographers, Christophe Béranger and Jonathan Pranlas-Descours, chose to eschew the core role of the Chosen One, and instead employed ten men and ten women, heads hidden under scarfs, together as an anonymous collective.
How strong is the pulse that drives this ritual forward? The dancers assemble in circles, building a frame around the central arena, kneel in a line on the ground as if praying, and break out into solos. They hop and stomp, plunging into deep lunges and rising on urgent-looking vertical jumps. Their movements are underpinned by sensuality even while their legs slice dynamically through the air. Hands slap thighs or – clenched to fists – stretch up angrily. Torsos undulate as if run through by waves; bottoms sway left, right, and behind. In duets and trios, bodies hang upside down or role across a partner's back. As the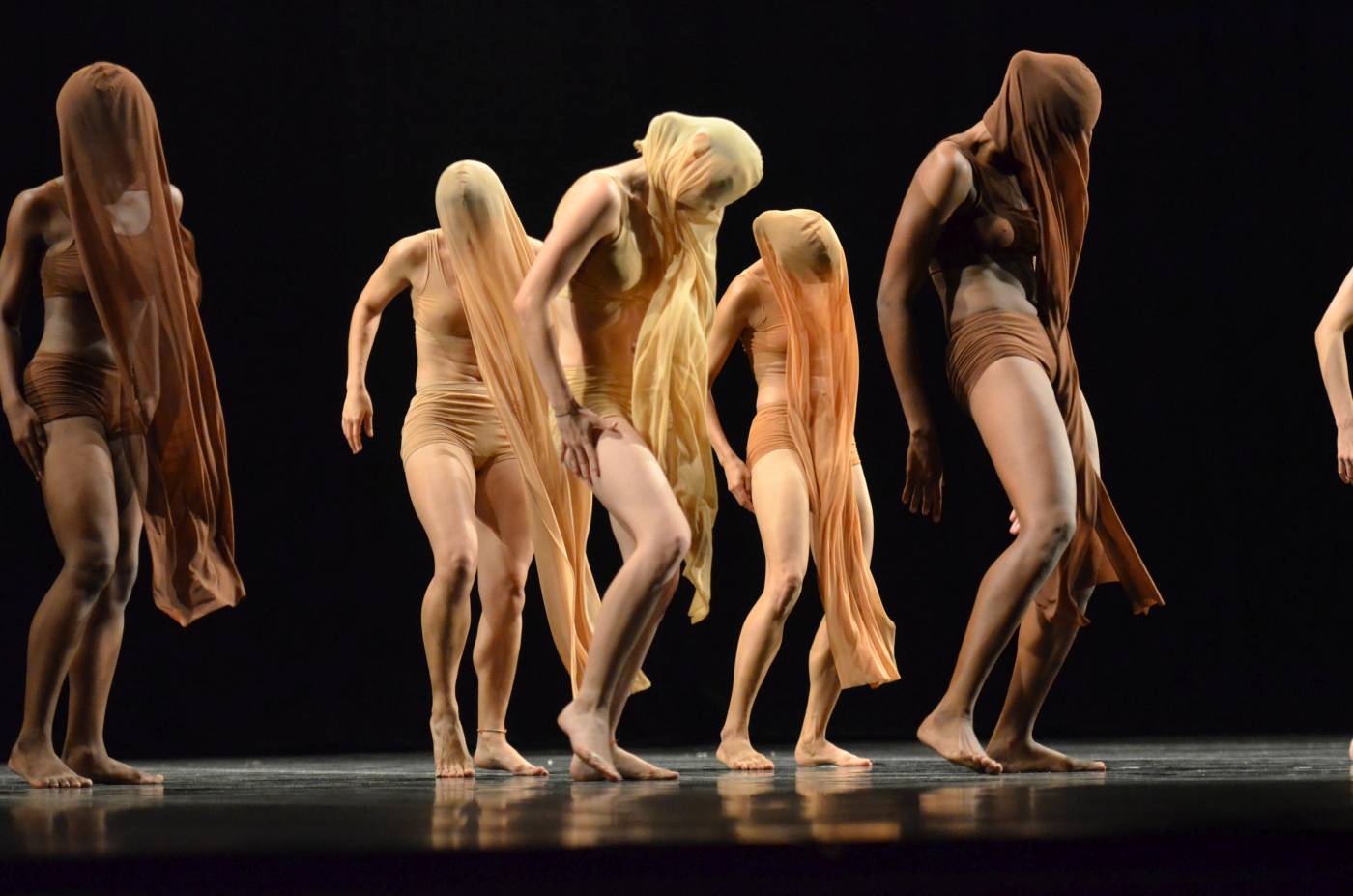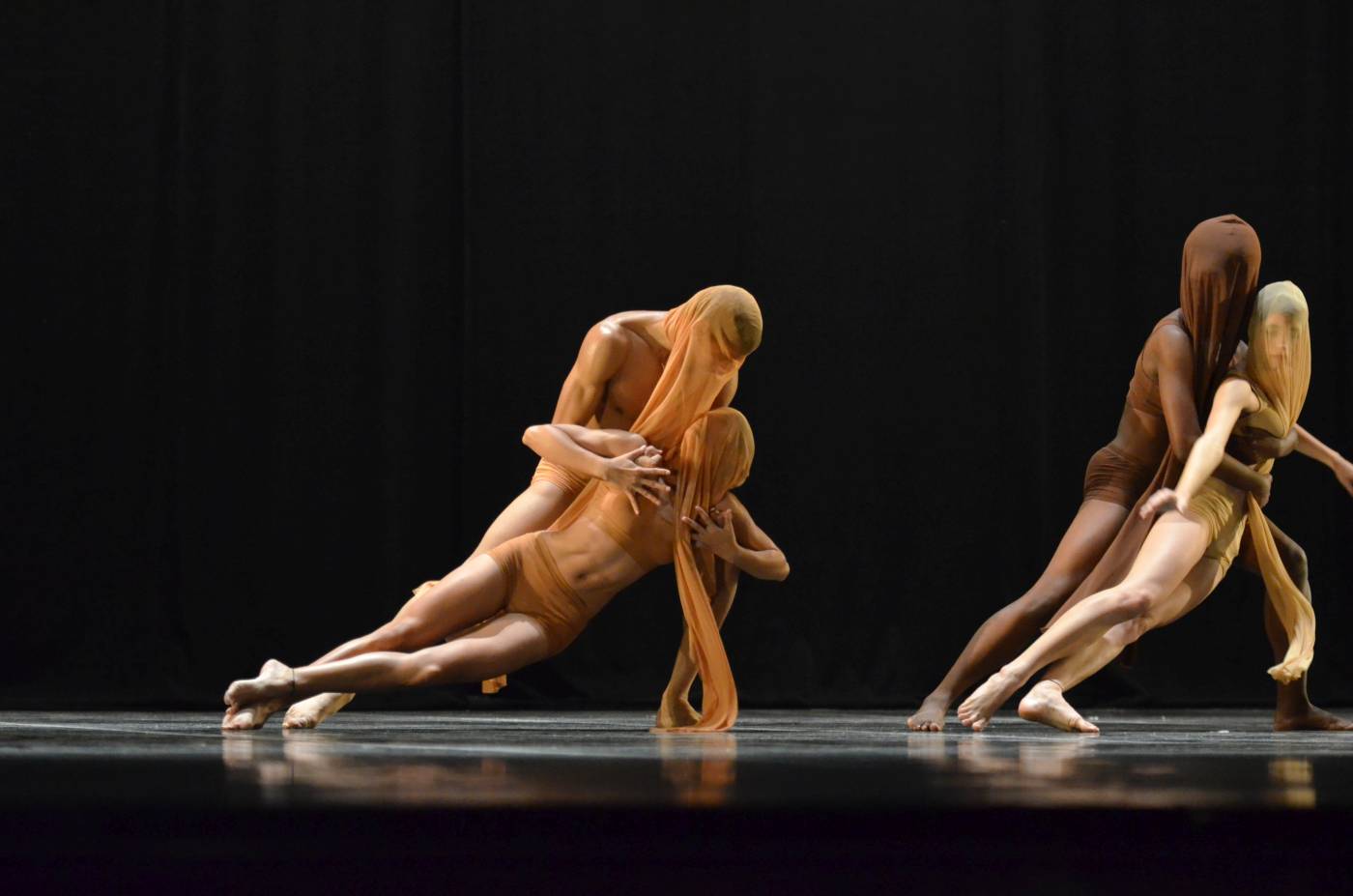 group gathers strength, insecure legs straighten to knead the ground with weaving steps. Suddenly, the focus shifts to the scarfs, which are held up or moved out of the way, their fabric stretched apart. Moments later, the burble of a single bass clarinet prompts the dancers to drop the scarfs in a heaping line at the front of the stage. From that moment onwards, the stern gazes of twenty pairs of eyes pierce the audience time after time.
Béranger and Pranlas-Descours's spring rite does nor culminate in death, but in a spearhead-shaped formation of dancers pointed in challenge towards the audience.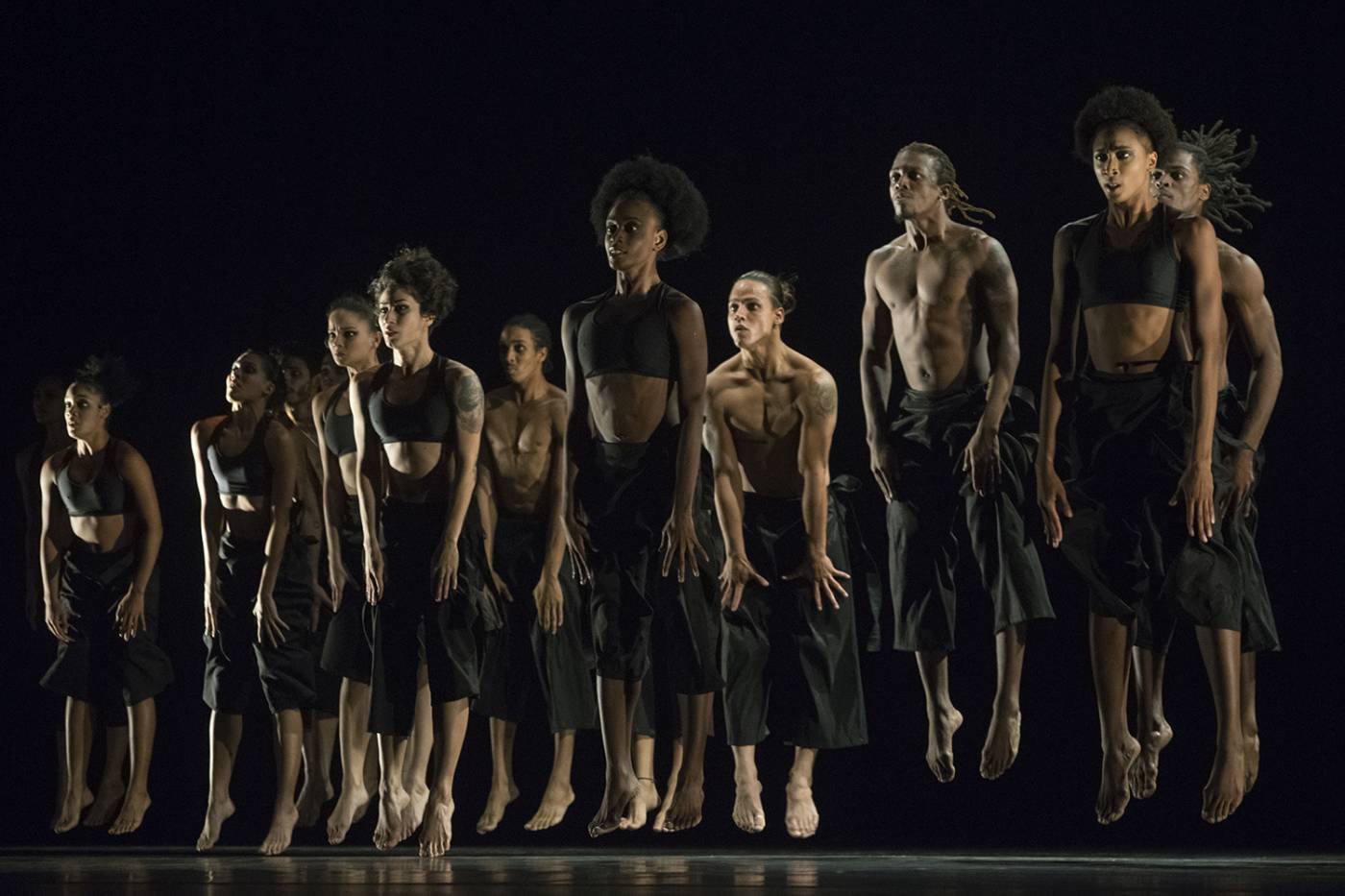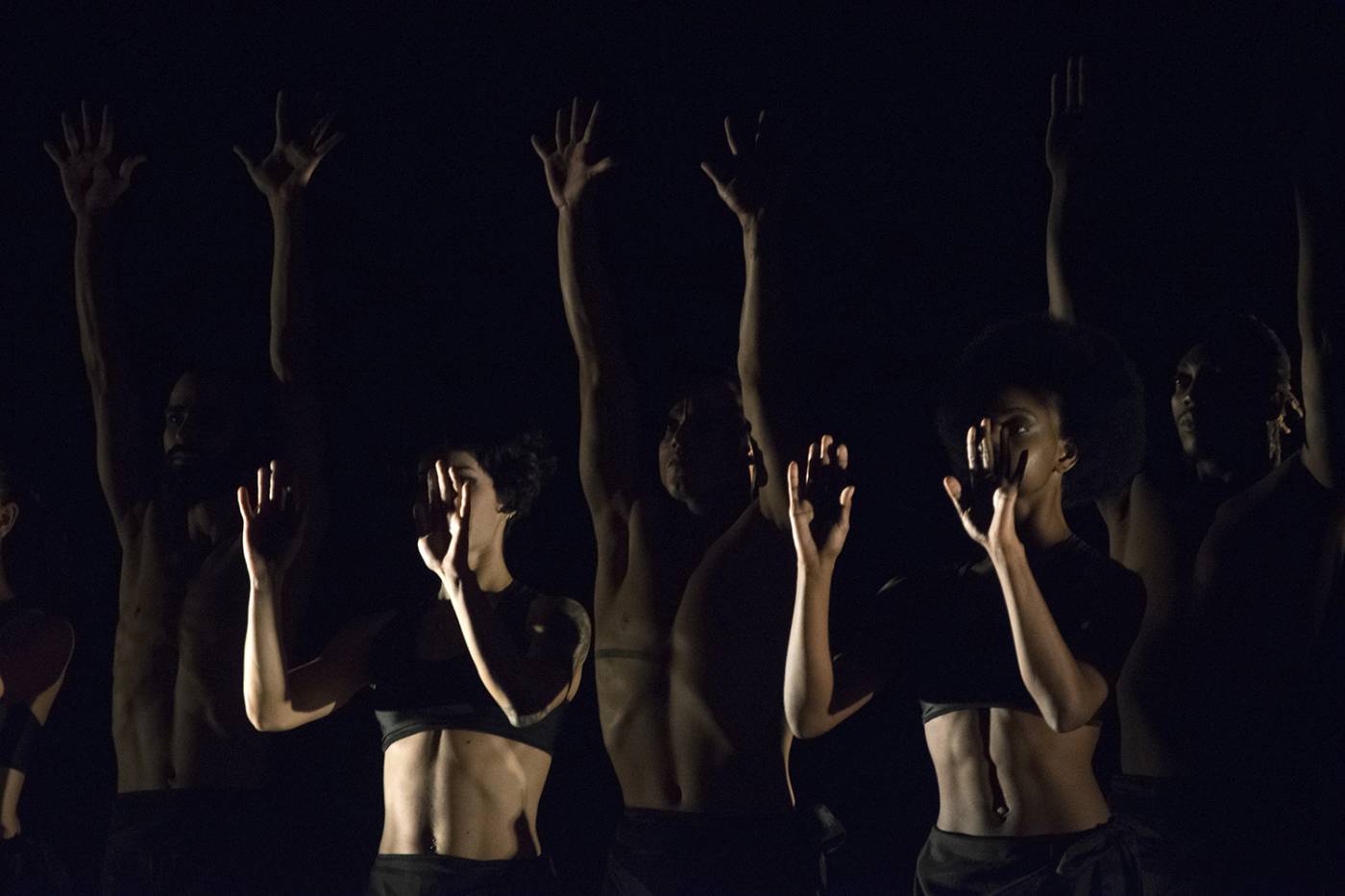 A few moments into "Polvo, palabras, sombras, nada" I began to wonder why Miguel A. Iglesias Ferrer, the troupe's artistic director, had chosen this piece for this program (perhaps because its creator, George Céspedes, is said to be Cuba's leading modern choreographer?). Like "Consagracíon", "Polvo, palabras, sombras, nada" begins in silence. The title, meaning Dust, words, shadows, nothing, is taken from a 12th century Persian poem. As the curtain rises, we see dancers standing motionless on a dim,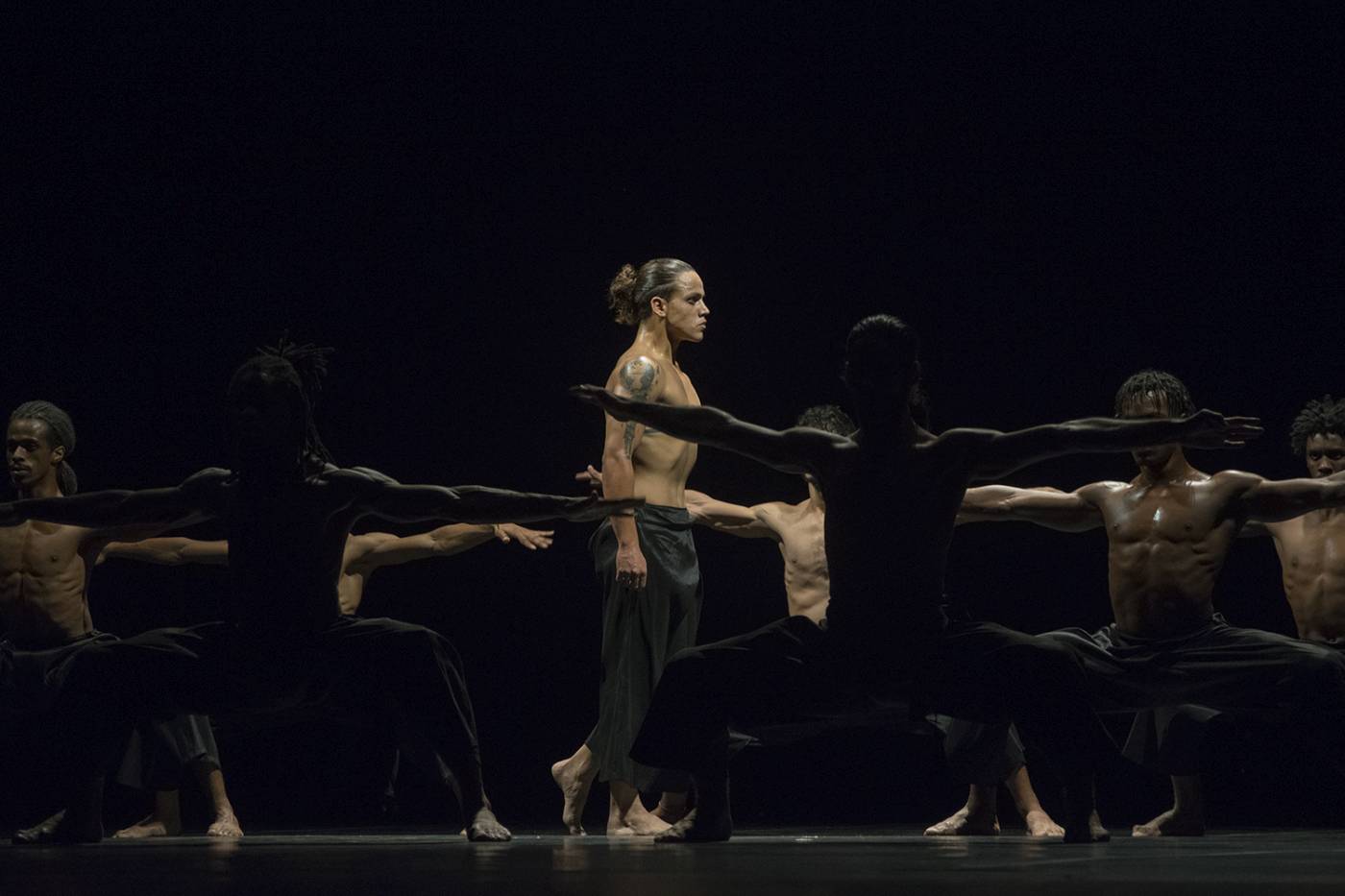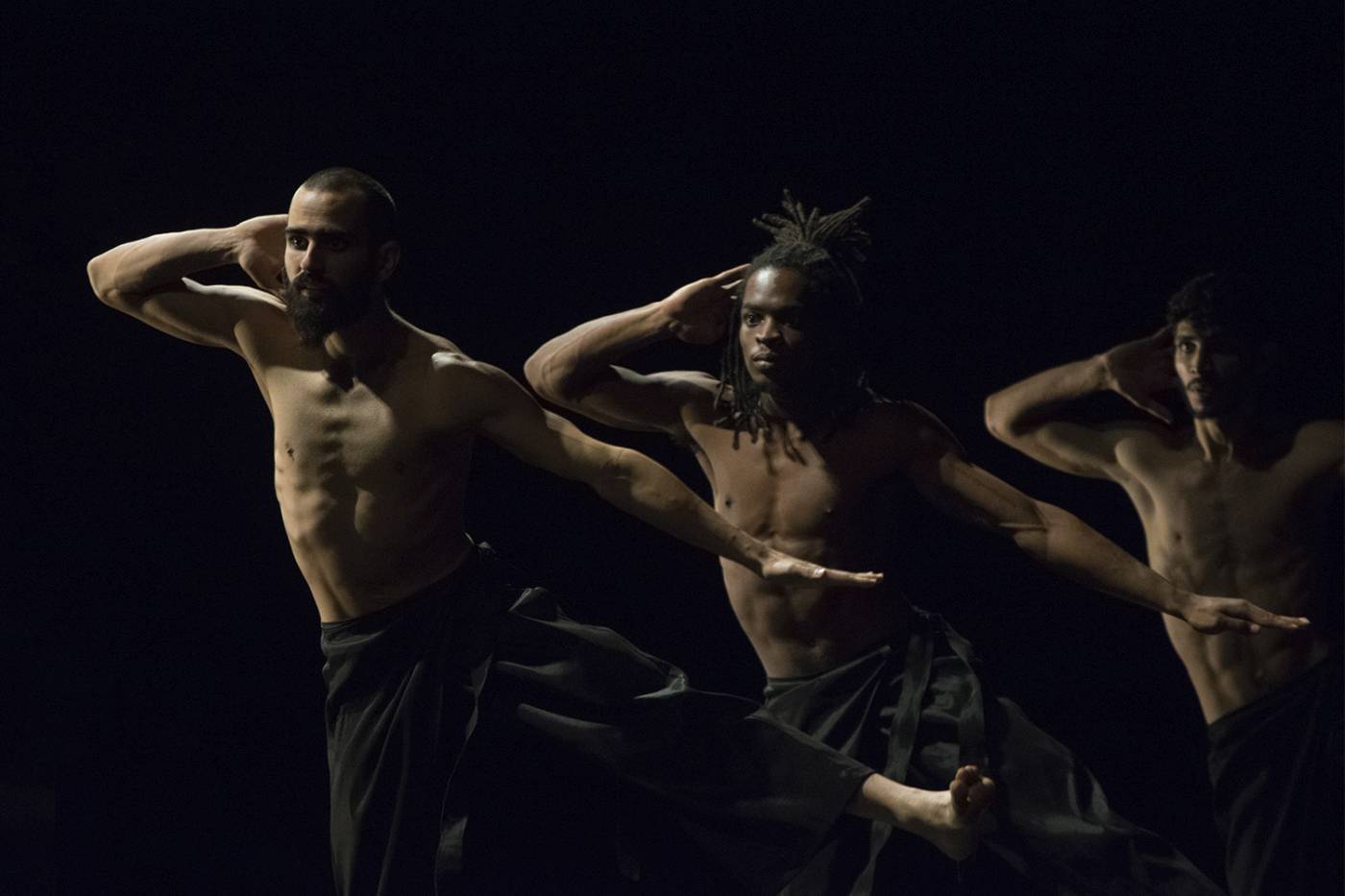 empty stage, framed by the black wings of the stage and a dark backdrop. Episodes of (often lengthy) silence remain a core feature. In between the silences, somber excerpts of Camille Saint-Saëns's oeuvre accompany movements whose overall style resembles that of "Consagracíon". Long gazes and slow touches attempt to create meaning (or at least meaningful-ness). Spotlights of various sizes and quantities define the scope of movements, though sometimes the dancers dare to cross their borders and explore the darkness. Moments of insecurity and fear abound. Some gazes tell the audience a story of misery. As the floor turns blood-red in "Agnus Dei", the dancers' eyes fix on us again, giving a strong emphasis to the final amen.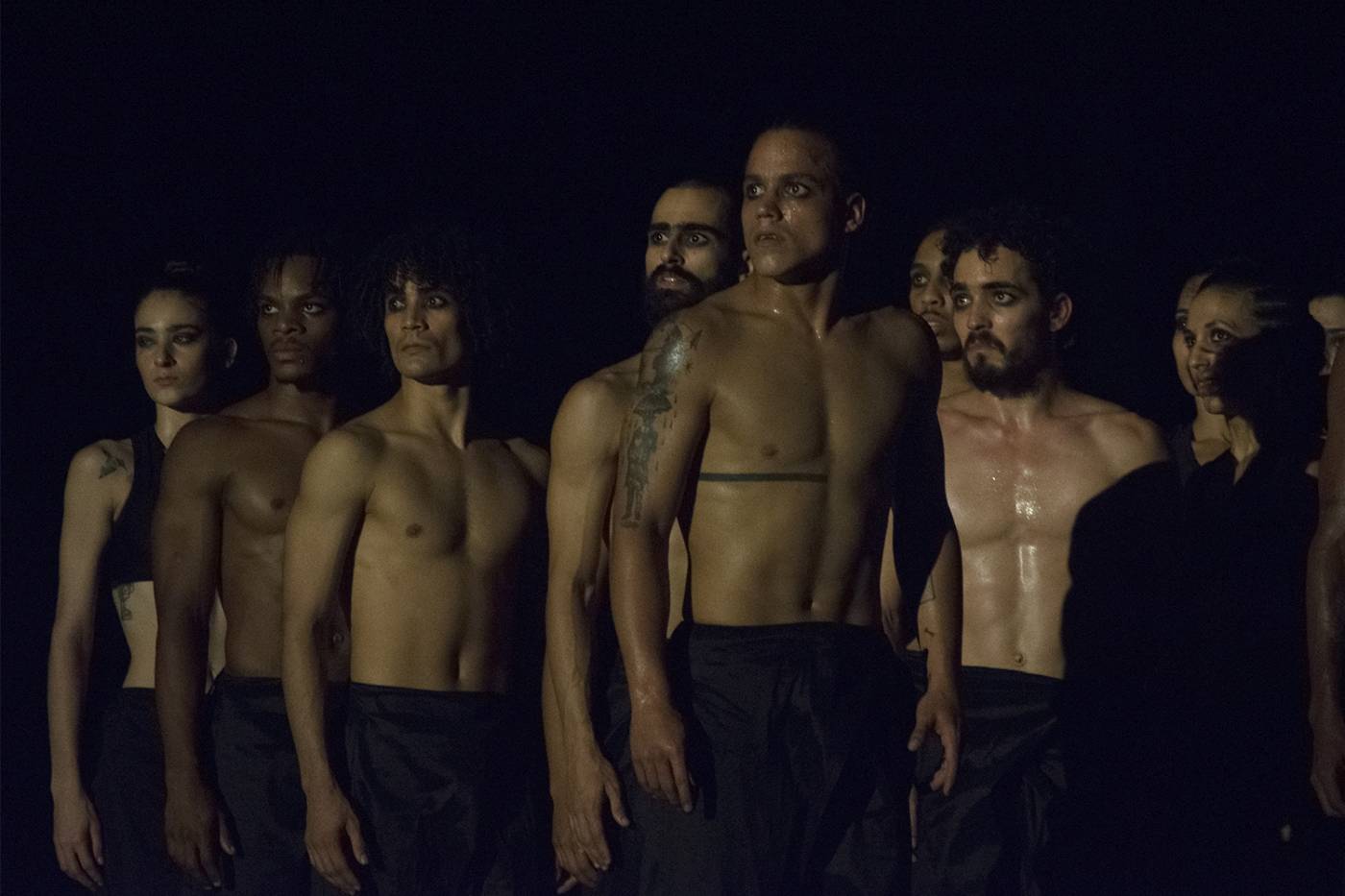 Link:
"

Consagracíon" –

filmed at

the Gran Teatro de La Habana Alicia Alonso in 2021

Photos:

1.

Ensemble, "

Consagracíon"

by Christophe Béranger and Jonathan Pranlas-Descours, Danza Contemporánea de Cuba 2022

©

Adolfo Izquierdo

2.

Ensemble, "

Consagracíon"

by Christophe Béranger and Jonathan Pranlas-Descours, Danza Contemporánea de Cuba 2022

©

Adolfo Izquierdo

3.

Ensemble, "

Consagracíon"

by Christophe Béranger and Jonathan Pranlas-Descours, Danza Contemporánea de Cuba 2022

©

Adolfo Izquierdo

4.

Ensemble, "

Consagracíon"

by Christophe Béranger and Jonathan Pranlas-Descours, Danza Contemporánea de Cuba 2022

©

Adolfo Izquierdo

5.

Ensemble, "

Consagracíon"

by Christophe Béranger and Jonathan Pranlas-Descours, Danza Contemporánea de Cuba 2022

©

Adolfo Izquierdo

6.

Ensemble,

"Polvo, palabras, sombras, nada"

by George Céspedes

, Danza Contemporánea de Cuba 2022

©

Yuris Norido

7.

Ensemble,

"Polvo, palabras, sombras, nada"

by George Céspedes

, Danza Contemporánea de Cuba 2022

©

Yuris Norido

8.

Ensemble,

"Polvo, palabras, sombras, nada"

by George Céspedes

, Danza Contemporánea de Cuba 2022

©

Yuris Norido

9.

Ensemble,

"Polvo, palabras, sombras, nada"

by George Céspedes

, Danza Contemporánea de Cuba 2022

©

Yuris Norido

10.

Ensemble,

"Polvo, palabras, sombras, nada"

by George Céspedes

, Danza Contemporánea de Cuba 2022

©

Yuris Norido

Editing:
Jake Stepansky