"The Nutcracker"
Bolshoi Ballet
Bolshoi Theatre
Moscow, Russia
December 29, 2022 (matinee and evening performance)
by Ilona Landgraf
Copyright © 2023 by Ilona Landgraf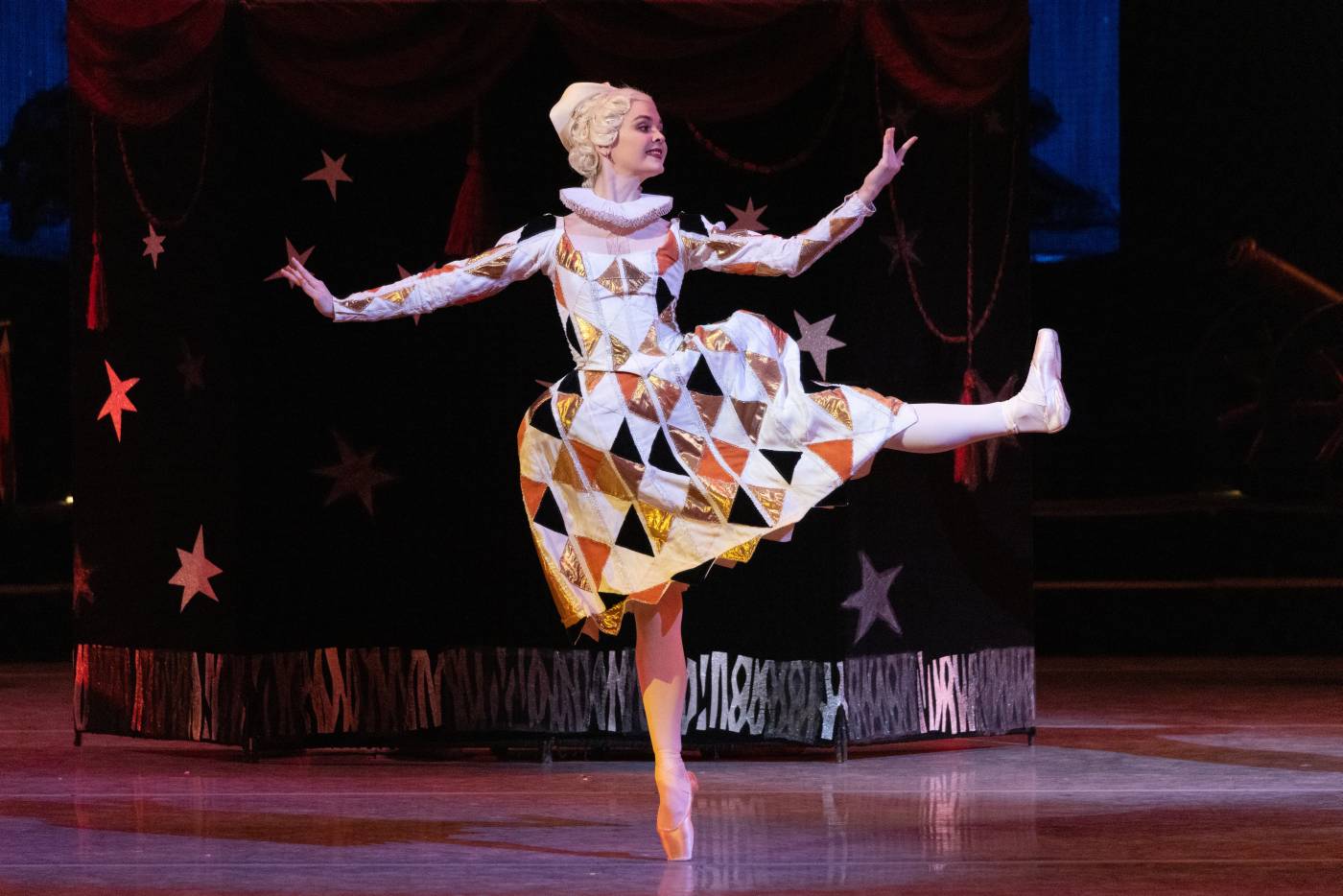 After meeting him at a guest performance with Les Ballets de Monte Carlo six years ago, the Bolshoi's Semyon Chudin suggested that I see their "Nutcracker" in Moscow. Year after year, one thing or another has prevented me from getting to the Bolshoi at Christmastime. Finally, this year, it happened: on the edge of New Year's Eve, I watched a matinee and an evening performance.
The Bolshoi's "Nutcracker" dates back to 1966 – qualifying it neither as trendy nor hip by today's standards. Perhaps Makhar Vaziev, the company's artistic director, has kept it in the repertoire for a number of reasons: out of respect for tradition; out of respect for the ballet's choreographer – Yuri Grigorovich – one of the company's formative figures; and out of respect for the crowd-pleasing nature of the piece that leads to sold out performances now as ever.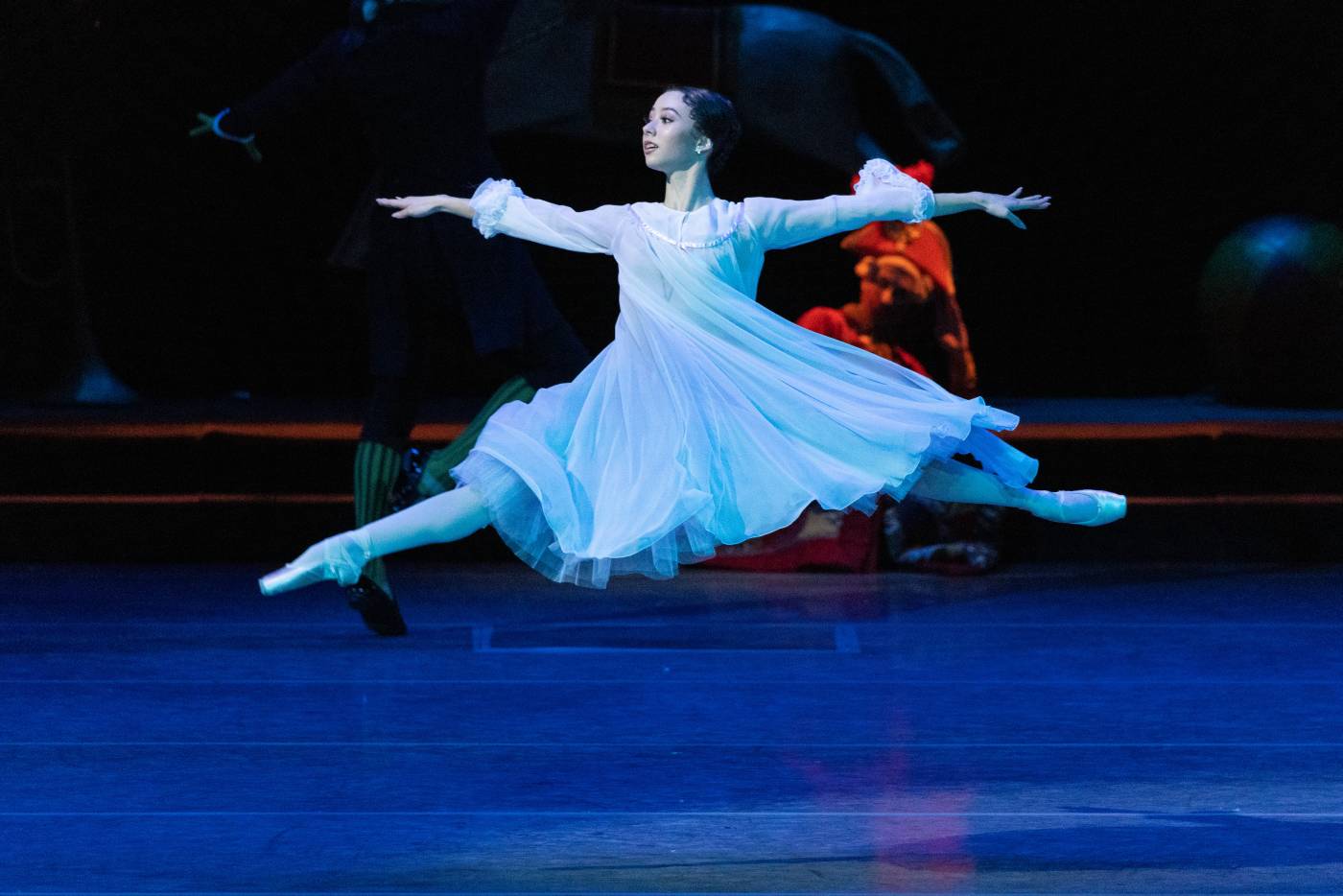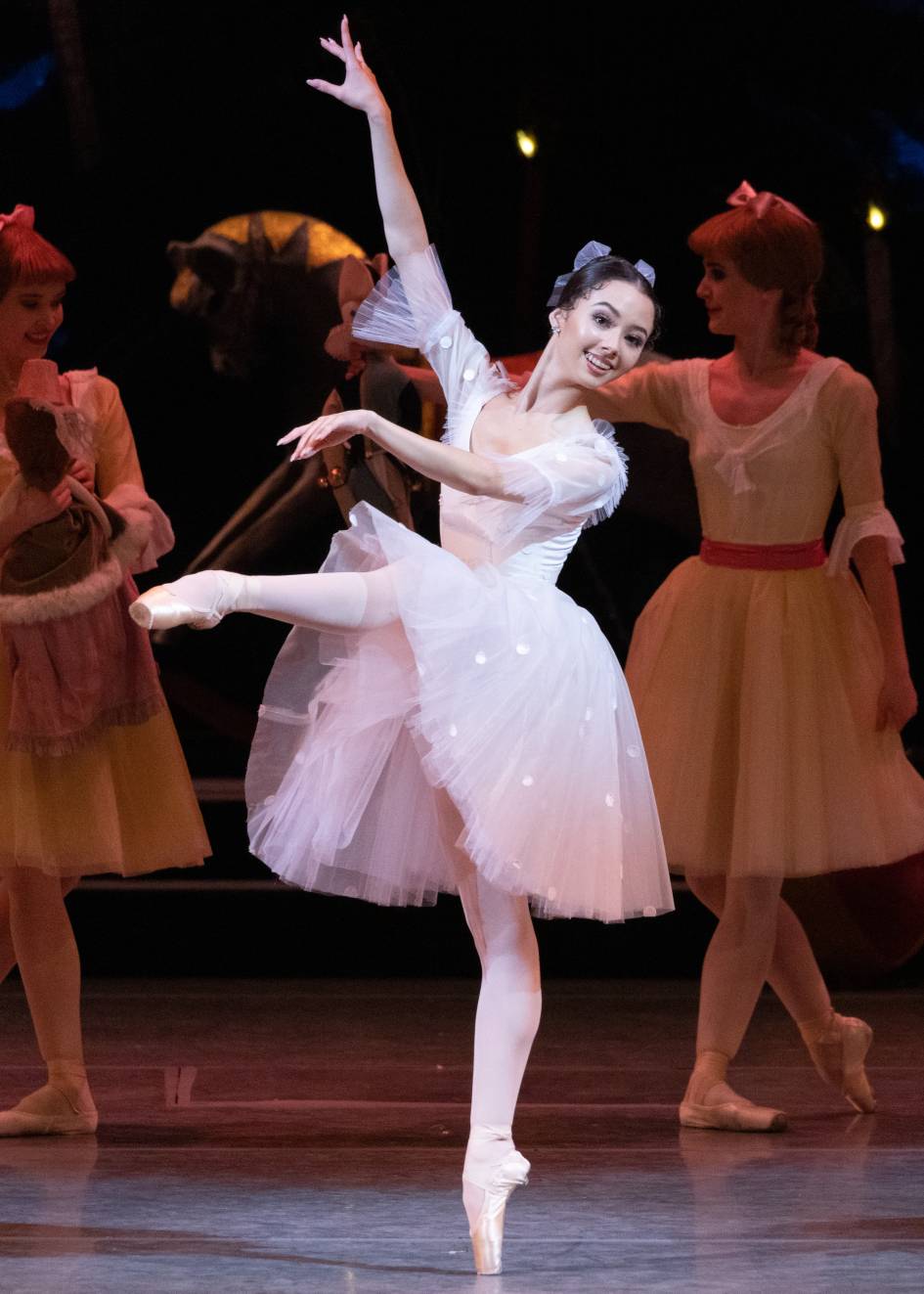 Grigorovich's version largely follows the well-known libretto. Among the whimsical guests that arrive to celebrate Christmas Eve at the Stahlbaums' parlor (decorated in Soviet style by set designer Simon Virsaladze) is the quirky Drosselmeyer, whose magic tricks and mechanical dolls entertain the children. He presents his goddaughter Marie with a waist-height red nutcracker (the only role portrayed by a child) – but it is accidentally broken by Marie's envious brother Fritz. Once repaired by Drosselmeyer, the nutcracker is brought to safety under the Christmas tree, and Marie lies down to sleep next to it. Drosselmeyer reappears in a dream, his hands fluttering eerily as the clock strikes midnight. Marie, shrunk to toy-size, is suddenly surrounded by a horde of mice led by a savage mouse-king. They battle with tin soldiers commanded by the nutcracker. Marie's courageous intervention repulses the mice – but nevertheless it seems to be too late for the nutcracker, who lies on the ground as if dead.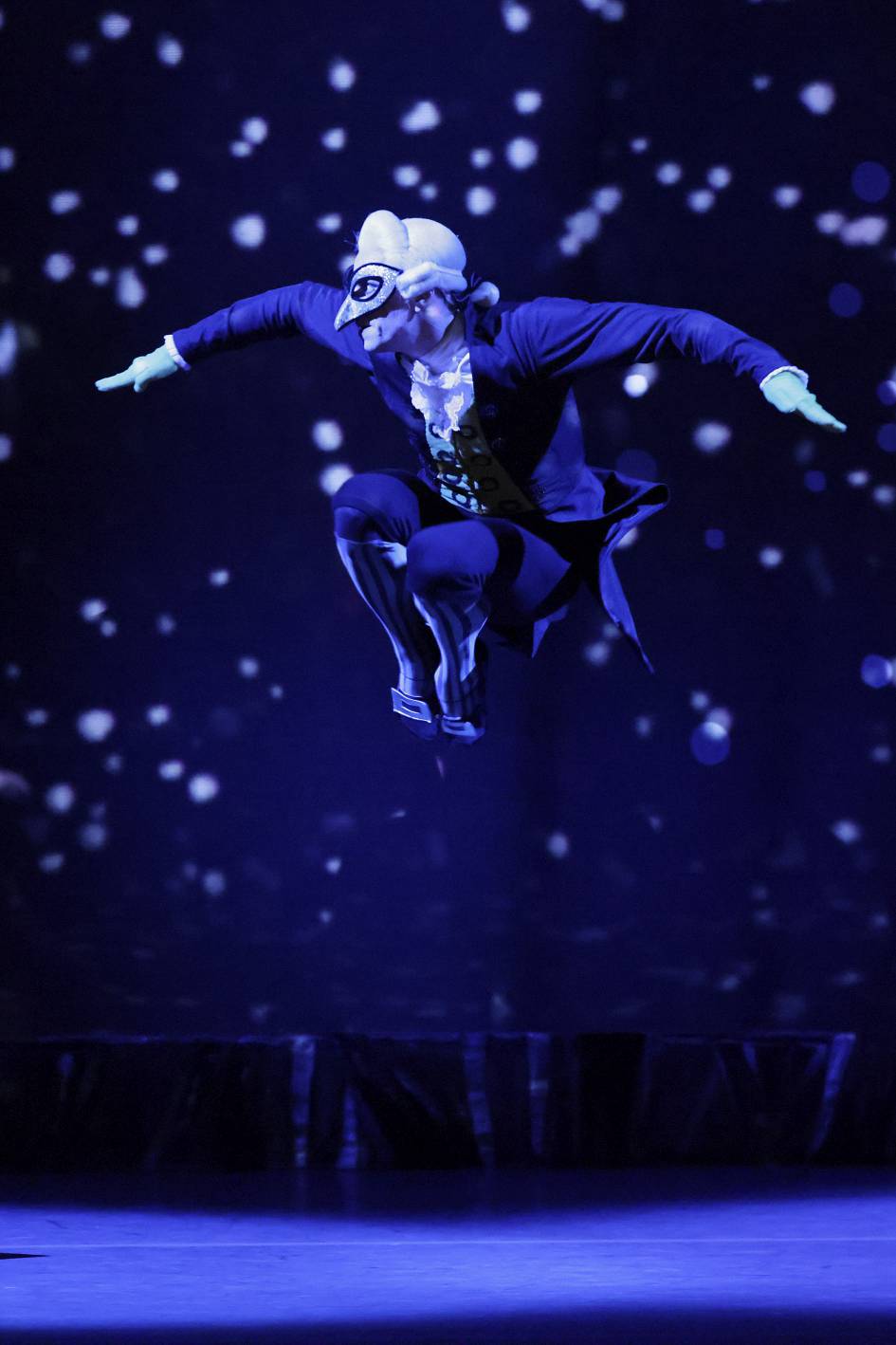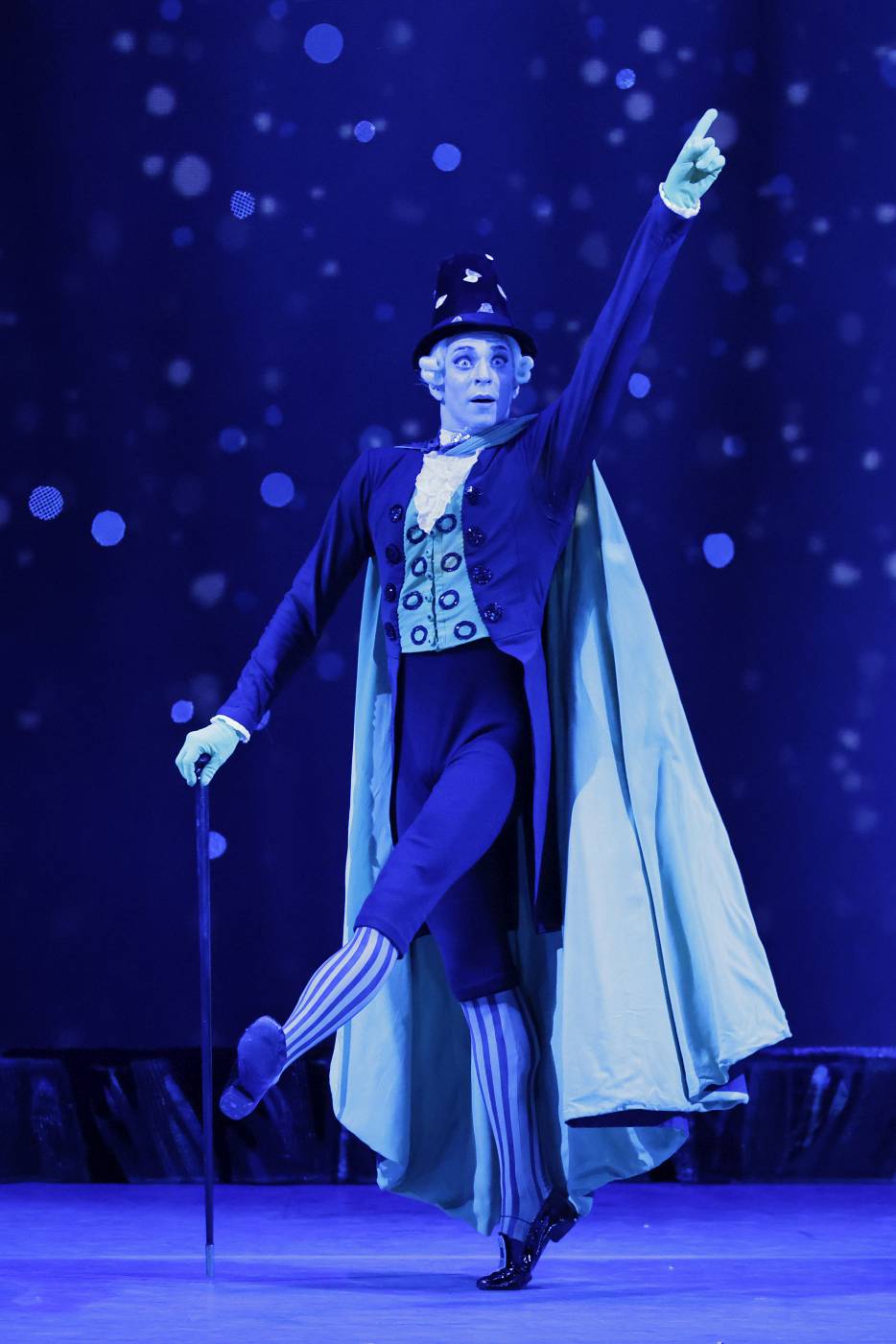 The kind-hearted Drosselmeyer again displays his supernatural power by reviving the nutcracker and transforming him into a handsome prince. Accompanied by an entourage of toy dolls, the happy Marie and the valiant prince embark on a journey through a magical wintery world in which snowflakes waltz around a snow-covered Christmas tree.
In most productions the dream-story traces a little girl's journey to womanhood. Grigorovich, by contrast, focuses on holistic transcendence rather than individual bliss. His leading couple travels up through the Christmas tree towards the star – a paragon of beauty and light. As they travel along the path, they are attacked again by the mice, who flee when their king falls by the blade of the prince's heroic sword. His corpse is devoured by a smoky hole in the ground (presumably an entrance to hell). In celebration of the victory, each of the (Spanish-, Indian-, Chinese-, Russian-, and French) doll couples dances.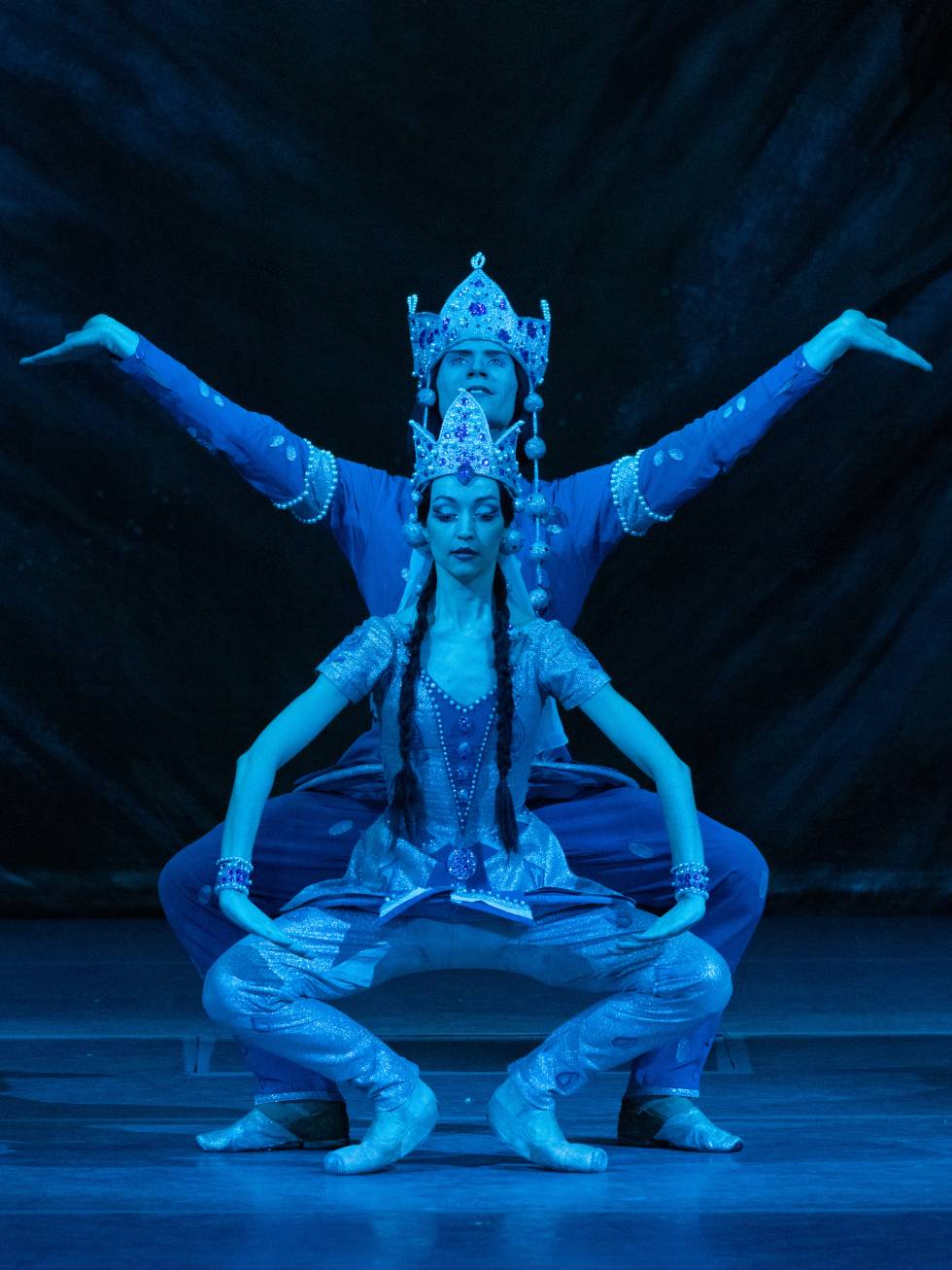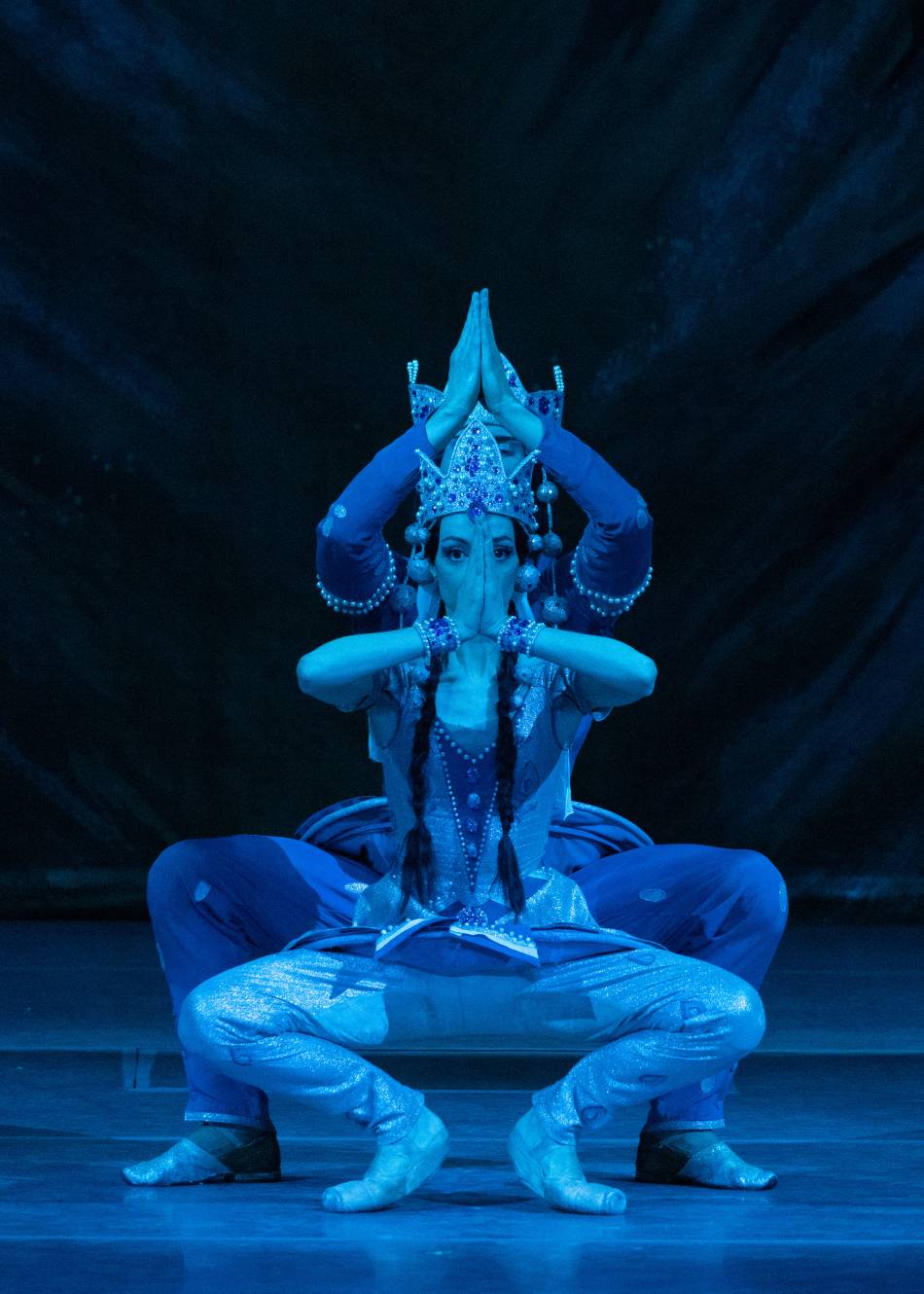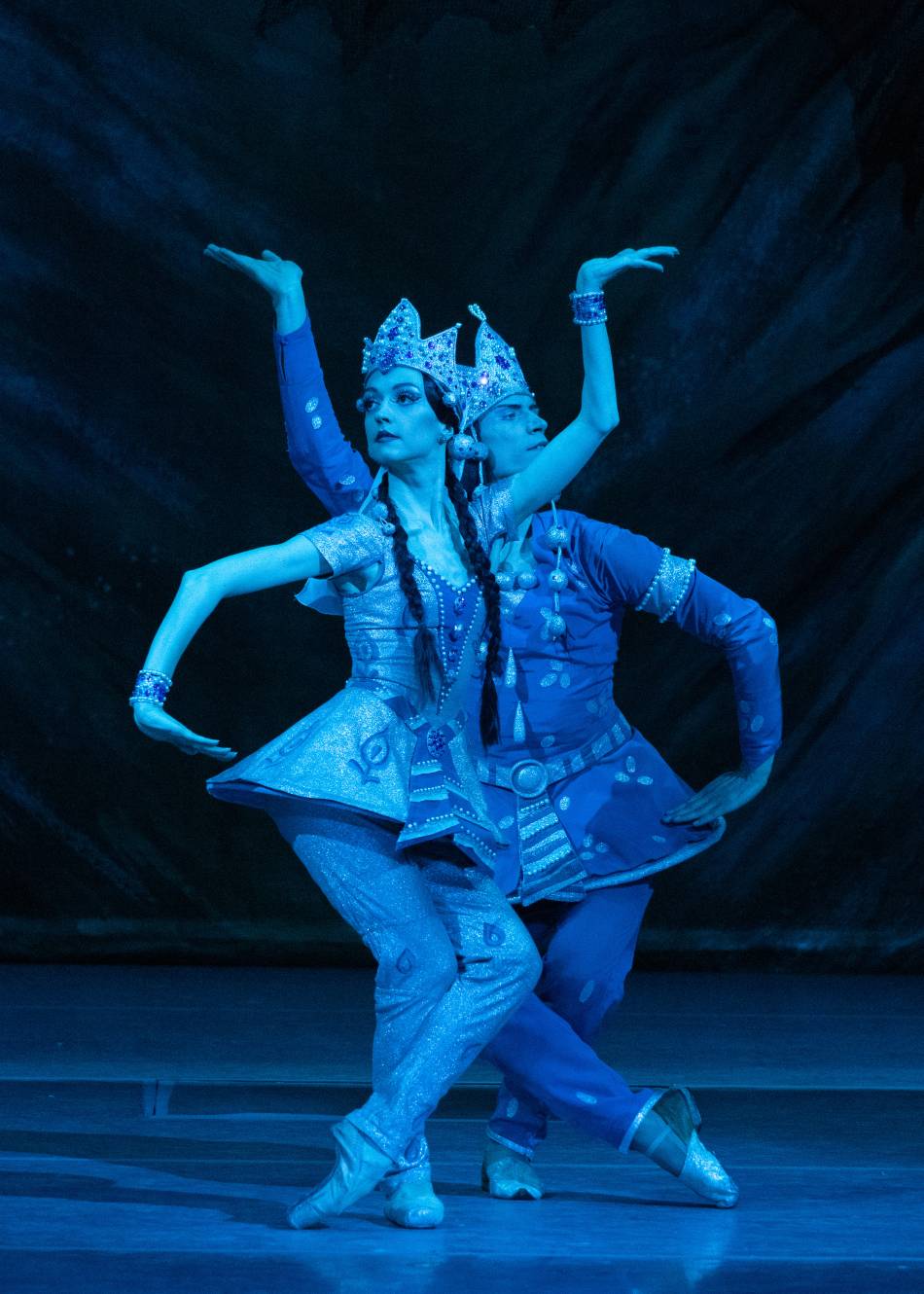 It is unclear whether the graceful corps that frames Marie's coronation to princess represents the light of the Christmas tree candles or shining stars. In either case, Marie and the prince reach refinement as they humbly honor the ceremony.
Upon reawakening, Marie finds herself at home in the family's parlor, surrounded by her caring parents, Drosselmeyer, and the mended nutcracker.
Grigorovich's choreography asks for sublime classical technique. Its core section, the grand pas de deux, is only grand if danced by a leading couple in peak form. The divertissements have to be ravishing treats; the corps has to work as a polished unit. And that's not enough – it also must all be done from the heart. I do not know a single western company capable of accomplishing such challenging choreography. The Bolshoi, however, smoothly rises to the occasion. As long as they are still breathing such soaring energy into this ballet, it must not be replaced.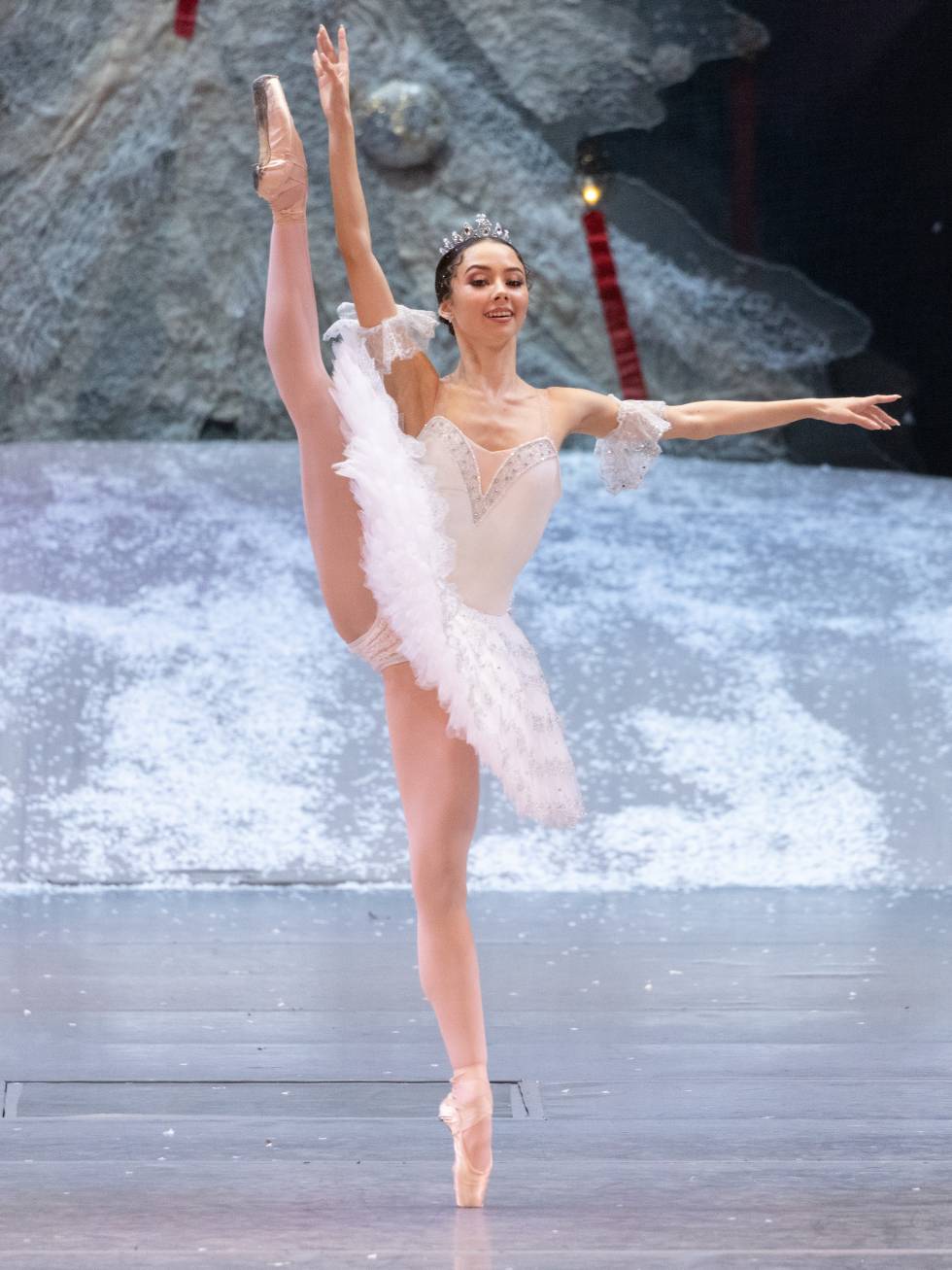 The matinee's Marie was the feathery Elizaveta Kokoreva, dancing alongside Vyacheslav Lopatin's dashing prince. Denis Savin's Drosselmeyer mesmerized the children with his magic stick and weird way of walking. His entertaining menagerie of mechanical toys included Pavel Smirnov's Harlequin (turning like clockwork); Valeria Bessonova as a perfect Colombine automaton; Stanislava Postnova as a fiery witch; and Alexey Putintsev as a thrilling devil. Marie's favorite toy, the nutcracker, was portrayed by Natalia Shestopalova. Olga Kalinina cross-dresses to dance the naughty Fritz. Egor Khromushin was a belligerent mouse king. Sofia Maimula and Ivan Sorokin lent pep to the Spanish dolls of Marie's dream.
Olga Kishnyova and Anton Savichev's Indian dance was so arresting that it could have charmed the most venomous of snakes. Egor Sharkov – a stupendous jumper – performed the Chinese doll dance together with Maria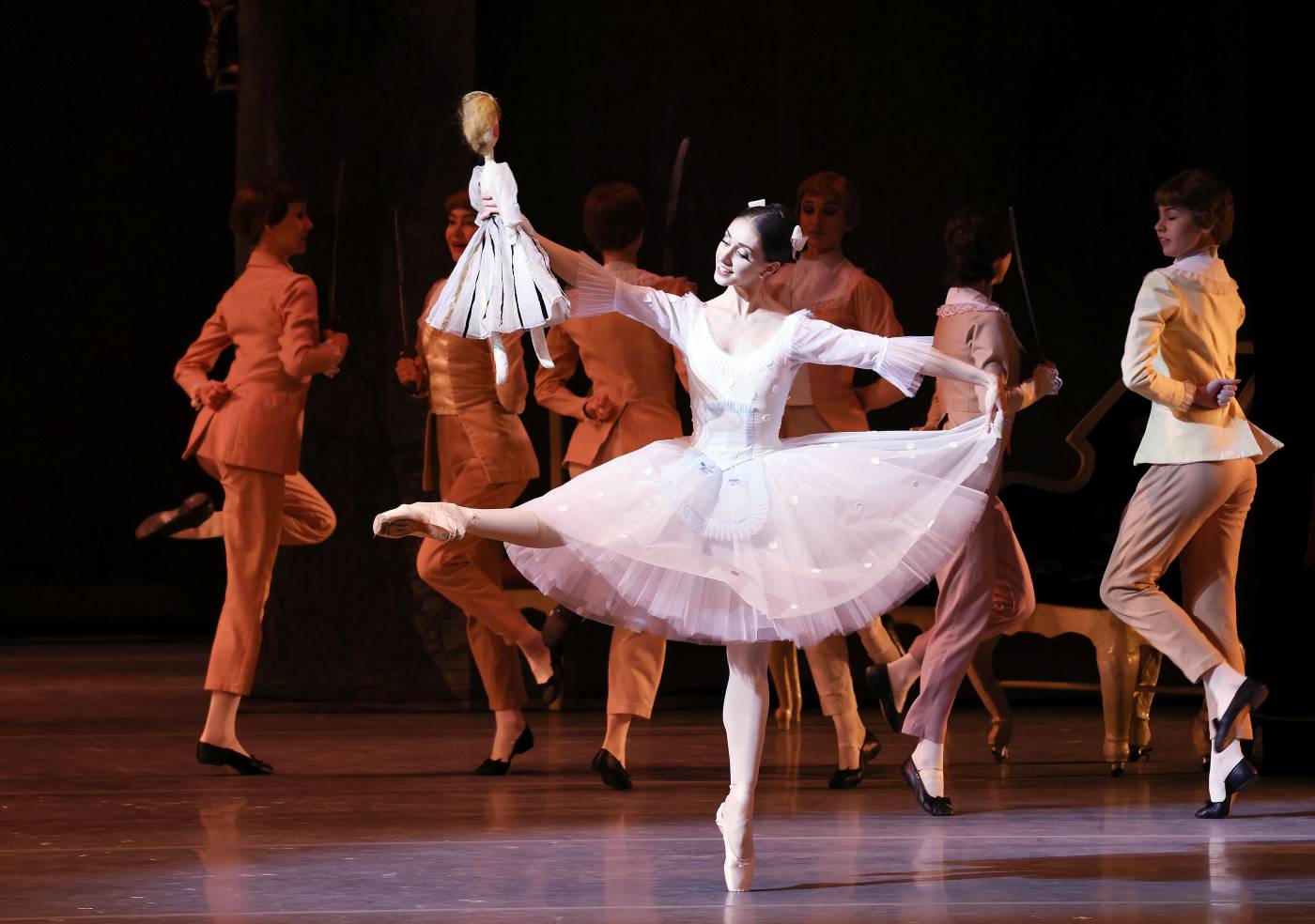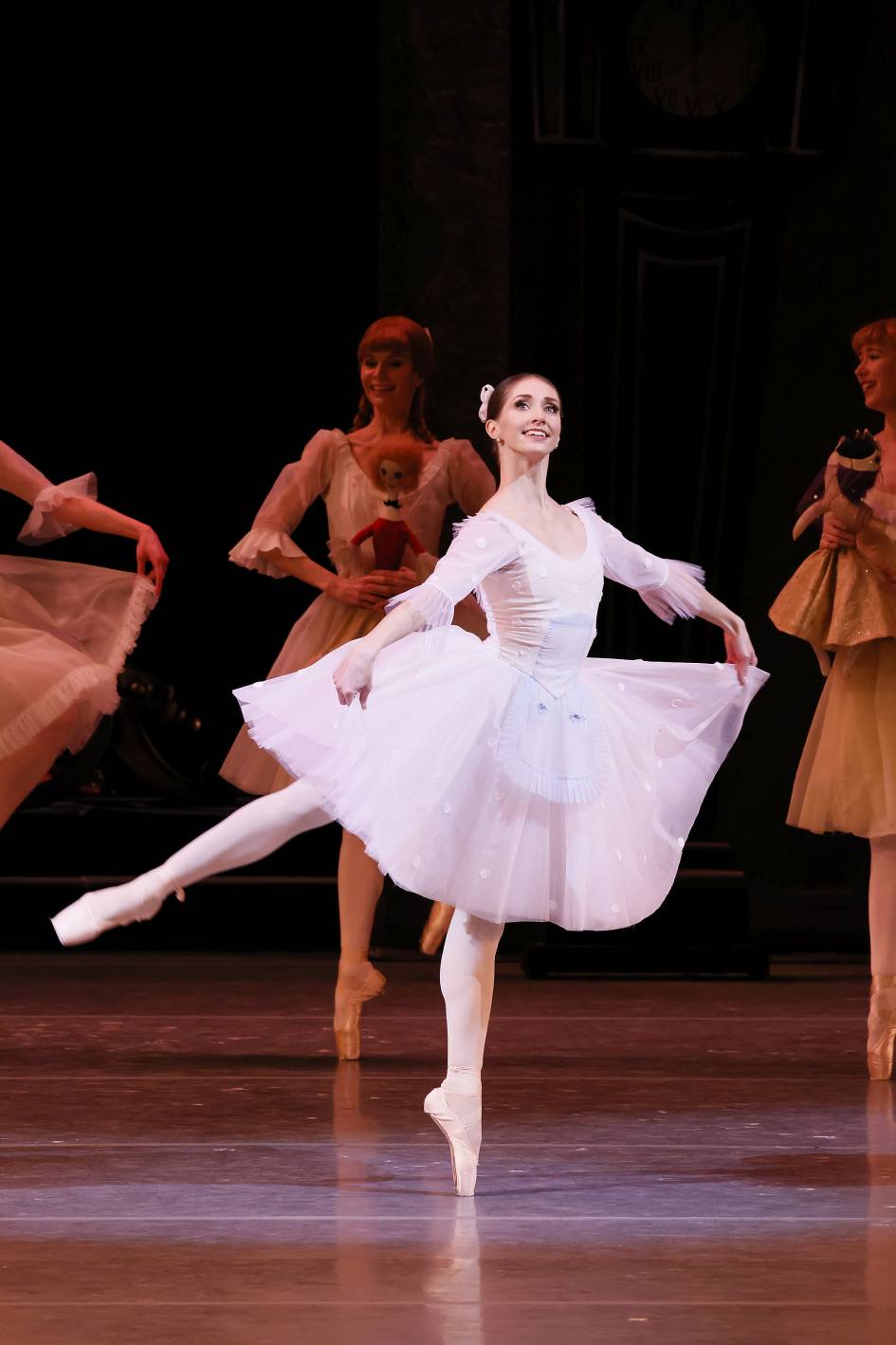 Mishina. Yulia Bondareva and Alexander Vodopetov's Russian dolls swirled cheerfully across the stage. The French dolls (Alexandra Trikoz and Klim Efimov) were accompanied by a little toy sheep (on wheels!), which they handled with utter grace.
Given the huge number of dancers in the Bolshoi, each leading "Nutcracker" couple only gives a few performances. Semyon Chudin only danced one performance this Christmas, and I consider it a special gift that it was the one I attended in the evening. His Marie was the ever-sparkling Margarita Shrayner. Compliments to Ruslan Skvortsov's Drosselmeyer for being full of beans. His angular nutcracker doll was Ekaterina Shteinman, later broken by Anastasia Vinokur in Fritz's clothes.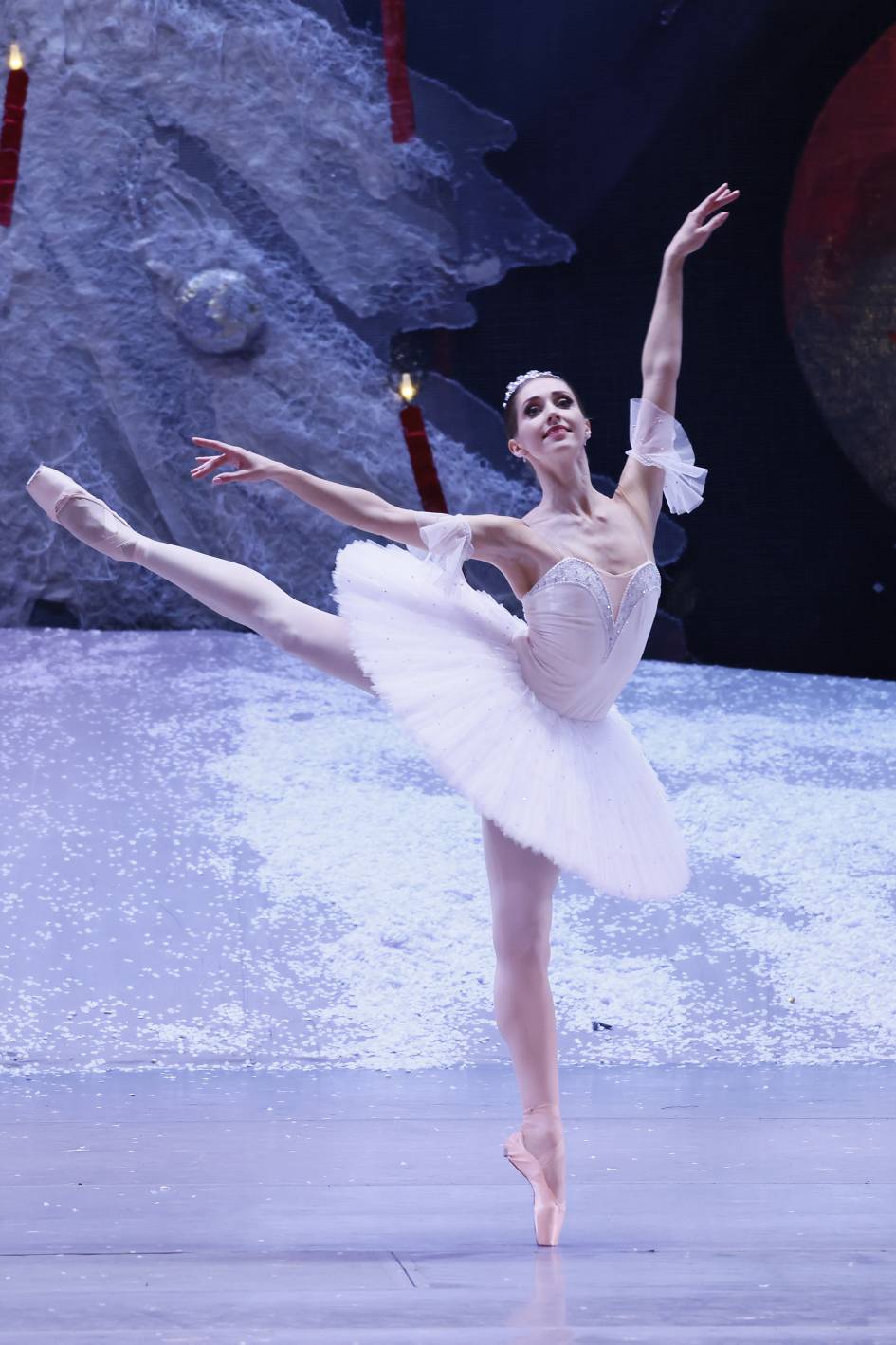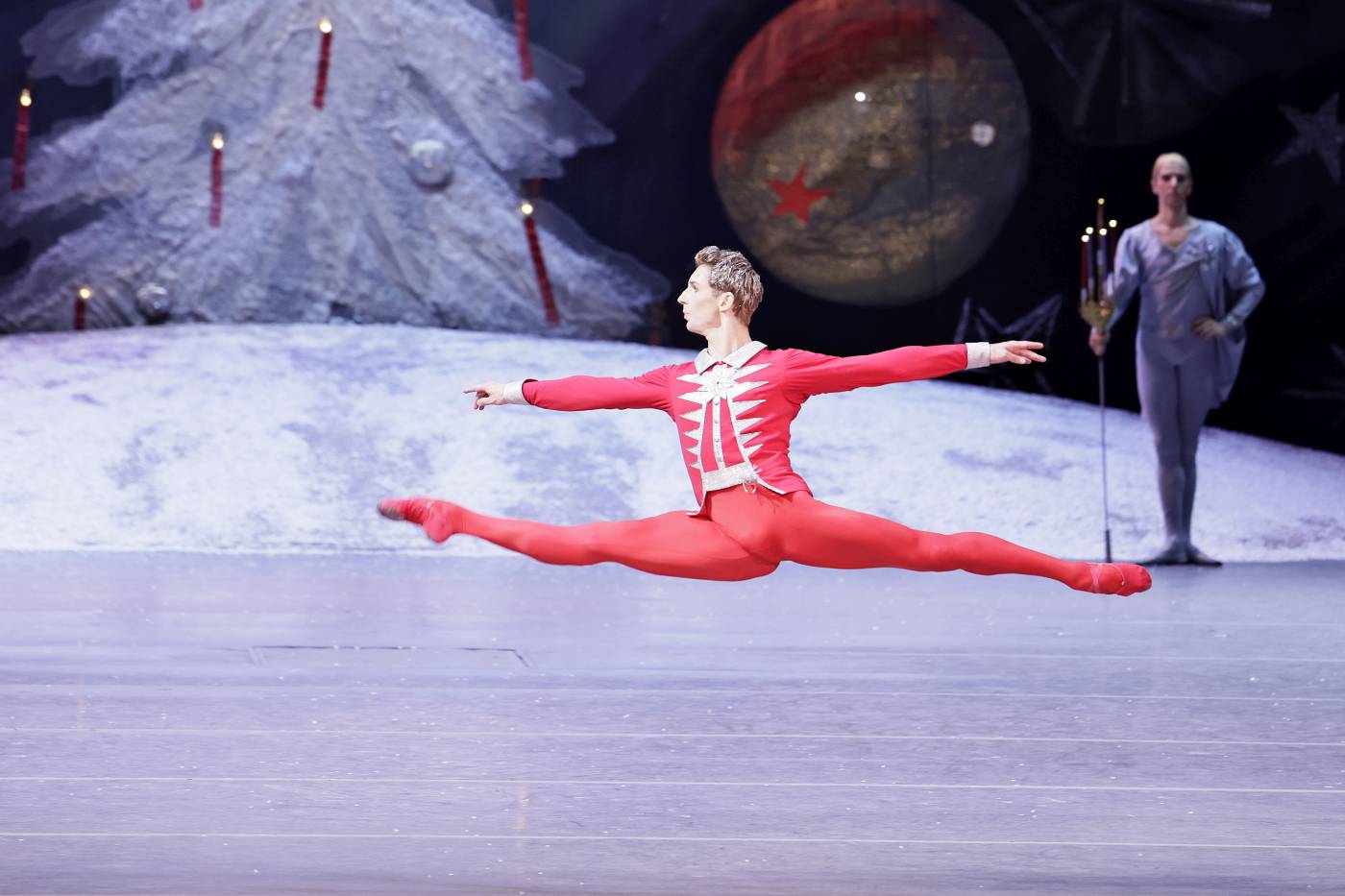 I admired the pinpoint jumps of Ivan Sorokin's Harlequin and the stunningly mechanical movements of Polina Afanasieva's Colombine. Tatiana Tiliguzova and Georgy Gusev's witch and devil left a blazing trail. Nikita Kapustin's mouse king died a hero. Maria Mishina, the matinee's Chinese doll, changed into the Spanish doll's garb in the evening. Her spirited sidekick was Artur Mkrtchyan. Victoria Yakusheva and Karim Abdullin made gripping use of every second of their Indian dance. Alexey Putintsev, swapping the matinee's devil costume for a Chinese outfit, reeled off a firecracker series of jumps. Ekaterina Varlamova was his no less energetic companion.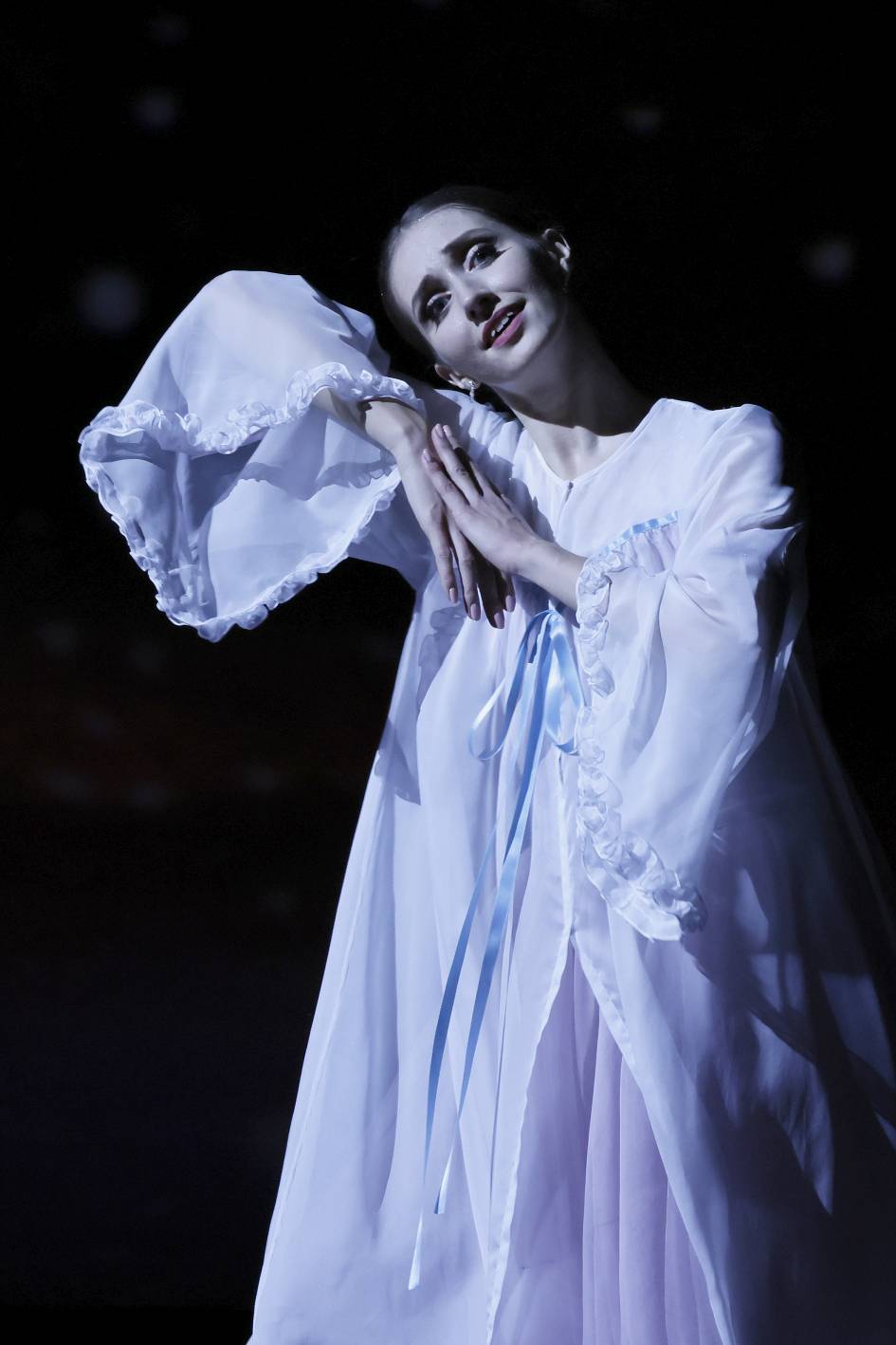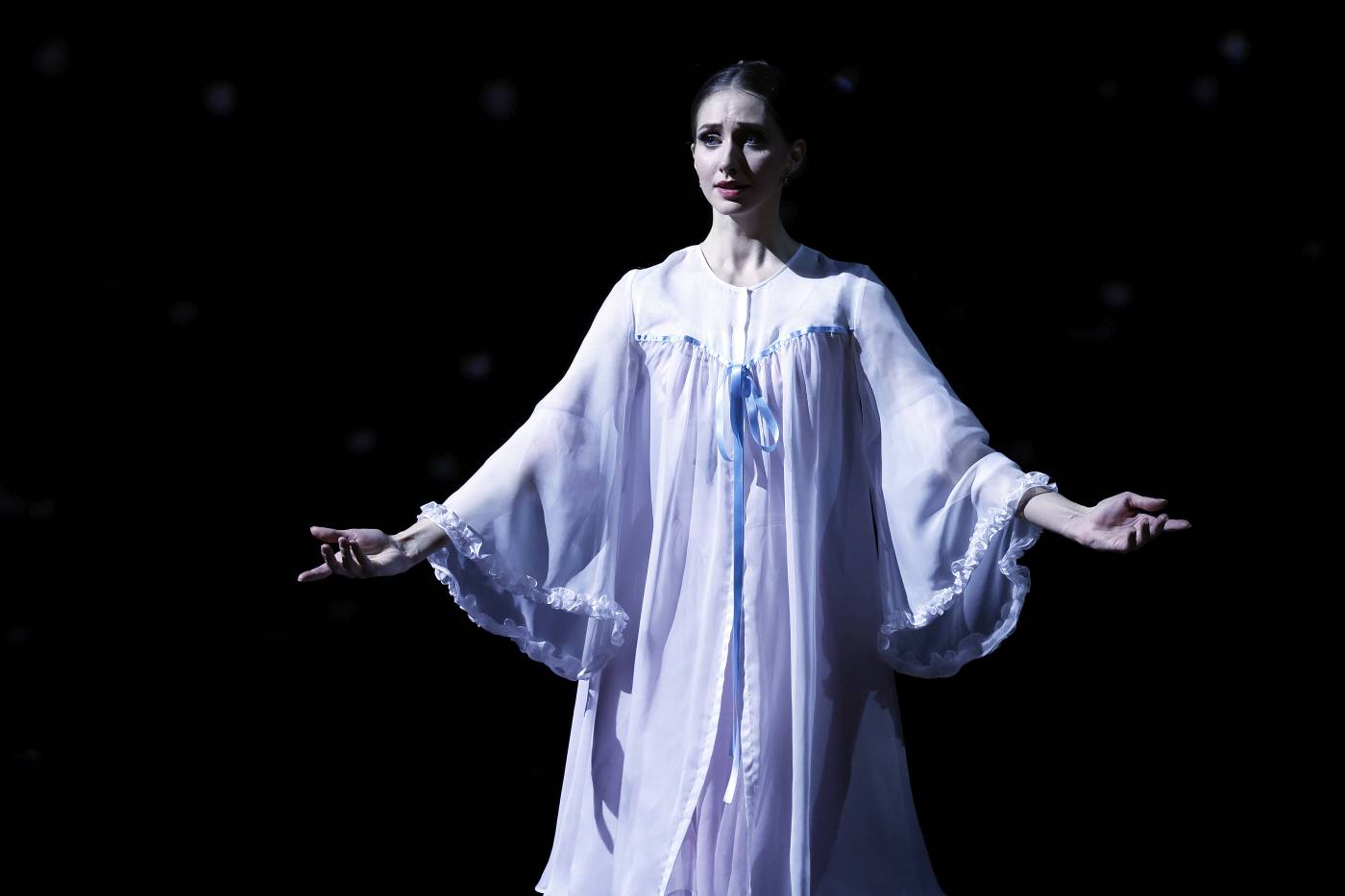 The verve of Anastasia Zvonkova and Vitaly Getmanov's Russian dolls was infectious, and contrasted nicely with the blithe elegance of Antonina Chapkina and Fuad Mamedov's French dolls.
The Bolshoi's orchestra, conducted by Anton Grishanin, gave a fine rendition of Tchaikovsky's score at the matinee. The evening's prelude felt a bit lackluster, but quickly gained momentum under Pavel Klinichev's seasoned baton.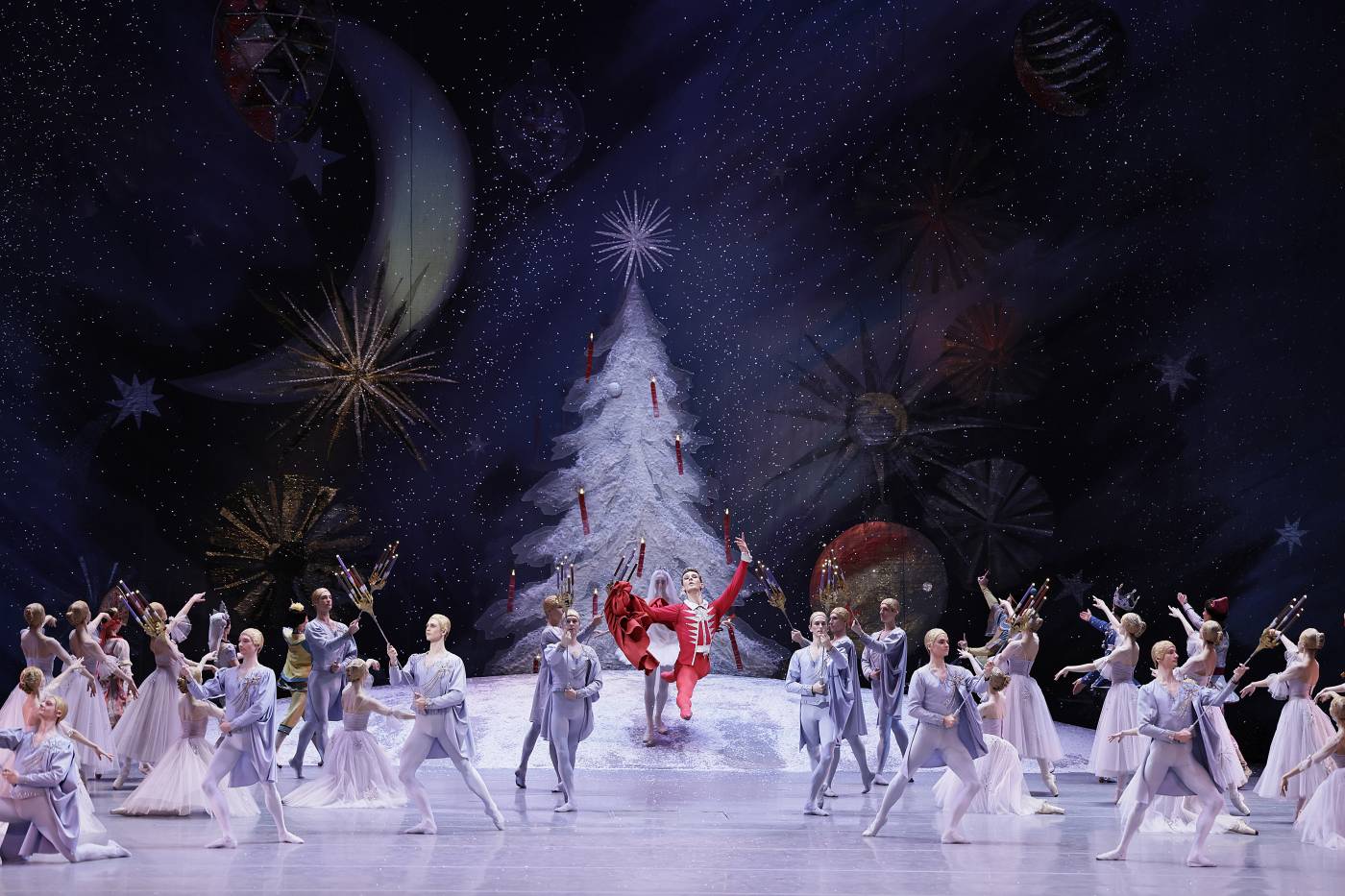 Links:
Website of the Bolshoi Theatre
Phoos:

Matinee December

29

th

1.

Valeria Bessonova (Colombine), "The Nutcracker" by Yuri Grigorovich, Bolshoi Ballet

2022 ©

Bolshoi Ballet / Mikhail Logvinov

2.

Elizaveta Kokoreva (Marie), "The Nutcracker" by Yuri Grigorovich, Bolshoi Ballet 2022 © Bolshoi Ballet / Mikhail Logvinov

3.

Elizaveta Kokoreva (Marie), "The Nutcracker" by Yuri Grigorovich, Bolshoi Ballet 2022 © Bolshoi Ballet / Mikhail Logvinov

4.

Denis Savin (Drosselmeyer),

"The Nutcracker" by Yuri Grigorovich, Bolshoi Ballet 2022 © Bolshoi Ballet /

Damir Yusupov

5.

Denis Savin (Drosselmeyer),

"The Nutcracker" by Yuri Grigorovich, Bolshoi Ballet 2022 © Bolshoi Ballet /

Damir Yusupov

6.

Olga Kishnyova and Anton Savichev (Indian Dolls), "The Nutcracker" by Yuri Grigorovich, Bolshoi Ballet 2022 © Bolshoi Ballet / Mikhail Logvinov

7.

Olga Kishnyova and Anton Savichev (Indian Dolls), "The Nutcracker" by Yuri Grigorovich, Bolshoi Ballet 2022 © Bolshoi Ballet / Mikhail Logvinov

8.

Olga Kishnyova and Anton Savichev (Indian Dolls), "The Nutcracker" by Yuri Grigorovich, Bolshoi Ballet 2022 © Bolshoi Ballet / Mikhail Logvinov

9.

Elizaveta Kokoreva (Marie), "The Nutcracker" by Yuri Grigorovich, Bolshoi Ballet 2022 © Bolshoi Ballet / Mikhail Logvinov

10.

Elizaveta Kokoreva (Marie), "The Nutcracker" by Yuri Grigorovich, Bolshoi Ballet 2022 © Bolshoi Ballet / Mikhail Logvinov

Evening performance, December 29th
11.

Margarita Shrayner (Marie), "The Nutcracker" by Yuri Grigorovich, Bolshoi Ballet 2022 © Bolshoi Ballet / Damir Yusupov

12.

Margarita Shrayner (Marie) and ensemble, "The Nutcracker" by Yuri Grigorovich, Bolshoi Ballet 2022 © Bolshoi Ballet / Damir Yusupov

13.

Margarita Shrayner (Marie), "The Nutcracker" by Yuri Grigorovich, Bolshoi Ballet 2022 © Bolshoi Ballet / Damir Yusupov

14.

Semyon Chudin (Nutcracker-Prince),

"The Nutcracker" by Yuri Grigorovich, Bolshoi Ballet 2022 © Bolshoi Ballet / Damir Yusupov

15.

Margarita Shrayner (Marie), "The Nutcracker" by Yuri Grigorovich, Bolshoi Ballet 2022 © Bolshoi Ballet / Damir Yusupov

16.

Margarita Shrayner (Marie), "The Nutcracker" by Yuri Grigorovich, Bolshoi Ballet 2022 © Bolshoi Ballet / Damir Yusupov

17.

Semyon Chudin (Nutcracker-Prince) and ensemble,

"The Nutcracker" by Yuri Grigorovich, Bolshoi Ballet 2022 © Bolshoi Ballet / Damir Yusupov

Editing:
Jake Stepansky