"Diaghilev. The Dress Rehearsal"
New Tretyakov Gallery
Moscow, Russia
December 2022
by Ilona Landgraf
Copyright © 2023 by Ilona Landgraf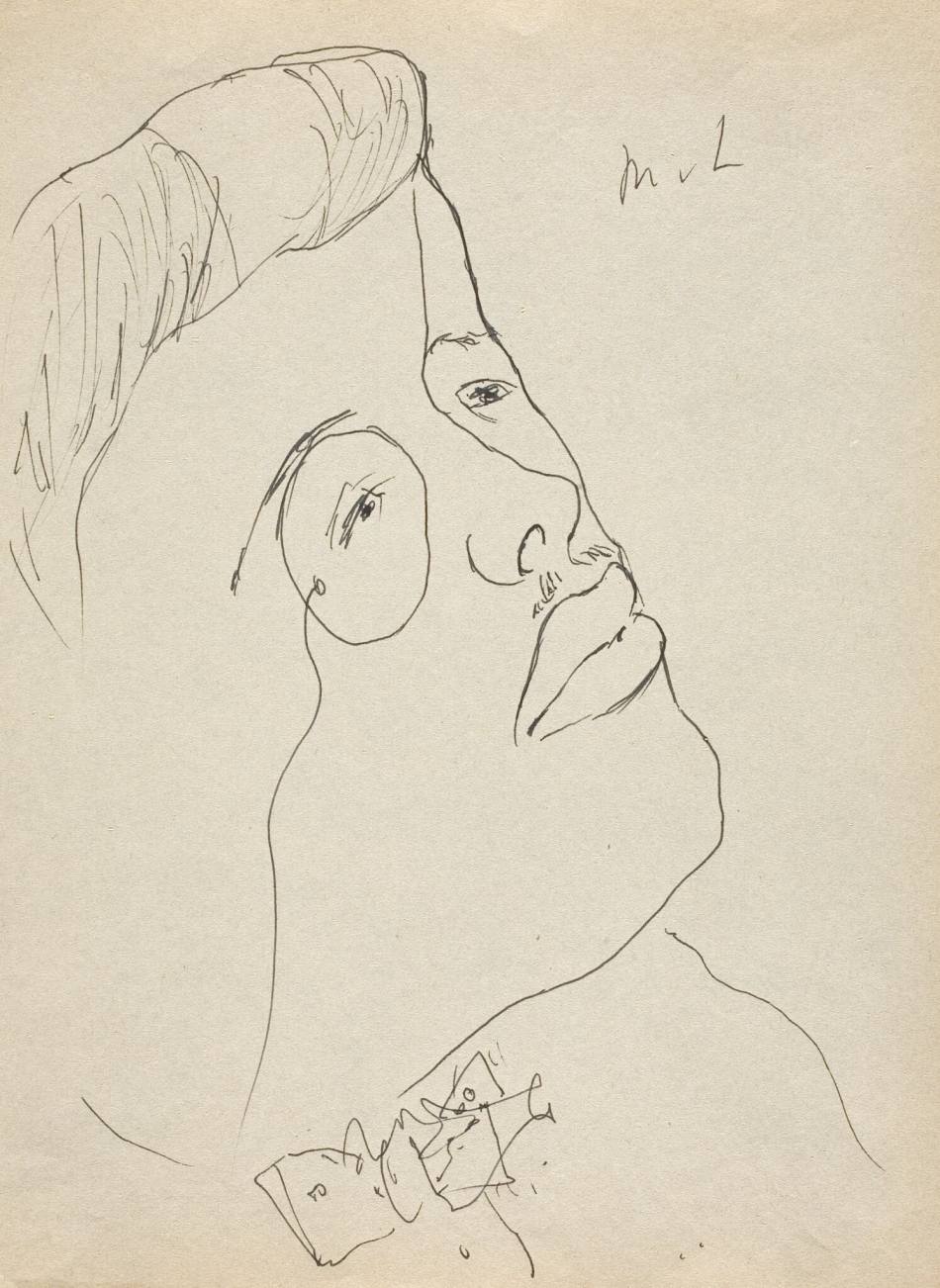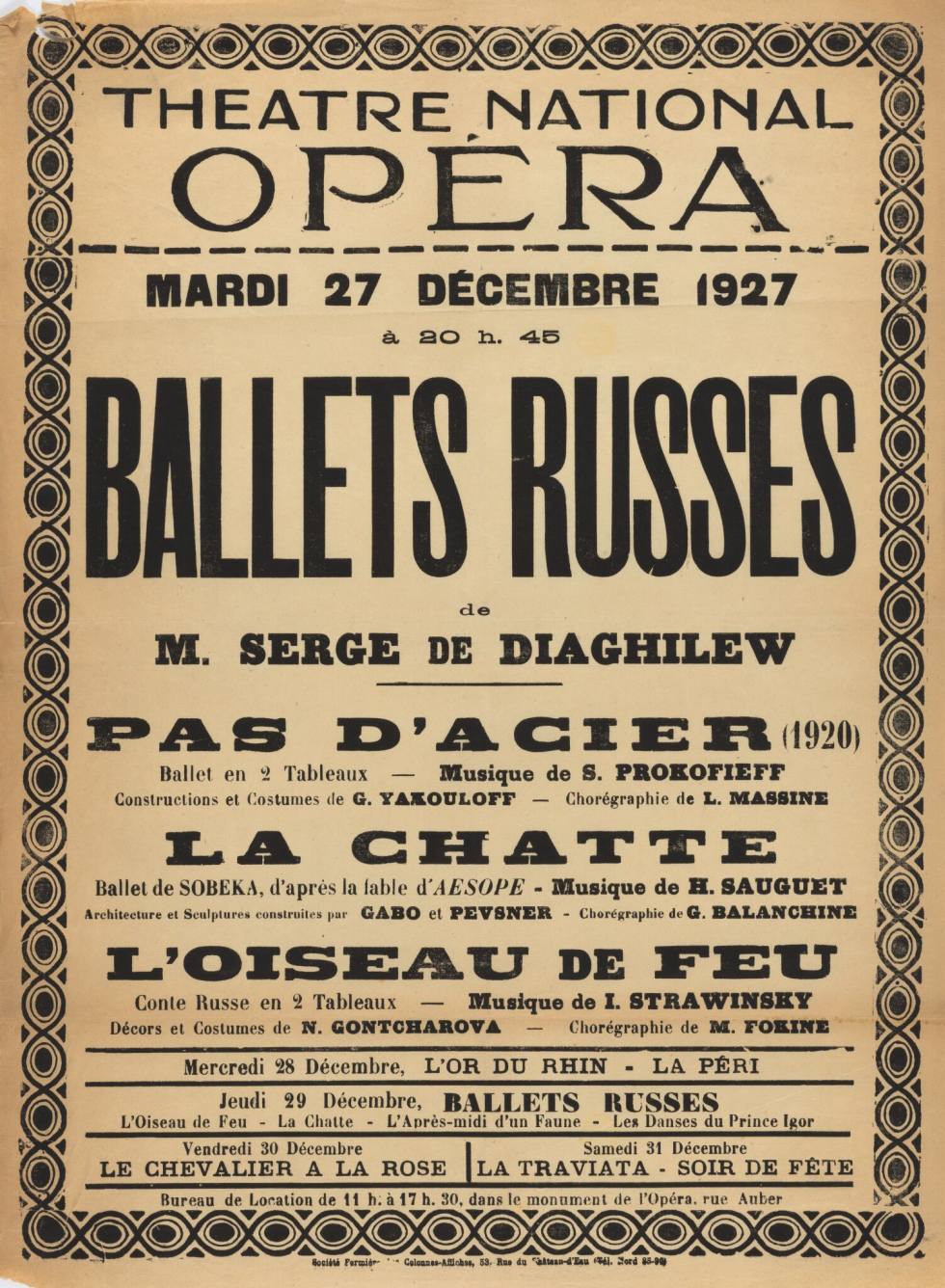 Sergei Diaghilev's name is nearly synonymous with the art of ballet. Well-versed in both arts and business, he succeeded not only as a writer and curator, but indelibly as the founder and cunning impresario of the Ballets Russes.
From 1906 onwards, foreseeing political and cultural paralysis at home in Russia, Diaghilev shifted his activities from St. Petersburg to Paris (and later to other European metropolises). Though his first venture (an exhibition of Russian paintings at Paris's new Salon d'Automne) earned him laurels, he soon turned away from museums towards the ballet stage. The Ballets Russes became the core focus of his life – and it's because of them that the western art of ballet was reinvigorated. As Stravinsky stated, "it is to [Diaghilev], that we owe the recent development of choreographic art in the entire world."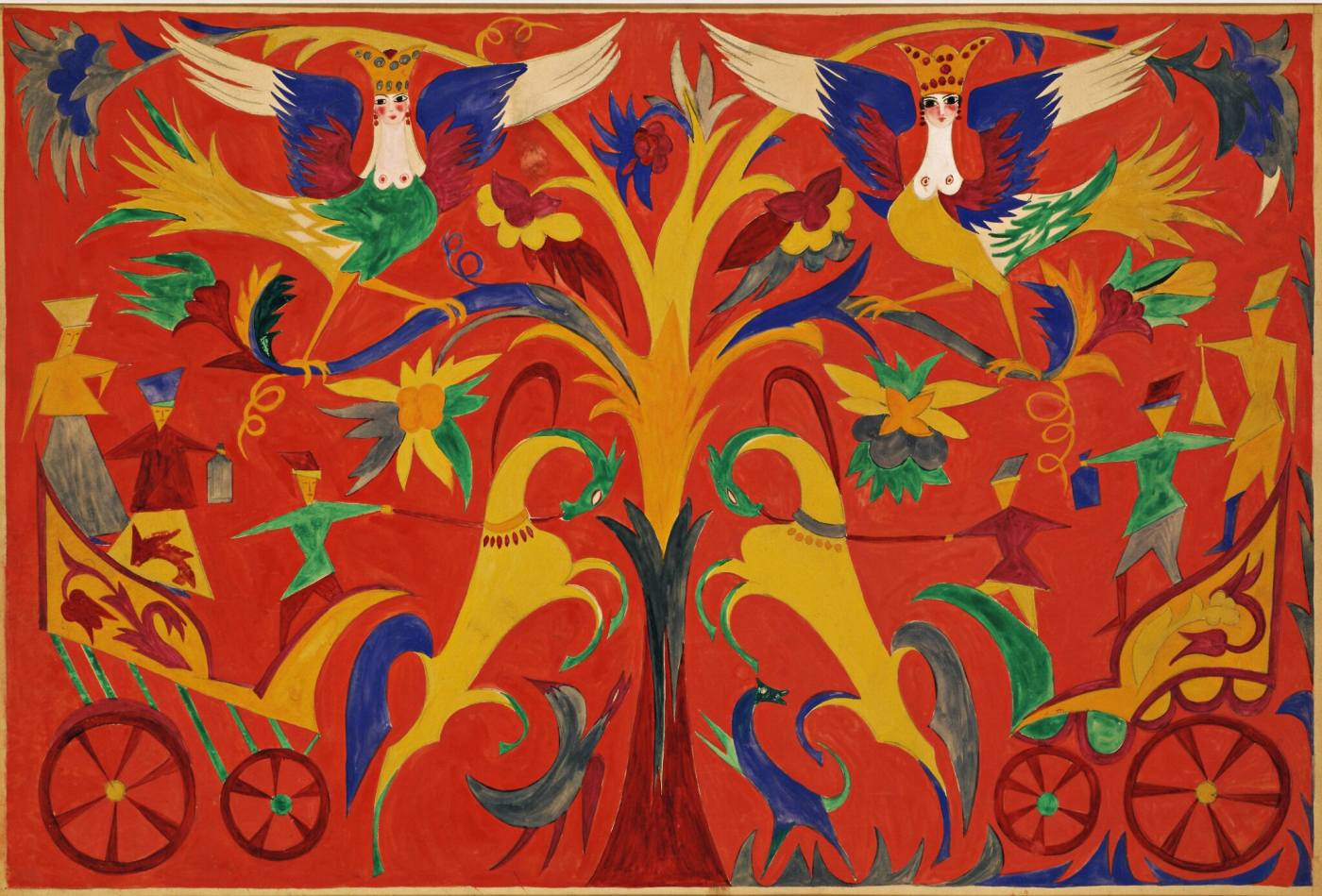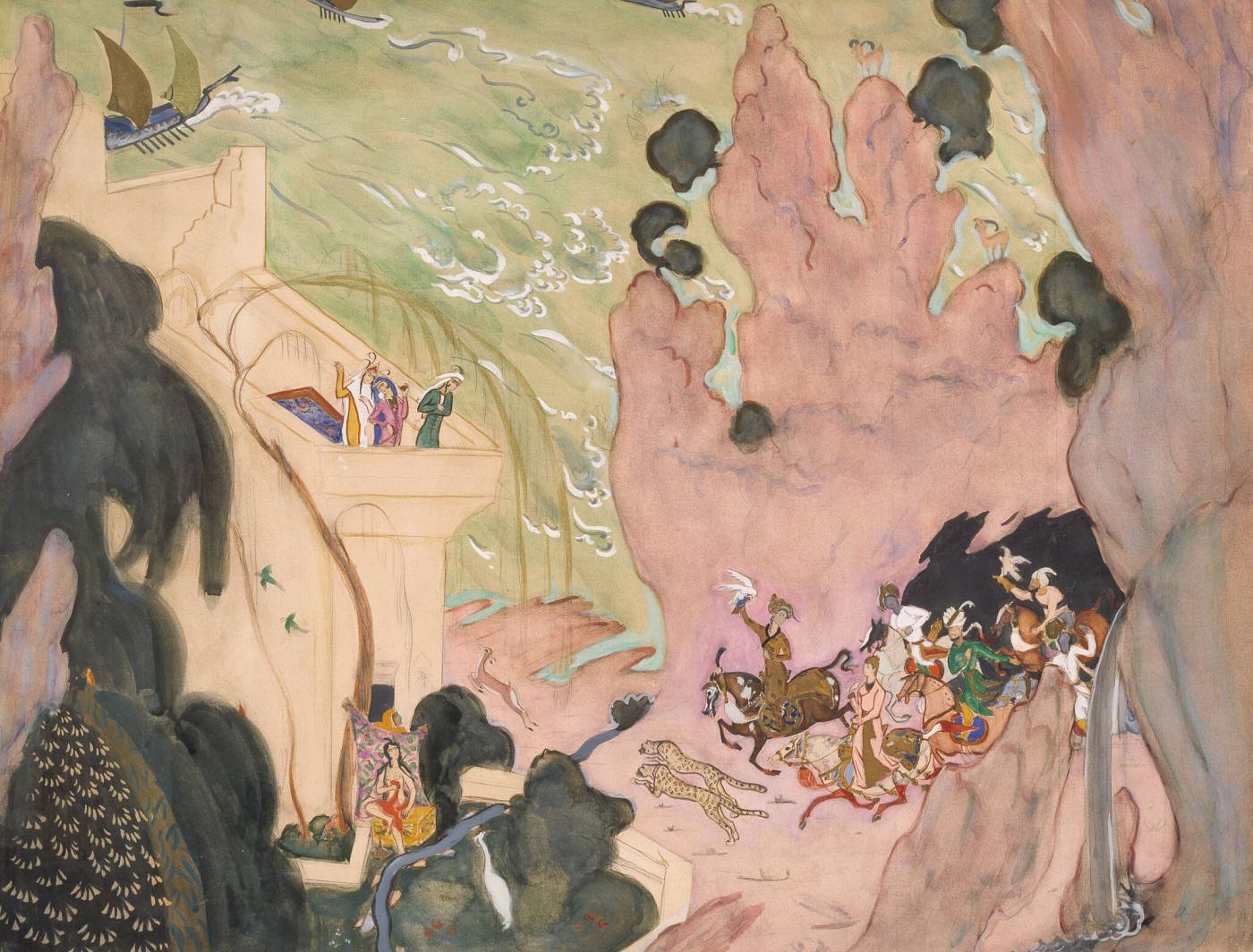 In 2022, Diaghilev would have celebrated his sesquicentennial. Moscow's Tretyakov Gallery commemorated him in an exhibition of items associated with the Ballets Russes. The photos, sketches, paintings, posters, and costumes on display are only a fraction of the entire collection, which will be available for viewing by the public at Sergei Diaghilev Hall in Tretyakov's west wing on Krymsky Val when the building's reconstruction is completed. The current exhibition is a small-scale dress rehearsal for a much bigger show.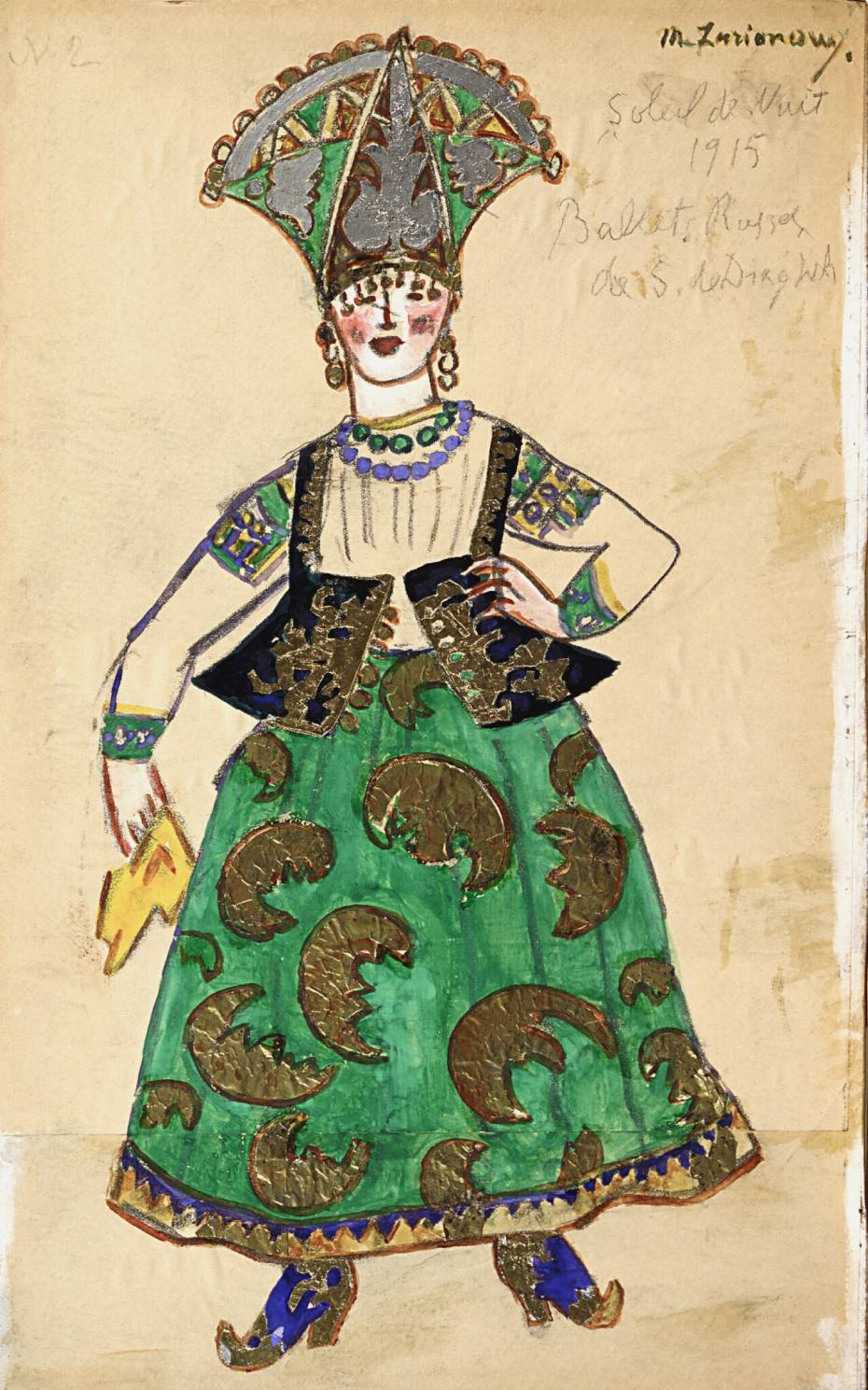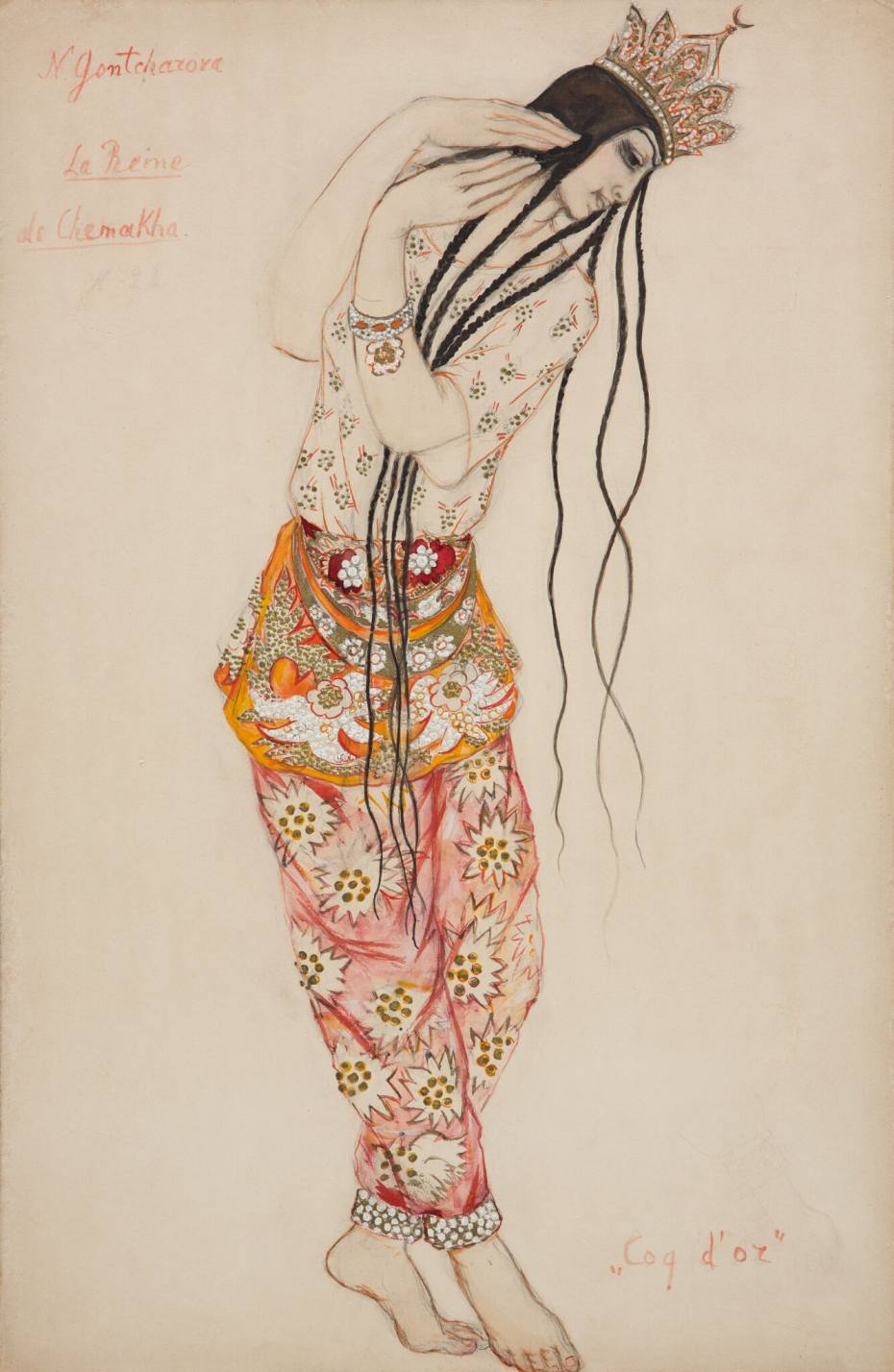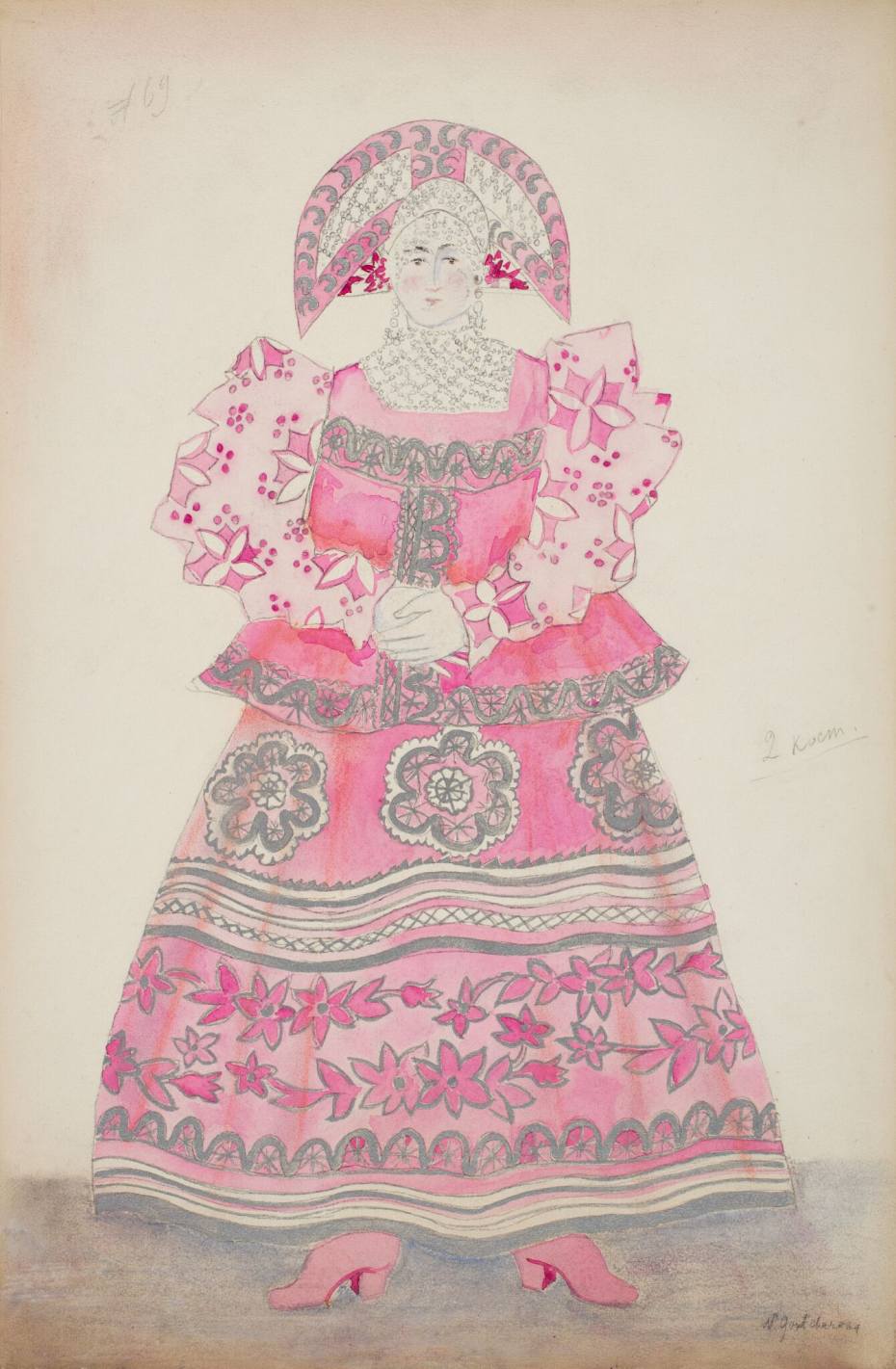 Curators Yevgenia Ilyukhina and Irina Shumanova have collected and are showcasing over 200 pieces from the Manuscript Department of the Tretyakov Gallery and the Mikhail Larionov Ballet Library. The main attraction is a set of thirteen newly-acquired costumes by Léon Bakst, Natalia Goncharova, Henri Matisse, and Alexander Golovin.
The moment I entered the exhibition lobby, I was reminded of the past glory of the Ballets Russes. Visitors are greeted by a vibrant atmosphere buoyed by the program posters from tours to, among others, the Teatro Real, Théâtre National de l'Opéra, Théatre du Châtelet, and Drury Lane. Each of the subsequent rooms features exhibits from the company's repertoire: "Le Dieu bleu" (1912), "Schéhérazade" (1910), "The Firebird" (1910), "Thamar" (1912), and "Le Coq d'or" (1914) – all choreographed by Michel Fokine.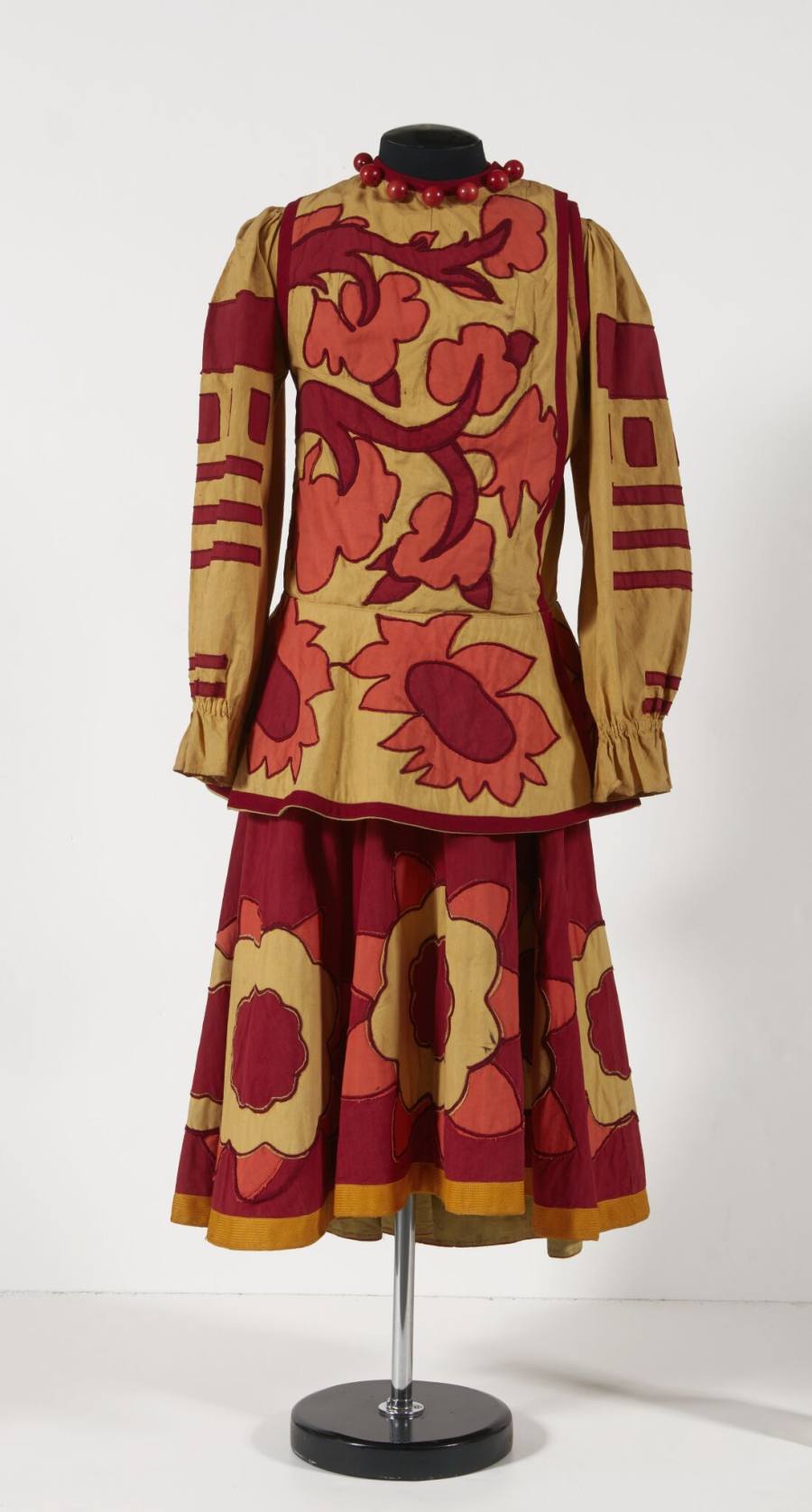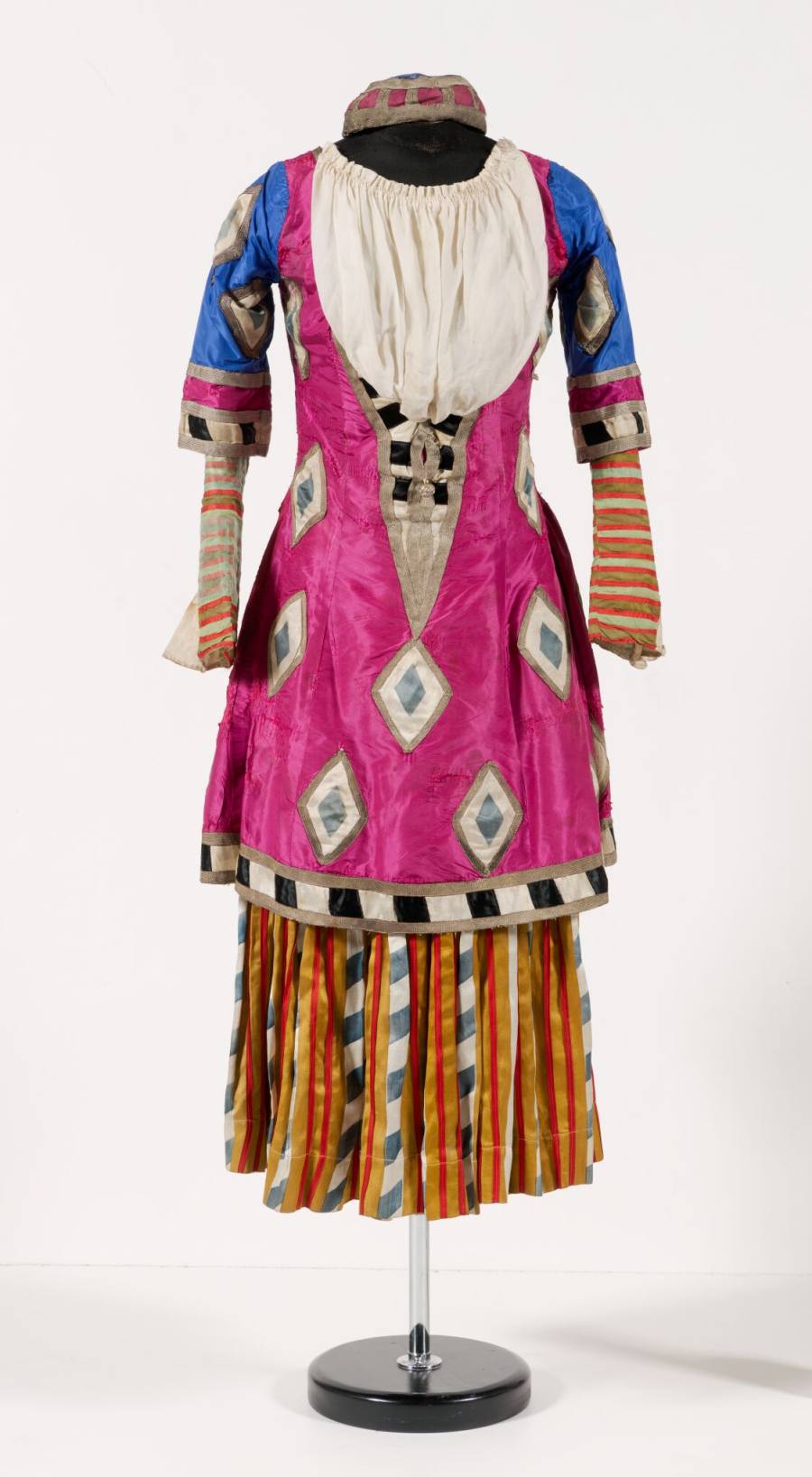 A video juxtaposes snippets of various versions of "Le Sacre du Printemps" with the reconstruction of Vaslav Nijinsky's version from 1913. We see Mikhail Larionov's outlandish (and quite repellent) costume for Bronislava Nijinska in Léonide Massine's "Kikimora" (1916) and artifacts from Nijinska's own ballet "Les Noces" (1923). Adolphe Bolm was photographed in his signature role in the "Polovetsian Dances" (1909). Goncharova's designs for Léonide Massine's "Lithurgie" – a dramatization of the Russian Orthodox eucharist liturgy – fills an entire room (although the piece was declined by Diaghilev – Massine only returned to the topic in 1952, long after the Ballets Russes had transitioned into the Ballets Russes de Monte Carlo). In 1916, Goncharova also sketched the décor for a Spanish ballet – "Triana" – that was never realized. Some of her costume designs were later reused for another ballet.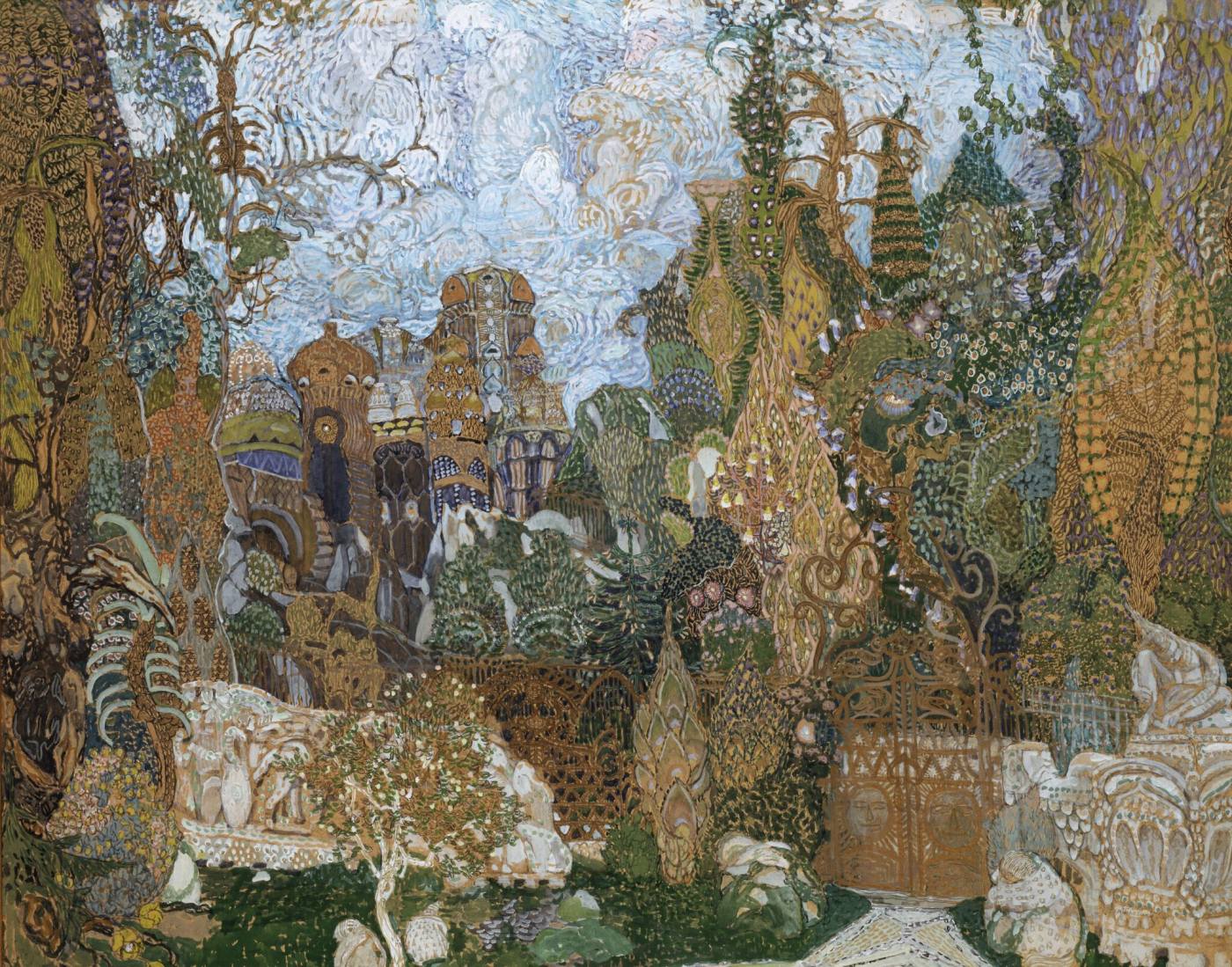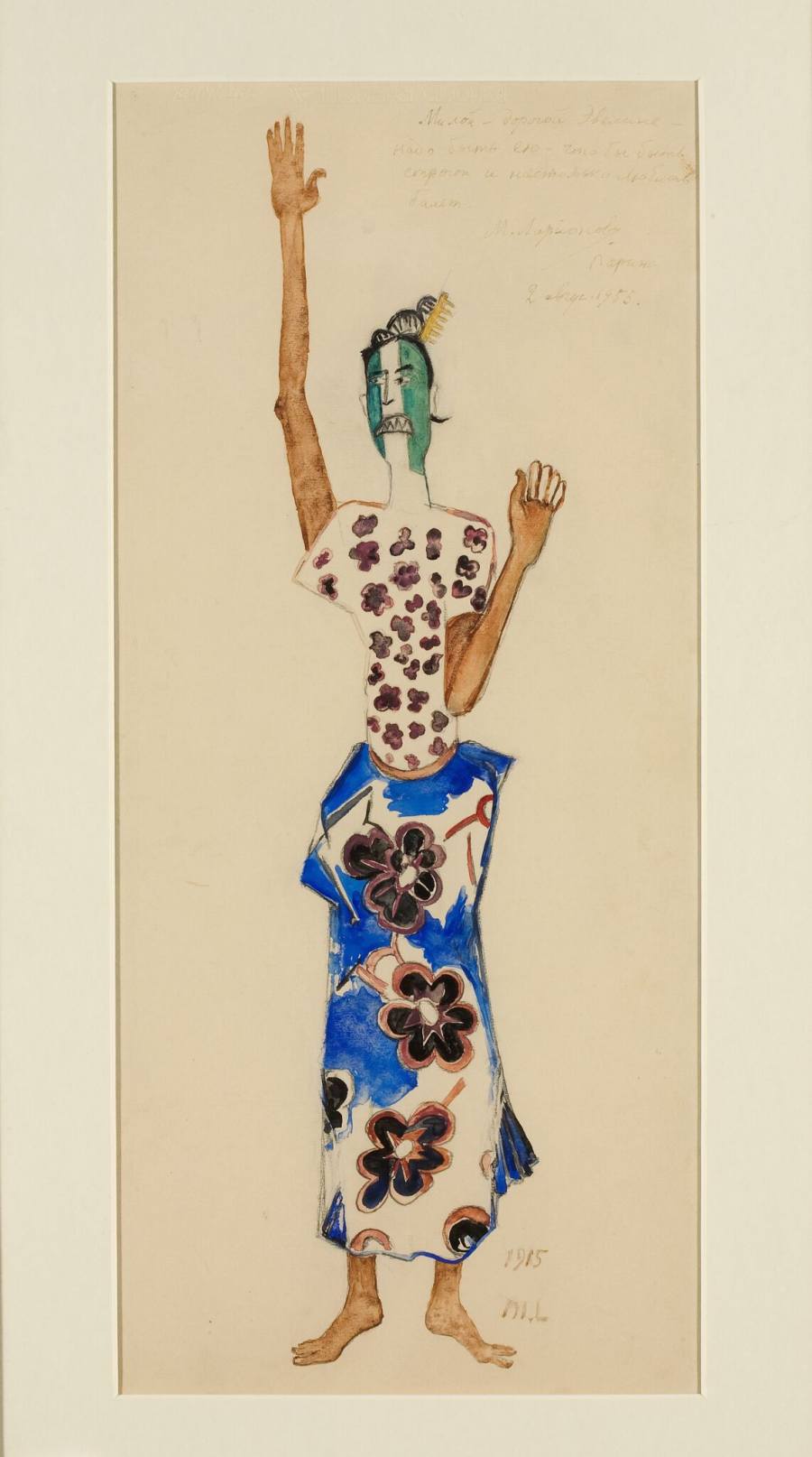 Originally, Diaghilev had planned to show off the Ballets Russes at home in St. Petersburg in the spring of 1912. Tragically, his venue of choice – the Narodny Dom Theatre – burned down, leaving not enough time to book an alternative venue and canceling the tour. Evolving world events prevented Diaghilev's triumphant return – and though the Ballets Russes were never to perform in Russia, the Tretyakov Gallery brings them closer than ever.
"Diaghilev. A Dress Rehearsal" runs until February 5, 2023 at the New Tretyakov Gallery, Krymsky Val, 10.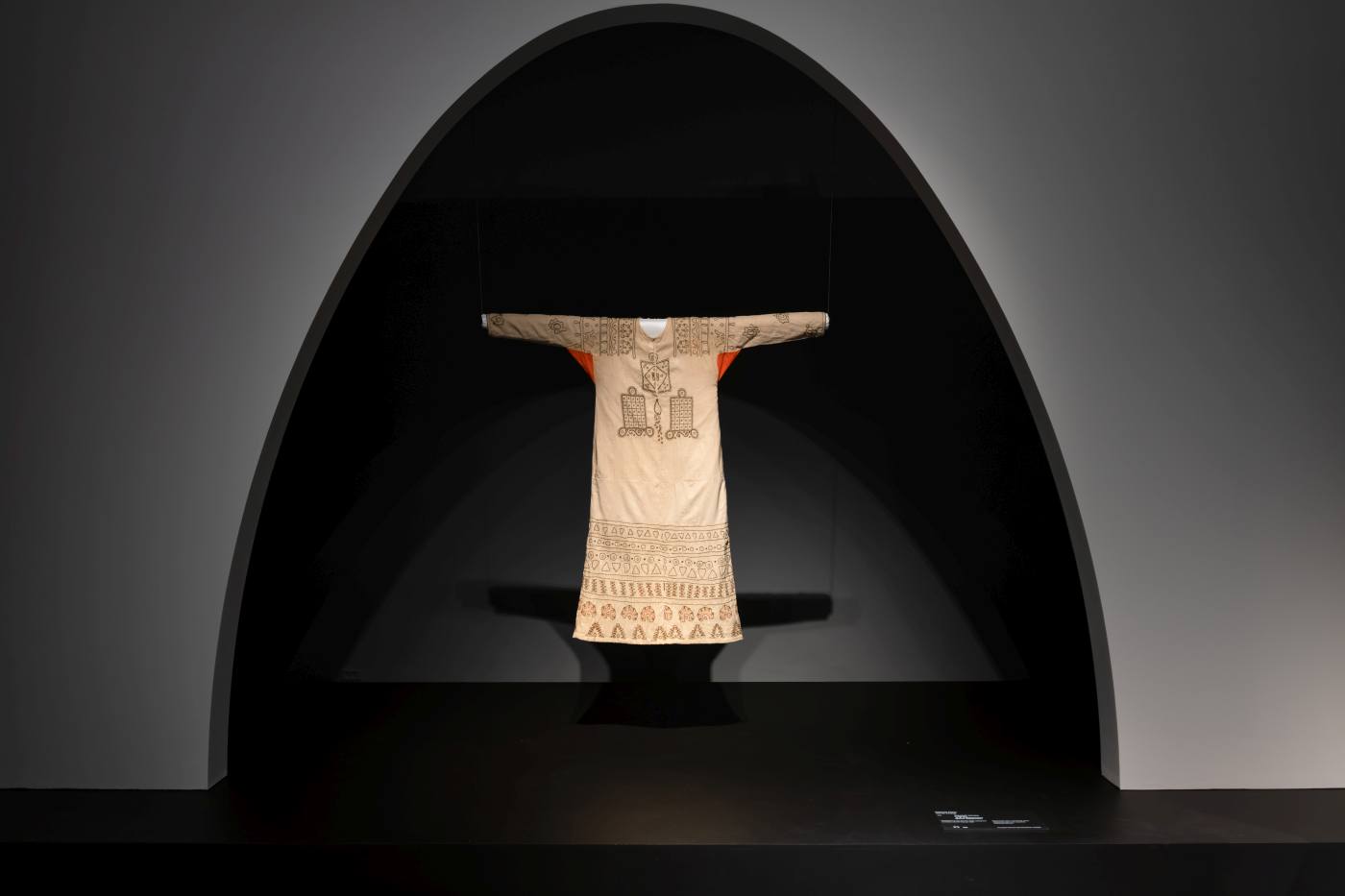 Links:
Website of the Tretyakov Gallery

Photos:

1.

M

ikhail

Larionov

(

1881-1964

),

S

ergei

Diaghilev, 1920 –

1930; paper, black ink, pen, 27 x 20

2.

Unknown artist, poster for a performance of the Ballets Russes 1927

3.

Valentin Serov (1865 – 1911),

design for

a curtain

in

"Schéhérazade";

gouache, 68 x 87

4.

Natalia Goncharova (1881 – 1962),

design for

a curtain

in

"Le Noches",

chor.:

by Bronilslava Nijinska

(unrealized); paper on cardboard, pencil, 53 x 73,5

5.

M

ikhail

Larionov

(

1881-1964

),

design for

"Soleil de Nuit",

chor.:

Léonide Massine;

paper on cardboard, gouache, watercolor, pencil, foil, collage, 33,3, x 20,4

6.

Natalia Goncharova (1881 – 1962),

design for

the

costume of the

Queen of Shamakhan

in

"Le Coq d'or", chor.: Michel Fokine, 1913; paper, watercolor, bronze paint, pencil, whitewash. 45,6 х 30

7.

Natalia Goncharova (1881 – 1962),

presumably a

design for

a

costume

in

"Les Noches", chor.: Bronoslava Nijinska

;

c

ardboard, watercolor, pastel, whitewash, aluminum paint, pencil, 48,8 х 32

8.

Léon Bakst (1866 – 1924),

design

for the

costume of

the

Tsarina's girlfriend in "Thamar", chor.: Michel Fokine, 1912; satin, cotton fabric, silk ribbon, satin ribbon, lace, metal buttons, metal hooks with loops, weaving, sewing, applique, painting; private Collection of Olga and Ivor Mazur, London

9.

Natalia Goncharova (1881 – 1962),

w

oman's

c

ostume for "The Golden Cockerel", chor.: Michel Fokine, for the 1937 production od the Ballets Russes de Monte Carlo; cotton fabric, elastic band, woolen thread, metal sewing buttons, wool braid, weaving, sewing, embroidery, applique; private collection of Olga and Ivor Mazur, London

10.

Alexander Golovin (1863 – 1930), design for Koschei's kingdom in "The Firebird", chor.: Michel Fokine, 1910; paper, gouache, bronze paint, black pencil, 83 х 102,4

11.

M

ikhail

Larionov

(

1881-1964

),

d

esign for the costume of Kikimora in "

Kikimora", chor.: Léonide Massine; paper, watercolor, pencil. 67,5 х 29,5

12.

costume for a production of the Ballets Russes

all photos © Tretyakov Gallery

Editing:
Jake Stepansky