"The Nutcracker"
Ballet of the Stanislavsky and Nemirovich-Danchenko Moscow Music Theatre
Stanislavsky and Nemirovich-Danchenko Moscow Music Theatre
Moscow, Russia
December 30, 2022 (matinee)
by Ilona Landgraf
Copyright © 2023 by Ilona Landgraf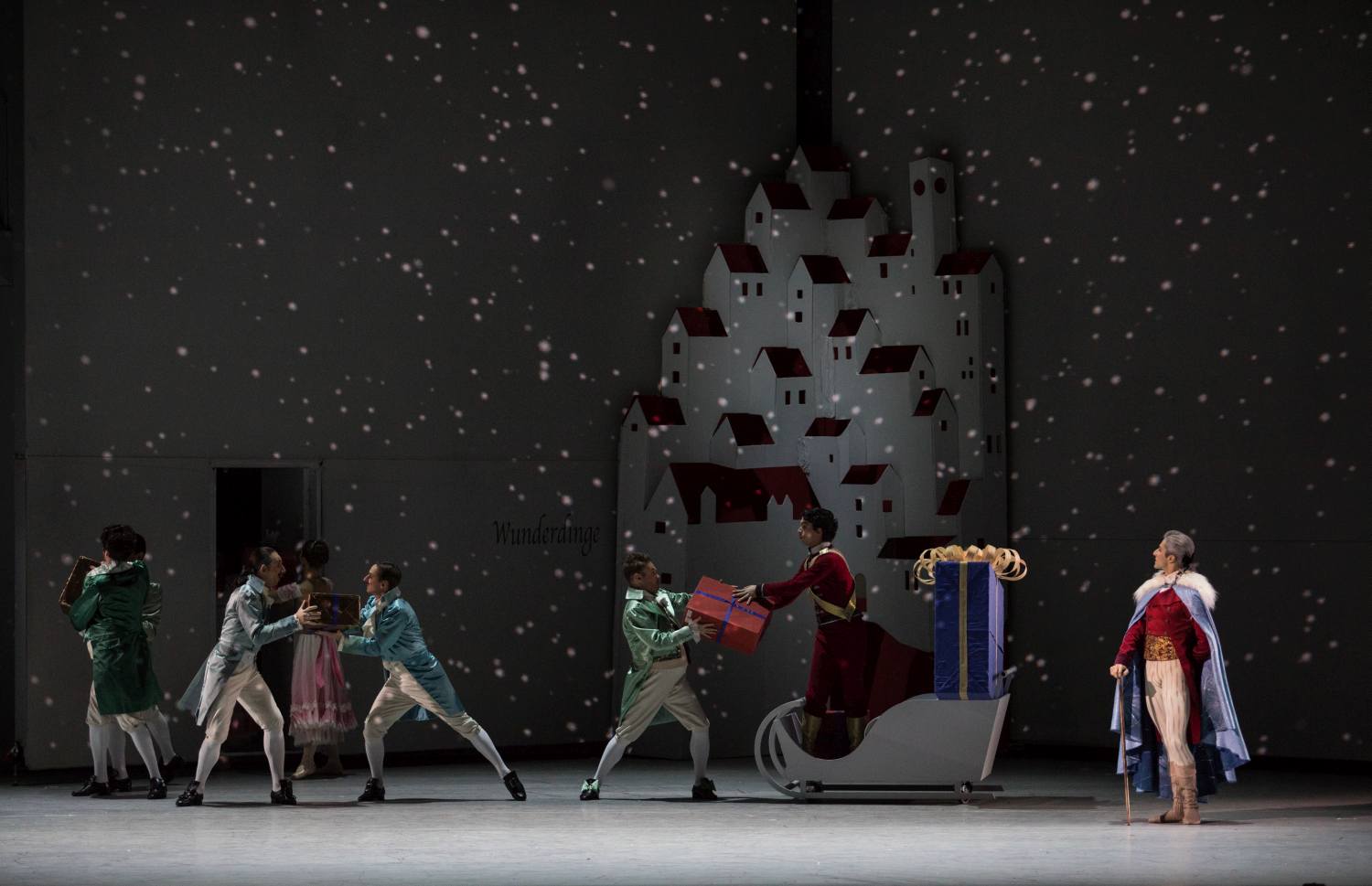 This winter, the Stanislavsky Ballet replaced Vasily Vainonen's 1995 "Nutcracker" with Yuri Possokhov's – not a brand-new rendering, but an adaption of the "Nutcracker" that Possokhov created for the Atlanta Ballet in 2018 (new designs included). Since its premiere in Moscow at the end of November, tickets have been in high demand. Given Possokhov's good work on the Bolshoi Ballet's "Nureyev" and an "Anna Karenina" for the Joffrey Ballet & the Australian Ballet, I was curious what approach he'd take to this iconic ballet – and it was clear within seconds that he had given this Nutcracker a strong update.
Sergey Rylko's dazzling videos hurl us through flurrying snow to a spinning astrological sign. From there, a golden ram gallops off towards and through a faceless white town, flying in low over rooftops, an ice-rink, and a carousel. We land at the workshop of Drosselmeyer (danced by Jonah Cook, a former principal of the Bavarian State Ballet and the Zurich Ballet), who is heaping presents onto a sleigh together with his nephew (Andrey Kirichenko). Drosselmeyer's wall-sized astrological clocks, their faces rotating mysteriously, are presumably tools that control the ticking of the universe.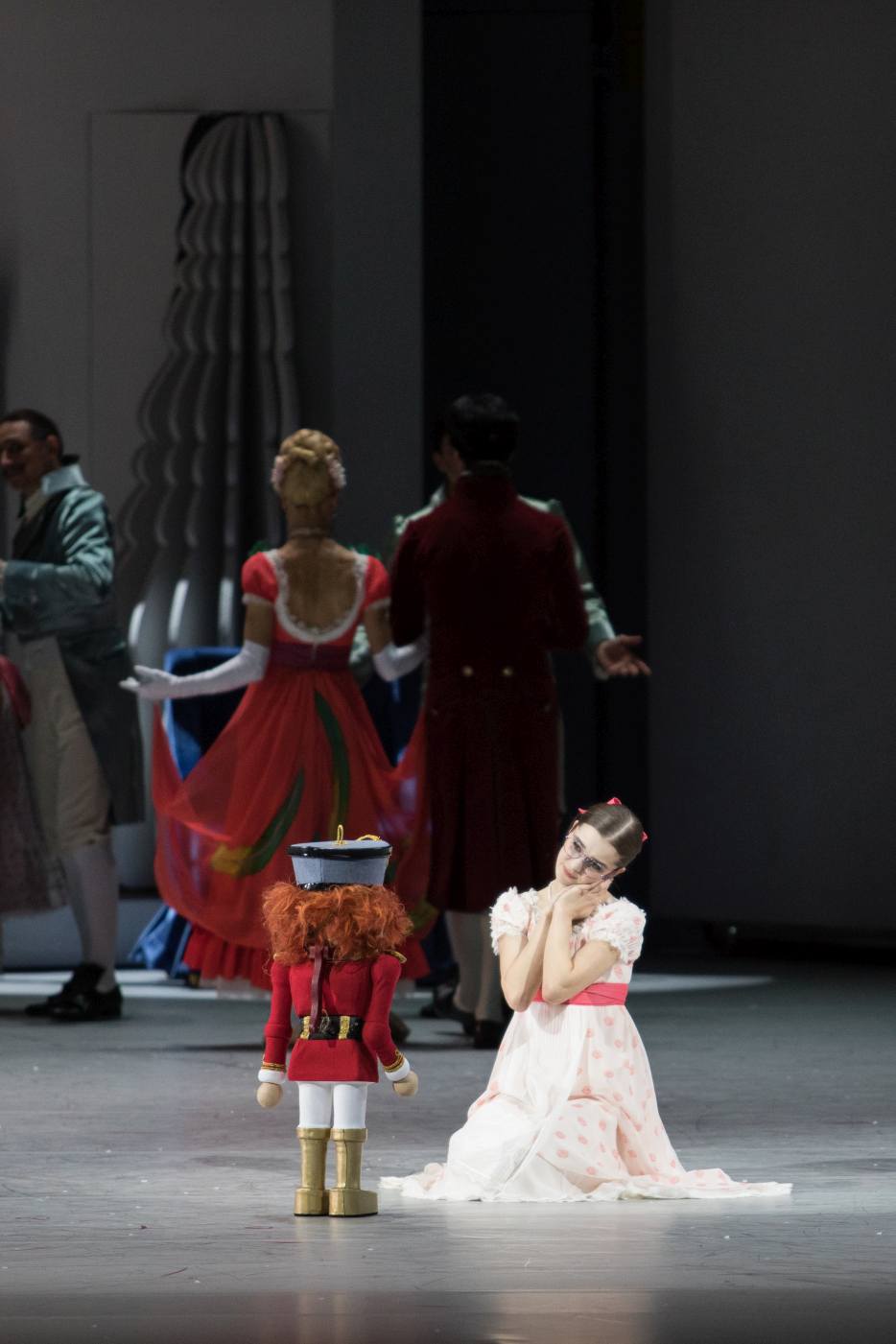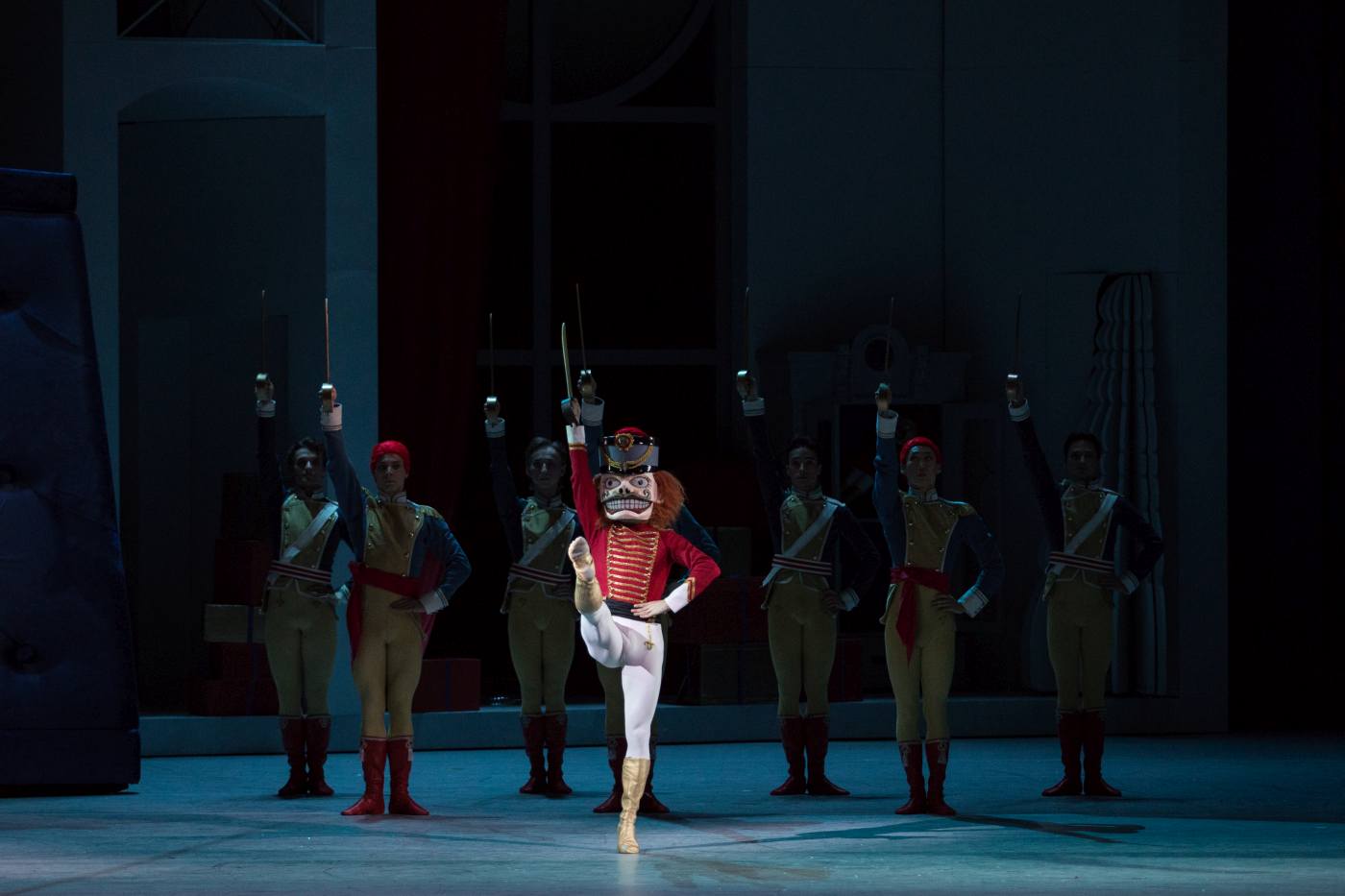 As the side wall of the workshop folds out like the page of a book (set design by Polina Bakhtina), we arrive in front of the Stahlbaums' home along with a group of guests (among them many children) and the Santa Claus-like Drosselmeyer. The turning of another wall opens our view into the parlor – a room as white and unadorned as the blank pages of a book. We're indeed inside a book that tells a modern version of E.T.A. Hoffmann's "Nutcracker and the Mouse King". Perhaps that's why the young Marie Stahlbaum (Vitalina Alsufieva) and her mother (Kristina Golovacheva) wear glasses – they're avid readers!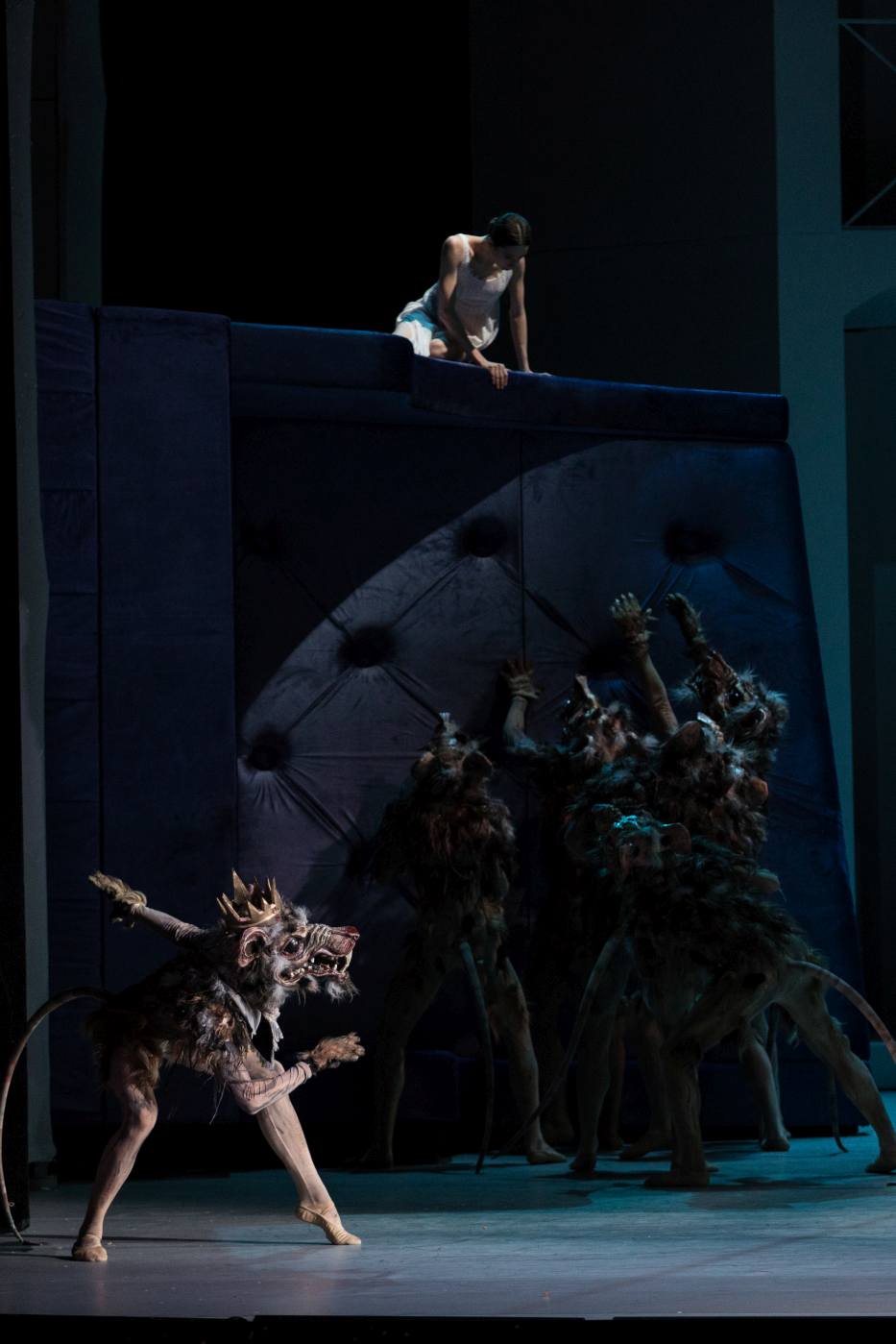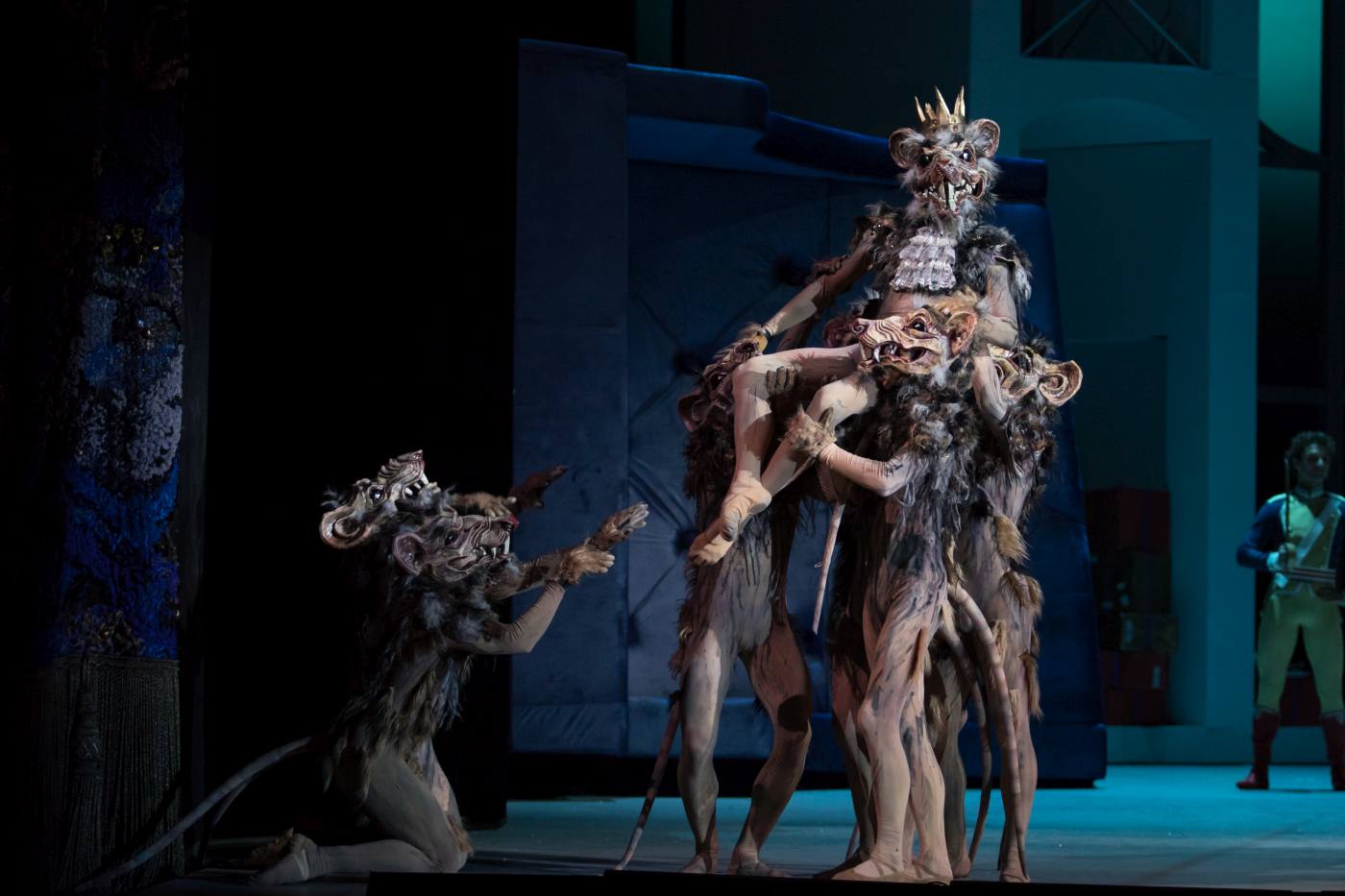 While an oversized bottle of champagne fuels their merrymaking, Drosselmeyer plays toy theater for the children. Three human-sized dolls (Yulia Balashova, Marina Zolotova, Enkhmunkh Oyunbold), officers (Iskandar Anvarov. Ivan Matveev, Aleksander Seleznev), and a strong-jawed nutcracker (Georgi Smilevski Jr.) simultaneously perform an enlarged version of his play center stage.
The next part is well-known: the nutcracker toy, which Drosselmeyer has presented to Marie, is torn apart by Marie's little brother Fritz (Elisey Volkov) and repaired by Drosselmeyer. The tender romance that buds between Drosselmeyer's nephew and Marie during his attempts to comfort her foreshadows the mature love of adulthood that fills Marie's dream.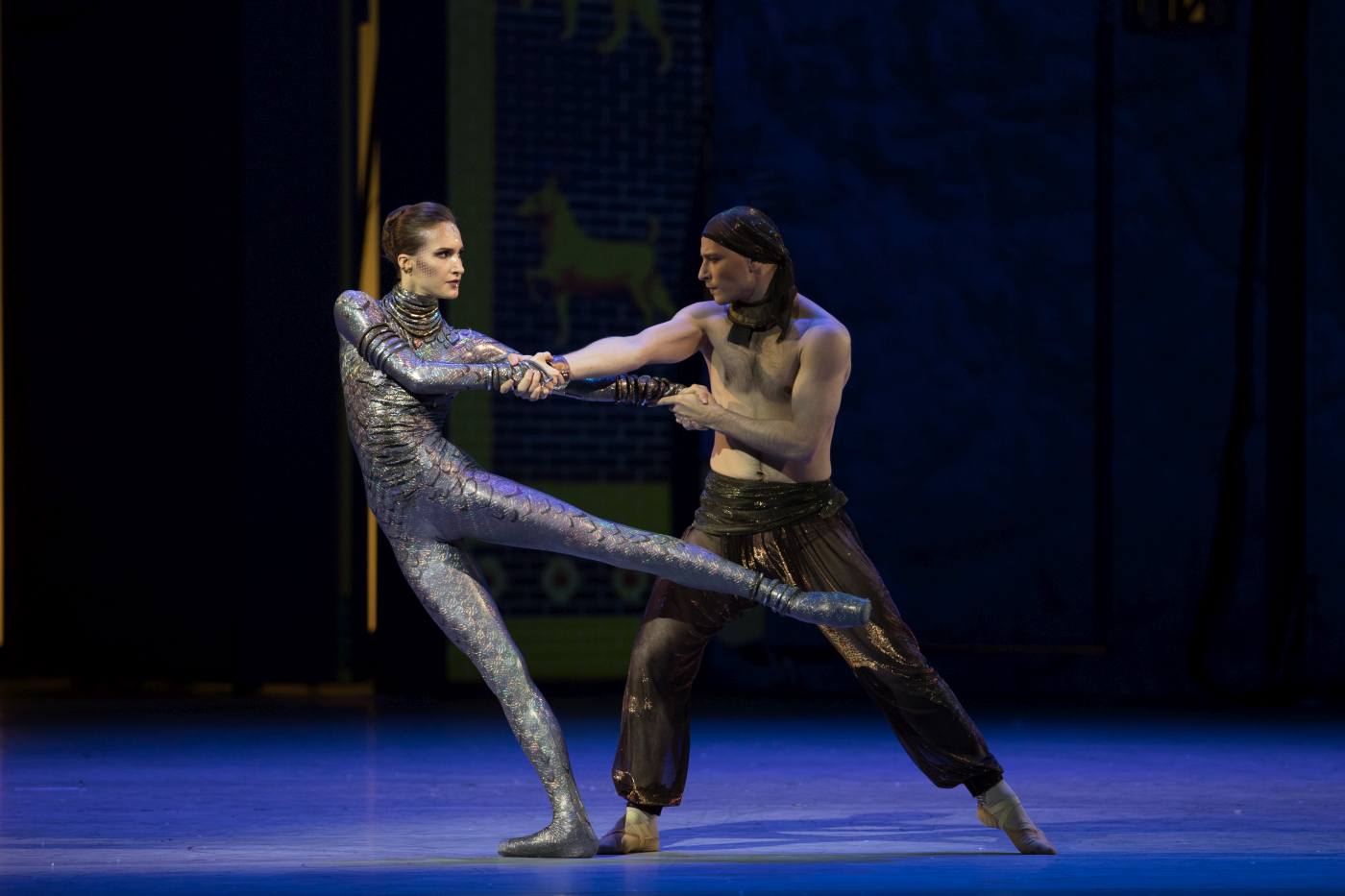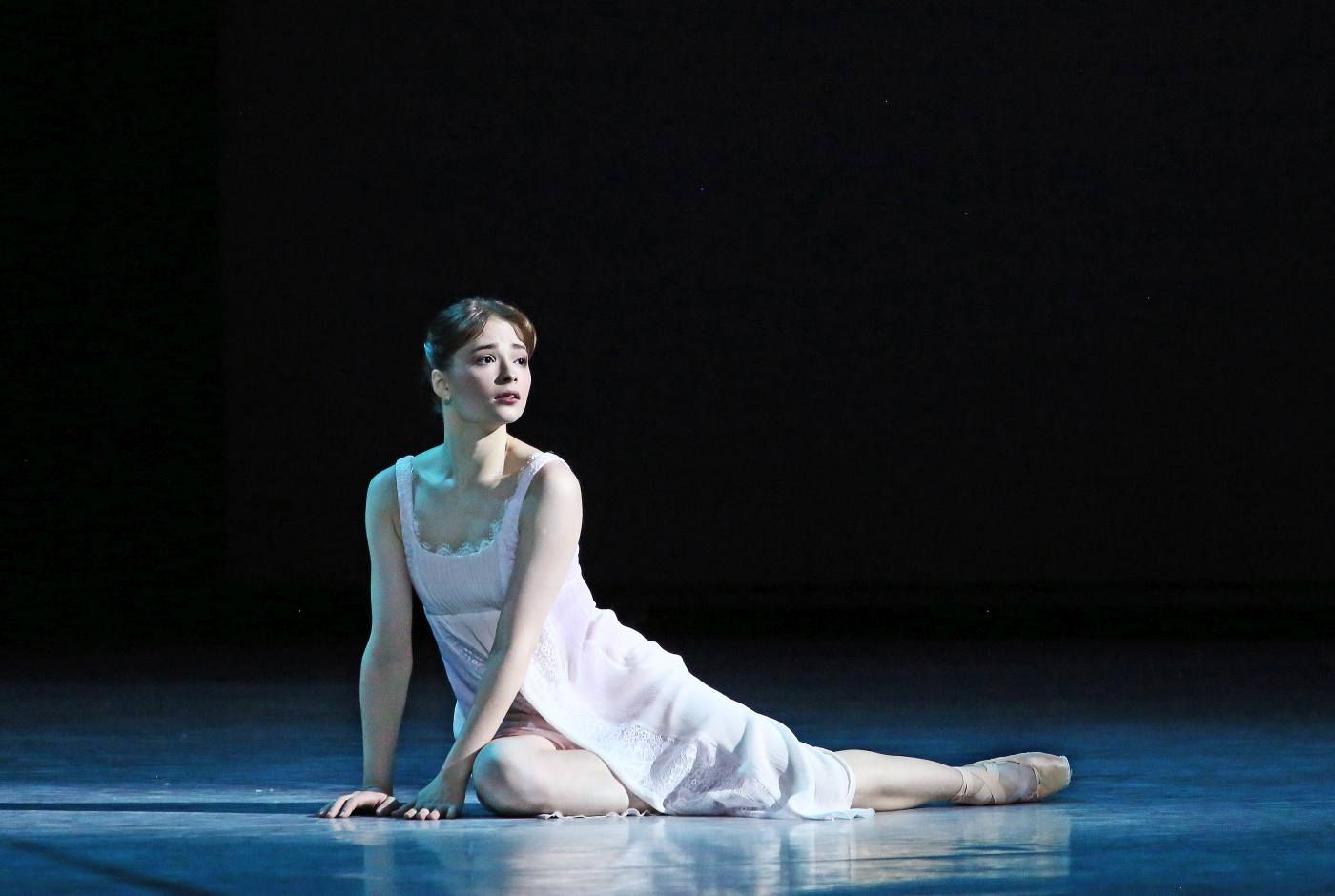 When Marie falls asleep, she dreams that she is a young woman (Zhanna Gubanova danced the adult Marie) which has been shrunk down to toy-size and is attacked by the terrible mouse king (Konstantin Nikitin). His army crawls around her feet, grabbing at her, decked out in terrifying mice outfits by Sandra Woodall. From the armchair, Marie observes the nutcracker and his officers moving out from the shelves of the living room's glass cabinet to counter the mice, but – alas! – they must quickly retreat. When the mice have cleared out, a handsome prince (Innokenty Yuldashev) has replaced the nutcracker. A web of star rays appears to carry Marie and the prince to cosmic heights (in reality, a gray space whose corners are populated by white paper Christmas trees). Nevertheless, romance blossoms.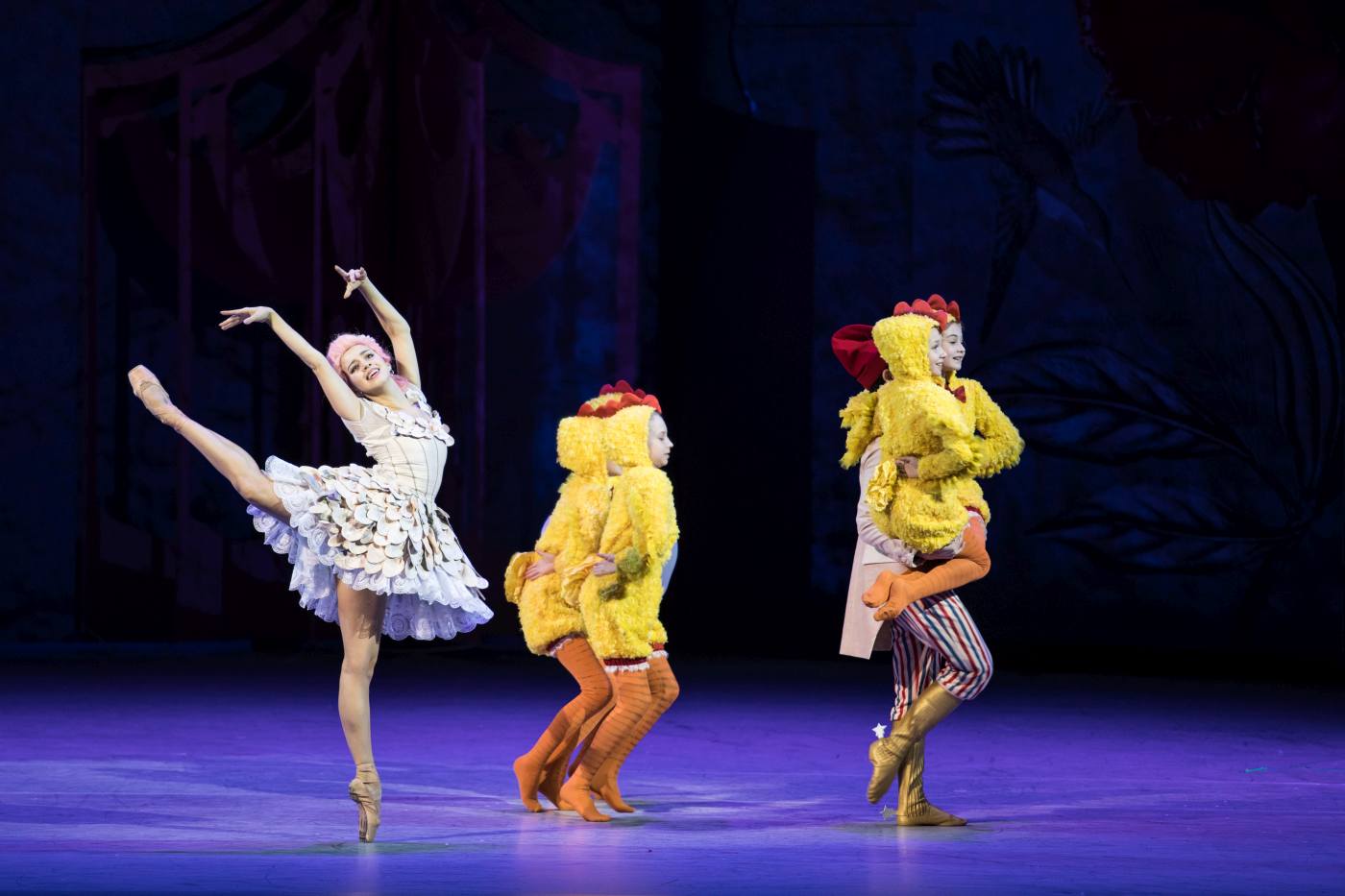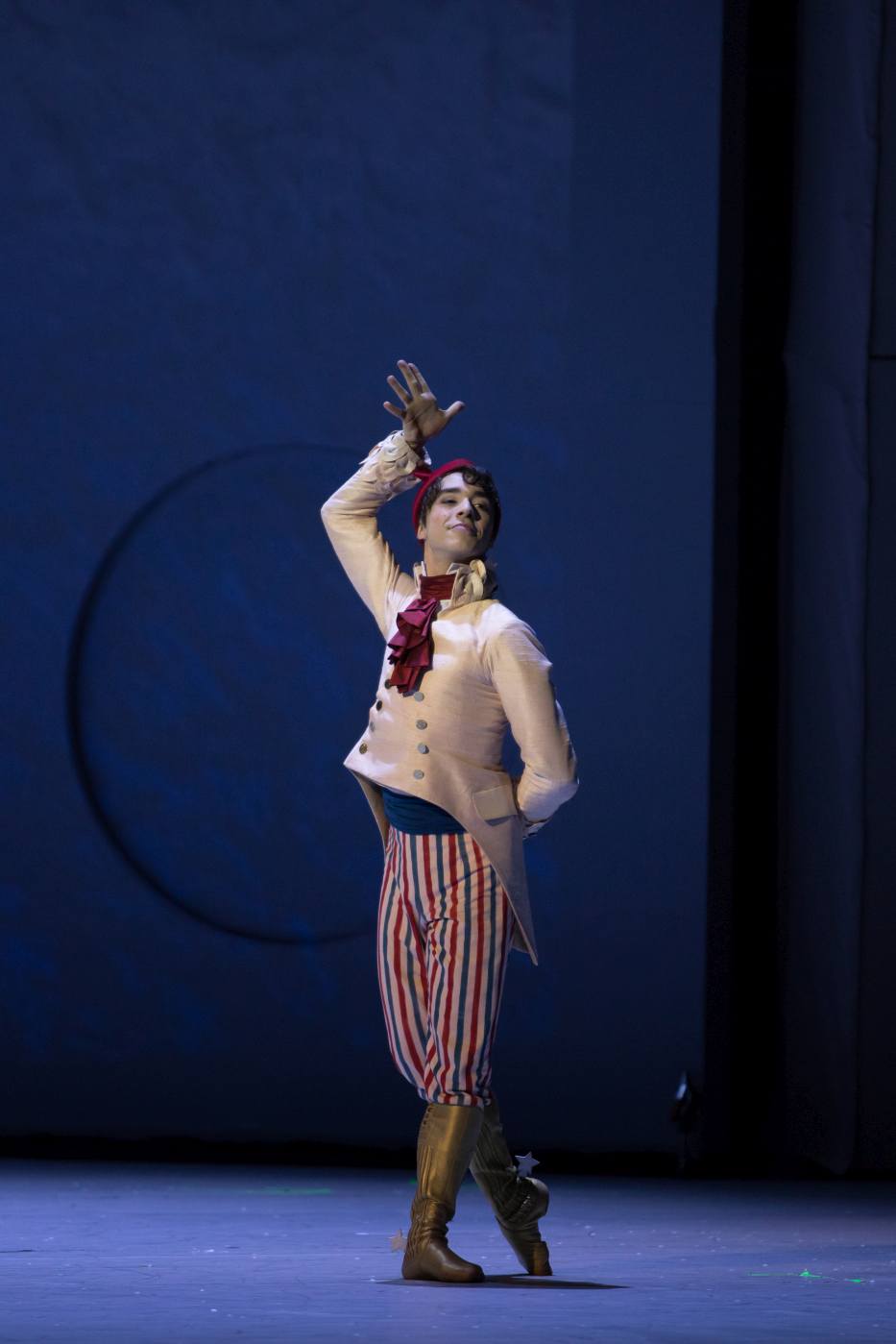 A breezy waltz of snowflakes sees the couple off to the next book page where a porthole looks out onto a summery expanse. Drosselmeyer, having taken the shortcut through the book, arrives first, assisting the prince in his showdown with the mouse king. This time the prince is victorious – but wait! Another mouse snatches the crown, coronating itself – leading us to believe that the mice plague will someday return.
For now, though, it's time to celebrate. Pop-up paper decorations provide settings for the guests: a red flower for a toreador (Ivan Matveev) and two snappy Spanish women (Olga Sizykh & Enkhmunkh Oyunbold); a small pavilion for a Chinese trio (Vitalina Alsufieva, Mariya Ibraeva, and Stepan Korolev). A resplendent gate opens for the Arabian snake charmers (Evgeny Poklitar, Evgeny Dubrovsky, Ilyas Abdullin) and their slinky female serpent (Polina Zayarnaya).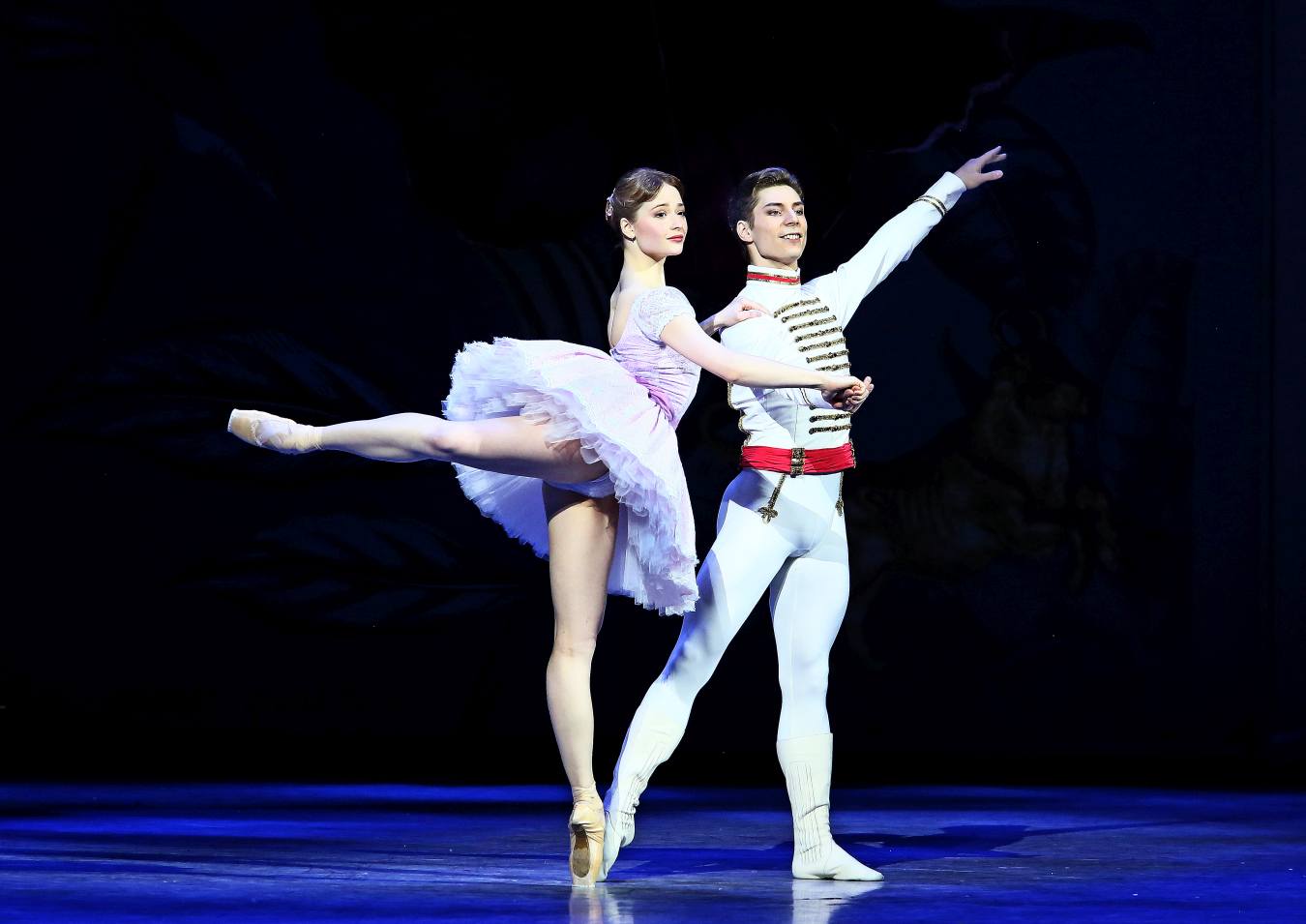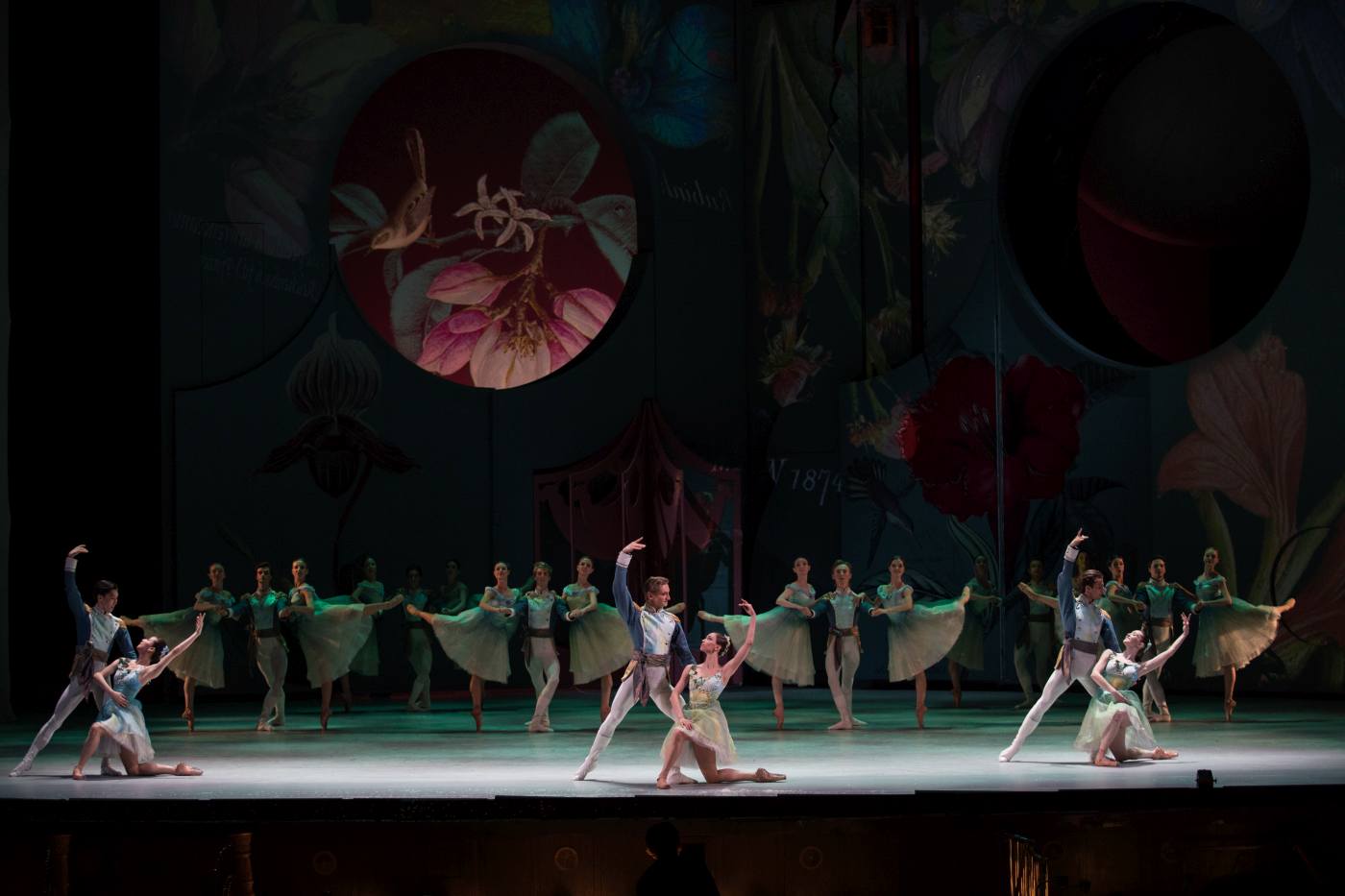 Colorful portholes look down on the dashing folk dances of two Russian couples (Kamilla Ismagilova, Dina Levin, Yury Vybornov, and Alexsander Seleznev). The French appear as hen (Anastasia Limenko) and rooster (Georgi Smilevski Jr.), their five little chicks hatching from enormous eggs – a wink to Mother Ginger in Balanchine's "Nutcracker". Exotic blooms surround the three couples (Daria Yurchenko & Iskandar Anvarov, Elena Solomyanko & German Borsai, and Valeria Mukhanova & Evgeny Zukhov) who lead a stirring flower waltz.
Given the visual fireworks up to this point, I expected a rousing grand pas de deux. Possokhov instead keeps the choreography tempered, sugared with just a pinch of sexual sensuality. A candy lilac petticoat-tutu and a pristine white uniform make Gubanova and Yuldashev appear a cutesy fifties Hollywood couple. Since both dancers debuted their role at the matinee, their performance was not yet perfect.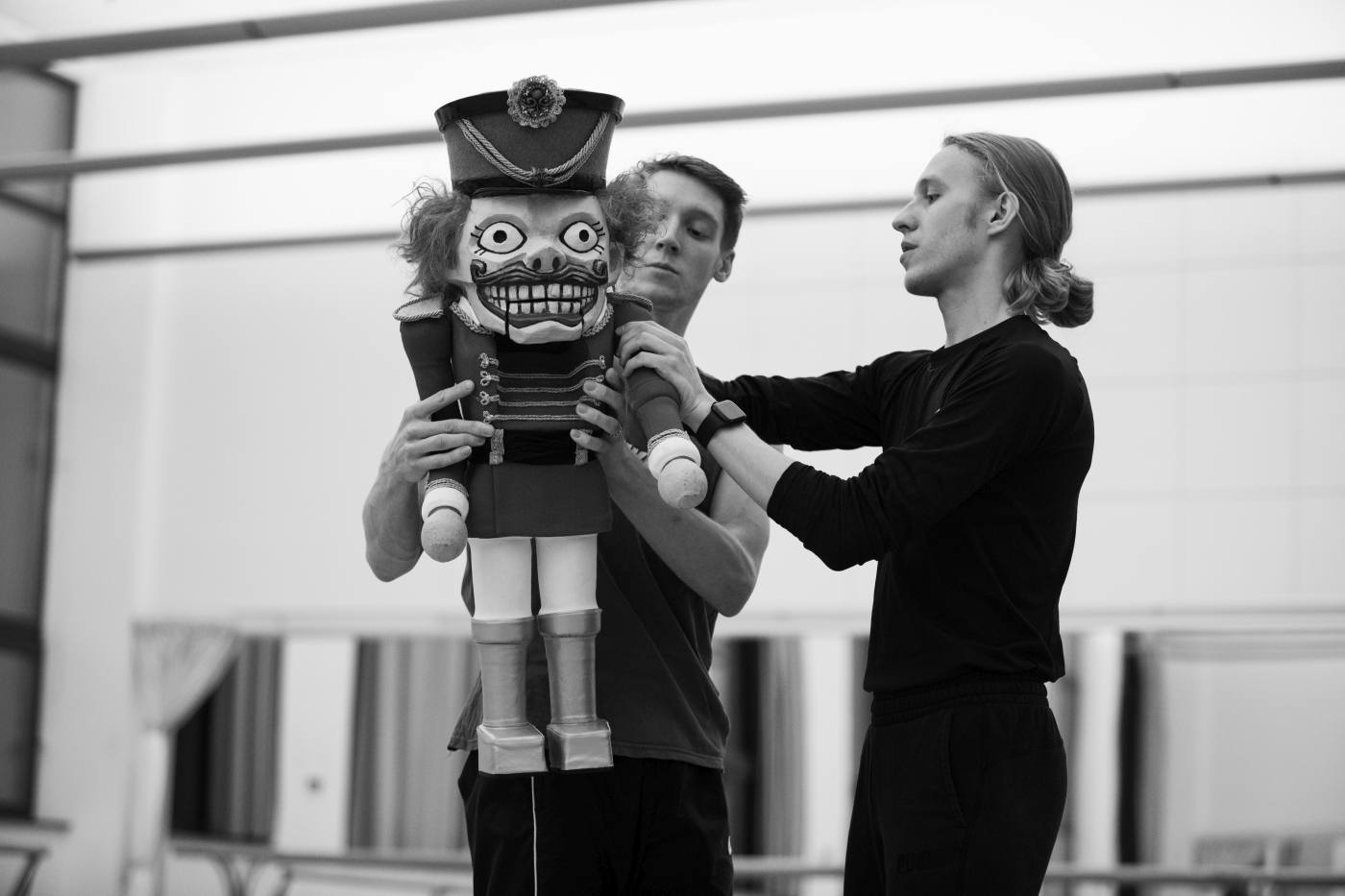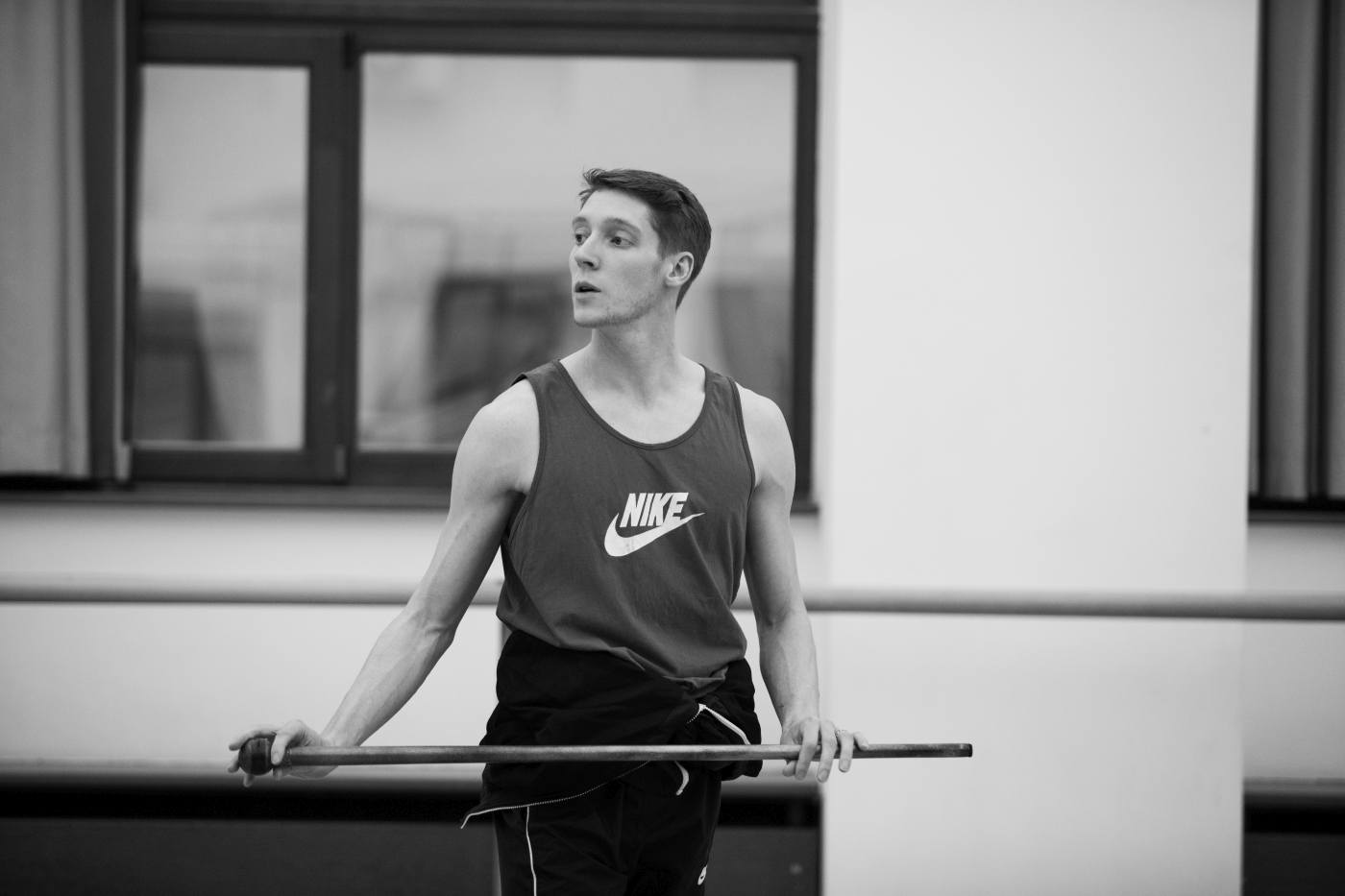 Despite waking from her dream in panic, Marie calms upon finding the nutcracker safely stored in the glass cabinet. In a final moment, Drosselmeyer is seen wearing a mouse mask, keeping the mystery alive.
Tchaikovsky's score was given a colorful rendition by the orchestra of the Stanislavsky and Nemirovich-Danchenko Theatre playing under the baton of Roman Kaloshin.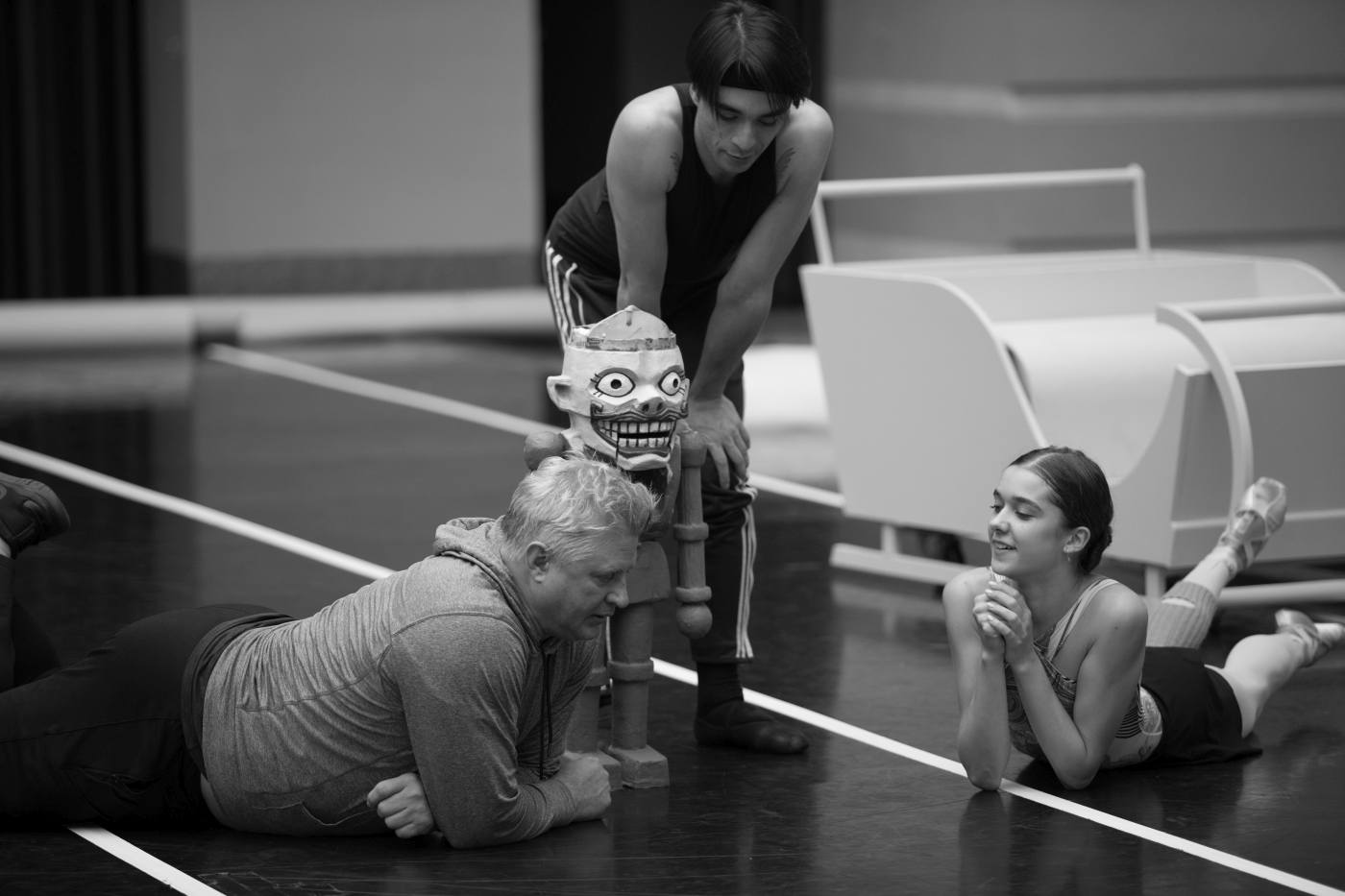 Links:
Website of the Stanislavsky and Nemirovich-Danchenko Moscow Music Theatre
preparing "The Nutcracker" (video)
"The Nutcracker" – trailer

Photos:

1.

Ensemble, "The Nutcracker" by Yuri Possokhov, Stan

is

lavsky Ballet 2022

©

Karina Zhitkova

2.

Georgi Smilevski Jr.

(Nutcracker-

D

oll) and ensemble,

"The Nutcracker" by Yuri Possokhov, Stans

is

lavsky Ballet 2022

©

Karina Zhitkova

3.

Vitalina Alsufieva (little Marie),

"The Nutcracker" by Yuri Possokhov, Stan

is

lavsky Ballet 2022

©

Karina Zhitkova



4.

Konstantin Nikitin (Mouse King) and ensemble,

"The Nutcracker" by Yuri Possokhov, Stan

is

lavsky Ballet 2022

©

Karina Zhitkova



5.

Konstantin Nikitin (Mouse King) and ensemble,

"The Nutcracker" by Yuri Possokhov, Stan

is

lavsky Ballet 2022

©

Karina Zhitkova

6.

Zhanna Gubanova (adult Marie),

"The Nutcracker" by Yuri Possokhov, Stan

is

lavsky Ballet 2022

© Anna Klyushkina

7.

Polina Zayarnaya and Evgeny Poklitar (Arabian Dance),

"The Nutcracker" by Yuri Possokhov, Stan

is

lavsky Ballet 2022

©

Karina Zhitkova

8.

Anastasia Limenko, Georgi Smilevski Jr., and ensemble (French Dance),

"The Nutcracker" by Yuri Possokhov, Stan

is

lavsky Ballet 2022

©

Karina Zhitkova



9.

Georgi Smilevski Jr. (French Dance),

"The Nutcracker" by Yuri Possokhov, Stan

is

lavsky Ballet 2022

©

Karina Zhitkova

10.

Ensemble (Flower Waltz),

"The Nutcracker" by Yuri Possokhov, Stan

is

lavsky Ballet 2022

©

Karina Zhitkova

11.

Zhanna Gubanova (adult Marie)

and Innokenty Yuldashev (Nutcracker-Prince),

"The Nutcracker" by Yuri Possokhov, Stan

is

lavsky Ballet 2022

© Anna Klyushkina

12.

Jonah Cook and artistic director Maxim Sevagin, rehearsal of "The Nutcracker", chor.: Yuri Possokhov,

Stan

is

lavsky Ballet 2022

©

Karina Zhitkova

13.

Jonah Cook (Drosselmeyer), rehearsal of "The Nutcracker", chor.: Yuri Possokhov,

Stan

is

lavsky Ballet 2022

©

Karina Zhitkova



14.

Yuri Possokhov,

Georgi Smilevski Jr.,

and

Vitalina Alsufieva,

rehearsal of "The Nutcracker", chor.: Yuri Possokhov,

Stan

is

lavsky Ballet 2022

©

Karina Zhitkova



Editing:
Jake Stepansky