"Dona Nobis Pacem"
Hamburg Ballet – John Neumeier
Hamburg State Opera
Hamburg, Germany
January 05, 2023
by Ilona Landgraf
Copyright © 2023 by Ilona Landgraf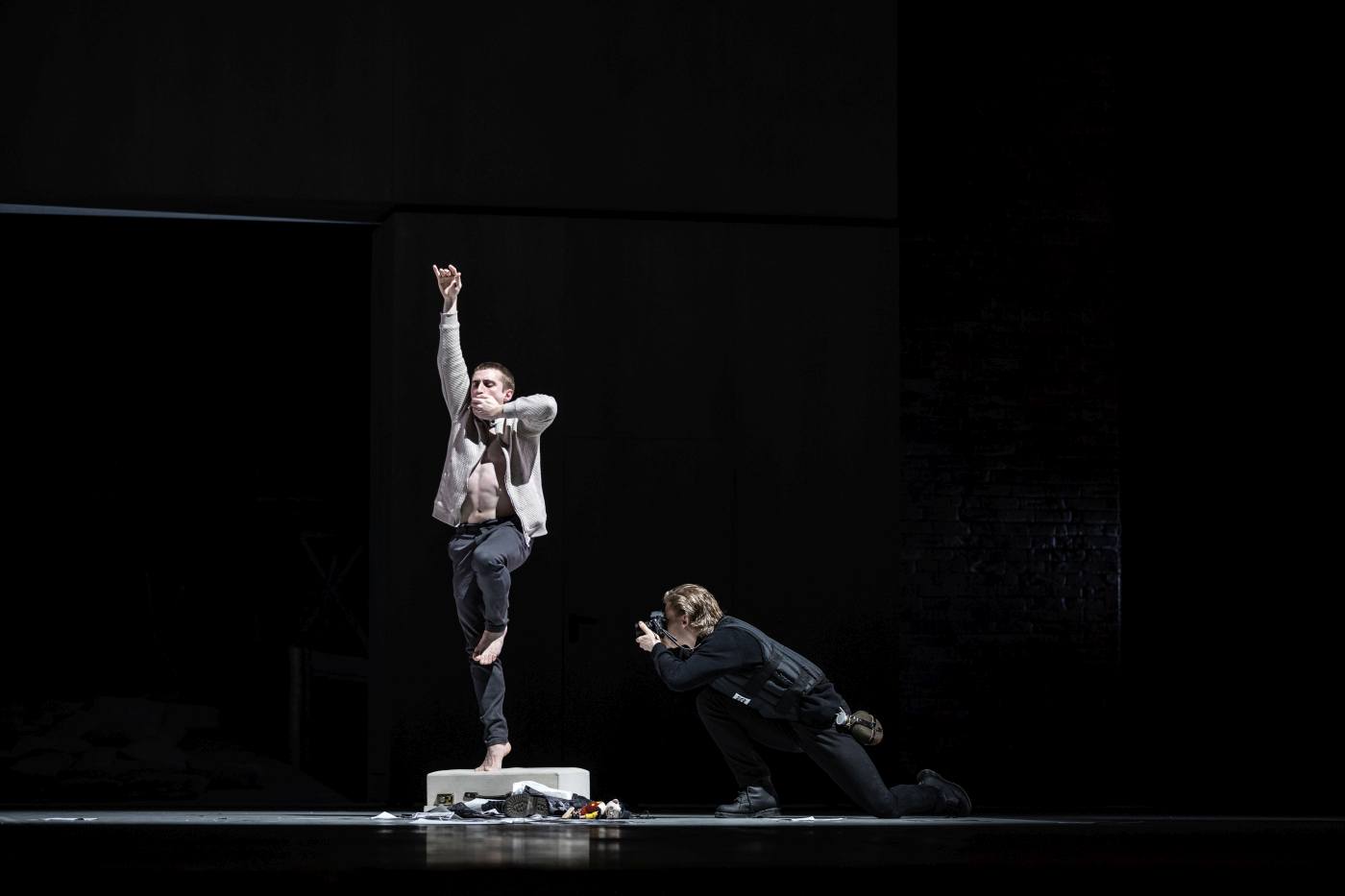 John Neumeier's latest choreography for the Hamburg Ballet, "Dona Nobis Pacem" ("Give Us Peace"), is meant to be the crown jewel of his fiftieth season as artistic director of the company. The eighty-three-year-old Neumeier had originally intended to resign in July 2023, but chose to extend his contract for another year in order to ensure the smooth transition of his named successor Demis Volpi, currently the artistic director of the Ballett am Rhein. There are one and a half long years until then – and perhaps Neumeier will renounce his statement that "Dona Nobis Pacem" is to be his last new creation.
It's no secret that Neumeier has a strong sense of religious mission. As his career approaches its close, he has finally chosen to choreograph to the music of a mass – specifically Bach's Mass in B minor. Initially, I thought that the choice to adopt the title of its final chorus – "Dona Nobis Pacem" – was a response to the war in Ukraine. Neumeier explained in an interview, though, that he had decided on both title and music much earlier. That said, the choreography and the costumes (which are, like the set and lighting, also by Neumeier) reflect war. He also stated in the program that "this planned last creation should be one which presents the Hamburg Ballet in all its strength and accomplishment." That sounds promising.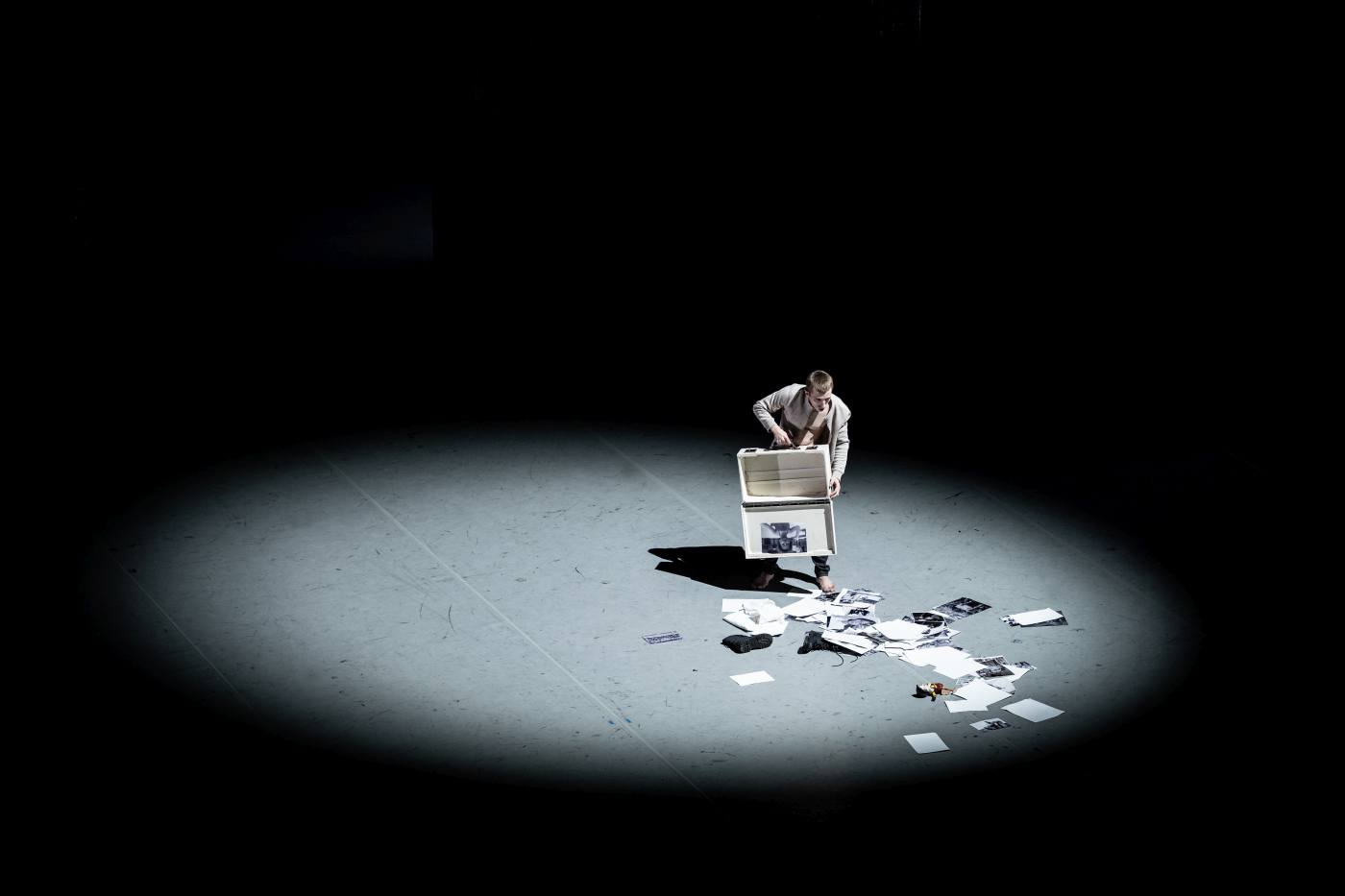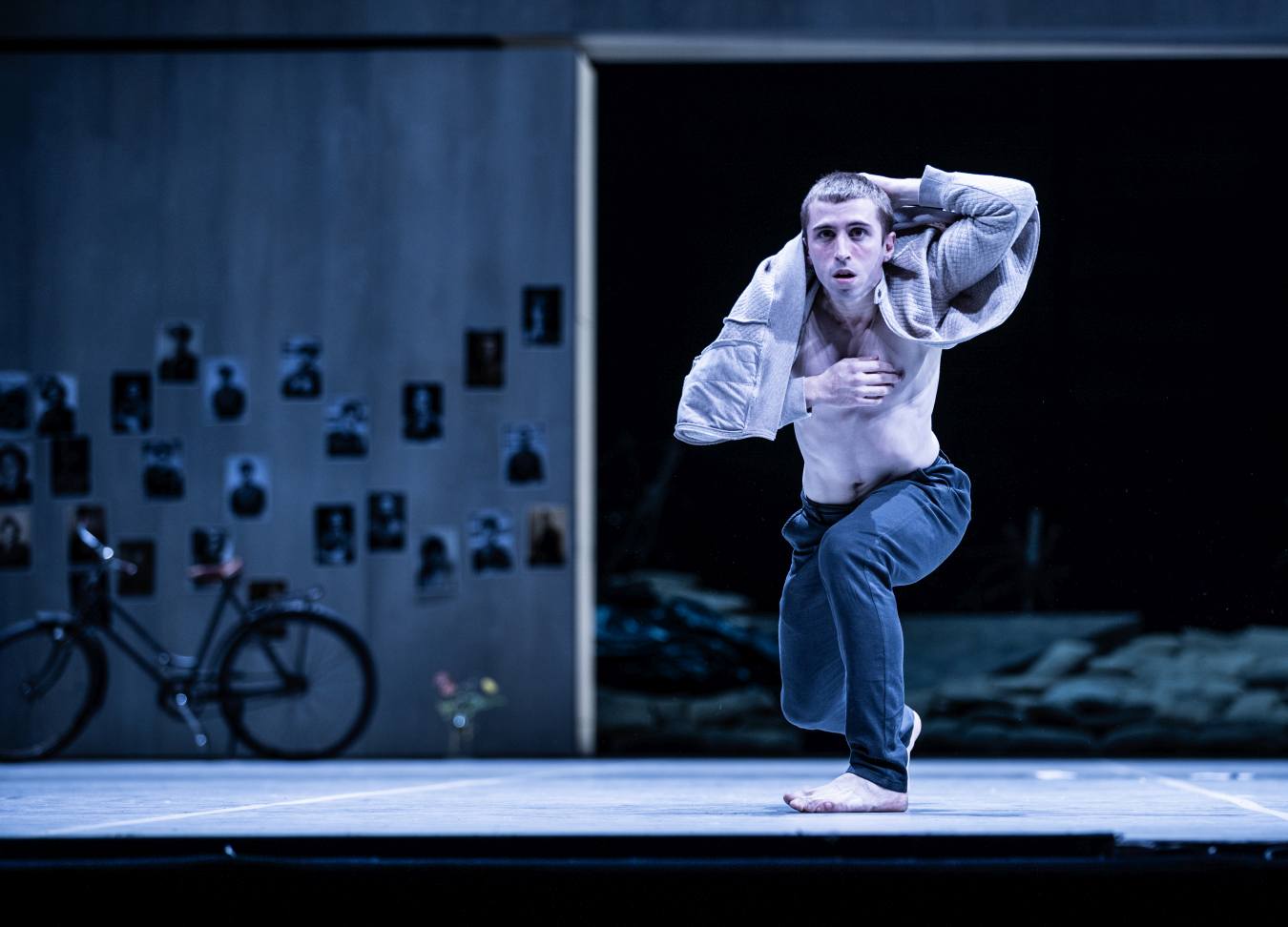 The murmur of the audience is immediately silenced the moment a panic-stricken soldier (Louis Musin) hurtles out of the wings, crawling along the floor. He seeks shelter behind a small concrete wall, in shock, panting. (The intense applause that followed this prelude was for conductor Holger Speck, who only then entered the orchestra pit – but that could easily have been misinterpreted.) Soldiers, widows, angels, clerics, and their parish populate the following movements. Passersby jog across the stage, unperturbed by the war. A press badge identifies Lennard Giesenberg as a journalist. He's not (yet) a war-hardened front-line pro, but a dreamer led by urges of concern, sympathy, and voyeurism.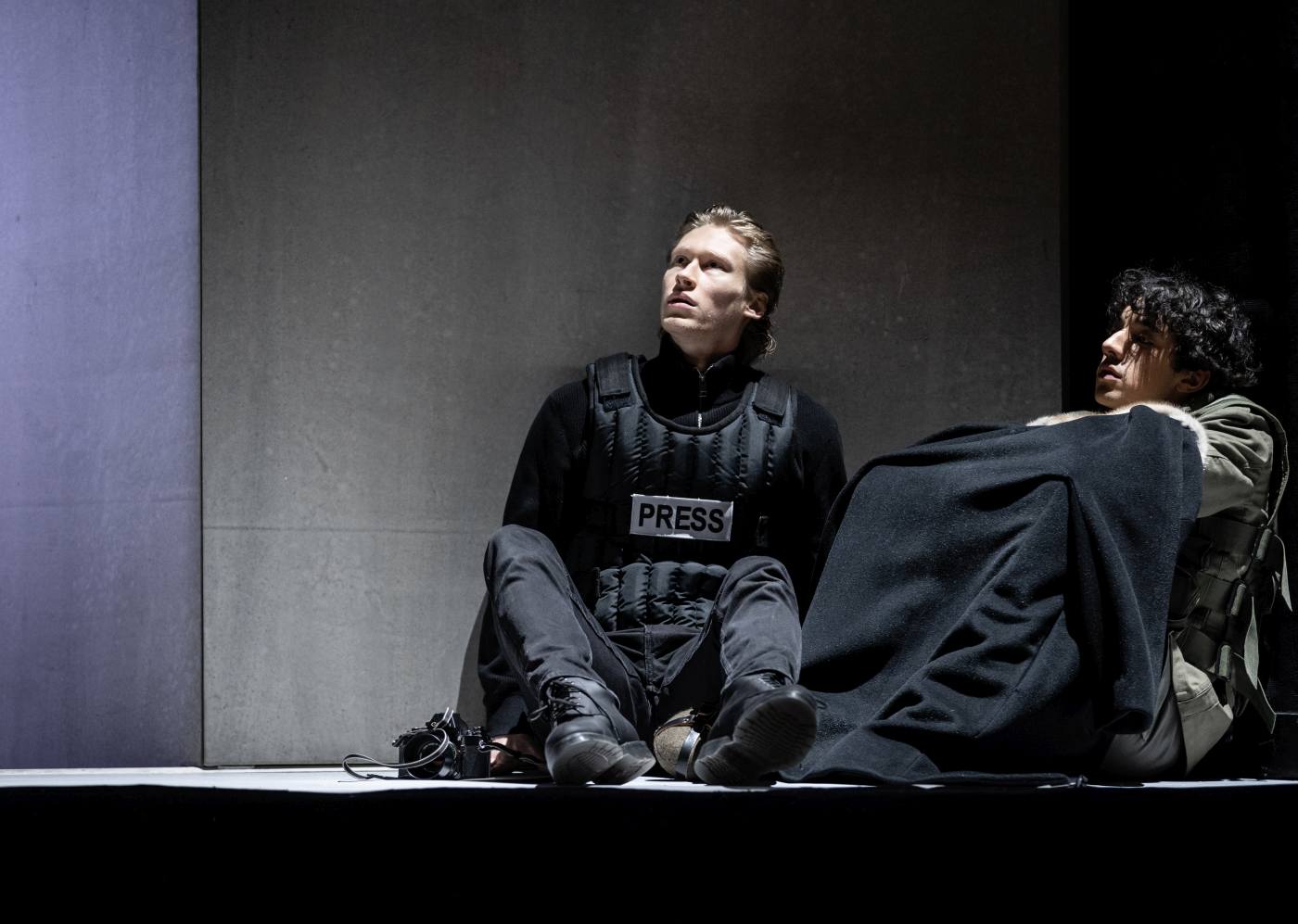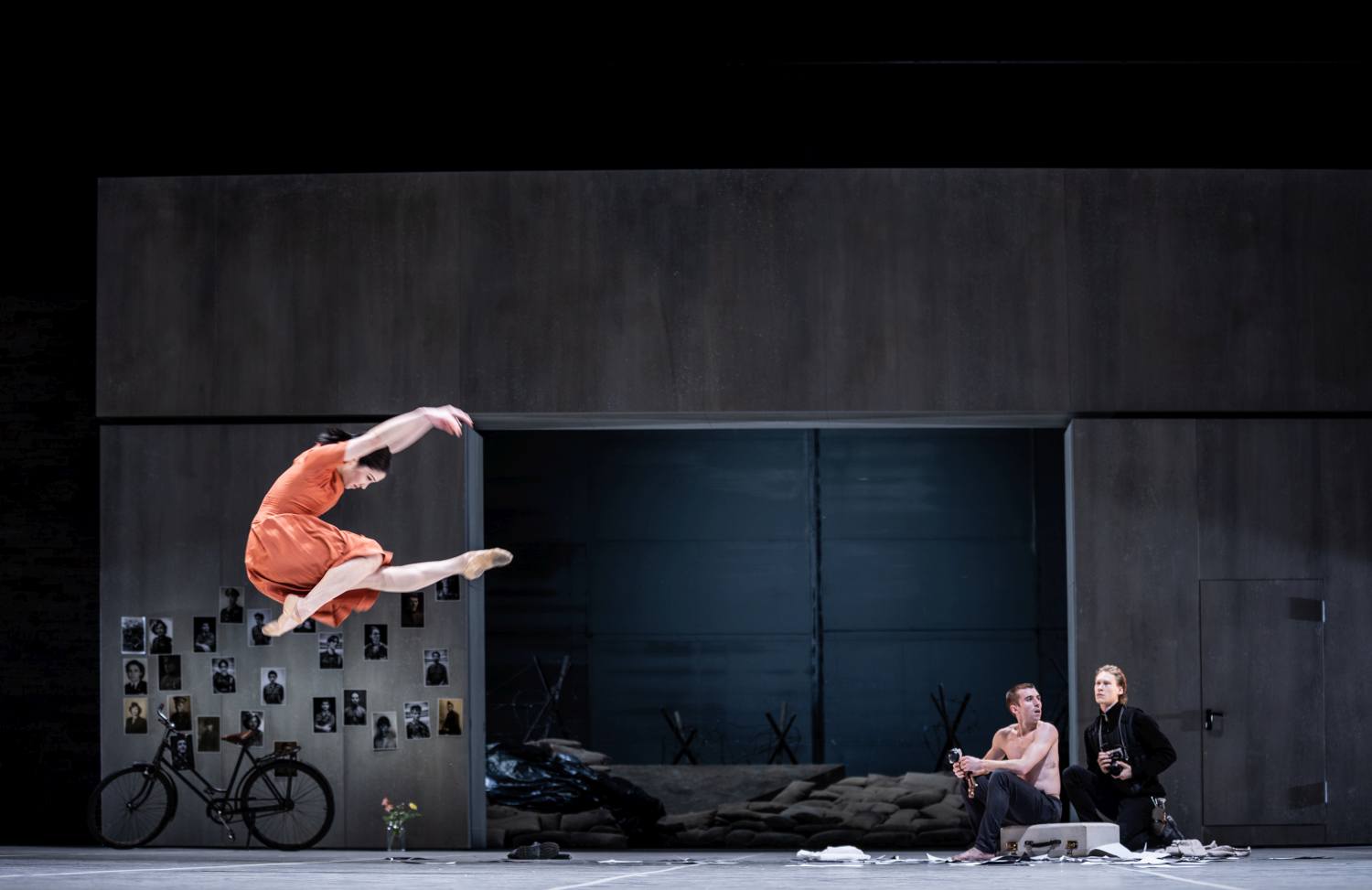 The close-ups he shoots are massively projected (not on social media, but) on the back wall. Giesenberg later recites Günther Kunert's poem "Der Schatten" about the nuclear attack on Hiroshima (Alessandro Frola, wrenching his limbs in an orange-red inferno under a mushroom cloud, illustrates its lines) and the lyrics of John Lennon's peace-hymn "Imagine".
The bare-footed Aleix Martínez portrays an anonymous he (a refugee or survivor?) carrying a suitcase filled with black-and-white photos and a plush doll. Sometimes, the memories in this suitcase burden him like weighty rocks. If Martínez is not walking at slower than a snail's pace, he is clutching a photo and his doll or, struck senseless by trauma, rushing back and forth while yanking and contorting his body. He smiles only when he observes a lonely bicycle placed in front of a photo wall cataloging the missing and dead. Its bell rings us into Bach's Christe.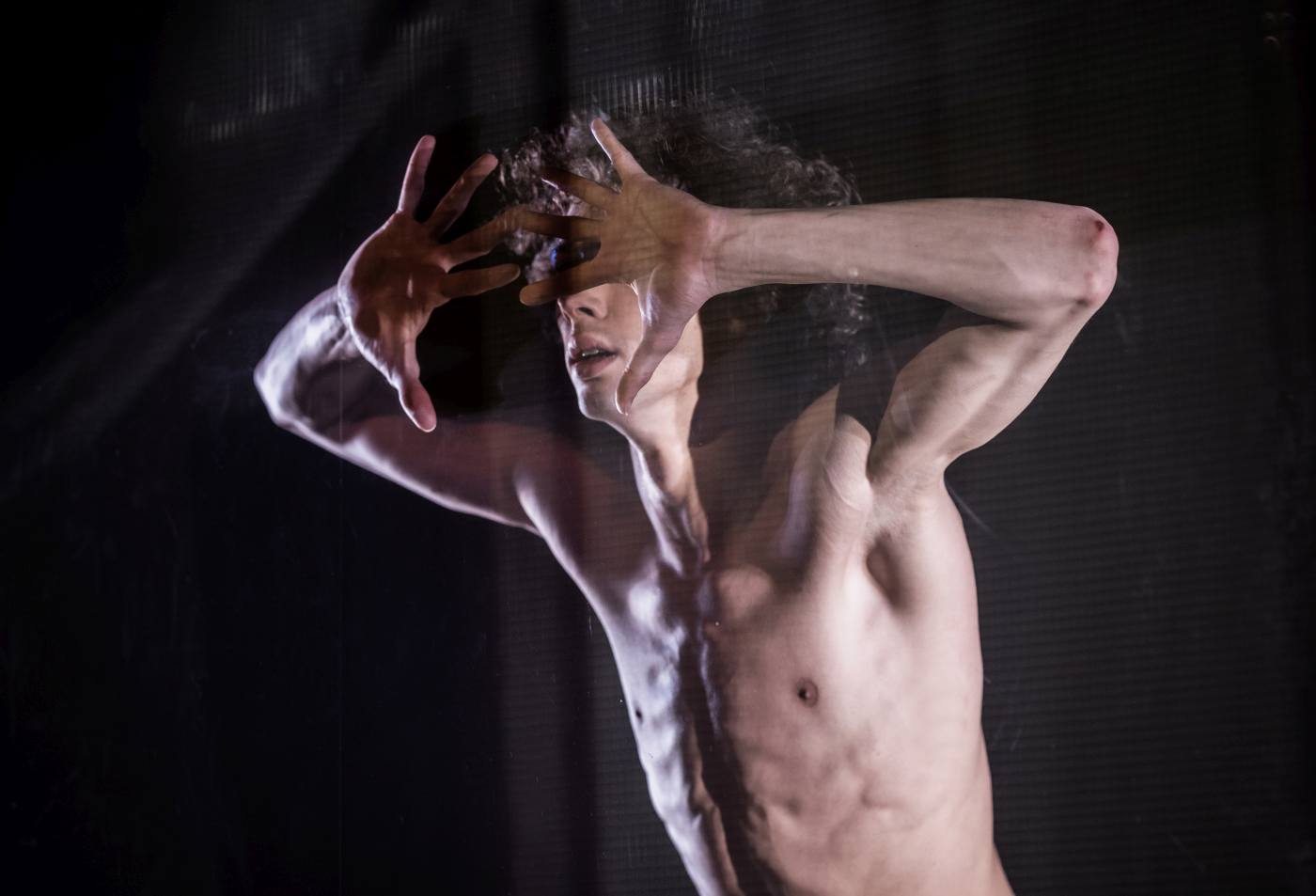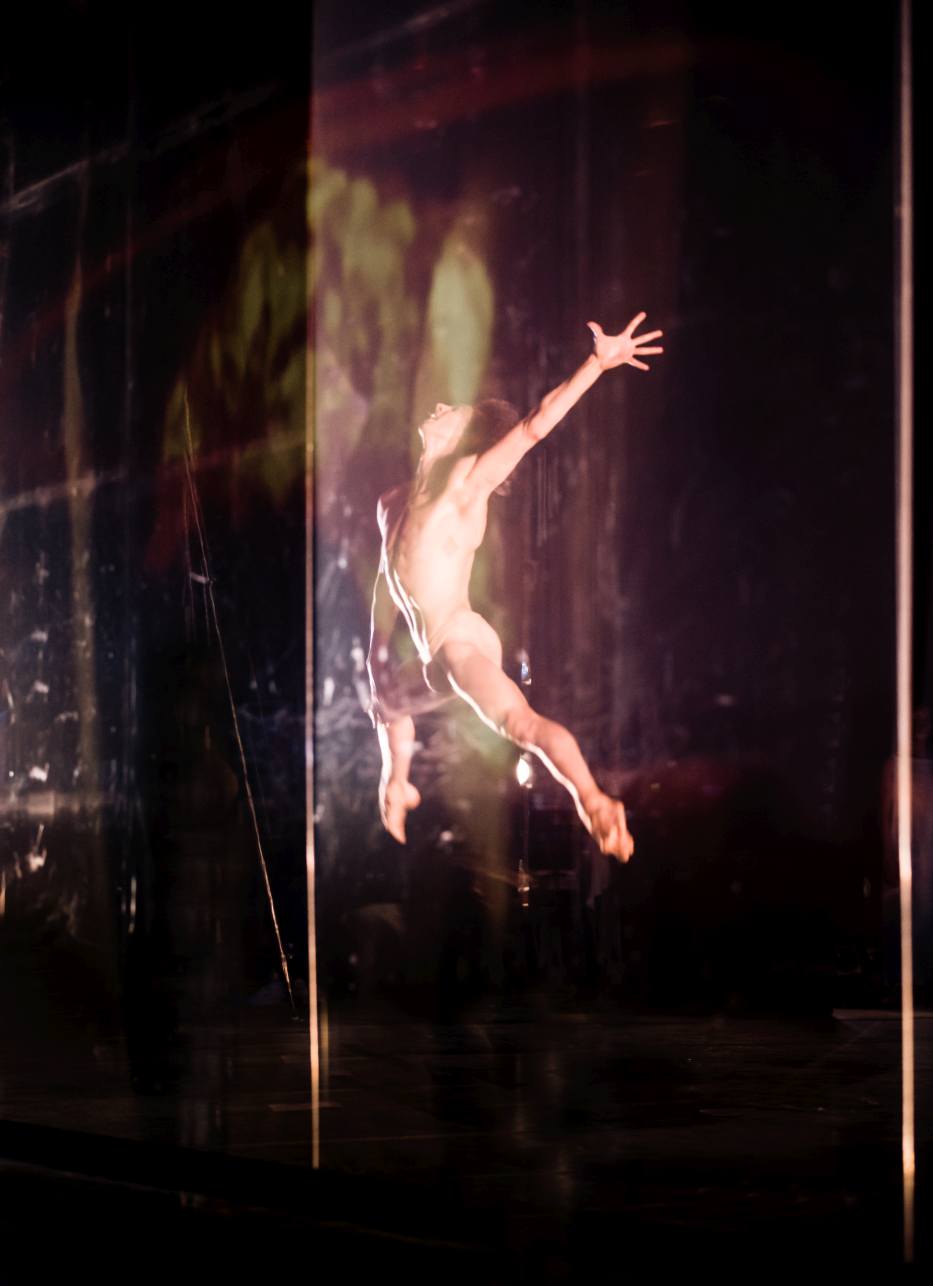 A unit of soldiers led by an officer (Edvin Revazov) drags their feet as if trudging through deep mud. Again and again, their torsos tumble backwards, hit by gunfire. One by one, they each sink down, slain. Other soldiers carry women on their backs, or stand on their heads, legs split. Standing in an open passé position, some search for balance, exhausted. Older soldiers lead a group of child soldiers by the hands towards a concrete doorway. As they trudge along in slow-motion, their line begins to resemble a solemn sacrificial procession.
A group of widows stands motionless, absorbed into prayer books at length before thrusting their arms abruptly through the air, hewing through like axes. Anna Laudere, one of the grievers, gives Musin (who still cowers in the same spot) a coat. The clerics, wearing stylish floor-length white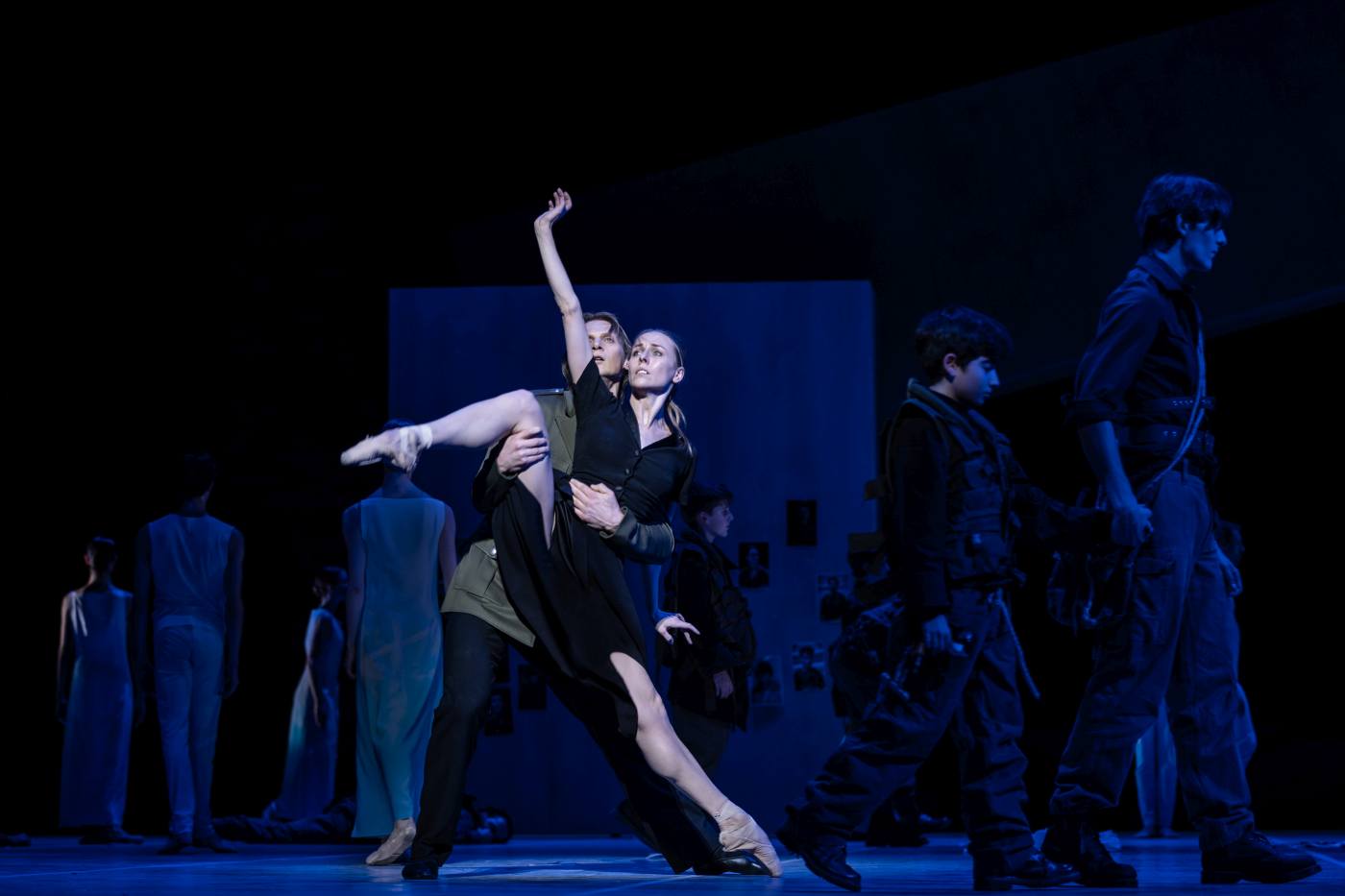 robes, try to alleviate their parishioners' grief – but, depleted of spiritual power, their presence does little to instill a new sense of hope. The angels are equally as ineffective – a jerking, disorganized group that can't have been sent from heaven. Only one group of women, decked out in red dresses, dances boisterously, ignoring the corpses beside them.
Neumeier includes a scene reminiscent of a church service and has his dancers frequently assume the figure of the cross. Martínez, naked except for briefs that matches his skin tone, seems to be crucified – suggesting that he is Jesus. She (Ida Praetorius), dancing an intimate pas de deux with him, must be Mary Magdalene. As Neumeier emphasizes, though, the audience shouldn't search for a consistent plot, but instead regard the performance as an "ethical collection of choreographic pictures" – these are merely my interpretations.
Accompanied by the final chorus, Martínez crawls out from underneath a heap of people who, attempting to protect him, have buried him instead. As he drags them forward, his followers finally scatter and humbly kneel.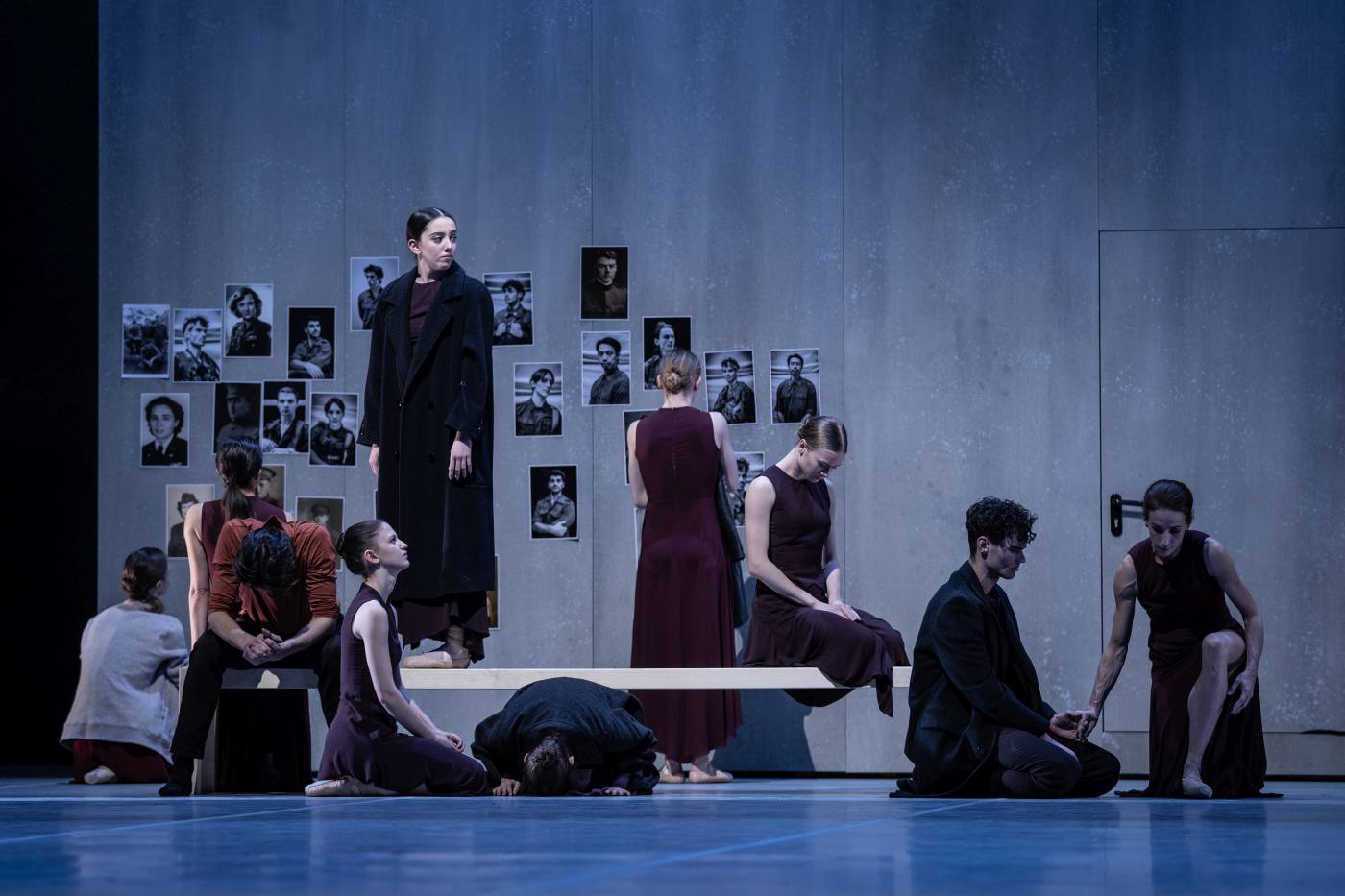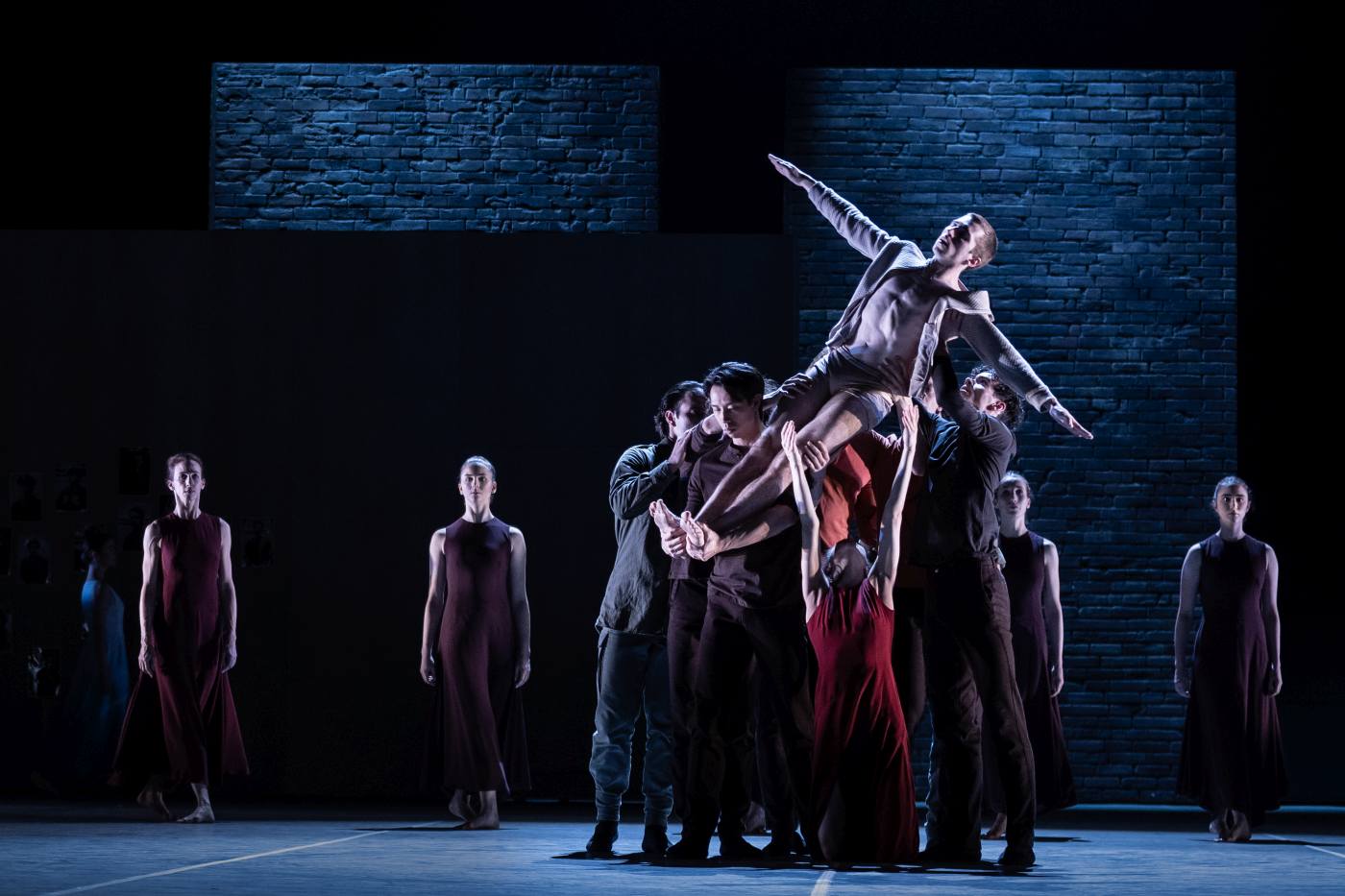 The movement palette of "Dona Nobs Pacem" resembles that of previous Neumeier pieces, albeit edgier and more fragmented. According to Neumeier, Bach's Mass asks for expressions of naivité, which led him to keep the choreography as simple as possible. Across both two acts, the dancers frequently sit or lie on the floor, stand motionless, or walk hesitantly while lost in thought. Time often trickled by at a patience-straining pace. I did not see a single clean tour en l'air, but instead witnessed plenty of clumsy hops, lumbering chests, and flung arms. In some scenes, soldiers and angels mingled randomly, turning the stage into a visual battlefield. On the few occasions that the small corps of women were to dance as a unit, their movements weren't in sync.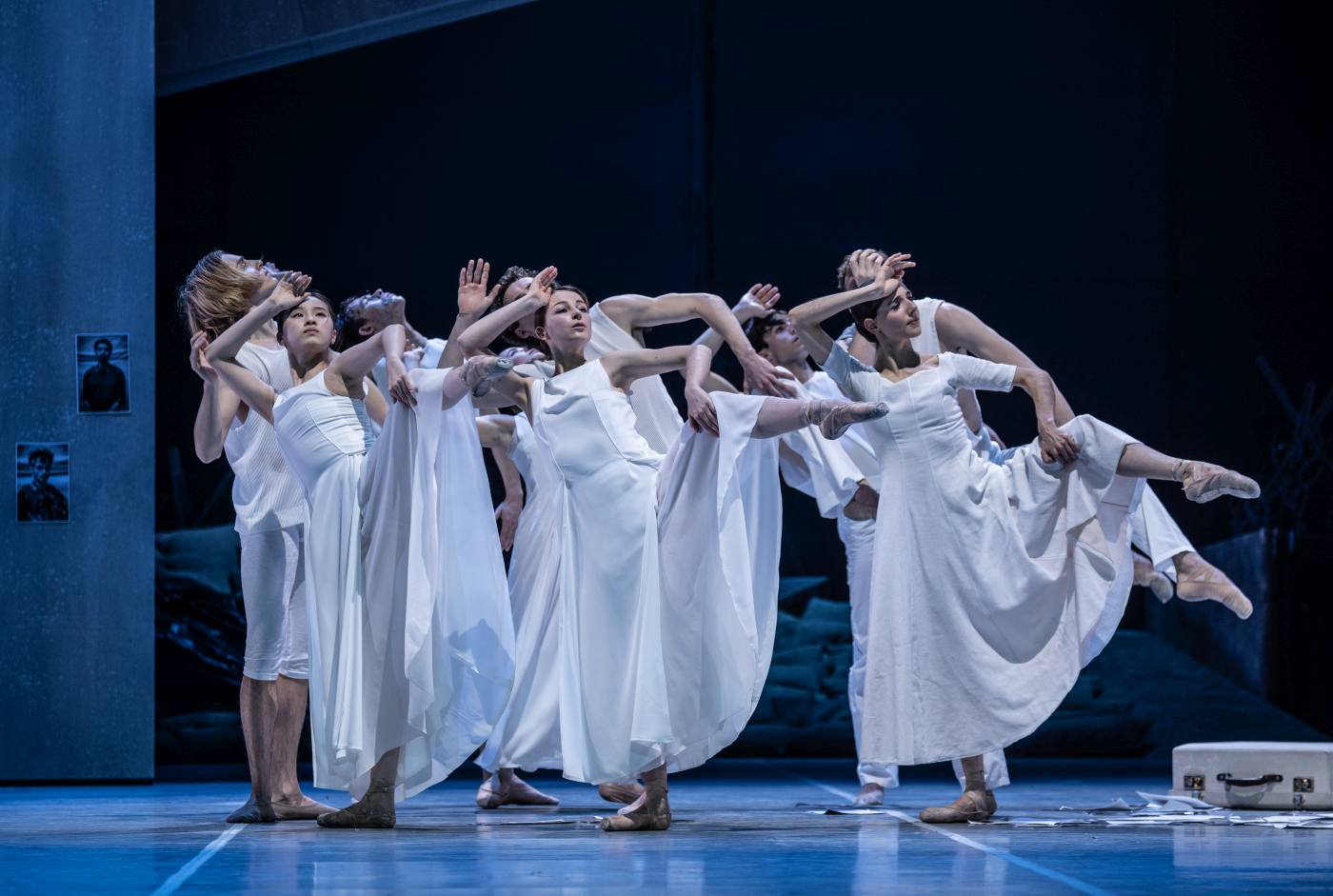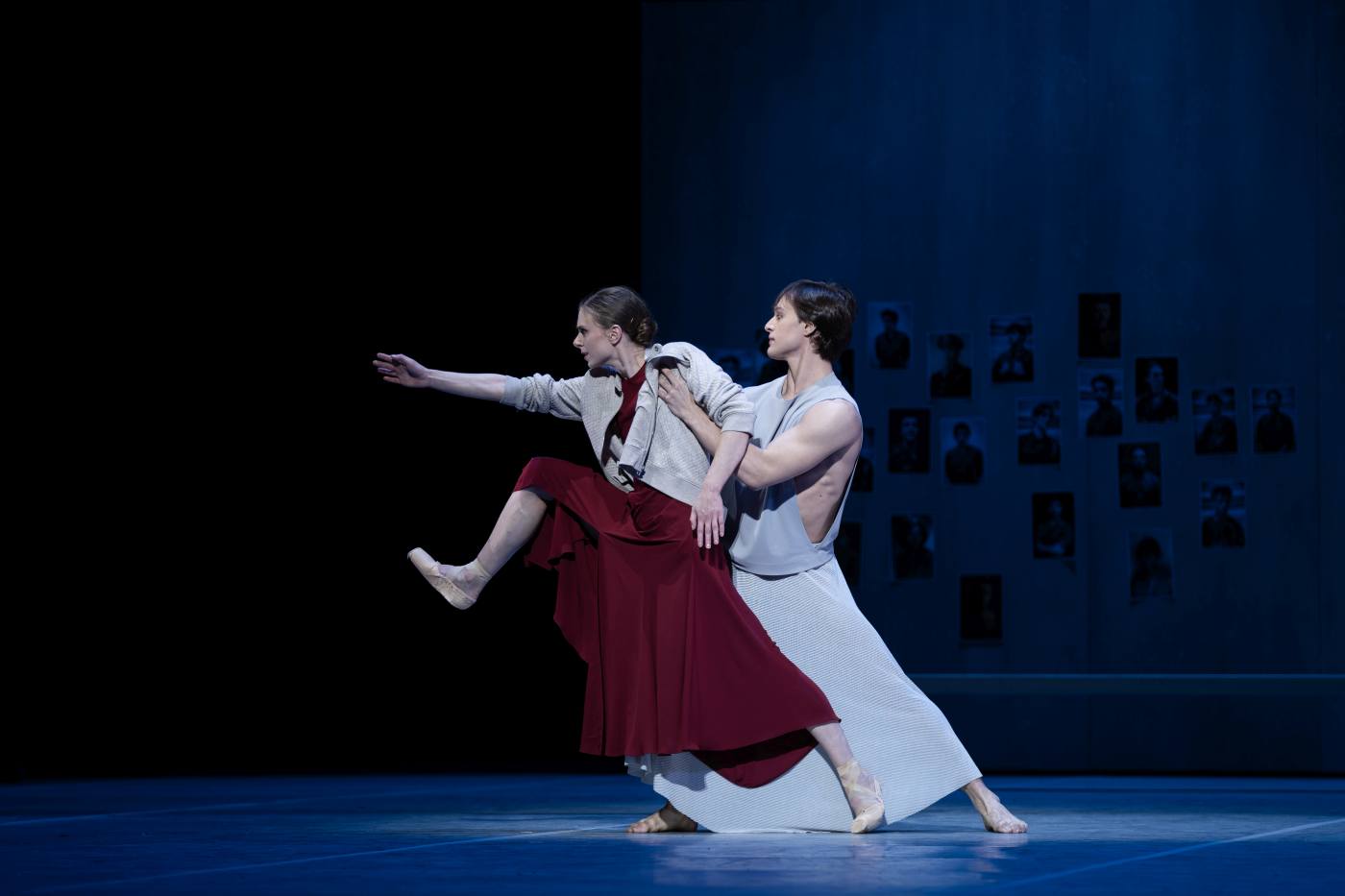 The simplicity that Neumeier aimed to achieve extended to the set design, too. Why create something new when recycling is an option? He re-uses a brick wall from "Verklungene Feste", a metallic golden wall from "The Song of the Earth", and a barb-wired trench from "Duse". Given that suitcases are one of Neumeier's favorite props, Martínez's certainly was … well-loved (as were the long coats cloaking the parishioners).
Neumeier's faithful audience cheered the performance with standing ovations. Holger Speck, the Vocalensemble Rastatt, and the Ensemble Resonanz deserved them.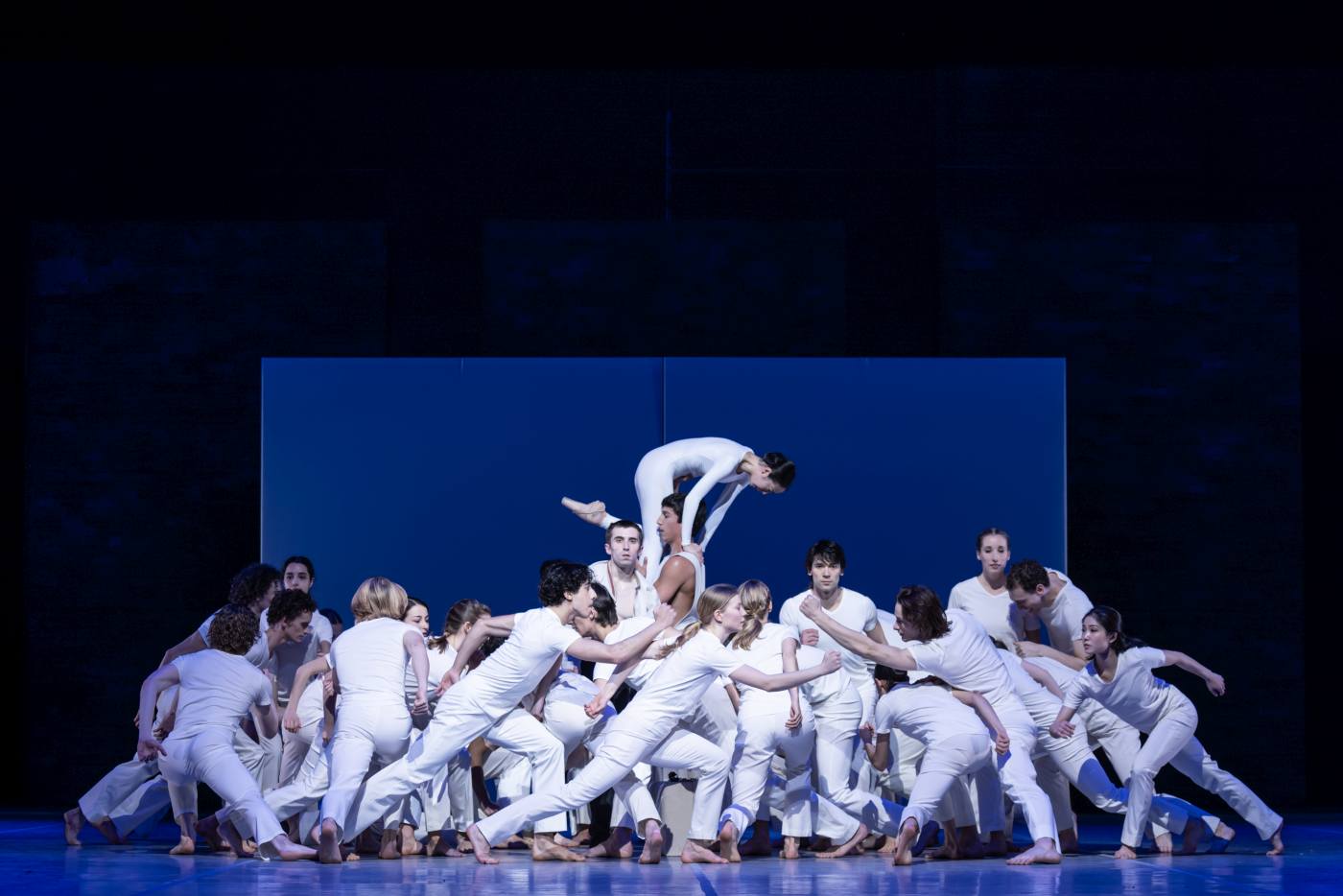 Links:
Website of the Hamburg Ballet
"Dona Nobis Pacem" (explanatory video)

Photos:

1.

Aleix Martínez (He) and Lennard Giesenberg (Photographer), "Dona Nobis Pacem" by John Neumeier, Hamburg Ballet 2023

2.
Aleix Martínez (He), "Dona Nobis Pacem" by John Neumeier, Hamburg Ballet 2023

3.
Aleix Martínez (He), "Dona Nobis Pacem" by John Neumeier, Hamburg Ballet 2023

4.
Lennard Giesenberg (Photographer) and Louis Musin (A Young Soldier), "Dona Nobis Pacem" by John Neumeier, Hamburg Ballet 2023

5.
Aleix Martínez (He), Lennard Giesenberg (Photographer), and ensemble, "Dona Nobis Pacem" by John Neumeier, Hamburg Ballet 2023

6.

Alessandro Frola (The Shadow), "Dona Nobis Pacem" by John Neumeier, Hamburg Ballet 2023

7.

Alessandro Frola (The Shadow), "Dona Nobis Pacem" by John Neumeier, Hamburg Ballet 2023

8.
Anna Laudere (A Widow), Edvin Revazov (An Officer), and ensemble, "Dona Nobis Pacem" by John Neumeier, Hamburg Ballet 2023

9.

Aleix Martínez (He) and ensemble, "Dona Nobis Pacem" by John Neumeier, Hamburg Ballet 2023

10.

Ensemble, "Dona Nobis Pacem" by John Neumeier, Hamburg Ballet 2023

11.

Ensemble, "Dona Nobis Pacem" by John Neumeier, Hamburg Ballet 2023

12.

Ida Praetorius (She) and Jacopo Bellussi (A Cleric), "Dona Nobis Pacem" by John Neumeier, Hamburg Ballet 2023

13.
Aleix Martínez (He) and ensemble, "Dona Nobis Pacem" by John Neumeier, Hamburg Ballet 2023


a

ll photos

©

Kiran West

Editing:
Jake Stepansky