"Don Quixote"
Bolshoi Ballet
Bolshoi Theatre
Moscow, Russia
April 5, 2023
by Ilona Landgraf
Copyright © 2023 by Ilona Landgraf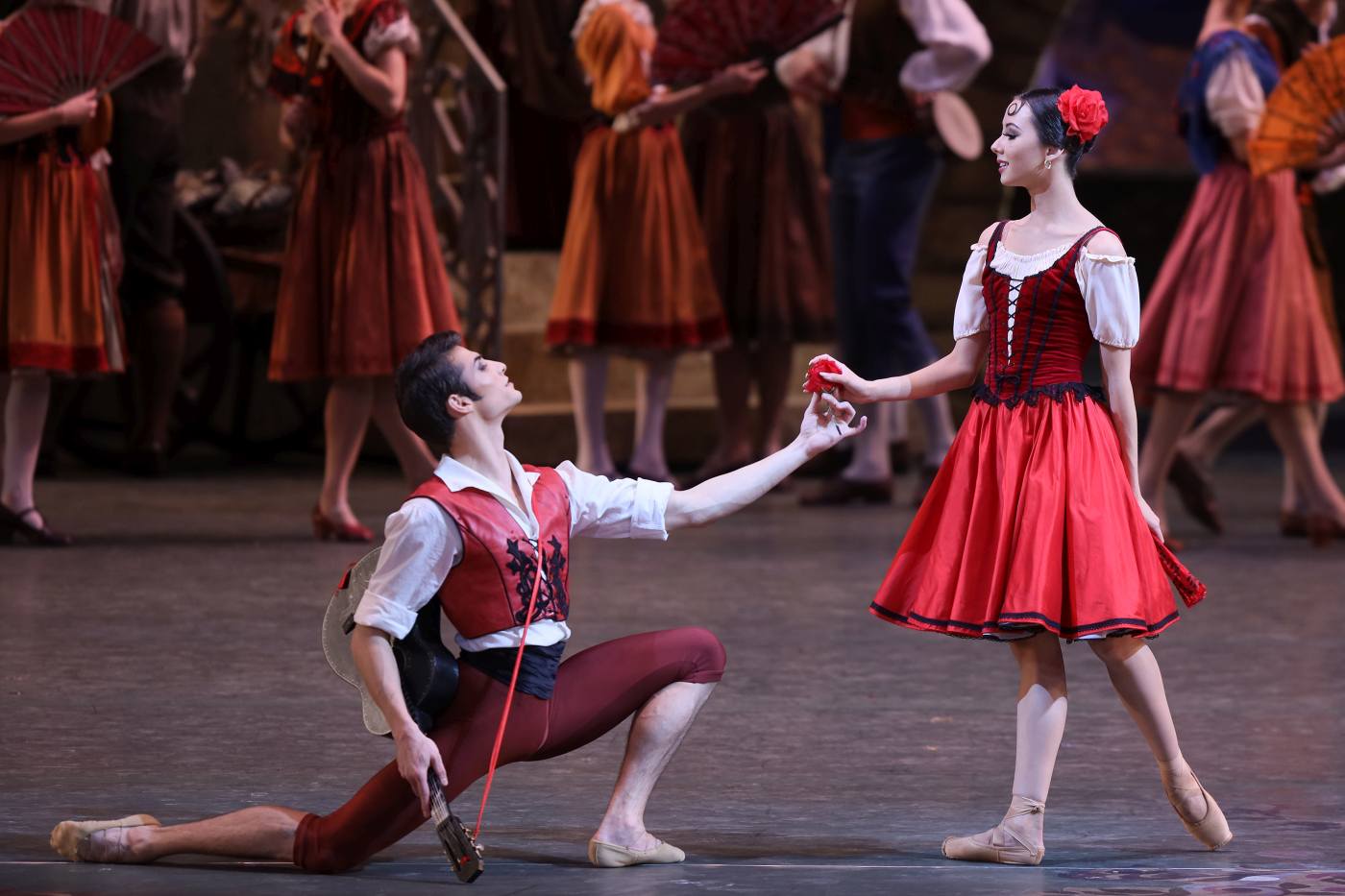 "The Bolshoi Ballet" is synonymous with excellence – and if anyone can pull off "Don Quixote", it's them. This past Wednesday, though, the company left me flabbergasted. Pavel Klinichev wasted no time at the conductor's podium, unleashing Ludwig Minkus's score the instant he turned to face the orchestra. The effervescent pacing of the first few bars made clear that this "Don Quixote" would be a spicy one.
From the first moment that the goateed Don Quixote (Alexey Loparevich) and his loyal, oft-gluttonous squire Sancho Panza (Georgy Gusev) set off on their chivalrous journey, Valeriy Levental's set transported us to the sizzling cauldron of the jam-packed port of Barcelona. Everything is perfect: the turquoise Mediterranean Sea glints under the bright summer sun; fresh fruit is piled sky-high; and the local youth remain in the merriest of moods. The happiest of all, Kitri (Elizaveta Kokoreva) and Basilio (Alexey Putintsev), quickly bring the scene to a boil. Kokoreva's Kitri sweeps onstage like a torpedo, her fleet-footed legs and teasing fan leaving a trail of sparks. Klinichev's brisk conducting seemed to spur rather than challenge her. I especially admired Kokoreva's rock-solid balances – from which she descended only to hurl herself into a battery of snappy pirouettes.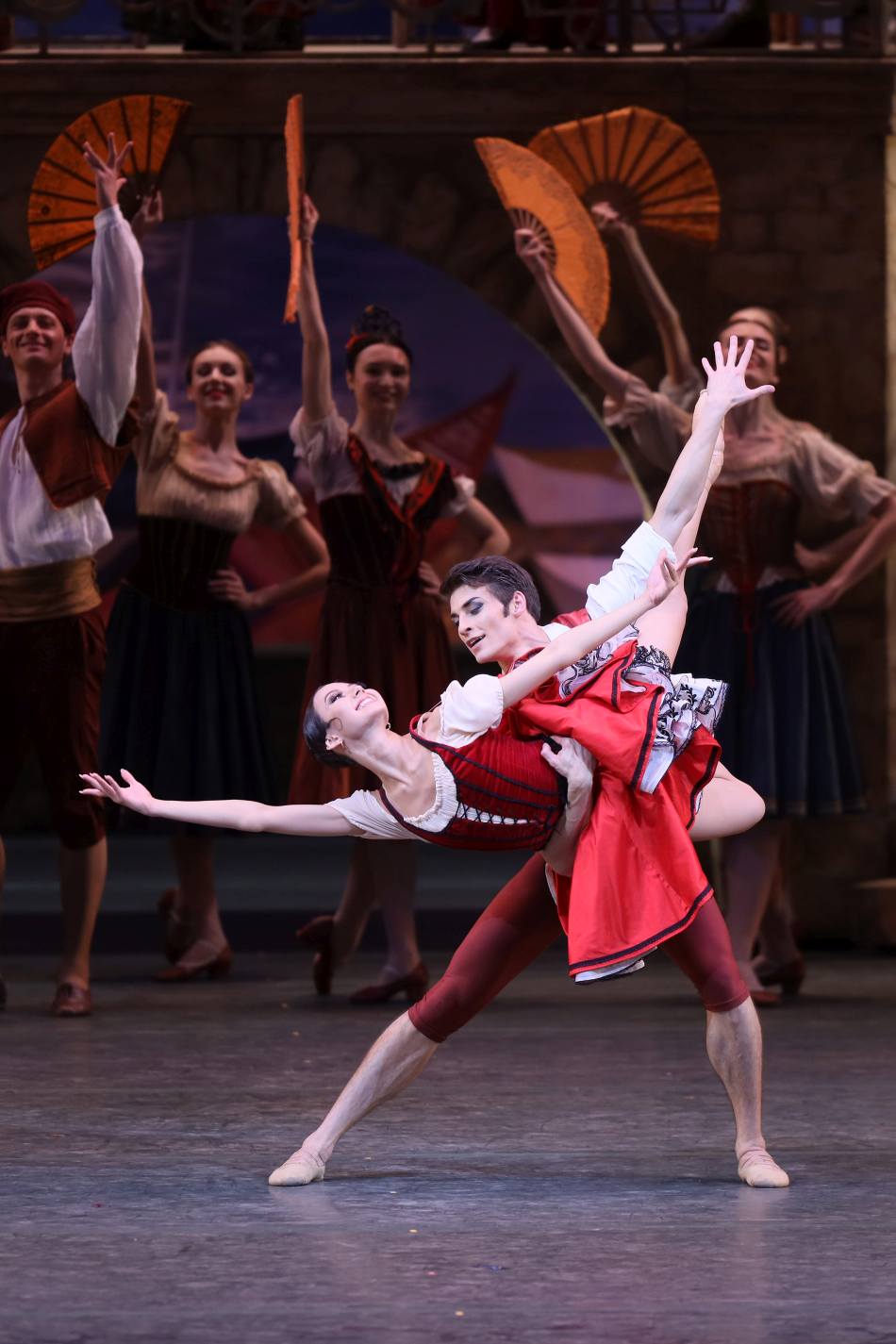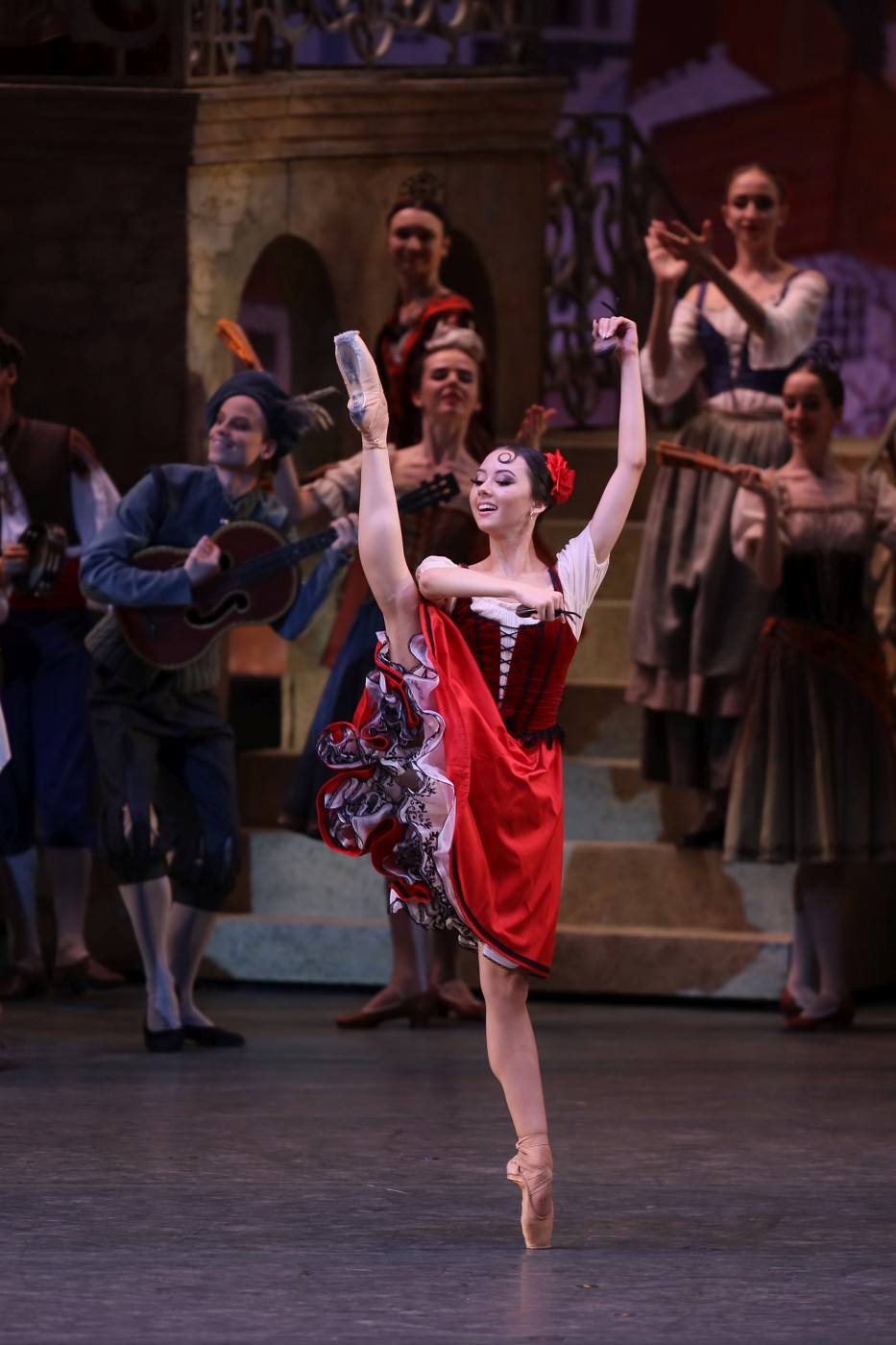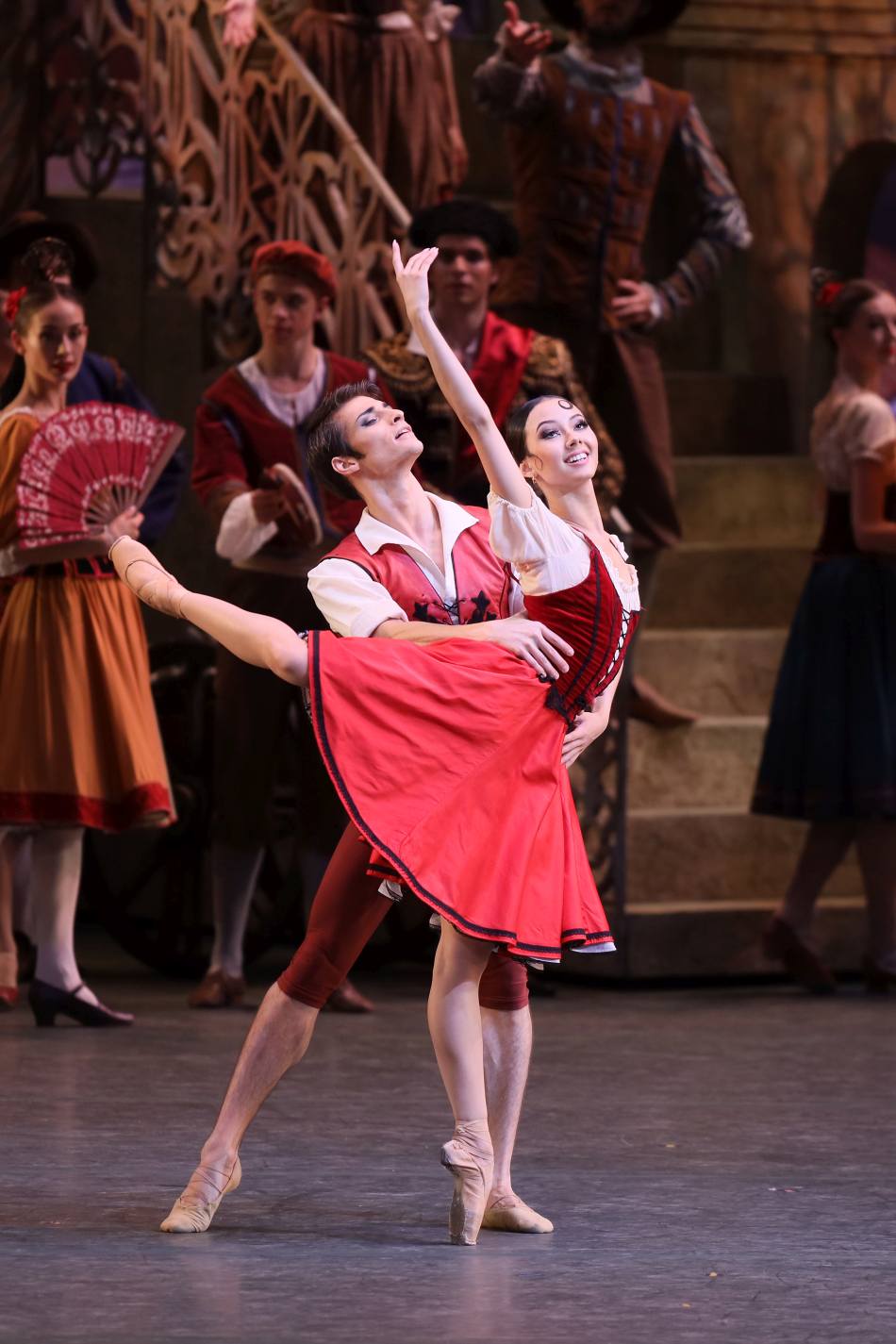 Putintsev's Basilio was worth keeping a close eye on – not only because of his sex appeal, but because he was able to propel himself into the air like a firecracker in the blink of an eye. Heaven knows how he managed to fly like a bird (for a brief moment I thought he might be attached to invisible strings), his vim producing jaw-dropping results. No less dashing were the toreadors who accompanied Maria Vinogradova's street dancer (herself a superlative – a punchy, sexy Spaniard). Only the clumsy Gamache (Gennady Yanin), whose advances Kitri snubbed, and Kitri's father Lorenzo (Andrey Sitnikov), who failed to control his recusant daughter, added a grumpy edge to the mood.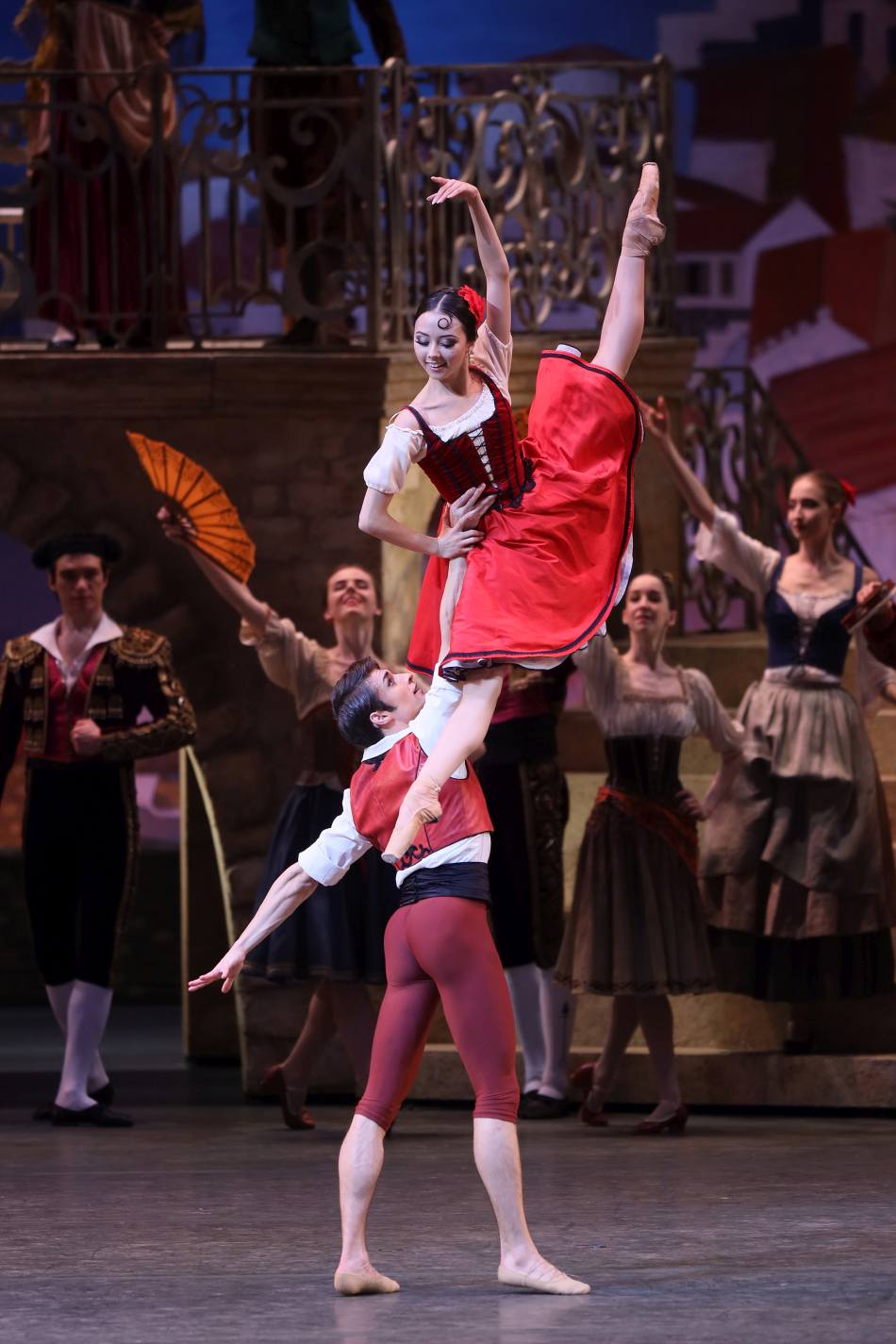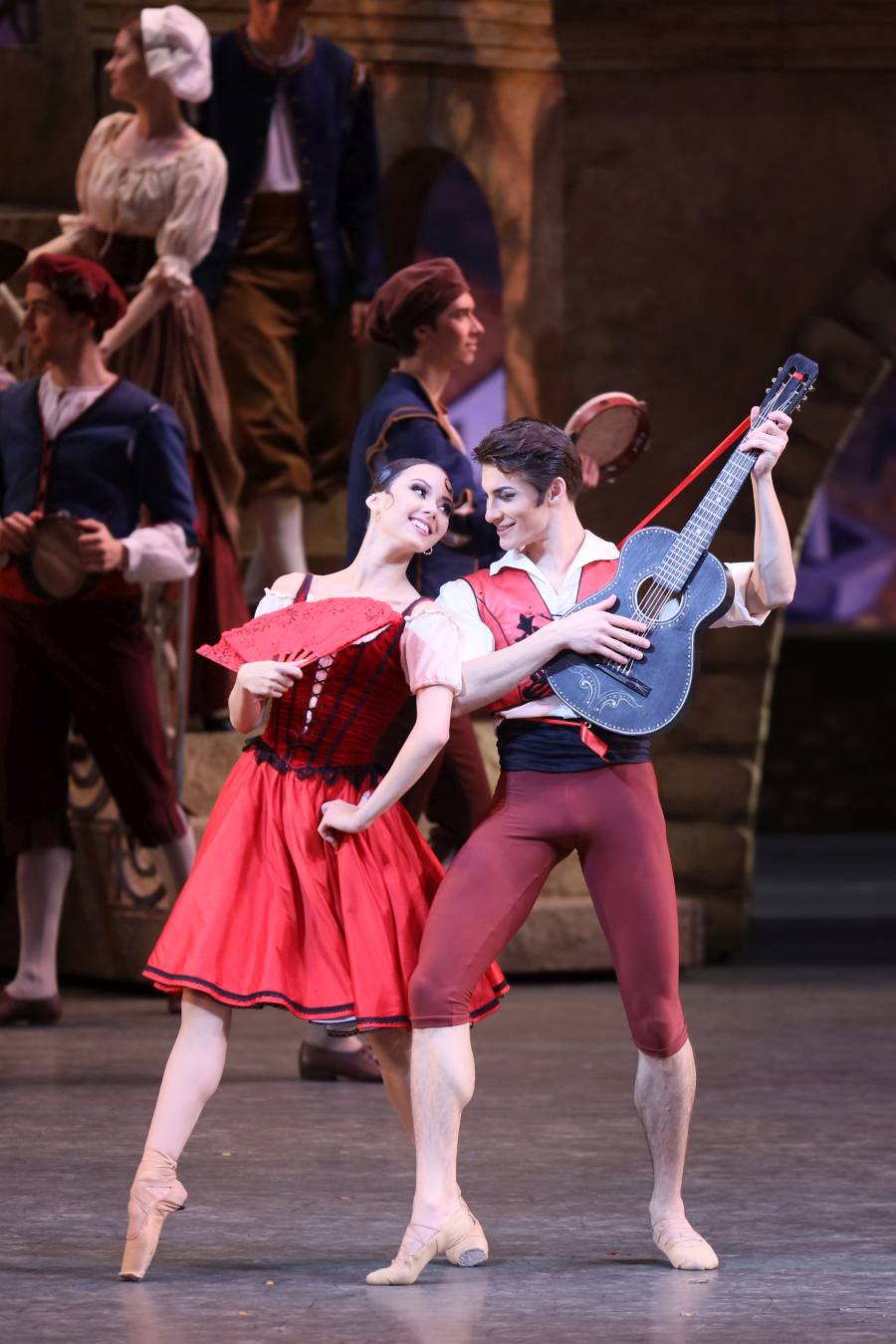 Hijinks continued at the tavern, where Mercedes (Oksana Sharova) and her racy flamenco dancers captured everyone's imagination. You could tell from the way that Sharova grabbed her skirt that she had fire in her veins. Nikita Kapustin's knife-sharp toreador electrified the air even more. I only pitied the tavern-keeper (Ivan Prazdnikov), who clearly itched to try a step or two – until he was hit accidentally by Don Quixote's weighty lance.
Don Quixote reached the scene of his heroic battle against the windmills at the Romani camp on the back of a gray gelding, accompanied by Sancho Panza on a donkey. Though the towering dark clouds foreshadowed danger, Anita Pudikova's impulsive dancing wavered between fiery revolt and consumptive grief, diverting the visitors. Eventually, disaster struck: the sail of a windmill catapulted Don Quixote high through the air.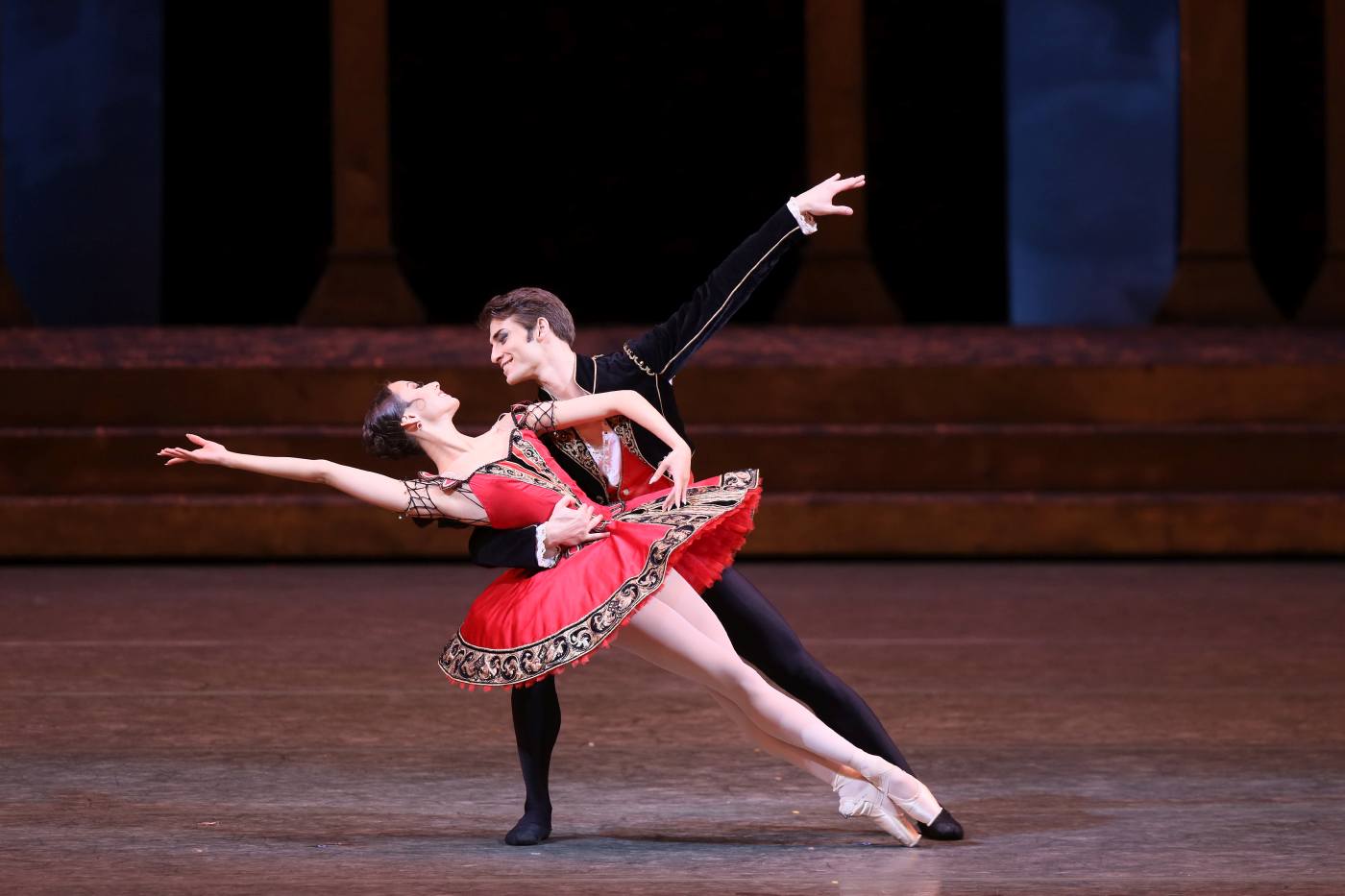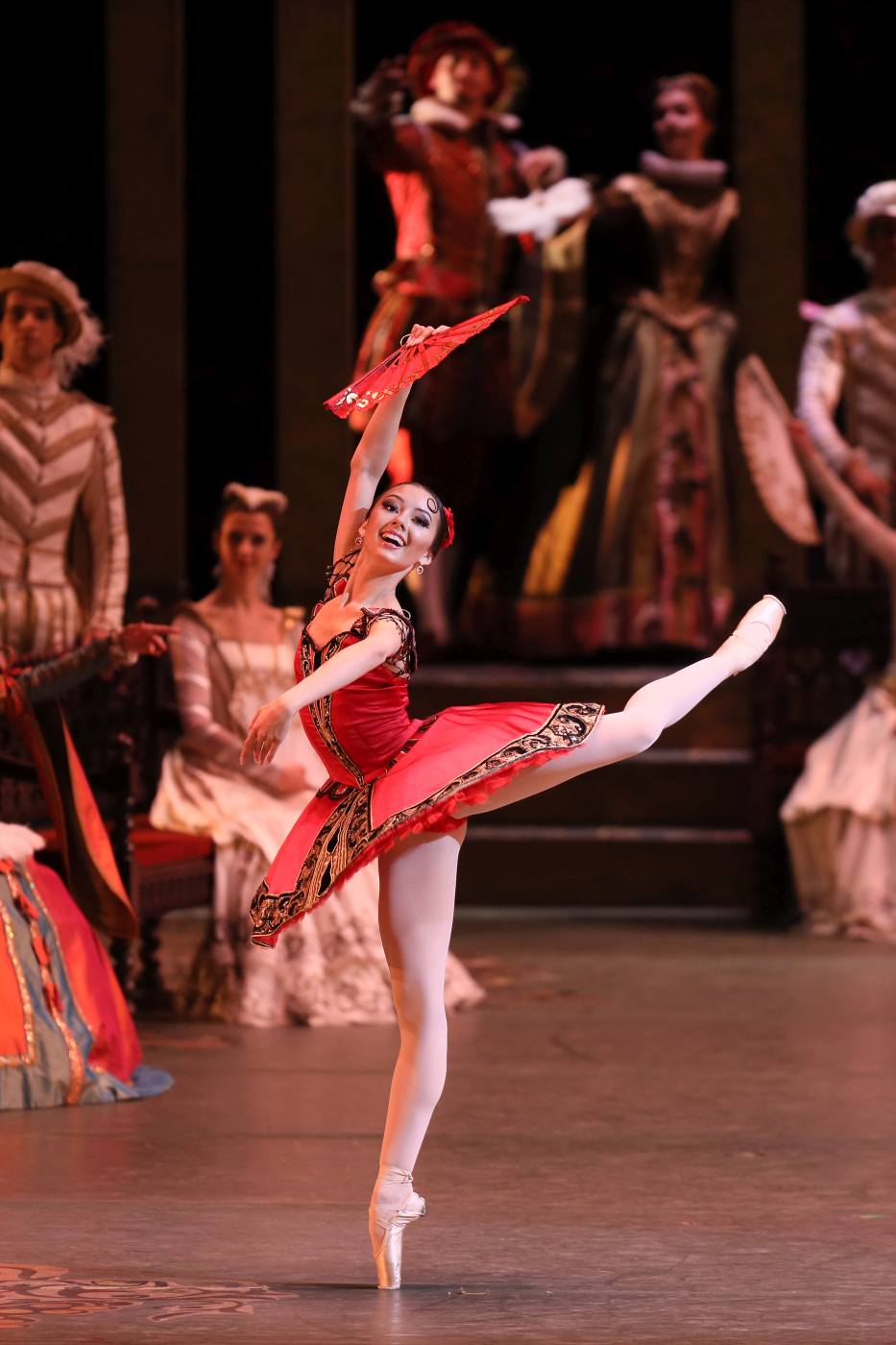 Ailing after this dramatic accident, Don Quixote dreams of meeting his beloved idol Dulcinea (Elizaveta Kokoreva) – a carbon copy of Kitri – in the garden of the Dryads. His mind is cleared by Dulcinea's virtuousness, a playfully considerate Cupid (Sofia Maimula), and the orderly, crystal-clear beauty of the Dryads (led by Antonina Chapkina).
Alexey Fadeechev's 2016 version of Petipa's "Don Quixote" was so fast-paced that enough time was left in Act III for a whopping wedding ceremony for Kitri and Basilio, complete with a Grande Pas, a bolero, and a fandango. The wedding is held at the castle of the Duke (Nikita Elikarov) and Duchess (Anastasia Meskova), who lift Don Quixote and Sancho Panza onto their seigneury. Once again, the floor is on fire. What a company!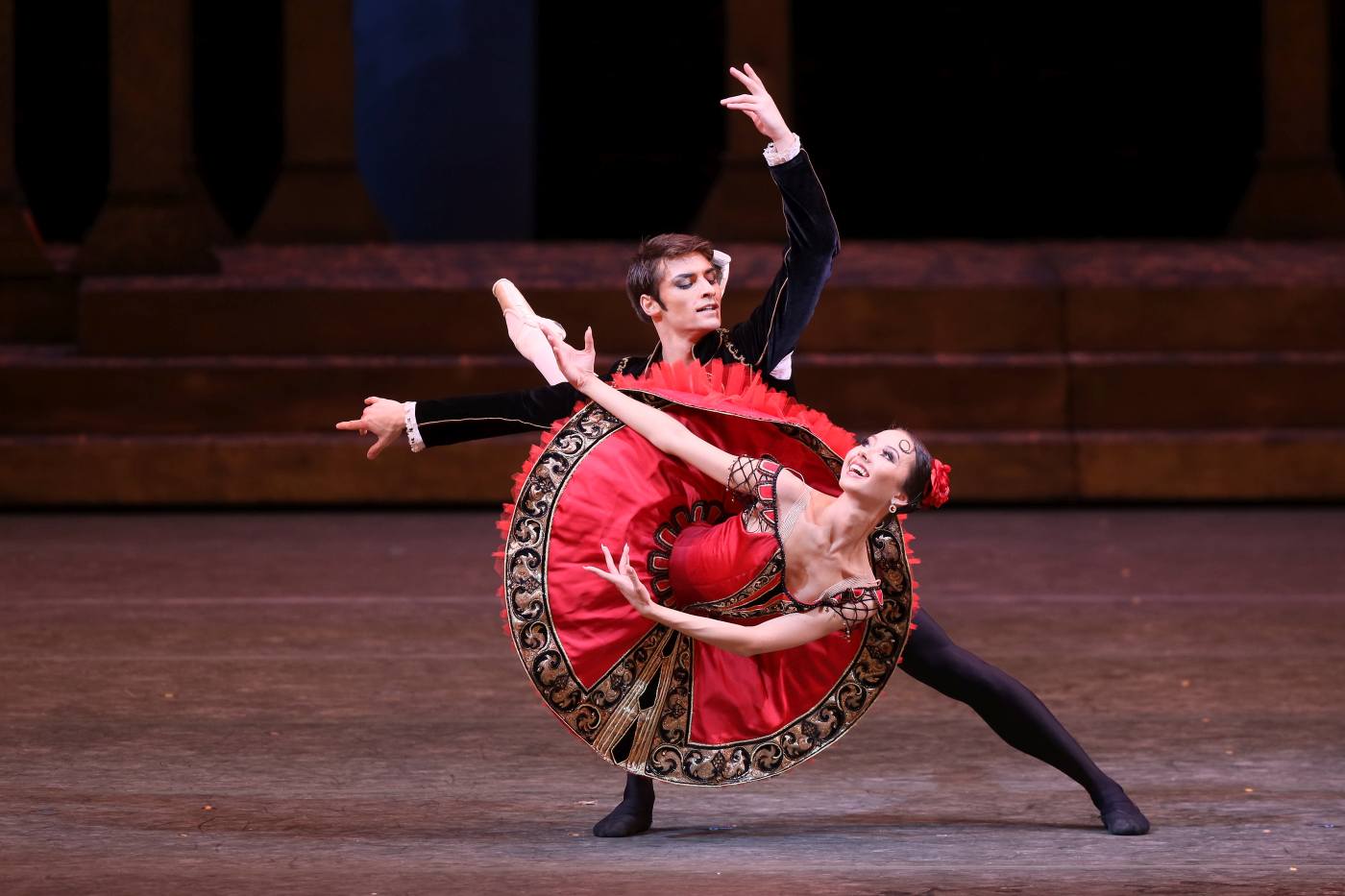 Link:

Website of the Bolshoi Theatre

Photos:

1.

Alexey Putintsev (Basilio), Elizaveta Kokoreva (Kitri), and ensemble, "Don Quixote" by Alexey Fadeechev after Marius Petipa, Bolshoi Ballet 2023

2.

Alexey Putintsev (Basilio), Elizaveta Kokoreva (Kitri), and ensemble, "Don Quixote" by Alexey Fadeechev after Marius Petipa, Bolshoi Ballet 2023

3.

Elizaveta Kokoreva (Kitri) and ensemble, "Don Quixote" by Alexey Fadeechev after Marius Petipa, Bolshoi Ballet 2023

4.

Elizaveta Kokoreva (Kitri), Alexey Putintsev (Basilio), and ensemble, "Don Quixote" by Alexey Fadeechev after Marius Petipa, Bolshoi Ballet 2023

5.

Elizaveta Kokoreva (Kitri), Alexey Putintsev (Basilio), and ensemble, "Don Quixote" by Alexey Fadeechev after Marius Petipa, Bolshoi Ballet 2023

6.

Elizaveta Kokoreva (Kitri), Alexey Putintsev (Basilio), and ensemble, "Don Quixote" by Alexey Fadeechev after Marius Petipa, Bolshoi Ballet 2023

7.

Elizaveta Kokoreva (Kitri), Alexey Putintsev (Basilio), and ensemble, "Don Quixote" by Alexey Fadeechev after Marius Petipa, Bolshoi Ballet 2023

8.

Elizaveta Kokoreva (Kitri) and ensemble, "Don Quixote" by Alexey Fadeechev after Marius Petipa, Bolshoi Ballet 2023

9.
Elizaveta Kokoreva (Kitri) and Alexey Putintsev (Basilio), "Don Quixote" by Alexey Fadeechev after Marius Petipa, Bolshoi Ballet 2023

10.

Elizaveta Kokoreva (Kitri) and Alexey Putintsev (Basilio), "Don Quixote" by Alexey Fadeechev after Marius Petipa, Bolshoi Ballet 2023

all photos

© Bolshoi

Theatre

/ Damir Yusupov

Editing:
Jake Stepansky