"Raymonda"
Bolshoi Ballet
Bolshoi Theatre
Moscow, Russia
April 6, 2023
by Ilona Landgraf
Copyright © 2023 by Ilona Landgraf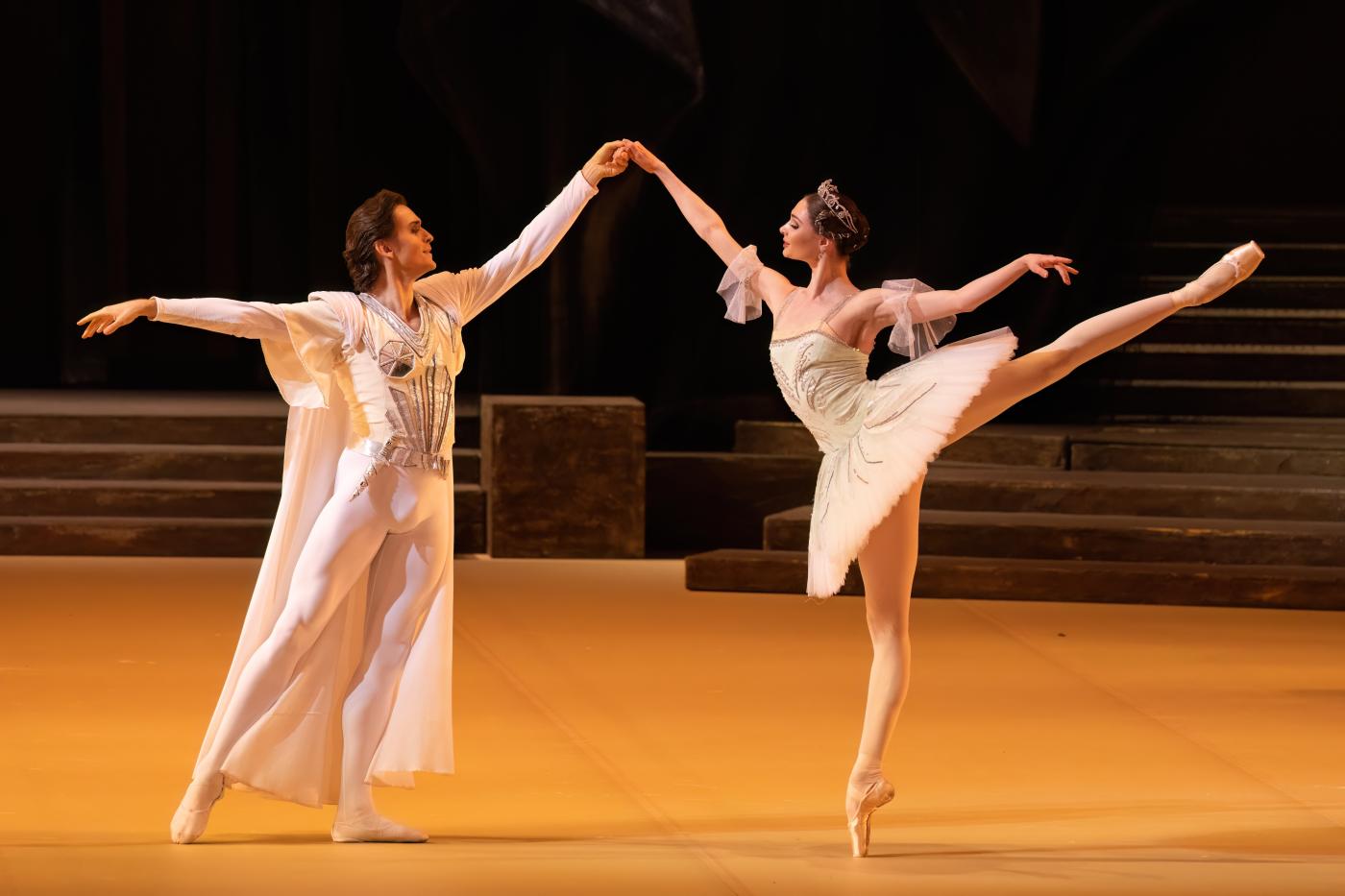 "Raymonda" is a foundation of Russian ballet repertoire, but is rarely performed in Europe. After his flight to the west, Nureyev staged several versions of the work for western companies, staying faithful to Petipa's 1898 original. The few European choreographers who've tackled the piece – among them Pontus Lidberg for the Royal Swedish Ballet in 2014 and Rachel Beaujean for the Dutch National Ballet in 2022 – adjusted Lydia Pashkova's libretto to match western tastes. The only Petipa/Pashkova-based Russian production I saw was Konstantin Sergeyev's from 1948, presented by the Maryinsky Ballet on their 2014 tour to Baden-Baden. That production felt alien in Baden-Baden's modern Festspielhaus, reinforcing the reputation of "Raymonda" as dusty and outdated. In last year's review of Tamara Rojo's "Raymonda" for the English National Ballet, London critic Jenny Gilbert went so far as to call Raymonda an "ineffectual heroine" (implying that the numerous renowned ballerinas who've taken on that leading role in the last 125 years were foolish in doing so) and the plot "offensively silly." She also claimed that Russian "ballet culture has a higher tolerance of such [silly] things." After watching the Bolshoi Ballet's "Raymonda", I'm inclined to think that the western perspective misses what "Raymonda" is actually about.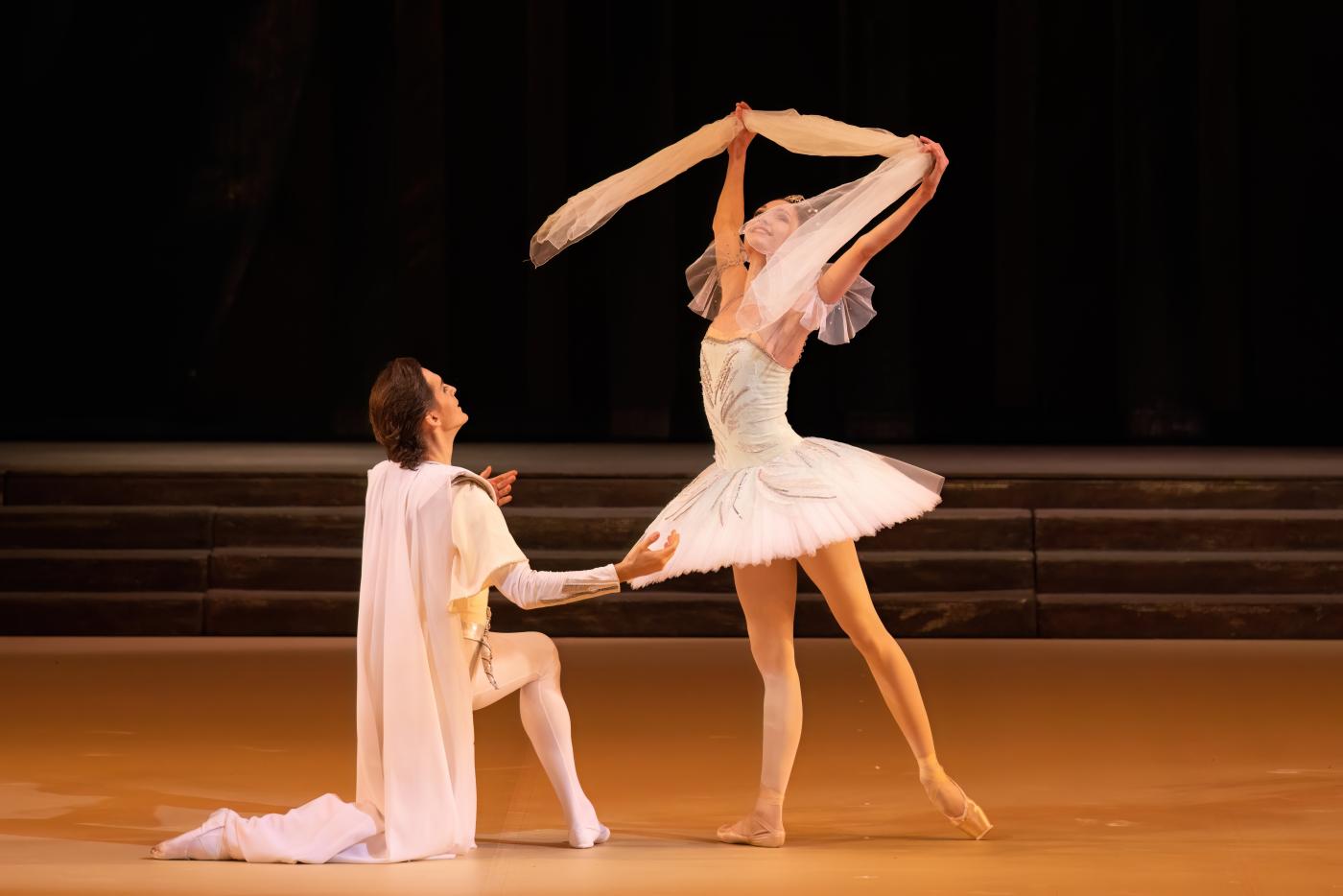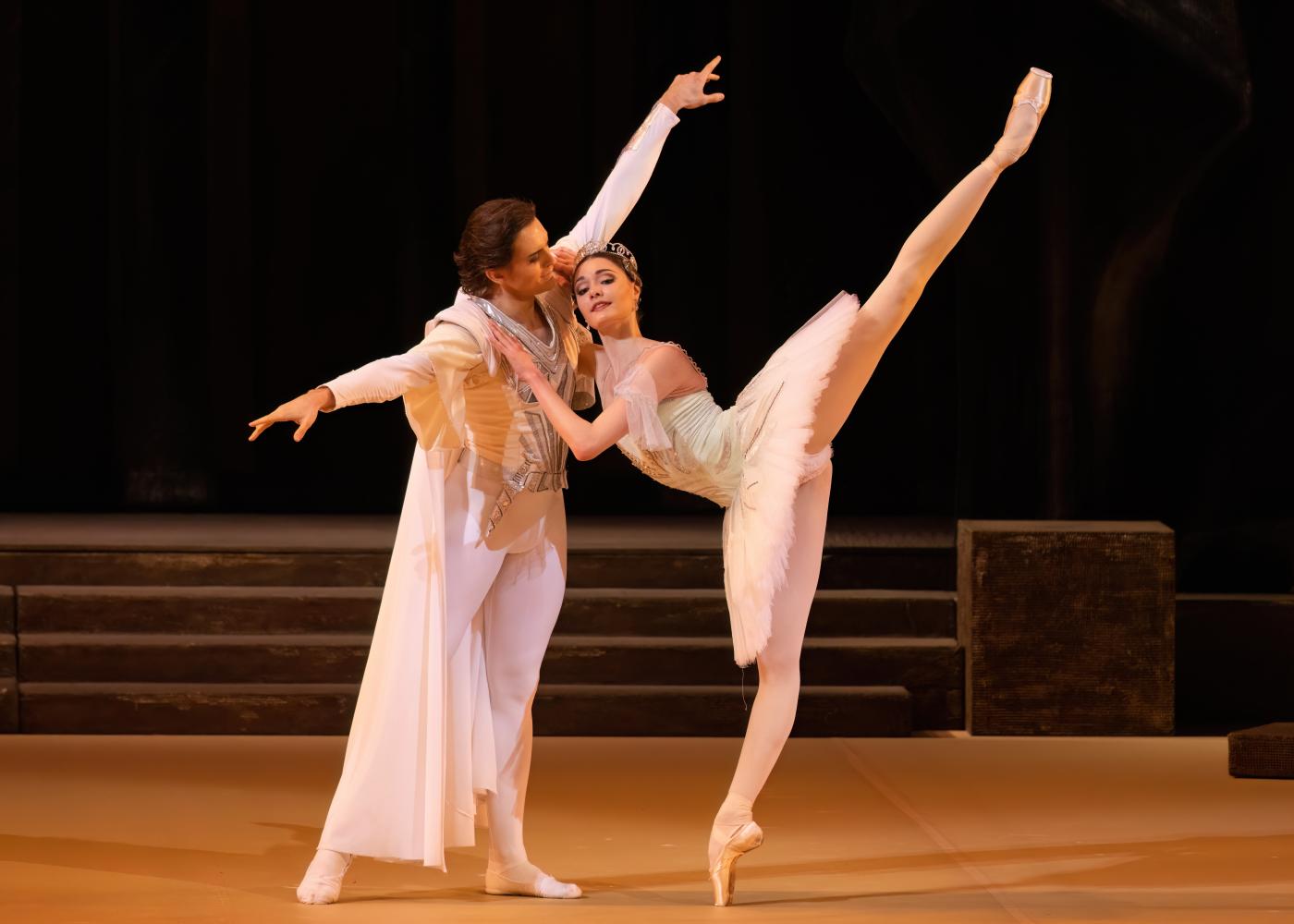 When stripped down to its core, the medieval story about the tested love between Raymonda and Jean de Brienne (the white knight) asks us what it means to strive for what is good and beautiful. The ballet is an allegory that implies that respecting a higher order, accepting one's place in it, and accomplishing your pre-determined role with dignity will lead you to personal fulfillment. That's what drives Raymonda to reject Abderakhman's advances. In this respect, Amsterdam's "Raymonda" – in which the heroine eventually marries Abderakhman – subverts the piece's intention.
Yuri Grigorovich's new version of "Raymonda", which the Bolshoi has performed since 2003, shows the harmony and beauty that can be achieved when personal bliss aligns with the higher order. The medieval Southern French castle created by set designer Simon Virsaladze for Countess Sybille de Doris has church-high halls overlooked and straddled by two statues on high pedestals. They are part of the key motifs that Virsaladze has adopted from the original 1898 décor. Huge folds of drapery hang on either side of the painted scenery as if framing an old picture.
The minimalistic design of the castle's halls, terrace, and yard leaves a vast space for courtly ceremony, tender pas de deux, and solos that bounce between brash, calm, and assertive. Often, a small group of courtesans creates a static frame around the central action.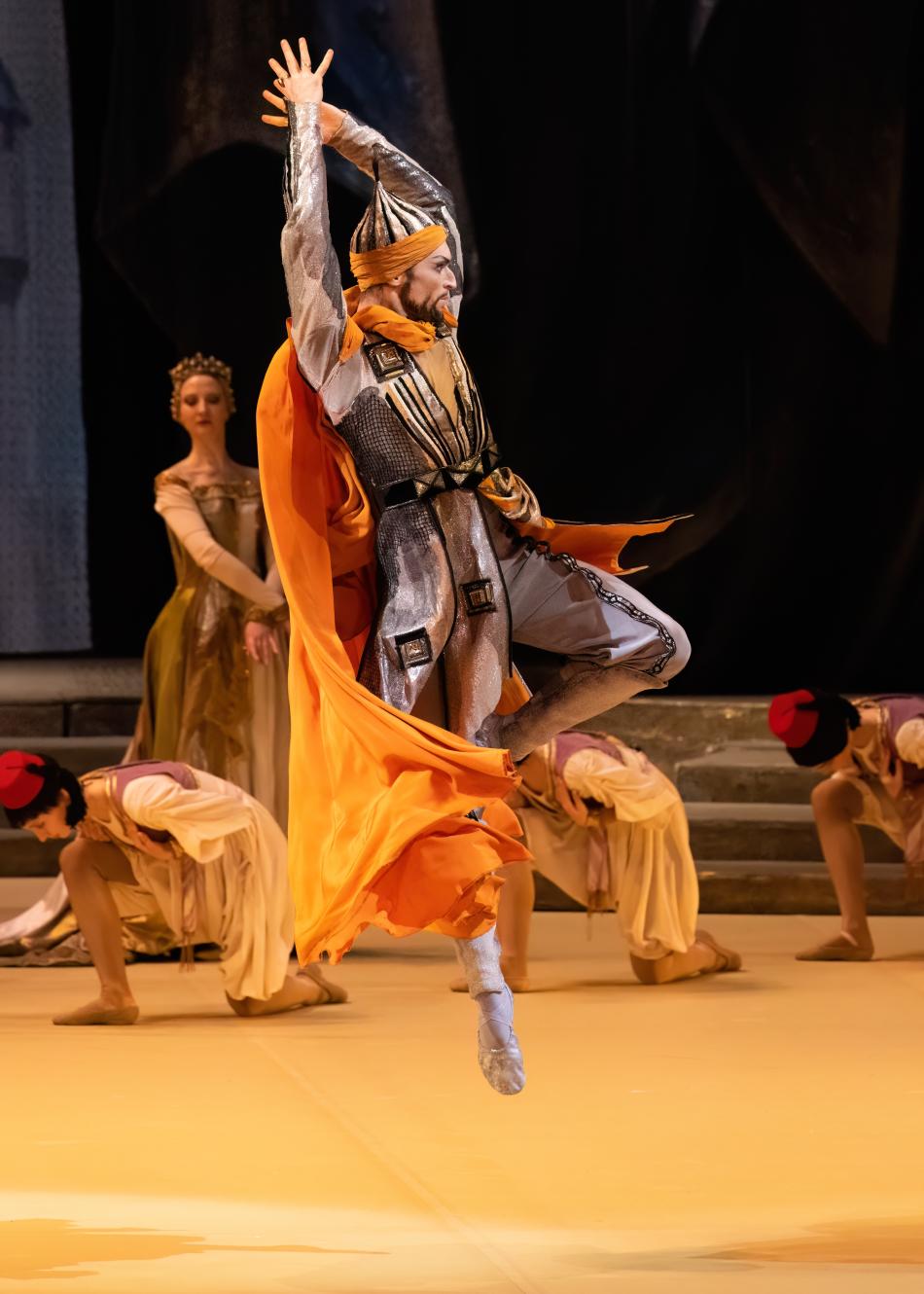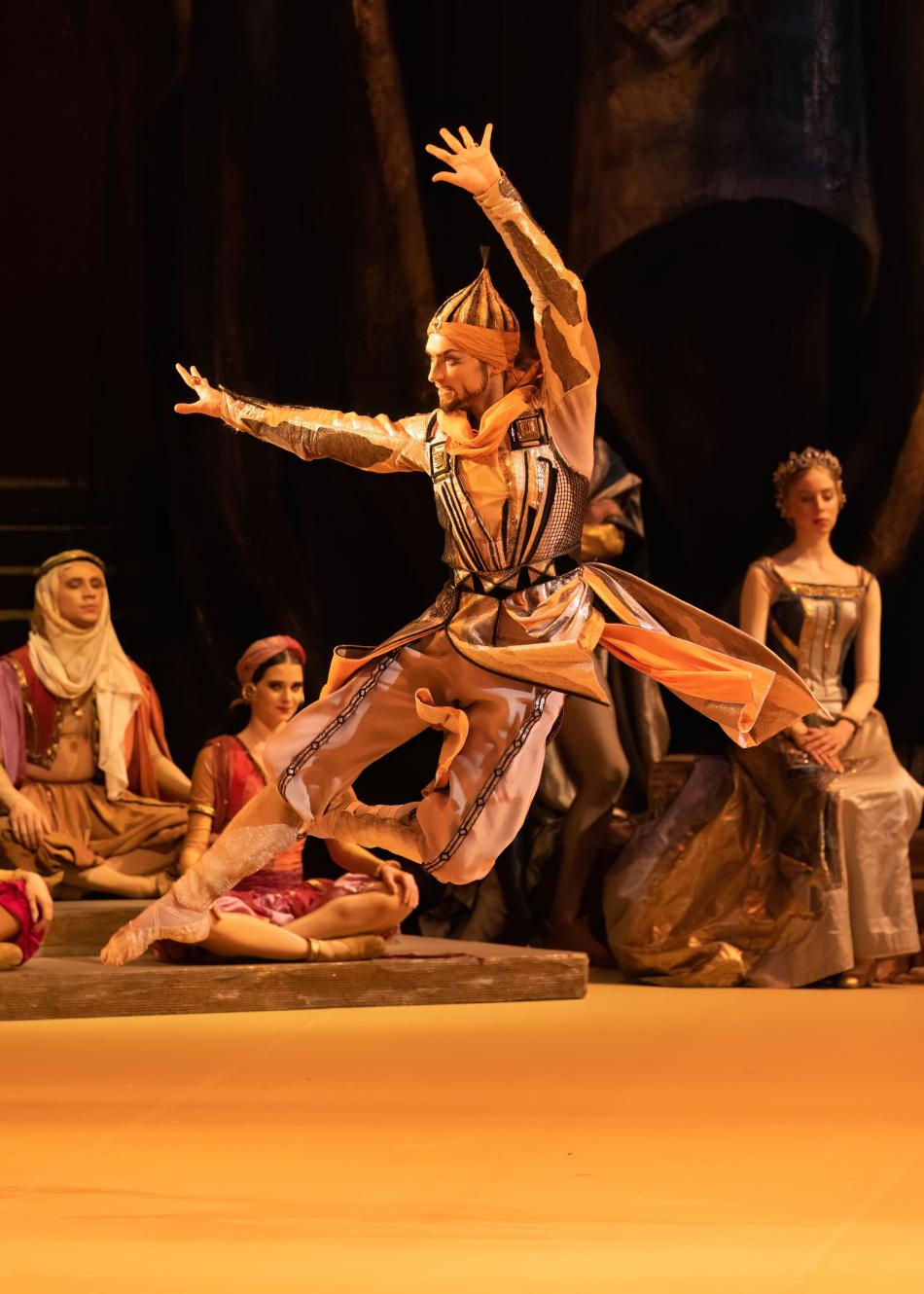 Grigorovich based his choreography on Petipa's and on Alexander Gorsky's from 1908, removing some of the originally-featured pantomime in favor of more dance. He strengthened the roles of Jean de Brienne and Abderakhman (the latter, especially) and kept the character dances of the Saracens and the wedding guests in Act III. I particularly liked the enchanted garden of which Raymonda dreams; the living relief of ballerinas on the terrace stairs (from which de Brienne and Abderakhman both emerge) was gorgeous.
As the evening's Raymonda, Alyona Kovalyova perfectly portrayed the heroine's gradual maturation from a playful young aristocrat to a self-assured, strong woman. Each of her steps taught a lesson in decorum. Kovalyova's Raymonda was a hub of energy in her Act III variation – the epitome of female strength. Denis Rodkin's Jean de Brienne combined the tender affection of a lover with the manly courage of a knight who burned for action. Abderakhman (Nikita Kapustin), by contrast, dashed like a devil through the calm court of Countess Sybille de Doris (Anastasia Meskova), bursting with animalistic sensuality. Like a snake, he tried to mesmerize Raymonda. Though his defeat was thorough and shameful, Abderakhman stayed faithful to his strong passions until the end, laying his heart at Raymonda's feet just before his death.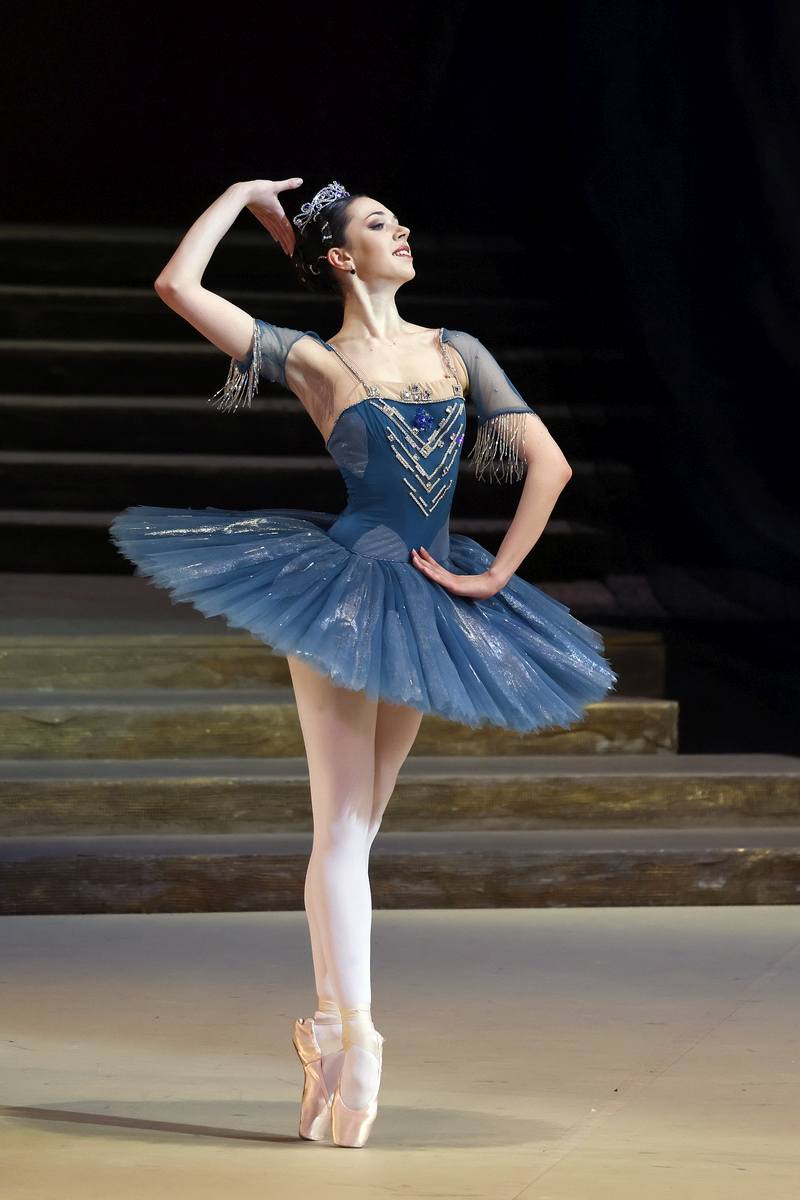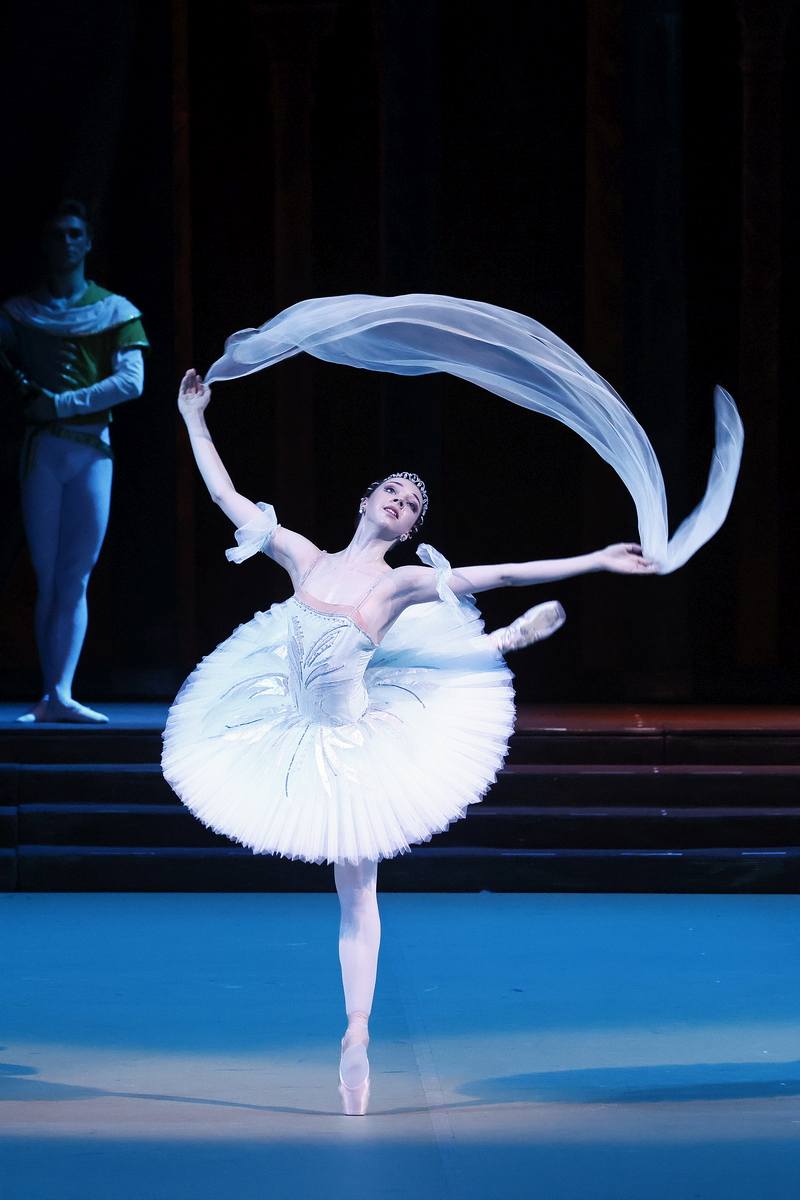 Raymonda's friends Clemence (Maria Vinogradova) and Henriette (Antonina Chapkina) turned each of their variations into a marvel. They were accompanied by Bernard (Mark Orlov) and Béranger (Mark Chino). Countess Sybille's seneschal was Nikita Elikarov. Andrey Sitnikov portrayed King Andrew II of Hungary, in whose name de Brienne crusades.
It is well known that artistic director Makhar Vaziev has always given particular attention to his corps, and it's a severe understatement to say that the work pays off. The Bolshoi's corps is in marvelous shape. The choreography's beautiful architecture and spirit simply could not have been performed better.
Glazunov's score was given a colorful rendition by the Bolshoi Orchestra playing under the seasoned baton of Pavel Sorokin.
Link:

Website of the Bolshoi Theatre

Photos:

(The last three photos show Arina Denisova in her earlier debut as Raymonda.)

1.

Denis Rodkin (Jean de Brienne) and Alyona Kovalyova (Raymonda), "Raymonda" by Yuri Grigorovich after

Marius Petipa

and Alexander Gorsky

, Bolshoi Ballet 2023

© Bolshoi

Theatre

/

Mikhail Logvinov

2.

Denis Rodkin (Jean de Brienne) and Alyona Kovalyova (Raymonda), "Raymonda" by Yuri Grigorovich after

Marius Petipa

and Alexander Gorsky

, Bolshoi Ballet 2023

© Bolshoi

Theatre

/

Mikhail Logvinov



3.

Denis Rodkin (Jean de Brienne) and Alyona Kovalyova (Raymonda), "Raymonda" by Yuri Grigorovich after

Marius Petipa

and Alexander Gorsky

, Bolshoi Ballet 2023

© Bolshoi

Theatre

/

Mikhail Logvinov

4.

Nikita Kapustin (Abderakhman) and ensemble, "Raymonda" by Yuri Grigorovich after

Marius Petipa

and Alexander Gorsky

, Bolshoi Ballet 2023

© Bolshoi

Theatre

/

Mikhail Logvinov

5.

Nikita Kapustin (Abderakhman) and ensemble, "Raymonda" by Yuri Grigorovich after

Marius Petipa

and Alexander Gorsky

, Bolshoi Ballet 2023

© Bolshoi

Theatre

/

Mikhail Logvinov

6.

Arina Denisova (Raymonda), "Raymonda" by Yuri Grigorovich after

Marius Petipa

and Alexander Gorsky

, Bolshoi Ballet 2023

© Bolshoi

Theatre

/

Damir Yusupov

7.

Arina Denisova (Raymonda), "Raymonda" by Yuri Grigorovich after

Marius Petipa

and Alexander Gorsky

, Bolshoi Ballet 2023

© Bolshoi

Theatre

/

Damir Yusupov

8.

Arina Denisova (Raymonda), "Raymonda" by Yuri Grigorovich after

Marius Petipa

and Alexander Gorsky

, Bolshoi Ballet 2023

© Bolshoi

Theatre

/

Damir Yusupov

Editing:
Jake Stepansky