"Ballet Matinee"
John Cranko School
Stuttgart State Opera
Stuttgart, Germany
July 23, 2023
by Ilona Landgraf
Copyright © 2023 by Ilona Landgraf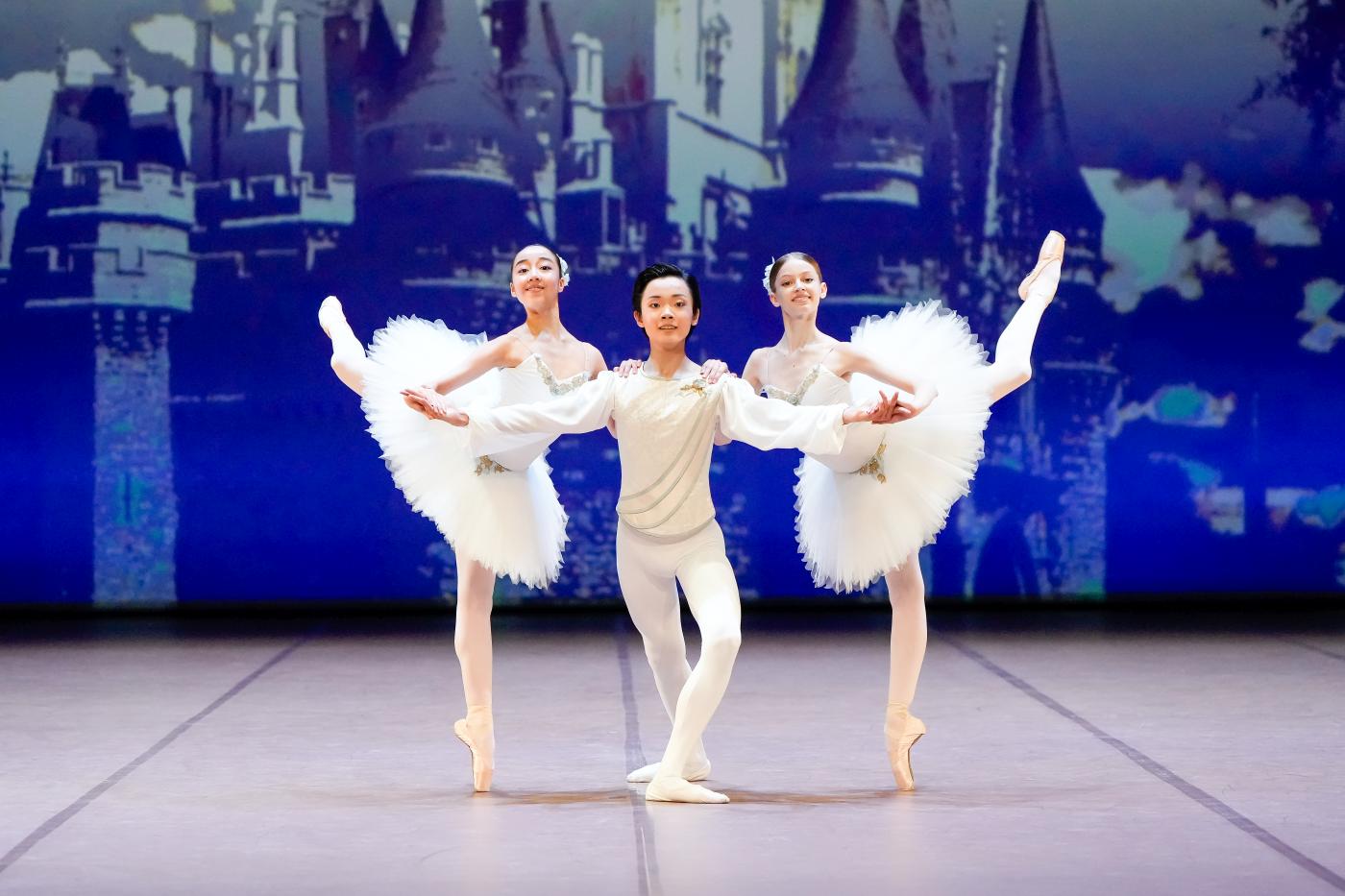 Stuttgart's John Cranko School presented its work to the public in two matinees this July, both hosted by the Stuttgart State Opera. I chose to see the second one, which – as part of the annual Ballet in the Park program – was also streamed live to an outdoor audience in the Schlossgarten Park right in front of the opera house. Only upon arrival I learned that nearly half of the program was identical to what the school had presented in nearby Ludwigsburg this March.
As in Ludwigsburg, the students first showed an excerpt of the second act of "The Nutcracker" (Petipa, Ivanov, and Vainonen's choreography). This time Alice McArthur danced the Sugar Plum Fairy, and in the role of her cavalier was again Joshua Nunamaker. Both are among this year's graduates and exemplify what I observed throughout the matinee: Cranko School students deliver precise positions, clean lines, strong jumps, clear accentuation, solid balances, and – above all – they are fearless. Not a single student failed to rise to the occasion (I admired, above all, Keisuke Miyazaki in his "Swan Lake" variation and Alexei Orohovsky in a variation from "Paquita").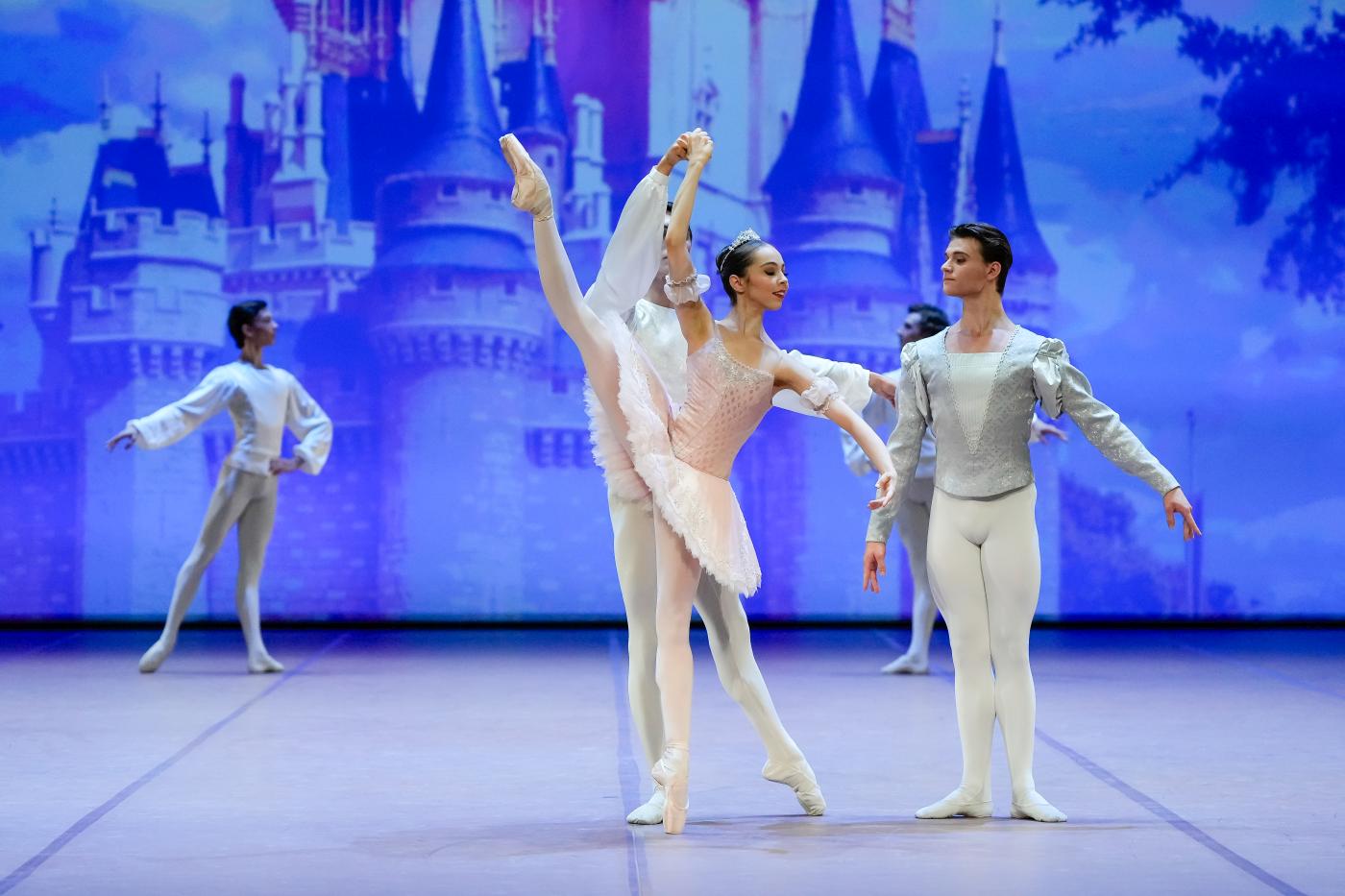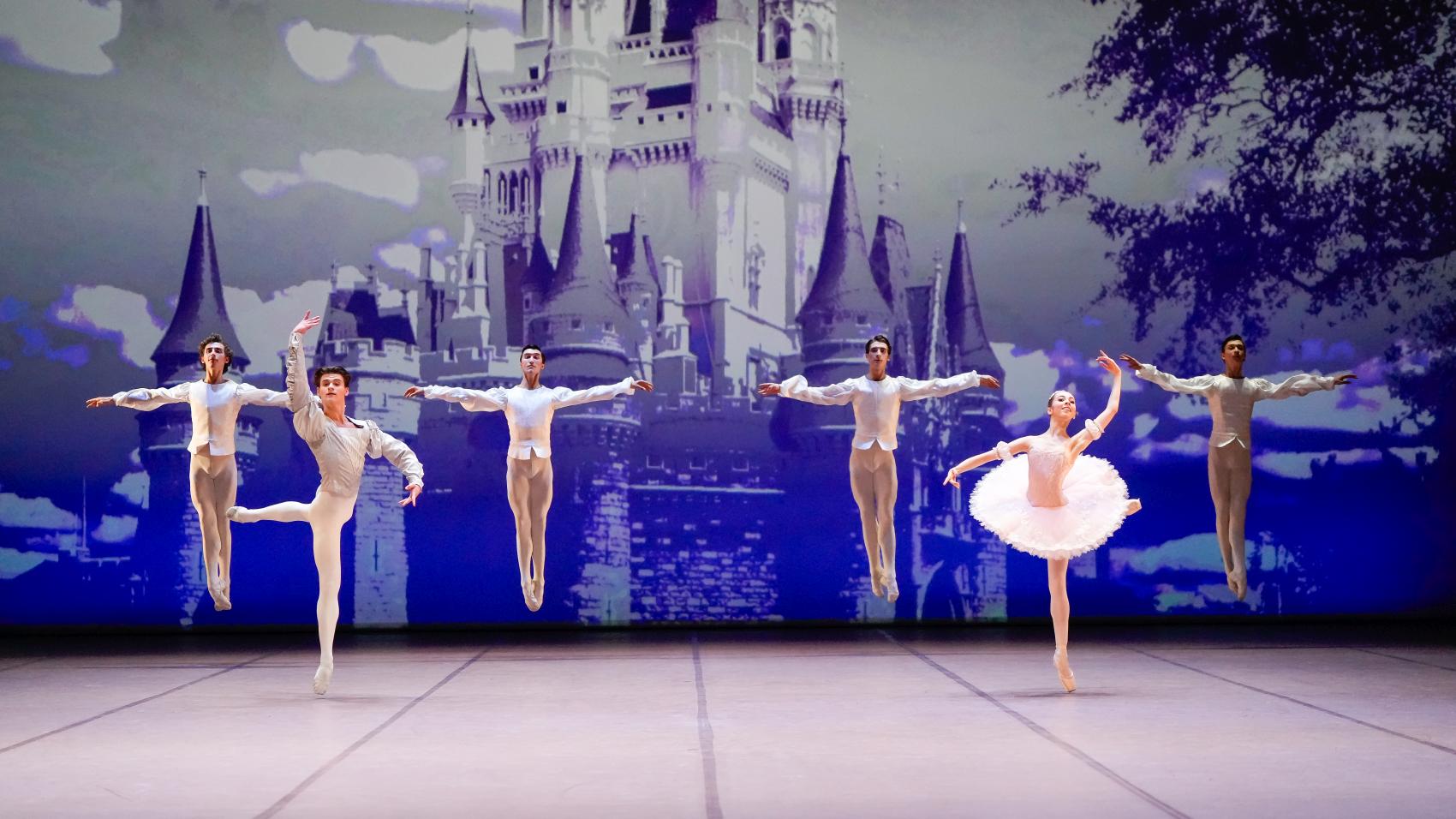 The "Nutcracker" was completed by a fine solo of Orohovsky, a pas de trois self-assuredly led by Waku Tohara, and an escort of four elegant young men (Adrien Hohenberg, Leon Metelsky, Carter Smalling, Sergii Zharikov).
Abigail Willson-Heisel and Mitchell Millhollin, also graduates of this year, again performed the Odile-Prince Siegfried pas de deux from the second act of Petipa's "Swan Lake".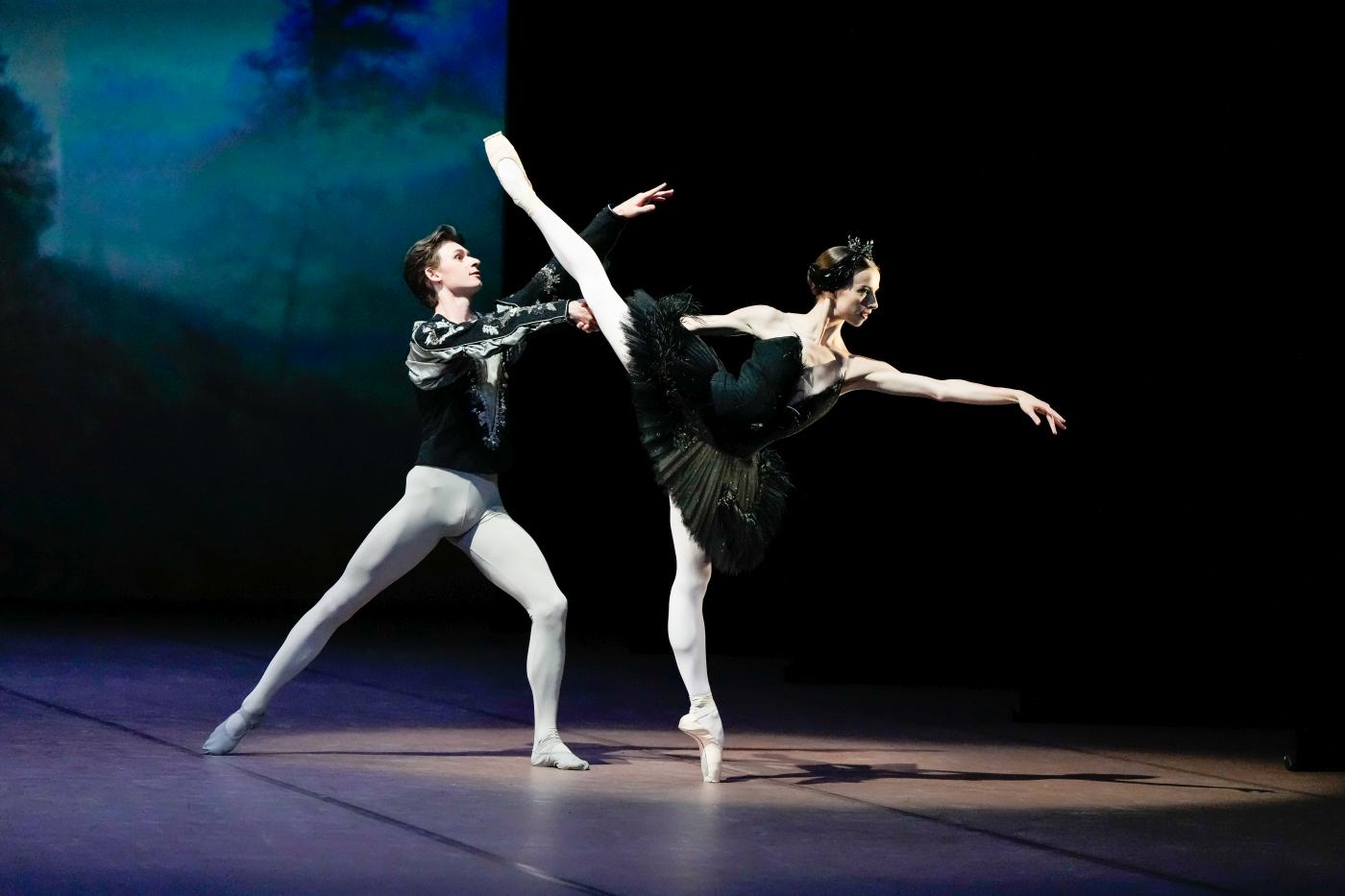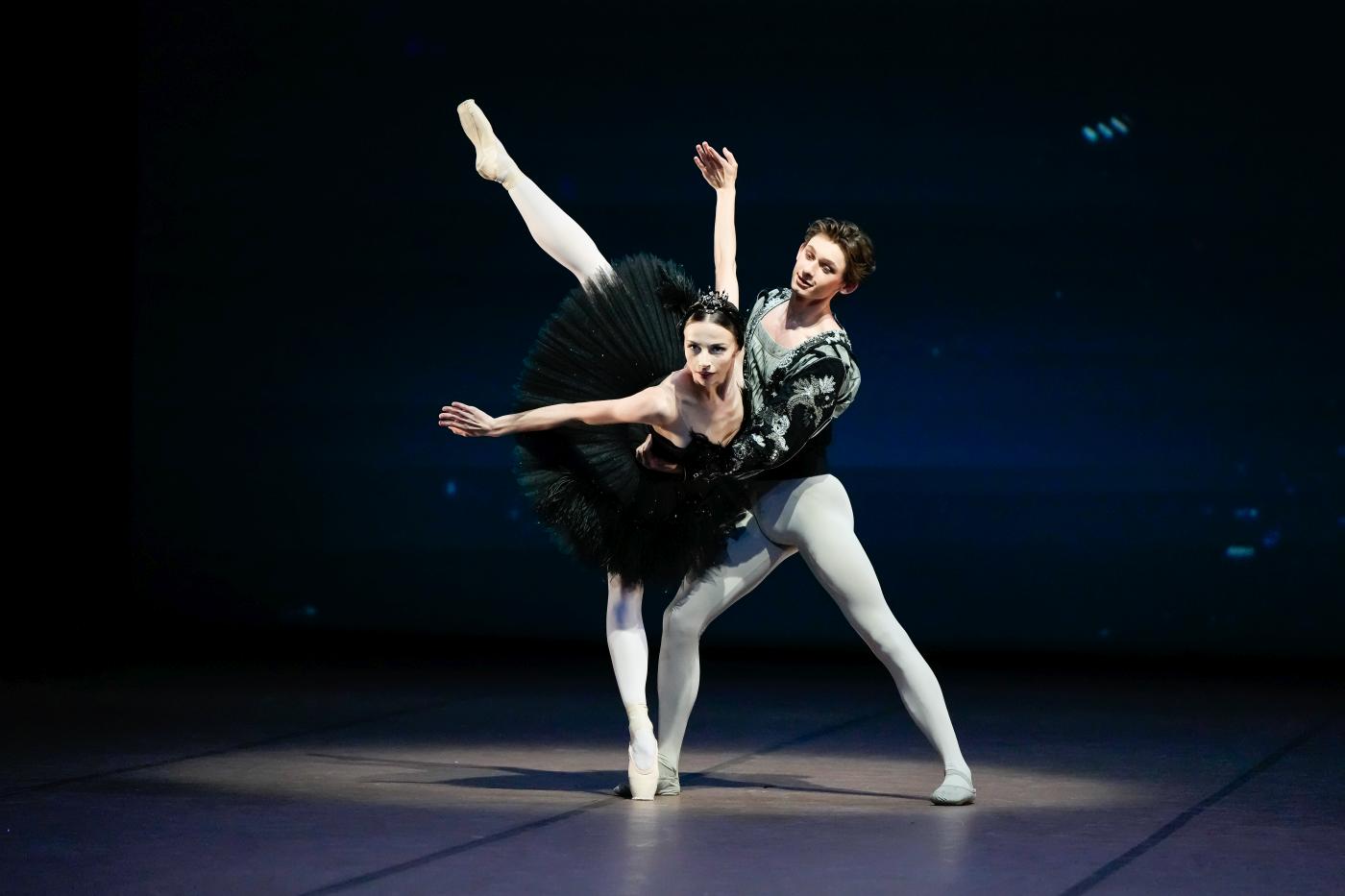 Willson-Heisel seemed to have perfected the role of the perfidious femme fatale, cleverly measuring out her poison. It will be interesting to see whether her interpretation of Odette has a similar quality. Millhollin, physically outshone by the overpowering Odile, proved to be a fine jumper when having the stage to himself. His focus on pinpoint (and almost frozen) landings didn't hide the fact that he is actually quite supple.
Unlike in March, Alessandro Giaquinto's "Drifting Bones" felt lengthy on second viewing. Clearly that wasn't the fault of its eight dancers (five men and three women), whose steps brimmed of verve and urgency. It's because "Drifting Bones" belongs to the category of modern pieces that are initially diverting but unmemorable thereafter.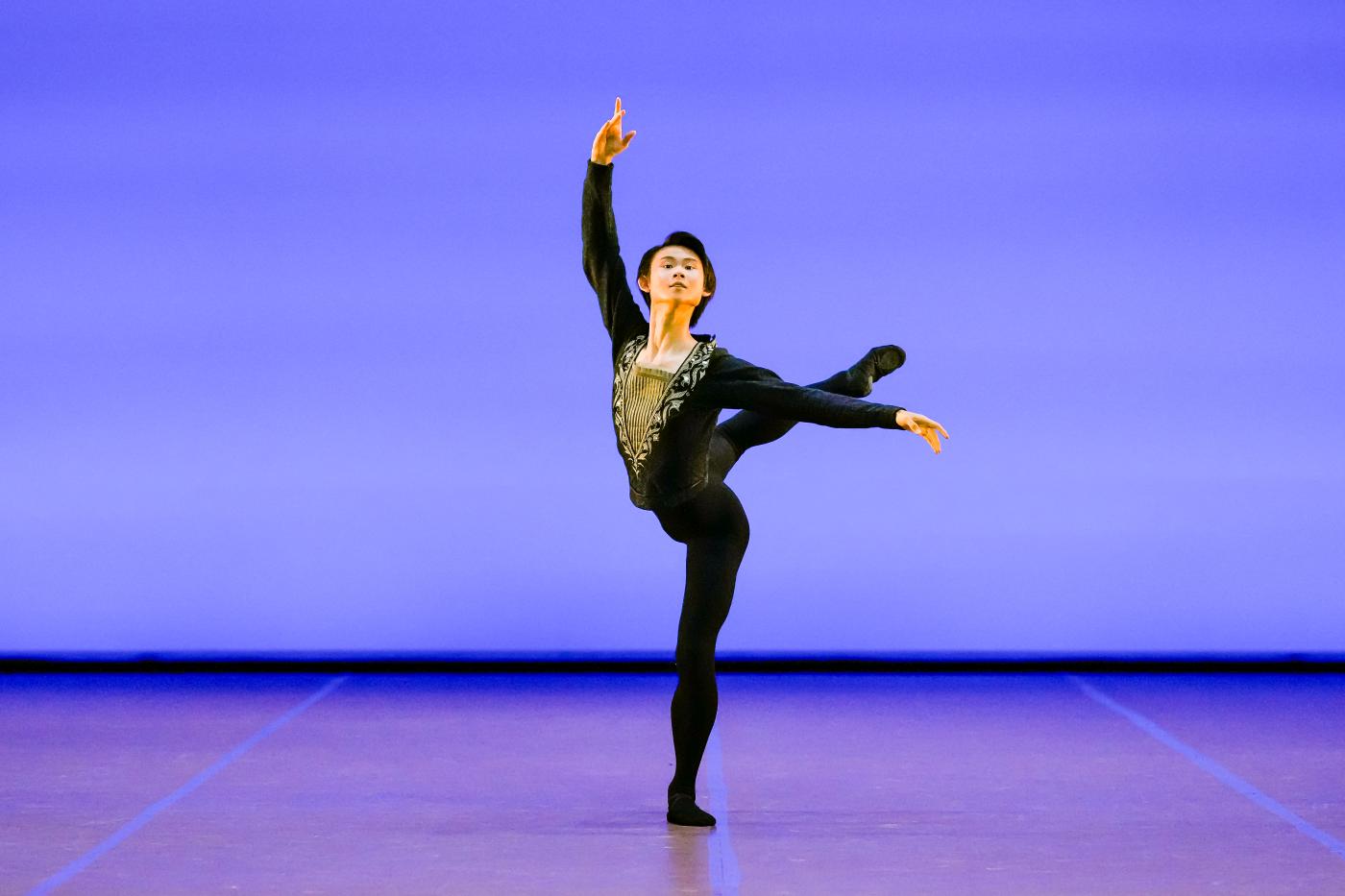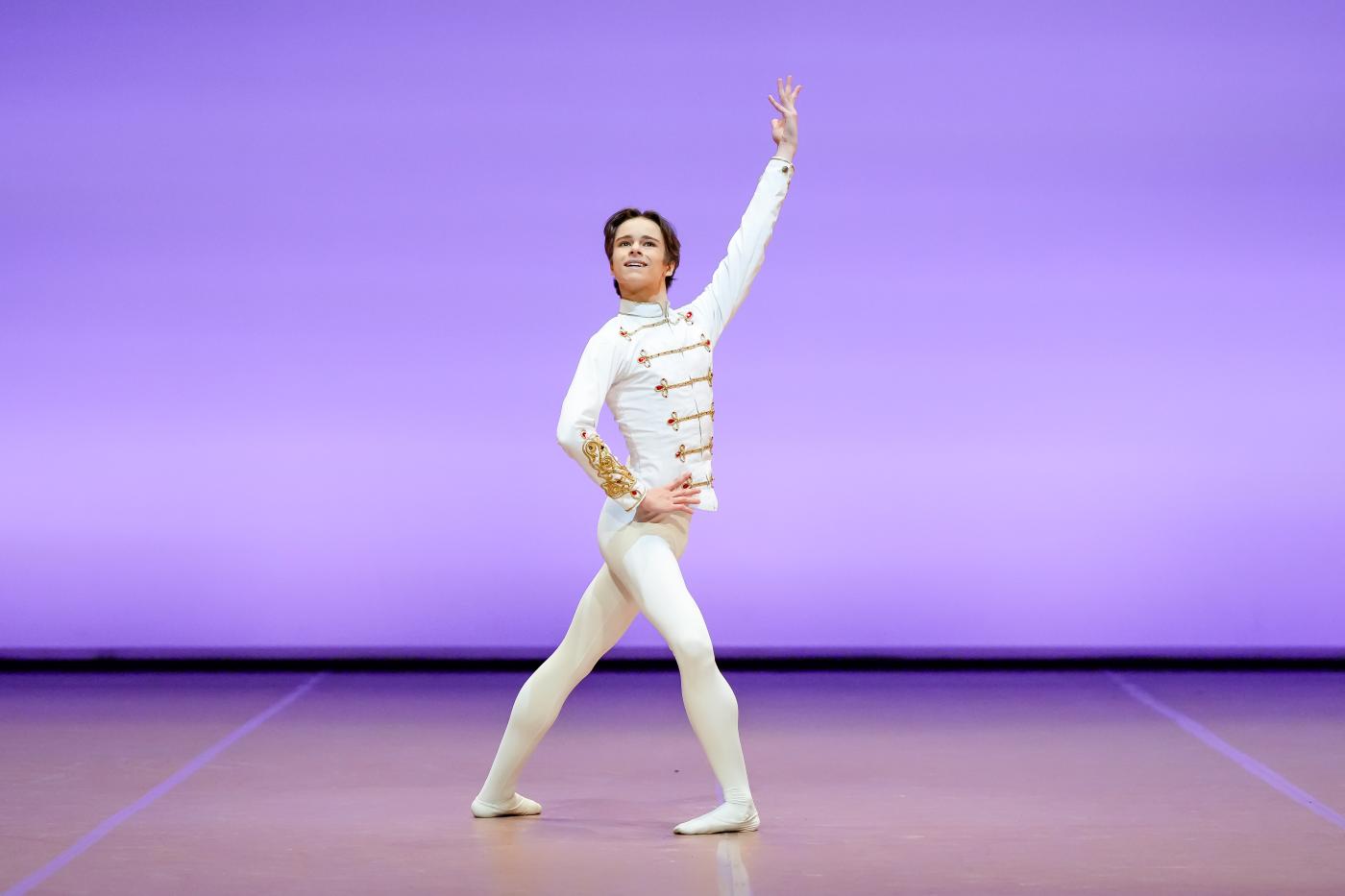 No doubt, the choreography is ambitious but it lacks a comprehensible intention and hence significance. Why do the dancers lie on the floor, run across the stage, alternate in solos, or step in sync; why do they swirl their arms, shake their shoulders, and abruptly change course; why does the sunset lighting change into sacral-like top light, and for what reason does a female dancer roll inside a sharp spotlight like a caught insect? The piece looks random but, to be fair, Giaquinto – a former student of the Cranko School and demi-soloist of Stuttgart Ballet – is young and deserves the freedom to experiment as a choreographer.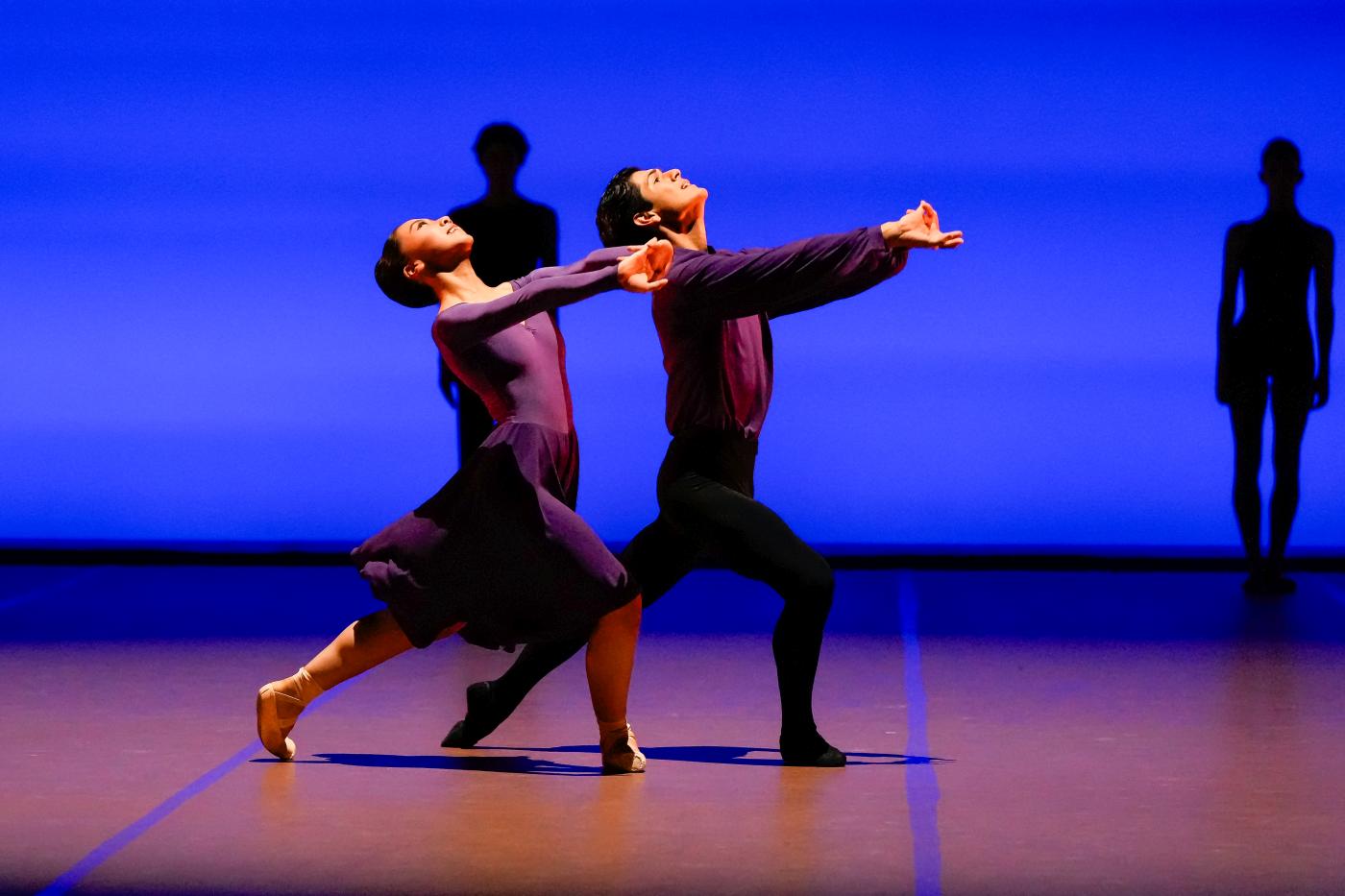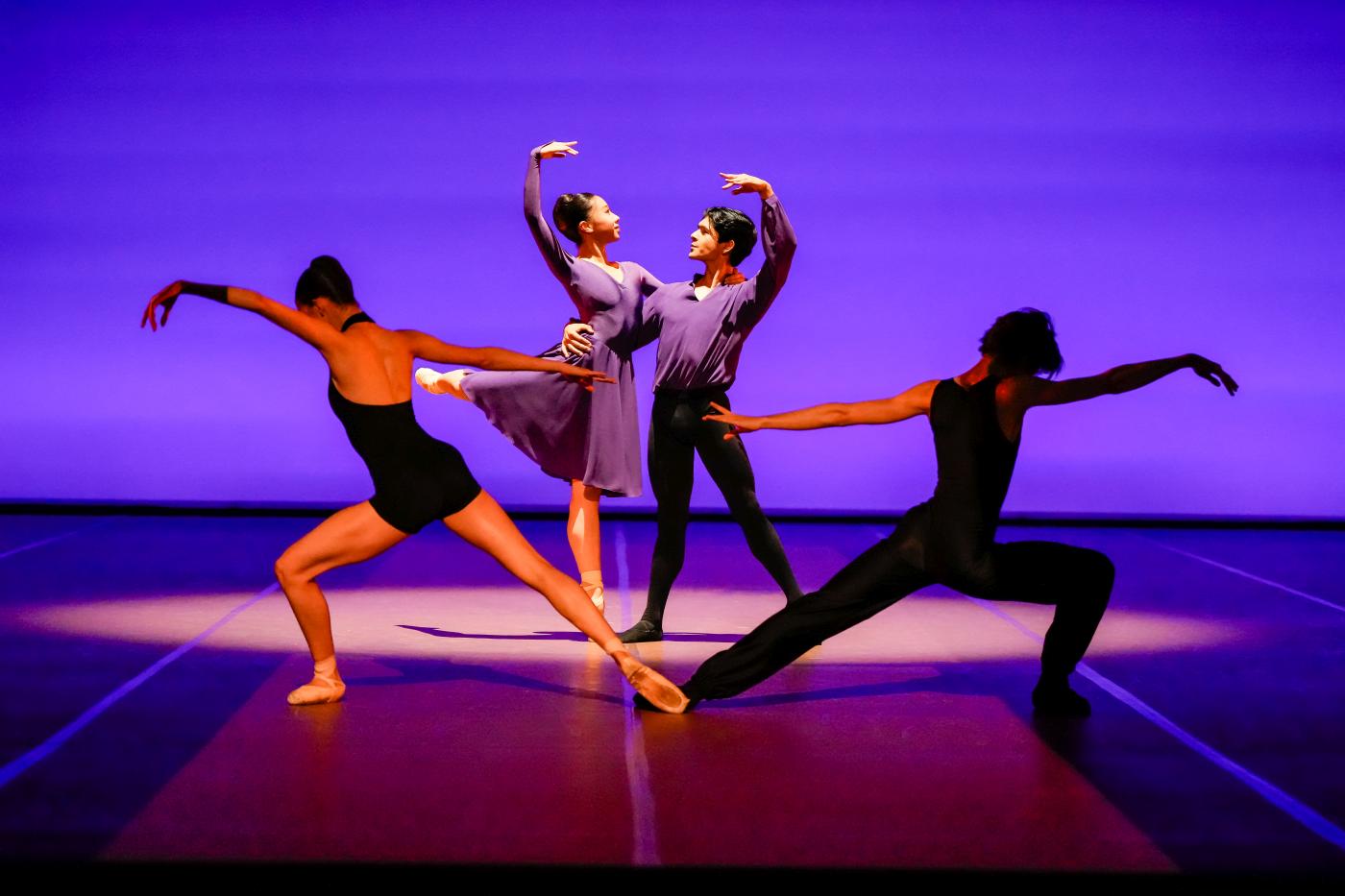 Young age is significant in view of three other modern ballets, too, which all received their premieres at the matinee. The only seventeen-year-old Justin Padilla, a student of the Cranko School's 6th class, contributed "Desolation", his choreographic debut. Though its three dancers didn't look desolate, they slid across the floor as if in an existential struggle. Eye-catching light effects and surging electronics added drama.
Alice McArthur's "Present in absence" (which is already her second choreography) featured two mixed couples – one lyrical, the other stylish. A compilation of rhythmic clicks of (perhaps) a metronome and piano music by Fanny Mendelsohn accompanied their pas de deux. While one couple (once also both women) ventured into the spotlight, the other couple watched them from the margin, their black silhouettes standing motionless.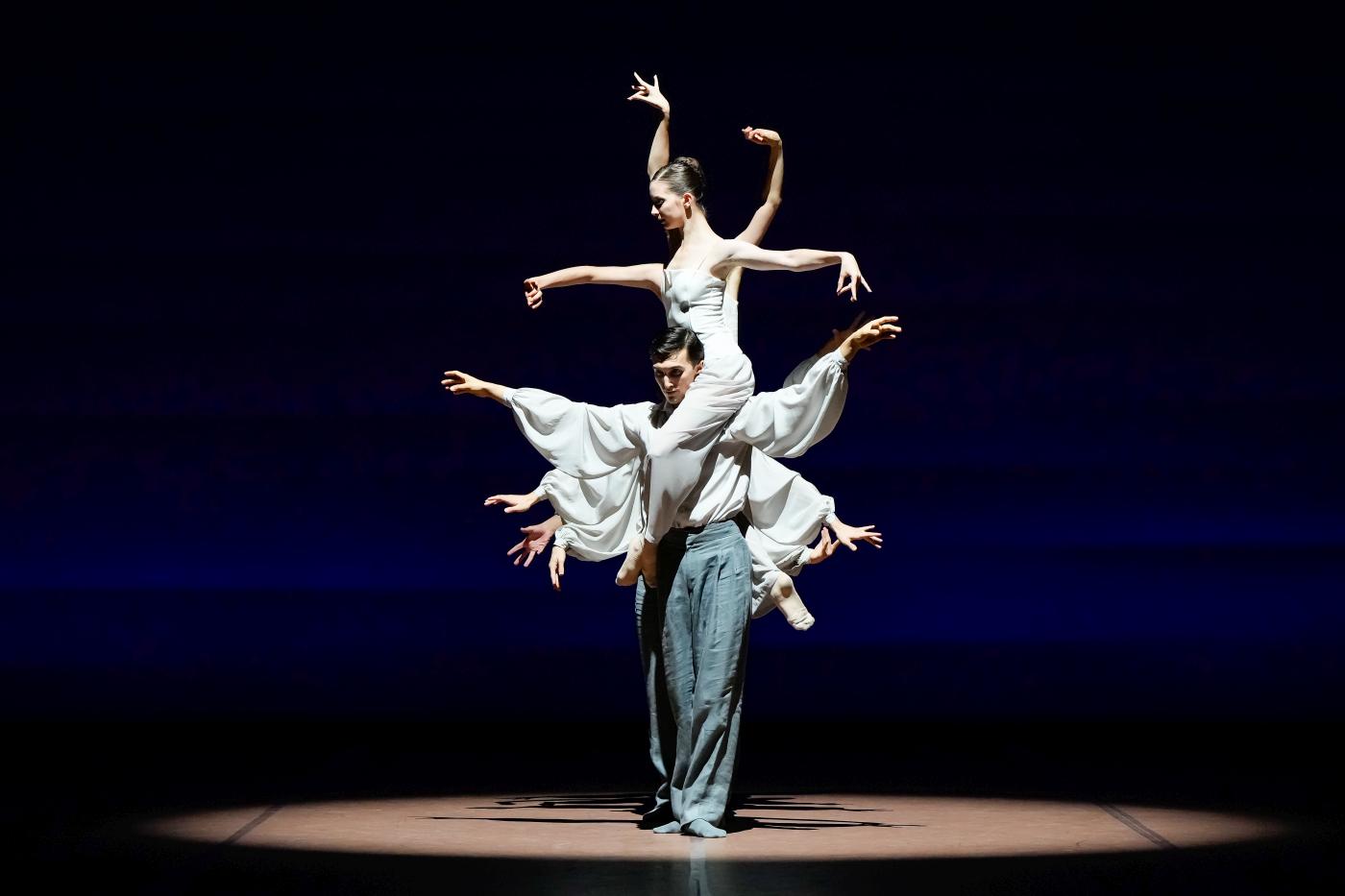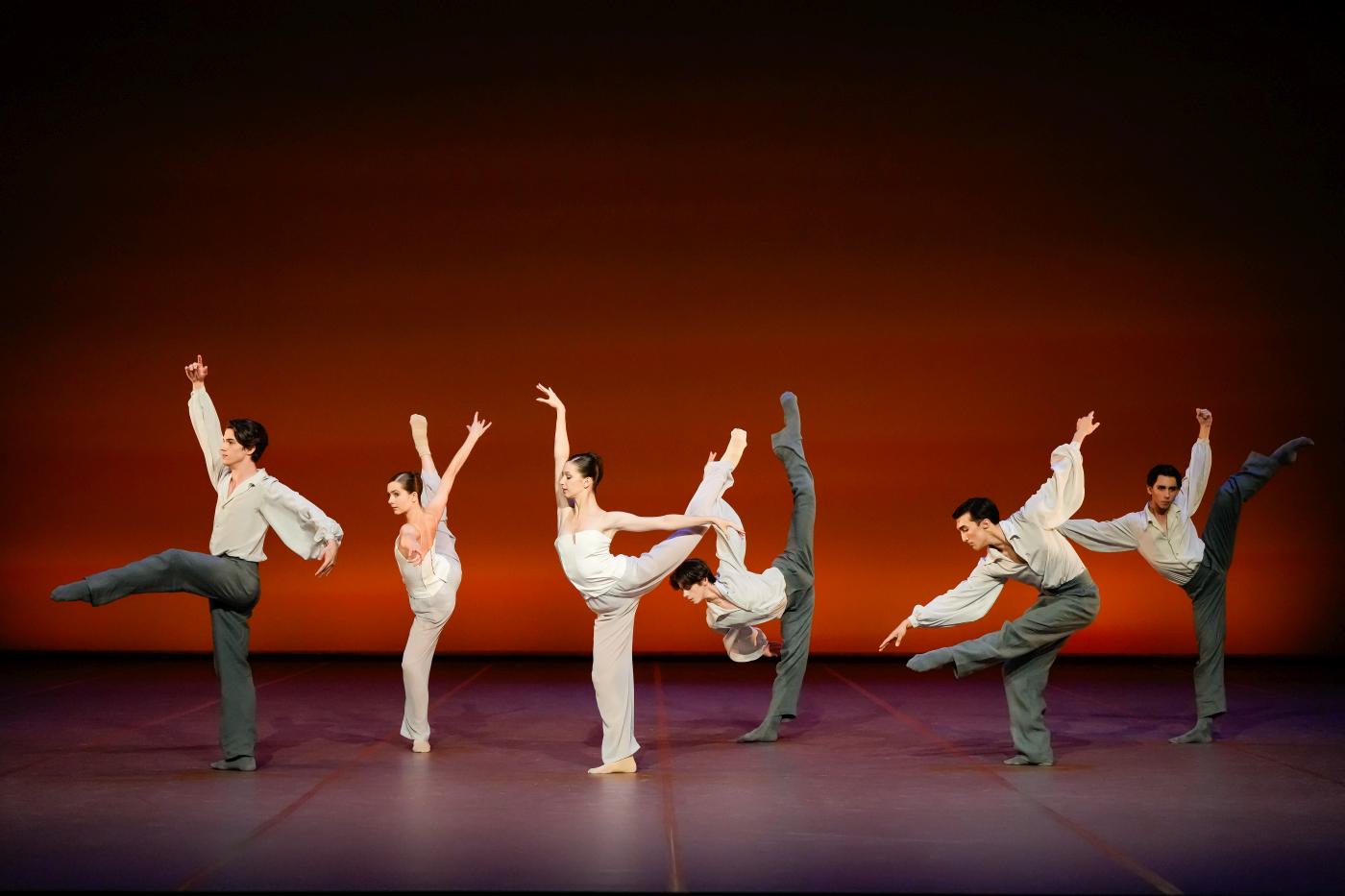 The third new in-house production – and my favorite – was "Fantasie Impromptu" – a joint-project by six students of the Academy B group. One of them, Carlos Strasser, played piano live on stage, luring one after the other out of the wings for seemingly casual improvisations. All at once he disappeared, leaving a musical void. It was filled by a cinematic soundscape that hinted at a monumental flight, but inspired an ordinary routine. As if a switch was flicked, all dancers suddenly assembled in a brightly lit living sculpture. After another musical U-turn (culminating in a composite of trickling electronics, thunder & storm, and the dancers' rhythmic breathing), Strasser returned to the piano stool, finally spreading tonal calm. Like in the studio, his fellow dancers sat on the floor, listening to the music or watching one another's solos.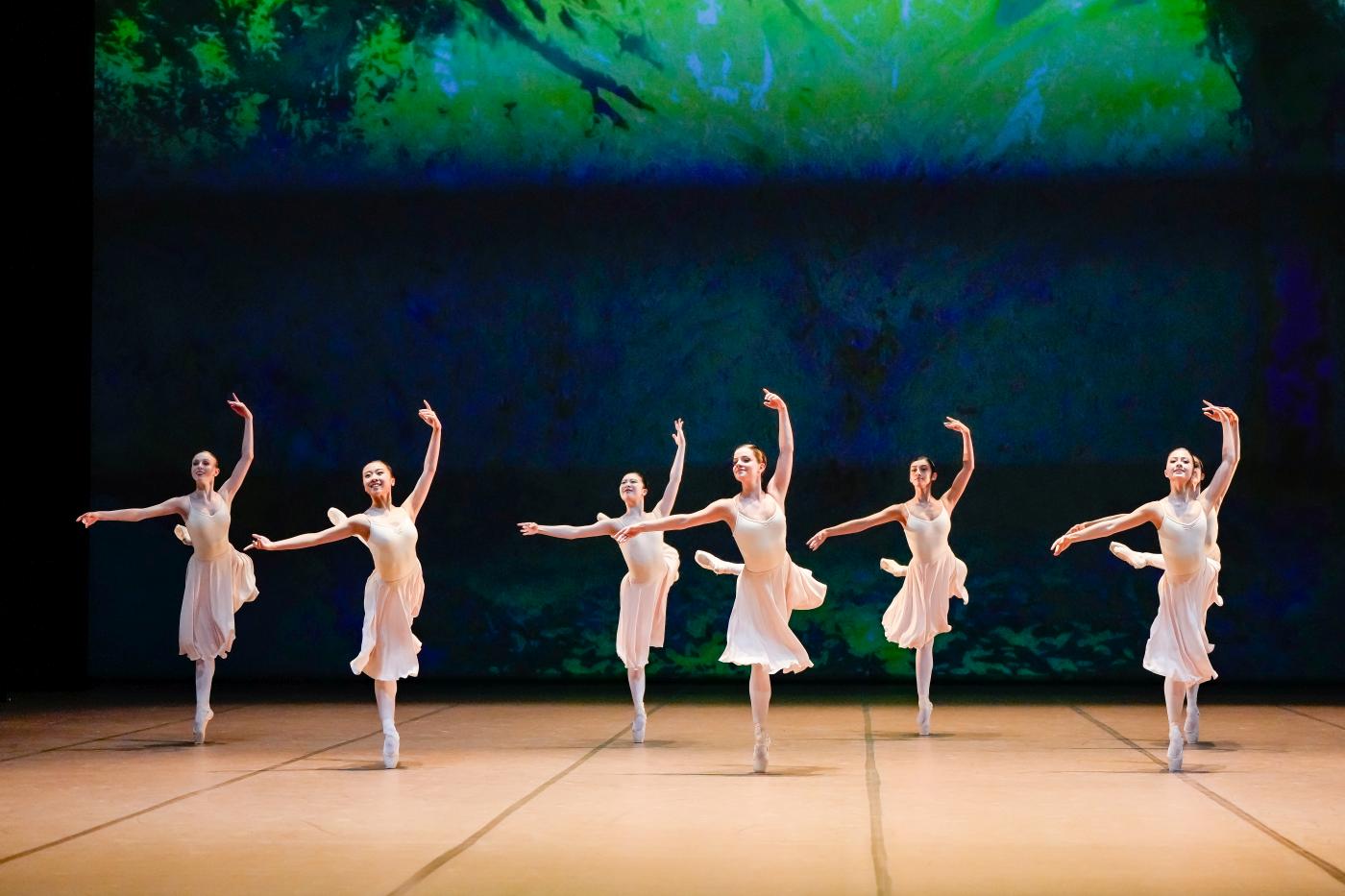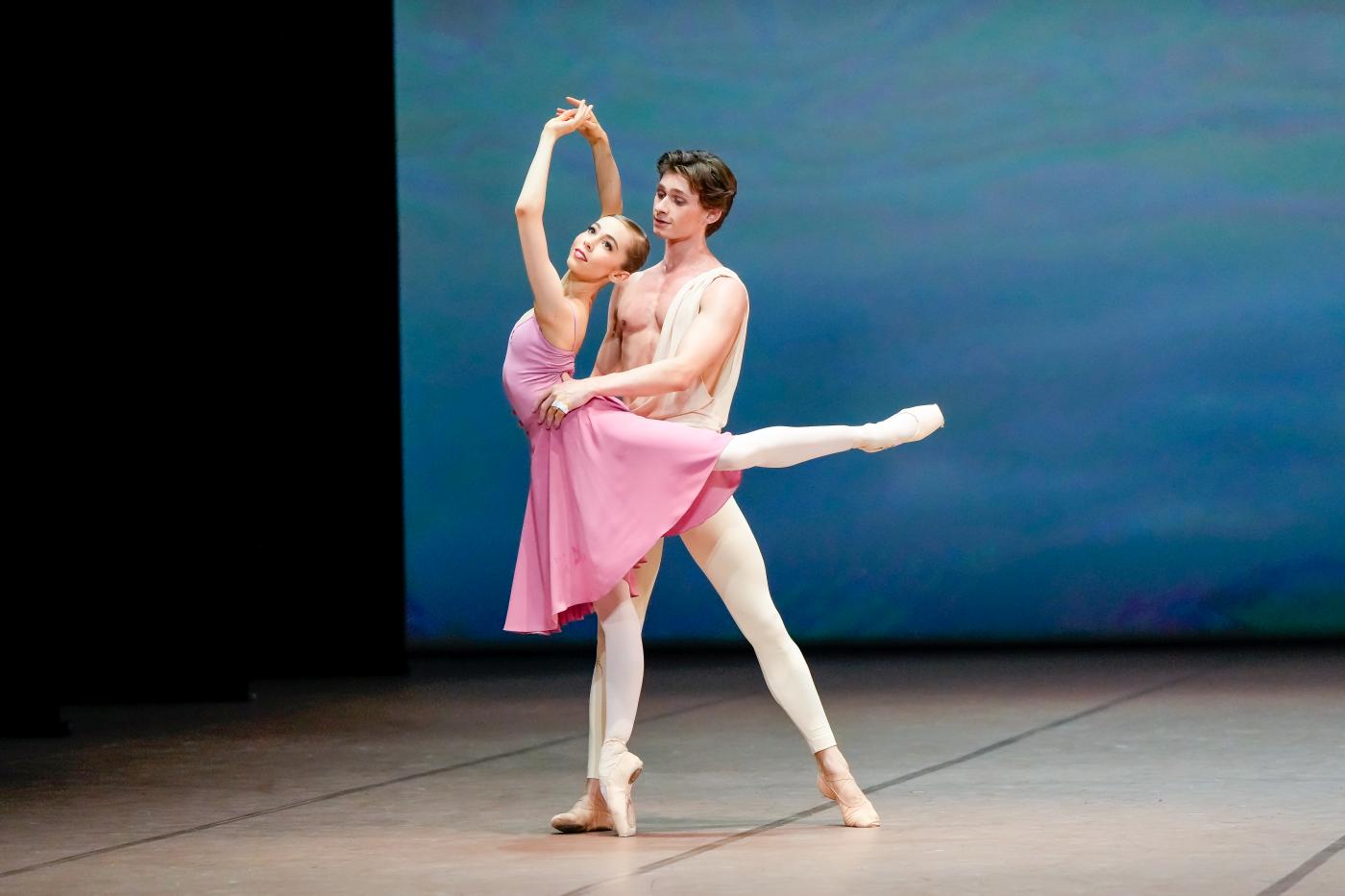 A hothouse not only for dancers but also for choreographic talent, the Cranko School also trained the creator of "Nascita di Venere" ("The birth of Venus") – Emanuele Babici. Babici graduated last year and is currently an apprentice of Stuttgart Ballet. Though my colleague sitting on my right struggled with the ballet's intricate plot (which my colleague sitting on the left found negligible anyway), it's unmissable that "Nascita di Venere" deals with Greek mythology. I had the luck of knowing the piece from Ludwigsburg, but fully agree that it's of minor importance to know who's who and what exactly is going on. What matters is that Babici created fine classical choreography, in which grace and refined manners reign. Details would be easier to grasp, though, if the extensive pantomime in the prologue was clearer.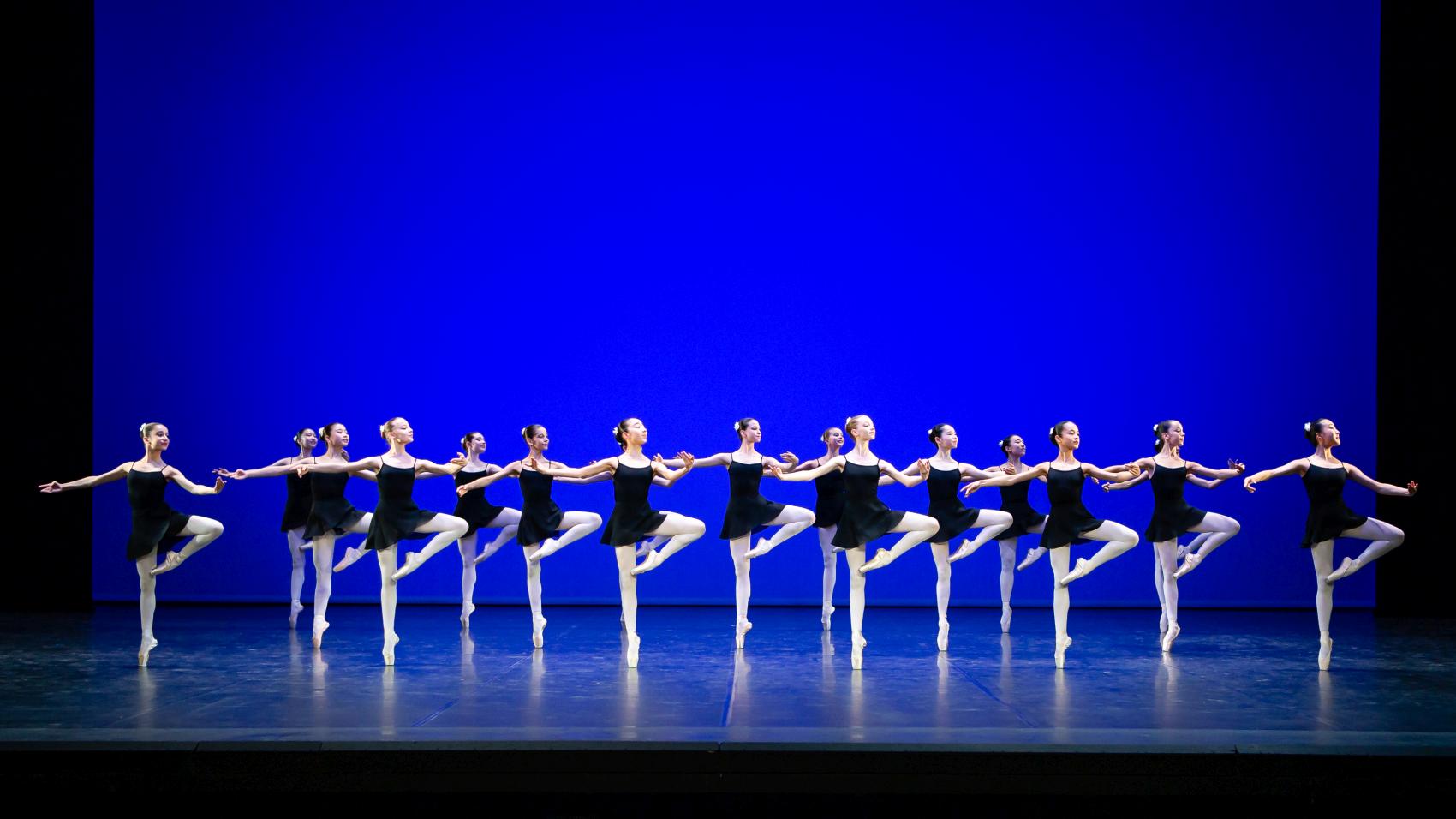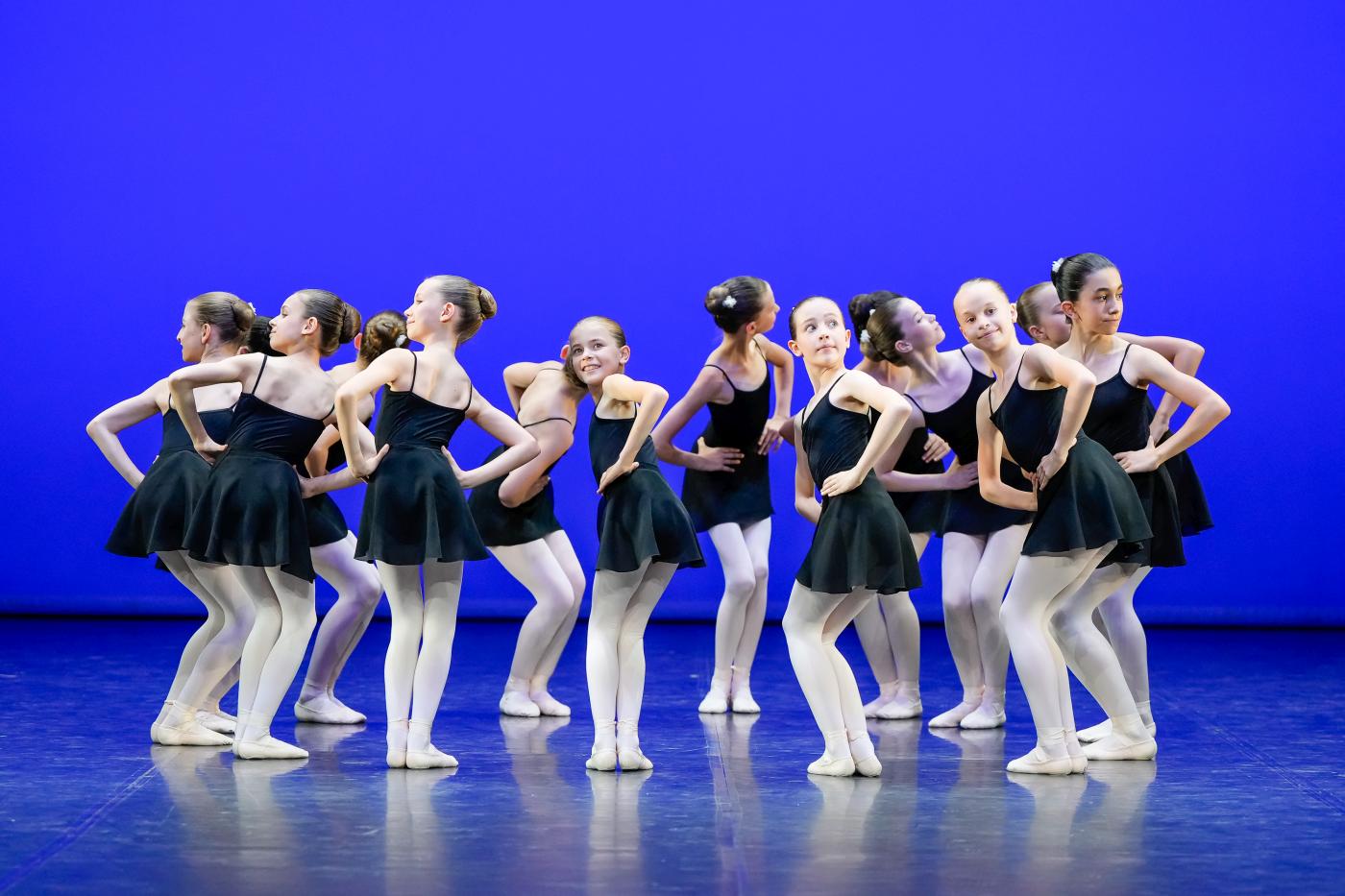 Stuttgart tradition requires that the school matinee concludes with "Etüden", a joint choreography by Tadeusz Matacz, the school's director, and his wife Barbara. This time, due to the jam-packed program, only an excerpt was shown, assembling all students from preschool class 4 upwards on stage. It didn't take long until their crisp parade of jumps and turns raised enthusiastic cheers.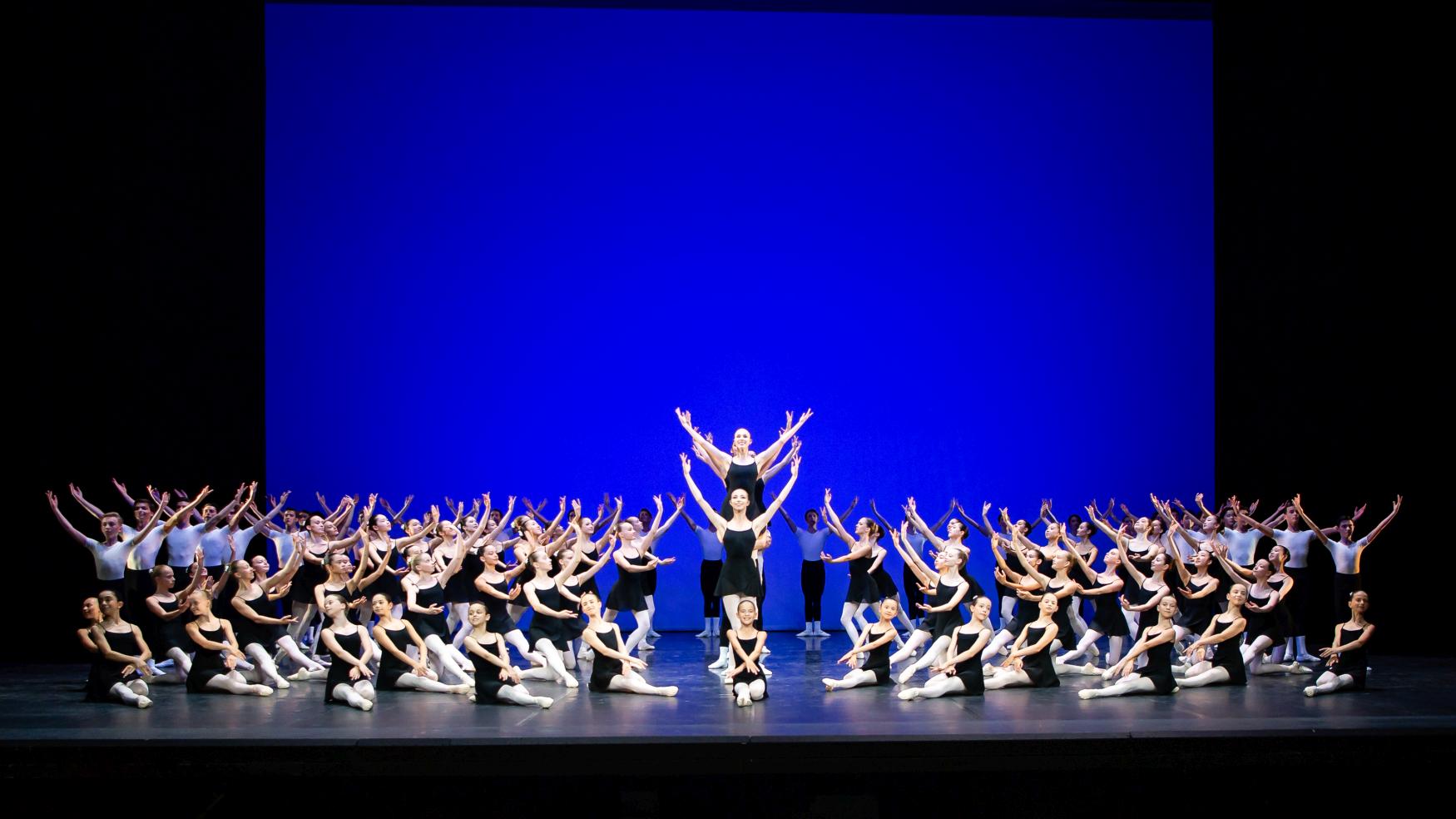 Links:

Website of the

John Cranko School

Website of the

Stuttgart State Opera

Photos:

1.

Ruka Suginohara, Waku Tohara, and Alexa Jensen;

"

The Nutcracker" by Marius Petipa, Lev Ivanov, and Vasily Vainonen,

John Cranko School 2023

2.

Joshua Nunamaker (Cavalier), Alice McArthur (Sugar Plum Fairy), Adrien Hohenberg, Leon Metelsky, Carter Smalling, and Sergii Zharikov;

"

The Nutcracker" by Marius Petipa, Lev Ivanov, and Vasily Vainonen,

John Cranko School 2023



3.

Alice McArthur (Sugar Plum Fairy), Joshua Nunamaker (Cavalier), and students from Academy A and B;

"

The Nutcracker" by Marius Petipa, Lev Ivanov, and Vasily Vainonen,

John Cranko School 2023

4.
Mitchell Millhollin (Prince Siegfried) and Abigail Willson-Heisel (Odile), "Swan Lake" by Marius Petipa, John Cranko School 2023

5.

Abigail Willson-Heisel (Odile) and Mitchell Millhollin (Prince Siegfried), "Swan Lake" by Marius Petipa, John Cranko School 2023

6.

Alexei Orohovsky, variation from "Paquita" by Marius Petipa, John Cranko School 2023

7.

Keisuke Miyazaki, variation from "Swan Lake" by Marius Petipa, John Cranko School 2023

8.

Ayako Tsukada and Jacob Alvarado, "Present in absence" by Alice McArthur, John Cranko School 2023

9.

Yana Paneva, Nicholas Isabelli, Ayako Tsukada, and Jacob Alvarado; "Present in absence" by Alice McArthur, John Cranko School 2023

10.
Students from Academy B, "Fantasie Impromptu" – a joint choreography by the dancers, John Cranko School 2023

11.

Students from Academy B, "Fantasie Impromptu" – a joint choreography by the dancers, John Cranko School 2023

12.
Students of Academy A and B, "Nascita di Venere" by Emanuele Babici, John Cranko School 2023

13.

Alice McArthur (Venus) and Mitchel Millhollin (Uranus), "Nascita di Venere" by Emanuele Babici, John Cranko School 2023

14.
Preschool students (class 4), "Etüden" by Tadeusz and Barbara Matacz, John Cranko School 2023

15.

Students from the John Cranko School, "Etüden" by Tadeusz and Barbara Matacz, John Cranko School 2023

16.

Students from the John Cranko School, "Etüden" by Tadeusz and Barbara Matacz, John Cranko School 2023

a

ll photos

©

Roman Novitzky

/

Stuttgart Ballet

Editing:
Samuel Snodgrass