"Jewels"
The Australian Ballet
Arts Centre Melbourne / State Theatre
Melbourne, Australia
July 06, 2023 (livestream)
by Ilona Landgraf
Copyright © 2023 by Ilona Landgraf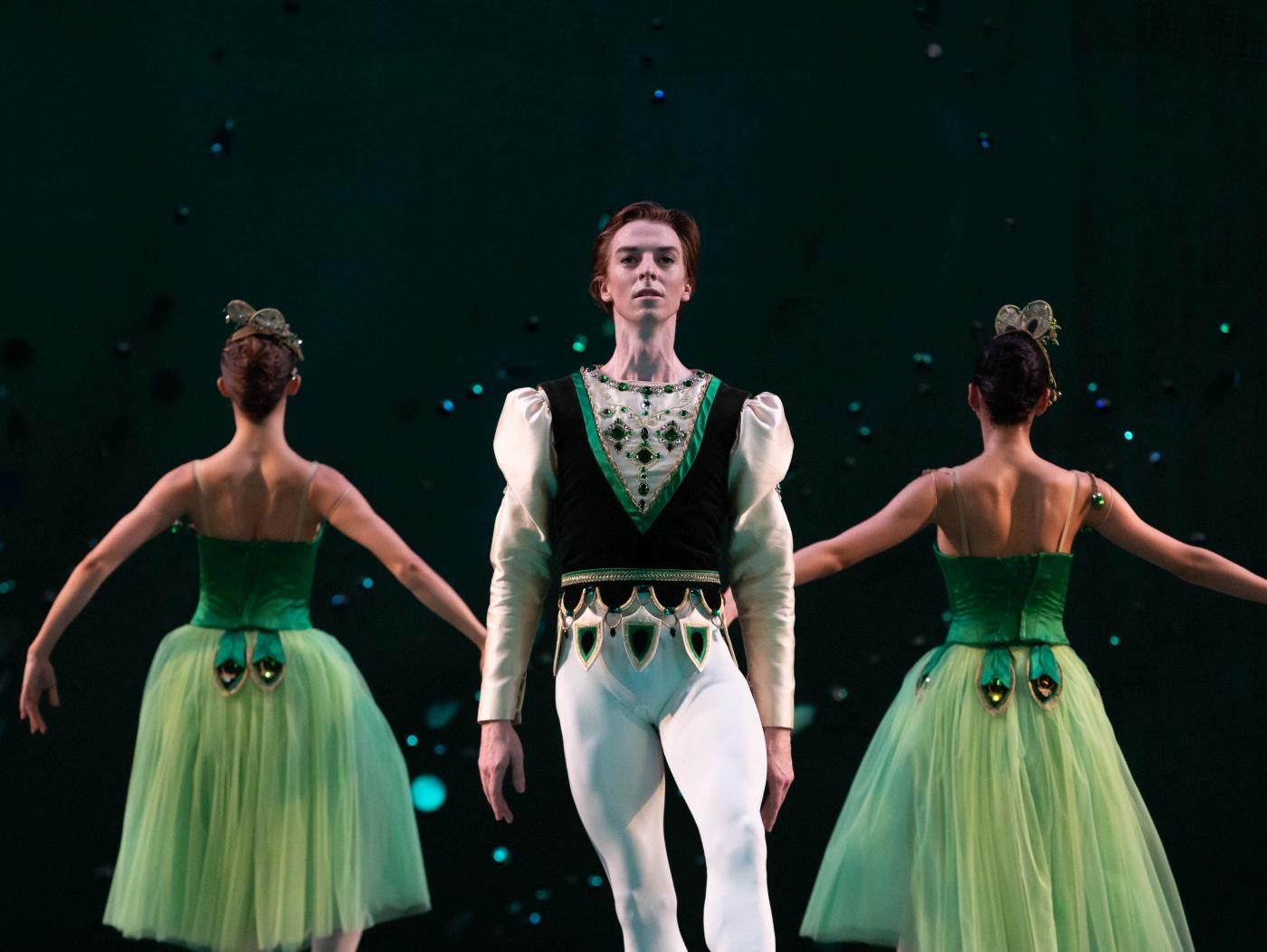 David Hallberg, artistic director of the Australian Ballet, has a knack for presenting his company in a complimentary light. Of the many troupes which streamed their performances live during the pandemic, only the Australians have maintained and enhanced this practice. The most recent livestream proved their ability to produce a compelling digital program. Livinia Nixon, who gave her debut as presenter alongside the ever-smiling Hallberg, kept me glued to the screen during the intervals, offering a steady flow of interesting interviews and behind-the-scenes clips. Each of them revealed the warmth and camaraderie within the company that has so often been mentioned in previous livestreams.
Celebrating their sixtieth anniversary this season, the company presented a sparkling new acquisition – Balanchine's "Jewels" (1967) complete with Barbara Karinska's sumptuous original costumes. One year of painstaking handicraft was spent on the latter's recreation, requiring many volunteering hands and two months to sew and glue more than 29.500 beads, crystals, and pearls to dresses, tops, and tiaras.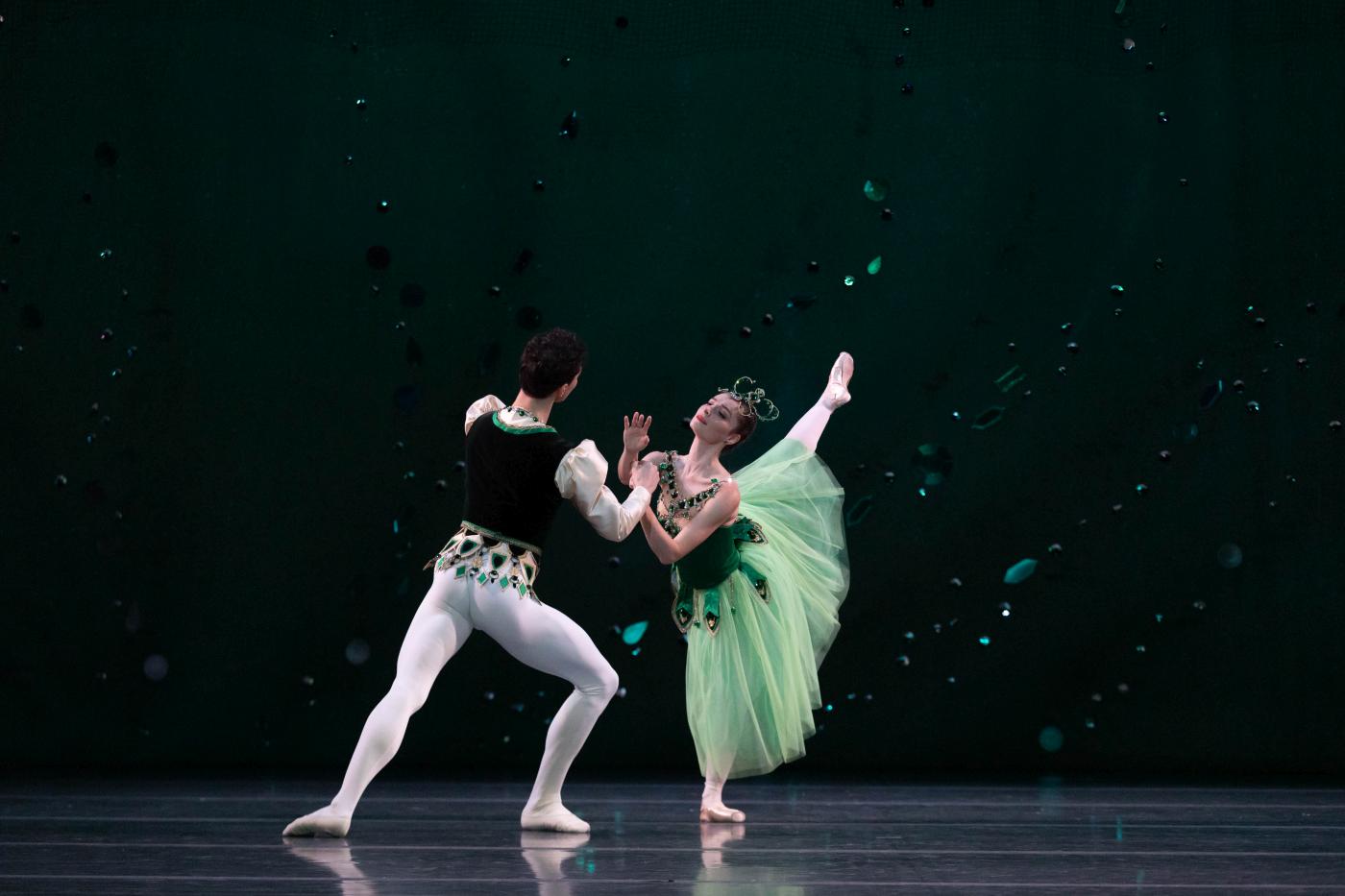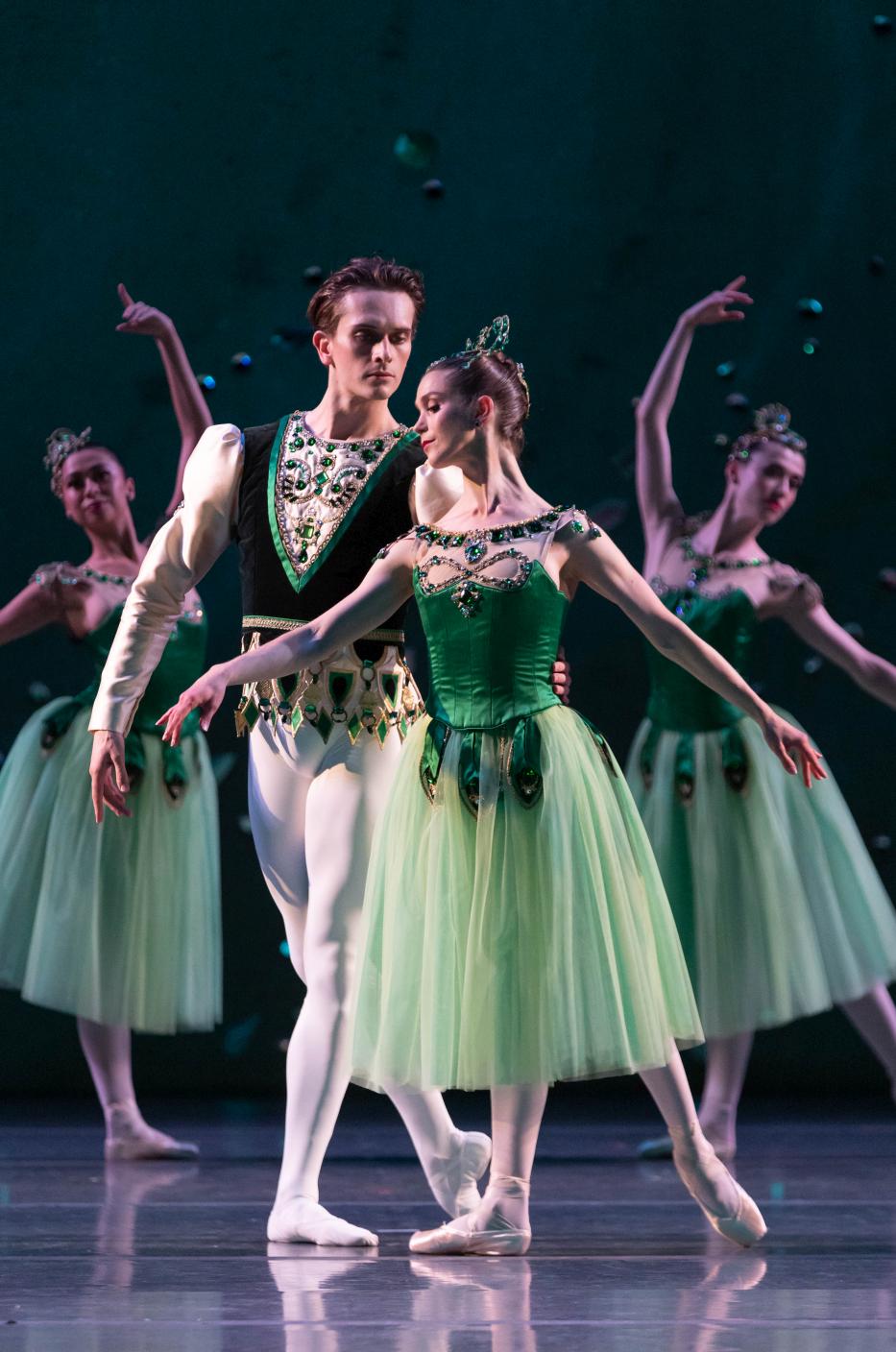 The three acts of the plotless "Jewels" combine three different styles of classical dance. Compared with "Emeralds", which recalls the 19th century ballets of the French Romantics (such as Michel Fokine's "Les Sylphides"), the jazzy "Rubies" is provocatively modern and much more structured. The third piece, "Diamonds", distills the essence of imperial Russian ballet. Each part has music by a different composer – Gabriel Fauré ("Emeralds"), Igor Stravinsky ("Rubies"), and Peter Tchaikovsky ("Diamonds"). Corresponding to the differing orchestration is a distinct look in the color of the respective jewel. In "Emeralds" the ballerinas wear green, calf-length tulle skirts, in "Rubies" red, deeply slit mini skirts, and in "Diamonds" white tutus. "Jewels" is also Balanchine's homage to three defining stages of his artistic life: France (where he choreographed in Paris and Monte-Carlo), New-York (the New York City Ballet wouldn't exist without him and Lincoln Kirstein), and St. Petersburg (where the Georgian-born Balanchine was trained, danced, and made his first steps as a choreographer).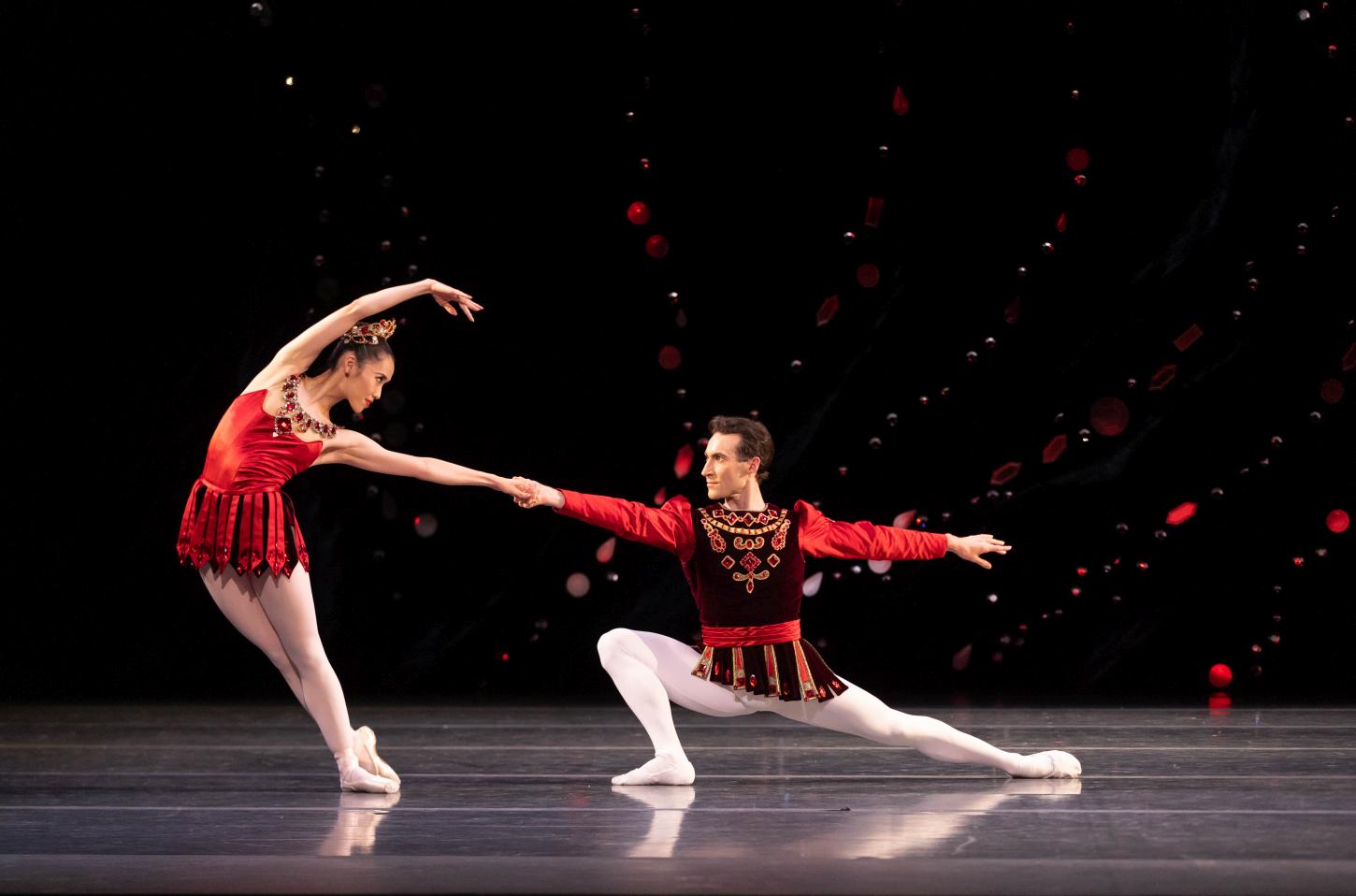 "Jewels" is demanding – a litmus test for a company's versatility and prowess so to speak. Let's be clear right away, Hallberg's dancers passed it remarkably well. But "Jewels" also represents cultural heritage and in this respect fissures emerged.
"Emeralds" (led by Sharni Spencer and Callum Linnane) had the serene and genuine elegance that originates from sophisticated modesty. There was a sense of humble joy, occasionally flavored with a tinge of jaunty, self-referring chic. A personal highlight was the soft, precise jump sequence of Cameron Holmes in the pas de trois – it had the quality that makes the difference. "Emeralds" is marvelous, but its only problem is that it pays homage to a France of the past. A France that disappeared in the swirl of changes Europe has undergone during the last years. In its wake, traditions were questioned or tossed overboard. The sense for history and cultural identity was reframed. In an unsettling discovery, what was once so familiar feels unrelated meanwhile.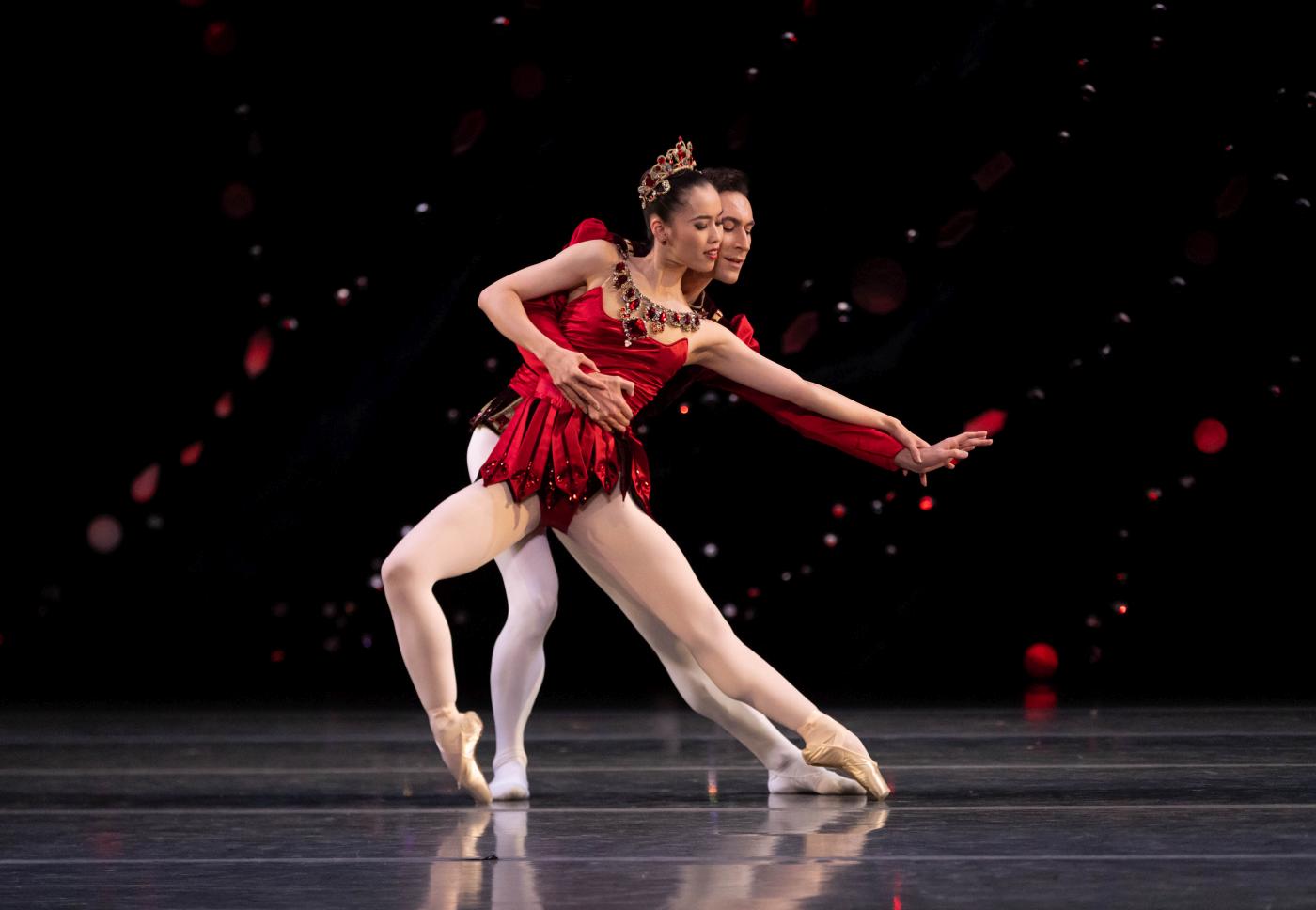 Looking from afar, it appears as if similar cultural and social changes have swept through the US, but I cannot estimate their impact on the national identity of today's Americans. Does the younger generation still feel connected to the sassy, fun-loving – sometimes quirky – 70s portrayed in "Rubies"? Its provocative glamour was fabulously conveyed by Ako Kondo and Brett Chynoweth who's a witty swagger par excellence. How they sailed along the edge of risk and fun, cheekily playing with fire! It must have kindled the corps which, edgy rather than sexy at first, steadily gained flow and sensuality. "Rubies" ended abruptly with a Bang! as electrifying as a needle stick. Well done!
Russians cherish their tradition and culture. In terms of ballet, each dancer of the Bolshoi, for example, is able to project the grandeur of imperial Russian ballet. It's in their DNA. The Australians, by contrast, struggled, delivering the choreography of "Diamonds", but not its spirit. There's nothing to nag about how the leading couple (Benedicte Bemet and Joseph Caley) approached their pas de deux and except for some out of sync lines the corps did well, too. Nevertheless, the grand, uplifting energy, of which the Balanchine Trust's repetiteur Sandra Jennings spoke when characterizing "Diamonds" didn't build up.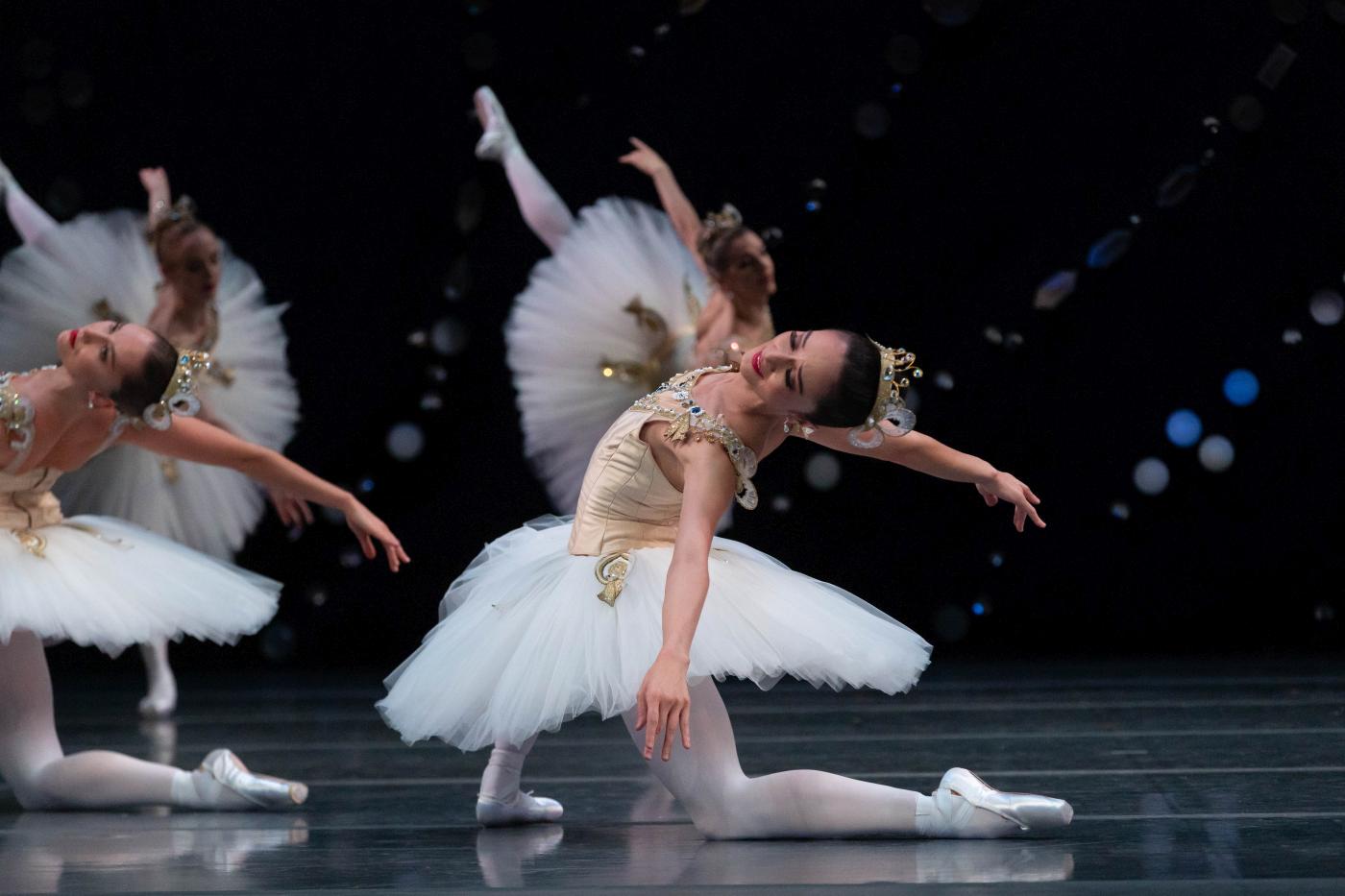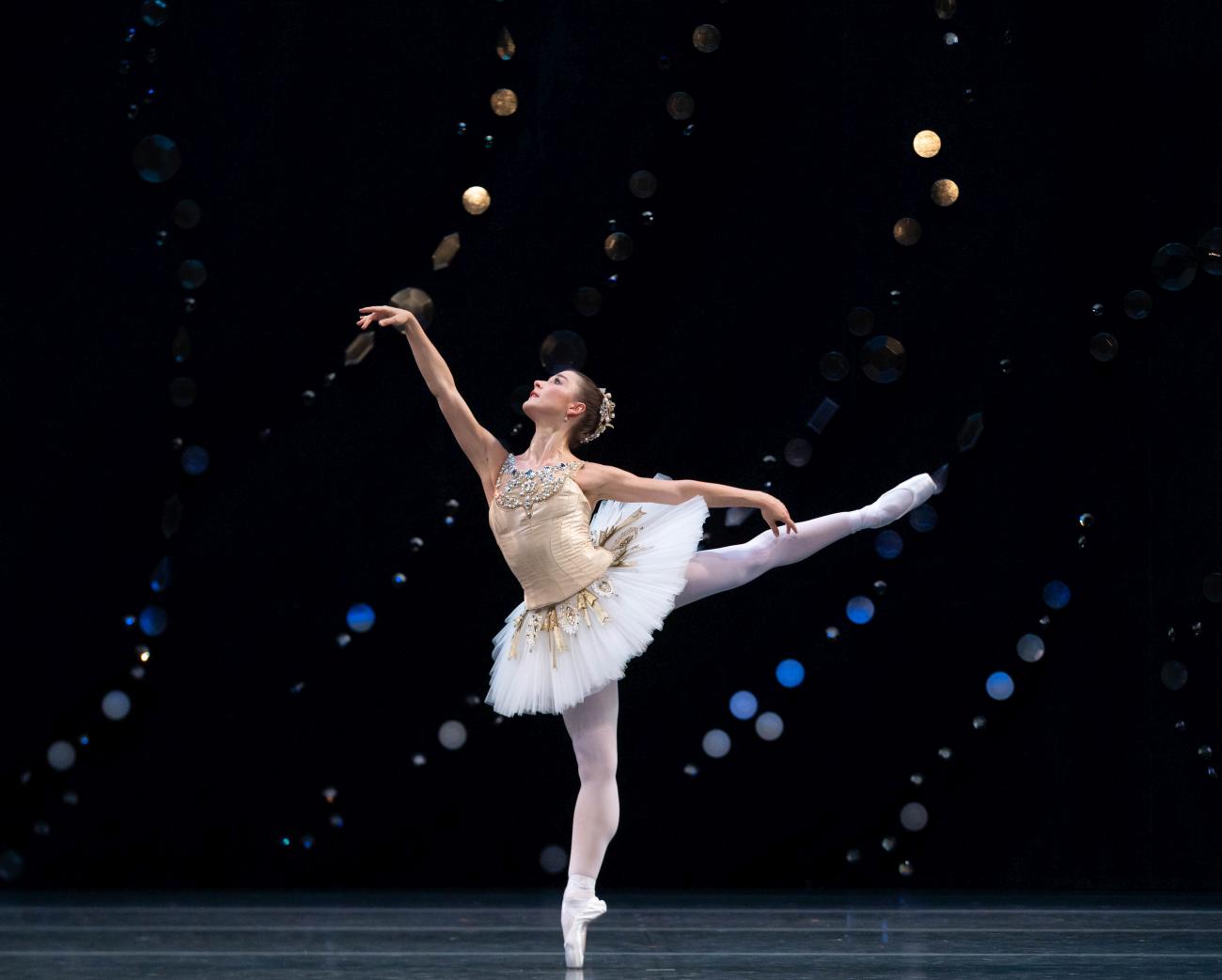 In early August, the Australian Ballet will tour London after thirty-five years of absence, filling the gap the ousting of the Mariinsky and Bolshoi Ballets left. Whether this is a gain or a loss for London audiences has yet to be determined. The general damage done to the art form by breaking with Russian companies is beyond dispute though.
What I failed to understand is why Hallberg changed the program. The original plan was to perform "Kunstkamer" at the Royal Opera House, but now just "Jewels" is scheduled. Its "Diamonds" celebrates the Russian culture that has been so eagerly expelled from western stages.
Did anyone recognize the absurdity of the situation?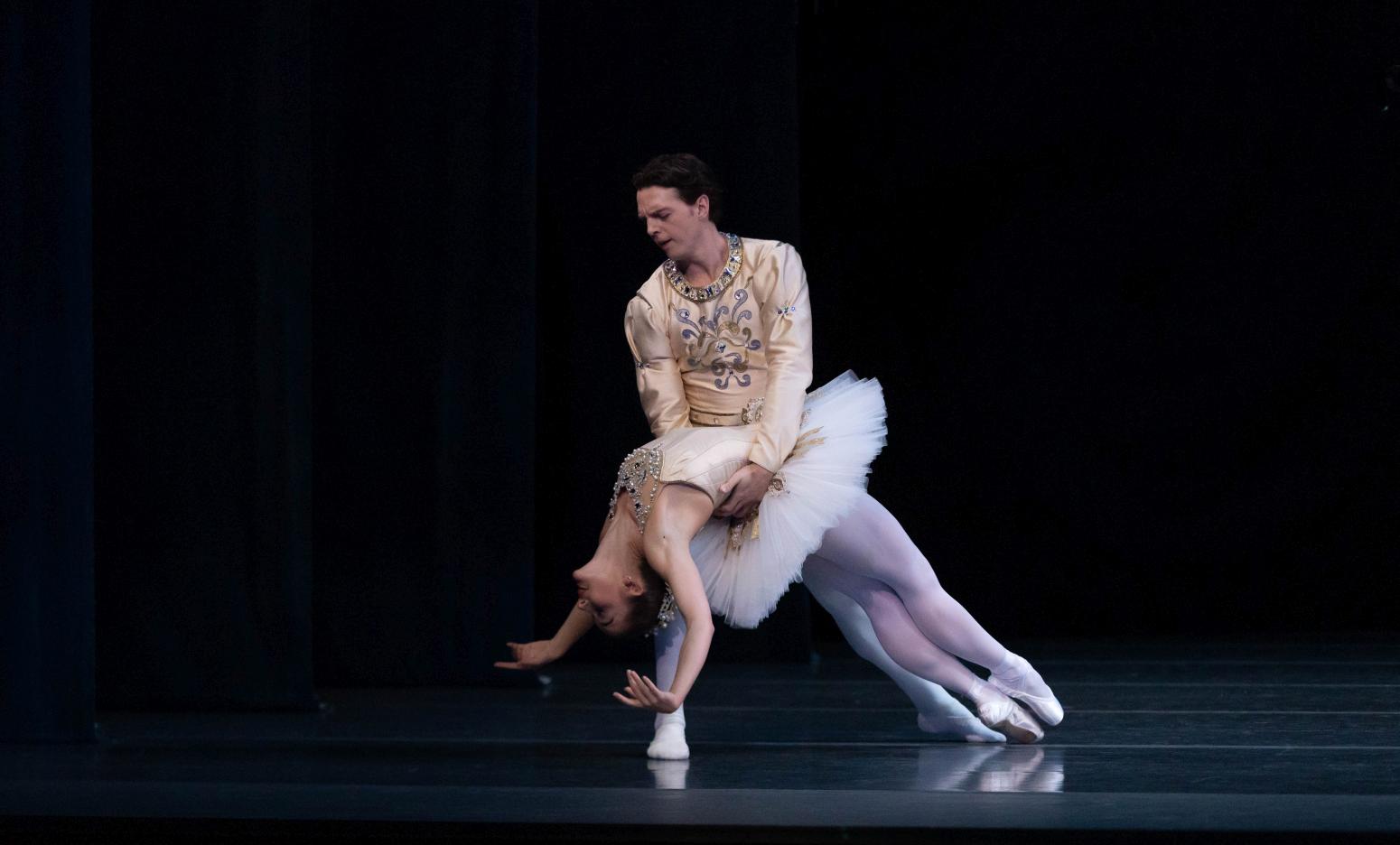 Links:
Website of the Australian Ballet
David Hallberg on "Jewels" (video)
Formations in Balanchine's "Jewels" (video)
Sandra Jennings unpacks Balanchine's "Jewels" (video)
Rehearsing the Diamonds Pas de deux (video)
"Jewels" – the costumes (video)

Photos:

1.

Drew Hedditch, Katherine Sonnekus, and Larissa Kiyoto-Ward,

"

Jewels" by George Balanchine

,

The Australian Ballet 202

3

2.

Callum Linnane, Sharni Spencer, and ensemble, "Jewels" by George Balanchine

,

The Australian Ballet 202

3



3.

Maxim Zenin and Imogen Chapman, "Jewels" by George Balanchine

,

The Australian Ballet 202

3

4.

Ako Kondo and Brett Chynoweth, "Jewels" by George Balanchine

,

The Australian Ballet 202

3

5.

Ako Kondo and Brett Chynoweth, "Jewels" by George Balanchine

,

The Australian Ballet 202

3

6.

Jasmin Durham and Grace Carroll, "Jewels" by George Balanchine

,

The Australian Ballet 202

3

7.

Benedicte Bemet, "Jewels" by George Balanchine

,

The Australian Ballet 202

3

8.

Benedicte Bemet and Joseph Caley, "Jewels" by George Balanchine

,

The Australian Ballet 202

3

all photos

©

Rainee Lantry

Editing:
Samuel Snodgrass