"Suite en blanc" / "Windgames"
Ballet Estable del Teatro Colón
Teatro Colón
Buenos Aires, Argentina
August 06, 2023 (livestream)
by Ilona Landgraf
Copyright © 2023 by Ilona Landgraf

Recently, the Teatro Colón has expanded its online program which gives me hope to watch the company more often. This Sunday, the premiere of a new double bill was streamed live. It comprised Serge Lifar's "Suite en blanc" (1943) and Patrick de Bana's "Windgames" (2013).
"Suite en blanc" was one of the most successful choreographies Lifar created during his two-phase tenure as ballet master of the Paris Opera Ballet. Its array of finely crafted dance vignettes (set to an abridged version of Édouard Lalo's composition for the ballet "Namouna") vary in mood and architecture. Their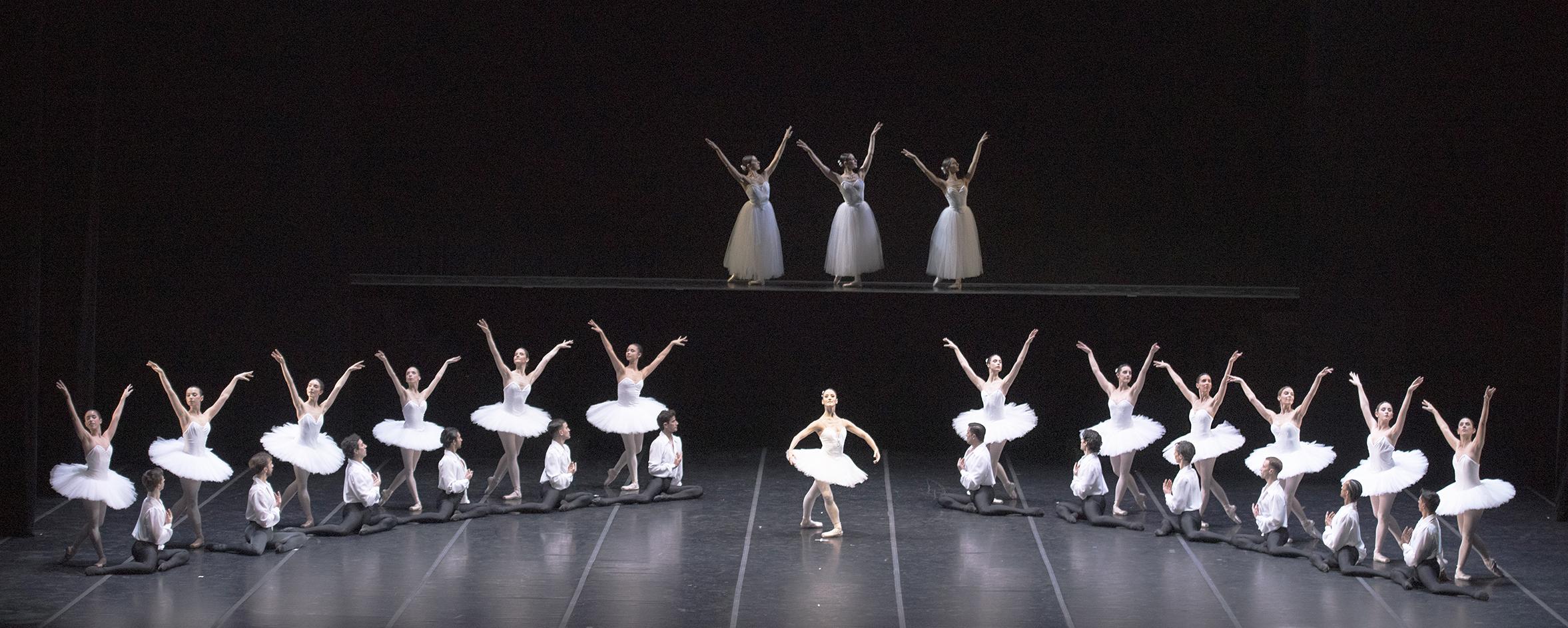 visual aesthetic is a blessing for the eye. Each part is a vehicle for soloists and the corps de ballet to showcase their prowess. "Suite en blanc" pays homage to the hierarchy within a classical company (which, by the way, the company website of the Ballet Estable withholds), but it also celebrates – often with a wink – classical dance. Inevitably, the white ballets come to mind – the romanticism of the sylphs in "Les Sylphides" and the formations of the Wilis in "Giselle", for example, or – when the ballerinas are decoratively draped on the two black staircases – the dream scene of "Raymonda". If there was a ramp, the Shades of "La Bayadère" would certainly have descended onto the scene. Needless to say that – except for a few black pants worn by some men – costume designer André Dignimont chose white for the wafting, ankle-length tulle skirts, tutus, shirts, and tights.
In the Pas de Trois, Jiva Velázquez and Yosmer Carreño were unwavering in their reverence for Julieta Urmenyi, but she sailed unperturbed above them. The two men stood like framing statues, waiting for her to take the place between them while she, self-absorbedly, pirouetted along her own path. Soon after in the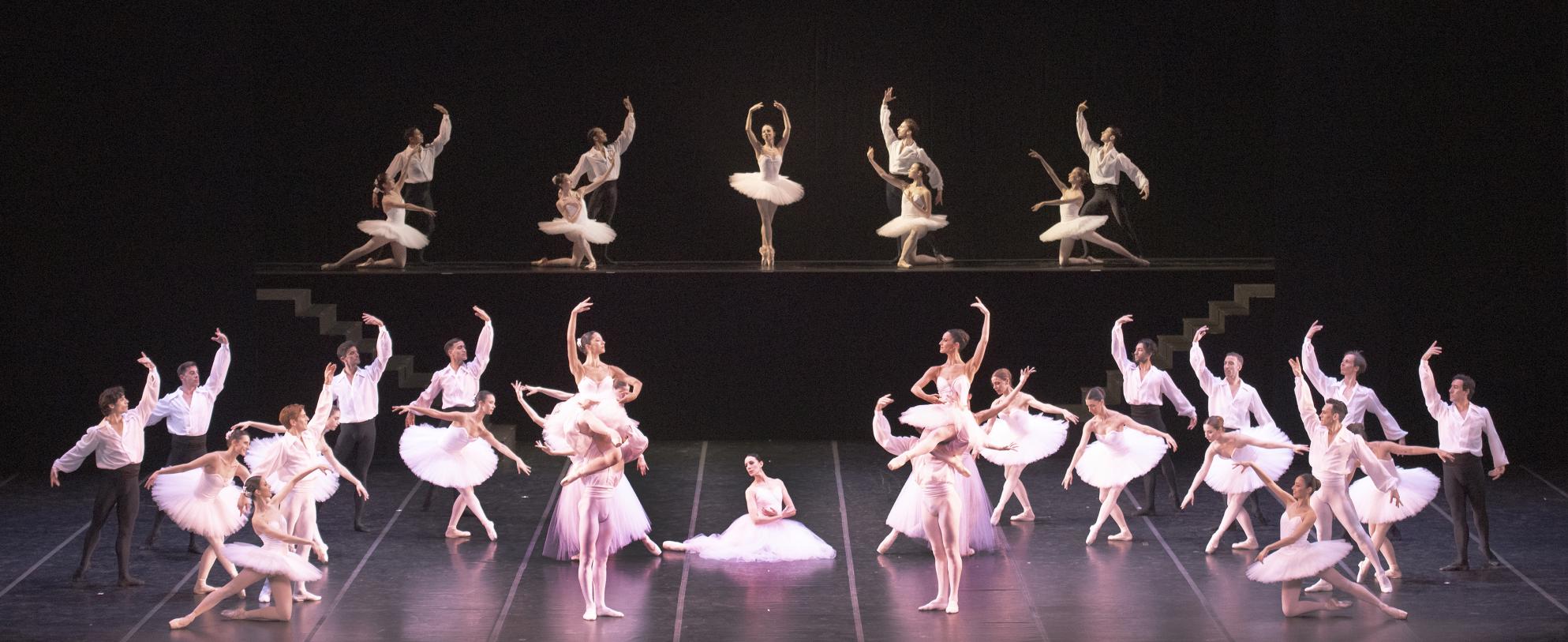 Pas de Cinq, Luciano García, Emanuel Abruzzo, Sebastián Bustos, and Marcone Fonseca pranced across the stage like toreadors, their heads bent down, their white shirts billowing. Ayelén Sánchez merged flippancy and calm in her solo in La Cigarette, paying special attention to effective phrasing. Juan Pablo Ledo seemed weighed down by some unknown burden in his Mazurka, but – as the music brightened up – suddenly bounced across the stage like a lighthearted daredevil. Standing on a black platform behind him, eight men adopted decorative poses like a living triangle pediment. In the Adagio, Federico Fernández was a rock solid cavalier, supporting Camila Bocca's light, self-absorbed flight through what seemed a happy dream. Bocca returned for a flirty solo in La Flûte, her manege of pique turns driving everyone except the responsive men off stage. Compelling percussion brought all dancers back on stage for the final Fête foraine, culminating in a gorgeous tableaux similar (but not identical) to the opening one.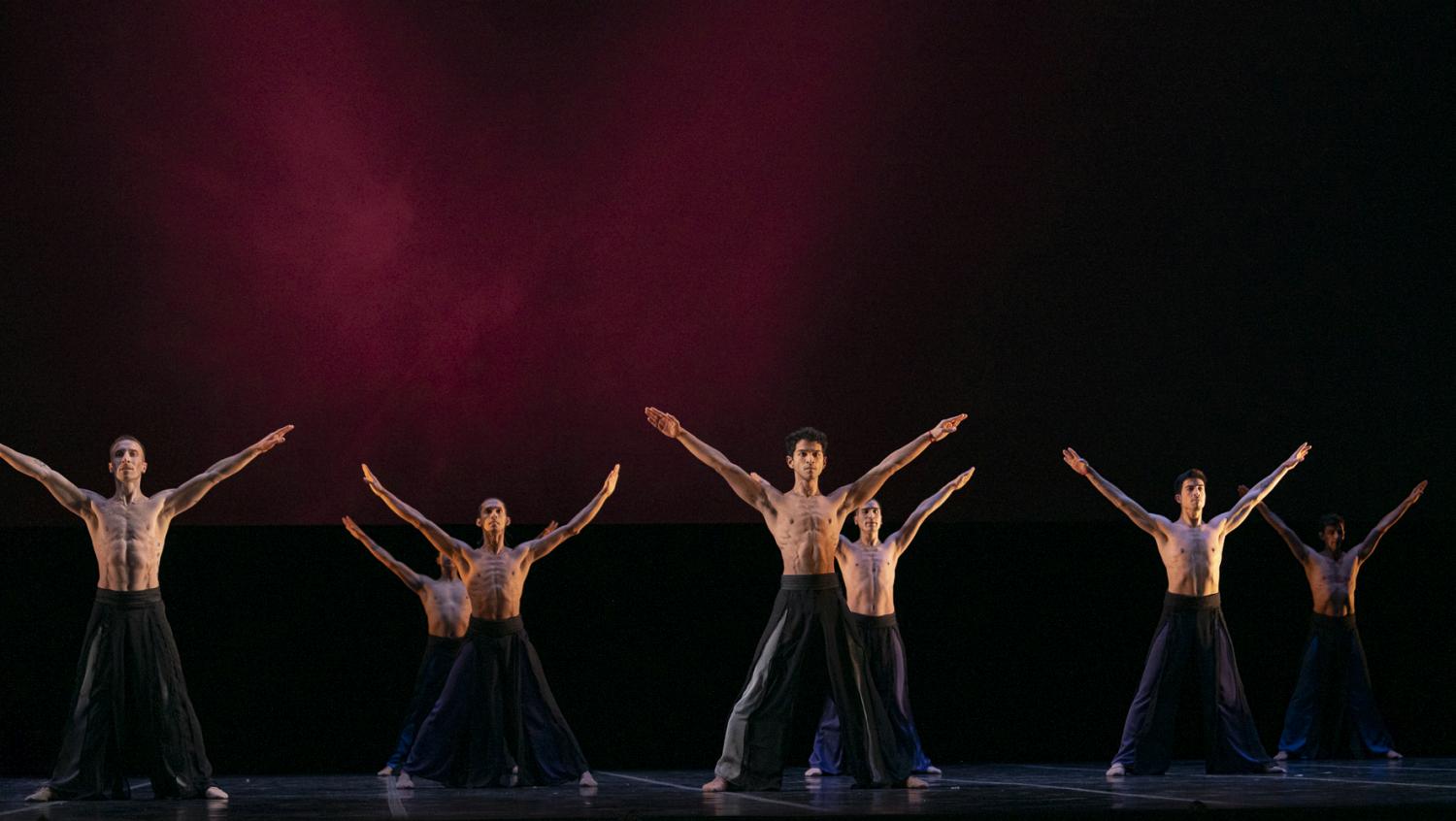 "Suite en blanc" features traditional values of masculinity. With that in mind, my first impression of the men in "Windgames" was that of incongruity. Wearing wide black pants with blue or red stripes on either side (costumes: Stephanie Bäuerle), they stood motionless, legs apart, staring into a purple, stardust-like fog on the backdrop. Their bare, sometimes tattooed torsos oozed the virility of brawny tigers, which accidentally had ended up in a coffee party ambience created by Tchaikovsky's playful "Violin Concerto". Perhaps this discrepancy had degenerated their instincts, causing them to constantly switch between boxer-like muscle flexing and lyrical softness? Also Davide Dato (a first soloist of the Vienna State Ballet who guested with the Ballet Estable), who led the men, constantly switched between being powerful and soft. His role wasn't quite clear. He emerged from between the lines of men, as if apprehending some unknown future, cowered when being suddenly attacked from an invisible threat, and reached out for help from the (meanwhile) ivory-colored fog.
As "Windgames" continued, my initial impression faded while other aspects came to the fore. Perhaps that's because de Bana choreographed the piece in stages, shifting perspectives over time? The first part (set to the Violin Concerto's 1st movement) was tailored to the Vienna State Ballet, the second to the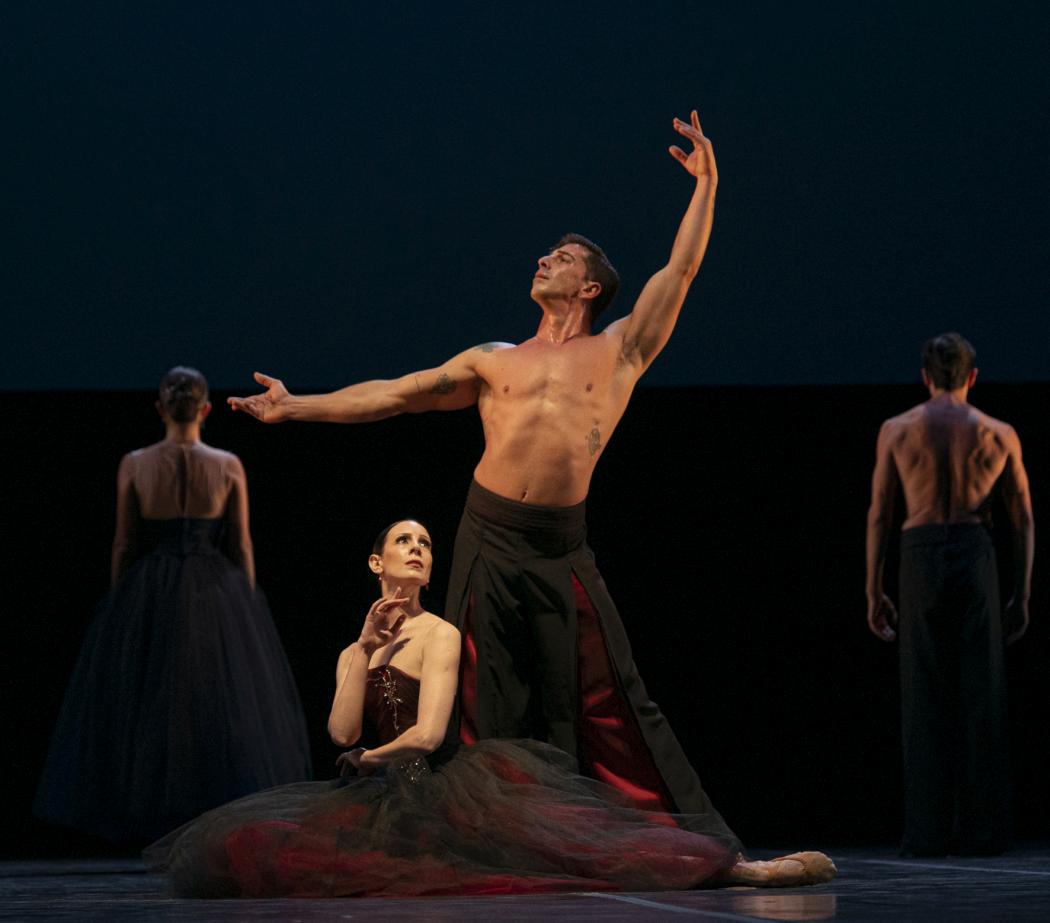 Shanghai Ballet. In 2020, when working with the Tokyo City Ballet, he added the third part (starring Olga Smirnova and Semyon Chudin as guest dancers).
Next to eighteen men in total, de Bana included four women, wearing strapless, black and dark red dresses, their ankle-length skirts covered under several layers of black tulle. Though their outfits (except for the soft shoes) suggested elegant dames, their postures and movements were those of modern, athletic women. Two of them were engaged in a relationship with a man. Camila Bocca and Martín Vedia embraced one another tenderly, but parted. Later, they reunited in an intimate pair dance (to which Dato, for whatever reason standing in various corners of the stage, rearranged the positions of his head and hip and the angle of his arms like a puppet in danger of falling apart). Paula Cassano and Igor Vallone danced the other, much longer and more intense pas de deux. Unlike Bocca, Cassano wavered between longing for her admirer and eluding his touch. As soon as she decided for the latter, both repeated exactly the same advances anew. These included references to "Swan Lake" (Cassano's arms undulated like Odette's), "Les Sylphides" (Cassano sat to Vallone's feet like the sylph to the poet's), and quoted Nijinsky in "Afternoon of a Faun". Iconic poses of the faun returned at other times, too. De Bana also took inspiration from Hans van Manen and – alone because of the optics – Marco Goecke.
Jan-Latham Koenig and the Orchestra of the Teatro Colón gave expert renditions of Lalo's and Tchaikovsky's scores. The leading part in the "Violin Concerto" was played by Oleg Pishenin.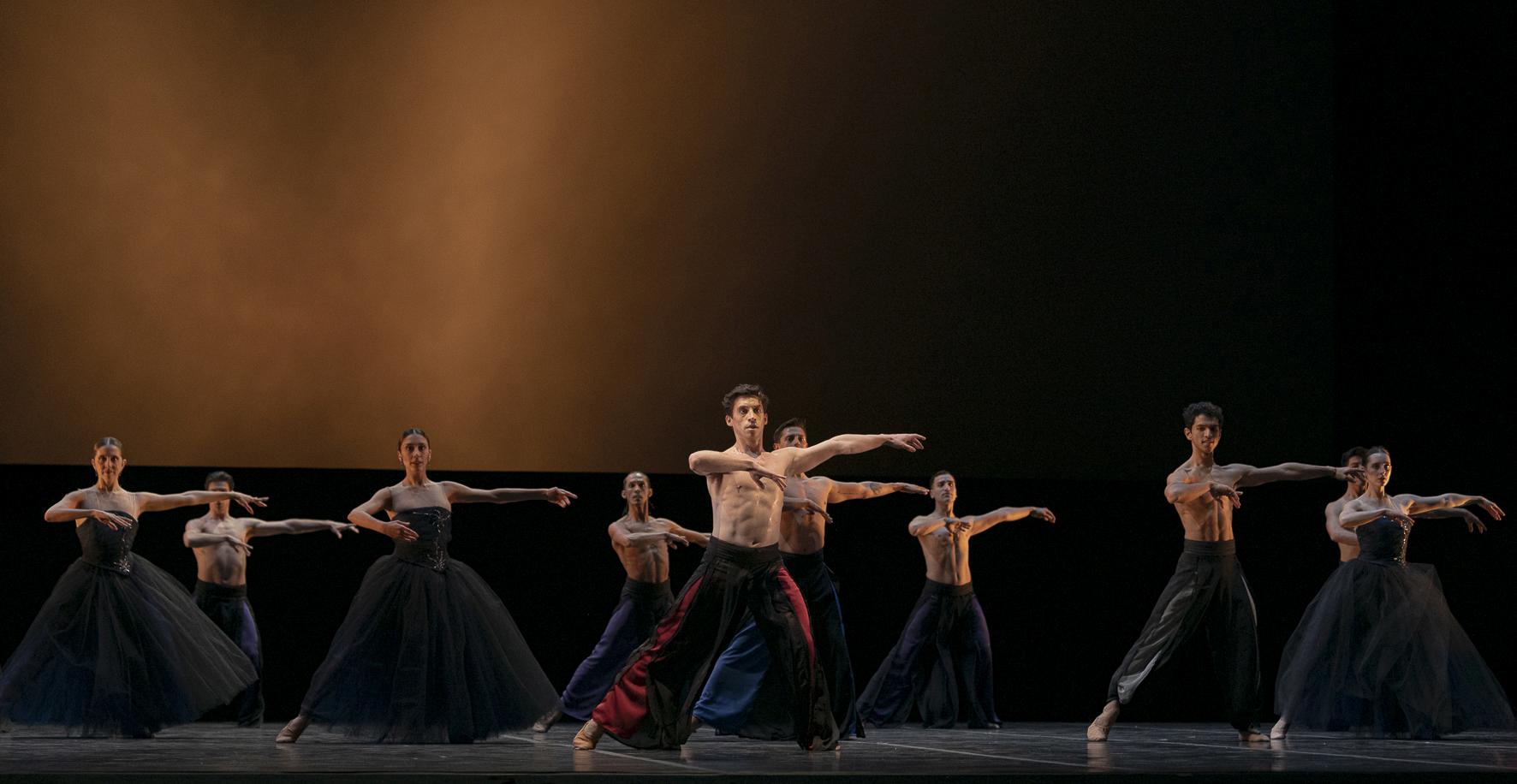 Links:

Website of the

Teatro Colón

Rehearsal "Windgames"

Photos:

1.

Ensemble, "Suite en blanc" by Serge Lifar,

Ballet Estable del Teatro Colón

2023 ©

Arnaldo Colombaroli

2.

Ensemble, "Suite en blanc" by Serge Lifar,

Ballet Estable del Teatro Colón

2023 ©

Arnaldo Colombaroli

3.

Ensemble, "Suite en blanc" by Serge Lifar,

Ballet Estable del Teatro Colón

2023 ©

Arnaldo Colombaroli

4.

Ensemble, "Windgames" by Patrick de Bana,

Ballet Estable del Teatro Colón

2023 ©

Máximo Parpagnoli

5.

Paula Cassano and Igor Vallone,

"Windgames" by Patrick de Bana,

Ballet Estable del Teatro Colón

2023 ©

Máximo Parpagnoli

6.

Ensemble, "Windgames" by Patrick de Bana,

Ballet Estable del Teatro Colón

2023 ©

Máximo Parpagnoli

Editing:
Samuel Snodgrass