"Four Temperaments" ("The Four Temperaments" / "The Chairman Dances" / "Frank Bridge Variations" / Full Frontal" / extra: "After the Rain")
Dutch National Ballet
Dutch National Opera & Ballet
Amsterdam, The Netherlands
September 17, 2023 (matinee)
by Ilona Landgraf
Copyright © 2023 by Ilona Landgraf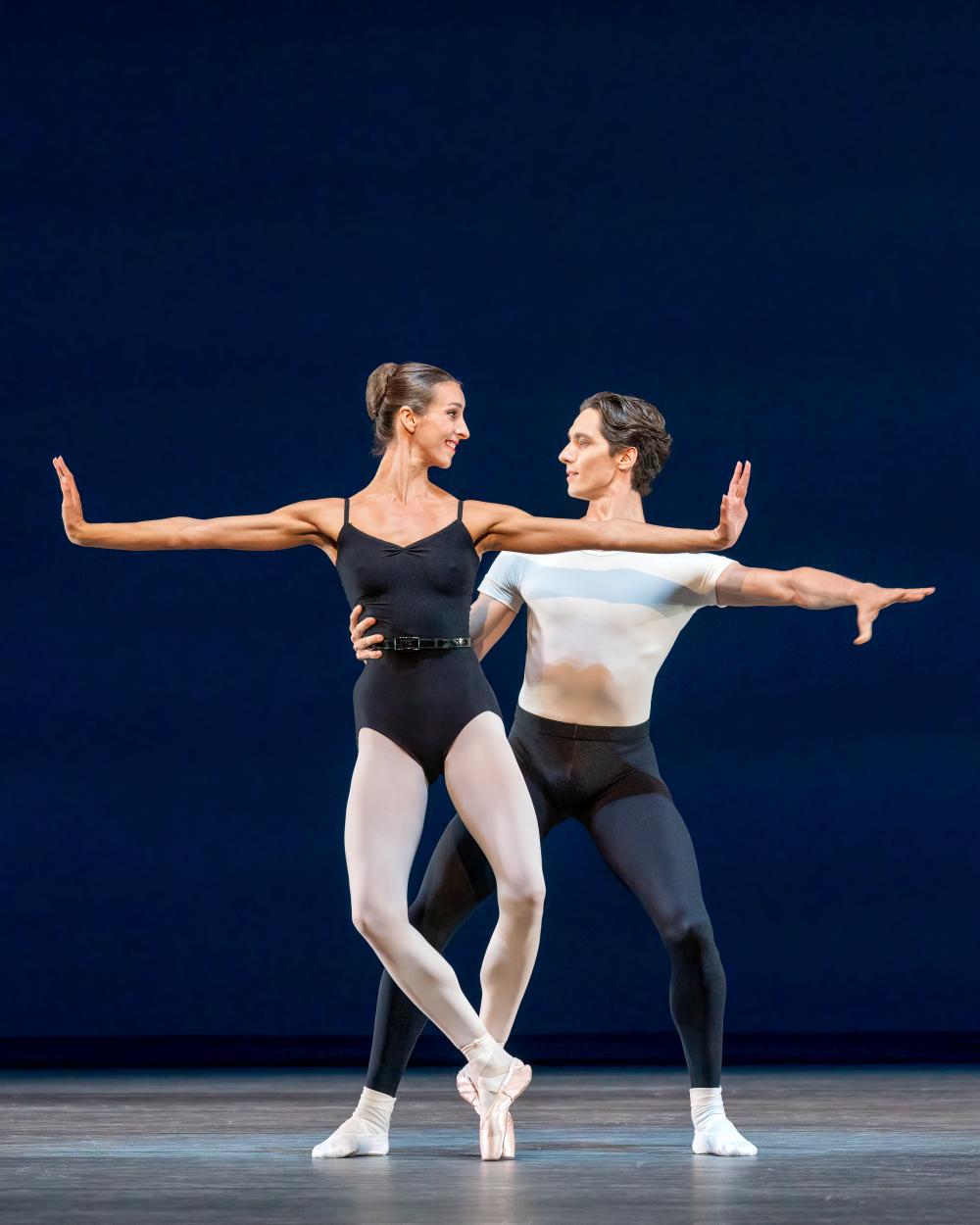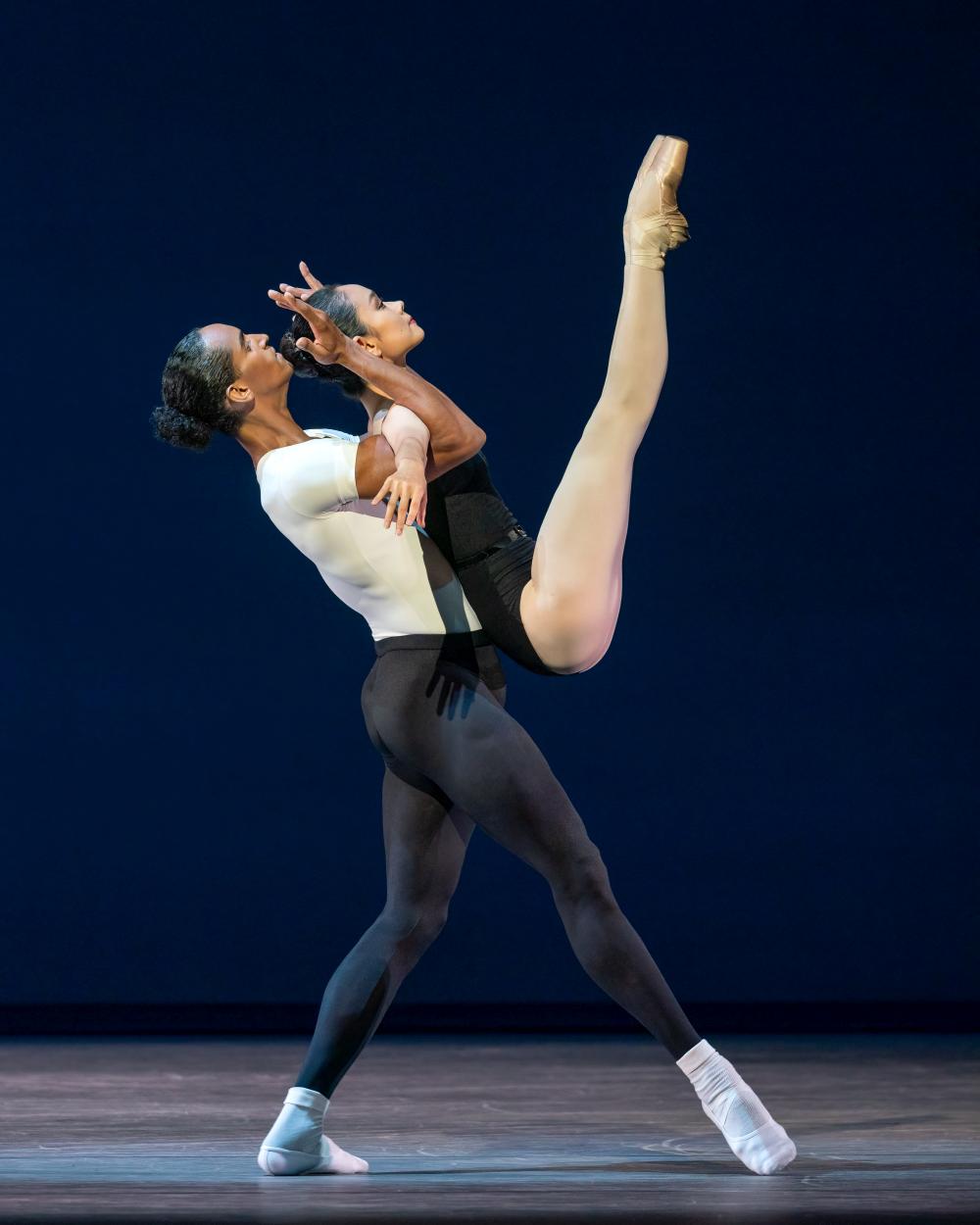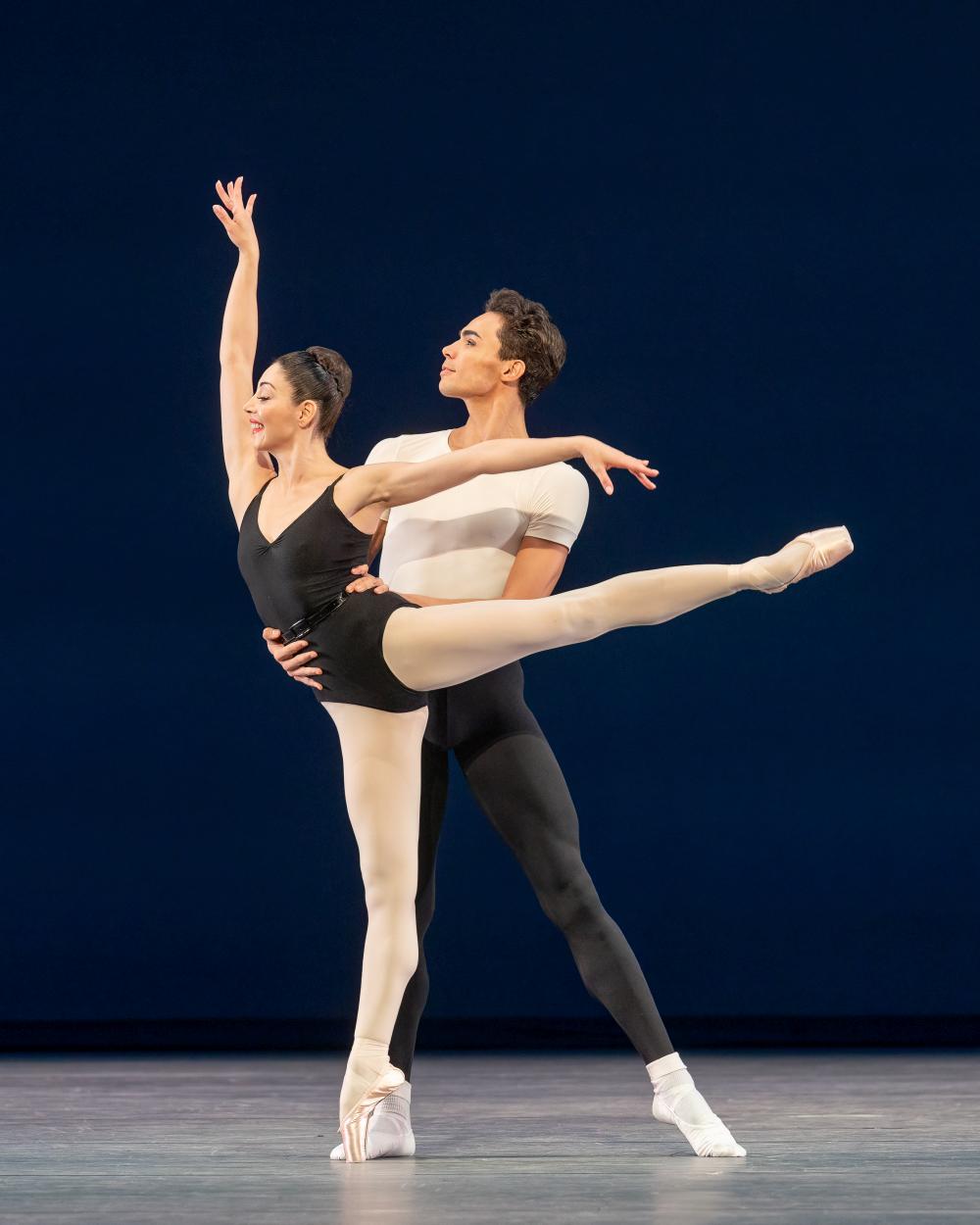 It's unclear whether the Dutch National Ballet's new mixed bill "Four Temperaments" took its title from one of the pieces – George Balanchine's "The Four Temperaments" – or alludes to the different personalities of all choreographers involved. Next to Balanchine are the company's artistic director Ted Brandsen, doyen Hans van Manen, and the Spaniard Juanjo Arqués, a regular contributor to the repertory. Let's disclose later, why Christopher Wheeldon's "After the Rain" was added as an extra to the matinee.
Balanchine's "The Four Temperaments" relates to the Hippocratic medical concept of humourism that four bodily fluids (blood, yellow bile, black bile, and mucus) affect human personality traits and behaviors. Depending on which fluid dominates, an individual is melancholic, sanguine, phlegmatic, or choleric. For what would become his first piece for Ballet Society (the predecessor of New York City Ballet) in 1946, Balanchine commissioned a half-hour score by Paul Hindemith.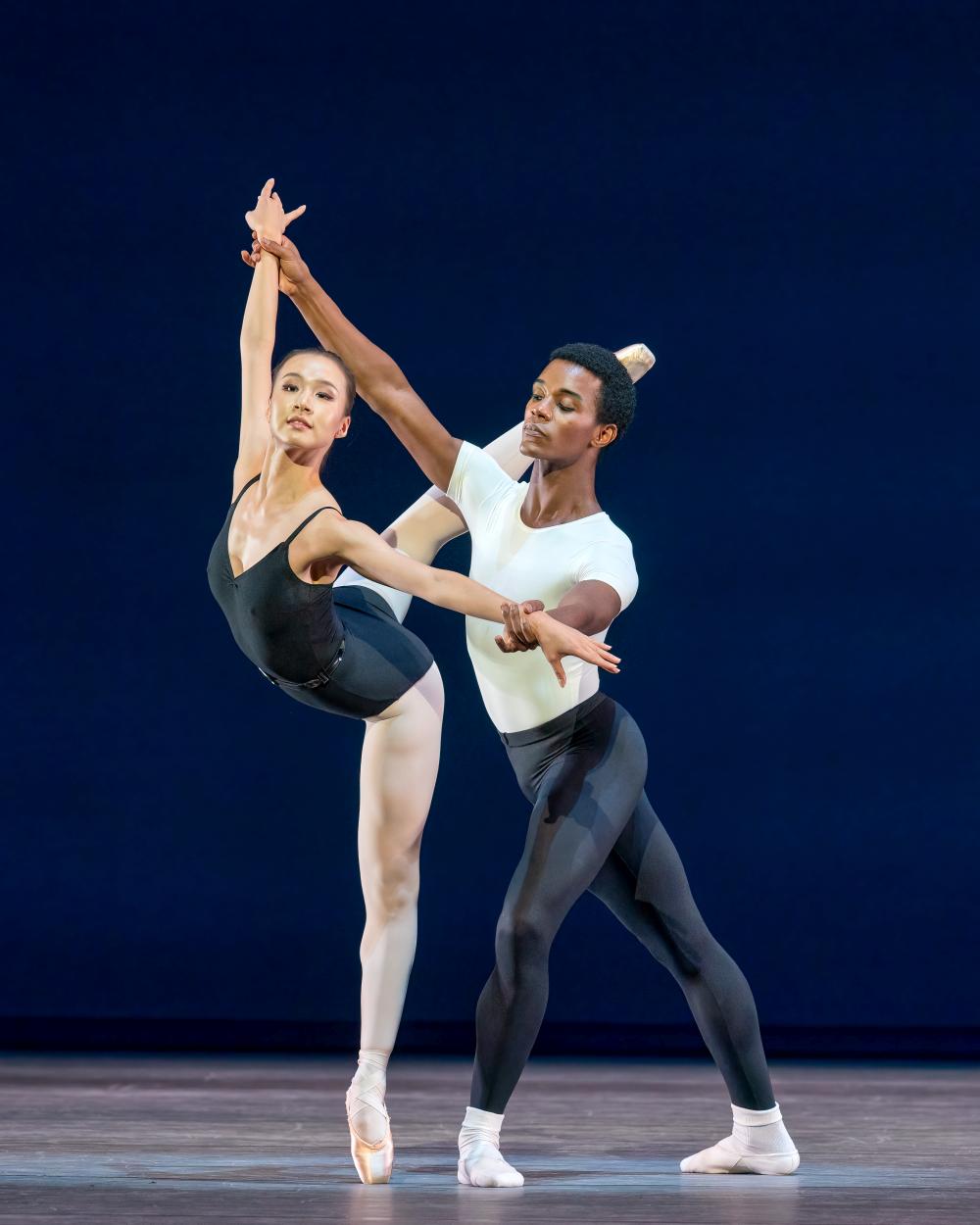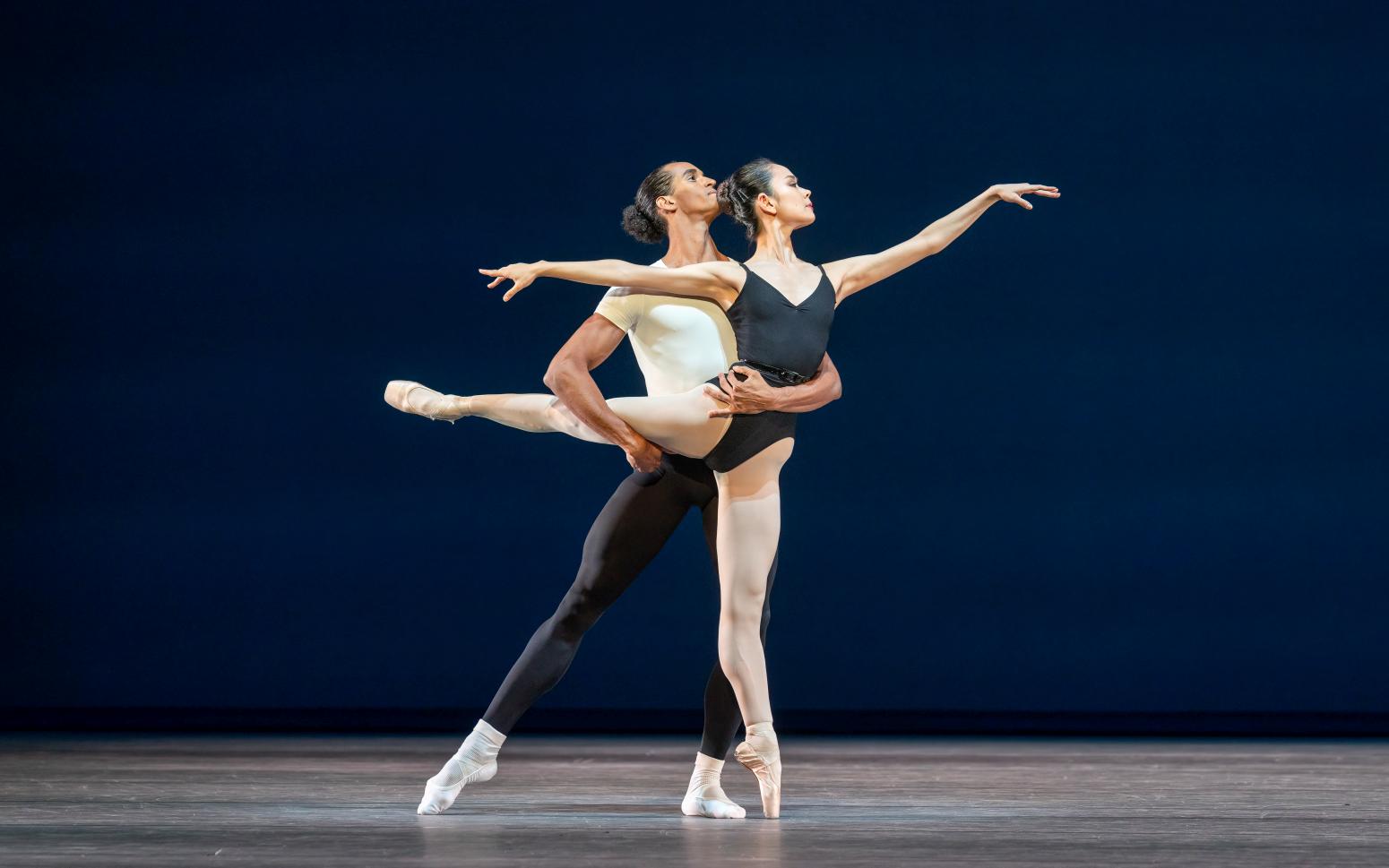 Edwin Denby (1903 – 1983), a renowned US dance critic, described it as "exceptionally powerful thick-flowing." Altogether, the ballet fascinated him: "It is full of Beckmesserish dance jokes, classic steps turned inside-out and upside-down, retimed, reproportioned, rerouted […]" and full of "every kind of oddity of device or accent," he wrote in 1952. Denby praised Balanchine's wealth of ideas – ideas which, though innovative, stayed faithful to classicism. "The Four Temperaments" became a major success.
I was less impressed. What was cutting-edge almost eighty years ago, looks affected today. What was once bold and funny, has become a series of weird (and at times cringy) posturing. Through the perspective of dance history the piece might be interesting to watch, but it's hardly worthwhile entertainment to whet the audience's appetite for the new season. Especially not, if some dancers haven't yet taken to Balanchine's style like ducks to water. The female corps often looked awkward, spoiling the fine performances of the soloists.
Young Gyo Choi pranced like a big cat through the melancholic variation; Riho Sakamoto, as sanguine as self-absorbed, did what pleased her (I'm not sure whether she recognized that it was Timothy van Poucke who followed her every whim). The arms of Davi Ramos – whose determined gaze defied the phlegm of his role – plowed through the air as if fishing for magic, and as the choleric, the tall and classy Floor Eimers was the most Balanchinesque of all.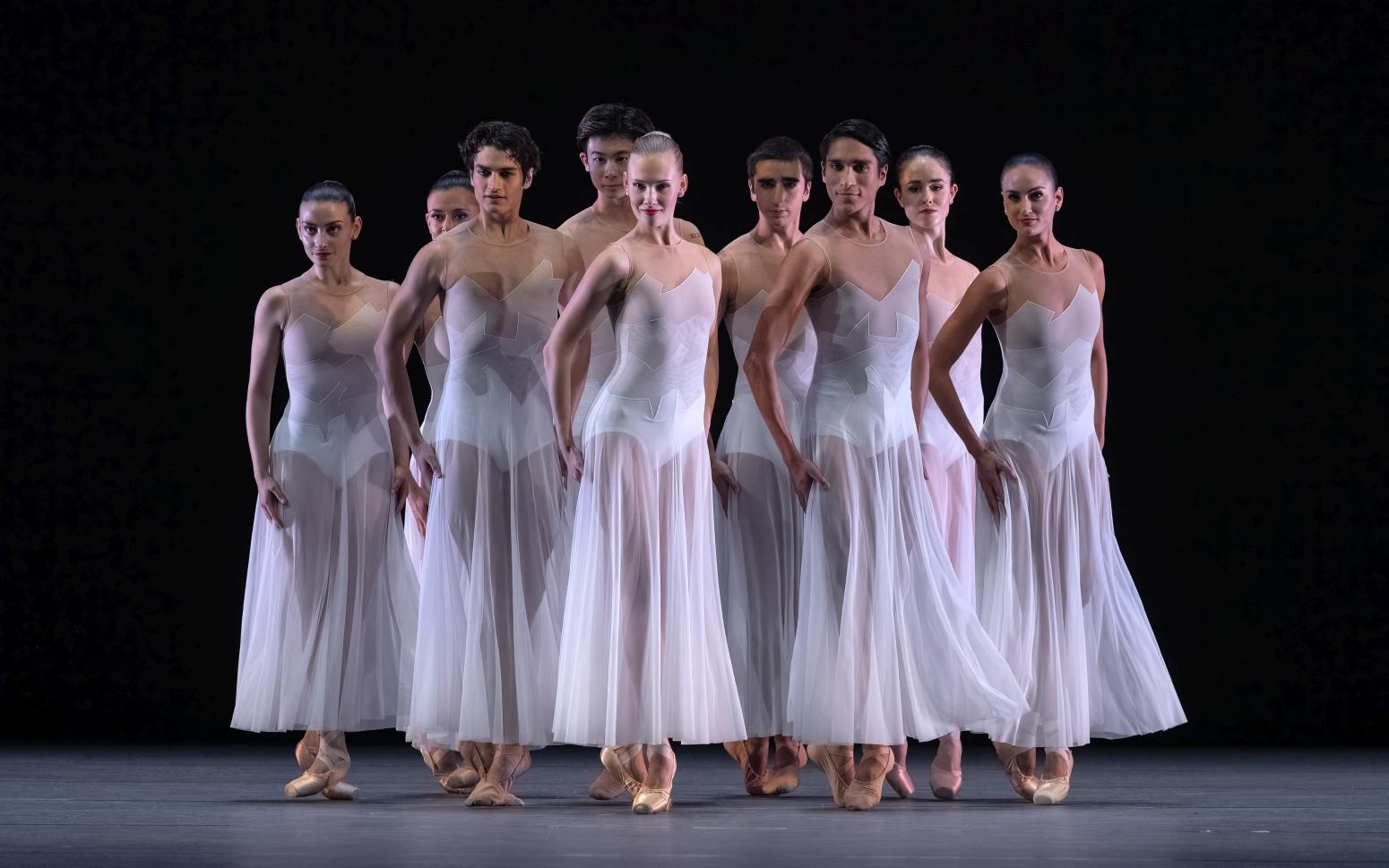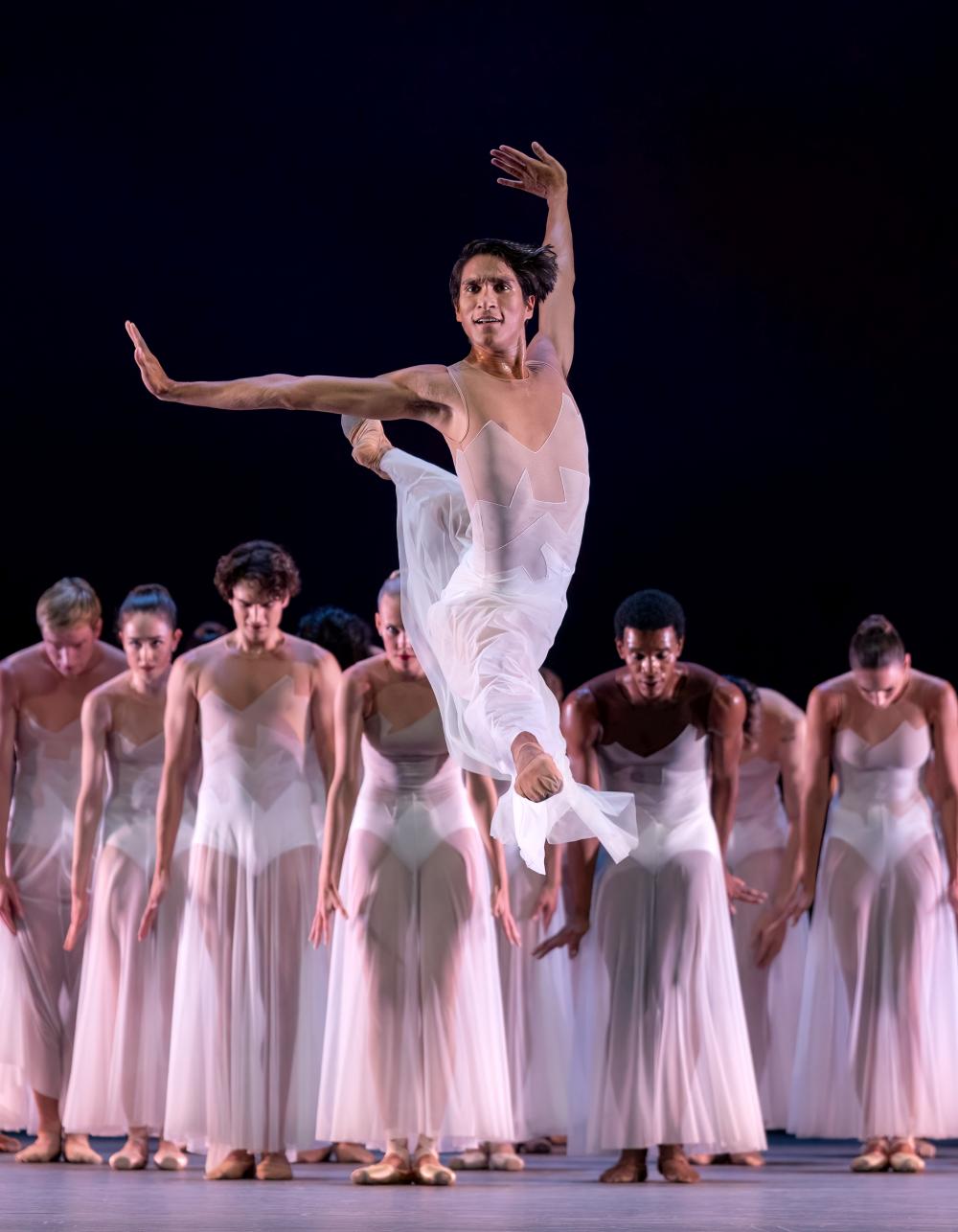 Brandsen's "The Chairman Dances" should have premiered one year ago, but was postponed due to the war in Ukraine. Though the fighting continues, Brandsen decided to bring his ballet on stage this season. The twelve-minute piece has an urging score taken from an operatic composition by John Adams. Its vibes recall ballroom dancing, but also include eerie and weirdly stumbling passages. Of the eighteen dancers in total, both men and women wear long white tulle skirts and white corsages made of multiple layers of fabric (design by François-Noël Cherpin) which blur the distinction between the sexes. The movement qualities of men and women are largely indistinguishable as well, except that the lifting work is still done by the men.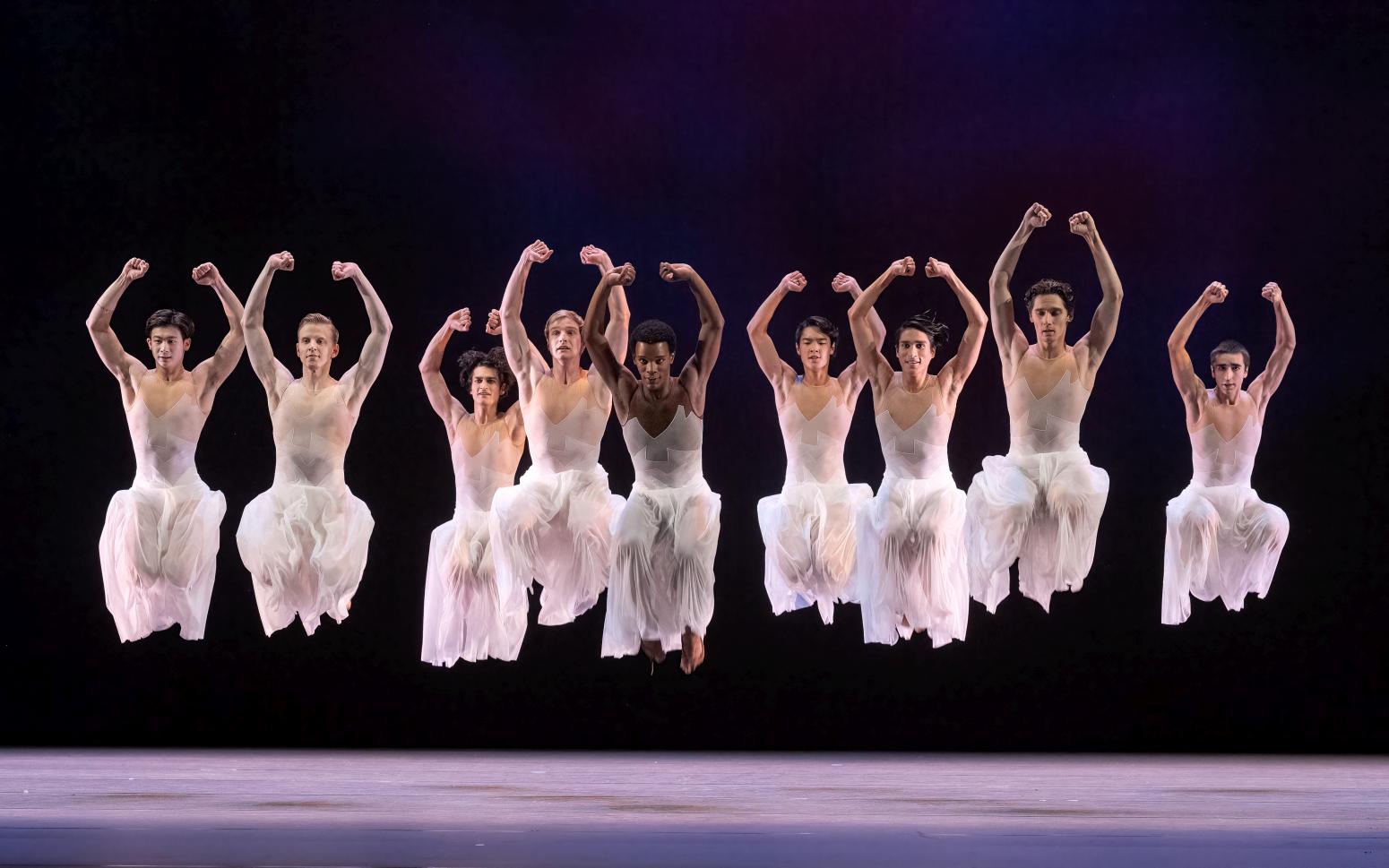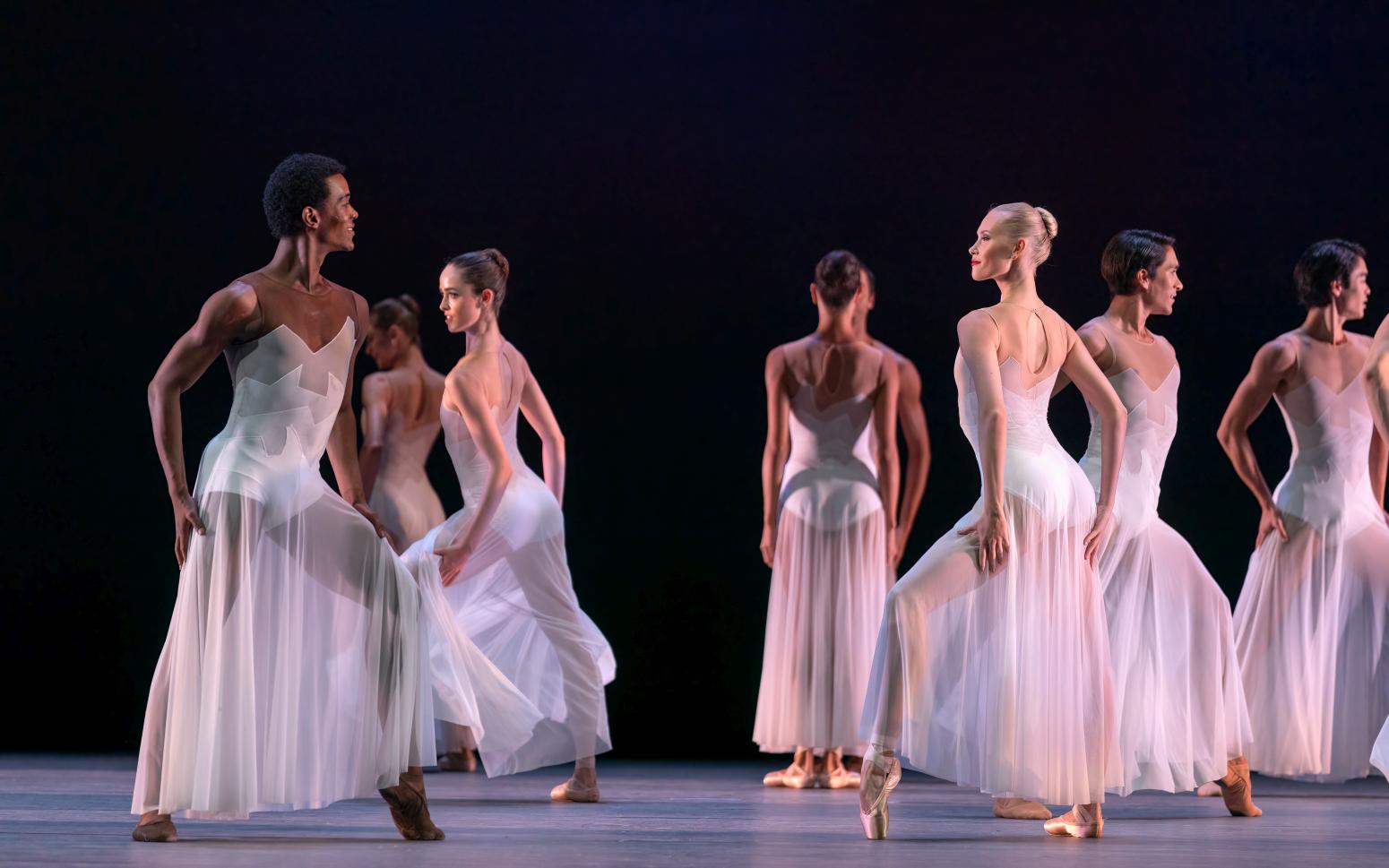 Brandsen presents a coherent unity that conglomerates and disperses in quick succession. A women-only sequence reminded me of the Wilis in "Giselle", but for the main part I couldn't help but think of Hans van Manen. Swaggering steps, hands placed on the thighs, defiant glances, arms held upwards in a V – that's van Manen's handwriting.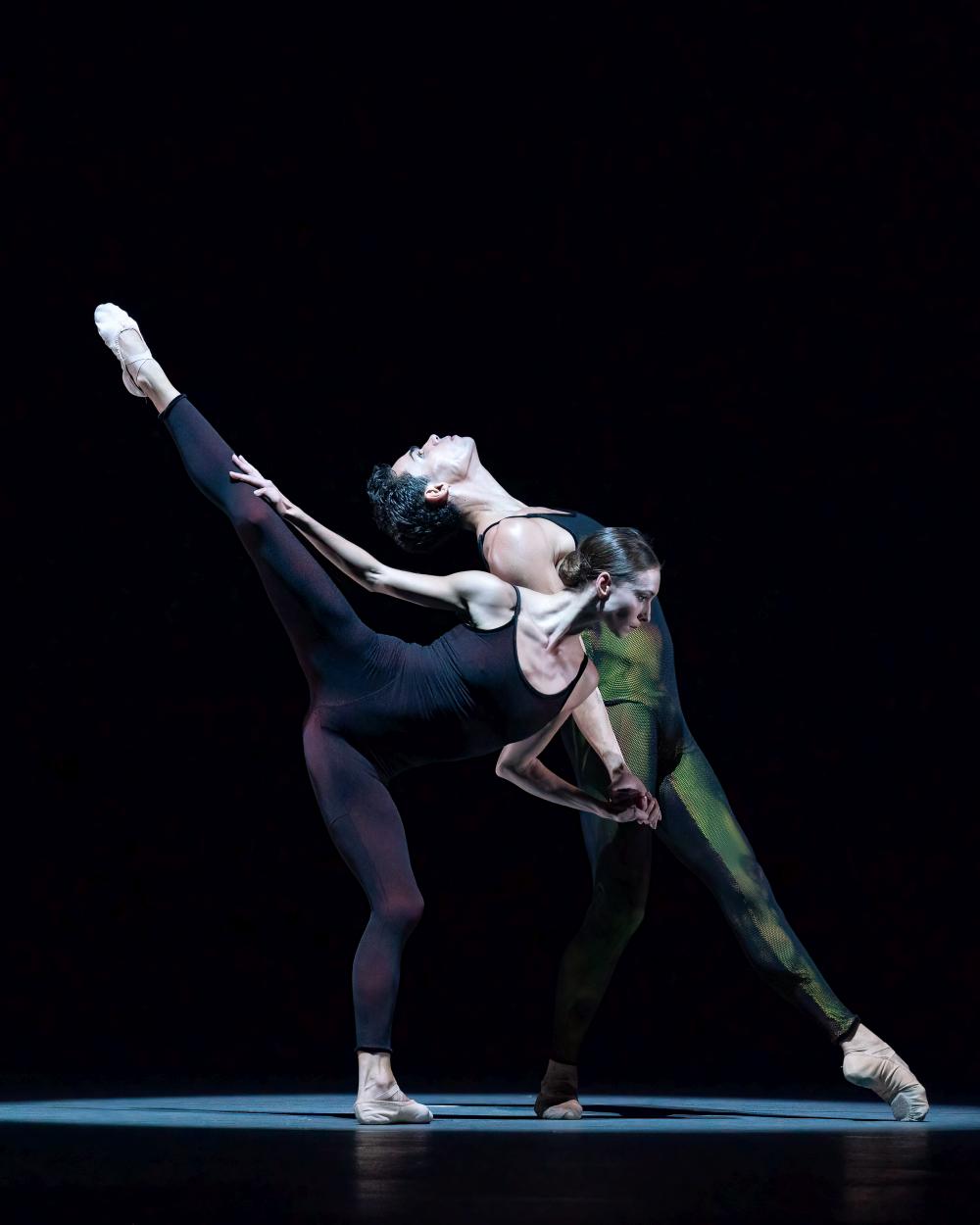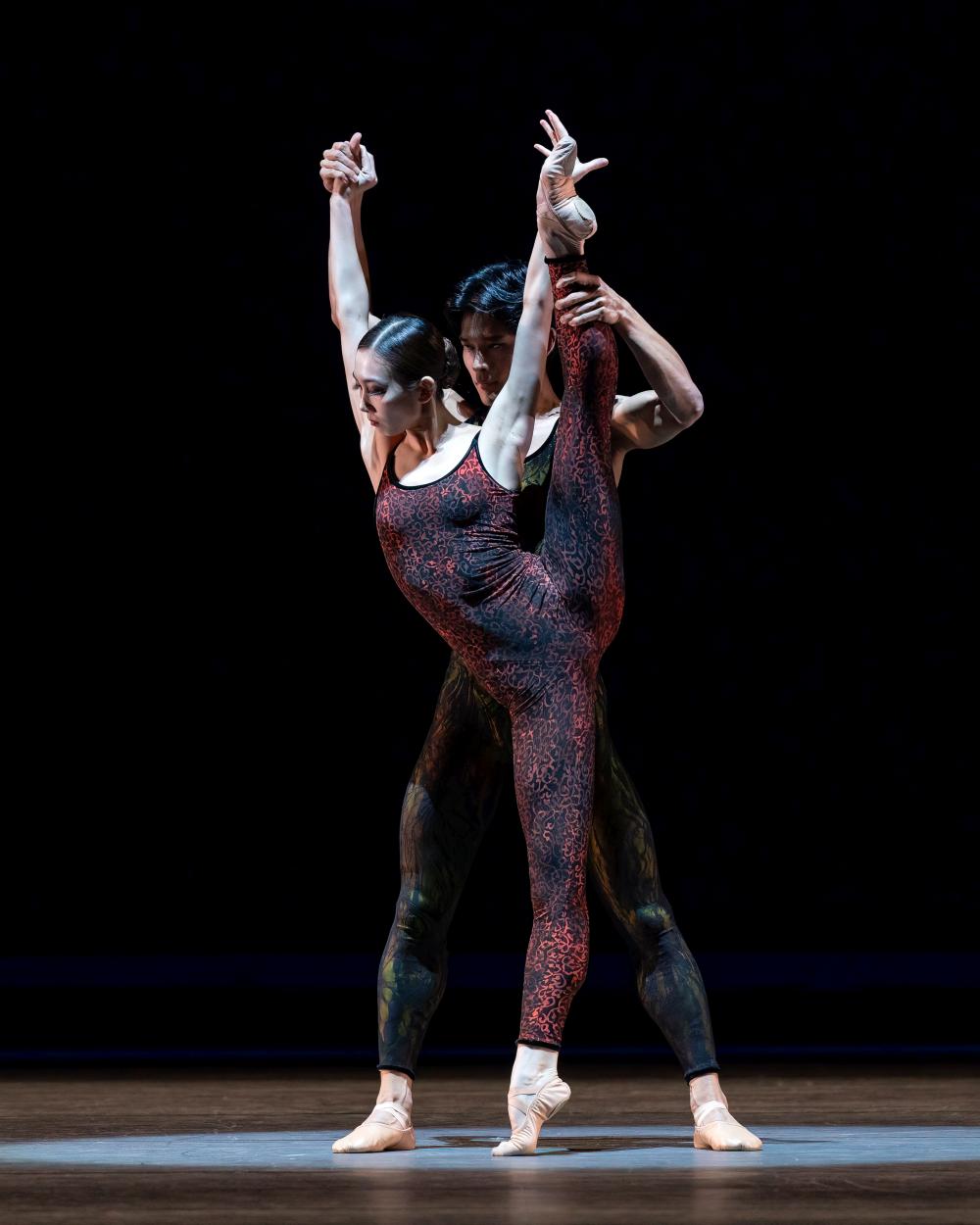 His "Frank Bridge Variations" (2005), shown right after "The Chairman Dances", made the similarities obvious. Perhaps that's because van Manen is in the company's DNA. Every step, every gesture had clarity and punch. Instantly, the air sizzled with tension. Victor Caixeta, flush with adrenaline, buzzed like an angry hornet after Olga Smirnova had sauntered off and Young Gyo Choi (partnering Qian Liu) again proved an inexhaustible dynamo, his legs slicing through the air like a hot knife through butter.
But "Frank Bridge Variations" also has a somber part. It's Funeral March isn't meant to be uplifting and definitely wasn't. I've never experienced it like this, but it sucked away the energy.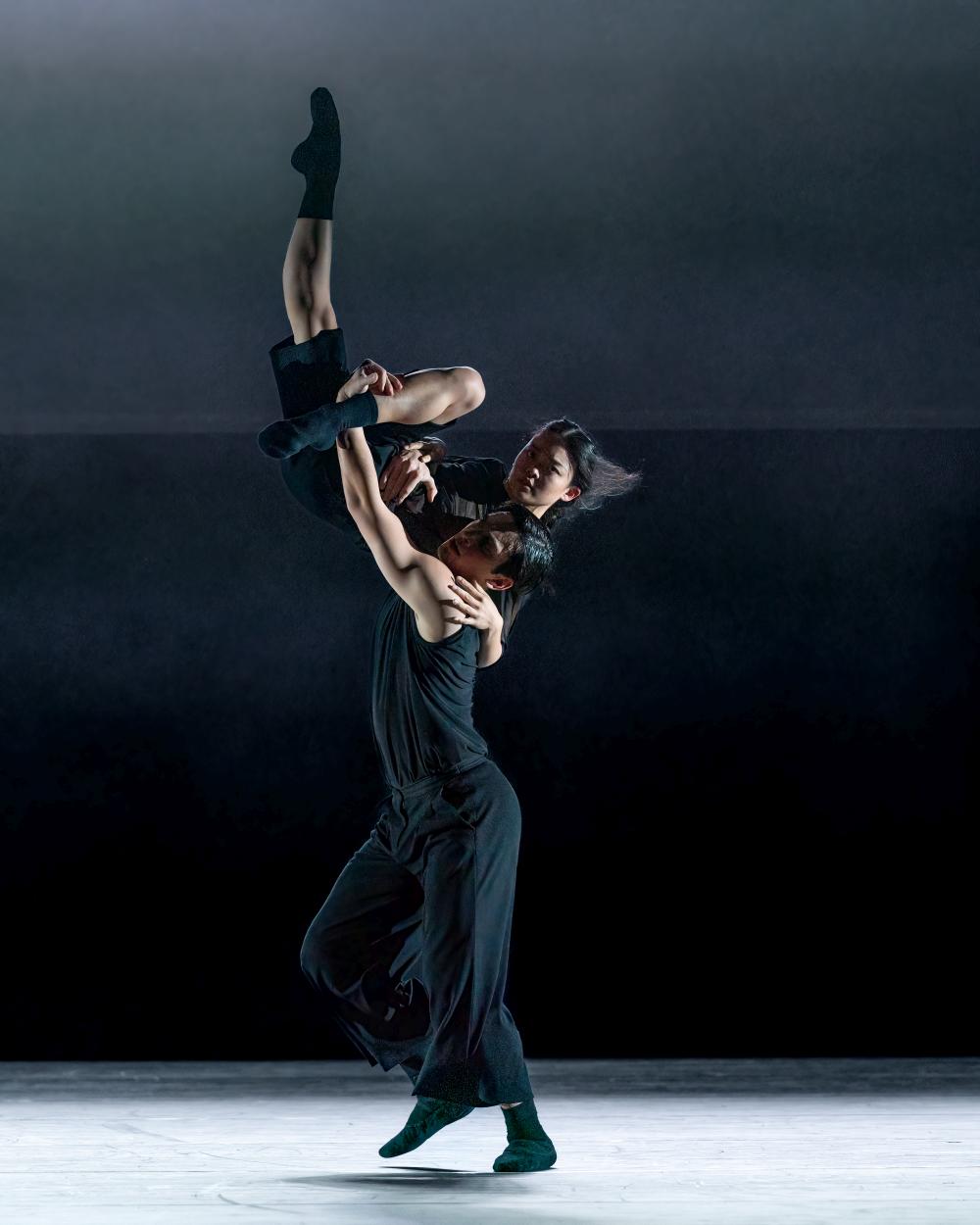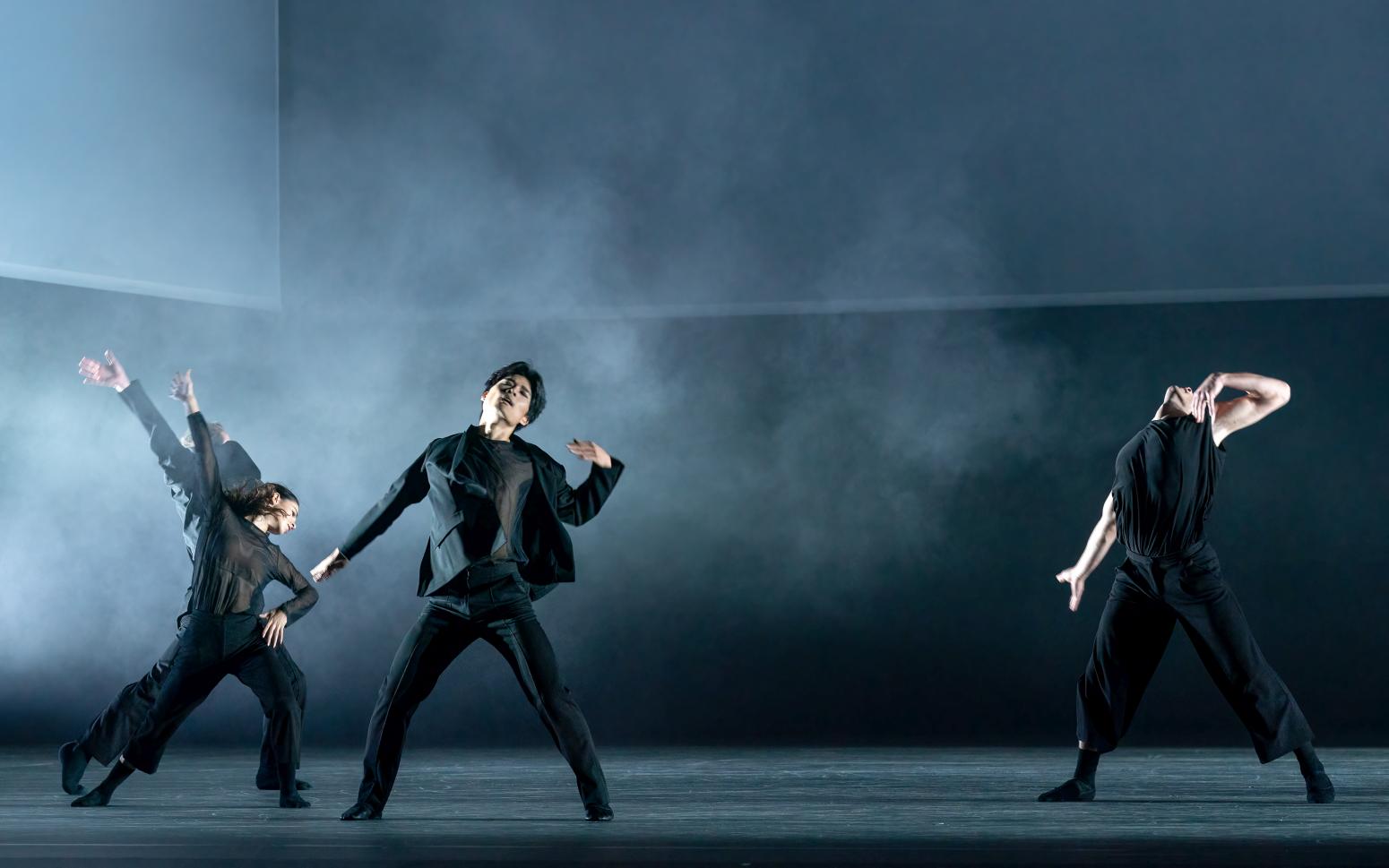 Things turned thoroughly bleak in the last piece, Arqués's new creation "Full Frontal". The ear-piercing thunder that prompted the curtain to rise bode ill, and the gray box-like space it revealed intensified my apprehension. Accompanied by rhythmic string music highlighted with electronics (Michael Gordon's Weather One) four women and five men sprinted across the stage, chased one another, practiced acrobatic duets, or enjoyed themselves in unrelated solos. One man fought against an invisible threat, another against the power games of a ruthless business top dog. Riho Sakamoto depicted an overwrought rebel who, though disoriented and worn out, couldn't stop revolting. I tend to believe that Giorgi Potskhisvili, who at times covered her desperate eyes, never leaving her side, protected rather than manipulated her.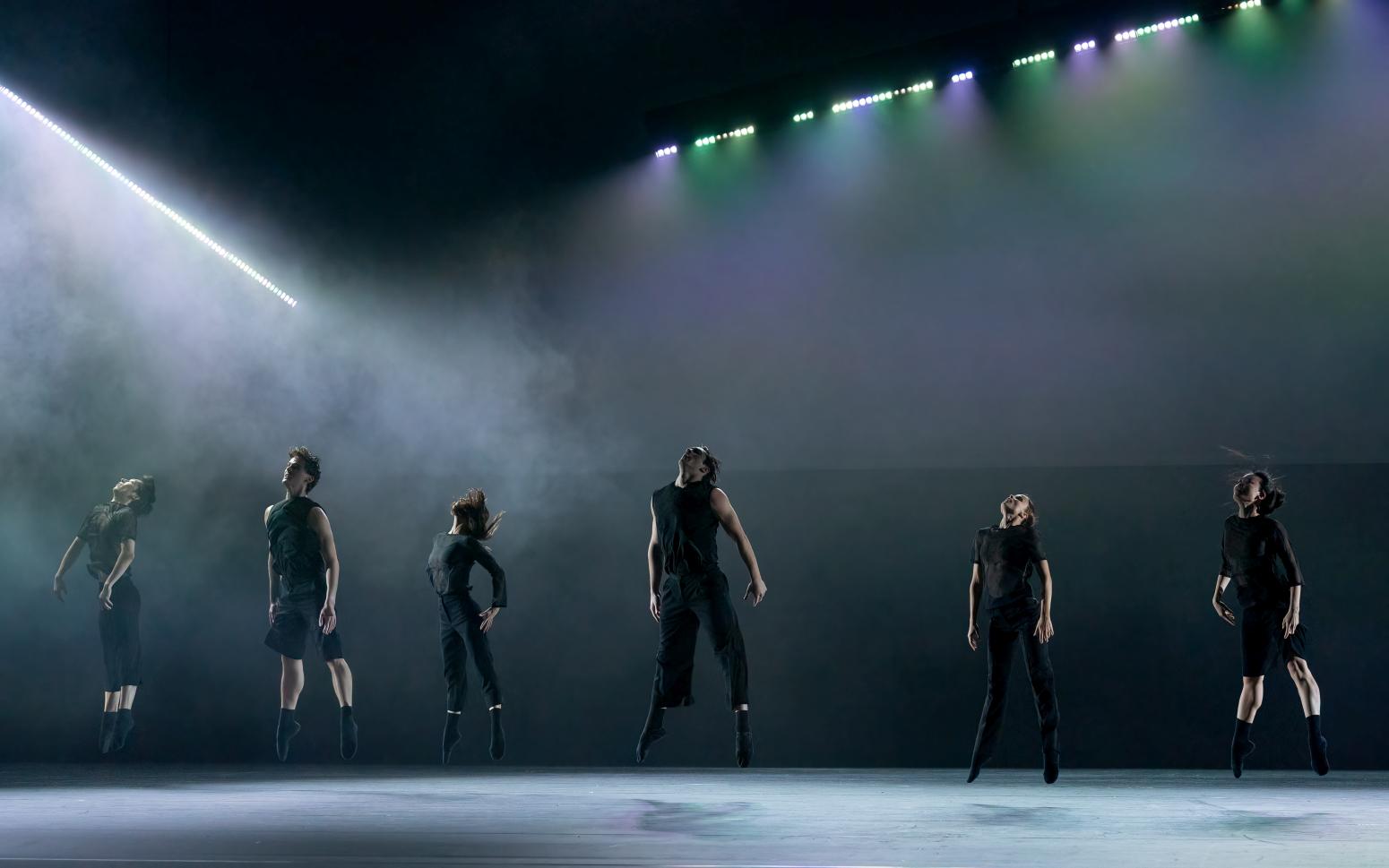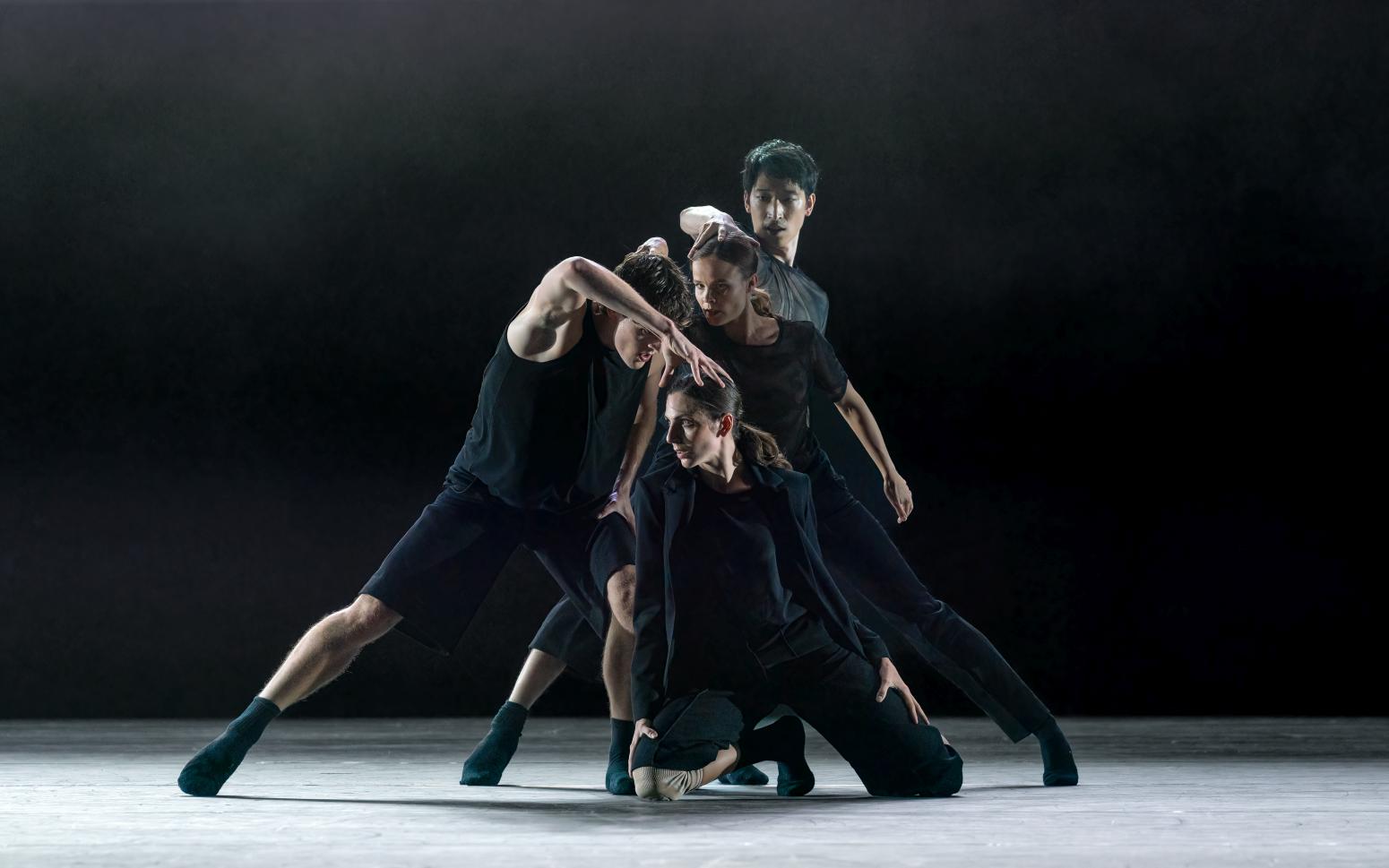 The misery climaxed when long metal bars dropped onto the stage like a collapsing construction. As an aftermath, they left the dancers stretched out on the ground as if dead, their bulging chests hinting at decay. White fog covered them like a death blanket. This was the moment the black suited Young Gyo Choi (for the third time a core figure) intervened. Stepping onto the scene from his observer's post in the rear, one wave of his hand opened the blanket of fog. Everyone recovered and resumed the previous routine. Improvement wasn't within sight.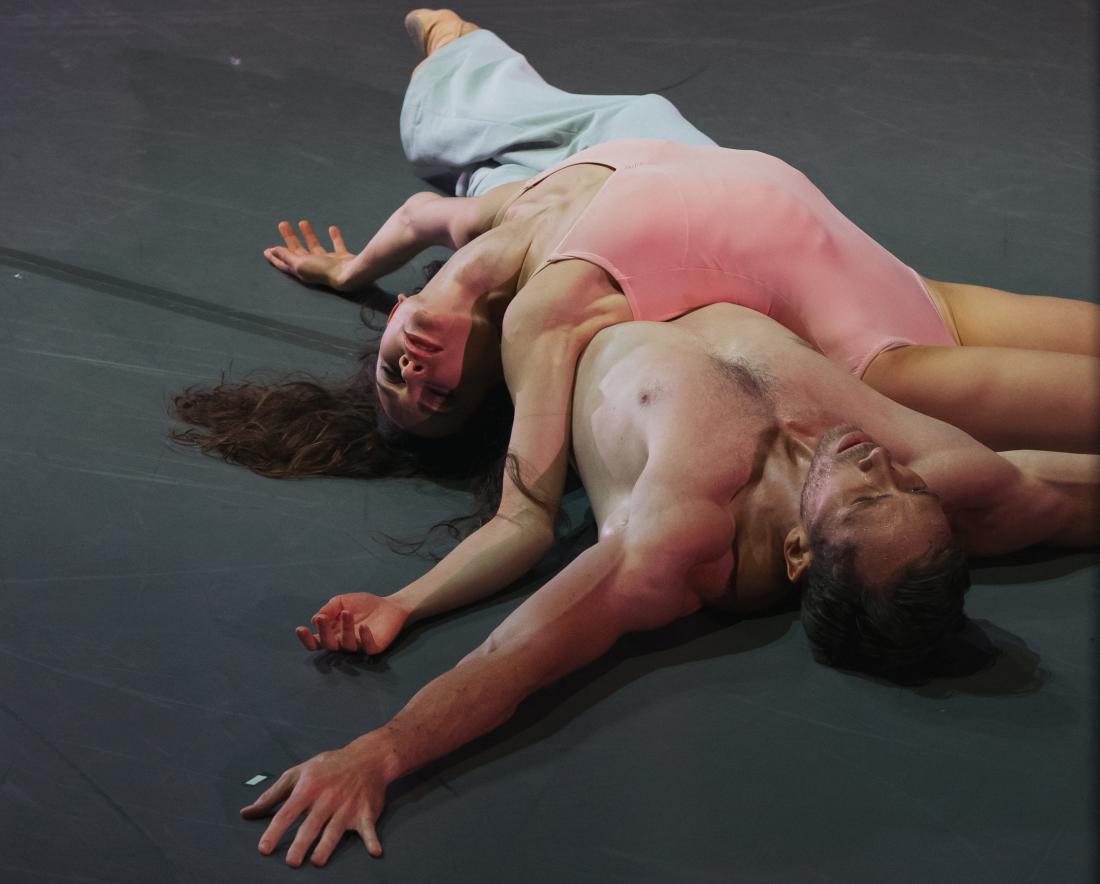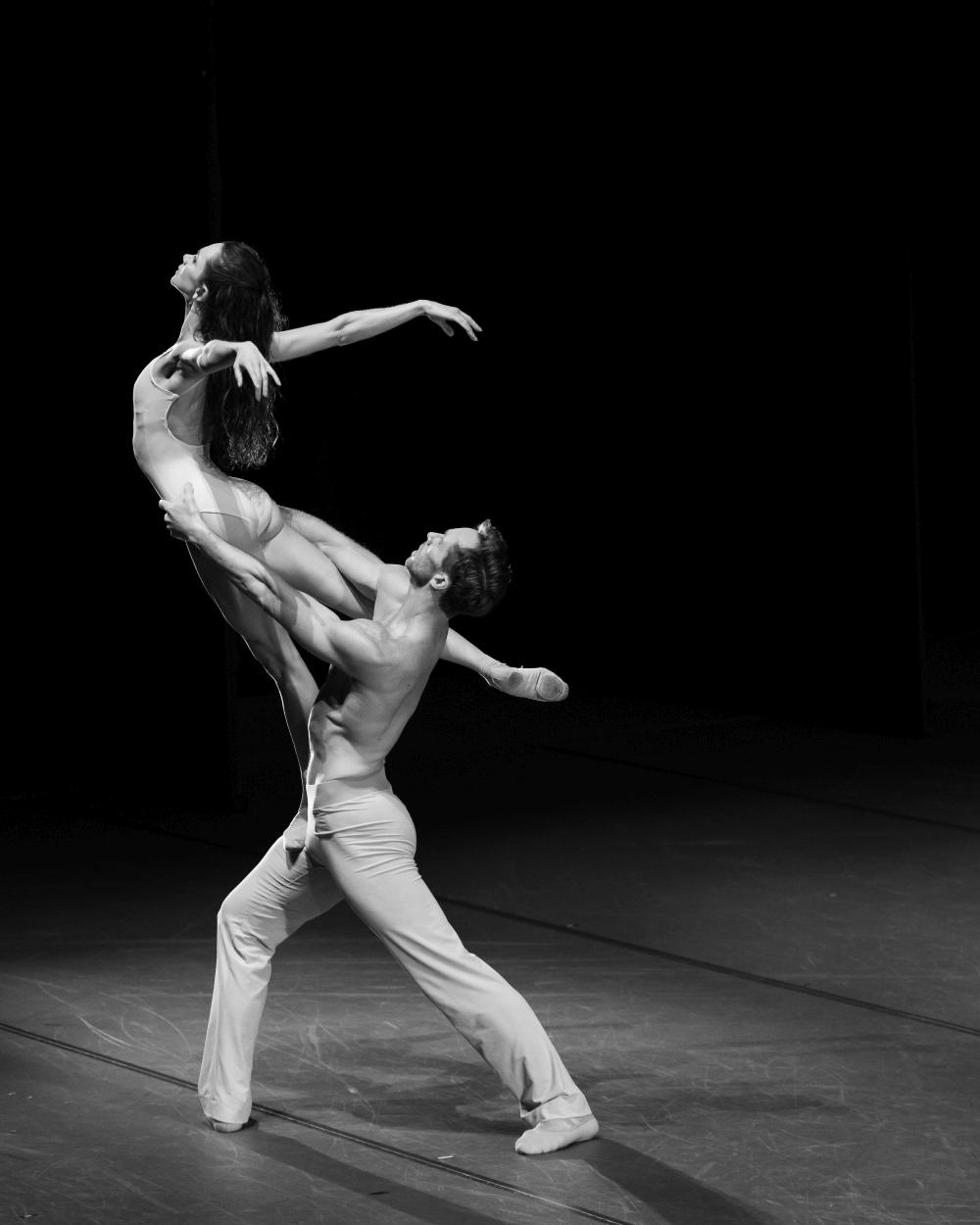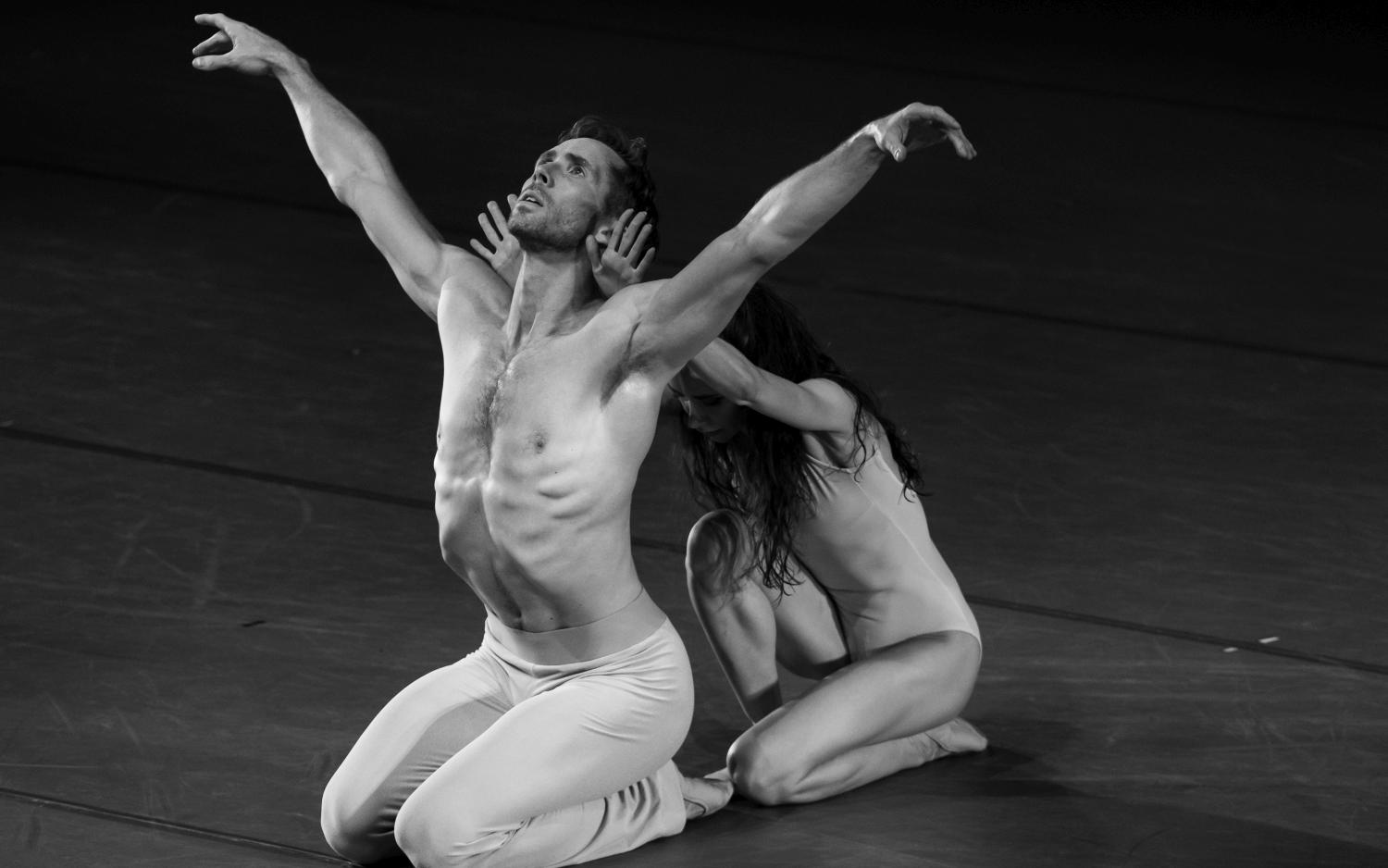 The matinee would have been dispiriting, hadn't there been a surprise: James Stout, a principal dancer of the company, retired from the stage after sixteen years with Dutch National Ballet. He chose to rehearse a new piece for his farewell, Christopher Wheeldon's intimate pas de deux "After the Rain". The ease and naturalness with which Stout partnered Anna Ol attested to Brandsen's laudation: "All the ballerinas wanted to dance with James." Showered with heartfelt applause, Stout had to fight his emotions. Witnessing a career culminate like this made the matinee precious after all.
Links:
Website of the Dutch National Ballet
"Four Temperaments" – trailer
"

Four Temperaments" – behind the scenes (video)

A Tribute to James Stout (video)

Photos:

(Some photos show a different cast from an earlier performance.)

:

1.

Floor Eimers

and

Jan Spunda, "

The Four Temperaments" by George Balanchine, Dutch National Ballet 2023

©

Marc Haegeman

2.

Jessica Xuan

and

Davi Ramos, "

The Four Temperaments" by George Balanchine, Dutch National Ballet 2023

©

Marc Haegeman

3.

Maia Makhateli and Victor Caixeta,

"

The Four Temperaments" by George Balanchine, Dutch National Ballet 2023

© Marc Haegeman

4.

Jessica Xuan and Davi Ramos,

"

The Four Temperaments" by George Balanchine, Dutch National Ballet 2023

© Marc Haegeman

5.

YuanYuan Zhang and Daniel Robert Silva,

"

The Four Temperaments" by George Balanchine, Dutch National Ballet 2023

© Marc Haegeman

6.

Rafael Valdez, Kira Hilli, Emma Mardegan, Luiza Bertho, Sandra Quintyn, Beatriz Kuperus, Dingkai Bai, Manu Kumar, Rafael Valdez, and Guillermo Torrijos, "The Chairman Dances" by Ted Brandsen, Dutch National Ballet 2023 © Marc Haegeman

7.

Rafael Valdez and ensemble, "The Chairman Dances" by Ted Brandsen, Dutch National Ballet 2023

© Marc Haegeman

8.

Daniel Robert Silva, Kira Hilli, and ensemble, "The Chairman Dances" by Ted Brandsen, Dutch National Ballet 2023

© Marc Haegeman



9.

Dingkai Bai, Rémy Catalan, Manu Kumar, Sander Baaij, Daniel Robert Silva, Koyo

Yamamoto, Rafael Valdez, Jan Spunda, and Guillermo Torrijos, "The Chairman Dances" by Ted Brandsen, Dutch National Ballet 2023

© Marc Haegeman



10.

Olga Smirnova and Victor Caixeta, "Frank Bridge Variations" by Hans van Manen, Dutch National Ballet 2023

© Marc Haegeman

11.

Qian Liu and Young Gyu Choi, "Frank Bridge Variations" by Hans van Manen, Dutch National Ballet 2023

© Marc Haegeman

12.

Conor Walmsley, Naira Agvanean, Young Gyu Choi,

and

Giorgi Potskhishvili, "

Full Frontal" by Juanjo Arqués,

Dutch National Ballet 2023

© Marc Haegeman

13.

Giorgi Potskhishvili and Riho Sakamoto,

"

Full Frontal" by Juanjo Arqués,

Dutch National Ballet 2023

© Marc Haegeman

14.

Sho Yamada, Conor Walmsley, Naira Agvanean, Giorgi Potskhishvili, Nina Tonoli, and Riho Sakamoto,

"

Full Frontal" by Juanjo Arqués,

Dutch National Ballet 2023

© Marc Haegeman

15.

Arianna Maldini, Conor Walmsley, Nina Tonoli, and Sho Yamada,

"

Full Frontal" by Juanjo Arqués,

Dutch National Ballet 2023

© Marc Haegeman



16.

James Stout and Anna Ol, "After the Rain" by Christopher Wheeldon, Dutch National Ballet 2023,

©

Nina Tonoli

17.

James Stout and Anna Ol, "After the Rain" by Christopher Wheeldon, Dutch National Ballet 2023,

©

Nina Tonoli

18.

James Stout and Anna Ol, "After the Rain" by Christopher Wheeldon, Dutch National Ballet 2023,

©

Nina Tonoli

Editing:
Samuel Snodgrass