"Swan Lake"
The Australian Ballet
Arts Centre Melbourne / State Theatre
Melbourne, Australia
September 29, 2023 (livestream)
by Ilona Landgraf
Copyright © 2023 by Ilona Landgraf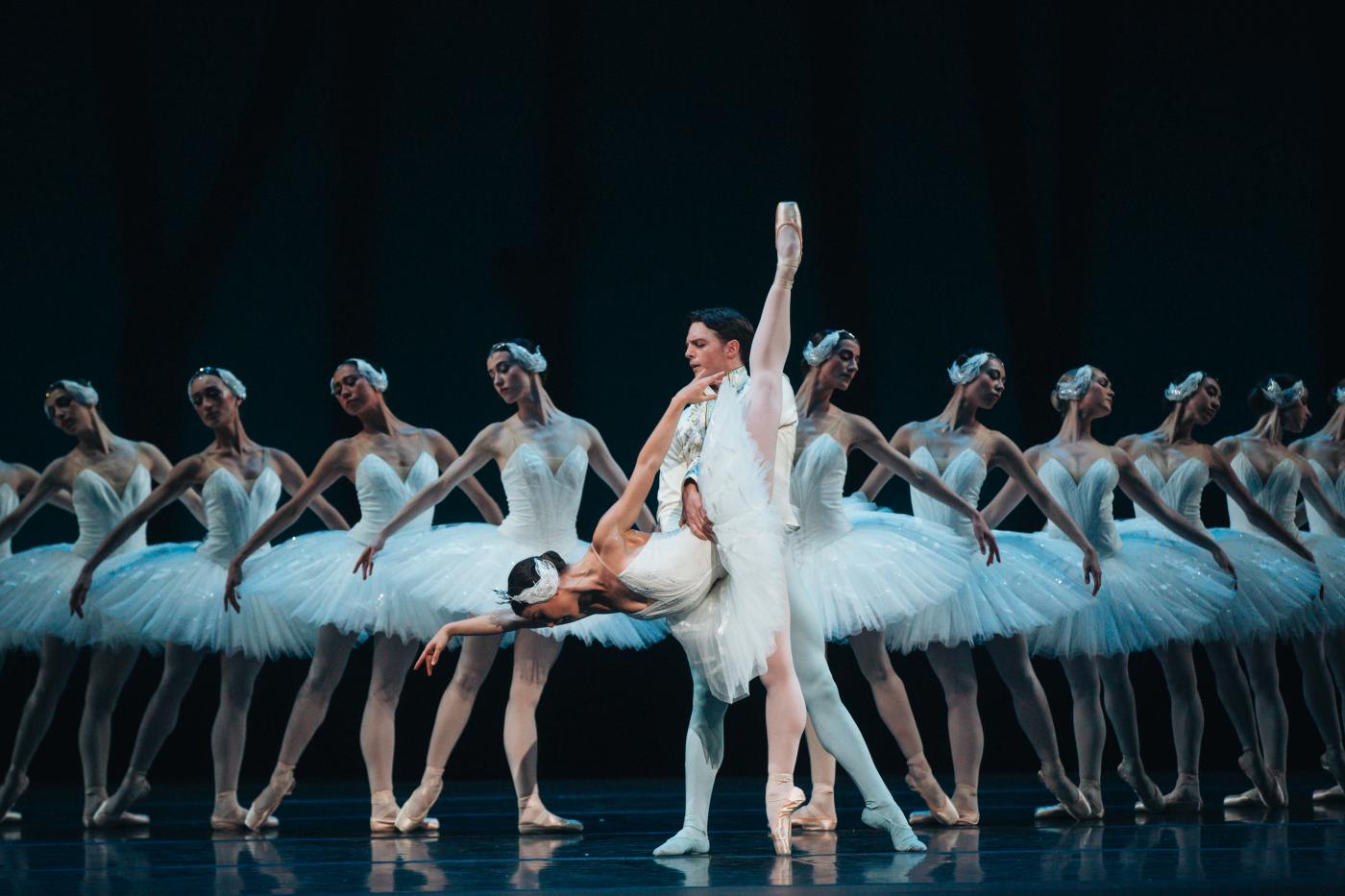 The sixtieth anniversary season of the Australian Ballet called for the crème de la crème of classical ballet: "Swan Lake". Of the several versions kept in the company's archive, artistic director David Hallberg decided to reinvent Anne Woolliams's 1977 rendition. Hallberg, for whom this project marked his debut as a director, commissioned a fresh look, but kept 95% of Woolliams's choreography. The remaining parts were contributed not by himself ("I'm definitely not a choreographer", he stated during last Friday's livestream), but by the Australian choreographer Lucas Jervies.
Woolliams's "Swan Lake" opens with a prologue, in which the malicious von Rothbart casts a spell over captivated maidens, transforming them into obedient swans. The following four acts are in line with the traditional libretto, but include some noteworthy details. At his birthday party, the prince doesn't meet his potential fiancées face-to-face, but is confronted with a political choice between the crowns presented by ambassadors from Spain, Hungary, and Italy. The related princesses only attend the ball in Act III, where they lead their country's delegation of folk dancers. Usually, if hesitantly, the Queen approves Siegfried's choice of Odile without more ado. Woolliams's Queen decidedly refuses Odile and compels Siegfried to have a close look at each and every princess. Declining all of them made him (and them) visibly uneasy. Tragic doubles in Act IV when Odette, eager to save Siegfried from von Rothbart's attack, sacrifices herself to the evil in vain. Deeply distressed, Siegfried commits suicide, throwing himself down a cliff.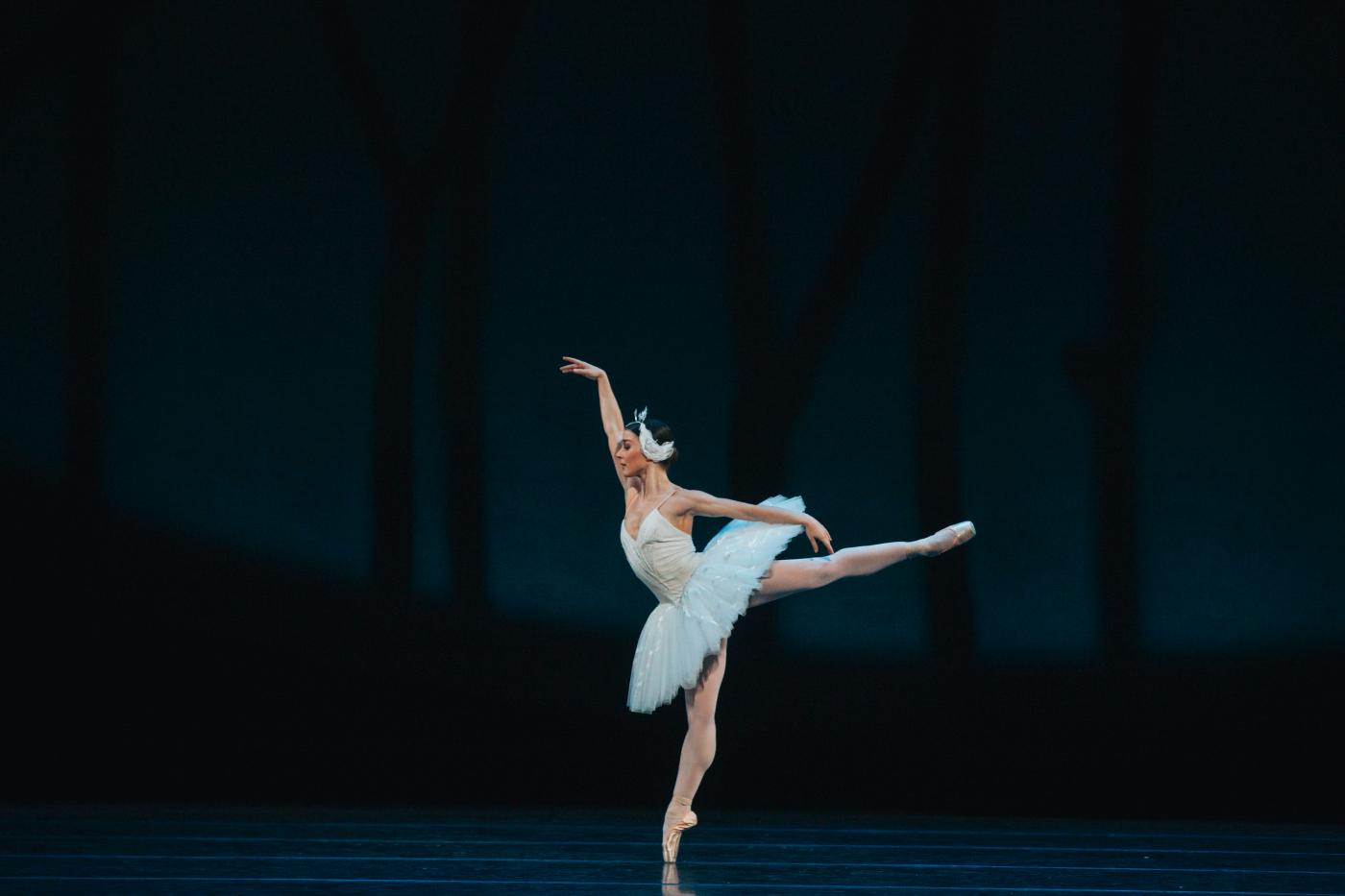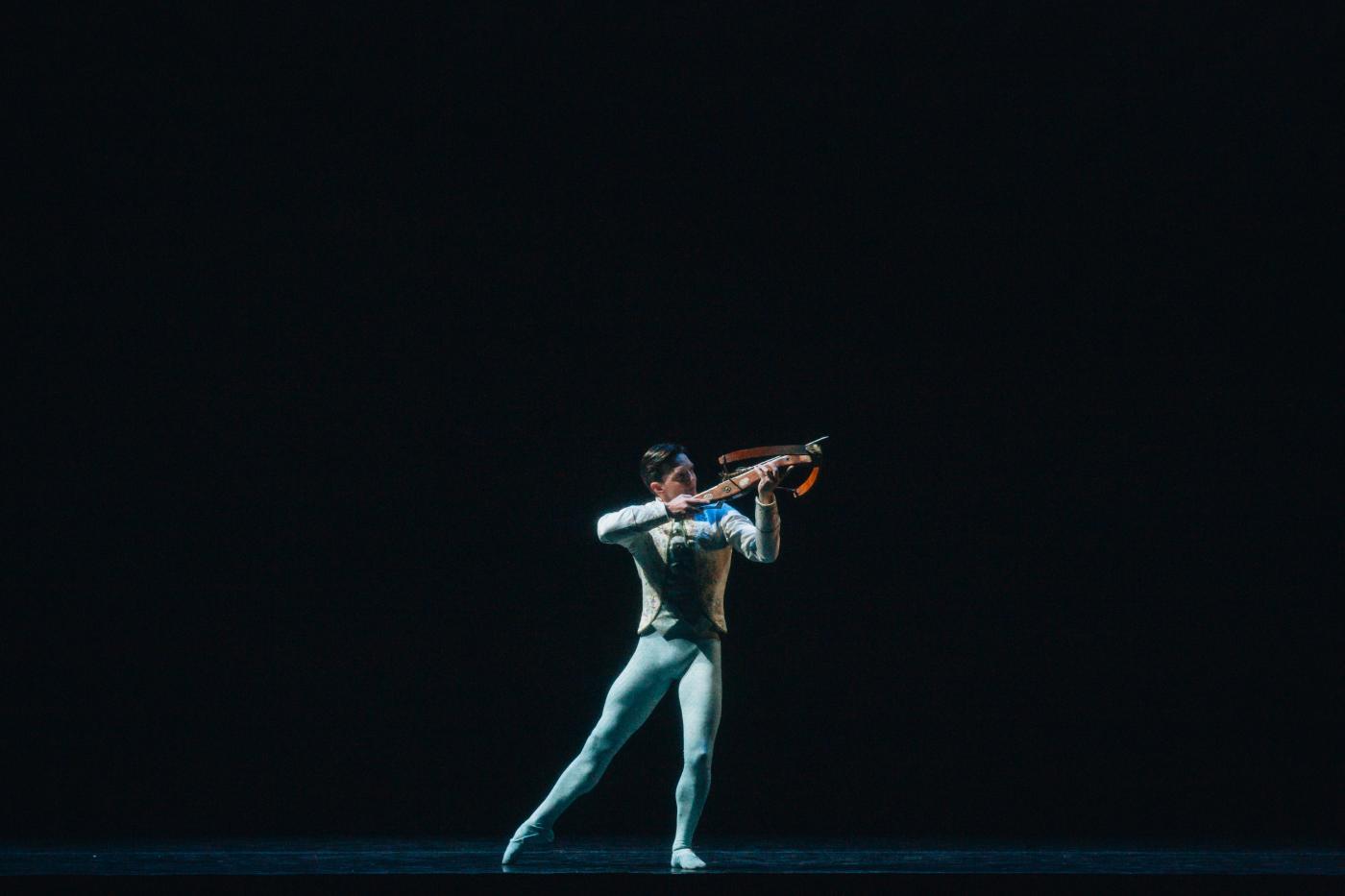 An indisputable asset of Woolliams's choreography is the steady flow of gorgeous patterns made by the flock of white swans painted against the nighttime lakeside. Like otherworldly creatures they assembled in a wedge – ready to fight, or cowered in a circle, their bodies rippled by mourning. Flapping in unison, their wings (twenty-four in total) worked their magic. Woolliams created a haunting farewell for the prince and Odette in Act IV, but failed in developing Siegfried's character in a comprehensible way. He mingled quite naturally with his guests at his birthday celebration and even if he didn't hurl himself into the party all the time, he by no means looked introverted. What made him suddenly pensive, almost over-emotional, when arriving at the lake?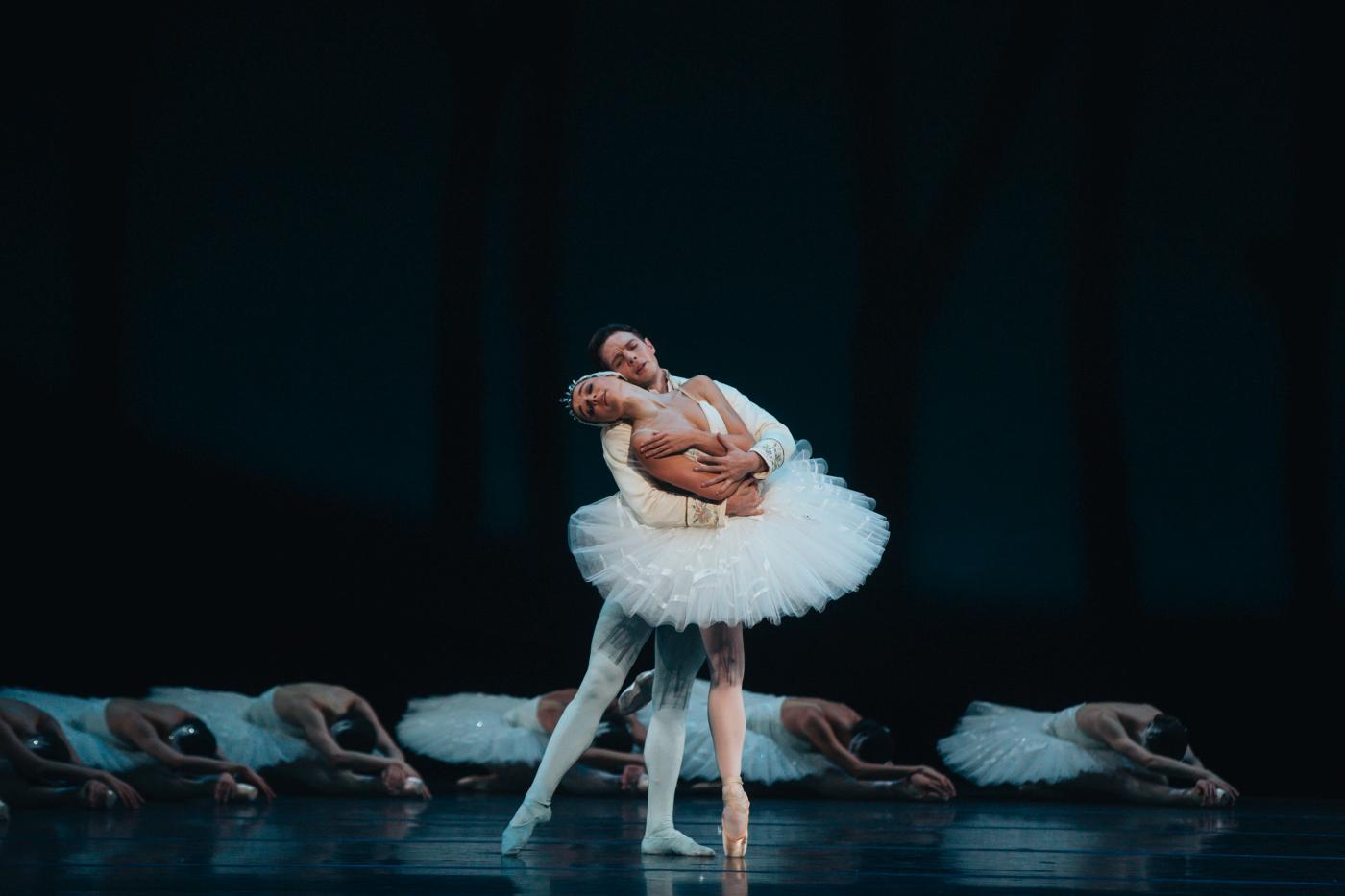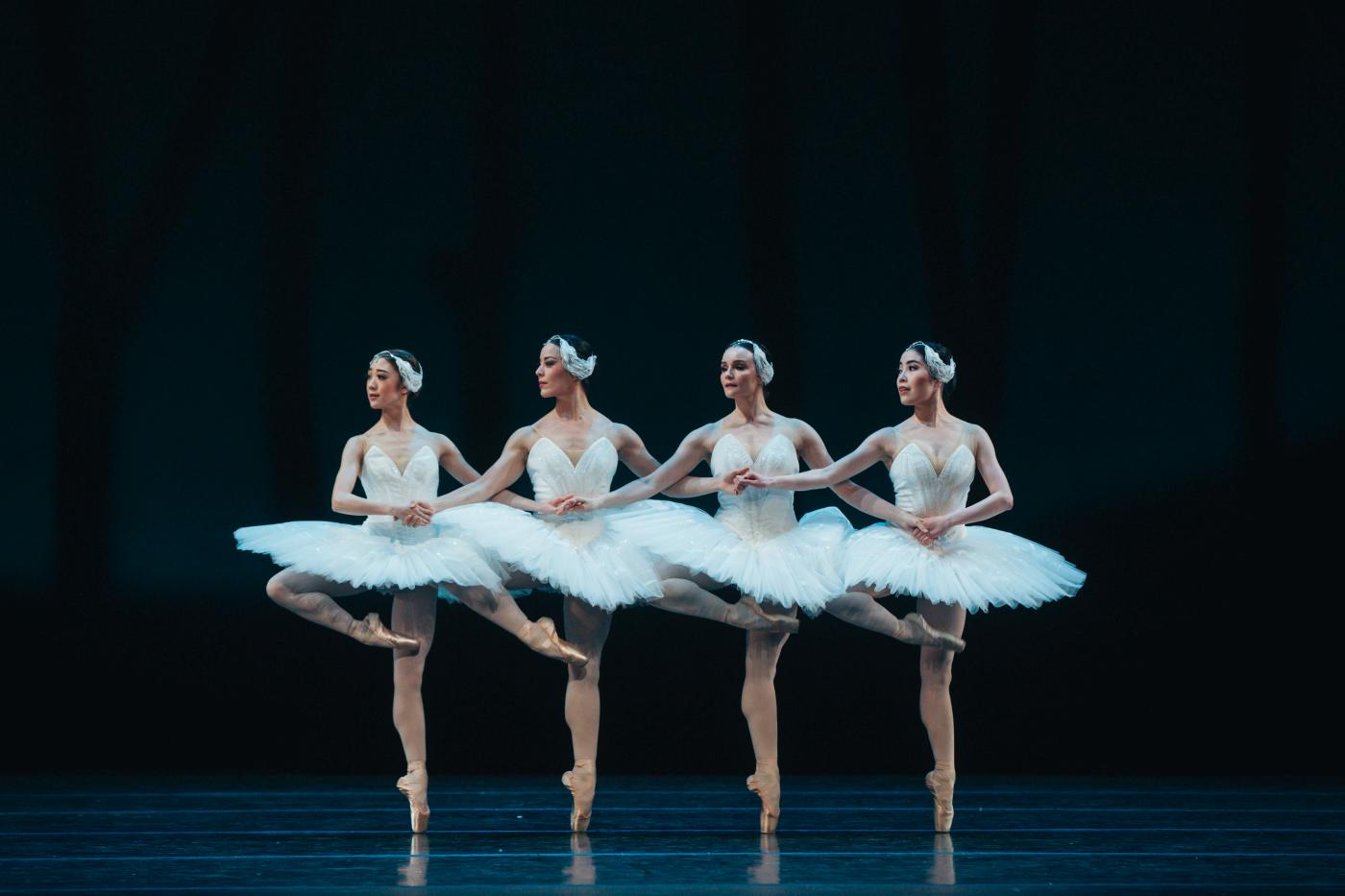 "Nothing painted. No painted castles in the distance" was Hallberg's directive to set designer Daniel Ostling. The castle, from which a side wing protrudes onto a yard in Act I is real carpentry work, although its stairs and balustrade are as rectangular as if made by a 3D printer. T.J.Gerckens's lighting (which he described as romantic) was that of a sunny autumn afternoon. It made the edges look even sharper, but perhaps that's only the impression on screen. Adjacent to the yard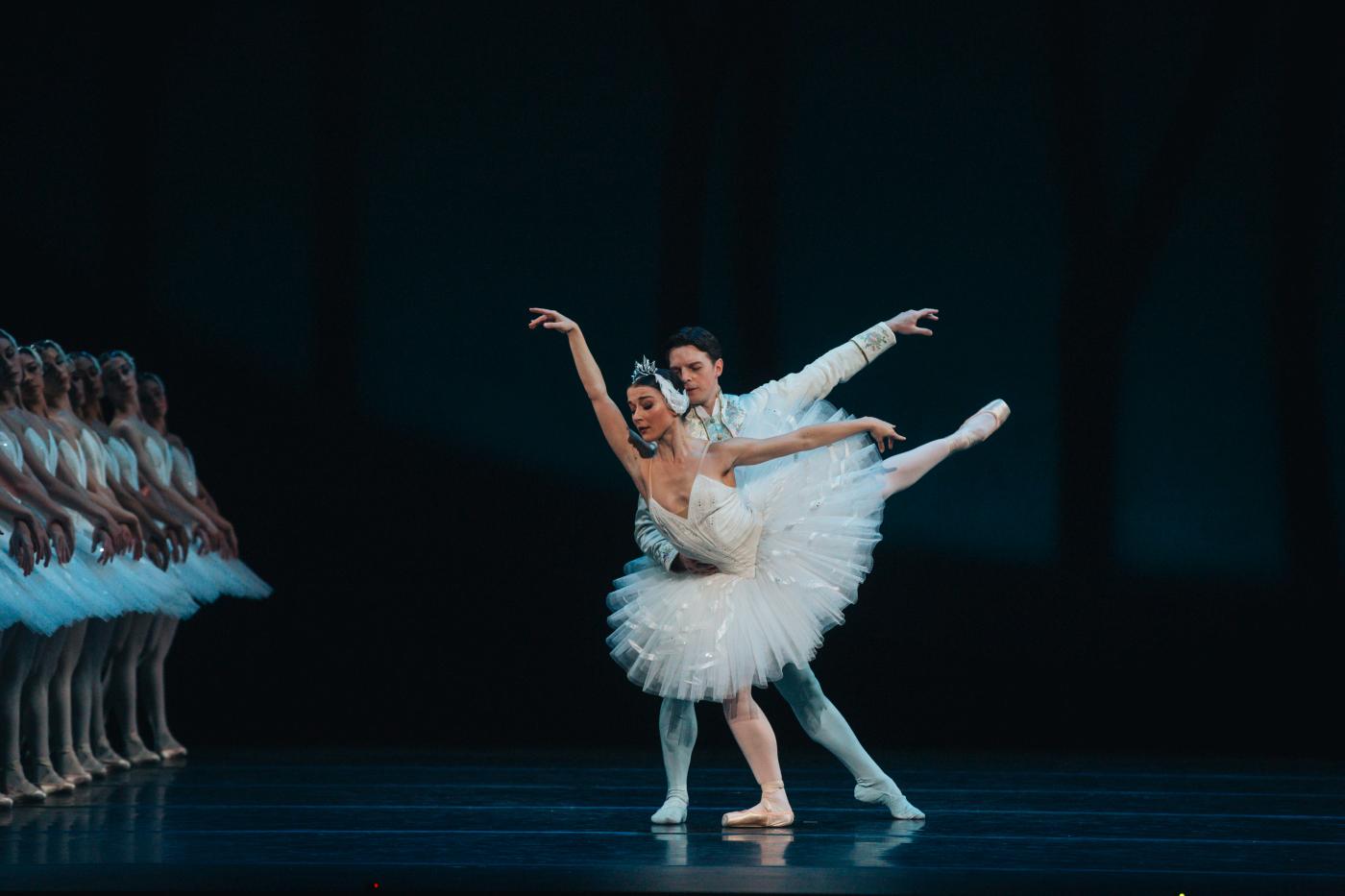 stood a forest of bald tree trunks, which made me think of huge dowsing rods. According to T.J.Gerckens, they're lit from within to give the forest a life of its own. Black silhouettes of these tree trunks also surround the enchanted lake. Act III's ball takes place in a fully fledged Baroque-ish palace.
What's always palpable when watching the Australian Ballet's livestreams is the amount of love poured into each and every production. During the breaks, Hallberg (who co-presented the livestream alongside Livinia Nixon) always puts the limelight on many parties involved. Among them was costume designer Mara Blumenfeld, explaining the nuances between the shades of the birthday party wardrobe (pastels, earth-colors, and gold) and the ball gowns (reds, blues, purples, and gold). That the pastel satin frocks looked sugary (rather than manly) when seen against the dark lakeside might again be attributed to the video transmission.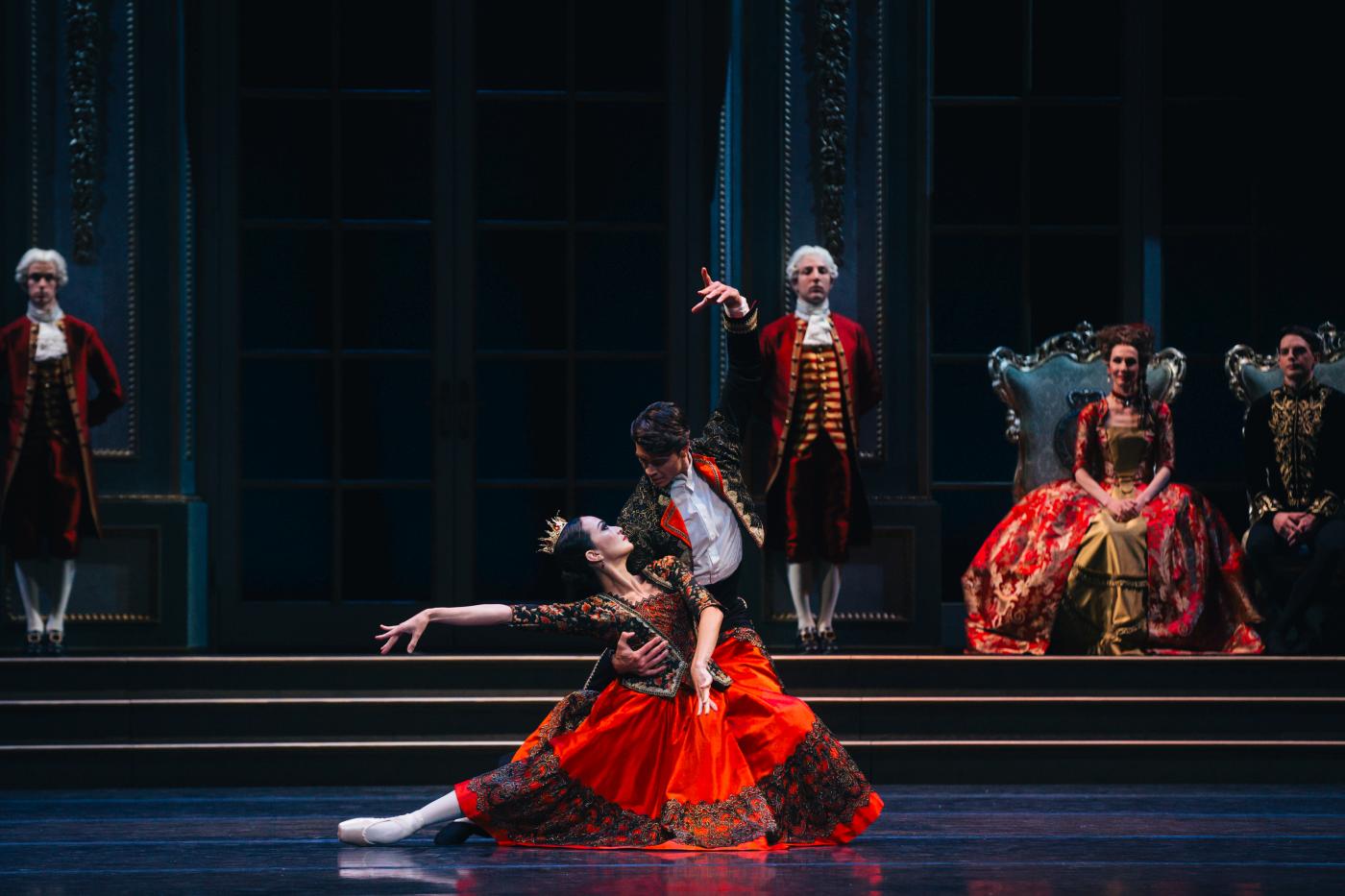 In a brief interview during the break, Benedicte Bemet, the evening's Odette/Odile, revealed that in real life she'd rather feel like an Odette, but on stage her preference for either role wouldn't be set. Technically, neither part seemed to challenge her. While her Odette had all attributes of a non-human creature (the gentle undulations of her arms were especially effective), her face was that of an innocent, at times quizzical, and quintessentially kind-hearted woman. I would have been surprised if her Odile had turned out to be the epitome of malice. And indeed, she resembled a glamourous femme fatale. Joseph Caley's Siegfried won my heart when he spotted Odile among the ball guests. "From the ice they are freed, the stream and brook…" – that's how liberated he seemed to feel. He must have believed himself on the right path. Oh dear – had he only glanced at the court jester (Cameron Holmes)! Disapproval was all over his face.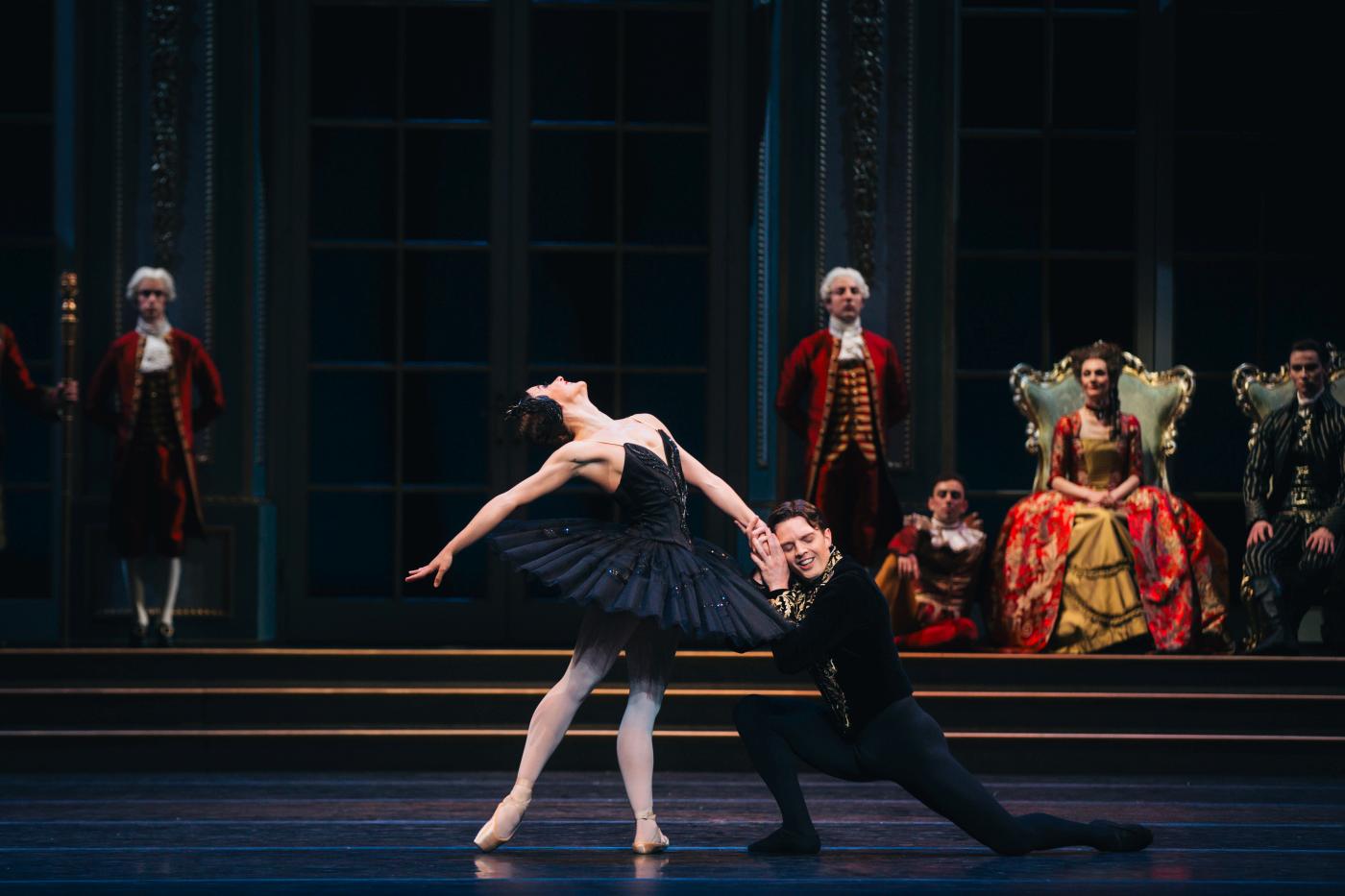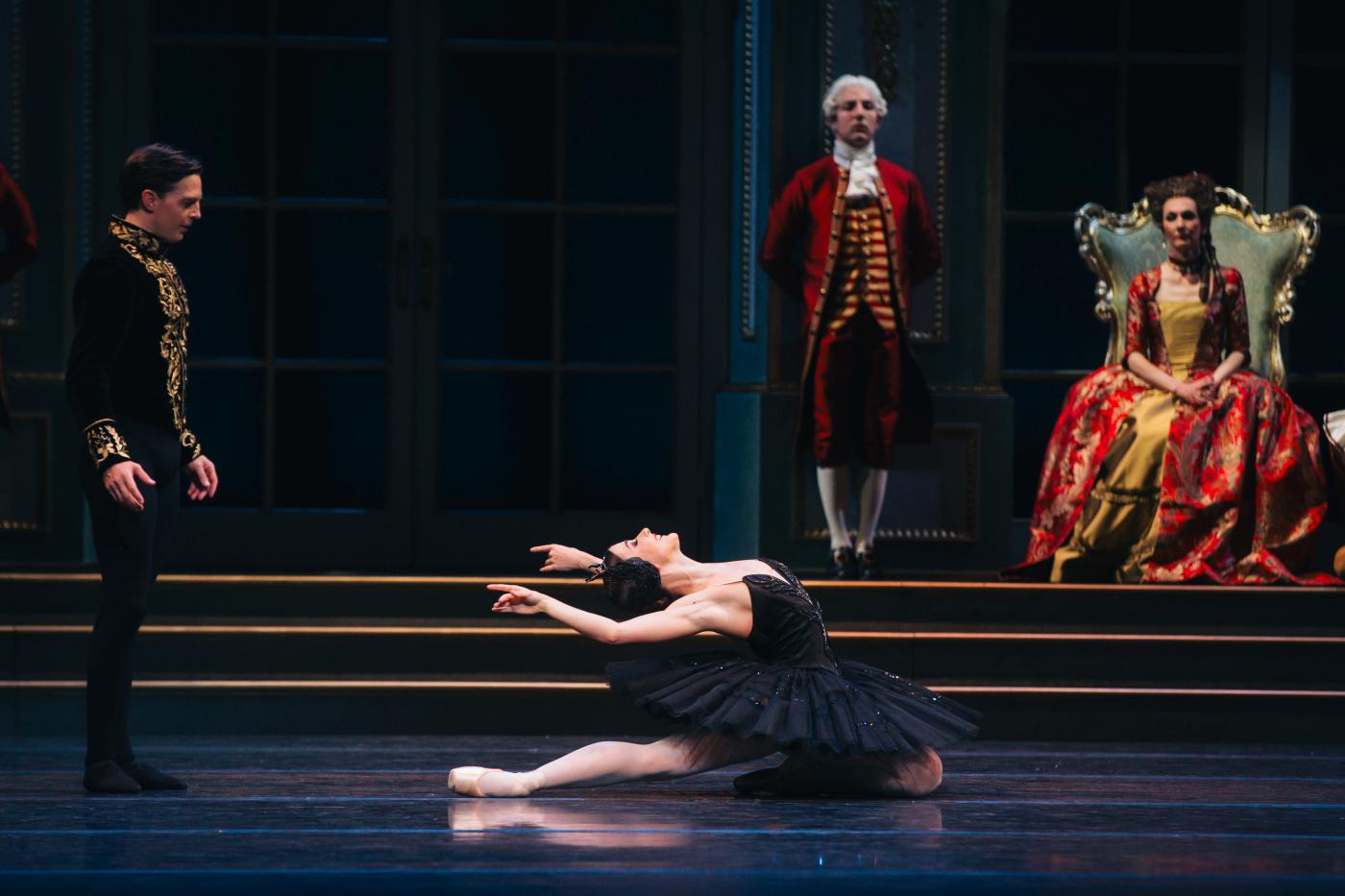 At the lake, von Rothbart (Jarryd Madden) mostly hid in the dark, from where his wicked hands exerted their power. I got a close look at him during an interval and found his make-up apt to make one's blood run cold. Of the three potential brides, the princess of Naples (Yuumi Yamada), with her entourage, had the most verve. Both the princesses of Spain (Jasmin Durham) and Hungary (Rina Nemoto) needed more punch. The Queen was portrayed by Rachel Rawlins.
Two days after the livestream in the last "Swan Lake" in Melbourne, Amber Scott bid her farewell from the stage as Odette/Odile. Her last curtain call is preserved here.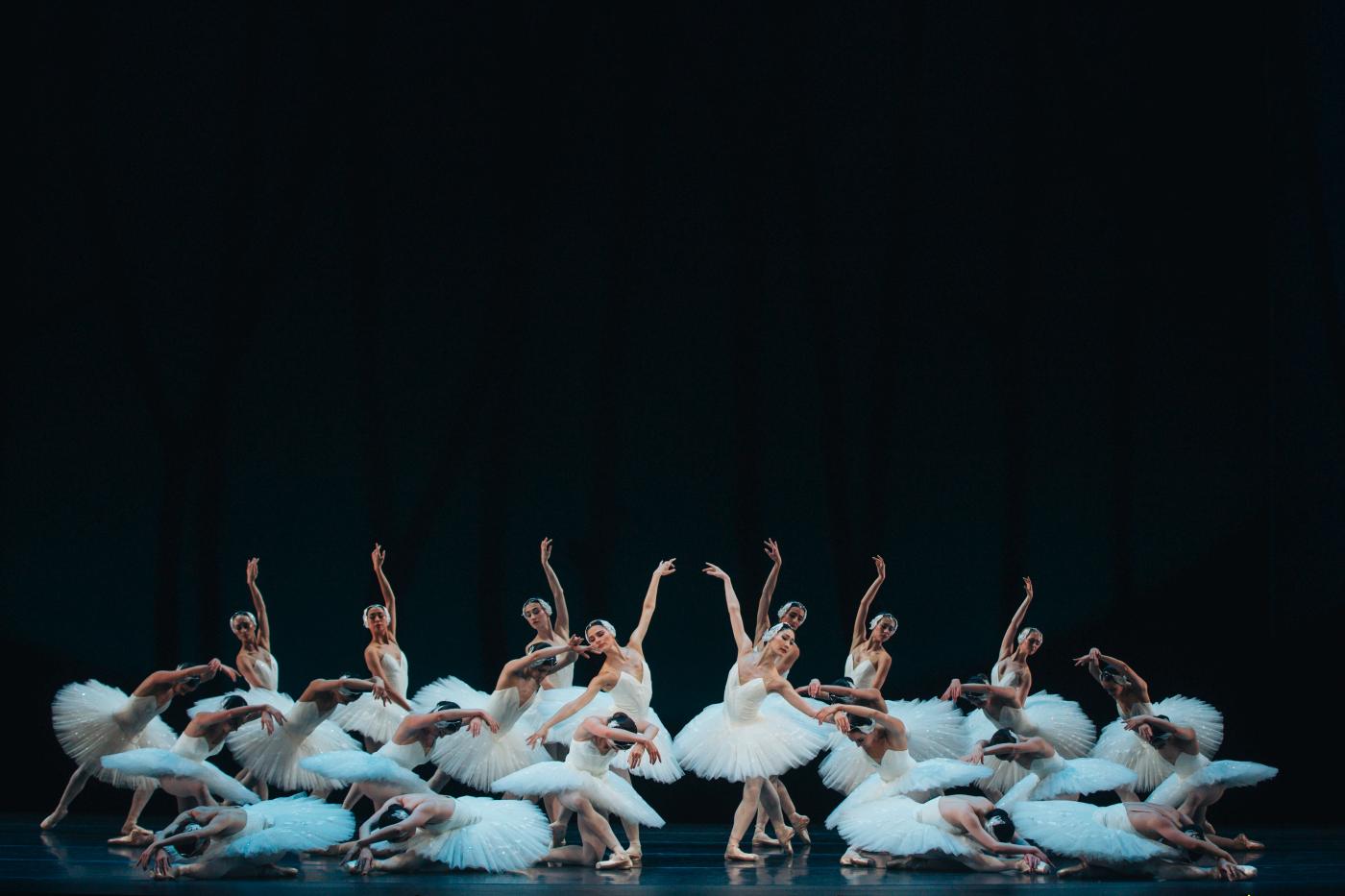 Links:
Website of the Australian Ballet
David Hallberg on "Swan Lake" (video)
Dancers tell the story of "Swan Lake" (video)
The music of "Swan Lake" – David Hallberg in conversation with Jonathan Lo (video)
Black Swan tutu (video)

Photos:

1.

Benedicte Bemet (Odette), Joseph Caley (Prince Siegfried), and ensemble,

"

Swan Lake" by Anne Woolliams after Marius Petipa

,

The Australian Ballet 202

3

2.

Joseph Caley (Prince Siegfried),

"

Swan Lake" by Anne Woolliams after Marius Petipa

,

The Australian Ballet 202

3

3.

Benedicte Bemet (Odette),

"

Swan Lake" by Anne Woolliams after Marius Petipa

,

The Australian Ballet 202

3

4.

Benedicte Bemet (Odette), Joseph Caley (Prince Siegfried), and ensemble,

"

Swan Lake" by Anne Woolliams after Marius Petipa

,

The Australian Ballet 202

3

5.

Yuumi Yamada, Jill Ogai, Jade Wood, and Aya Watanabe (Cygnets),

"

Swan Lake" by Anne Woolliams after Marius Petipa

,

The Australian Ballet 202

3

6.

Benedicte Bemet (Odette), Joseph Caley (Prince Siegfried), and ensemble,

"

Swan Lake" by Anne Woolliams after Marius Petipa

,

The Australian Ballet 202

3



7.

Jasmin Durham (Princess of Spain), Jake Mangakahia (Spanish Cavalier), Rachel Rawlins (Queen Mother), Joseph Caley (Prince Siegfried), and ensemble,

"

Swan Lake" by Anne Woolliams after Marius Petipa

,

The Australian Ballet 202

3

8.

Joseph Caley (Prince Siegfried), Benedicte Bemet (Odile), Rachel Rawlins (Queen Mother), and ensemble,

"

Swan Lake" by Anne Woolliams after Marius Petipa

,

The Australian Ballet 202

3

9.

Benedicte Bemet (Odile), Joseph Caley (Prince Siegfried), Cameron Holmes (Court Jester), Rachel Rawlins (Queen Mother), Jarryd Madden (Baron von Rothbart), and ensemble,

"

Swan Lake" by Anne Woolliams after Marius Petipa

,

The Australian Ballet 202

3

10.

Ensemble,

"

Swan Lake" by Anne Woolliams after Marius Petipa

,

The Australian Ballet 202

3




all photos

©

Kate Longley

Editing:
Samuel Snodgrass