"Catharsis Dante"
Russian State Ballet of Siberia
Hvorostovsky Krasnoyarsk State Opera and Ballet Theatre
Krasnoyarsk, Russia
June 30, 2023 (video)
by Ilona Landgraf
Copyright © 2023 by Ilona Landgraf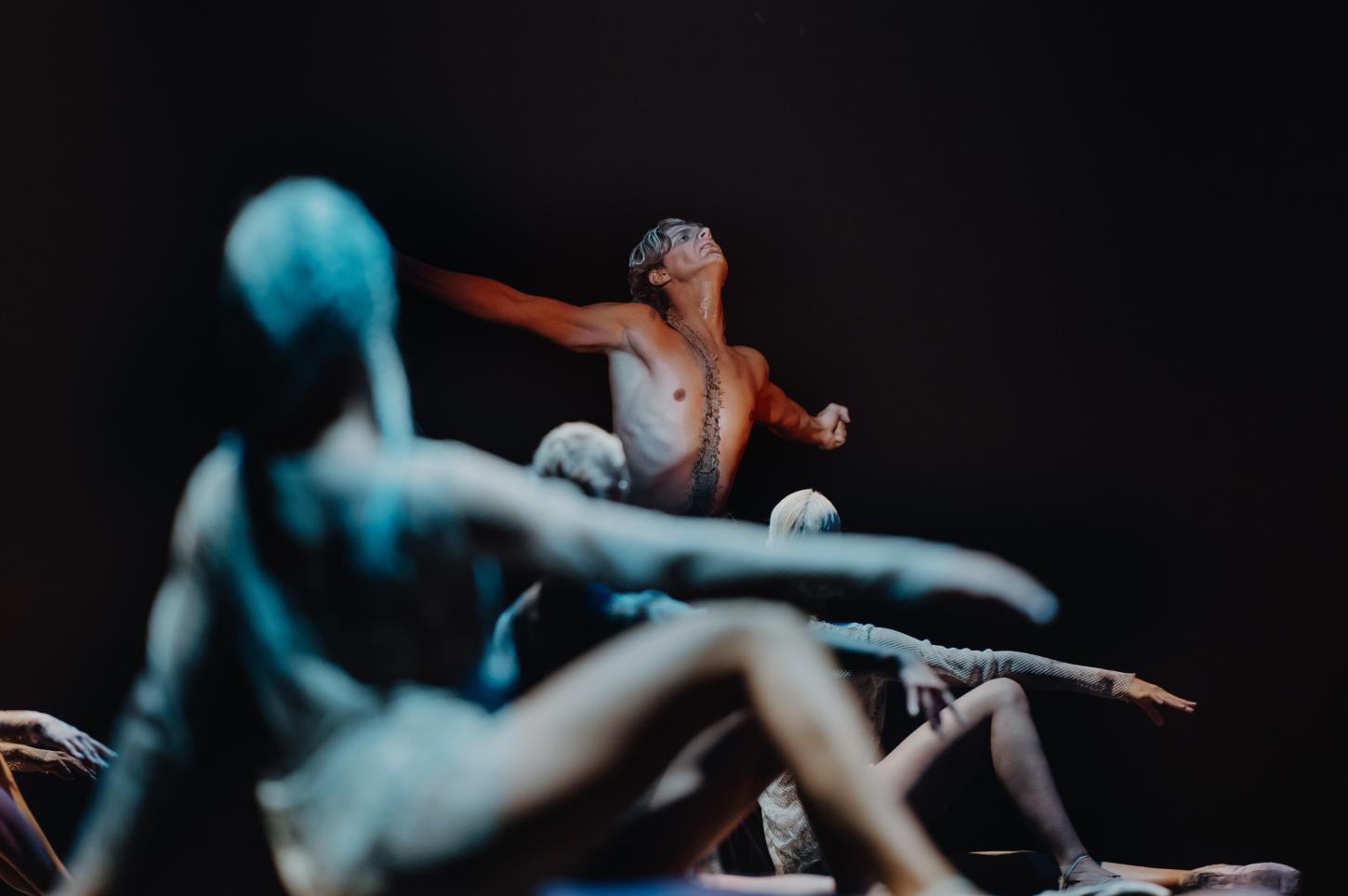 This April, the Krasnoyarsk Opera and Ballet Theatre scored a double victory at Russia's Golden Mask Awards. Their reconstruction of "Catherine ou la fille du bandit" won the prize for the best ballet production and the best female part. I was curious about the company's repertoire, but failed because of the distance. Krasnoyarsk is in Siberia, around 2400 miles east of Moscow. Luckily, Nikita Dmitrievsky helped me out. His ballet "Catharsis Dante" received its world premiere at the Krasnoyarsk Ballet this June and Dmitrievsky sent me a recording without much ado.
His name is well-known in Russia, where he realizes the majority of his dance projects, but he also worked in the Netherlands, UK, Israel, Bulgaria, the Czech Republic, Hungary, and Finland. An allrounder, Dmitrievsky is choreographer, artistic director, producer, filmmaker, lighting designer, and teacher in one. Costume design doesn't seem to be on his spectrum and in the case of "Catharsis Dante" is by Inna Zaitseva.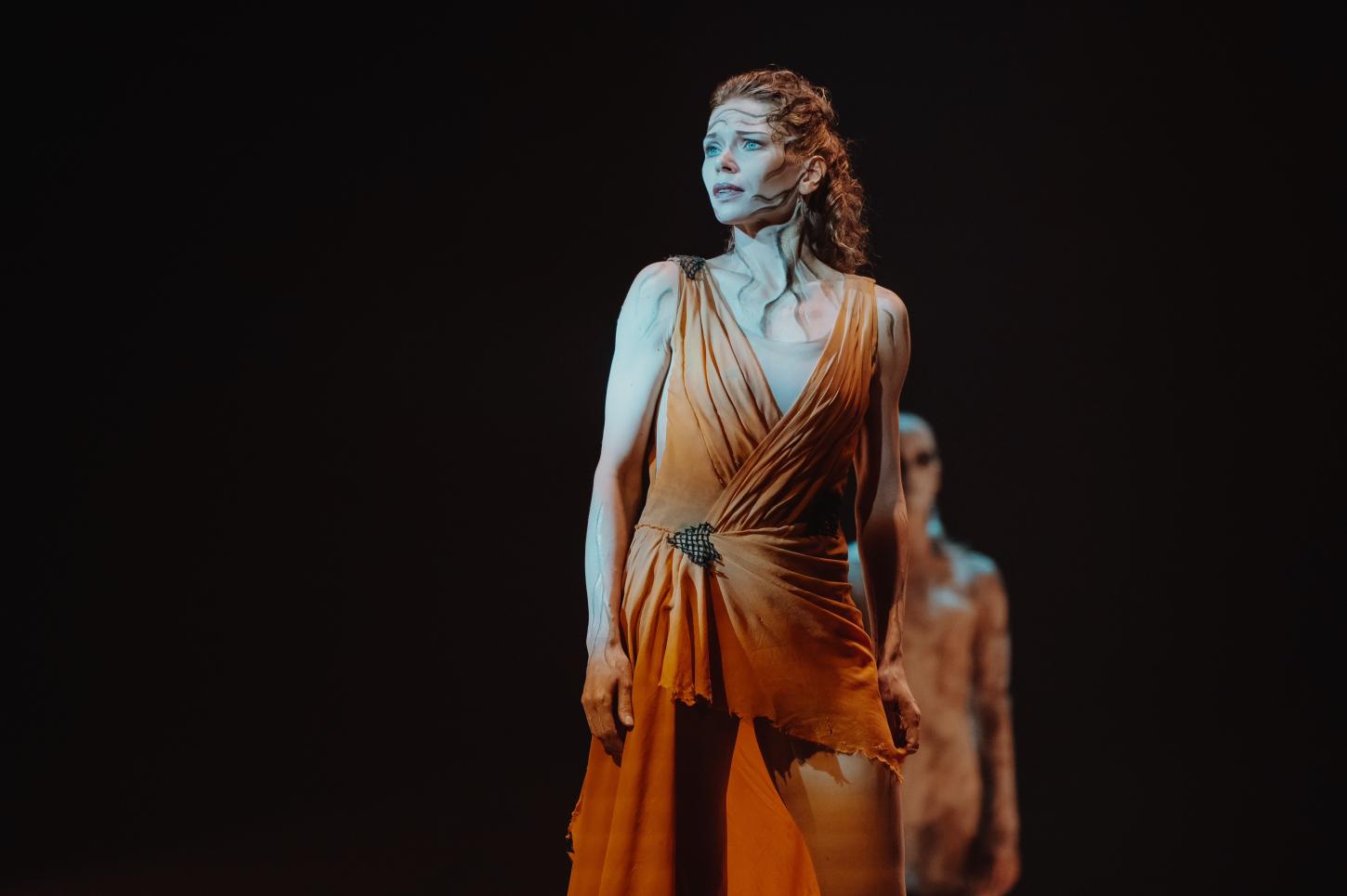 "Catharsis Dante" – the title immediately reminded me of Wayne McGregor's "The Dante Project" for the Royal Ballet and the Paris Opera Ballet. It is based on Dante Alighieri's Divine Comedy (1320) and one of his earlier works, which McGregor translated into a stylish onstage pilgrimage from hell to heaven. The role of Dante was created on the Royal Ballet's Edward Watson (for whom I had wished a worthier farewell). "Catharsis Dante" takes a different approach. Instead of watching Dante from the outside, we glance into the mechanics of his inner world. Its tune is set by a crank-driven record player, whose humdrum melody, even if inaudible, plays along all the time. Hell is no outer realm, but inside Dante. It is represented by the different traits of his character, who compete for dominance to fulfill their (often contradicting) dreams. Heaven comes closer the moment Dante's inner mess begins to sort itself out. A vast compilation of contemporary music accompanies this inner journey.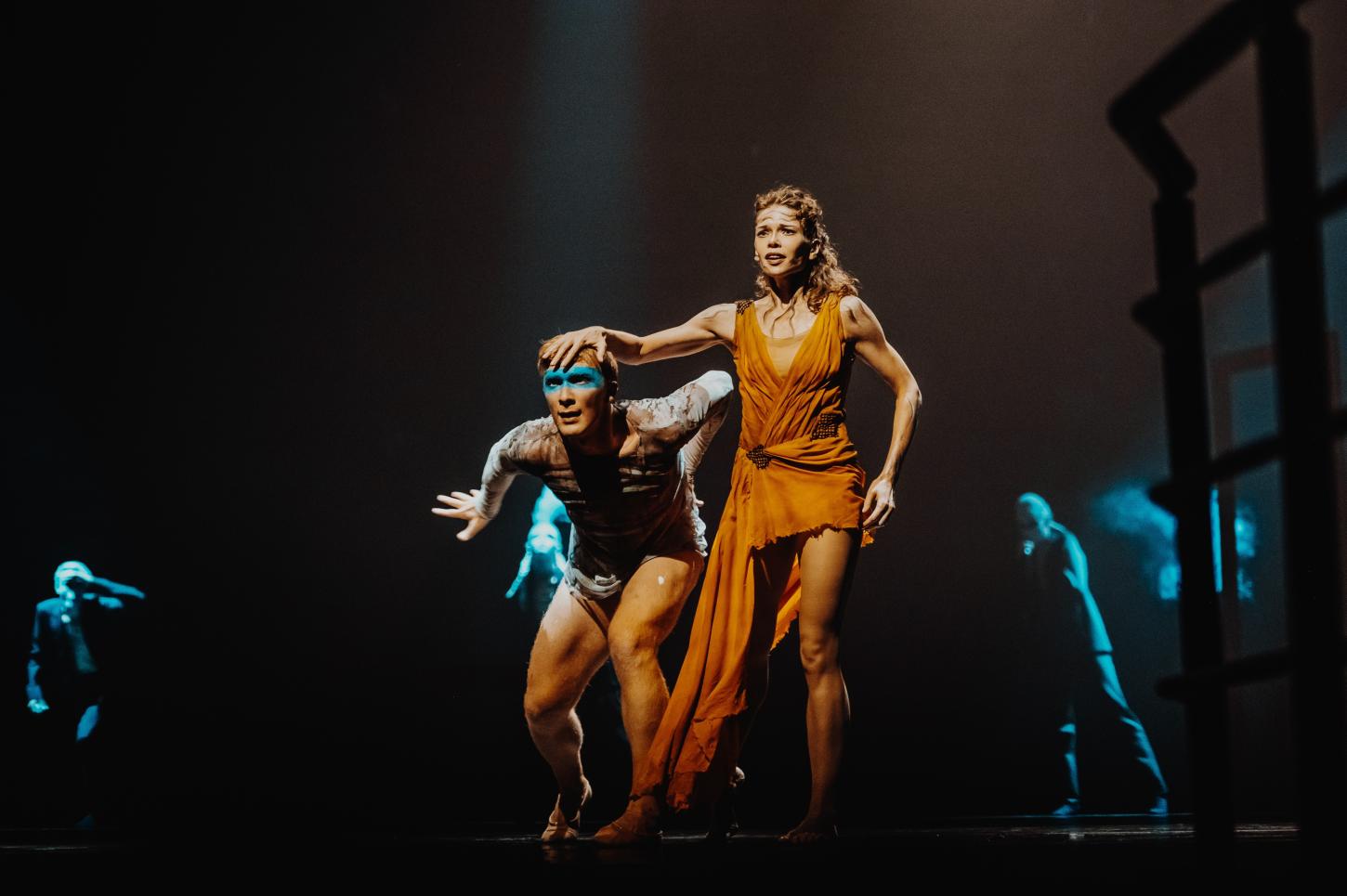 Of nine character traits in total, the first to be born is the Ugly Duckling (Veronika Latipova). As she cowers center stage, her upper body is covered by a white veil similar to an embryonic membrane. Her tutu is torn and grubby; black mascara streaks stain her cheeks. Torrents of tears must have washed them down. The seven other beings that crawl towards the Ugly Duckling will quickly grow into distinct characters. Among them is Sisyphus (Grigory Botenkov, wearing a ragged skirt, his hair sticky with clay) searching among rows of indistinguishable women (reminiscent of the inhabitants of the underworld in Greek mythology) for his beloved one. I couldn't discern the negative images he dropped at their feet. Perhaps they showed Beatrice, Dante's idol? But Beatrice doesn't show up. Instead Cassandra (Olesya Aldonina) – the prophetess whom no one believes – takes center stage. Unsurprisingly, her message doesn't fall on sympathetic ears. Angry and desperate, her soft, spacious movements turn urgent and aggressive. Later, together with the Prince (Yury Kudryavtsev), she dreams of a harmonious love affair, which has room for both intimacy and distance, as well as child-like plays and fights (the sort of romance Mats Ek could have invented). On TV they watch how their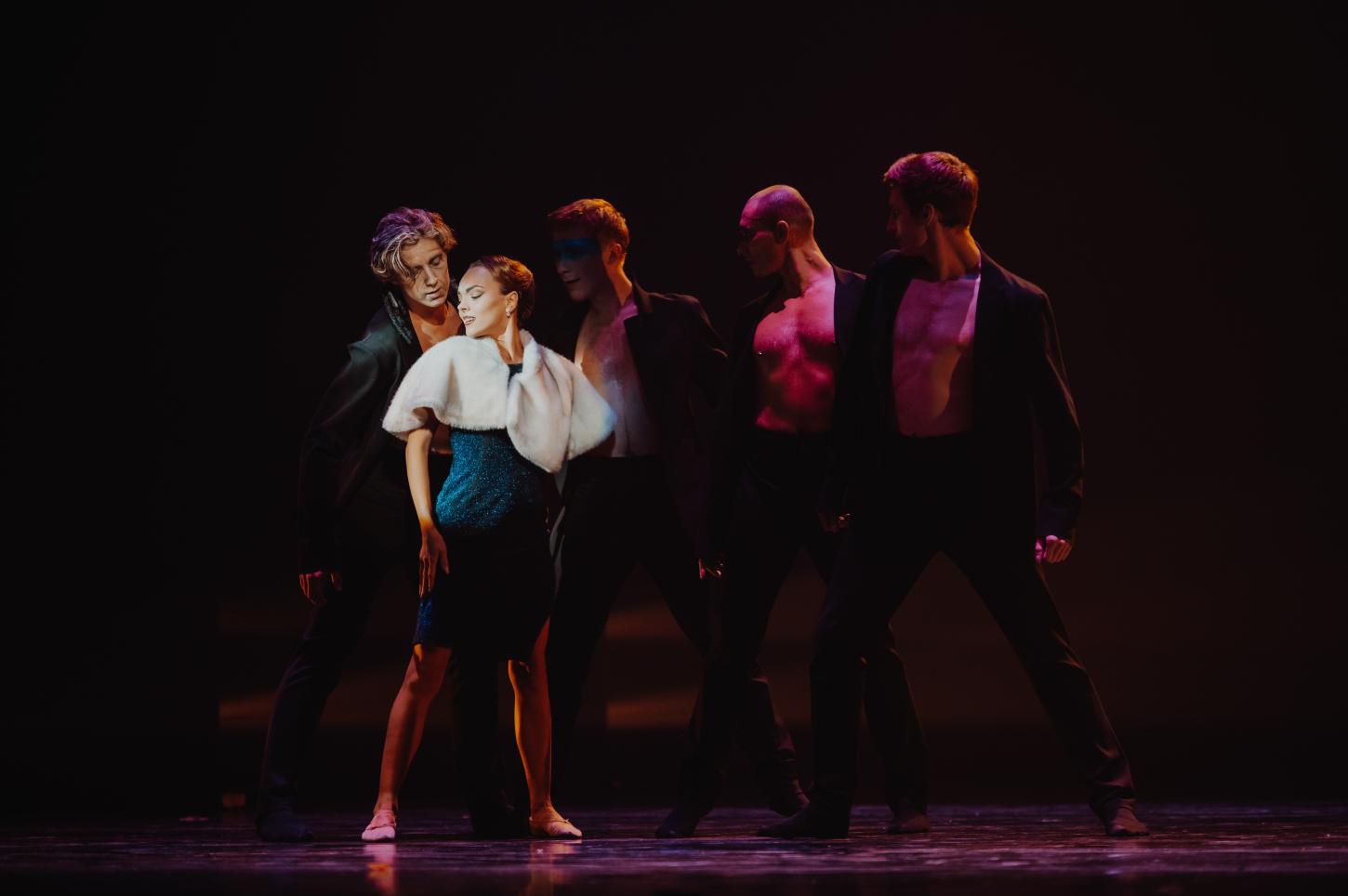 relationship could possibly evolve but, observed by gray creatures (certainly from murky fringes of Dante's soul), the couple's cozy refuge shrinks.
Diogenes (Matvey Nikishaev), wearing a fur cap, a lumberjack shirt, and boots, resembled a stolid rural worker rather than a philosopher. He frisked the lines of bewigged, black suited men, repulsed, but at the same time also hypnotized by their faces. They fell down like cut ears when he ran past them or fluttered their hands like the fans of a busy air escape. At times they were obedient, at times they opposed him. But whatever Diogenes actually searched among the men, he failed. His arms still reached out as he already drowned in the crowd of suits.
Vladimir Bragin portrayed a character trait called Insolent. He was the sex object of four hyenas – Androgyne (Anna Salenkova), Cassandra, The Ugly Duckling, and the chic Audrin (Elena Mikheecheva) – whose violent fantasies ran amok. How great they felt when beating him up! He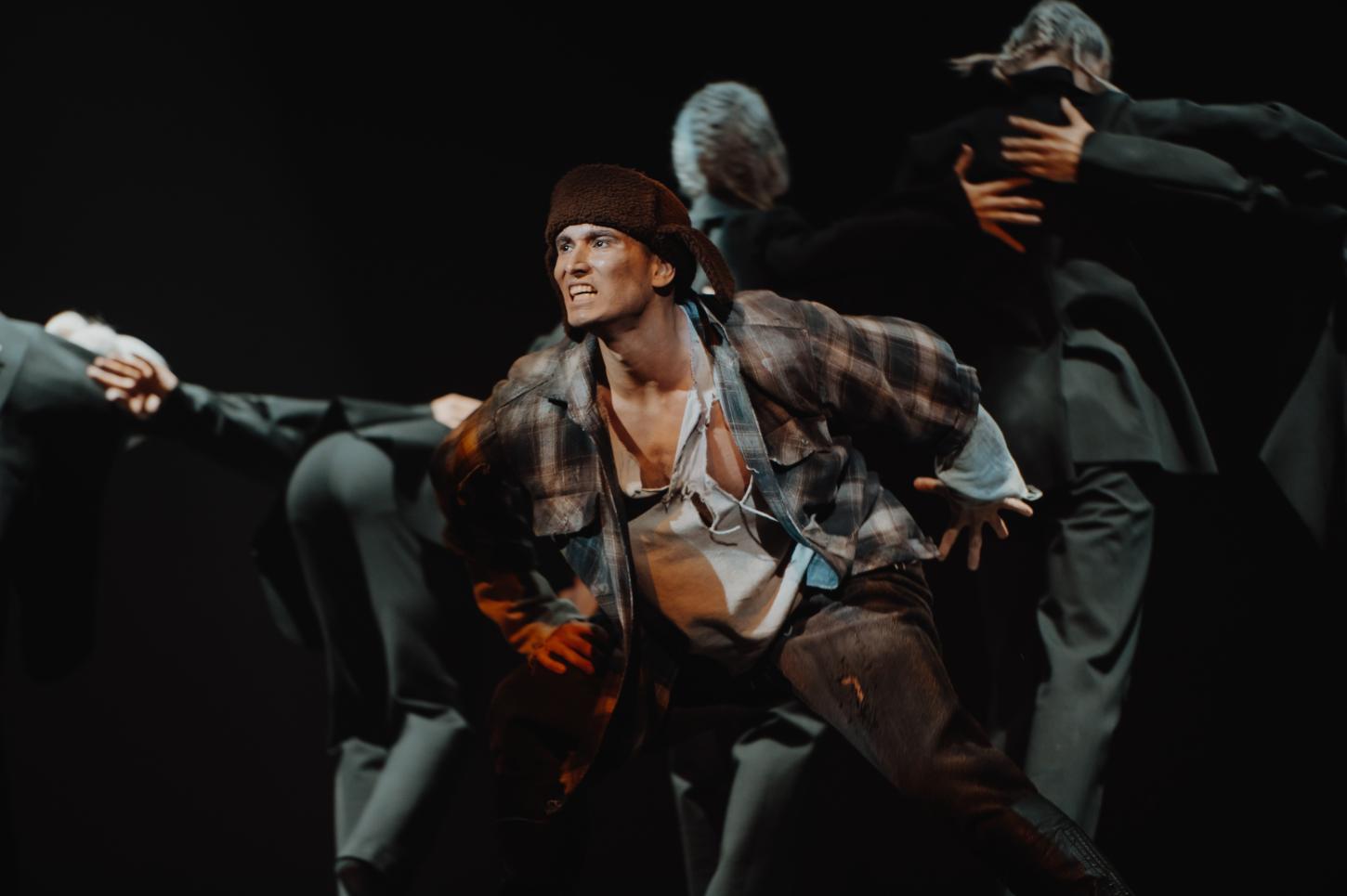 tried to sneak away, but was pulled back and quartered. We saw Audrin rip the flesh from his arm with relish. Seconds later, having wiped her hands at her dress, she smoothly resumed the role of the sexy glamour girl. To her defense: she was the first to throw in the towel (or rather, her fur cape), abandoning the pointless quarrels among the characters.
The two-faced Androgyne made me think of Lord Voldemort when manifest as a face on the back of Professor Quirrel's head. Fortunately, Androgyne was far less creepy, but a shady figure, whose steps lashed out like whips from under a sleek black suit. At times, she – or he? – was shaken by convulsions similar to a plate compactor. The positive side of Androgyne was revealed when Salenkova, waving a magic cane, lulled all conflicting parties of Dante's soul into a peaceful slumber. All, except for one (Olexiy Skalyun) who used the silence to take the lead. This hero (as Dmitrievsky calls him) sent all characters offstage as if wiping the slate of Dante's cluttered mind clear.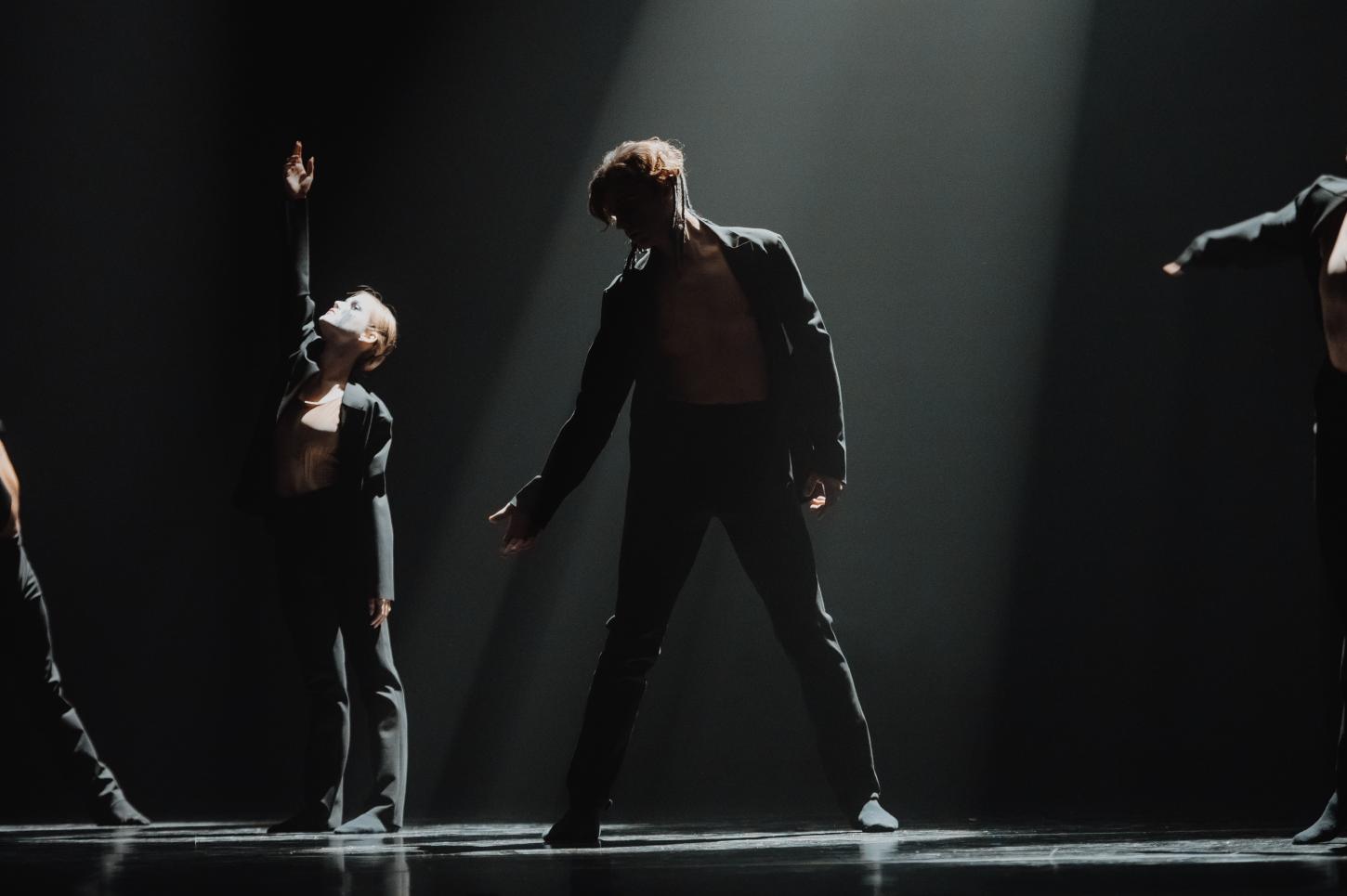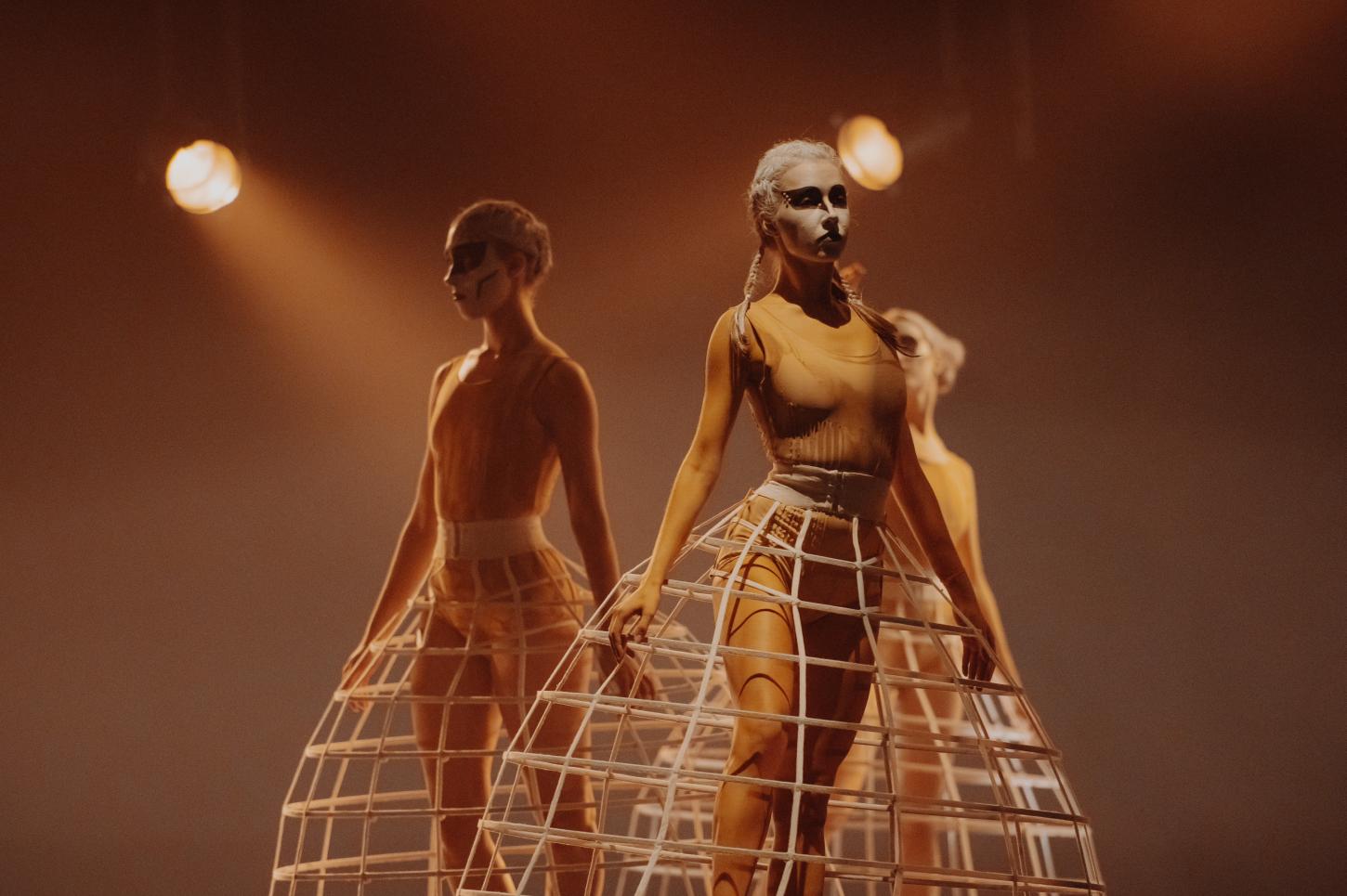 Then he established a new order. Still, Dante's mind was occupied, but it didn't take long until the bustle jerked to a halt. Suddenly, one part of Dante's soul, hidden all the while in chains in a niche, was freed. It grabbed a velocipede that had been parked in a corner, taking it away while slowly walking out. An old chapter of life seemed to end.
The applause was such that the dancers repeated the last group dance, to which the audience clapped enthusiastically along.
Links:

Website of the

Hvorostovsky Krasnoyarsk State Opera and Ballet Theatre

Website of Nikita Dmitrievsky

Trailer "Catharsis Dante"

Premiere report on "Catharsis Dante"

"Catharsis Dante" – rehearsal Olesya Aldonina (Cassandra)

Photos:

Some photos show a partially different cast from another performance.

1.

Grigory Botenkov (Sisyphus) and ensemble,

"

Catharsis Dante" by

Nikita Dmitrievsky,

Hvorostovsky Krasnoyarsk State Opera and Ballet Theatre 2023

2.

Olesya Aldonina (Cassandra),

"Catharsis Dante" by Nikita Dmitrievsky,

Hvorostovsky Krasnoyarsk State Opera and Ballet Theatre 2023

3.

George Bolsunovsky (Prince) and Olesya Aldonina (Cassandra),

"Catharsis Dante" by Nikita Dmitrievsky,

Hvorostovsky Krasnoyarsk State Opera and Ballet Theatre 2023



4.

Elena Mikheecheva (Audrin), Grigory Botenkov (Sisyphus), George Bolsunovsky (Prince), Rodion Ziniak (Diogenes), and Yuri Romanchuk (Hero),

"Catharsis Dante" by Nikita Dmitrievsky,

Hvorostovsky Krasnoyarsk State Opera and Ballet Theatre 2023

5.

Rodion Ziniak (Diogenes) and ensemble,

"Catharsis Dante" by Nikita Dmitrievsky,

Hvorostovsky Krasnoyarsk State Opera and Ballet Theatre 2023



6.

Ensemble, "Catharsis Dante" by Nikita Dmitrievsky, Hvorostovsky Krasnoyarsk State Opera and Ballet Theatre 2023

7.

Grigory Botenkov (Sisyphus) and ensemble, "Catharsis Dante" by Nikita Dmitrievsky, Hvorostovsky Krasnoyarsk State Opera and Ballet Theatre 2023

all photos

© Yulia Raskova

Editing:
Samuel Snodgrass