"The Sleeping Beauty"
Bolshoi Ballet
Bolshoi Theatre
Moscow, Russia
January 17, 2017
by Ilona Landgraf
Copyright © 2017 by Ilona Landgraf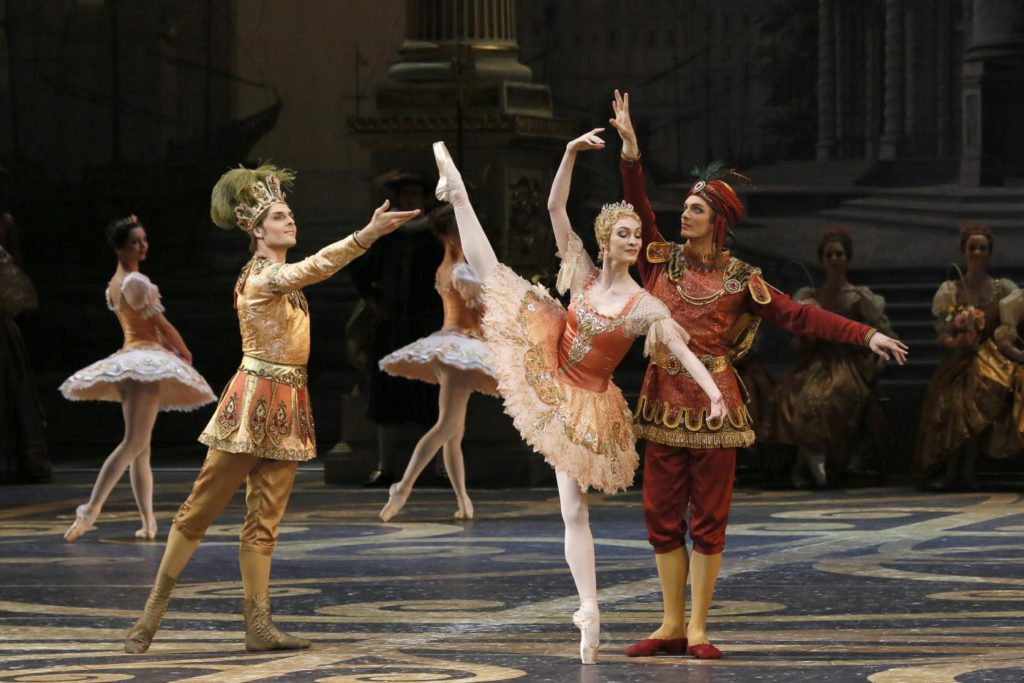 This Sunday, on January 22nd, the Bolshoi Ballet will stream "The Sleeping Beauty" live to cinemas all over the world. It is the Petipa-based version that Yuri Grigorovich created in 2011 for the re-opening of the Bolshoi's historic stage which has lavish set designs by Ezio Frigerio and equally sumptuous costumes by Franca Squarciapino. Sunday's cast includes Olga Smirnova as Princess Aurora alongside Semyon Chudin as her Prince. As the Lilac Fairy, Yulia Stepanova will counter Alexei Loparevich's Carabosse.
I skyped with Olga Smirnova a few days prior to the cinema broadcast to talk about the piece and her role. Katerina Novikova, head of the Bolshoi's press office, kindly interpreted from the Russian. Smirnova's responses are in italics.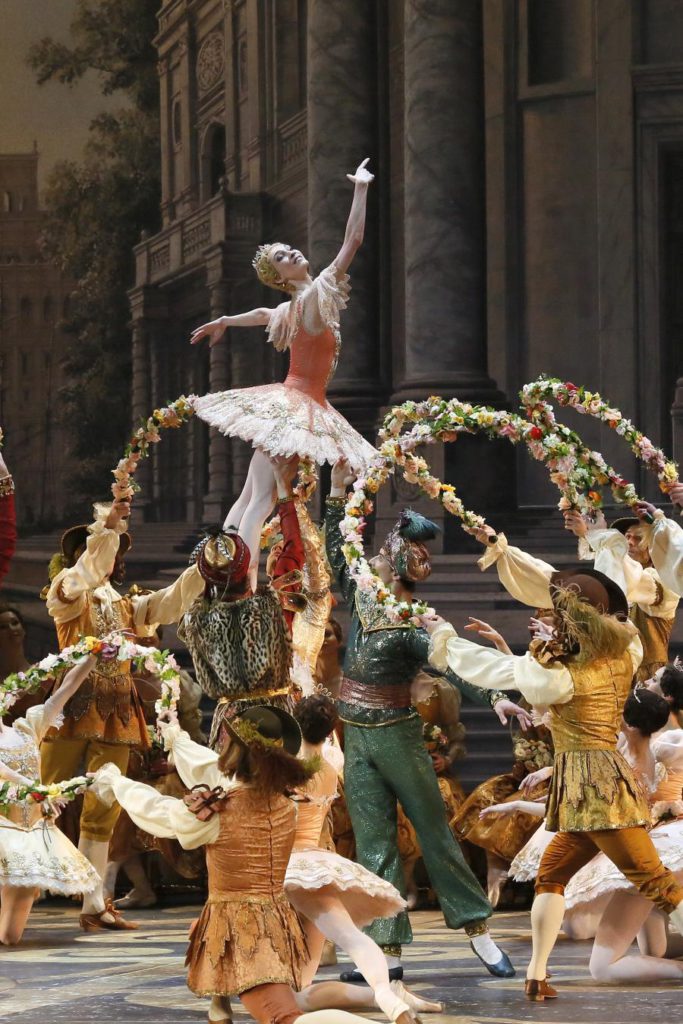 You just danced the princess in a different version of the fairy tale, Jean-Christophe Maillot's "La Belle" in Monte-Carlo. While Petipa's "Sleeping Beauty" corresponds to the Grimm Brothers's "Little Briar Rose", Maillot explored Charles Perrault's "La Belle au bois dormant", especially its psychological undercurrents. How has "La Belle" influenced the way you perceive the figures of the traditional version, your own role, the Lilac Fairy or Carabosse, for example?
The classical version and the version of Jean-Christophe are absolutely different. For me, the main difference is that Jean-Christophe made the princess's character develop from the beginning to the end. She changes, she becomes a woman. She overcomes different obstacles, which gives her strength and, at the end, when she has found her happiness, she is ready to fight for it. Whereas in the classical version one cannot see this kind of growth. Aurora's role is rather filled up with dance and its nuances are mostly based on the classical form, on the pureness of the lines, on outstanding refinement and sharpness. But she doesn't have to go through all those emotional strains and difficulties the princess faces in "La Belle". From this point of view, Jean-Christophe's approach is much more dramatic and psychologically charged; more human.

Jean-Christophe moreover asked us to immerse ourselves completely in the action and to co-exist with the other dancers onstage at that moment. Whereas in classical ballet a dancer is mostly concentrated on themselves. I'm trying to bring this new perspective to the role of Aurora now, to find different connections with the four prince-suitors, Prince Désiré, even with the Lilac Fairy.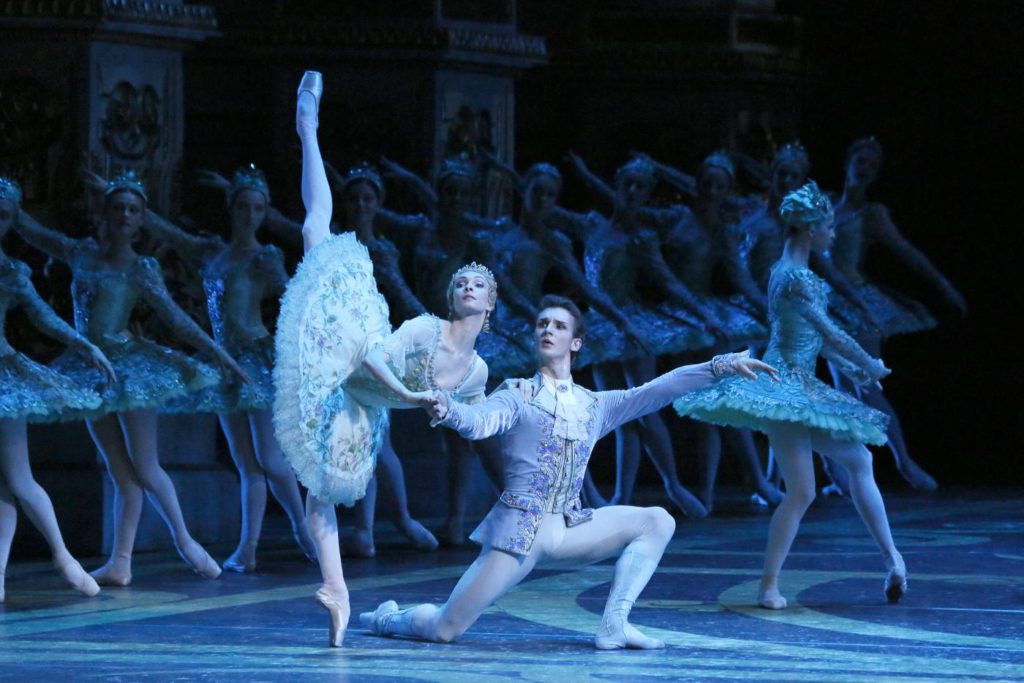 Aurora celebrates her sixteenth birthday the day Carabosse's spell takes effect. When being awakened a century later she is still sixteen. How will you portray her before and after her long slumber? Will time have changed her?
Actually before I worked with Jean-Christophe I had not even thought about it. Because in the classical version, when Aurora has awakened, her status is changing. She has grown up, she is about to marry, to become a wife. She is no longer just a young princess. That's why her movements have more maturity from then on. But what was interesting in "La Belle" is what Jean-Christophe said about the one-hundred years of sleep. He explained that the princess wouldn't merely sleep, but dream of and reflect upon the prince and when finally seeing him, she can recognize him: "That's the man!" Moreover unlike in the classical version she is the one deciding to kiss him, not vice versa. She is leading the action.
In the classical version Aurora has changed inwardly too, which is indicated by some subtle changes in the classical technique. Her dancing gets more serious, more significant. She is still young, but she has realized that she is beautiful. While in the beginning of the ballet she hasn't been aware of the power of her own beauty.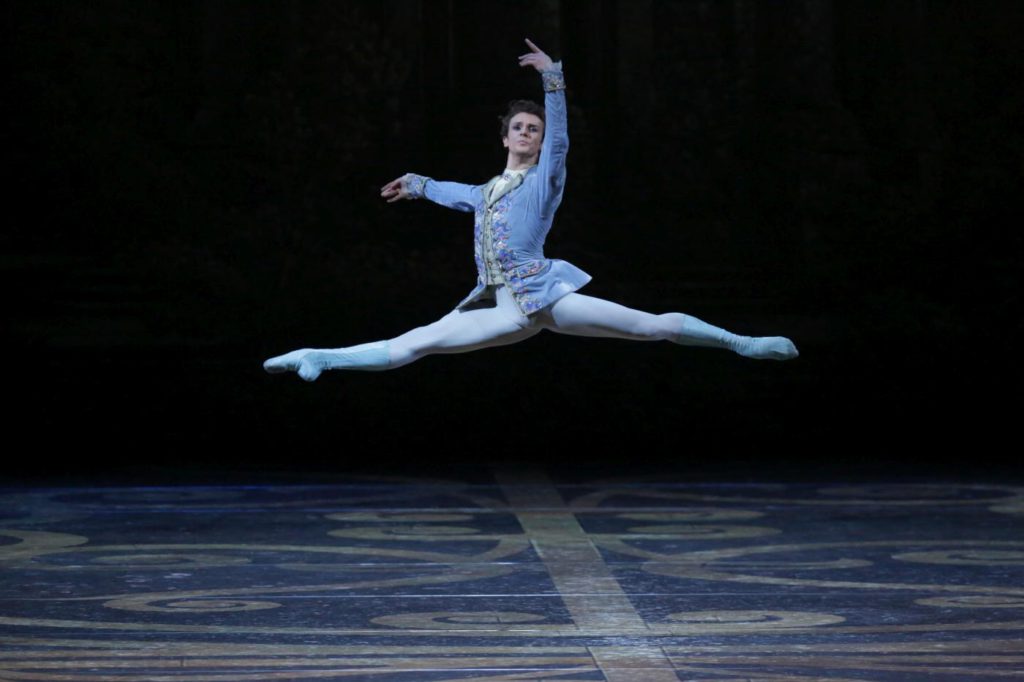 Semyon Chudin will be your Prince Désiré on January 20th and 22nd. Princess Aurora has been in your repertory since 2014. Have you danced this role with him before?
I did my premiere with Semyon and since then have always danced the role with him. He also was my prince in "La Belle".
What distinguishes Prince Désiré from the other four suitors, Aurora was prevented from marrying?
He is daring. Though he is led to his destiny by the Lilac Fairy and without her guidance he might not have been able to find Aurora. [she laughs]
The other princes are noble, too, four respectable man from different countries. But what I think is the more important aspect is Aurora's attitude towards them. In the beginning when greeting them, she doesn't even know what to do afterwards. She looks to her mum, sort of asking "What shall I do?" And then her mother suggests inviting them to dance. But Aurora doesn't perceive them as potential husbands. I guess she simply isn't ready for love. But when meeting Prince Désiré, she is. Maybe it's because her soul has matured.
Where are the role's technical challenges? What sequences are you working on at the moment?
The most difficult moment in this production is Aurora's initial entrance. Because right from the first moment on stage, one is supposed to do rather difficult things without having time to adjust oneself to the stage, the space and to warm up with the audience. One has to prepare oneself backstage to be absolutely ready for that moment.
So it is not the Rose Adagio?
No, by the time you arrive at the Rose Adagio you have already settled in and deem yourself to be Aurora.
Your first live-streamed performance was as Bianca in Maillot's "Taming of the Shrew". This Sunday, again a huge number of your usual viewers will be watching you. How are you feeling about this? Are you getting nervous or rather thrilled?
I'm really trying to not even think about it. Instead I try to think of it as of a normal performance in front of the Bolshoi audience. I do hope that all the other spectators watch me with kind eyes and catch the favorable side of me.

What kind of thoughts and feelings would you wish the audience to take home from "Sleeping Beauty" on Sunday?
The fairy tale brings hope for some good things to happen in life, of which love is probably the most important. I'd wish our spectators would leave ensured about this and that their hearts are filled with hope. Hope that beauty, kindness and love would remain the main pillars of our lives or, at least, that they are something to aspire to.
(The interview has been edited for clarity.)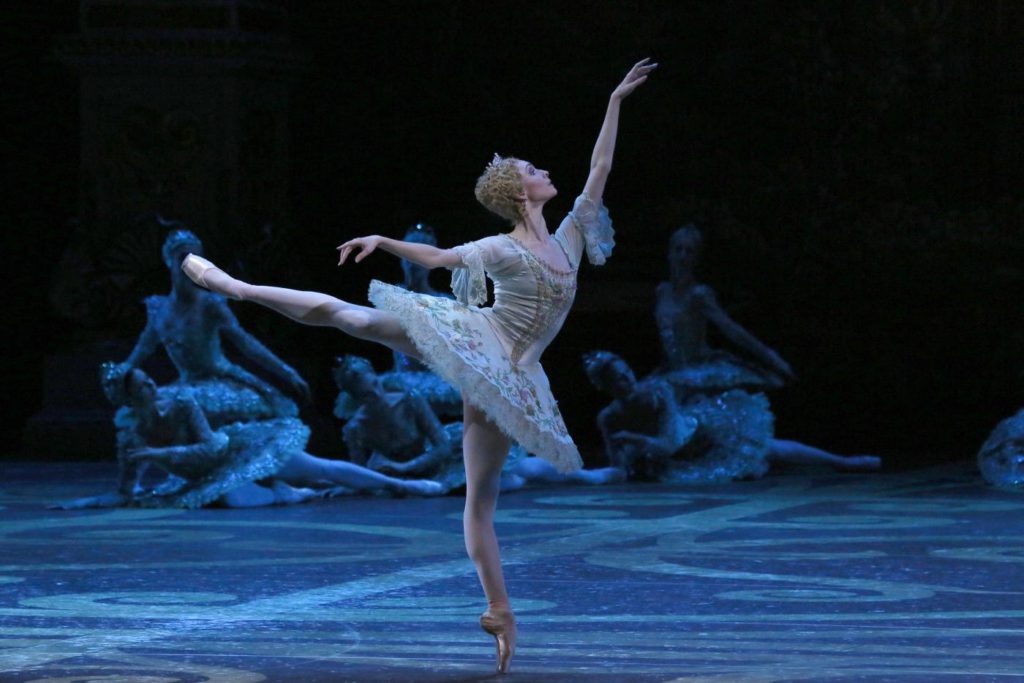 | | | |
| --- | --- | --- |
| Links: | | Website of the Bolshoi Theatre |
| | | Live cinema relays of the Bolshoi Ballet |
| Photos: |  1. | Ivan Alexeyev (Foreign Prince), Olga Smirnova (Princess Aurora), Artemy Belyakov (Foreign Prince) and ensemble, "The Sleeping Beauty" by Yuri Grigorovich after Marius Petipa, Bolshoi Ballet |
| |  2. | Olga Smirnova (Princess Aurora) and ensemble, "The Sleeping Beauty" by Yuri Grigorovich after Marius Petipa, Bolshoi Ballet |
| |  3. | Olga Smirnova (Princess Aurora), Semyon Chudin (Prince Désiré) and ensemble, "The Sleeping Beauty" by Yuri Grigorovich after Marius Petipa, Bolshoi Ballet |
| |  4. | Semyon Chudin (Prince Désiré), "The Sleeping Beauty" by Yuri Grigorovich after Marius Petipa, Bolshoi Ballet |
| |  5. | Olga Smirnova (Princess Aurora) and ensemble, "The Sleeping Beauty" by Yuri Grigorovich after Marius Petipa, Bolshoi Ballet |
| | | all photos © Damir Yusupov 2017 |
|  Editing: | | Laurence Smelser |