"The Sleeping Beauty"
Ballet Company of Teatro alla Scala
Teatro alla Scala
Milan, Italy
September 26, 2015
by Ilona Landgraf
Copyright © 2015 by Ilona Landgraf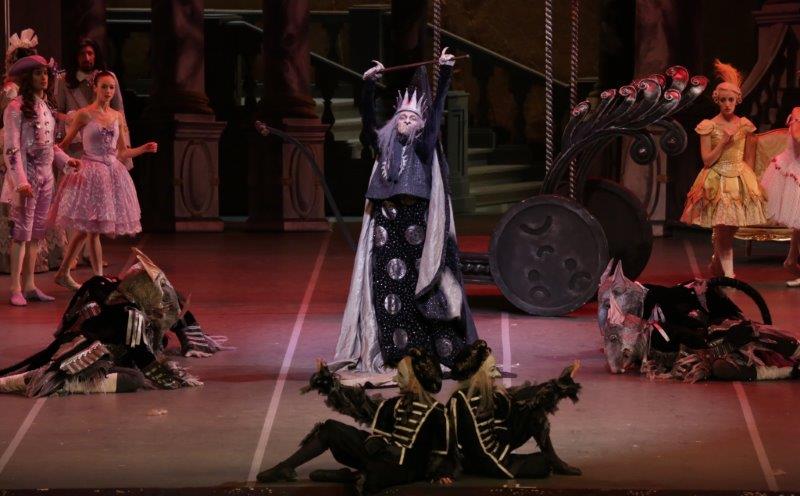 Six months after Alexei Ratmansky's "The Sleeping Beauty" received its premiere in Costa Mesa, California, with American Ballet Theater, gracing the company's 75th anniversary, European audiences now have the opportunity to enjoy the lavish production as well. It premiered on September 26 at the Teatro alla Scala, which shouldered the costs of the project with ABT.
Today's traditionally known "Sleeping Beauty" is the result of adaptions and changes made since the piece's premiere in St. Petersburg in 1890. Ratmansky's merit is to have stripped off the layers of tradition to reconstruct Petipa's genuine choreography as faithfully as possible. Having immersed himself in the piece's original Stepanov notations dating from around 1903 and consulting a variety of other sources – films, photos, drawings and descriptions in books – he nevertheless found some scope for decision-making. The existing scores aren't complete and some numbers missing in the notation had to be assembled anew. Thus reconstructions differ from each other. Other earlier reconstructions are Nicholas Sergeyev's version which premiered with Diaghilev's Ballets Russes in 1921 and Sergei Vikharev's for the Maryinsky Theatre in 1999. An array of choreographies "after Petipa" and radically new interpretations such as the one by Mats Ek also exist.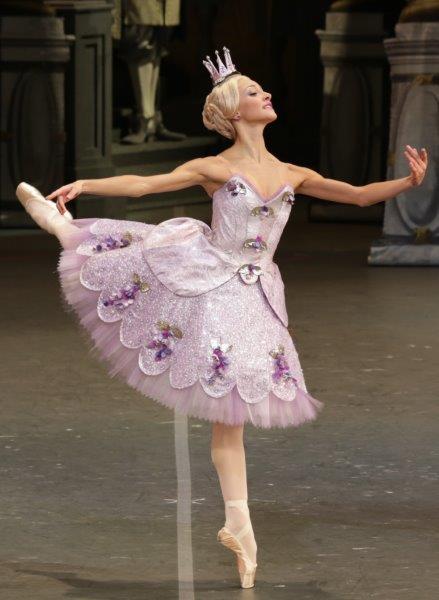 Injuries forced La Scala to change the cast for Prince Désiré twice. First David Hallberg had to withdraw. Then Sergei Polunin, who was to replace him, also canceled on short notice. Finally the young Jacopo Tissi, a graduate last year of La Scala's Ballet School, stepped in. His Aurora was Svetlana Zakharova, principal dancer of the Bolshoi and also étoile at La Scala.
As expected the house was completely sold out. People queued up at the evening box office hoping for tickets. I saw the performance from a bird's eye perspective, a box in the fourth gallery. Unfortunately the right side of the stage was out of sight from there, so I could neither see the royal cradle nor the awakening kiss. But, interestingly, I got a glance as to what was going on in the wings on the opposite side and had the best view of the dance patterns and group formations. Quite likely the atmosphere was different in the pit, where the illusion of a palace ambiance isn't partly revealed, as I saw it, as a fake on wooden planks. Maybe that is why the other audience members sharing the box with me weren't engrossed in the lovely fairy story but instead were busy with taking photos and filming the performance with their smart phones. In the intermission they played snippets of their recordings. Manners change even at the prodigious La Scala.
Setting the tone at the conductor's podium was Vladimir Fedoseyev, having the Orchestra of the Teatro alla Scala under his baton. He played with the tempo. The prelude was rendered slow and creamy, too tame to be a statement of assured royal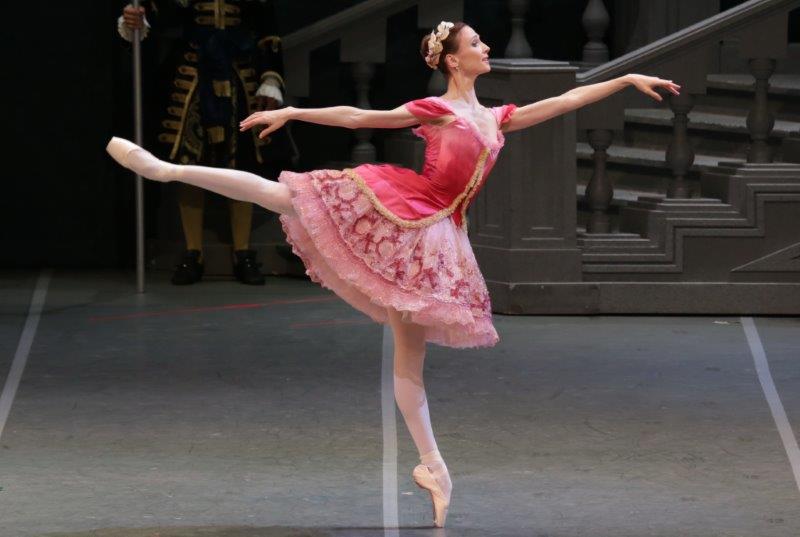 power and grandeur. Later, as if to make up time, Fedoseyev conducted the interlude that introduces Aurora's birthday in double-quick time. The music accompanying Prince Désiré and the Lilac Fairy from the hunting ground to the enchanted castle was, by contrast, played at a snail's pace, yet even that seemed to provide little enough time for the stagehands to change the set. There was a loud rumble and shouts, but, fortunately, everything seemed in the right place when the curtain went up for the awakening scene.
Richard Hudson's costumes were inspired by Léon Bakst's designs for Sergei Diaghilev's production of "Sleeping Beauty" in 1921. There is no clear stylistic alteration between the fashion at Aurora's christening and her birthday. Tutus are knee-length; most men wear breeches covering three-quarters of their legs. Wigs are omnipresent matching the historical periods, although hardly enhancing anyone's looks. The queen's highly towered hair decorated with bulky, panel-like jewelry was really unbecoming.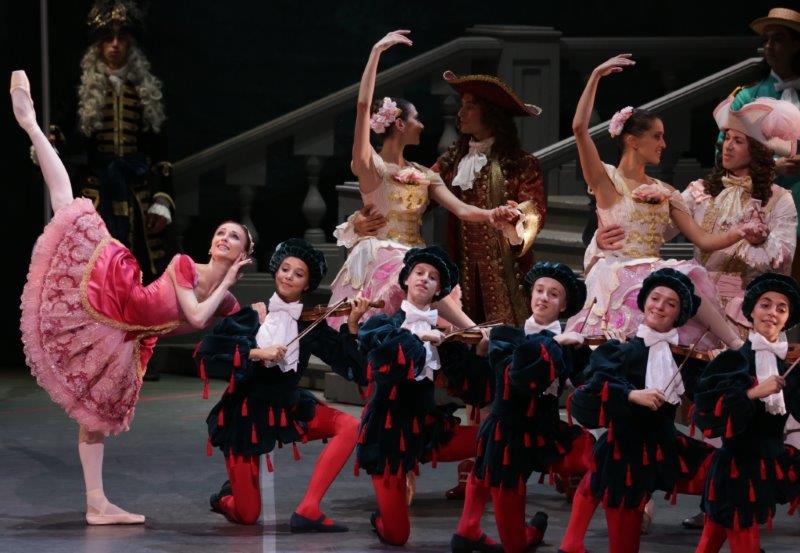 Hudson paid admirable attention to details from the headdresses down to the heeled footwear, to the poulaines in the Asian divertissement and to the rag dolls attached to the boots of the ogre, symbolizing his prey, Hop o' My Thumb and his brothers. Also the props – the fairies' magic wands, picnic baskets for the hunting party and bellows for Cinderella – were carefully chosen. Opulence was the overall motto of costumes and set design to emphasize that King Florestan's kingdom is the richest possible. Yet a more understated elegance might have been more effective. The characters of the king and the queen were almost secondary to the parade of their robes' sumptuous trains and capes. The Lilac Fairy, initially clad in a nice mauve tutu, later changed costume. Then with long satin gloves and a huge feather headdress she looked as if she belonged in a tawdry variety show.
One alteration to the version performed in the US related to the garland waltz at Aurora's birthday party in act one. In Milan Ratmansky included four of Petipa's original accessories, soft flower garlands for the boys, solid ones for the men, floral wreaths for the girls and flower baskets for the women. According to Ratmansky, Petipa himself had cancelled the soft garlands at some point because they caused too much trouble. La Scala's dancers mastered them gracefully. The effect was marvelous.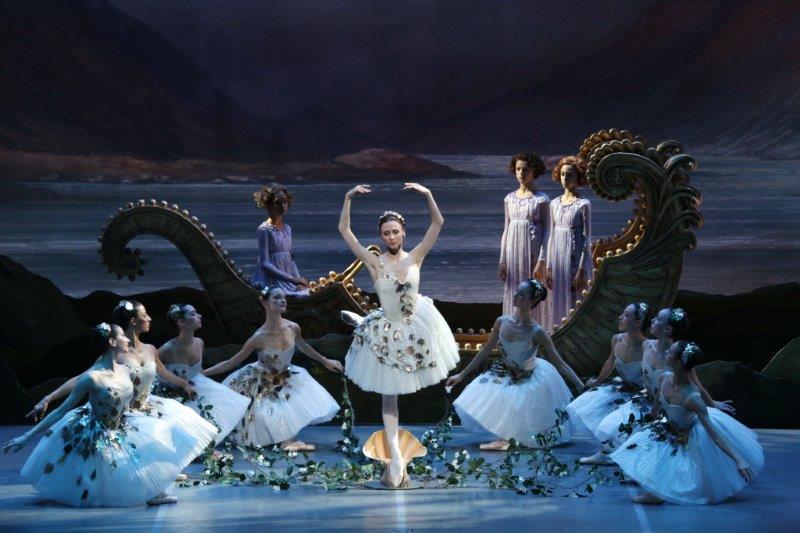 The ensemble responded readily to the technique required by the old style. Interpretations were lively and charmingly presented by the court's whole hierarchy. It was a special pleasure to see students of different ages relishing their performances. Sensitive phrasing alternated seamlessly with quicksilver footwork, mime scenes were clearly executed, though I wonder if today's audience is still familiar with the meaning of each gesture.
Zakharova's Aurora combined the softness and loveliness of a young woman with refined technical brilliance. Her entrance at her birthday literally lived up to the name Aurora. Zakharova has an unpretentious natural elegance and a fine sense for nuances. Though Petipa's style requires less bravura, Zakharova never looked restrained but rather thoroughly graceful. Tissi, her prince, was a safe partner. He confidently made her spin with a lightning pace in their final pas de deux. They were well matched. Understandably, Tissi has not yet the charisma of a real prince. His part also offers little opportunity to display nobility through dance, as, except for third act, he has nothing to dance. Hence the role has to be filled almost solely from within requiring a ripe, experienced personality. Tissi definitely has potential and plenty of time ahead to develop it.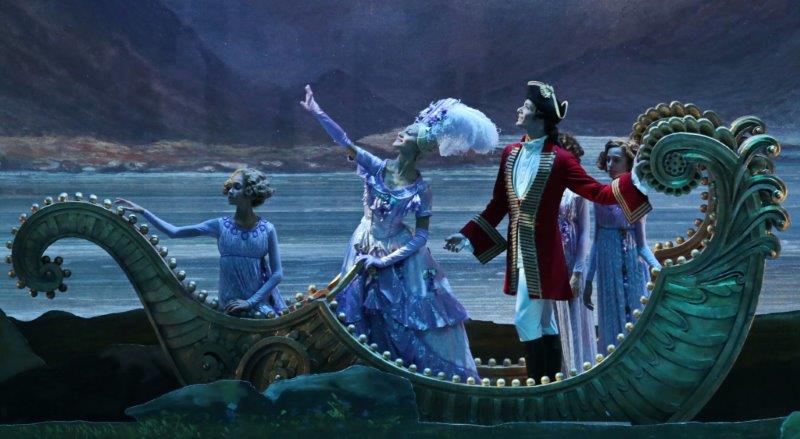 Nicoletta Manni as the Lilac Fairy was the epitome of goodness, radiating calm and safety. Though tenderly gracious she unwaveringly warded off Carabosse. But she guided Prince Désiré like a godmother, instructing her young, inexperienced godson with gentle resoluteness and patience. All other five fairies clearly portrayed the nature of their good wishes in their solos. Their opponent, Carabosse, was danced by Massimo Murru en travesti. Beating the slug-brained royal majordomo Catalabutte (Mick Zeni) for not having been invited to Aurora's christening and plucking his hair gave her sadistic joy. Her scornful, triumphant smile spoke volumes about her ugly character.
The third act's wedding included an array of fairy tale figures, among them a perky Cinderella and her prince, Red Riding Hood haunted by the bad wolf, Hop o' My Thumb and his brothers snitching the sleeping ogre's boot and Puss-in-Boots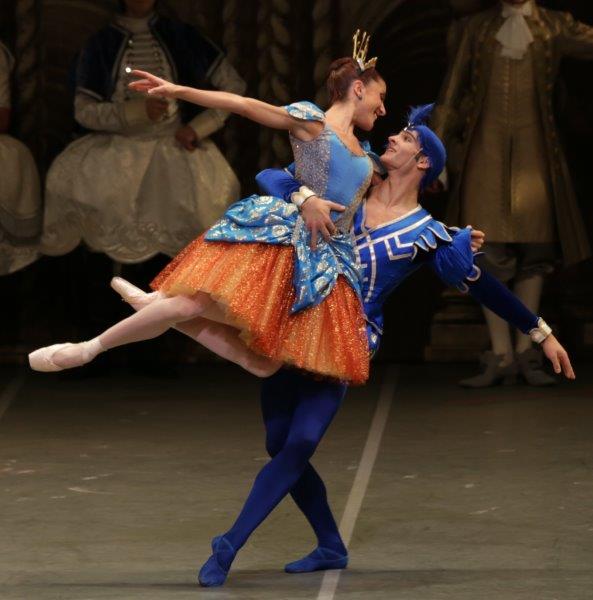 making a move on his adored white cat. The fairies symbolizing the Precious Stones – Diamond, Gold, Silver and Sapphire – shone in their Pas de Quatre. It would be nice to see the piece repeatedly to fully appreciate those gems. Bluebird (Angelo Greco) had a sweet pas de deux with Princess Florine (Vittoria Valerio) although he flew less high than in other versions.
That leads to a crucial point of Petipa's choreography. As Ratmansky stated in an interview with Marina Harss in August, traditional versions of "Sleeping Beauty" provide an excitement, which the authentic Petipa might not give. His choreography has less amplitude, less 'wow'-effect. Bravura feats and technical tricks are missing while the focus is on musicality, elegance, classical harmony and precision. Undoubtedly Ratmansky demonstrates that the original has charm, and, as Alastair Macaulay wrote in his review in May, a DVD including an appendix comparing choreographic alternatives from different versions would be welcome. What about lecture demonstrations in addition, like the Guggenheim New York's "Works & Process" series? But, for the long-term, what future has this reconstruction? "Paquita", which was reconstructed by Ratmansky for the Bavarian State Ballet in December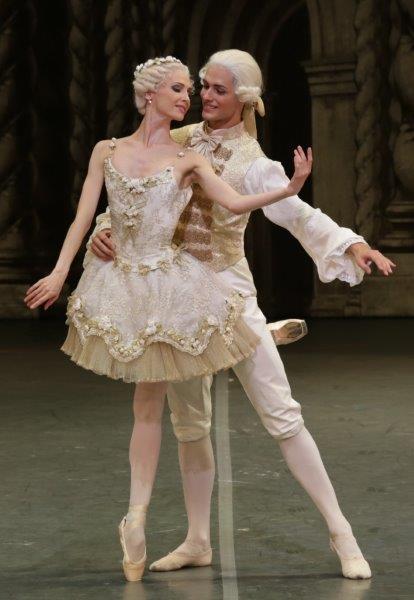 last year, has a good chance to survive. It looked fresh and lively. How successful will "The Sleeping Beauty" be?
Setting aside nostalgic feelings and dance historical aspects, does a Lilac Fairy who is lifted up on a stool to bless the child look graceful? She is, after all, a fairy, the main fairy, and one can expect her to pose in the air due to her magic power. It is not about preparations from fourth position or the avoidance of splits and high extensions; it is about the credibility of a character through the style of its movements. A prince with bent knees and flat jetés en manege simply doesn't look princely.
Another issue, albeit one that applies to Ratmansky's as well as to traditional versions, is that the characters are one-dimensional, either good or bad. Doesn't that oversimplify life even for children? It doesn't help to refer to the ballet's way of storytelling as being childlike, naive and full of warmth. If "The Sleeping Beauty" really wants to touch the audience it has to be credible, it has to stir the emotions of today's people. Otherwise it becomes a sumptuous relic. Marcia Haydée, for example, gave Carabosse's role more depth in her version for Stuttgart Ballet. She also had the four suitors dance instead of merely standing around. The audience loves the piece.
Taste and perception have changed during more than one century. Getting to know a piece's evolution is enriching and furthers the understanding. Hence Ratmansky's production should be kept alive as reference point to compare back then with today and to save as much as possible for tomorrow.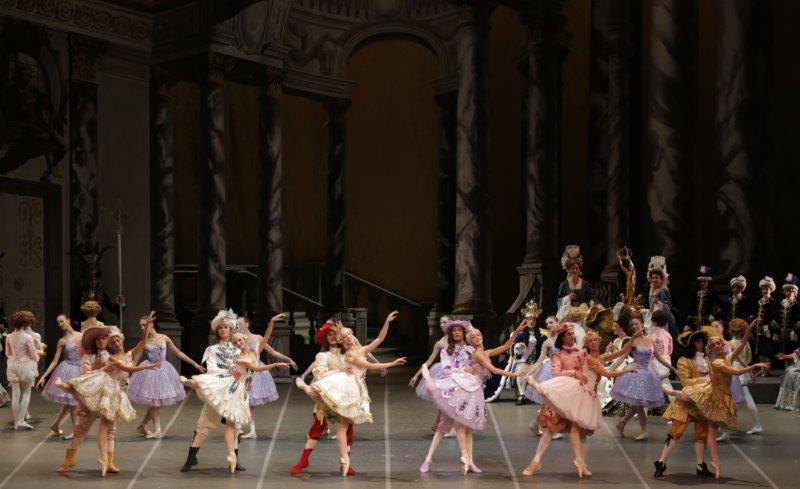 | | | |
| --- | --- | --- |
| Links: | |  Homepage of Teatro alla Scala |
| Photos: | 1. | Massimo Murru (Carabosse) and ensemble, "The Sleeping Beauty" by Marius Petipa and Alexei Ratmansky, Ballet Company of Teatro alla Scala |
| |  2. | Nicoletta Manni (Lilac Fairy), "The Sleeping Beauty" by Marius Petipa and Alexei Ratmansky, Ballet Company of Teatro alla Scala |
| |  3. | Svetlana Zakharova (Princess Aurora), "The Sleeping Beauty" by Marius Petipa and Alexei Ratmansky, Ballet Company of Teatro alla Scala |
| |  4. | Svetlana Zakharova (Princess Aurora) and ensemble, "The Sleeping Beauty" by Marius Petipa and Alexei Ratmansky, Ballet Company of Teatro alla Scala |
| |  5. | Svetlana Zakharova (Princess Aurora), "The Sleeping Beauty" by Marius Petipa and Alexei Ratmansky, Ballet Company of Teatro alla Scala |
| |  6. | Nicoletta Manni (Lilac Fairy), Jacopo Tissi (Prince Désiré) and ensemble, "The Sleeping Beauty" by Marius Petipa and Alexei Ratmansky, Ballet Company of Teatro alla Scala |
| |  7. | Vittoria Valerio (Princess Florina) and Angelo Greco (Bluebird), "The Sleeping Beauty" by Marius Petipa and Alexei Ratmansky, Ballet Company of Teatro alla Scala |
| |  8. | Svetlana Zakharova (Princess Aurora) and Jacopo Tissi (Prince Désiré), "The Sleeping Beauty" by Marius Petipa and Alexei Ratmansky, Ballet Company of Teatro alla Scala |
| |  9 | Nicoletta Manni (Lilac Fairy) and ensemble, "The Sleeping Beauty" by Marius Petipa and Alexei Ratmansky, Ballet Company of Teatro alla Scala |
| | | all photos © Marco Brescia and Rudy Amisano 2015 |
| Editing: | | Laurence Smelser |