"William Forsythe, The Fact of Matter"
Museum of Modern Art
Frankfurt/Main, Germany
October 18, 2015
by Ilona Landgraf
Copyright © 2015 by Ilona Landgraf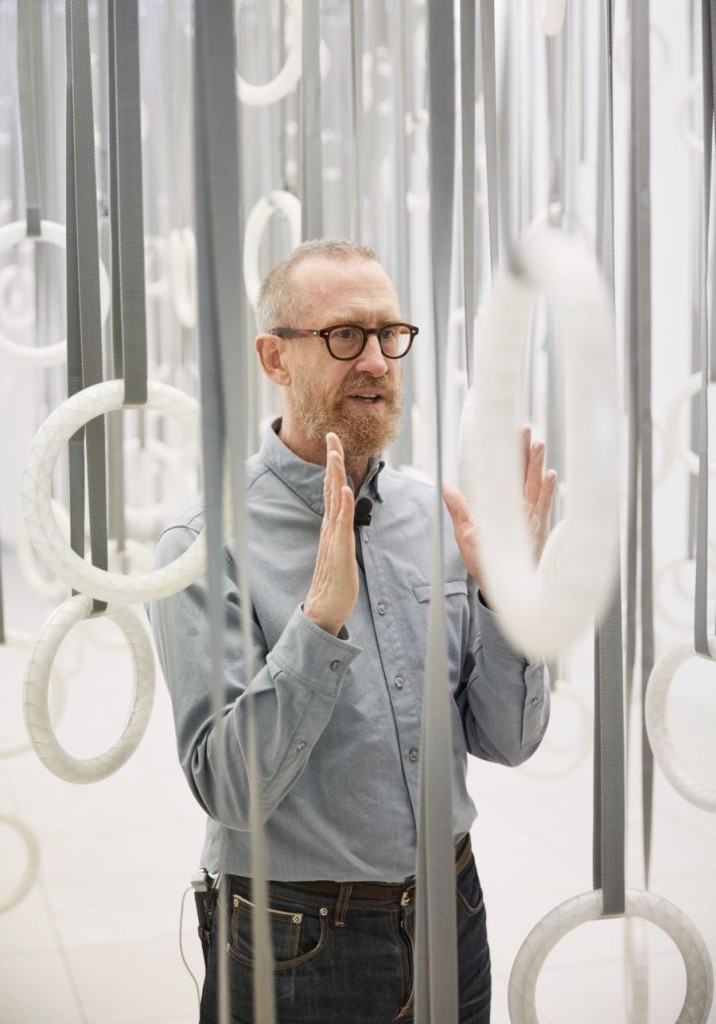 When it comes to William Forsythe, one first of all associates the choreographer with Stuttgart Ballet, Ballet Frankfurt and The Forsythe Company, his main places of activity, but pieces by Forsythe are danced worldwide. This spring, after ten years Forsythe as director of The Forsythe Company stepped back. During his tenure's last period health problems had already forced him to withdraw from the forefront, reducing his involvement to advisory support. Meanwhile his drive seems revived. As of late Forsythe holds a professorship of dance at the University of Southern California and, in addition, became associate choreographer of the Paris Opera Ballet.
Now the Museum für Moderne Kunst (Museum of Modern Art, MMK) in Frankfurt dedicates an exhibition to the sixty-five-year-old. Titled "The Fact of Matter", it combines room installations and videos by Forsythe with art objects of the MMK's collection selected by him. His having been artistically connected with the city for more than thirty years gives every reason for the exhibit. That Ballet Frankfurt which had been dissolved in 2004 after two decades due to cutting measures is off the cards in this context.
First of all, except for two videos "The Fact of Matter" doesn't feature dance. Nevertheless dancers of the former Forsythe Company will act as guides through the exhibition on later dates. In Forsythe's understanding choreography is an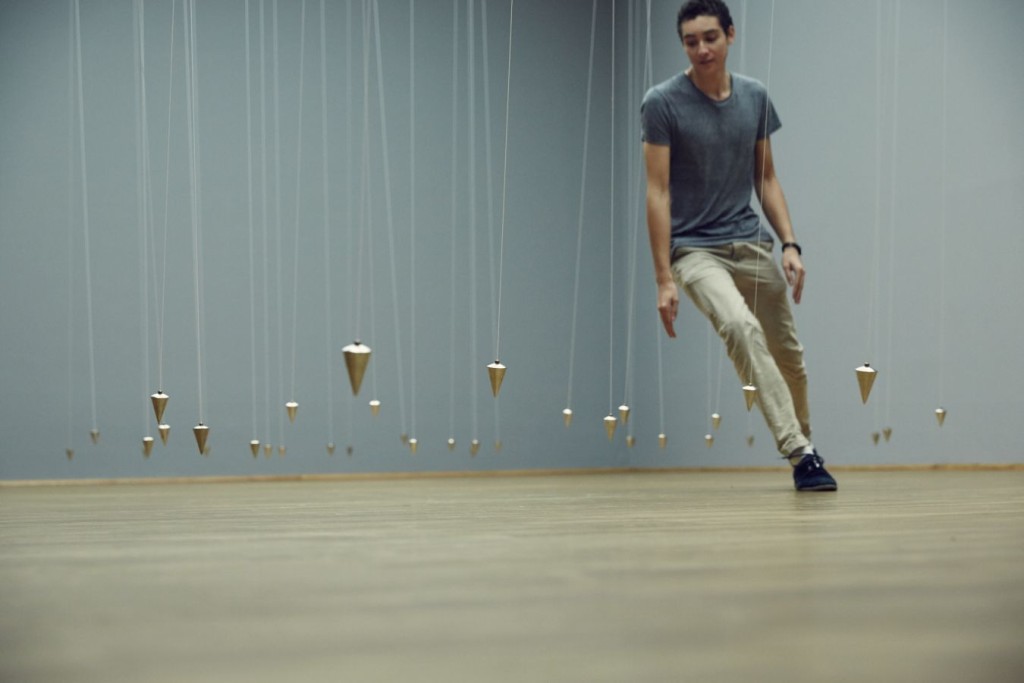 organization on the level of ideas which are realized by people. Hence many things can be subsumed under the term choreography. The differentiation between the arts is blurred, which is one characteristic of Forsythe's work. In order to get the spectators more involved he invites them to interact with the objects and installations.
"The Fact of Matter" (2009), which gave the exhibition its title, is one of those "choreographic objects". It instructs visitors to traverse a room by solely using a course of plastic rings which hang down on belt straps. Some give it a try. On the third floor in "Nowhere and Everywhere at the Same Time" (2015), one of the installations especially created for this exhibition, the task is to avoid colliding with swinging plummets attached to strings when searching for a path through the room. Popping sounds made by air cylinders determine individual rhythms of each pendulum.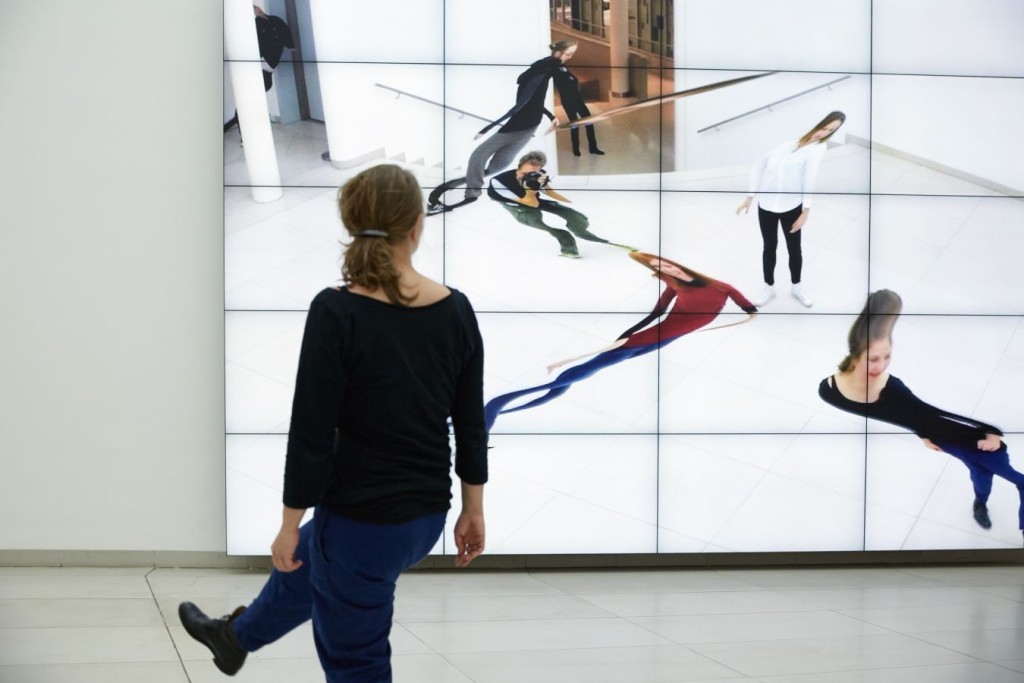 Most popular with the viewers is a video installation in the entrance hall: "City of Abstracts" (2000) films the people standing in front or walking past, morphing their moves into funny snake-like distortions. Rather meditative is the atmosphere in a dark side room showing two identical projections of a video in which two dancers lie on the floor, completely tangled into each other ("Stellenstellen Films", 2013). Juxtaposed in opposition to what looks like a crazy yoga position is a glass case with an knot of silk thread the size of a tennis ball by Jens Risch.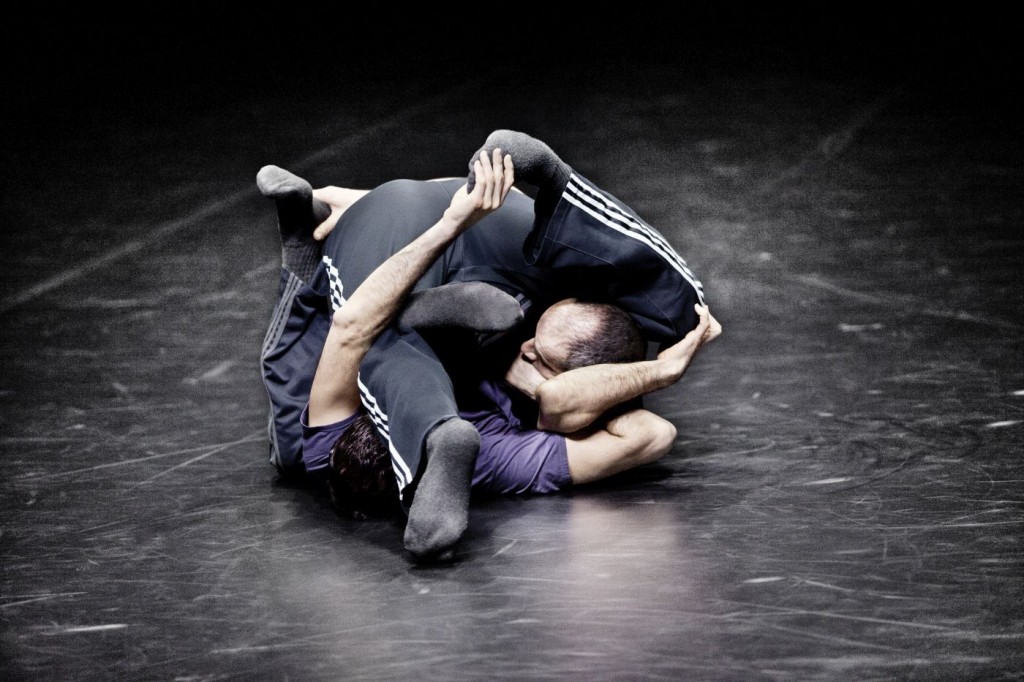 When approaching "Additive Inverse" (2007) a museum attendant urges visitors to move cautiously to not affect the wafts of mist emerging out of the installation's wooden box on the floor. Accordingly the atmosphere in the small, dark side room is almost devout.
"Instructions" (2015) tells one how to move hands and fingers: Tip your right thumb with your right forefinger and say aloud 'Point". Repeat this with the left hand. Now keep the fingers touched and move both hands, saying 'Line'… A video installation of a large, black hand print repeating the same finger movements again and again doesn't really help to get the deeper meaning. Does Forsythe aim to pull our legs? Two videos in a room on the opposite side again deal with drawing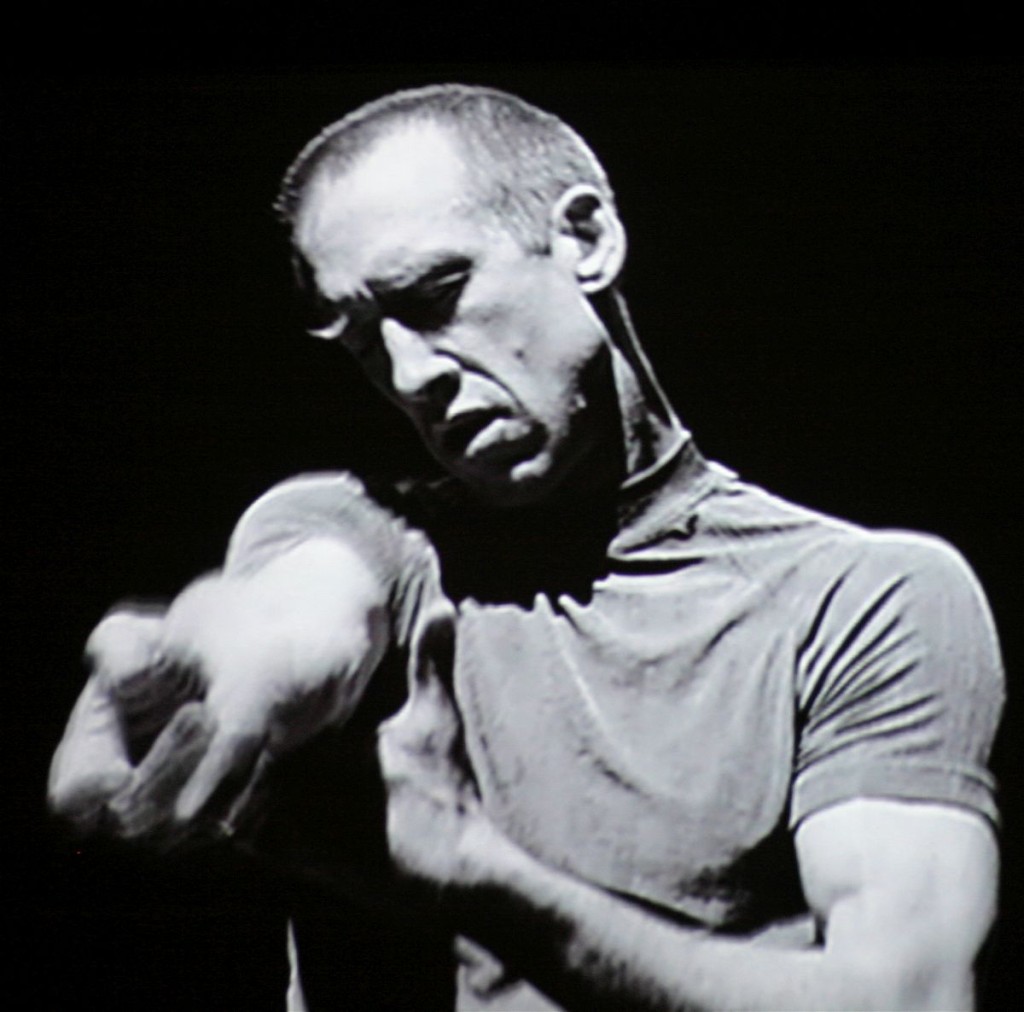 lines and carving out shapes through movement. Here Forsythe himself demonstrates his grammar of movement language in "Solo" and "Lectures from Improvisation Technologies" (both 1997).
Instructions on how to interact with other exhibits are for example: "If you have difficulties in opening the door, please persist" which accompanies the heavy door of "Aufwand" (2015). When entering the room behind "Abstand" (2015) one is asked to keep at least one meter distance from the wall or to each other. All references to Marcel Duchamp aside, this is banal. As is the duster made of fine feathers which should be held absolutely still ("Towards the Diagnostic Gaze", 2013). Forsythe wants to keep his audience alert and engaged but taxes their minds on a surprisingly small scale.
Should some wordy titles promote mental sprightliness? To explore "A Volume, within which it is not Possible for Certain Classes of Action to Arise" (2015) people have to go down on their knees and crawl though a room only 70 cm high. Giggling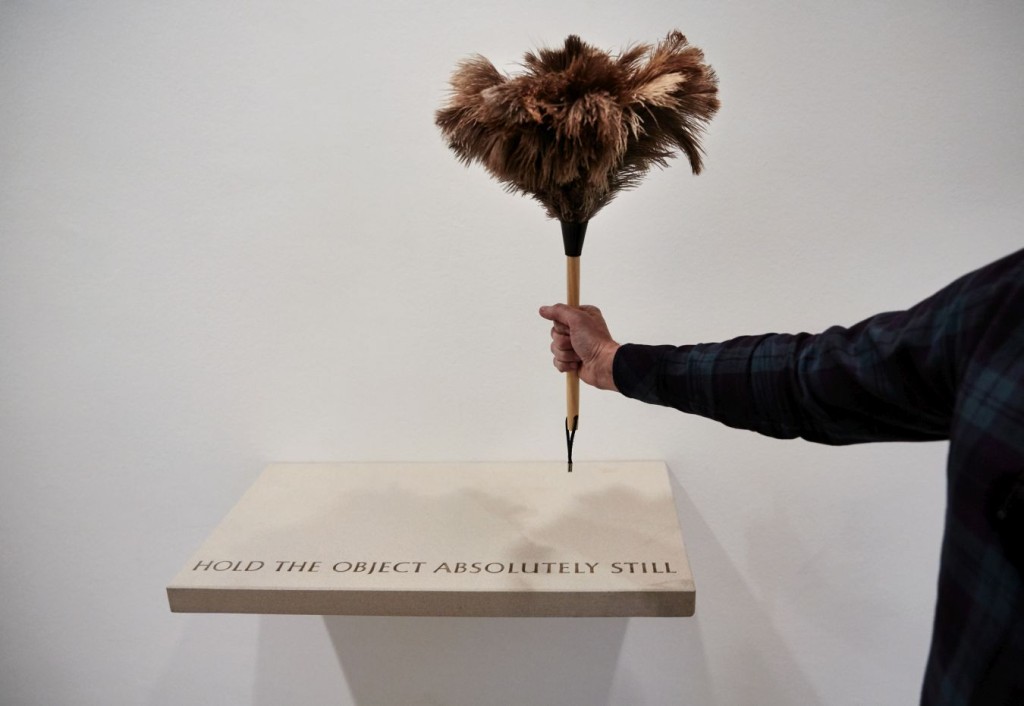 can be heard from the narrow space. Yet I am less exhilarated but rather reminded of the foxholes and hideouts where people seek shelter during war.
I have also mixed feelings about an installation in the opposite room. Teresa Margolles's "Aire" (2003) is a white room which can be entered through vertical plastic blinds. Its only equipment are two air dampers originally using water with which the corpses in the forensics lab of Mexico City had been washed. The small exhibition brochure talks of "Aire" confronting in an almost disturbing way with some sort of materialization of the mortality of humans. Well, lapses of taste are called art when shown in a museum. Christian Boltanski's narrow L-shaped chamber, which is over and over decorated with black and white photos of old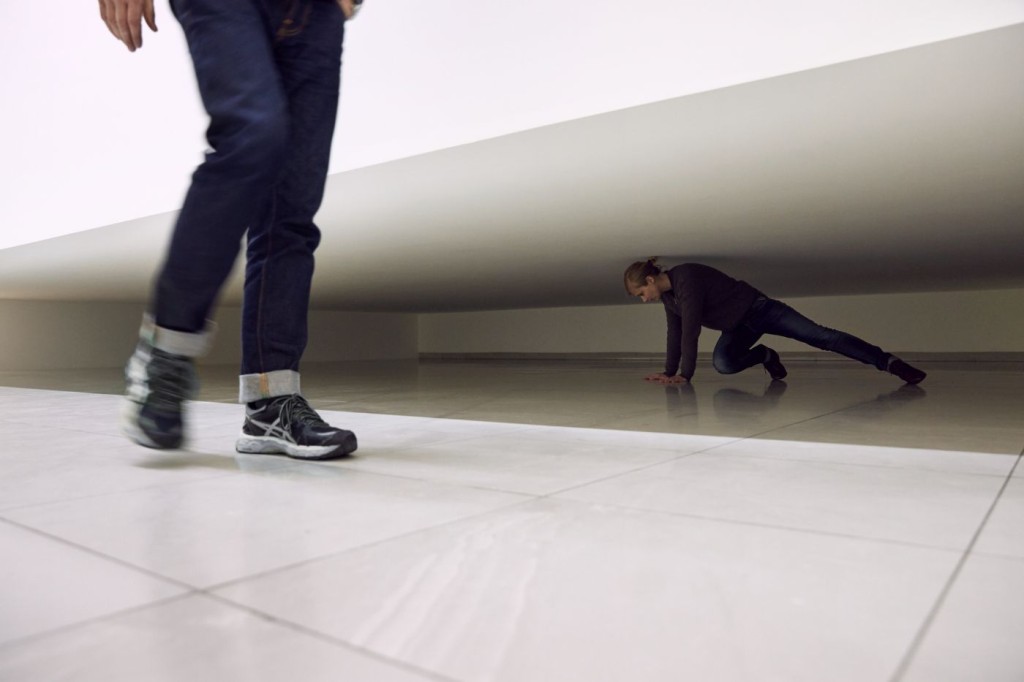 obituaries printed in a Swiss newspaper, seizes the topic more agreeably.
In the last room on the ground-floor Andreas Slominski's "Fanganlage für Wildschweine" (Arresting Trap for Wild Hogs, 1999) waits for a catch – desperate visitors maybe?
"William Forsythe. The Fact of Matter" runs until the end of January 2016. For the ones who have never been in the MMK, its building, designed by the Viennese architect Hans Hollein, is worth a visit. The MMK is closely situated to the Schirn Kunsthalle and the Dome in the city center, unmissable because of its extraordinary ground plan: it is a huge cake slice.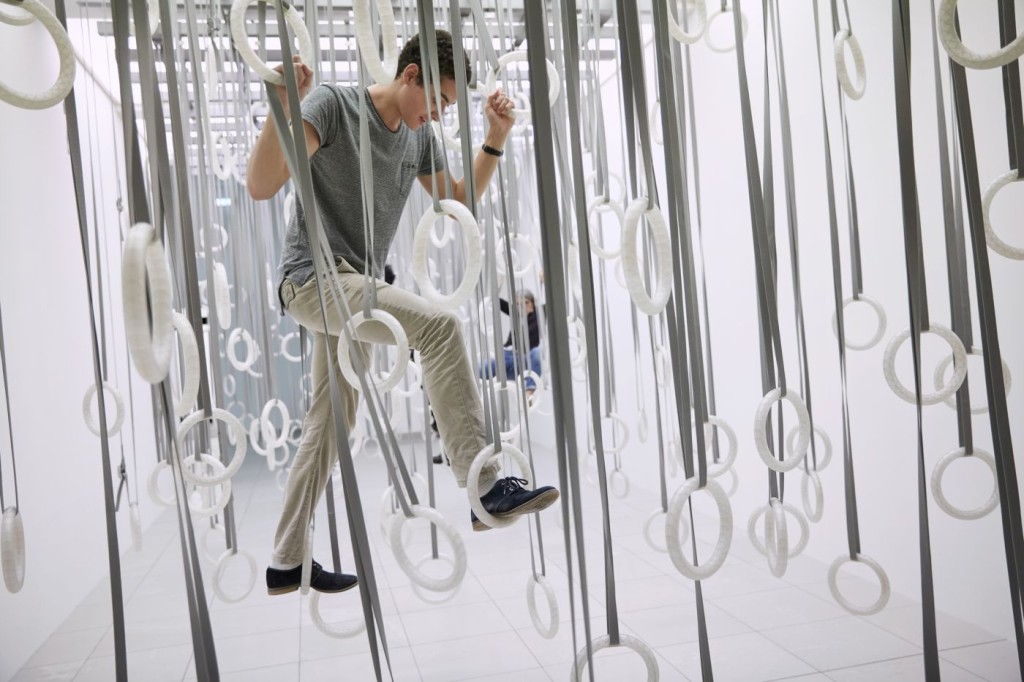 Links:
Homepage of the Museum für Moderne Kunst, Frankfurt
Photos:
1.
William Forsythe, 2015 © Dominik Mentzos 2015
2.
William Forsythe, "Nowhere and Everywhere at the Same Time", No. 3 (2015)
installation view, MMK Museum für Moderne Kunst Frankfurt am Main; courtesy of the artist © Dominik Mentzos 2015
3.
William Forsythe, "City of Abstracts" (2000), installation view, MMK Museum für Moderne Kunst Frankfurt am Main, video software development: Philip Bußmann; courtesy of the artist © Dominik Mentzos 2015
4.
William Forsythe, "Stellentstellen" (2013), Performers: Amancio Gonzales and Ander Zabala © Dominik Mentzos 2015
5.
William Forsythe, "Solo" (1997), Filmstill © William Forsythe 2015
6.
William Forsythe, "Towards the Diagnostic Gaze" (2013), installation view, MMK Museum für Moderne Kunst Frankfurt am Main; courtesy of the artist © Dominik Mentzos 2015
7.
William Forsythe, "A Volume, within which it is not Possible for Certain Classes of Action to Arise" (2015), installation view, MMK Museum für Moderne Kunst Frankfurt am Main; courtesy of the artist © Dominik Mentzos 2015
8.
William Forsythe, "The Fact of Matter" (2009), installation view, MMK Museum für Moderne Kunst Frankfurt am Main; courtesy of the artist © Dominik Mentzos 2015
Editing:
Agnes Farkas