"Charlotte Salomon: Death and the Painter"
Ballett im Revier
Musiktheater im Revier
Gelsenkirchen, Germany
November 20, 2015
by Ilona Landgraf
Copyright © 2015 by Ilona Landgraf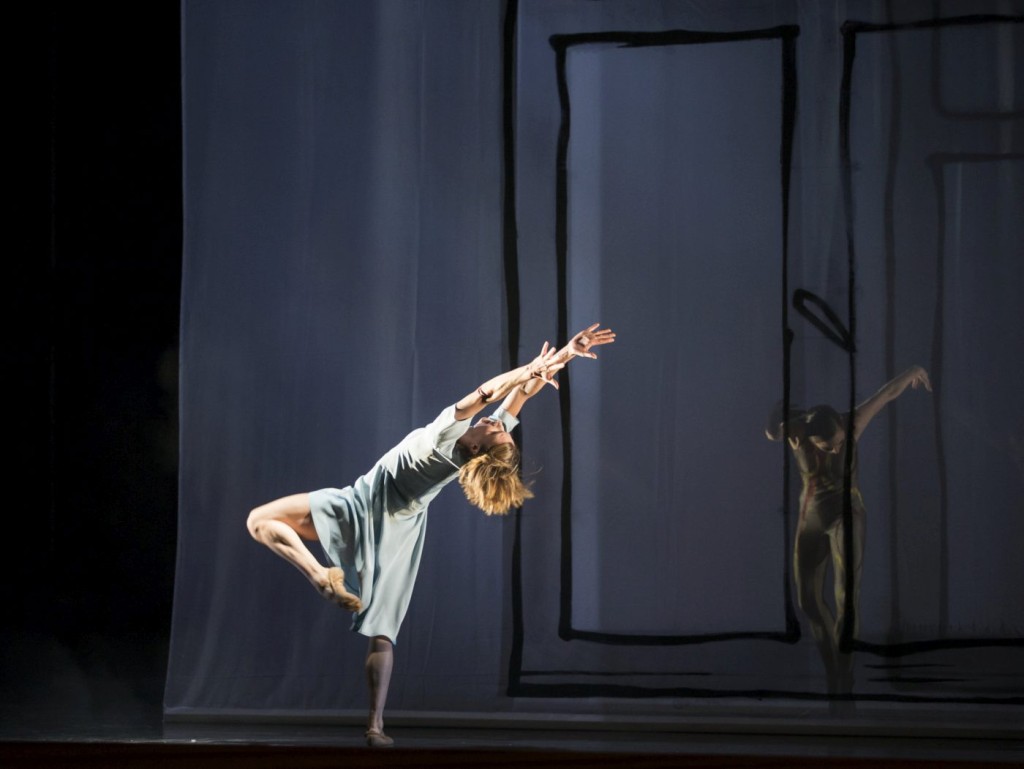 It is just Bridget Breiner's third season at the helm of the Ballett im Revier in Gelsenkirchen. But for the second time she has already been awarded the German theater prize "Faust" for best choreography. Breiner, who started her career as a dancer with the Bavarian State Ballet, later joined the Semperoper Ballet Dresden before dancing several years as principal with Stuttgart Ballet. In 2012 she took over as artistic director of the Ballett im Revier following Bernd Schindowski who had held the post for more than thirty years.
Getting the "Faust" twice is quite an achievement as Breiner's company is small: around fifteen dancers including guests. "Ruß", Breiner's version of the Cinderella story, was the first work awarded in 2013. Just recently her latest work, "Charlotte Salomon: Death and the Painter", received its laurels as well.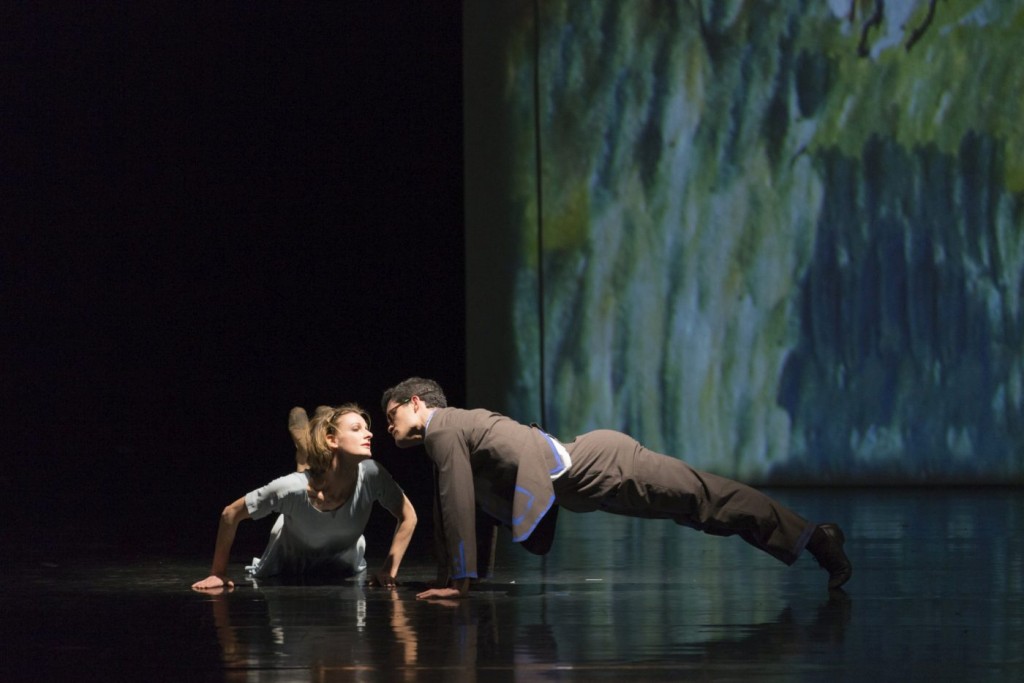 The ballet deals with the life of the Jewish painter and author Charlotte Salomon (1917 – 1943). Salomon, daughter of a surgeon, grew up in Berlin. Her mother committed suicide in 1926. A few years later her father married the internationally famous alto opera singer Paula Lindberg. Salomon attended art school in Berlin but left when a first prize in an art competition was withheld because of anti-Semitic reasons. In 1939 she emigrated to the South of France where she lived with her grandparents. But the relationship was scarcely harmonious. In 1940 Salomon's grandmother, desperate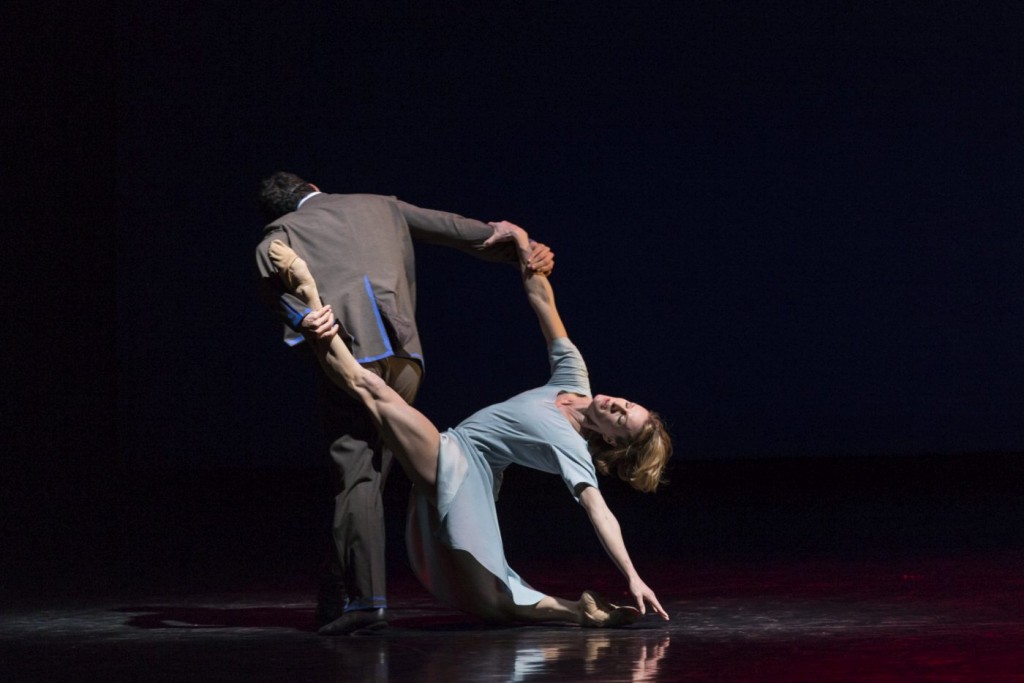 about the war in Europe and the family's destiny, committed suicide. Some months later Salomon and her grandfather were interned by the Gestapo but soon released because of the grandfather's old age.
To cope with the shocking events Salomon started to paint again as if in a frenzy. Within eighteen months she created more than 1300 pictures, expressionistic gouaches, reminiscent of van Gogh's and Matisse's style. Salomon choose around eight-hundred of them, added comments, stage directions and pieces of music. The result, titled "Life? Or Theater?", is her autobiography. Its structure resembles a stage play with prologue, main part and epilogue.
In 1943 Salomon married the Jewish emigrant Alexander Nagler. Not long after the couple was betrayed. In October of the same year both were deported to the concentration camp Auschwitz. Presumably Salomon, being five months pregnant, was killed immediately. Her husband died in 1944.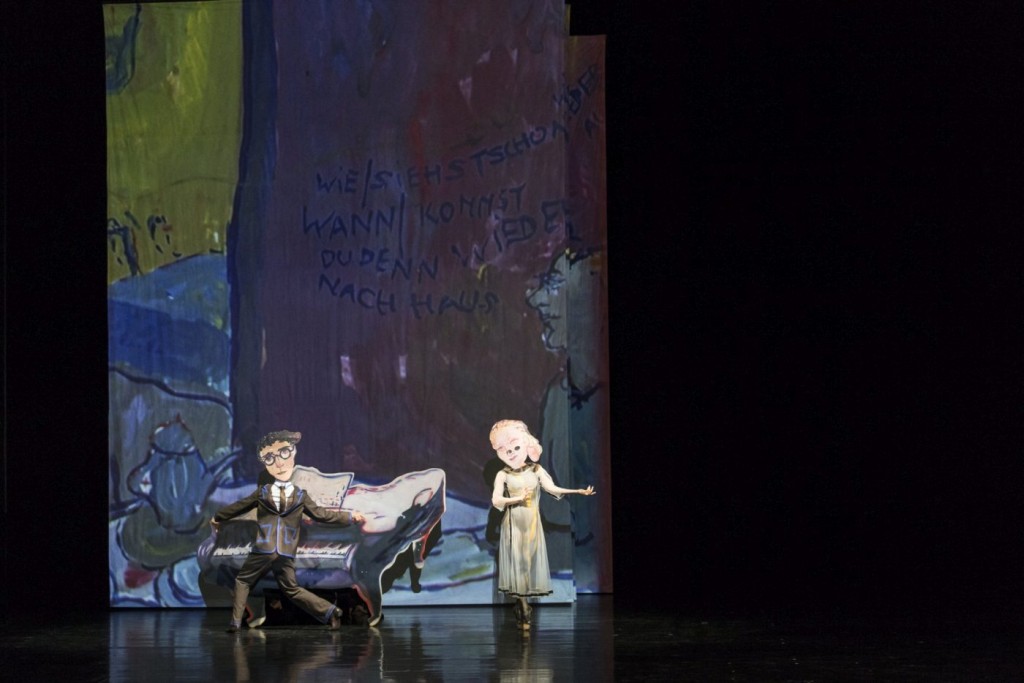 Breiner's choreography is based on "Life? Or Theater?". Her piece is a mix of genres, a ballet-opera and dance theater. The music is by Michelle DiBucci. Her score reflects Salomon's initial choice of music. DiBucci composed a modern oratory, an evocative assembly of voices and sounds, including a choir and recorded comments which often resemble a babel of voices. The New Philharmonic Orchestra of Westphalia under the baton of Valtteri Rauhalammi mastered the polyphonic collage successfully.
In two aspects Salomon's paintings are at the core of the piece. First they are shown via changing video projections whose sheer magnitude enhances their expressive power. Secondly the models Salomon captured in her drawings come alive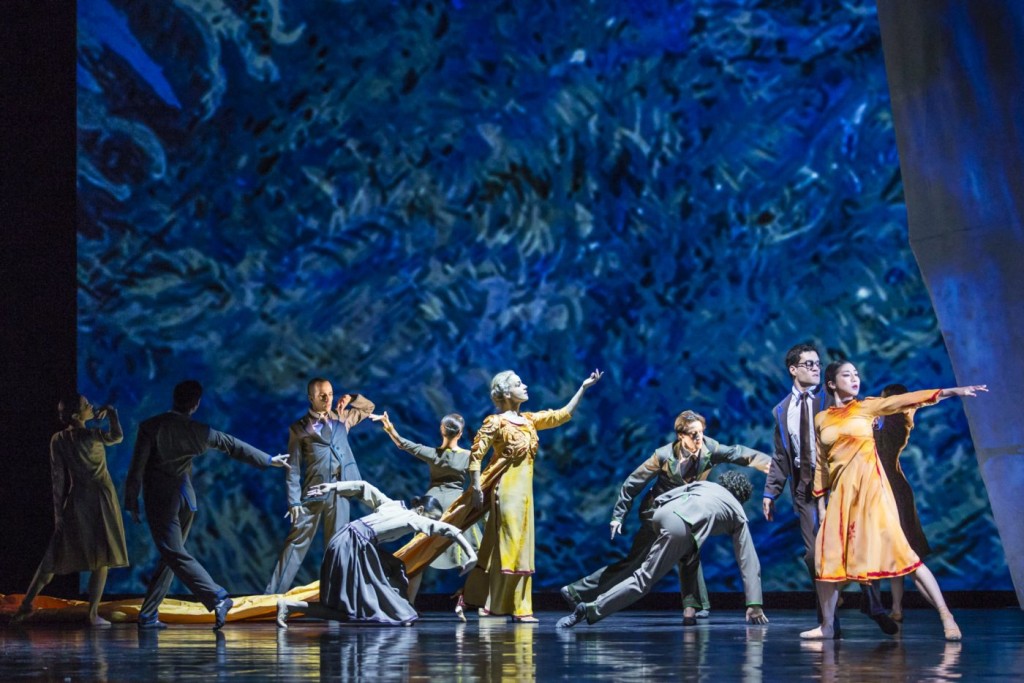 again through the dancers. Breiner and Jürgen Kirner, her set and costume designer, invented large painted cardboard-masks for some dancers, which they wear or hold in front of their faces. The role of Salomon was created on Kusha Alexi who, due to injury, was replaced by Breiner herself. (The photos show the cast from an earlier performance.) As Salomon, Breiner arranges her masked figures trying to find the best poses for a painting. Later in an ingeniously plain and effective scene, some masked figures – all Jews – assemble around a table, which is suggested by a floating white table cloth. They argue about their plans to flee the country. At one point a mask is also fixed to the back of its wearer's head. That dancer also puts on his jacket the wrong way round with the button border on his back. One almost isn't aware of his having a false face.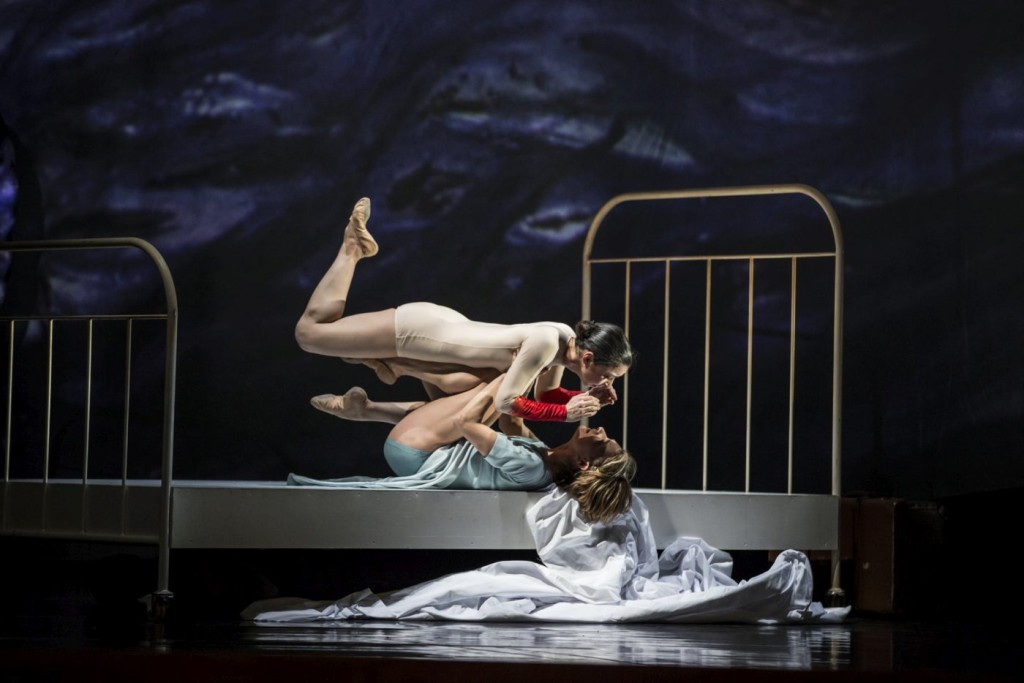 Whole body cardboard-figures represent the grandparents. They come alive when the dancers pushing them from behind step forward and start to dance. These fascinating masks trick one's usual perception. A clever idea!
Breiner shows Salomon as a forceful and firm woman, though she again and again is shaken by fright and horror. Her dove blue dress gives her a frail appearance, but she is not easily devastated instead she is immediate, emotionally sincere and driven by an inner need to stay true to herself.
The other main characters are Paula Lindberg (nicknamed Paulinka), Salomon's step mother, and Daberlohn, the step mother's vocal instructor. Lindberg is portrayed by a singer (Anke Sieloff) and also by a ballerina (Ayako Kikuchi).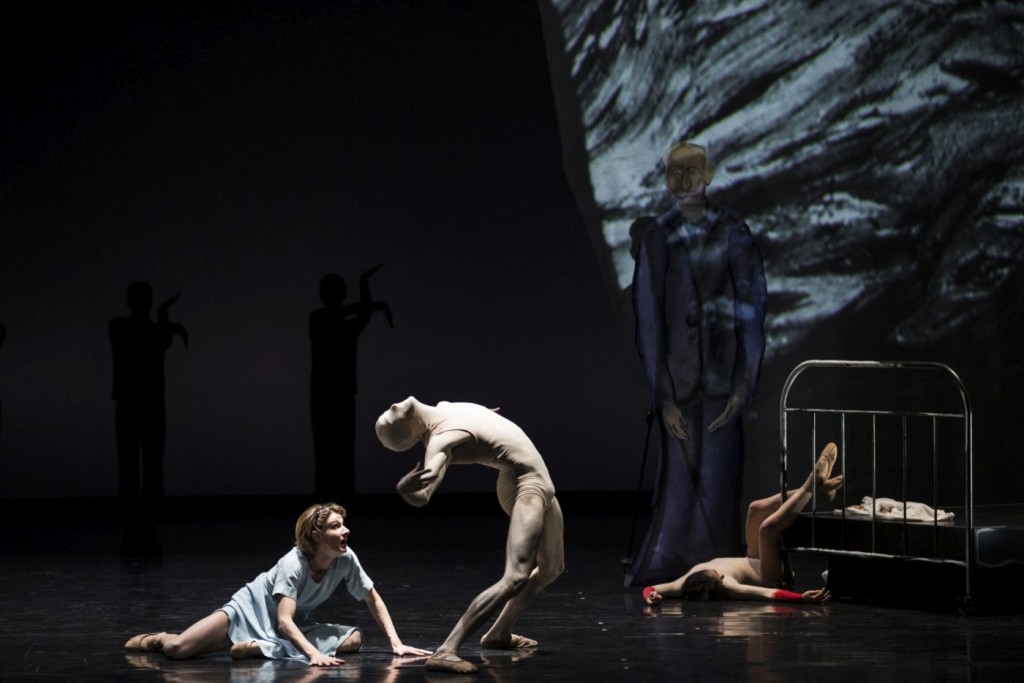 Daberlohn's real name was Alfred Wolfsohn. He encouraged Salomon's artistic development and became a key figure in her emotional life as well. Junior Demitre as Daberlohn characterizes him as a devoted admirer of Lindberg, prostrating himself before her, but being coldly ignored. Most of the time he hangs his head between his shoulders but he's never a coward. His relationship to Salomon sometimes reminds one of an intense chemical reaction.
Death, which is so prominently present in Salomon's life is portrayed by Jiří Jelínek. Jelínek is guesting with the company for the second run of the production. He stepped in for Jonathan Ollivier, who tragically died in a motorbike accident in London in August earlier this year.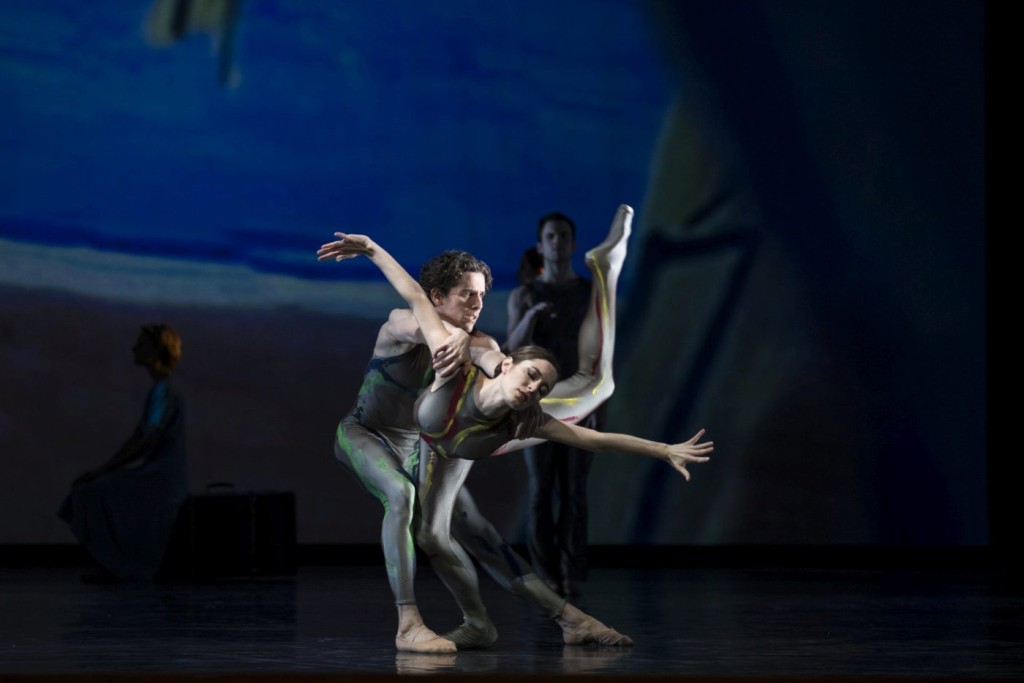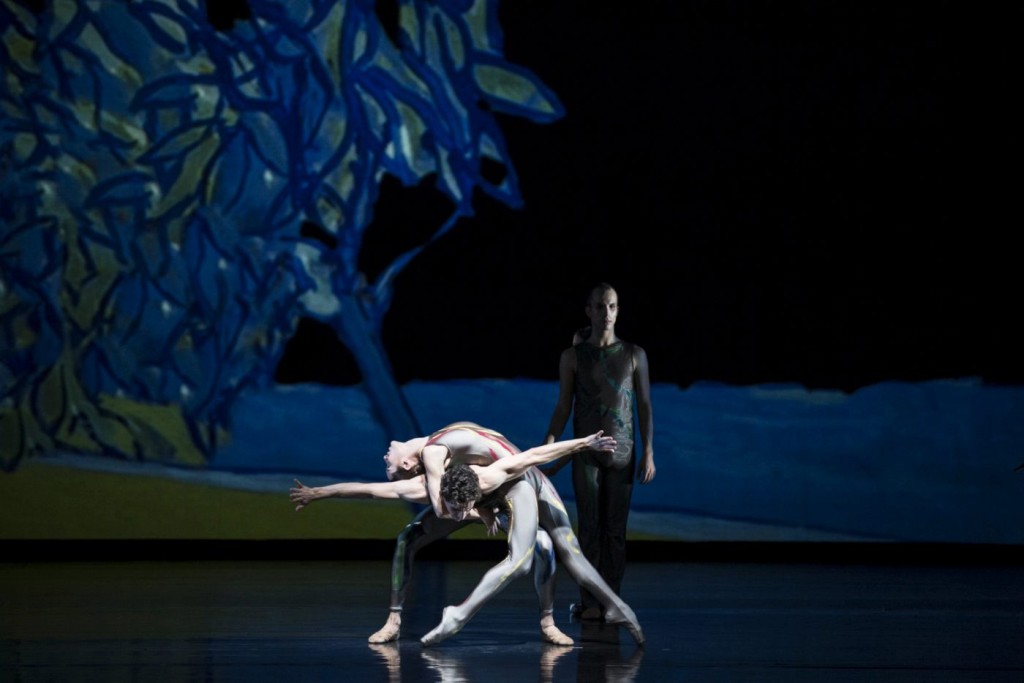 The piece starts with Salomon lying on a footbridge protruding over the orchestra pit. The stage floor looks like a water surface rippled by little waves or like a painter's palette with different shades of blue. Salomon is at the sea, she is painting… The second act partially repeats this opening.
Breiner's choreography is a jigsaw of scenes. Some merge smoothly into each other; some create surprising contrasts. A few might be stronger if slightly shortened; others leave those puzzled who don't know Salomon's biography. The solo, for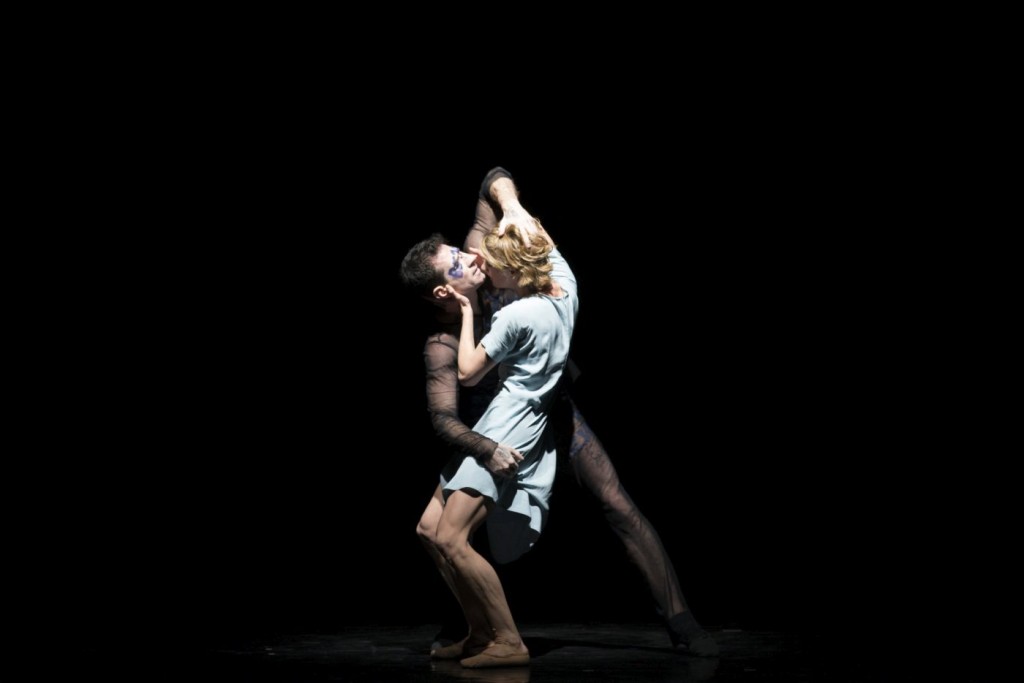 example, danced by Francesca Berruto, became comprehensible to me only in hindsight when learning that its title was "Crystal Night" solo.
Two scenes especially remain in my mind. In one Salomon tries to comfort her grandmother (Rita Duclos) who is beside herself with desperation. Soon after Salomon leaves her, believing she is calm again, the grandmother throws herself to death. The other one is Salomon's last pas de deux with Death. It is a beautiful piece of choreography, a mixture of revolt and acceptance. Many lifts reveal how perfectly Breiner and Jelínek match each other. Jelínek's Death is almost tender, yet unrelenting. He is neither cruel nor scornful, rather a figure of fate which does what it has to. Salomon goes to her own death with open eyes, with fortitude and with courage.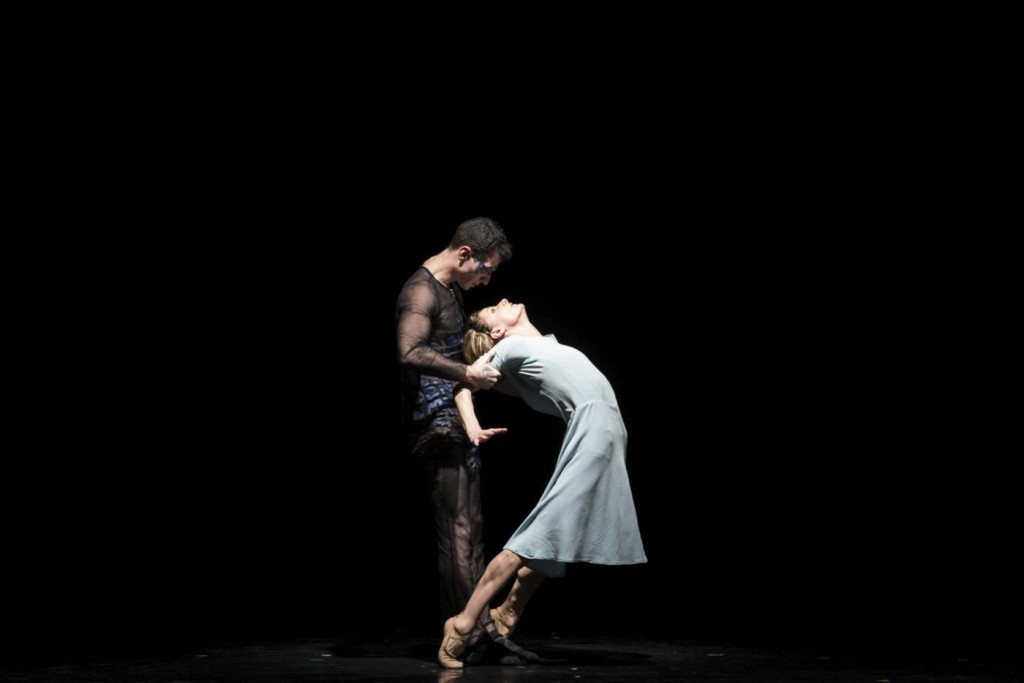 Last season, the performances in Gelsenkirchen were complemented by an exhibition of Salomon's paintings in nearby Bochum. A catalog of the exhibition is available at the Musiktheater. If "Charlotte Salomon: Death and the Painter" is revived next season, additional and more immediate encounters with the painter's work and life would be welcome.
After the curtain calls Michael Schulz, general director of the Musiktheater im Revier, noted in a short speech a few days after the "Faust" award that the current political situation gives the piece urgent topicality. "Charlotte Salomon: Death and the Painter" shows the perversion of a society through ideology. It demonstrates that fear paralyzes. Like Salomon, one shouldn't hide behind one's own fear, but take over responsibility and act.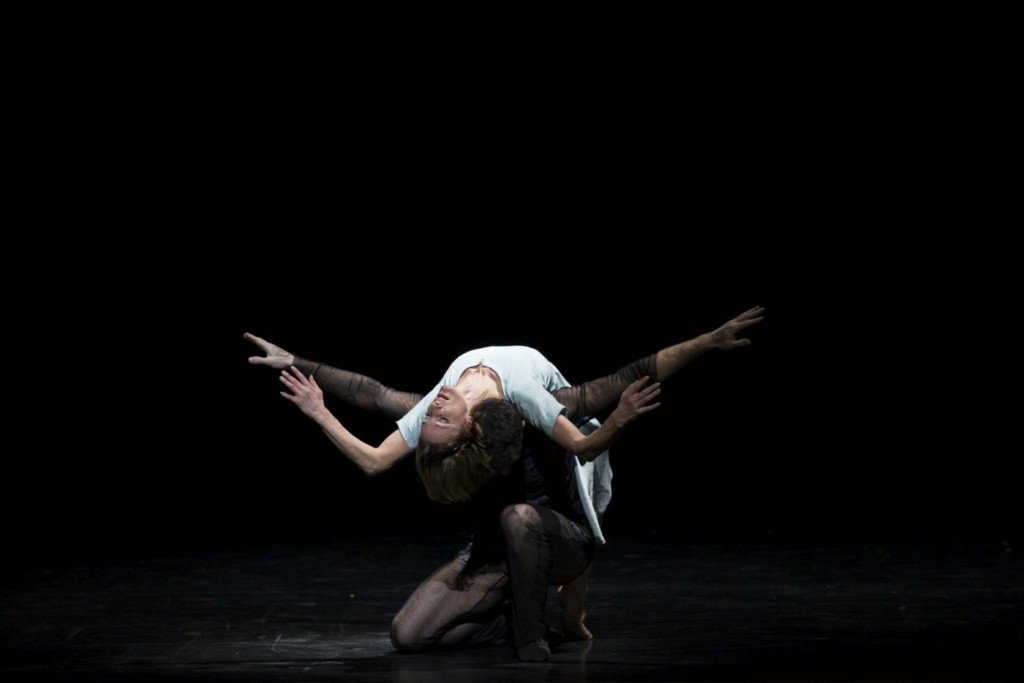 | | | |
| --- | --- | --- |
| | | |
| Links: | | Homepage of the Ballett im Revier |
| | | video "Charlotte Salomon: Death and the Painter" |
| Photos: | | (The photos show a different cast from an earlier performance.) |
| | 1. | Kusha Alexi (Charlotte), "Charlotte Salomon: Death and the Painter" by Bridget Breiner, Ballett im Revier 2015 |
| | 2. | Kusha Alexi (Charlotte) and Junior Demitre (Daberlohn), "Charlotte Salomon: Death and the Painter" by Bridget Breiner, Ballett im Revier 2015 |
| | 3. | Kusha Alexi (Charlotte) and Junior Demitre (Daberlohn), "Charlotte Salomon: Death and the Painter" by Bridget Breiner, Ballett im Revier 2015 |
| | 4. | Junior Demitre (Daberlohn) and Ayako Kikuchi (Paulinka), "Charlotte Salomon: Death and the Painter" by Bridget Breiner, Ballett im Revier 2015 |
| | 5. | Ensemble, "Charlotte Salomon: Death and the Painter" by Bridget Breiner, Ballett im Revier 2015 |
| | 6. | Rita Duclos (Grandmother Solo) and Kusha Alexi (Charlotte), "Charlotte Salomon: Death and the Painter" by Bridget Breiner, Ballett im Revier 2015 |
| | 7. | Kusha Alexi (Charlotte), Hugo Mercier and Rita Duclos (Grandmother Solo), "Charlotte Salomon: Death and the Painter" by Bridget Breiner, Ballett im Revier 2015 |
| | 8. | José Urrutia, Nora Brown and Valentin Juteau, "Charlotte Salomon: Death and the Painter" by Bridget Breiner, Ballett im Revier 2015 |
| | 9. | José Urrutia, Nora Brown and Fabio Boccalatte, "Charlotte Salomon: Death and the Painter" by Bridget Breiner, Ballett im Revier 2015 |
| | 10. | Jonathan Ollivier (Death) and Kusha Alexi (Charlotte), "Charlotte Salomon: Death and the Painter" by Bridget Breiner, Ballett im Revier 2015 |
| | 11. | Jonathan Ollivier (Death) and Kusha Alexi (Charlotte), "Charlotte Salomon: Death and the Painter" by Bridget Breiner, Ballett im Revier 2015 |
| | 12. | Kusha Alexi (Charlotte) and Jonathan Ollivier (Death), "Charlotte Salomon: Death and the Painter" by Bridget Breiner, Ballett im Revier 2015 |
| | | all photos © Costin Radu 2015 |
| Editing: | | Laurence Smelser |