"Jewels"
State Ballet Berlin
Deutsche Oper
Berlin, Germany
May 26, 2016
by Ilona Landgraf
Copyright © 2016 by Ilona Landgraf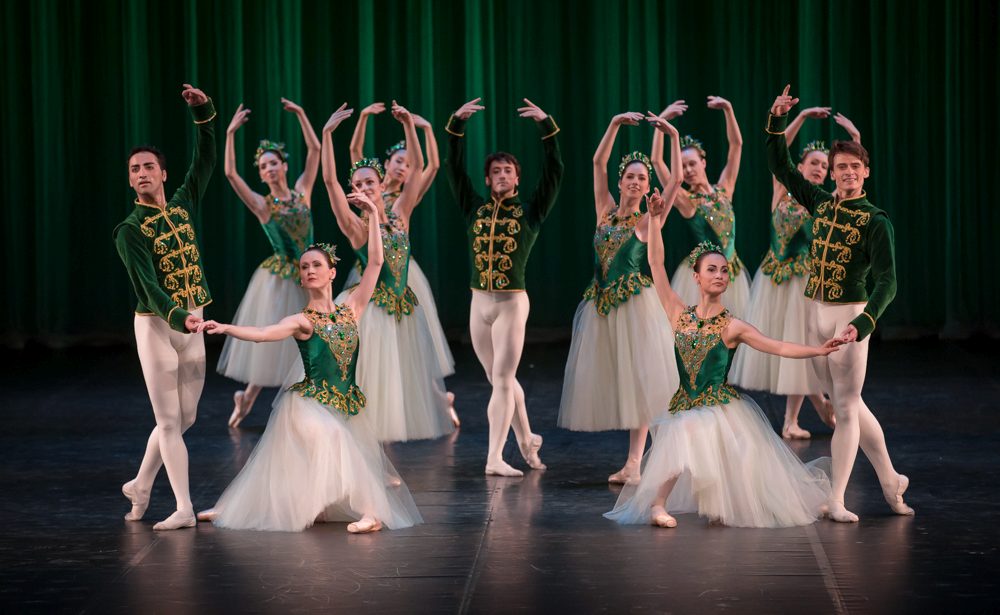 Since Nacho Duato took over as artistic director of the State Ballet Berlin in 2014 positive news about the capital's company has been rare. Neither has the repertory aroused enthusiasm nor has Duato been in favor with the local press. Though the dancers' pay disputes and strikes dragging on for months last year met with the audience's understanding, they caused no positive headlines either. It was high time to reclaim a reputation suitable for a State Ballet. Exactly what the company managed to do with George Balanchine's "Jewels" which premiered last week.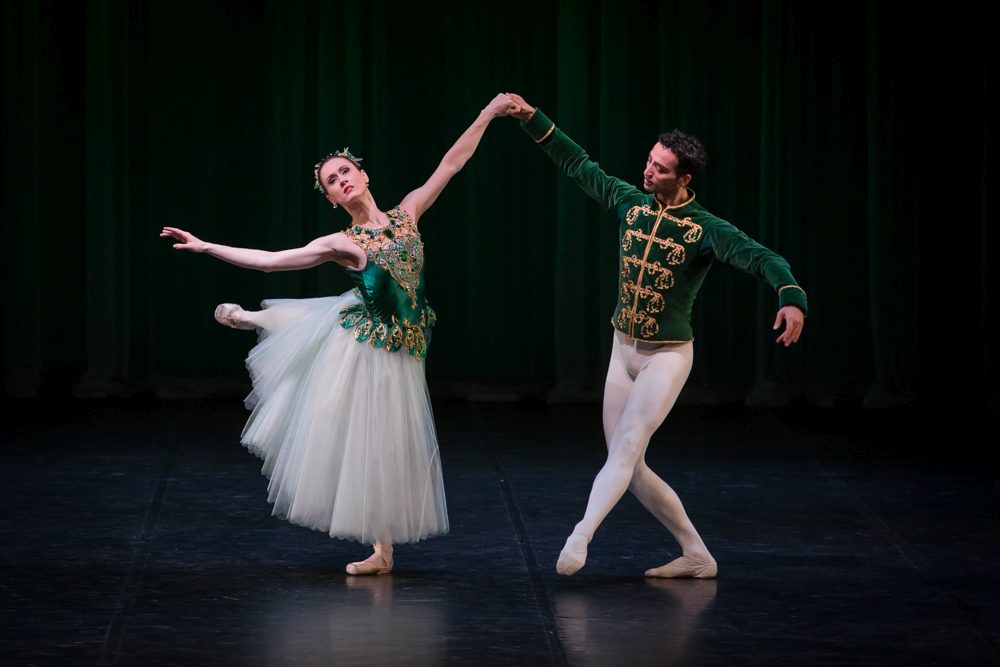 Its three parts, "Emeralds", "Rubies" and "Diamonds", are an homage to gemstones whose colors are reflected in green, red and white costumes and in elements of the decor. Each part moreover represents a country crucial in Balanchine's life. "Emeralds", set to music by Gabriel Fauré, recalls France, where he had his choreographic breakthrough with "Apollon musagète" in 1928. "Rubies" to Igor Stravinsky's jazzy "Capriccio" is a reverence to Balanchine's adopted homeland America. In the final "Diamonds" he celebrates his mother country Russia to music by Peter Tchaikovsky. The choreography weaves solos and various group dances into coherent atmospheric depictions.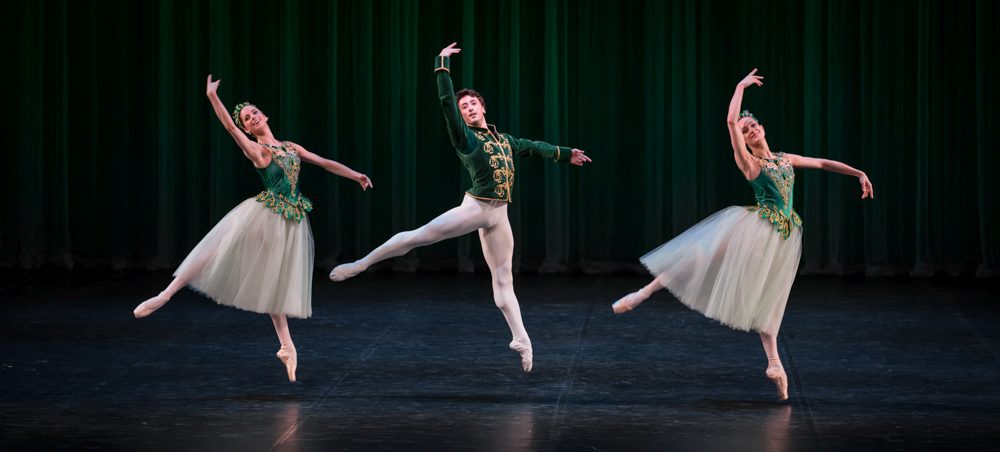 In Berlin all three parts sparkled and glittered, not only in terms of Lorenzo Caprile's beautiful costumes (he designs for the Spanish royal family among others) but above all in terms of the quality of the dance. Ben Huys ("Emeralds"), Patricia Neary ("Rubies") and Sandra Jennings ("Diamonds") had been in charge of rehearsals. They prepared the cast excellently, each piece's atmosphere and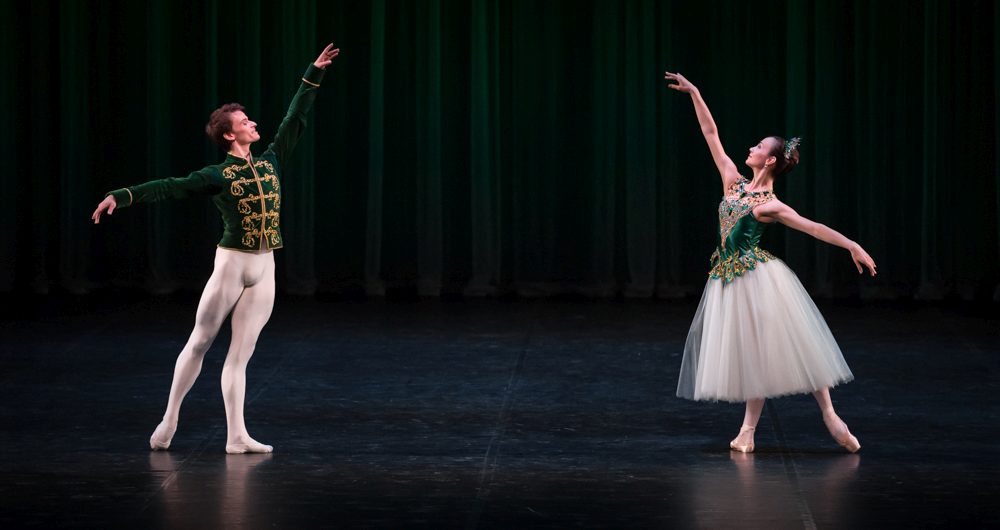 characteristic has been clearly worked out. Symmetries were as clear as the one's of perfectly shaped gems.
"Emeralds" pleased with flowing lines and gorgeous tableaux. With its nimble footwork, gently breathing arms and an overall lightness, the choreography evoked the idea of an elegant French perfume. The first solo was danced by Krasina Pavlova. She found the right balance between elegance and playfulness with a touch of coquetry. Marian Walter partnered her, combining natural authority with melting softness. Aurora Dickie was more introverted, almost brittle. She was paired with Arshak Ghalumyan; yet both seemed not really connected with each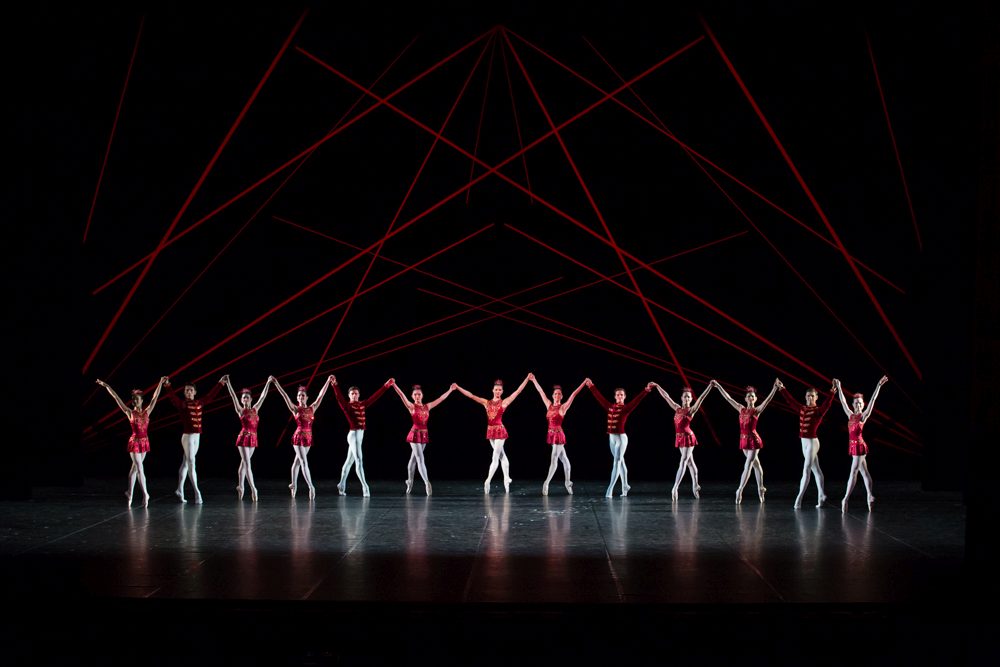 other. Cécile Kaltenbach, Danielle Muir and Arman Grioryan shone in a crisp pas de trois. They had a good feeling for where to set accents.
The last scene of "Emeralds" was especially telling. Walter, Ghalumyan and Grigoryan knelt on one leg and slowly raised a hand, as if praising the richness of life in one single gesture.
When the curtain rose to reveal the line-up of the dancers of "Rubies", all in red costumes and white tights, spontaneous applause broke loose. The audience had caught fire. Iana Salenko and Dinu Tamazlacaru as the leading couple knew how to additionally fuel the enthusiasm. Both were in high spirits and a perfect match, teasing each other and parading themselves. Petite Salenko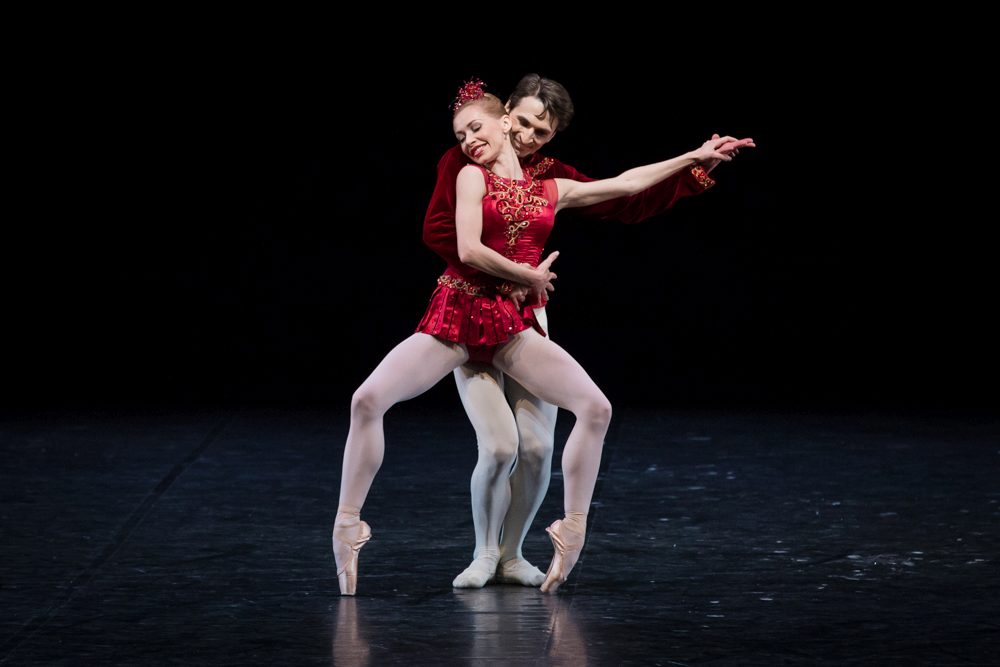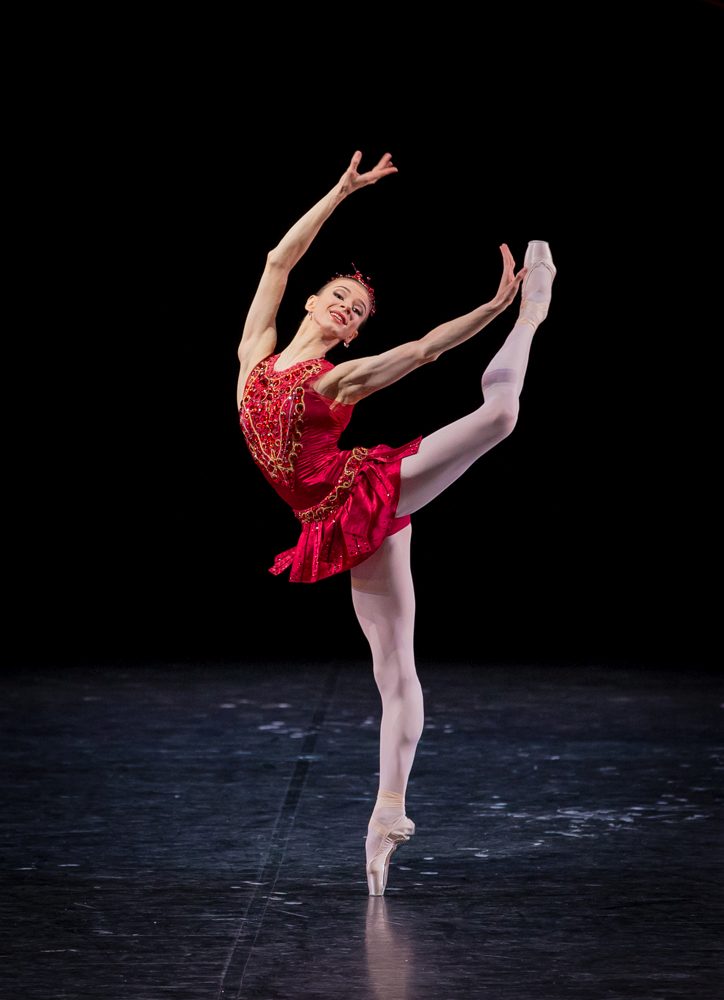 was flirtatious, cheeky and even triumphant after she had prompted all other dancers to absent themselves from stage simply by doing a deep penchée.
Salenko is short and hence quick but she has an astoundingly high jump. Her legs move casually and at the next second cut through the air like knives. An ideal cast for "Rubies"! Tamazlacaru kept his eyes glued to her, which is advisable with such kinds of women. The corps was equally strong and snappy. The men showed off in a sporting jogging sequence,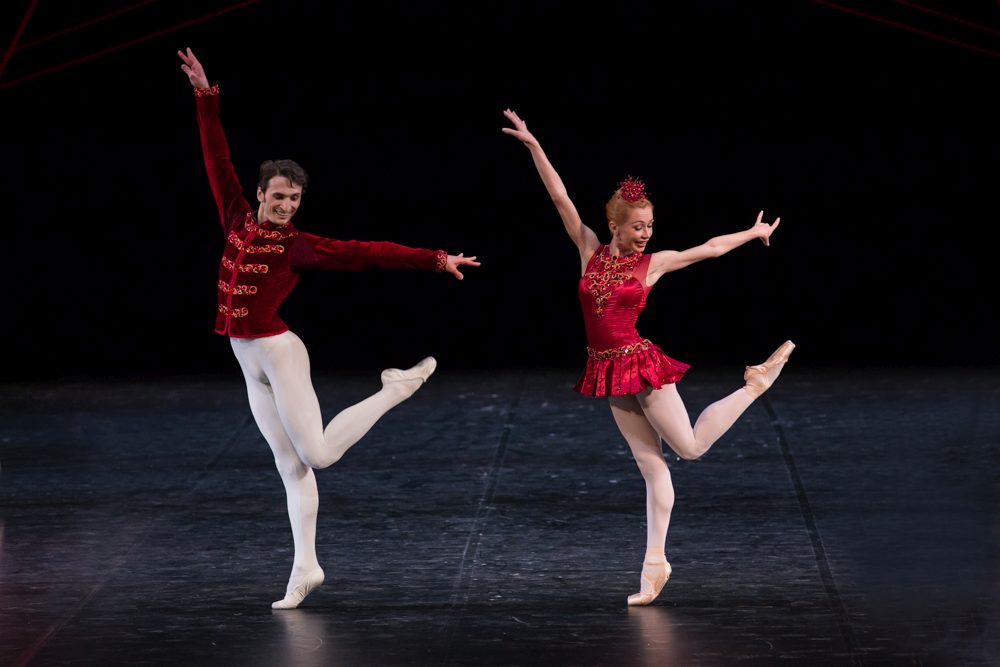 the women danced with gusto calling sassy showgirls to mind. The dancers earned thunderous applause and deservedly so.
Compared to the suggestive hip-kicks in "Rubies", watching the restrained dignity and unadorned classic of "Diamonds" had a sobering effect as if regaining one's composure after a cocktail party. The piece's plain elegance was reminiscent of Petipa's great choreographies. The Berlin dancers moved with noble demeanor; group scenes with simultaneous lifts evoked an aristocratic air, yet nothing was stiff, put-on or artificial. Especially the visual beauty of the corps' promenade was a treat.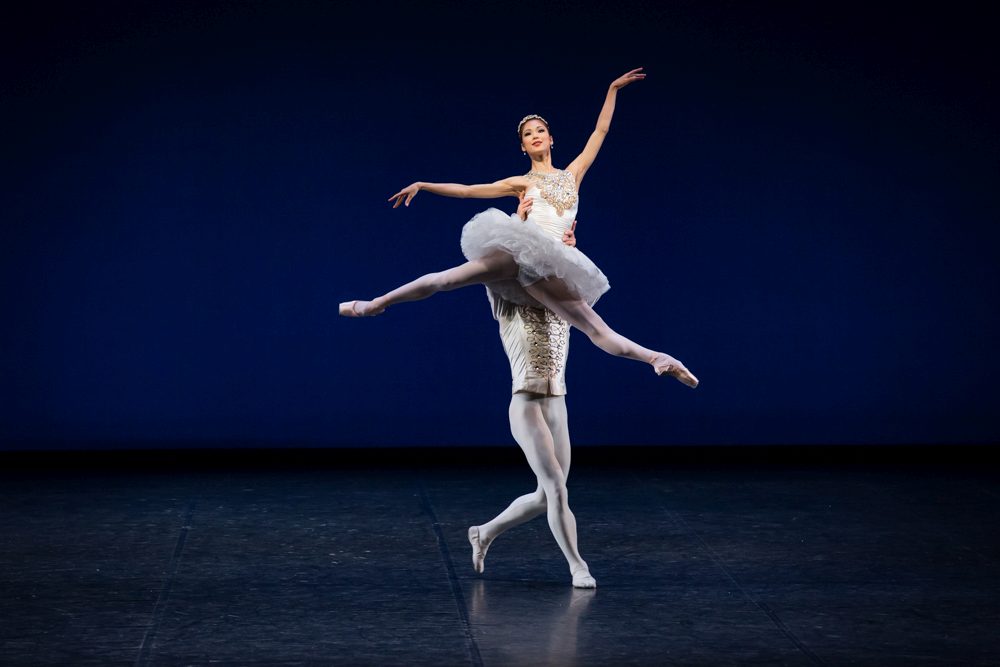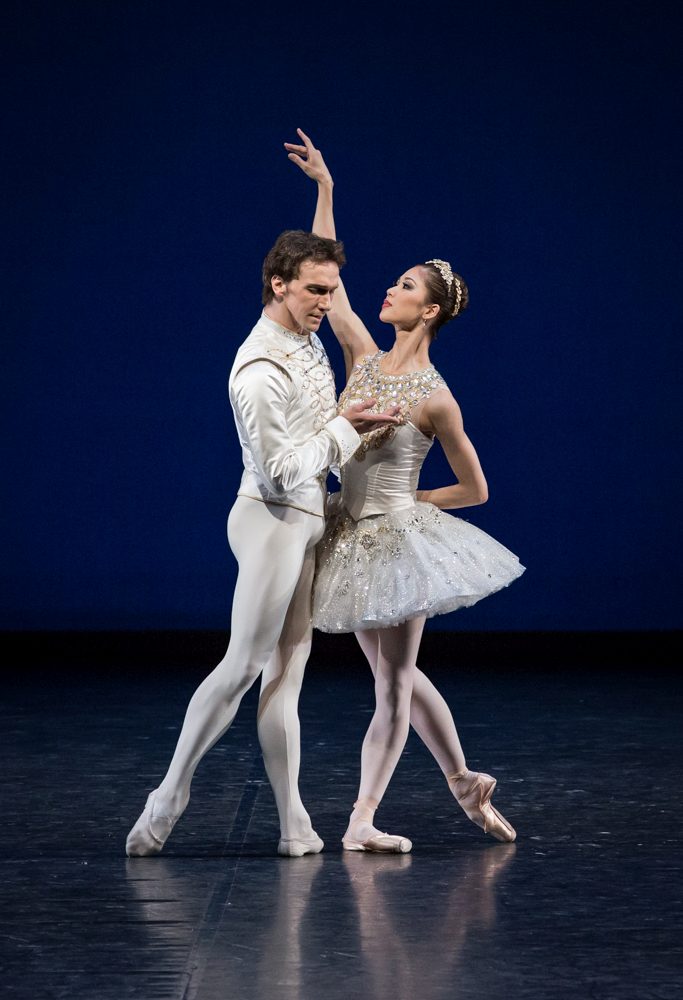 The leading couple was Shoko Nakamura, a guest principal of the Hungarian National Ballet, and Mikhail Kaniskin. The female dancer was central for Balanchine as it was for Petipa. In "Diamonds" a kiss on the hand explicitly makes Nakamura an object of adoration. She perfectly filled out her role and gave an exquisite performance. The attentive Kaniskin partnered her courteously. Their presence filled the stage.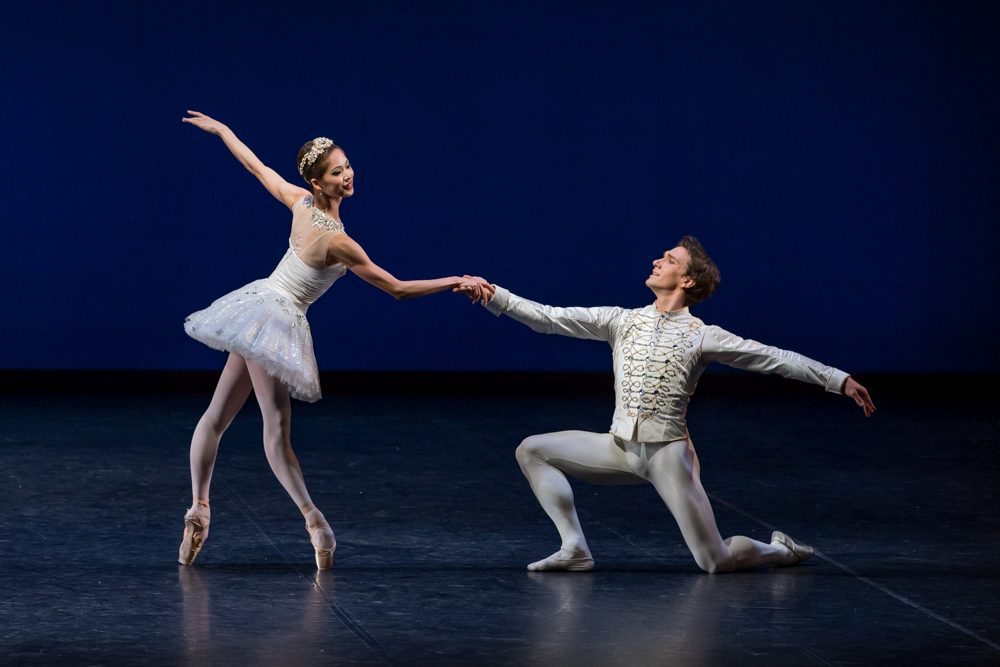 In the last minutes, after having sailed through the challenges of "Diamonds", a wave of infectious light energy radiated from the stage. All tension was gone. That is the way they should always dance!
It should be added that the auditorium of the Deutsche Oper is no place where one feels instantly comfortable. Constructed in the 60s with wall cladding of tropical wood, it has the atmosphere of a bare, oppressive king-size bunker. Conveying a ballet's charm and beauty in these surroundings is an achievement in itself. Conductor Robert Reimer and the Orchestra of the Deutsche Oper Berlin contributed a significant part to this.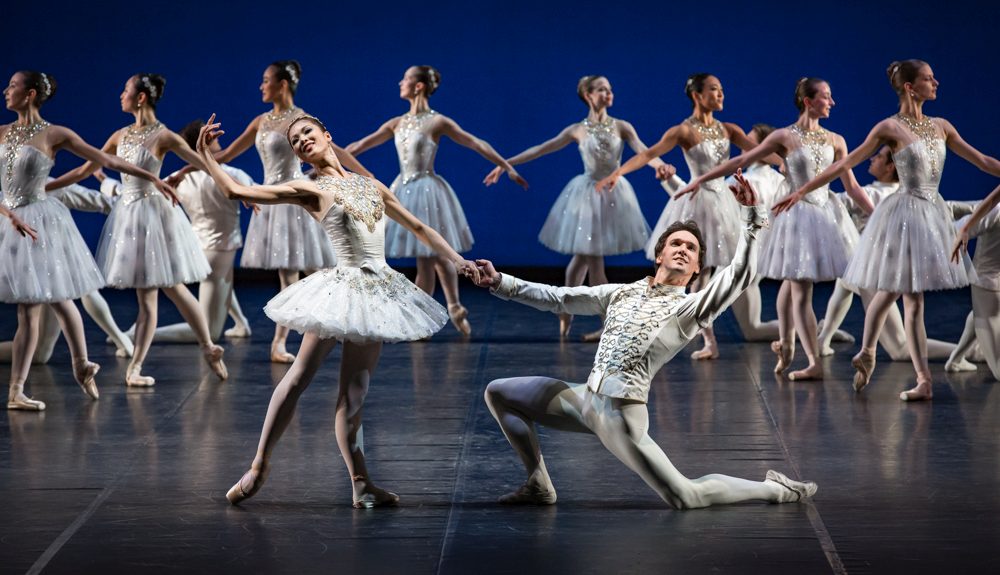 Links:
 Homepage of the State Ballet Berlin
 Homepage of Silvano Ballone, photographer
 Photos:
 

"Emeralds"

 1.
 

Ensemble, "Jewels" by George Balanchine, State Ballet Berlin 2016

 2.
 

Aurora Dickie and Arshak Ghalumyan, "Jewels" by George Balanchine, State Ballet Berlin 2016

 3.

Cécile Kaltenbach, Arman Grigoryan and Danielle Muir, "Jewels" by George Balanchine, State Ballet Berlin 2016

 4.
 

Marian Walter and Krasina Pavlova, "Jewels" by George Balanchine, State Ballet Berlin 2016


 

"Rubies"

 5.
 

Ensemble, "Jewels" by George Balanchine, State Ballet Berlin 2016

 6.

Iana Salenko and Dinu Tamazlacaru, "Jewels" by George Balanchine, State Ballet Berlin 2016

 7.

Iana Salenko, "Jewels" by George Balanchine, State Ballet Berlin 2016

 8.

Dinu Tamazlacaru and Iana Salenko, "Jewels" by George Balanchine, State Ballet Berlin 2016


"Diamonds"
 9.

Shoko Nakamura and Mikhail Kaniskin, "Jewels" by George Balanchine, State Ballet Berlin 2016

10.

Shoko Nakamura and Mikhail Kaniskin, "Jewels" by George Balanchine, State Ballet Berlin 2016

11.

Shoko Nakamura and Mikhail Kaniskin, "Jewels" by George Balanchine, State Ballet Berlin 2016

12.

Shoko Nakamura, Mikhail Kaniskin and ensemble, "Jewels" by George Balanchine, State Ballet Berlin 2016

all photos © Silvano Ballone 2016

Editing:

Agnes Farkas