Tigran Mikayelyan and "Forceful Feelings"
Munich, Germany
June, 2016
by Ilona Landgraf
Copyright © 2016 by Ilona Landgraf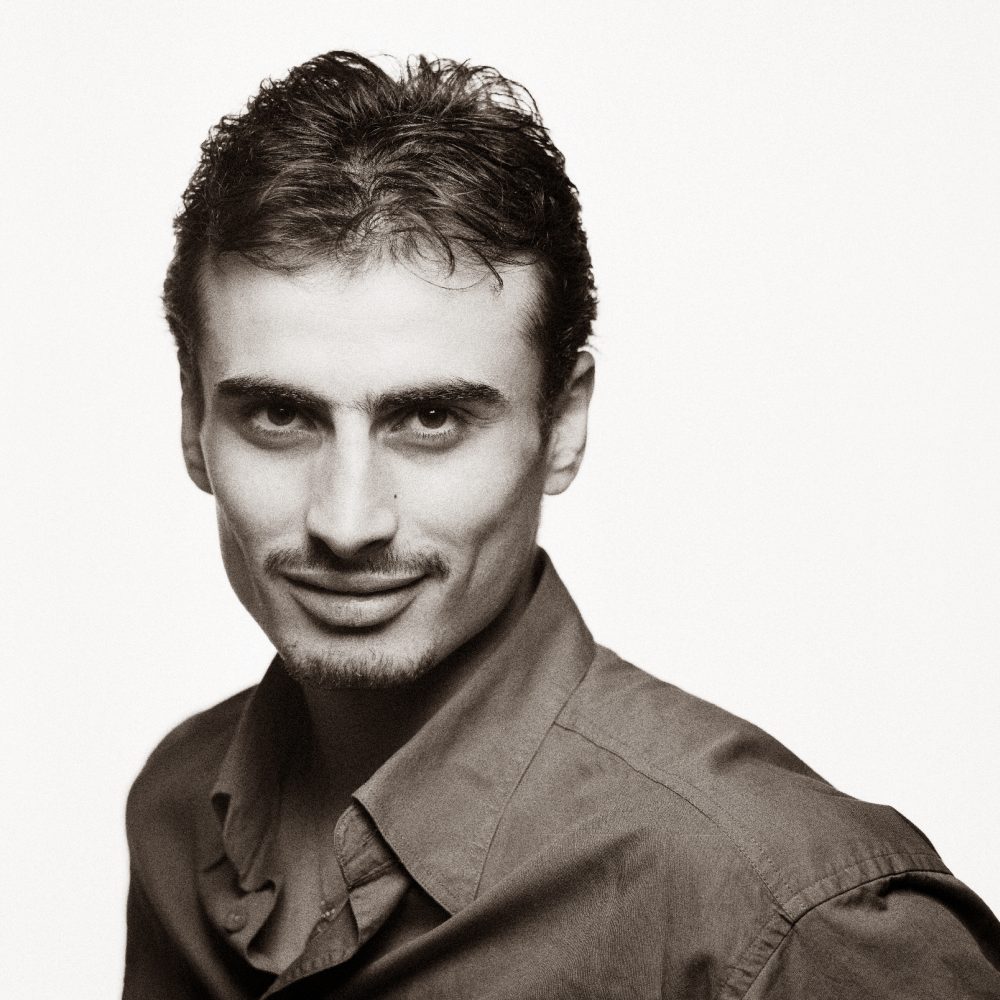 I doubt whether Armenia was on the international ballet map twenty years ago. That this has changed is due to Tigran Mikayelyan. He was the first to leave his home country in 1997 for the sake of dance. Others followed. In 2006 he founded the ballet troupe "Forceful Feelings" with his best friend, Arsen Mehrabyan. They were joined by three fellow Armenians, Arman Grigoryan, now soloist of the State Ballet Berlin, Vahe Martirosyan, first soloist of the Royal Swedish Ballet and Artur Babajanyan, who dances with the Joffrey Ballet. Mikayelyan is principal of the Bavarian State Ballet; Mehrabyan, also principal, dances with the Royal Swedish Ballet.
For a number of years the five have been building bridges for their art between their home country and the west. All were born in Yerevan, trained in the Armenian National Ballet School, and left their country to pursue their careers abroad. They are as close as brothers, not related by blood, but kindred spirits. Also their families are closely connected. Now geographically separated, their paths came together again in Zurich where they danced with Zurich Ballet under Heinz Spoerli's tenure. The next performances of "Forceful Feelings" at the end of June will bring them back to Switzerland's global city.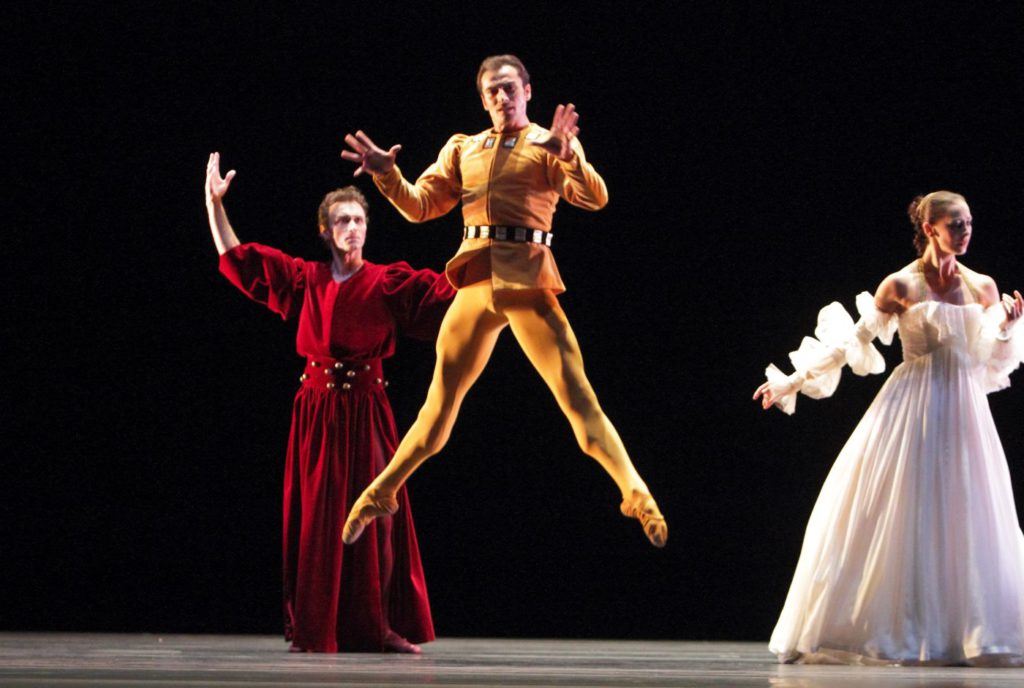 I met Tigran Mikayelyan three weeks before the premiere at the premises of the Bavarian State Ballet to talk about his career and his vision of "Forceful Feelings".
Mikayelyan is in the thick of preparing this season's final performances in Munich – he'll be Konrad in the TV live stream of "Le Corsaire" amongst others – and then the tour to Zurich. In July he'll get married. Mia Rudic, his future wife, also dances with the Bavarian company. Only a few days after their wedding "Forceful Feelings" will be awarded the Prix BALLET 2000 in Cannes/France for the group's achievements for dance in Armenia.
A lot is going on for him, above all in the Bavarian State Ballet itself. Many of Mikayelyan's colleagues are leaving the company with Ivan Zelensky taking over the director's office. Mikayelyan is staying. He loves Munich. The Bavarian State Ballet is his favorite company and he has also adopted at least two essential characteristics of true Bavarians, being a fan of the 1.FC Bayern and having a wheat beer from time to time. His German is quite good but that I detected only after the interview.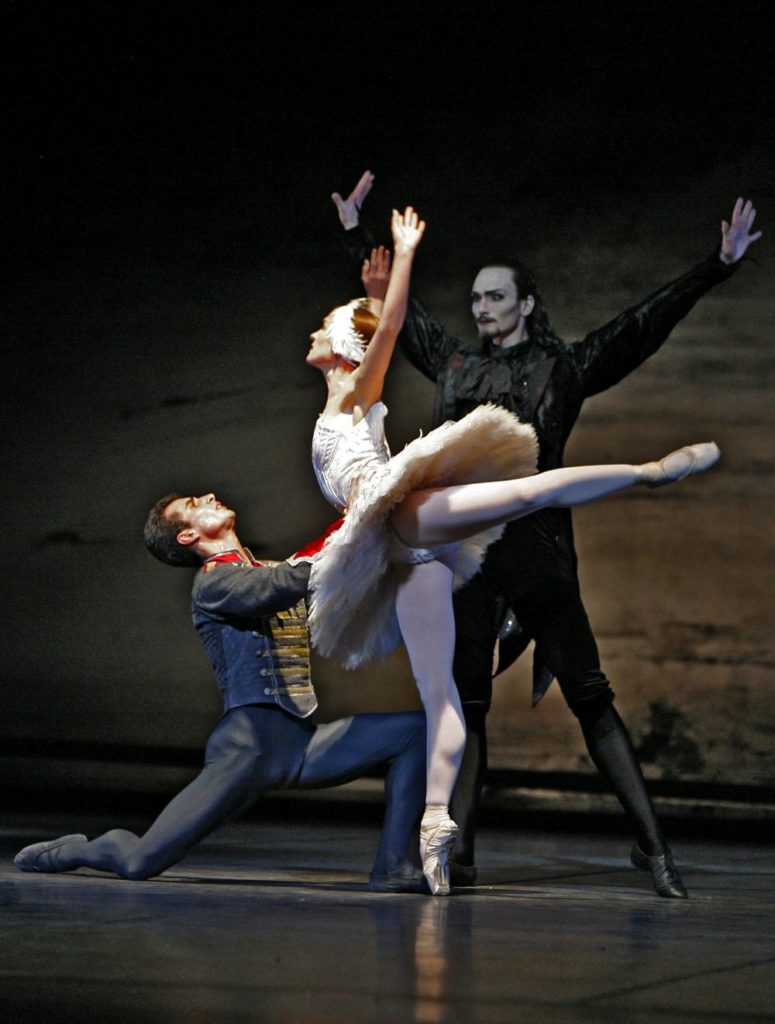 If Mikayelyan had not left Armenia at the age of seventeen, his training would have been interrupted by obligatory military service for two years. Sooner or later all male Armenians aged eighteen to twenty-seven are conscripted. "After two years in boots every quality achieved by ballet training is gone. Moreover the time when one is around twenty years old is crucial to establish one's character and polish the technique. Those years define which direction one's career will develop."
If there are no worthwhile prospects for male dancers to have professional careers why take up training at all? Don't such circumstances reduce running a national ballet schools into an absurdity?
"After having left Armenia I was two years on the 'wanted' list and only numerous copies of newspaper articles and letters of confirmation were able to prove to the government and the military administration that I hadn't merely run away from the army. Finally the government released me from duty." Meanwhile the situation has slowly changed and the system has become more flexible than before. Furthering this development is one goal of "Forceful Feelings". "We want to share with our country what we achieved. We give performances of our own pieces; we guest with the National Ballet in Yerevan; Arsen taught classes at the school; next year we'll organize workshops. Supporting the renovation of our ballet school concerns us too. We try to do as much as we can because if it is not us there is nobody else. Getting another level of approach to the art, an idea of what they can achieve is crucial for young Armenians.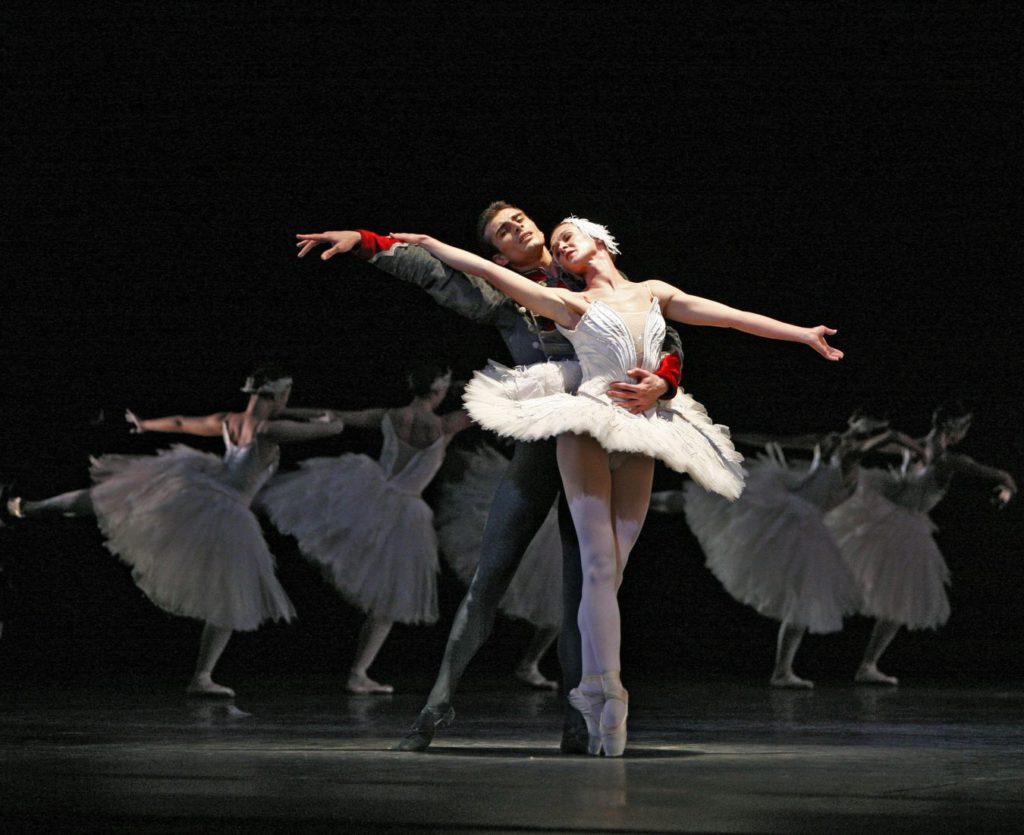 They need perspectives." In 2007 Mikayelyan was acknowledged "Honored Artist of Armenia". It is the highest tribute an artist can achieve there.
What pushed him forward in his youth though the prospects weren't bright? "My story is a little bit different from the one of other children", he reveals. "My mother, Susanna [Mikayelyan], was seventeen when she brought me into the world. I was born on her birthday. She was a ballerina, the best of her school. Expectations in her were high and when she became pregnant it caused a scandal. My father Samuel Karapetyan is also a dancer. My mother still dances with an Armenian folk group. Sadly, they were prevented from building big careers in ballet, but I have tried to compensate for both of their careers by what I have achieved."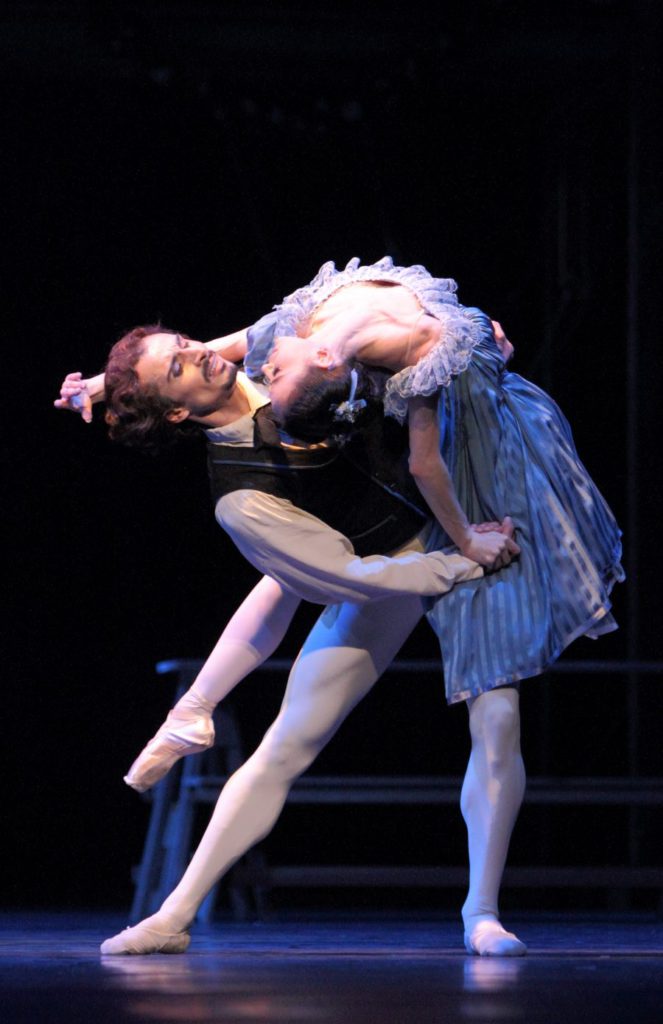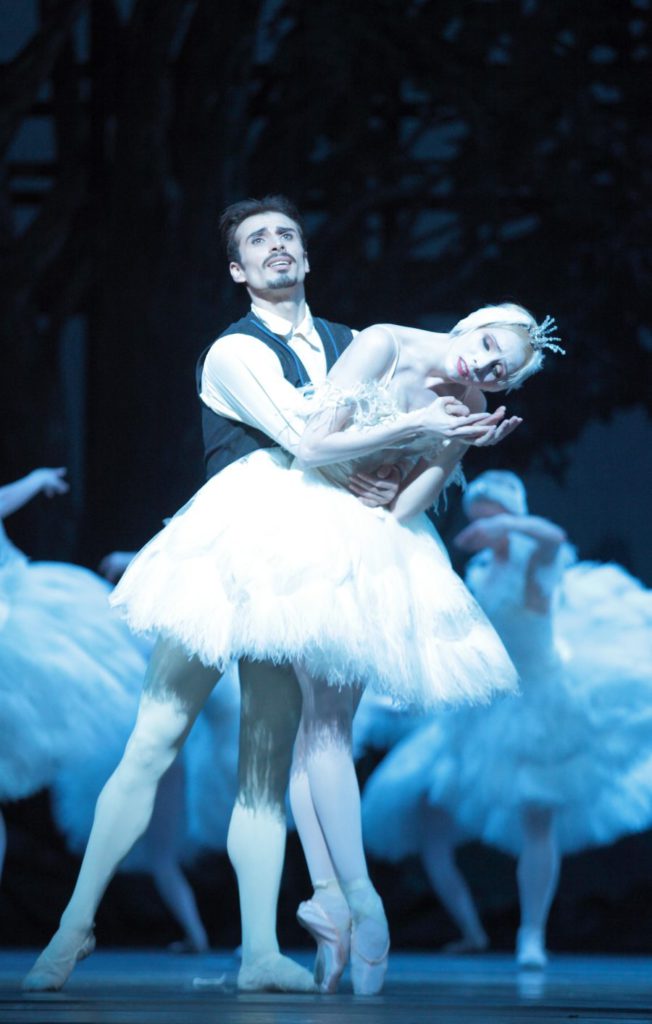 Yet it took some time until Mikayelyan caught fire. "Though I was born in a dancer's family and started ballet at nine I wasn't seriously interested in dance. Actually ballet was a bit boring. I had so much energy, I wanted more action: football and boxing and karate, whatever. I had to leave out boxing but my parents never prevented my energy to run free and to explore other activities. It's very important to not forbid a child to try something, but rather guide it in a positive direction. Restricting a child's energy would limit its possibilities to grow in every direction it would be able to go.
For sure my dad wanted me to do ballet but he never pushed me. Instead he explained me all the wonderful things one can achieve in dance. He hasn't been able to achieve what he had dreamed of himself. But the beauty of dance is in his heart and soul. From the first moment I went to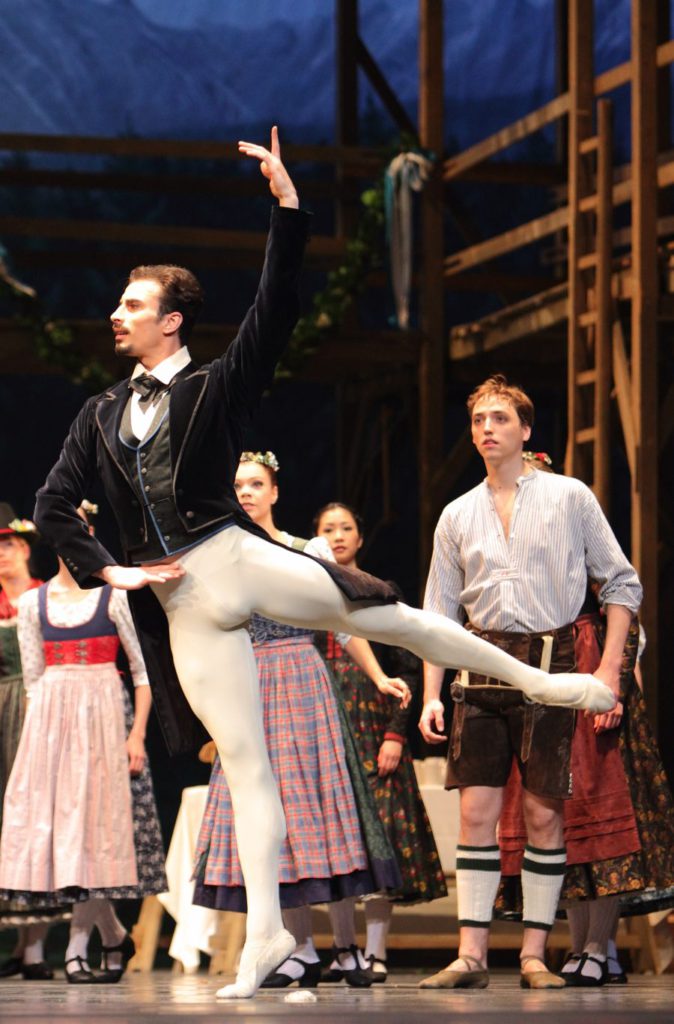 school he conveyed me his understanding of the art. And the moment a child is interested in art it gets into another level of consciousness. In dance one learns very early that the path is very hard and very stony. But the moment you knowingly go with the difficulties, not against them, each challenge you master gives you satisfaction and confidence and helps you to go further."
"My attitude to ballet changed by itself when, after having split from the Soviet Union, difficult times began in Armenia. It happened that we had no electricity, no gas, no heating. This made people revert to what gives life more value, more meaning. Armenia is one of the oldest nations of the planet, we are the first Christian nation. The knowledge of how important culture is is deeply rooted in the people. I was twelve when I realized that continuing my art will bring me sunshine. At that time also ballet classes started to be more demanding and I liked being challenged. My father gave me private lessons and at least once a month he watched class and gave me exact corrections. I think, regardless if one is a dancer or an auto mechanic or a watch maker, the basics of the education are vital. Once one starts to underestimate them one starts to diverge from the substance inherent in the art or the craft."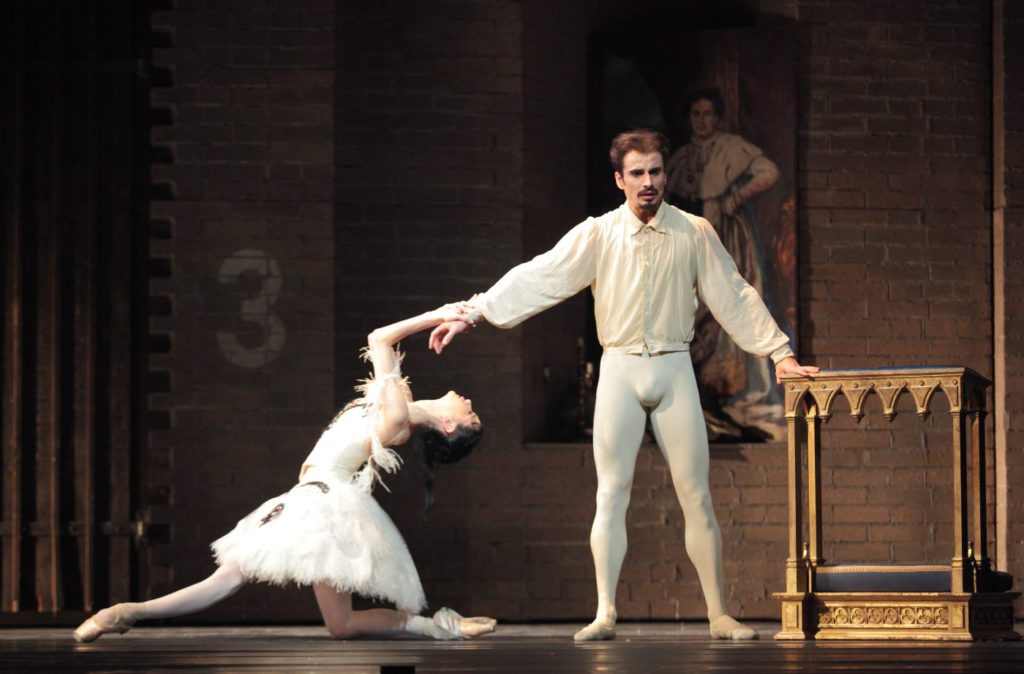 Twenty degrees Celsius below zero and an unheated studio didn't prevent Mikayelyan from training. "In winter schools were closed for six or seven months. So I went with Arsen to our school and we tried to do ballet by our own knowledge and understanding. Old dance magazines, mainly from the Soviet Union, were one source of information for us. We eagerly read about Nureyev and Baryshnikov but we were less informed about what was going on in the west."
When he was fifteen the committee of the Rudolf Nureyev Foundation came to Yerevan looking for talented young dancers in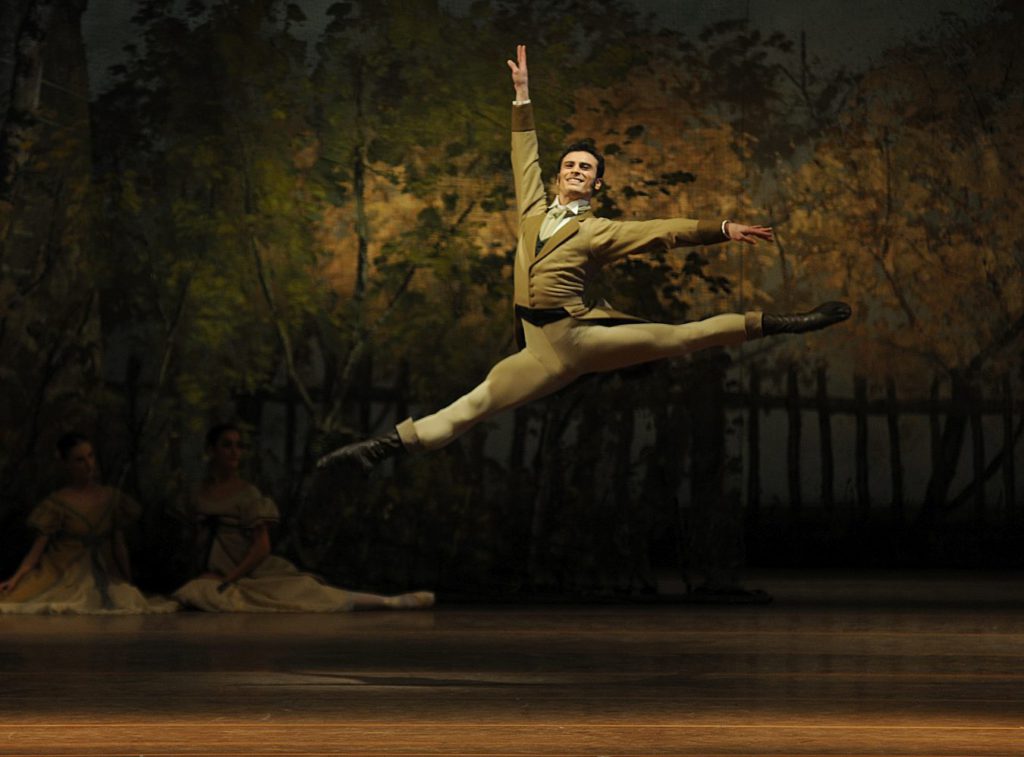 need of support, Mikayelyan was picked and he prepared to compete in the Prix de Lausanne. This was his chance. Arman Grigoryan's father, also a former ballet dancer, trained him and Mikayelyan made it to the semi-finals in Lausanne. Half a year later the Nureyev Foundation gave him a scholarship for the School of the Zurich Ballet. Mikayelyan moved to Zurich and, when competing again in the Prix de Lausanne in 1998, he won the Prix Niveau Professional. The same year he joined Zurich Ballet.
Seven years later Mikayelyan began to search for new challenges. Two companies aroused his interest: American Ballet Theater and the Bavarian State Ballet. "I opted for the Munich company and it absolutely proved the right choice. My heart and soul are rooted in the European continent. I love the millenniums-old history of Europe. In Germany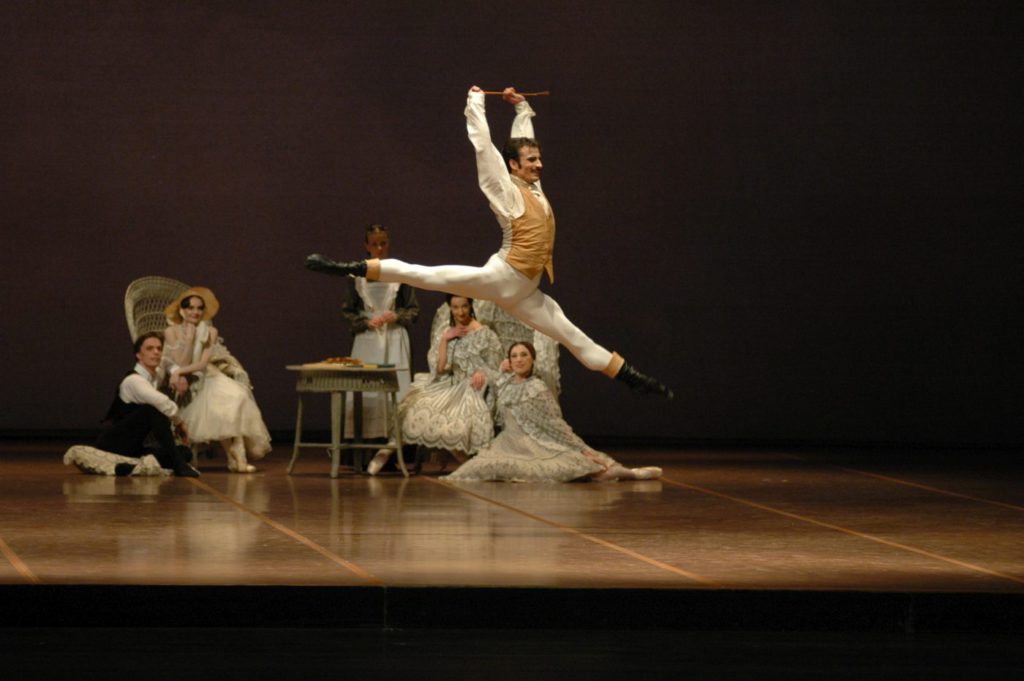 almost every little city has a theater, people are interested in art. I feel valued as an artist in Germany."
In Zurich he had mainly danced Heinz Spoerli's pieces, now he worked with other choreographers such as John Neumeier, Hans van Manen, William Forsythe, Jiří Kylián, Mats Ek and Nacho Duato. His repertory encompasses almost all major roles: Prince Siegfried, Romeo, Mercutio, Drosselmeier, Petruchio, Solor and Konrad. "As a child the role of Basilio, his character and the technique of his dance spurred me." In 2011 he made his debut as Kitri's lover. Especially dear to him is the role of the King – it's King Ludwig II of Bavaria – in Neumeier's "Illusions – like Swan Lake". "The emotional depth of this role brought me to mind why I do ballet. You live a whole life in this role. For me "Illusions – like Swan Lake" is a masterpiece of John Neumeier. And it seems as if here in Munich close to Ludwig's castles the piece has a special energy."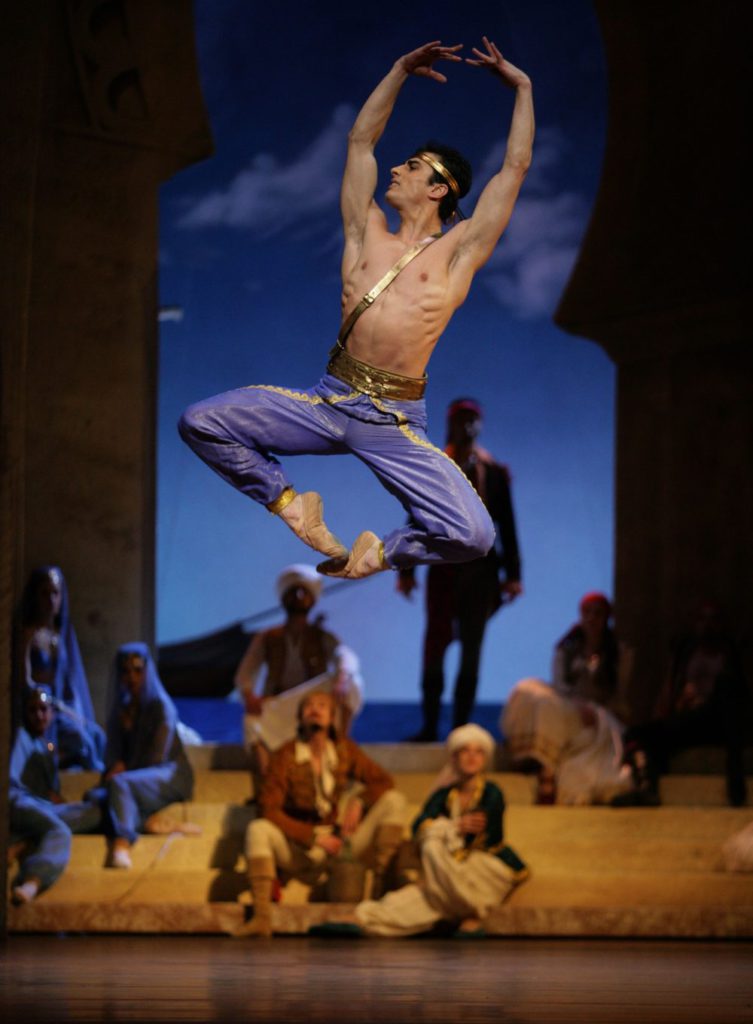 Along with a full-time engagement at a company, running a troupe isn't easy. "We're all five busy in our home companies. But Ivan Liška [the Bavarian State Ballet's artistic director] always made it possible for me to pursue the projects of "Forceful Feelings". He has been invaluably supportive. That also applies to the staff of the Bavarian State Ballet which helped with the marketing of our former performances in Munich and even made rehearsal space available for us."
As with all previous programs, the one in Zurich won't be a common gala assembled with good numbers and beautiful dancers. "We offer high quality dance with a touch of Armenian history and culture, but we never merely patch together some showpiece numbers to a program. We want each one in the audience to be emotionally connected to the performance, to resonate with the feelings we try to convey. Our goal is that the audience likes the dance itself, not us. We didn't name the troupe "Forceful Feelings" to sound appealing. Forceful feelings are at the bottom of our performances, they are the spirit of our group. Our sense of friendship and togetherness is very strong. There is no competition between us. We work shoulder to shoulder and back to back. Moreover we are constantly in touch. It happens, for example, that each of us calls another one in the same moment and we talk on several lines at the same time."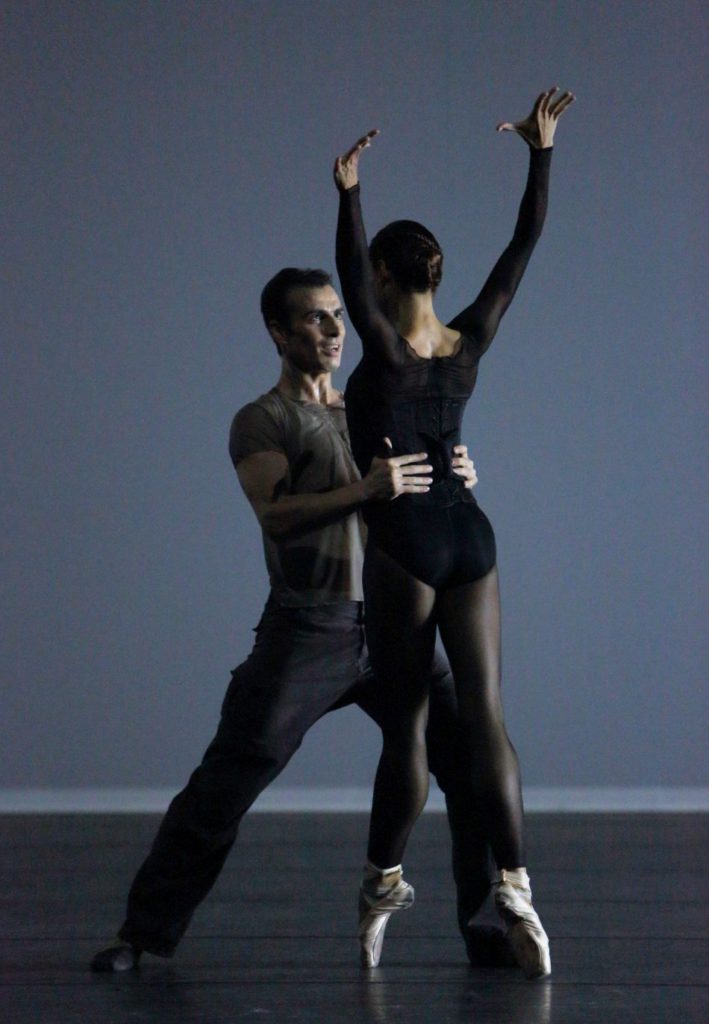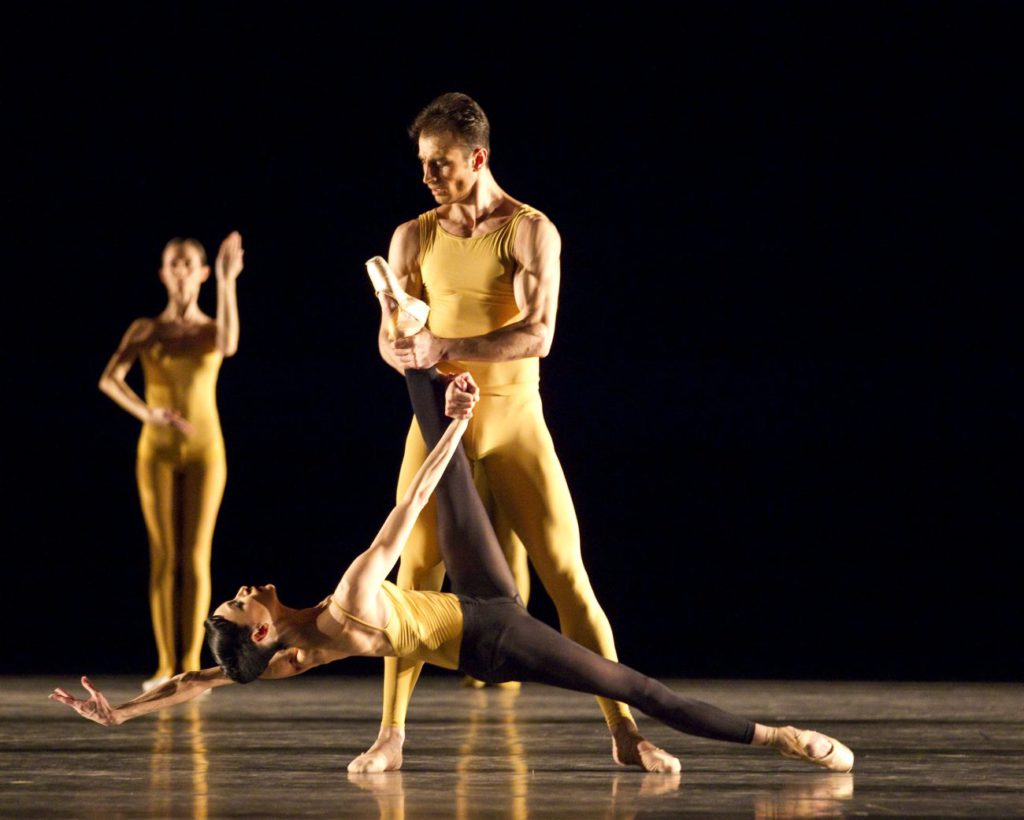 Mikayelyan is a likable, charismatic person, full of energy and focused. On one side he is grounded but on the other side he follows his vision unwaveringly. Even setbacks like injuries haven't impaired his positive attitude. Most remarkable is his unselfishness. He knows who he is and not at all feels the need to boost his ego. Instead the group, the art, his country has priority. He won't sit and wait for things to miraculously get better by themselves. He takes action. "It is vital to increase one's knowledge, to get experience, to be open for constant learning."
At age thirty-six and having years of active dancing ahead, Mikayelyan already has concrete plans for the future. Several injuries brought him in touch with rehab centers and with Dr. Müller-Wohlfahrt, the team physician of the German national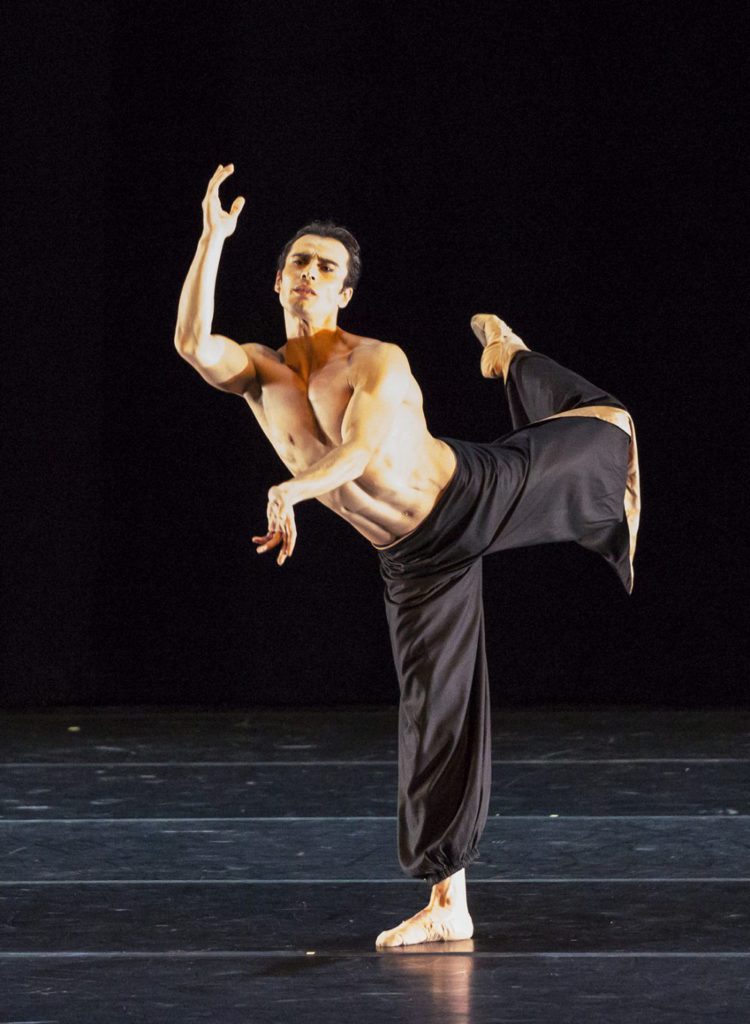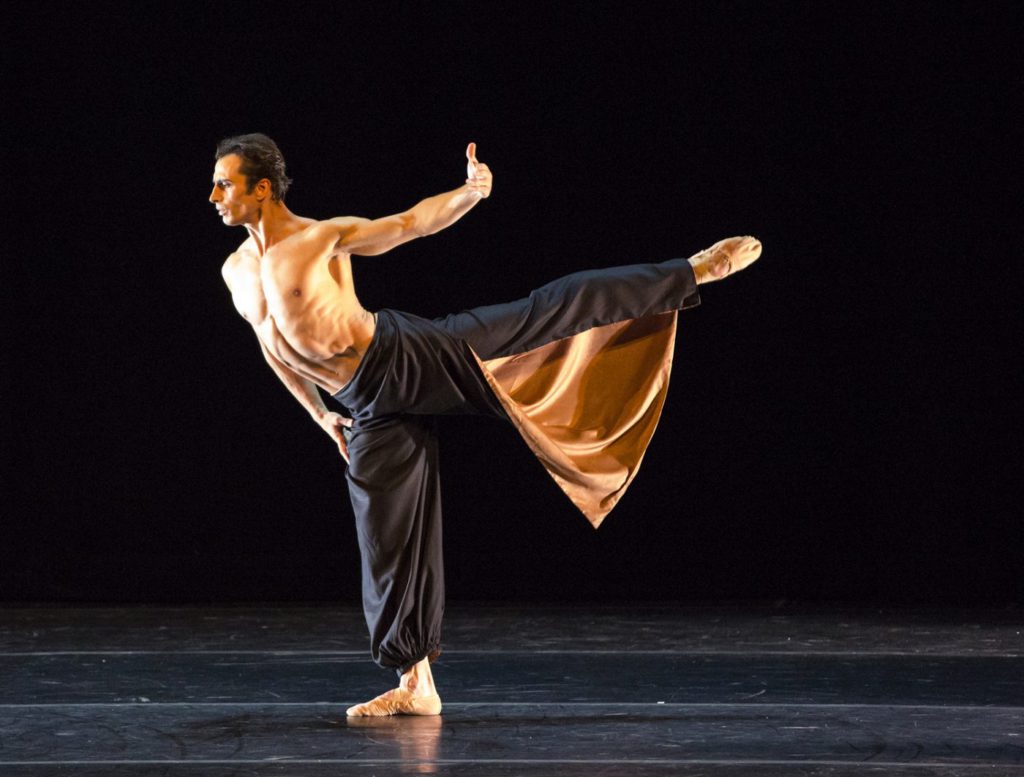 football team. He has plans to eventually become a personal rehabilitation trainer for dancers. "By resolving blocks and limitations I'd like to help dancers regain their full individual spectrum of expression after injuries and to unveil potentials having been neglected." Again he is not driven by the need of self-satisfaction but by the wish to help. He feels also ready to direct a company after his farewell from stage.
The Zurich program of "Forceful Feelings" includes an excerpt of "Arshile Gorky", a ballet about the Armenian painter who in 1920 fled from the genocide to New York, and a pas de deux of Mats Ek's "Sleeping Beauty". Sarah-Jane Brodbeck and Mariko Kida (both Royal Swedish Ballet), Galina Mihaylova (Zurich Ballet) and Mia Rudic (Bavarian State Ballet) will complement the group.
"Forceful Feelings" tours the Maag Halle/Zurich from June 27-30, 2016.
(The interview has been edited for clarity.)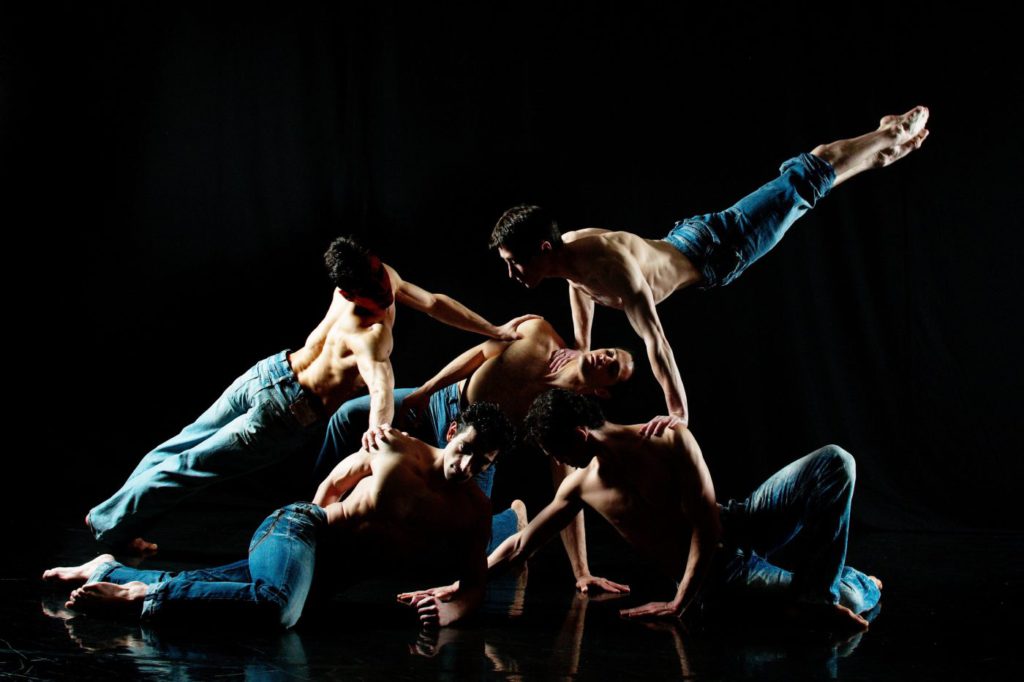 | | | |
| --- | --- | --- |
| | | |
|  Links: | |  Homepage of "Forceful Feelings" |
| | |  Performance of "Forceful Feelings" in Munich in 2015 (video) |
| | |  Homepage of the Maag Halle/Zurich |
| | | Homepage of the Bavarian State Ballet |
|  Photos: |   1. |  Tigran Mikayelyan, Bavarian State Ballet © Sascha Kletzsch |
| |   2. | Cyril Pierre, Tigran Mikayelyan and Séverine Ferrolier, "The Moor's Pavane" by José Limón, Bavarian State Ballet © Wilfried Hösl |
| |   3. | Tigran Mikayelyan (Prince Siegfried), Natalia Kalinitchenko (Odette) and Marlon Dino (Rothbart), "Swan Lake" by Ray Barra, Bavarian State Ballet © Thomas Kirchgraber |
| |   4. | Tigran Mikayelyan (Prince Siegfried), Natalia Kalinitchenko (Odette) and ensemble, "Swan Lake" by Ray Barra, Bavarian State Ballet © Thomas Kirchgraber |
| |   5. | Tigran Mikayelyan (The King) and Lucia Lacarra (Princess Natalia), "Illusions – like Swan Lake" by John Neumeier, Bavarian State Ballet © Wilfried Hösl |
| |   6. | Tigran Mikayelyan (The King) and Daria Sukhorukova (Odette), "Illusions – like Swan Lake" by John Neumeier, Bavarian State Ballet © Wilfried Hösl |
| |  7. | Tigran Mikayelyan (The King) and ensemble, "Illusions – like Swan Lake" by John Neumeier, Bavarian State Ballet © Wilfried Hösl |
| |  8. | Lucia Lacarra (Princess Natalia) and Tigran Mikayelyan (The King), "Illusions – like Swan Lake" by John Neumeier, Bavarian State Ballet © Wilfried Hösl |
| |  9. | Tigran Mikayelyan (Lenski), "Onegin" by John Cranko, Bavarian State Ballet © Charles Tandy |
| | 10. | Tigran Mikayelyan (Gaston Rieux), Marlon Dino (Armand Duval), Lucia Lacarra (Marguerite Gautier) and ensemble, "Lady of the Camellias" by John Neumeier, Bavarian State Ballet © Charles Tandy |
| | 11. | Tigran Mikayelyan (Ali) and ensemble, "Le Corsaire" by Ivan Liška after Marius Petipa, Bavarian State Ballet © Wilfried Hösl |
| | 12. | Tigran Mikayelyan and Mia Rudic, "Unitxt" by Richard Siegal, Bavarian State Ballet © Wilfried Hösl |
| | 13. | Lucia Lacarra, Tigran Mikayelyan and ensemble, "Artifact II" by William Forsythe, Bavarian State Ballet © Thomas Kirchgraber |
| | 14, | Tigran Mikayelyan, "Glory of Earth" by Maged Mohamed, Forceful Feelings © Ute Fischbach-Kirchgraber |
| | 15. | Tigran Mikayelyan, "Glory of Earth" by Maged Mohamed, Forceful Feelings © Ute Fischbach-Kirchgraber |
| | 16. | Tigran Mikayelyan, Artur Babajanyan, Arsen Mehrabyan, Arman Grigoryan and Vahe Martirosyan, Forceful Feelings © MAAG Music & Arts AG |
| Editing: | | Laurence Smelser |