"Salome"
Stuttgart Ballet
Stuttgart State Opera
Stuttgart, Germany
June 10, 2016
by Ilona Landgraf
Copyright © 2016 by Ilona Landgraf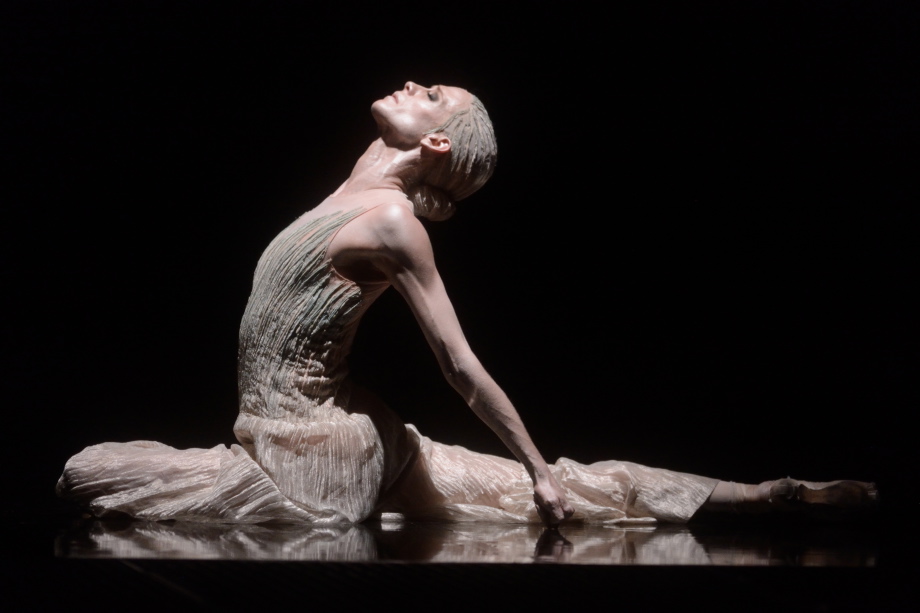 "Salome" is the second program-filling piece that Stuttgart Ballet's resident choreographer Demis Volpi has made for the company. "Krabat", also multi-act, in 2013 was his auspicious first attempt. Last year's "L'Histoire du Soldat", part of a triple bill dedicated to Stravinsky, was weak.
For "Salome", Volpi again gathered the "Krabat" team. Vivian Arnold, Stuttgart's director of the press, communications and dramaturgy, was in charge of the libretto and the dramatic direction. Set and costume designs are by Katharina Schlipf. Lighting is Bonnie Beecher's. This time, though, the quartet's work fell short.
Volpi's sources for "Salome" are Oscar Wilde's play (originally in French) and, of course, the Biblical story. Having abandoned her husband Herodias has married his brother, Herod Antipas. This marriage makes him the ruler (tetrarch) of Judea. Much to the disgust of Herodias, her daughter from her first marriage – the hauntingly beautiful Salome – stirs Herod's sexual desires. Yet Salome's erotic urge is for the prophet Jochanaan (John the Baptist), whom Herod has imprisoned. Salome demands to see him. She gets her way. Jochanaan is brought up from his cell, a cistern. Salome's provocative advances fail. Jochanaan rejects her. When the tetrarch then asks Salome to dance for him, she refuses at first. When,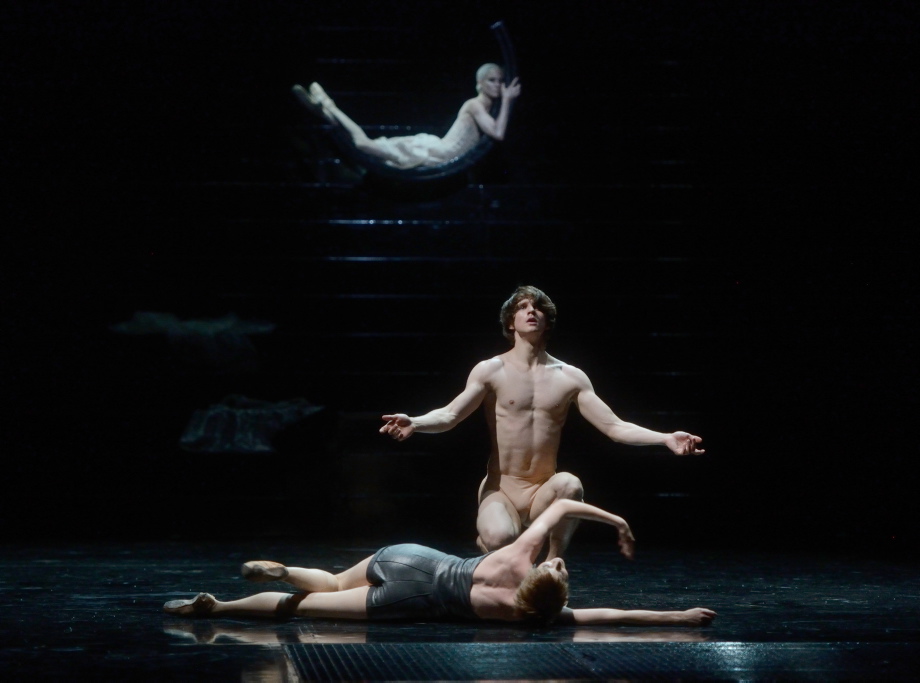 however, Herod swears to fulfill her every wish if only she will dance, Salome sees her chance. She dances what is famously called the Dance of the Seven Veils. Immediately she claims her reward: Jochanaan's head on a silver platter. Herod is aghast but his wife is delighted because, again and again, Jochanaan had denounced her lewd conduct. All of Herod's attempts to change Salome's mind are of no avail. Jochanaan is beheaded. Then Salome, in sensual ecstasy, kisses the head. Herod, deeply disgusted, orders his soldiers to kill her.
The whole story unfolds one moonlit evening on the terrace of Herod's palace. In the play all main characters comment on the moon, either to its light, shape or connotations. In one crucial aspect Wilde departs from the Biblical story. In the Bible, Herodias's daughter pleases the tetrarch with her dancing whereupon he offers her a present. It is Herodias who talks her daughter into demanding the head of Jochanaan. Wilde, by contrast, makes it Salome's own wish. She dances to satisfy her necrophilic lust.
Schlipf designed stairs which take up the stage's entire background. Maybe they lead to the palace or to a perverted Olympus? It is on these stairs that Herod, Herodias and their entourage make their imposing entrance. The upper stairs are the orbit of Alicia Amatriain's dancing as the Moon. Cleverly, the use of spotlights and subtle veils of mist gave the stage mysterious depths.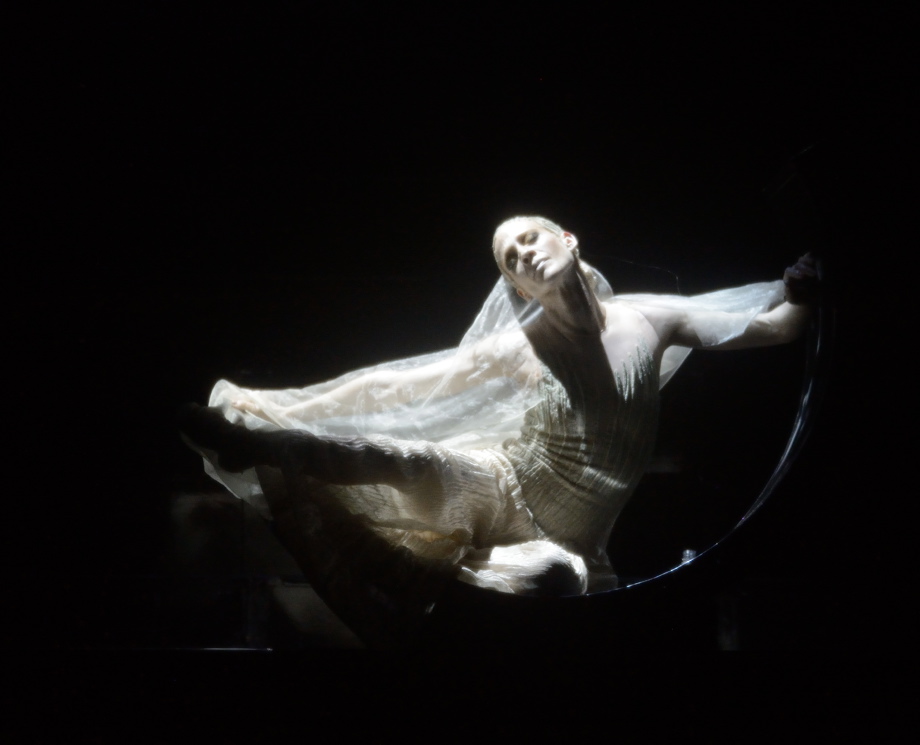 Volpi disregarded some of the historical background Wilde had woven into his play. There were no quarreling Jews and Nazarenes, nor were there passages corresponding to Jochanaan's prophetic speeches. Even the plot of Wilde's elaboration isn't long and in Volpi's reduction there is not enough action to fill ninety minutes. Volpi stretched his scenes out tediously. Amatriain's Moon, at the beginning, descended stair by tedious stair, from on high down to the terrace. A young Syrian (Martí Fernandez Paixa) and Herodias's pageboy (Özkan Ayik) dance for what seems eternities merely to convey that one is moonstruck while the other tries to keep him balanced.
Herodias (Miriam Kacerova) was depicted at the center of a male harem engaged in an extensive orgy that dragged on and on. Here, Volpi spared no hackneyed cliche. Costumed in turquoise-colored tights, a jacket in the same color and a wig reminiscent of Cleopatra, Herodias was pleasured by her slaves, handsome young men whose privates were leather-girded. She had no memorable dancing in this scene. Two female slaves in scanty lingerie and latex boots that covered the knees strutted around carrying fruit bowls with red apples. The apples sent every one eating them into a state of lechery. Later, when dancing for Herod, Salome (Elisa Badenes) teasingly used an apple as a symbol of seduction and lust. Men in gray suits, guests of Herod and Herodias, seemed visitors from time present. Was it Volpi's aim to show that lust looms beneath the sleek surface of today's businessmen?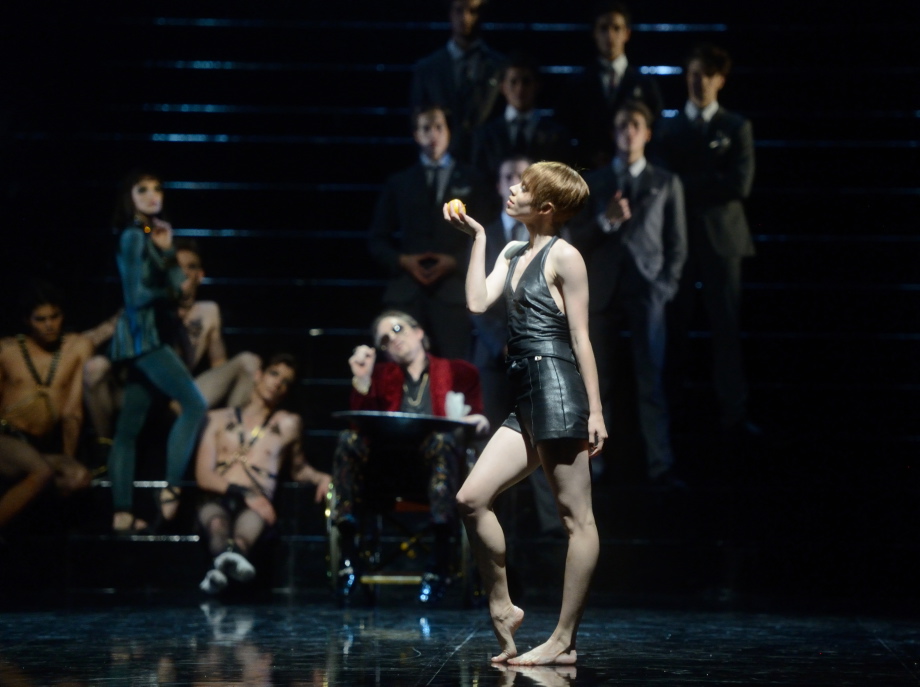 Even the supposed climax, when Salome receives Jochanaan's bloody head, lacked suspense. Watched by slaves and guests who stood idly by, she swung the prophet's severed head around and tore off the top she wore to caress the bloody thing against her bosom. Then, using the head for oral sex, she reached her climax. Nevertheless, time dragged on. Finally, Salome is killed. This happens as discreetly as a casual wiping out by an intelligence service.
Volpi wasted all sorts of opportunities. The negotiations between Herod and Salome, leading to her pivotal dance, were almost obscured by general activities, except when strobe light flashes blatantly picked them out. Jochanaan's head was suddenly seen reposing on the silver platter. How had it gotten there?
While little that was captivating happened on stage, the music implied the contrary. Volpi had not borrowed from Richard Strauss's opera. He had commissioned a new score from Tracy Silverman, a pioneer of the electronic violin, and the duo Philippe Ohl and Thomas Höfs. Pre-existing pieces by John Adams, Vladimir Martynov, Tracy Silverman and Christos Hatzis were included. The result was either dramatic and bombastic noise or monotonous repetition.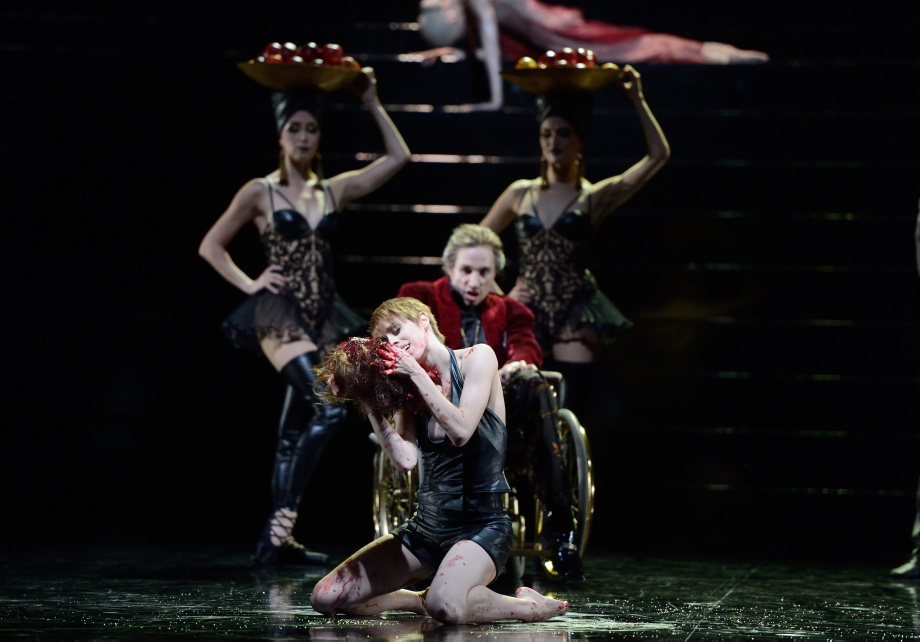 Oscar Wilde's 1891 play caused a scandal in its day. It was banned in England and premiered in Paris in 1896. Now, more than a century later, sexual excess and perversion are no longer shocking. To convey the explosive nature of the story that the play once had – and maybe also to point out its references to Wilde's own life – there needed to be a more balanced depiction of good and bad. In Volpi's ballet, Jochanaan (David Moore) is the only upright character. Everyone else is shown as debauched.
Yet the role of Jochanaan does not depict someone strong. Three times the stage floor was raised to reveal him in his cistern. He was naked except for skin-colored briefs. First he crouched on all fours like a desperate animal. The second time he hung headfirst down on a metal ladder like a resting bat. Finally, he knelt awaiting the stroke of the axe. When brought up and subjected to Salome's lewdness, he had again and again shaken her off like an annoying gnat until retreating into his cistern. That isn't much to counterbalance the scenes of Sodom and Gomorrah in Herod's household which Salome's perversion merely highlights.
How did Volpi characterize Salome? As an eccentric vamp or as an innocent Lolita in a decadent environment? Did she demand Jochanaan's head out of capriciousness or was she driven by existential necessity?
Badenes had a tomboyish short haircut: a dark leather top and dark short pants underscored her masculine appearance. She knew exactly what she wanted and pursued it with perfidious determination. Jochanaan was the prey, she was the big cat, smiling confidently while playing with him. Her dance for Herod wasn't special. She already had his oath, so why waste any effort? Taking possession of Jochanaan's head finally revealed her pathological traits.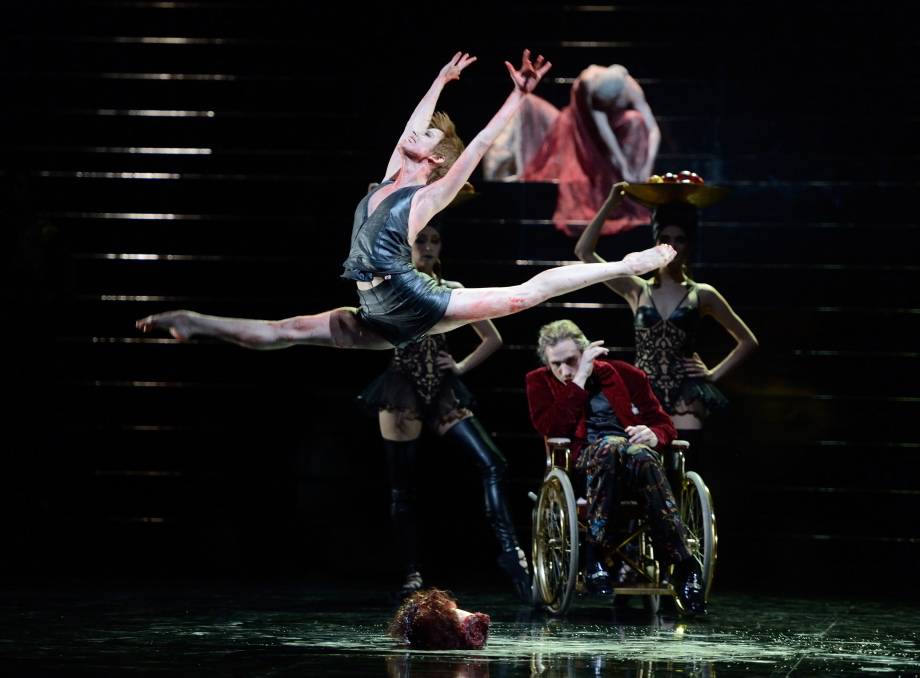 Herod, played by Roman Novitzky, was deprived of any virility. Volpi had him sit in a golden wheelchair, apparently impaired by a former stroke. Later his servant carried him away in his arms like a child. Amatriain, in a wide, silvery white costume, paced slowly most of the time from left to right on the staircase or rested in a crescent pose or thinkerposition. Her three solos showed her long limbs and flexibility to advantage. Portraying a celestial body, she was distant and detached.
Several times harbingers of evil crawled and swarmed around. These "Angels of Death" were creatures in black full-body leotards which also covered their heads and faces. The costumes' shiny fabric made them look like moist creeping things.
Volpi had excellent dancers at his disposal yet he wasted them. To watch "Salome", I would recommend a ticket to the Stuttgart Opera's production instead. Richard Strauss's 1904/5 music drama (with Wilde's French text in a German translation by Hedwig Lachmann [Mike Nichols's grandmother]) is in repertory this season.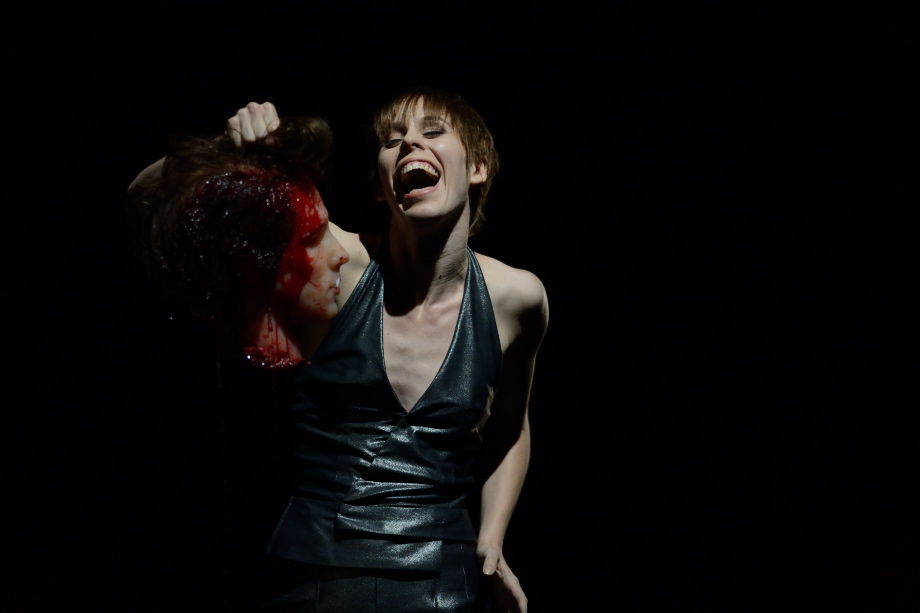 | | | |
| --- | --- | --- |
| | | |
| Links: | | Stuttgart Ballet's Homepage |
| Photos: | 1. | Alicia Amatriain (The Moon), "Salome" by Demis Volpi, Stuttgart Ballet 2016 |
| | 2. | Elisa Badenes (Salome), David Moore (Jochannaan) and Alicia Amatriain (The Moon), "Salome" by Demis Volpi, Stuttgart Ballet 2016 |
| | 3. | Alicia Amatriain (The Moon), "Salome" by Demis Volpi, Stuttgart Ballet 2016 |
| | 4. | Elisa Badenes (Salome), Miriam Kacerova (Herodias), Roman Novitzky (Herod Antipas) and ensemble, "Salome" by Demis Volpi, Stuttgart Ballet 2016 |
| | 5. | Elisa Badenes (Salome), Roman Novitzky (Herod Antipas), Elena Bushuyeva and Anouk van der Weijde (Slaves), "Salome" by Demis Volpi, Stuttgart Ballet 2016 |
| | 6. | Elisa Badenes (Salome), Roman Novitzky (Herod Antipas), Elena Bushuyeva (Slave), Anouk van der Weijde (Slave) and Alicia Amatriain (The Moon), "Salome" by Demis Volpi, Stuttgart Ballet 2016 |
| | 7. | Elisa Badenes (Salome), "Salome" by Demis Volpi, Stuttgart Ballet 2016 |
| | | all photos © Stuttgart Ballet 2016 |
| Editing: | | Laurence Smelser, George Jackson |