"Young Moves"
Ballett am Rhein
Opera House Düsseldorf
Düsseldorf, Germany
July 09, 2017
by Ilona Landgraf
Copyright © 2017 by Ilona Landgraf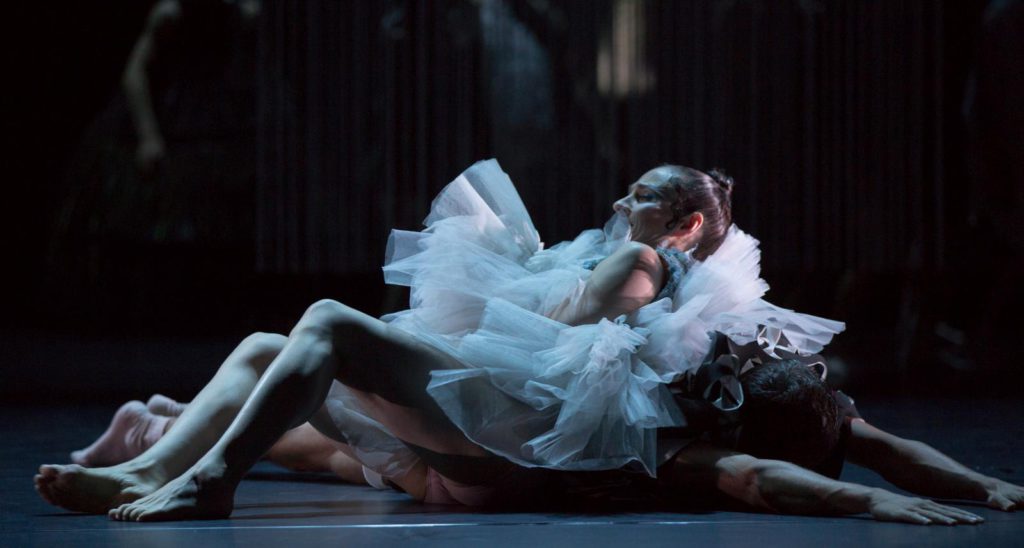 For the second time, Ballett am Rhein presented works by young choreographers. All six ballets of "Young Moves" were created by members of the company. Four of them – Wun Sze Chan, Boris Randzio, So-Yeon Kim and Michael Foster – already participated in last year's event; Sonny Locsin and Chidozie Nzerem were novices. The program was shown three times during the first half of July. I saw the second show, an afternoon matinee. Maybe it was because of the gorgeous summer weather that many seats in the auditorium remained empty. Applause was, however, warm and intense.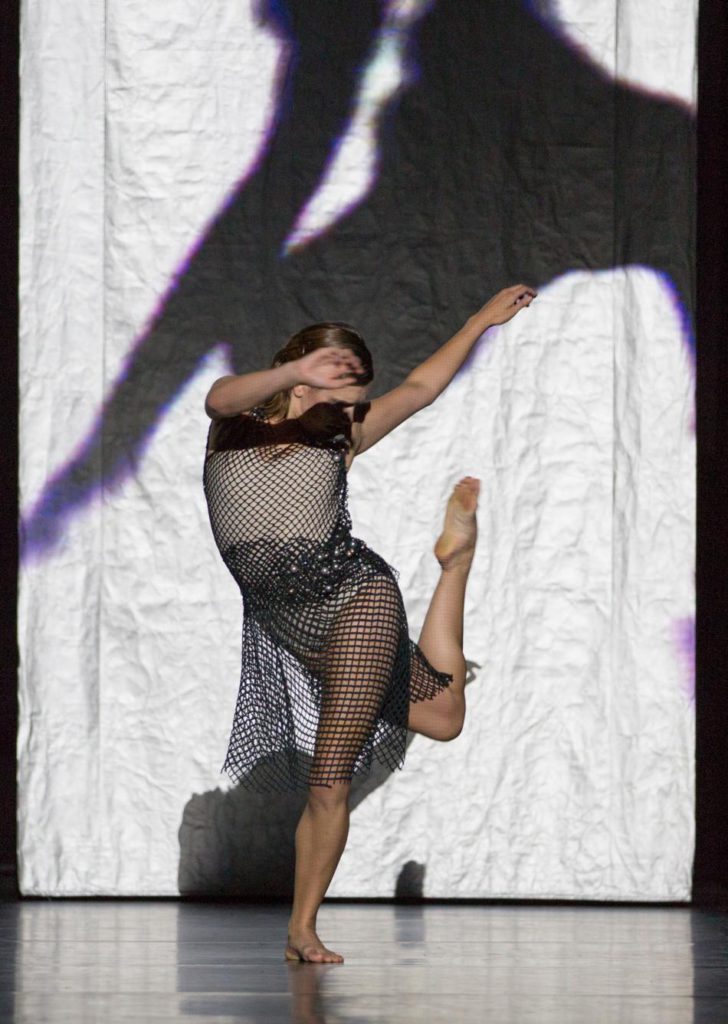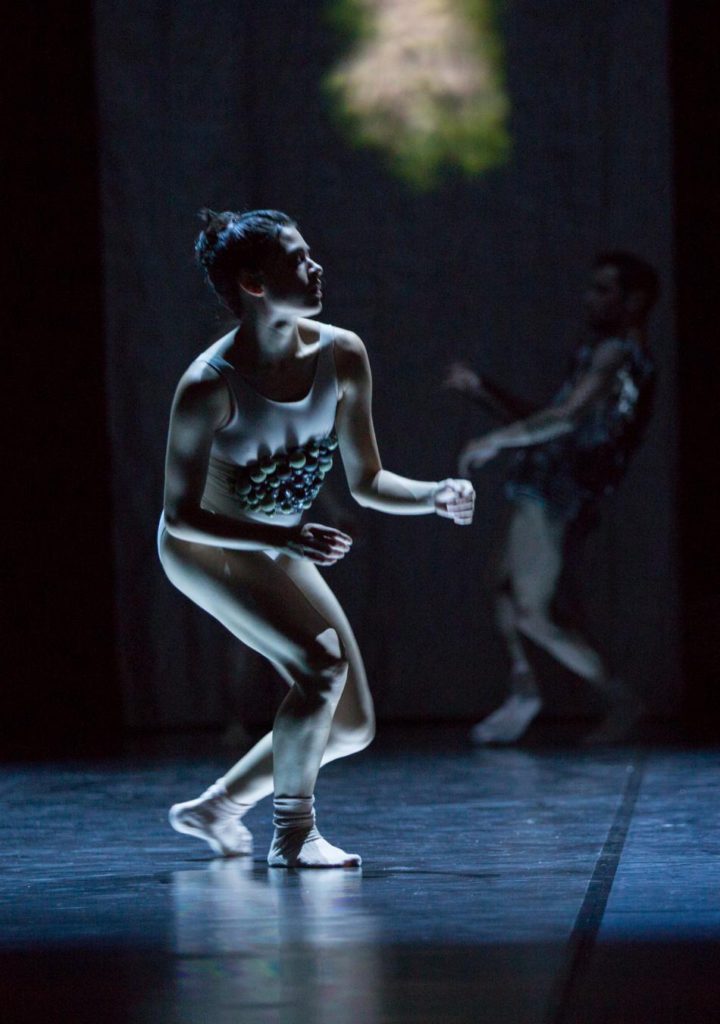 "My main concern […] is how various artistic levels assemble and by this create a lively work,"* explained Chan in the program booklet. Making the process of creation palpable was more important to her than creating a finalized, fixed piece of art. The art forms she merged in "No Destination" were music by Leopath, Julia Kent and Jaust (featuring loud breathing sounds of dancers, noisy disco rumbling and some creaks of a door hinge) and black and white videos flickering on the backdrop. They could have been sonograms of an internist checking his patient's pulmonary function. The videos alternated with live painting by Walter Padao, who stood at a high desk in the left front corner of the stage. The abstract brushstrokes in black and white he painted on a little screen were simultaneously projected on the stage backdrop. His painting reacted to the dancers' movements and occasionally vice versa. The impression of a three-dimensional living painting was blurred by a string curtain separating upstage from downstage.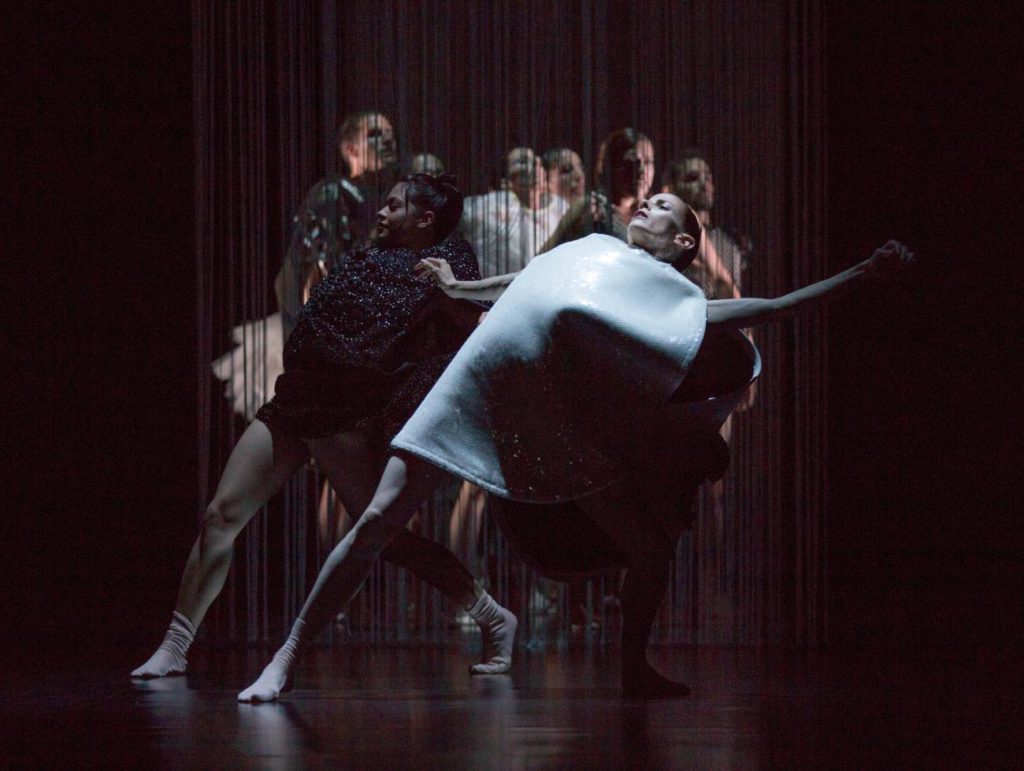 Eye-catching costumes by Hélène Vergnes were a further piece of the artistic puzzle. She took inspiration from the underwater world, but kept the color palette mainly to black and white. Her designs included baggy mini dresses decorated with slots or holes, fishnet tops and dresses, a voluminous tutu worn high above the waist and conical dresses stiffened with a crinoline worn by some of the men.
Amidst all these visual and acoustic distractions, the dance became secondary. For a long sequence a bunch of dancers stood behind the string curtain slowly bending their bodies and unfolding their arms in sync with the breathing sounds. Later, they stood together in the background again, some were kneeling on the floor and touched others with their palms; some doffed their dresses to continue dancing in tricots. The pas de deux performed in front of them almost slipped one's attention.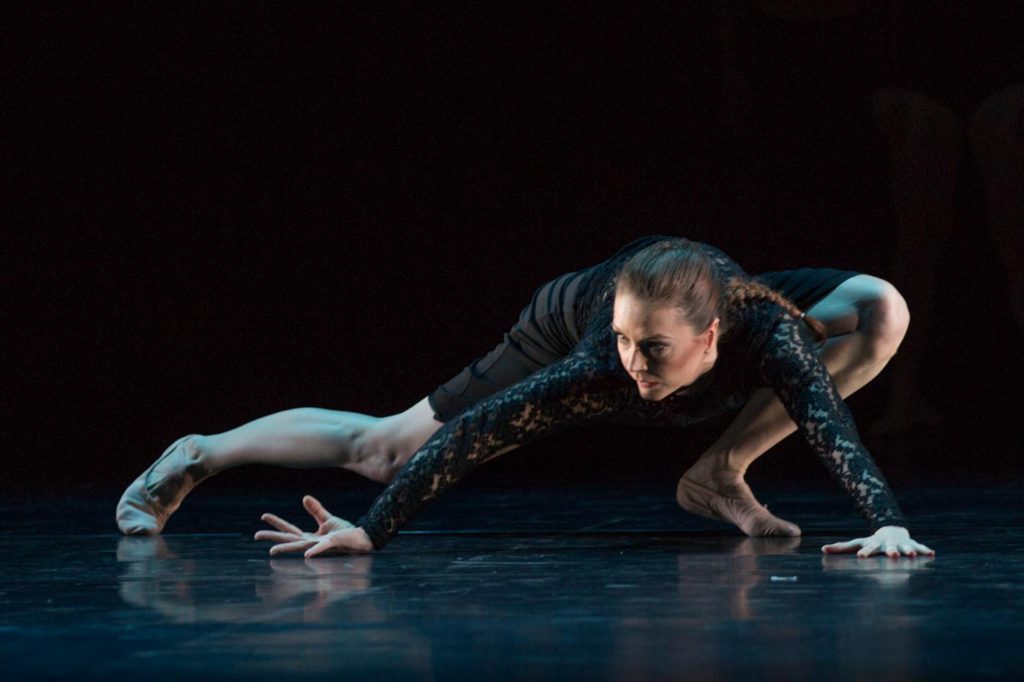 The choreography for the ten dancers involved deep pliés with legs wide apart, circular and wave-like moves with the entire body, isolations like arms swings or shoulder circling, brisk walking, doubling up as if in sudden pain, hopping and turns. A movement sequence started energetically, then gradually slowed down until another sequence set off vigorously. Instead of aquatic creatures, I thought of extraterrestrials immersed in a weird dance and, in the group dances, of a routine meant to accompany a dull advertisement clip.
Locsin's fascination with the social structure of ant colonies was the springboard for "Fourmis". Fourmis is the French word for ants. Maybe Camille Andriot, the core character of the piece, represented the queen ant and the other two women and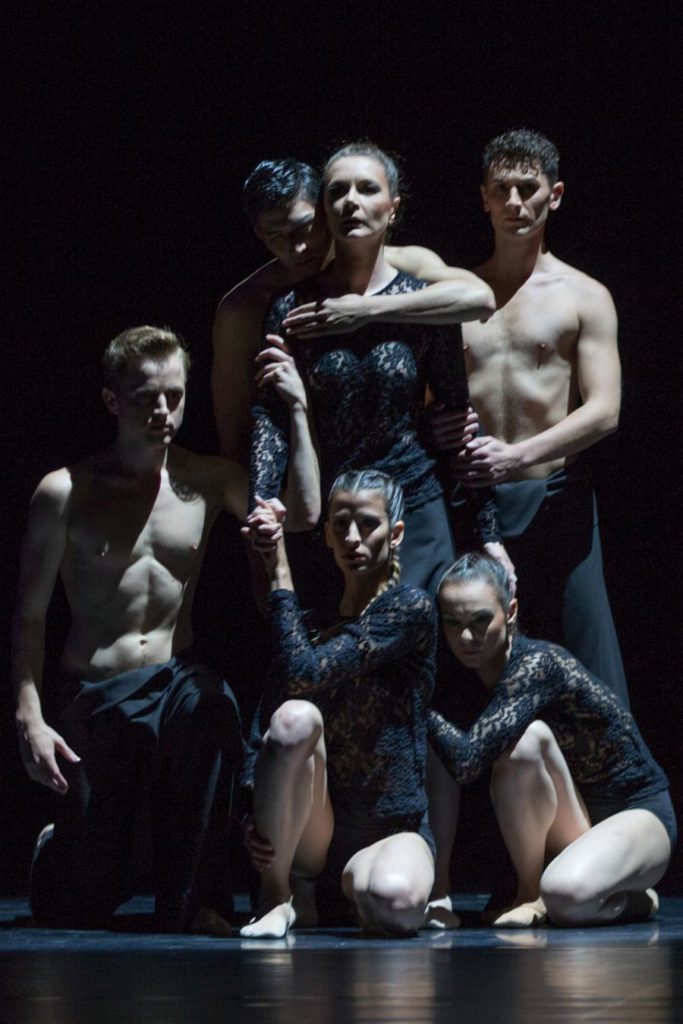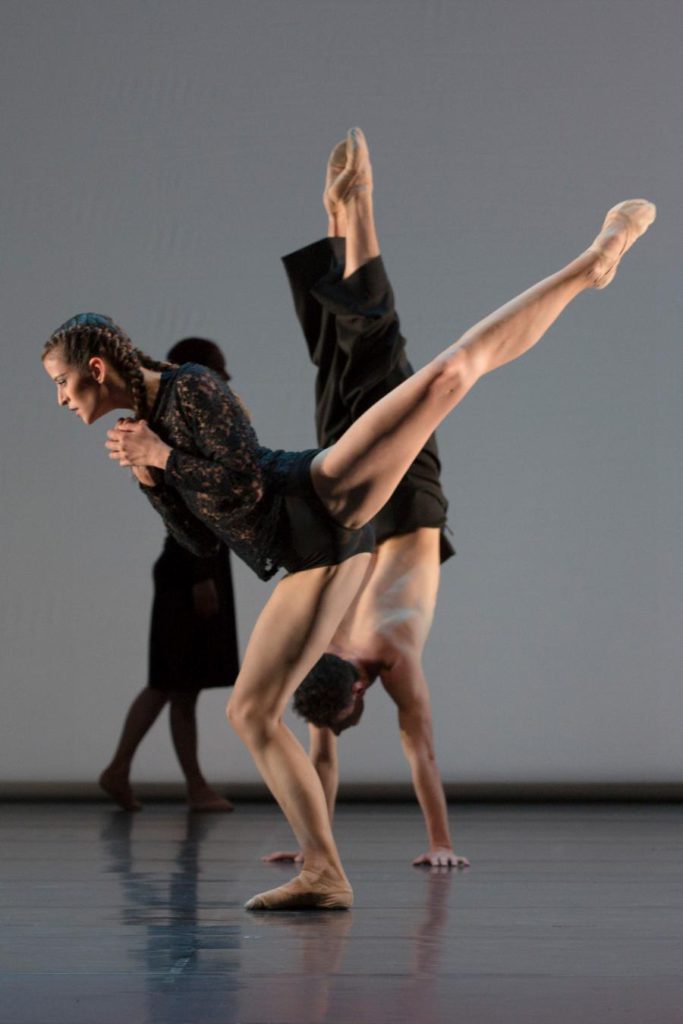 three men were her worker ants? Andriot, wearing a black skirt and a black lace top (costumes also by Locsin), was a solitary figure, self-absorbed, independent and strong, but also emotional. Once, the group lifted her in silence and, paralyzed like a beetle fallen on its back, she was carried around like an icon. Then the music (three movements of Philip Glass's string quartet No.3 "Mishima") continued. White lighting combined with a black backdrop made the skin of dancers look pale like larvae. Dawn seemed to break when the backdrop turned light blue and pink and the lighting became warmer. One dancer (Tomoaki Nakanome) stepped out of the group for a lonely solo. Was he the chosen one? Or an obscure reference to the fact that male ants die after their nuptial flight?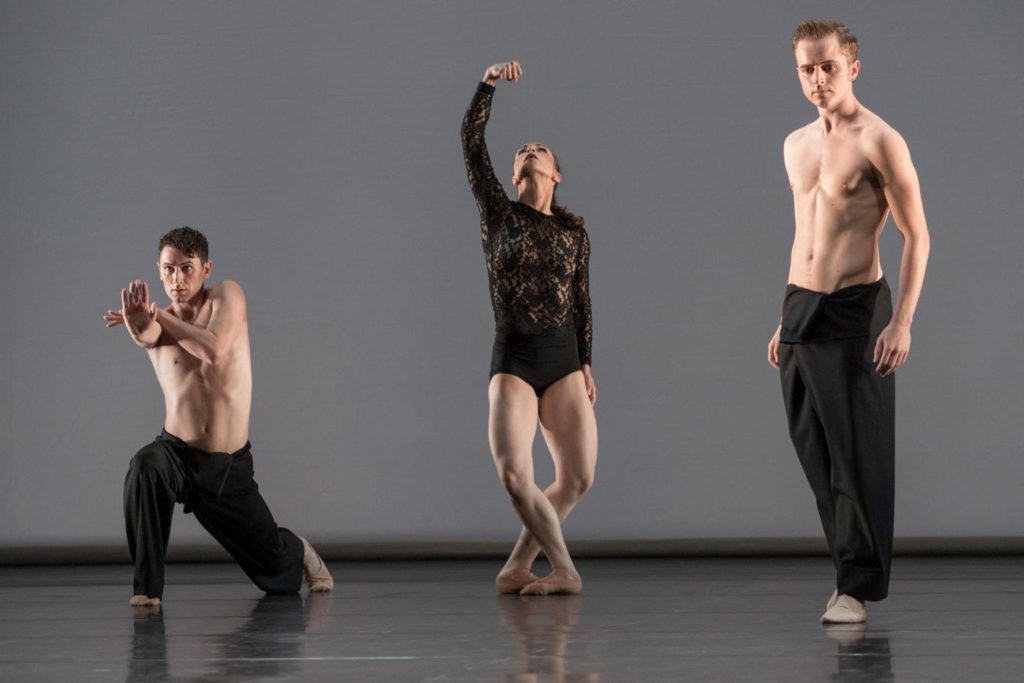 A subtle sensuality suffused the dance as if the dancers were exploring the space around them. Movements were supple and occasionally contrasted with shaking of the body, fidgeting hands, isolated swings of the lower arms or slaps with the hands on the thighs. At one point, a dancer leaped through the diagonal, his upper body bent forward like an eager sprinter. The marked leg movements, such as single développés or a slow stretch into full arabesque, reminded me of Martin Schläpfer's handwriting. Schläpfer is the artistic director and chief choreographer of Ballet am Rhein. His style is firmly rooted in his dancers.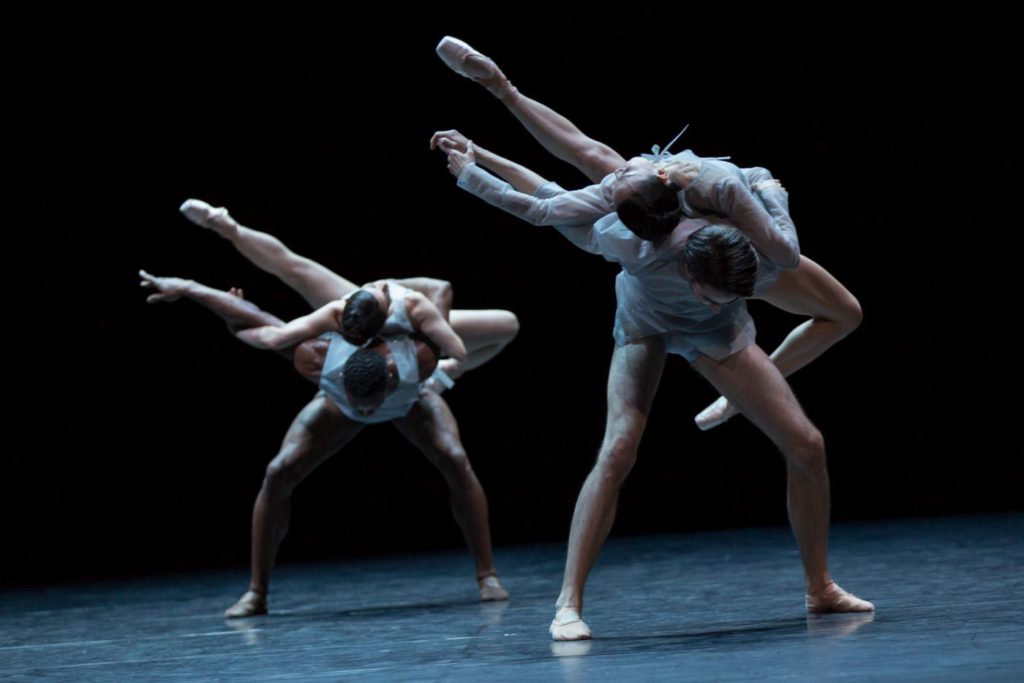 "Andante Sostenuto", Randzio's choreography, seemed similarly influenced by Schläpfer. Randzio was the only one whose dancers didn't stand together in a bunch the moment the curtain went up. Instead, four of them lay on the floor while two were standing. What sounded like an old radio searching for the right transmission frequency was the beginning of "Daydreaming" by the British band Radiohead, a song with a melancholic atmosphere perhaps suited for a relaxation session for people having the blues. It accompanied uneventful choreography. Most of the time the majority of the six dancers lay on the floor while one stood and did some simple, repetitive movements. Group sequences were either a medley of weird solos or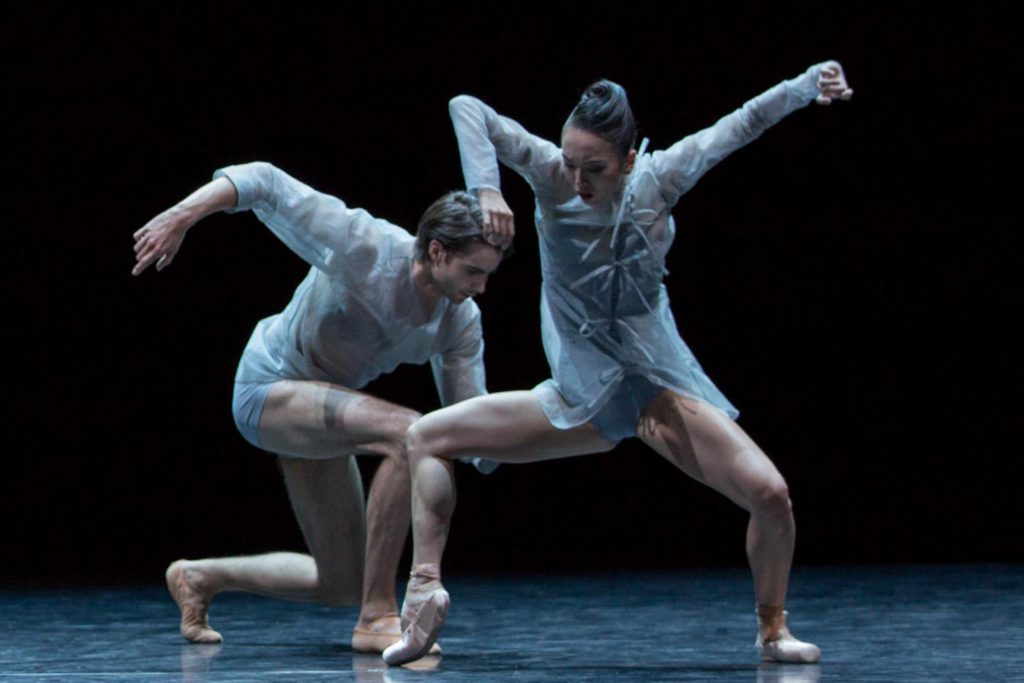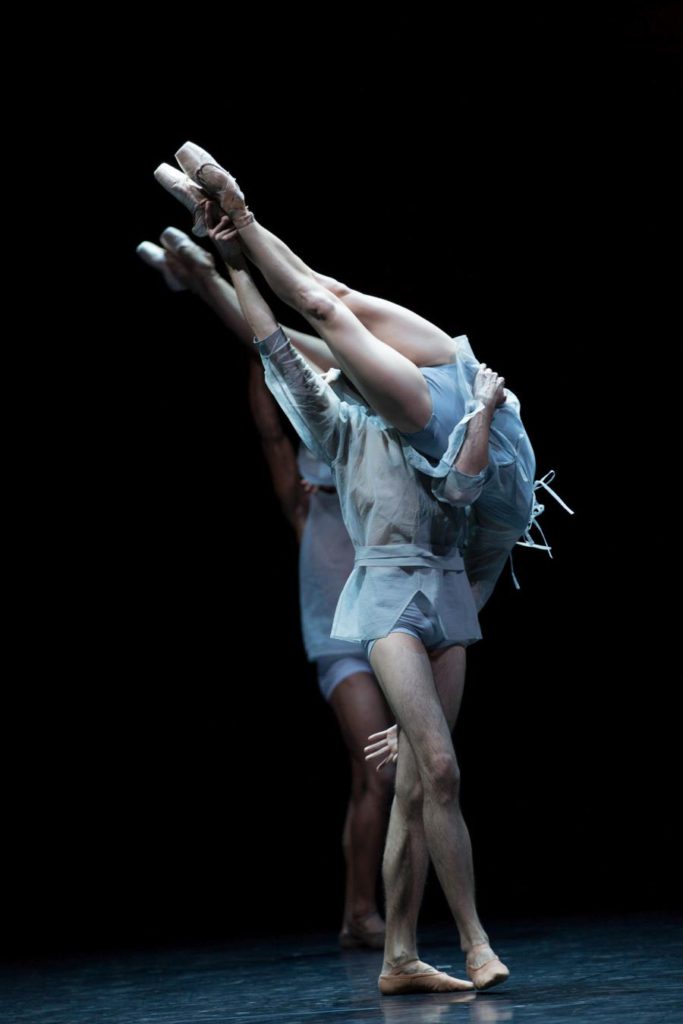 simple, synchronized sessions of walking, turning, leg kicking and flexing the feet. Meanwhile, the music sounded as if someone was loudly snoring. It fit the overall atmosphere.
Things brightened considerably in the second half of the piece, which was set to Franz Schubert's "Andante Sostenuto". Maybe the neoclassical choreography met the dancers' strengths? Now they were grouped to three male / female couples with the women on pointe. Petit Marlúcia do Amaral and Rashaen Arts had the strongest stage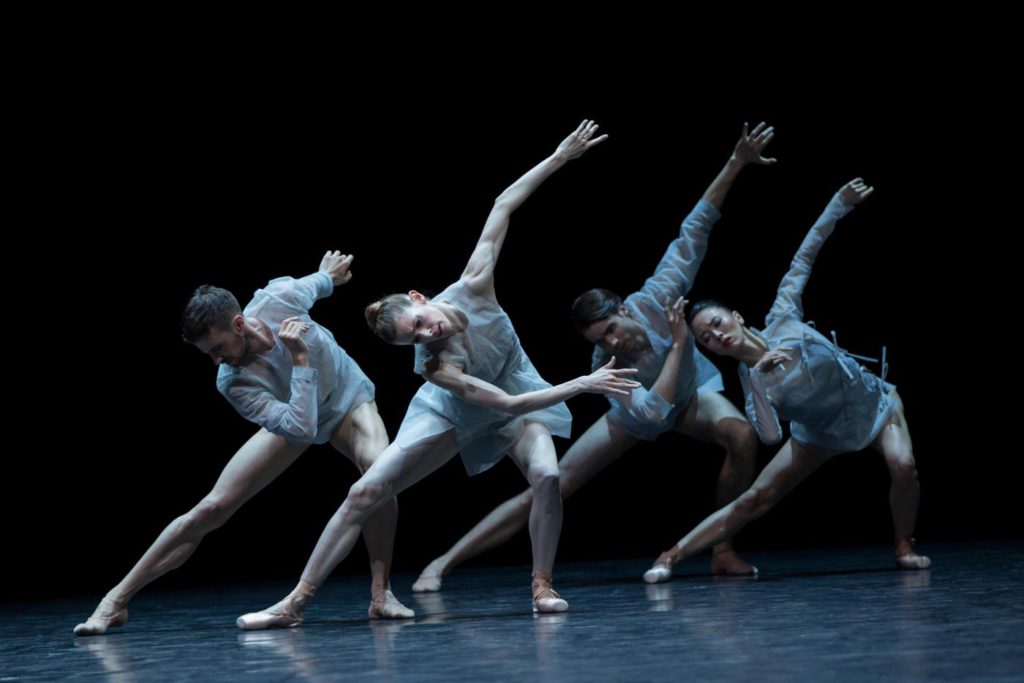 presence. The dance was fluent, serene and varied. Watching it was like a meditation for the eyes. The costumes – transparent gray-blue shirt blouses over leotards of the same color – were by Louise Flanagan.
Nzerem's "Edge of Reason" made one eagerly shift around on one's chair, so infectious was its onward pushing and self-accelerating percussion. The score's first part, "Ogoun Badagris" by Christopher Rouse, is named after a powerful Haitian deity that demands blood sacrifices. Its second part, an excerpt from "Trio per Uno" by Nebosja Jovan Živković, referenced Caribbean ritual dances.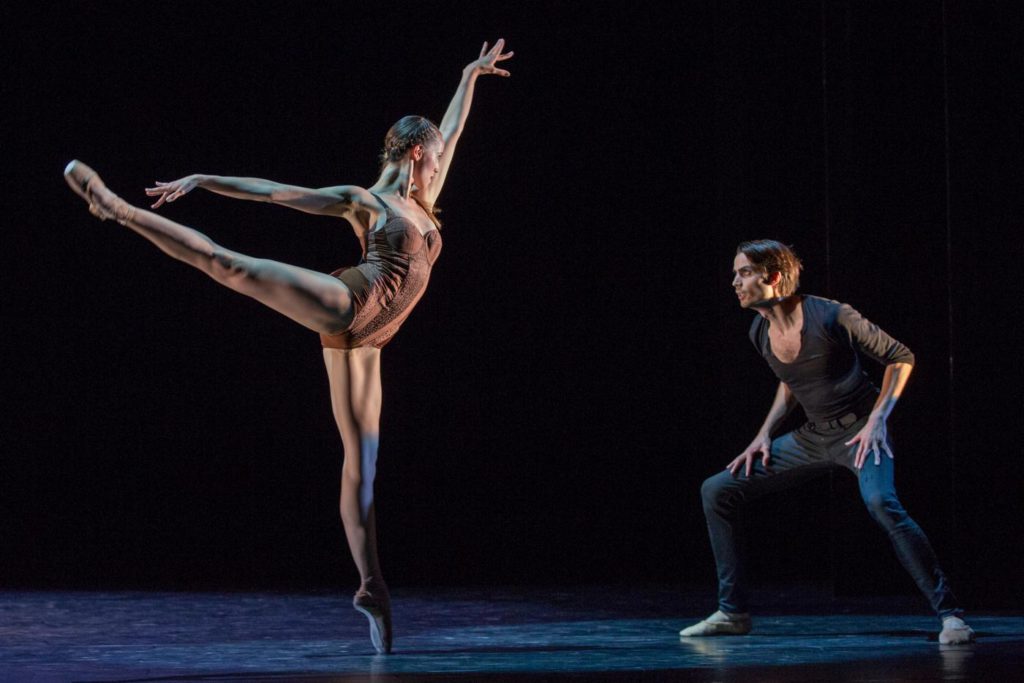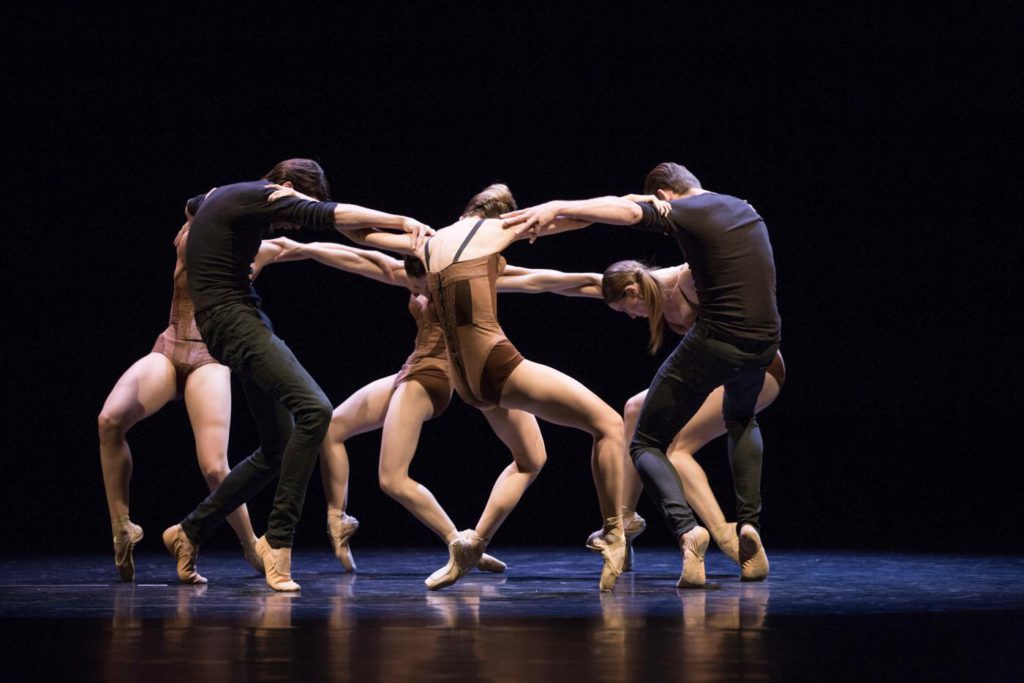 It was exactly a ritual dance that Nzerem choreographed for five women and five men. Whether Richard Jones was indeed sacrificed at the end wasn't clear. At least he lost the duel with Friedrich Pohl, but thankfully nothing hinted at bloodshed. The group's dynamic, the intensity of their dance and the sense of urgency they conveyed were thrilling. Gender cliches seemed conventional on first sight, but there was also a pas de deux of two men, Rashaen Arts and Yoav Bosidan, with Bosidan dancing the female role.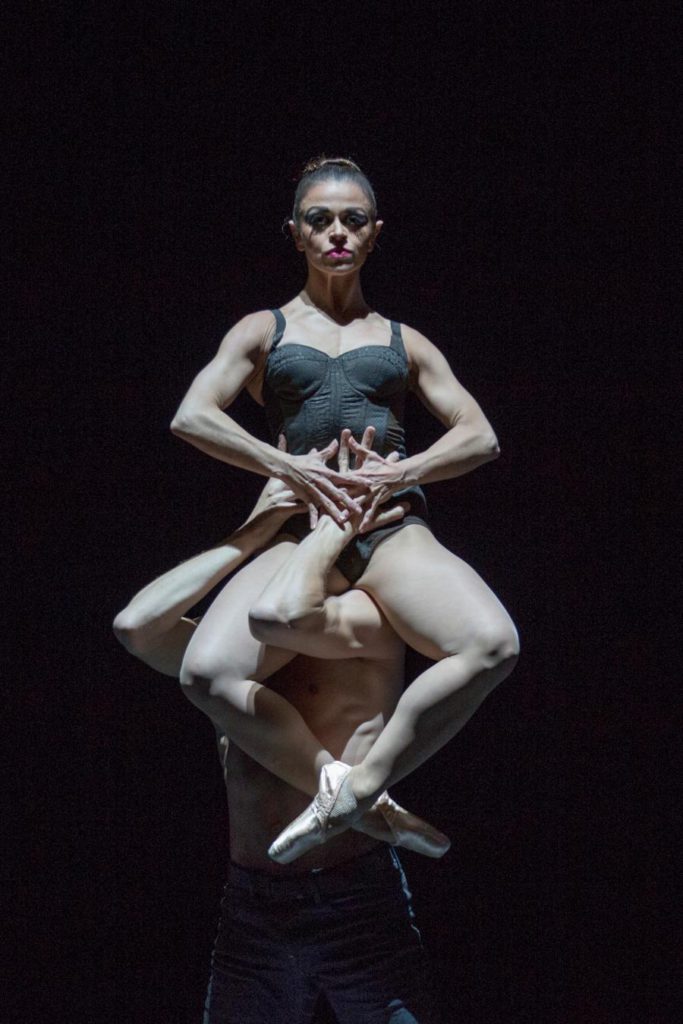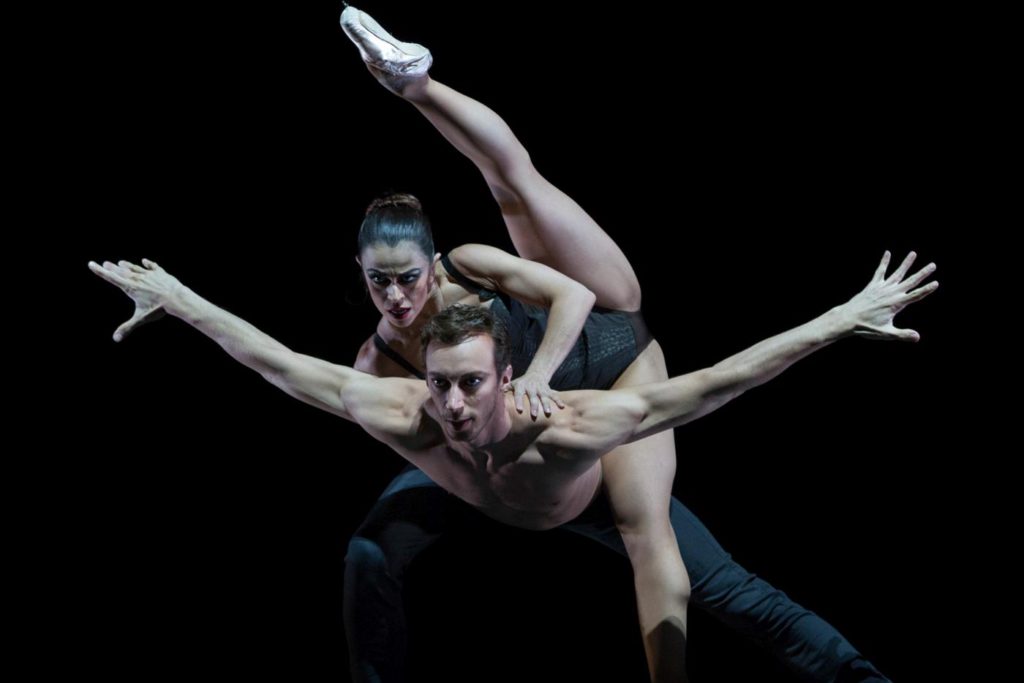 Eroticism was a basic driving force. The women knelt, shook their bodies and kinked their wrists. Ogled by two men, they ran out holding their heads as if frightened. Repeatedly, they thrusted their hips forward suggestively. Alexandra Inculet clasped her legs ecstatically around Pohl's waist; Do Amaral roled over Marco Menha's back, her legs stretched into an overextended split. At the end, all gathered around Arts and reinforced the group's solidarity and fighting spirit by holding onto his outstretched arms. Nzerem designed the costumes himself: corsage-like brown bodices for the women and black pants and (sometimes) black shirts for the men.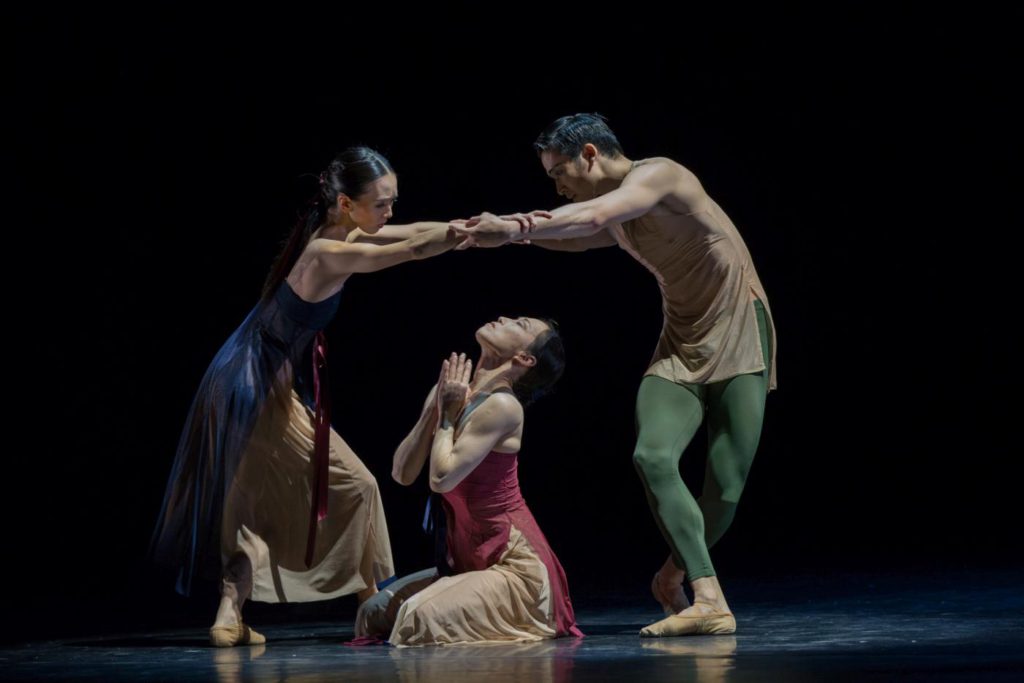 A ritual of another sort was the topic of Kim's "49". The piece dealt with the sudden death of a man and the mourning of his wife and other survivors, one of whom was a woman who learns of the death from afar. The piece has a biographical background. Kim herself was in Düsseldorf when a beloved person back home in Korea died. The ballet's title refers to the 49-day long period of mourning that is common in Korea. Eric White was the man who died, and Yuko Kato portrayed his wife, shattered by grief. Kneeling on the floor and pressing her upper body to the ground, arms stretched wide apart, she refused any attempts by the others to tear her out off her emotional numbing. Praying was her main anchor. Andriot depicted the forlorn woman separated from the others by a semi-transparent curtain. Having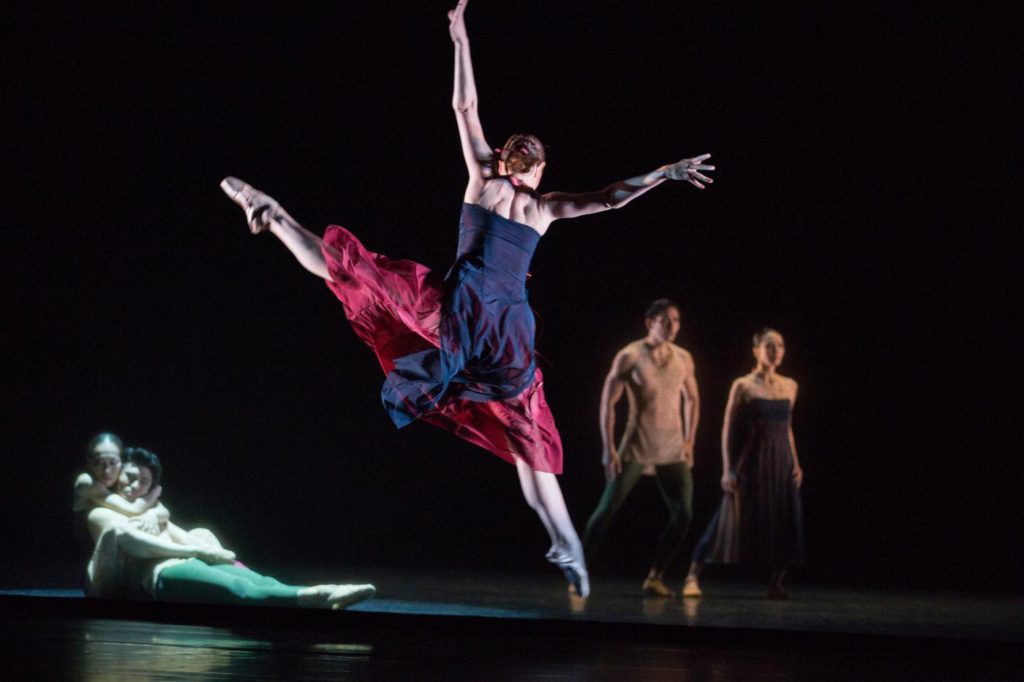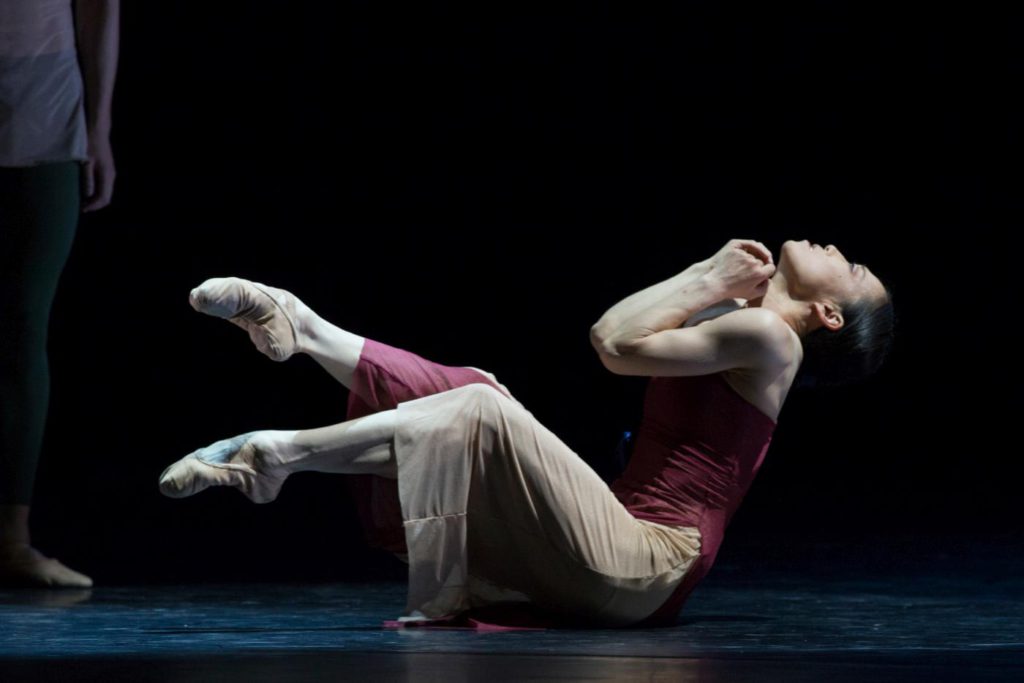 finally returned to the mourners, she was brusquely rejected by Kato.
Every gesture, every movement conveyed emotions, which became especially dense in moments of pause. The ritual-like calmness inherent in the piece intensified the emotional weight. How Tomoaki Nakanome slowly moved the corpse into the wings reminded one of a ceremony. The dead body was wrapped in a canvas that had formerly been spanned above the center of the stage.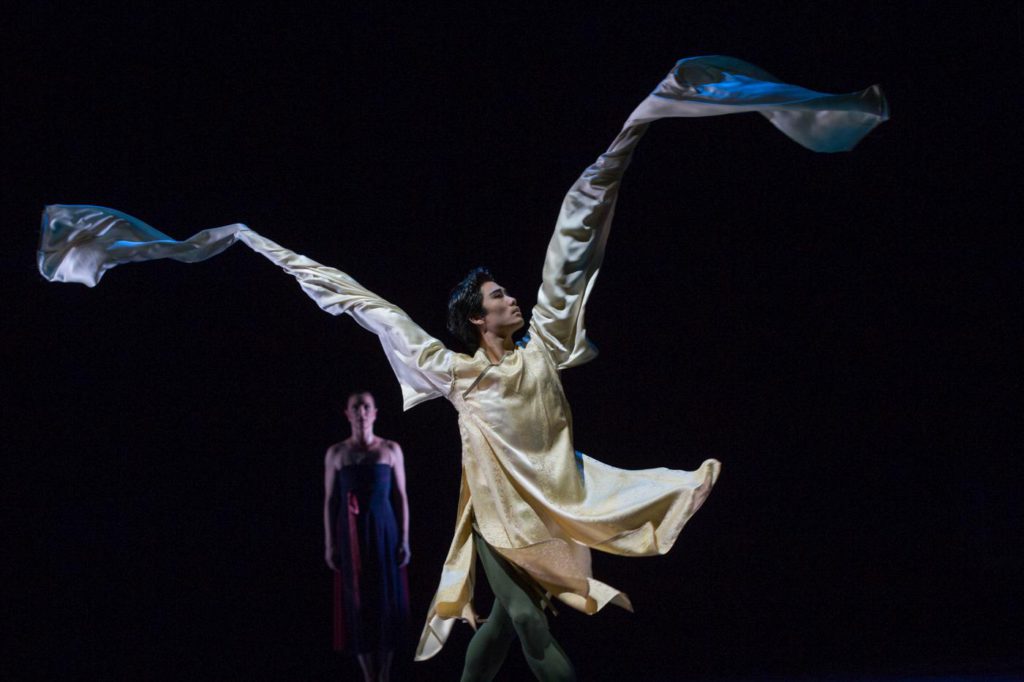 The first part of the piece was set to three movements of Arvo Pärt's "Lamentate". A rendition of Johann Sebastian Bach's "I call to Thee, Lord Jesus Christ" accompanied the return of White. He then wore an ecru shroud with overlength sleeves (costumes by Irene Yaqueiro). Holding little sticks in his hand to elongate his arms, he swung his sleeves as if performing a sacral ribbon dance.
The last piece of the program, "East Coasting" by Foster, was the funniest one. Jazzy sounds from Charles Mingus's "East Coasting" and "West Coast Ghost" recalled the late 1950s. Simple Rockabilly dresses for the women and suits, white shirts, ties and garters for the men (costumes by Hélène Vergnes)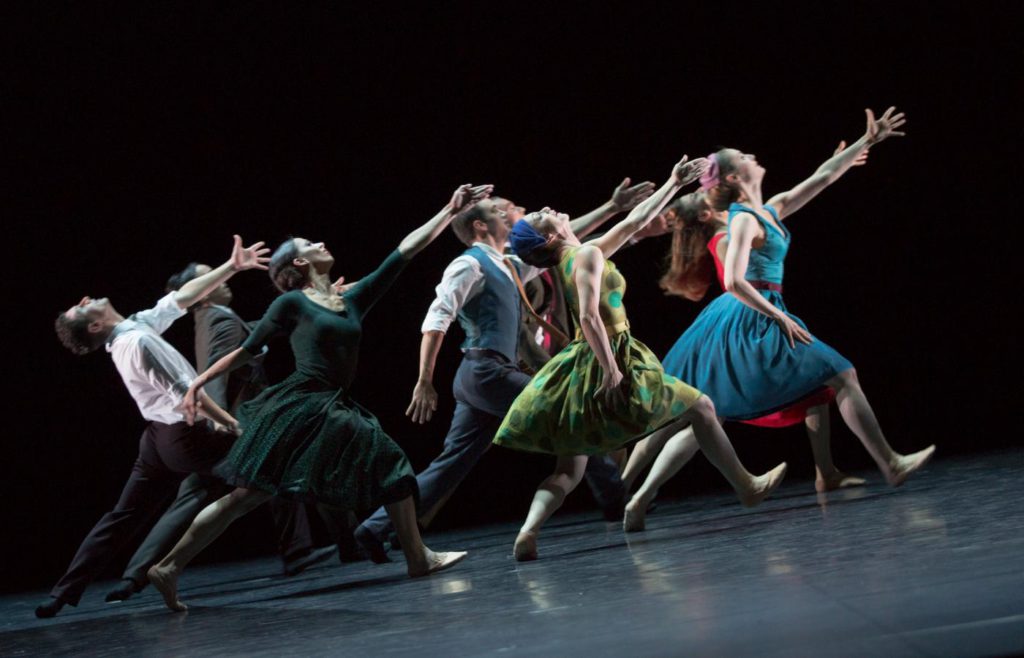 resembled the fashion of that same period. A chattering, chaotic bunch, each one of the four women and four men onstage was busy with fidgeting around. One pulled himself up with his tie, another circled his lower arm, some frisked themselves, and one woman rolled over her partner's back. And what was another woman eagerly running after?
Claudine Schoch, whose weird solo was mirrored by a tilted rectangular platform, pushed herself backwards by the nose. Afterwards, she fought fiercely against being held by her partner while the others were dancing tightly embraced. Rubén Cabaleiro Campo fell for Doris Becker. He undressed to his underwear with lightning speed, but was laughed at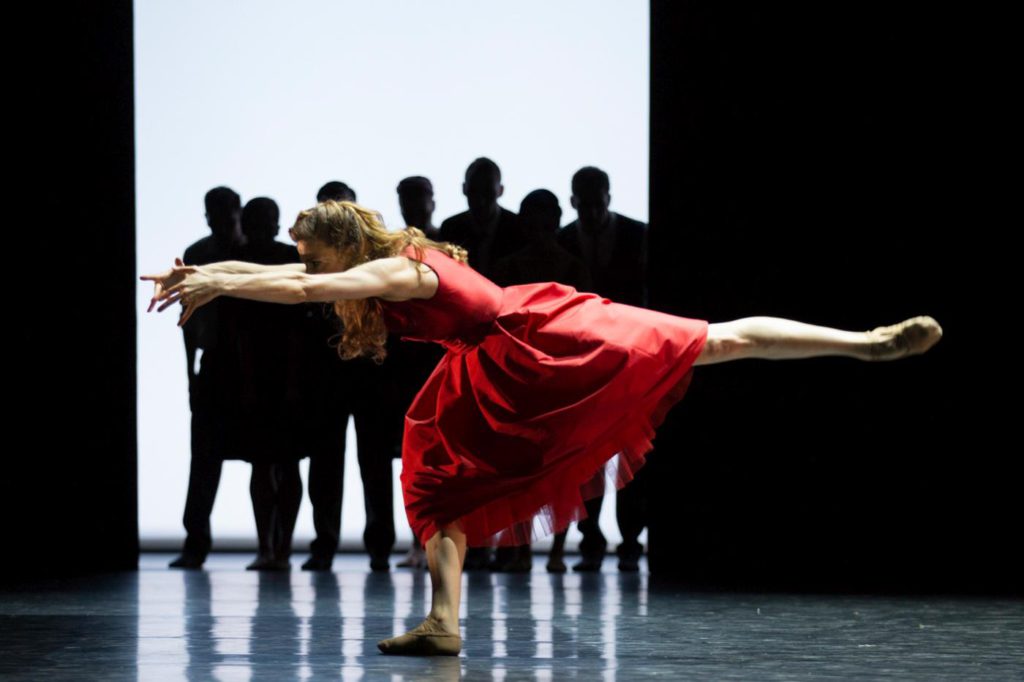 terribly by her. For some time he stood around like a drowned rat until his spirits revived themselves in a solo. The group dances were a mix of Broadway musical, circus, ballroom dance and brisk walking reminiscent of Paul Taylor's pieces.
Together with lighting designer Thomas Diek, Foster had invented a huge green-lit cutout door in which the black silhouette of a dancer moved. But the passage got lower and lower, forcing the dancer to crouch until finally reaching all fours. In the last scene, all dancers except the lonely Cabaleiro Campo crowded below the white rectangular platform that hung above them like a ceiling. But also, this platform was lowered and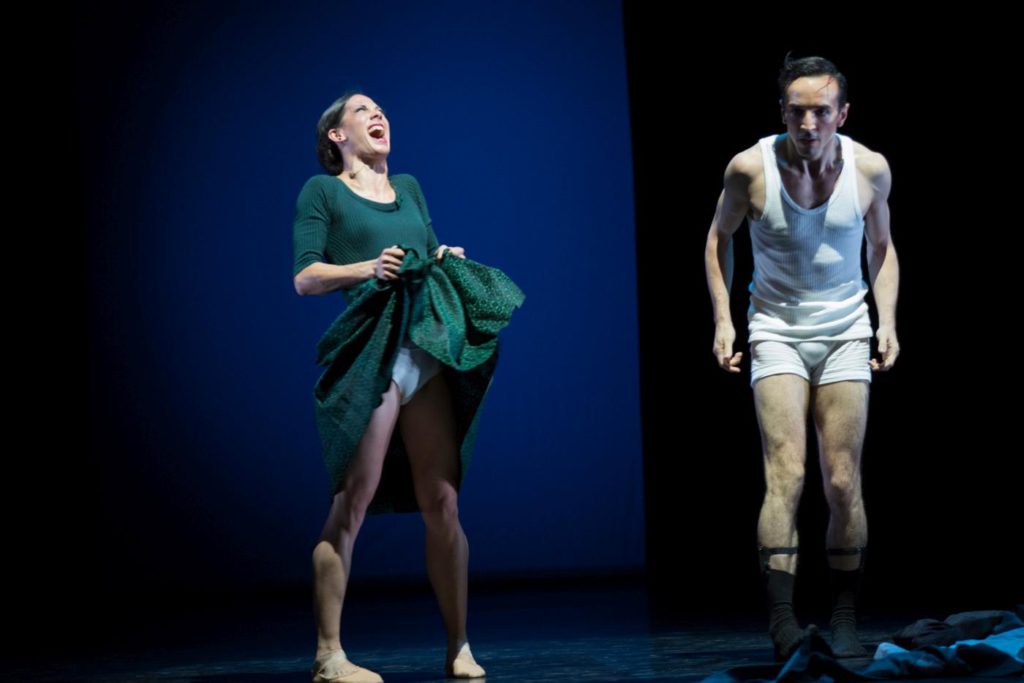 almost touched their heads while they unperturbedly pitter-pattered around. Pina Bausch couldn't have it done better.
Having watched works by young choreographers in Stuttgart, Munich and Düsseldorf this season, I wonder why pieces aren't exchanged between the houses more often. Why not show a piece from Düsseldorf in Stuttgart and send Stuttgart choreography to Düsseldorf or Berlin or elsewhere? It would be rewarding for artists and audience alike!
* Translation from the German made by the author.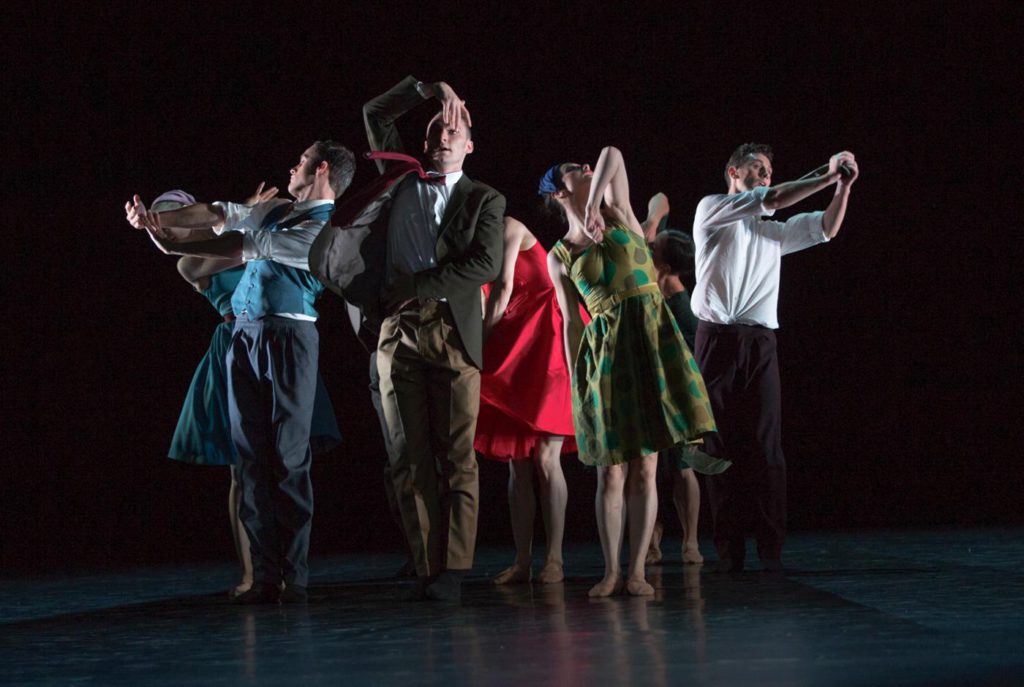 Links:
 Website Ballett am Rhein
Photos:

"No Destination" (Wun Sze Chan)

 1.

Christine Jaroszewski and Alban Pinet, "No Destination" by Wun Sze Chan,

Ballett am Rhein

 2.

Cassie Martín,

"No Destination" by Wun Sze Chan,

Ballett am Rhein

 3.

Helen Clare Kinney,

"No Destination" by Wun Sze Chan,

Ballett am Rhein

 4.

Cassie Martín, Virginia Segarra Vidal and ensemble,

"No Destination" by Wun Sze Chan,

Ballett am Rhein

"Fourmis" (Sonny Locsin)

 5.

Camille Andriot, "Fourmis" by Sonny Locsin, Ballett am Rhein

 6.

Arthur Stashak, Tomoaki Nakanome, Camille Andriot, Norma Magalhães, Mariana Dias and Bruno Narnhammer, "Fourmis" by Sonny Locsin, Ballett am Rhein

 7.

Norma Magalhães, Bruno Narnhammer and Camille Andriot, "Fourmis" by Sonny Locsin, Ballett am Rhein

 8.

Bruno Narnhammer, Mariana Dias and Arthur Stashak,"Fourmis" by Sonny Locsin, Ballett am Rhein

"Andante Sostenuto" (Boris Randzio)

 9.

Marlúcia do Amaral

,

Rashaen Arts

, Asuka Morgenstern

and

Richard Jones, "Andante Sostenuto" by Boris Randzio, Ballett am Rhein

10.

Rashaen Arts, Marlúcia do Amaral, Richard Jones and Asuka Morgenstern, "Andante Sostenuto" by Boris Randzio, Ballett am Rhein

11.

Richard Jones and Asuka Morgenstern, "Andante Sostenuto" by Boris Randzio, Ballett am Rhein

12.

Brice Asnar, Virginia Segarra Vidal, Richard Jones and Asuka Morgenstern, "Andante Sostenuto" by Boris Randzio, Ballett am Rhein

"Edge of Reason" (Chidozie Nzerem)

13.

Ensemble, "Edge of Reason" by Chidozie Nzerem, Ballett am Rhein

14.

Alexandra Inculet and Richard Jones, "Edge of Reason" by Chidozie Nzerem, Ballett am Rhein

15.

Marlúcia do Amaral and Marcos Menha, "Edge of Reason" by Chidozie Nzerem, Ballett am Rhein

16.

Marlúcia do Amaral and Marcos Menha, "Edge of Reason" by Chidozie Nzerem, Ballett am Rhein

"49" (So-Yeon Kim)

17.

Asuka Morgenstern, Yuko Kato and Tomoaki Nakanome, "49" by So-Yeon Kim, Ballett am Rhein

18.

Yuko Kato, Eric White, Camille Andriot, Tomoaki Nakanome and Asuka Morgenstern, "49" by So-Yeon Kim, Ballett am Rhein

19

Yuko Kato, "49" by So-Yeon Kim, Ballett am Rhein

20.

Eric White and Camille Andriot, "49" by So-Yeon Kim, Ballett am Rhein

"East Coasting" (Michael Foster)

21.

Ensemble, "East Coasting" by Michael Foster, Ballett am Rhein

22.

Claudine Schoch and ensemble, "East Coasting" by Michael Foster, Ballett am Rhein

23.

Doris Becker and Rubén Cabaleiro Campo, "East Coasting" by Michael Foster, Ballett am Rhein

24.

Ensemble, "East Coasting" by Michael Foster, Ballett am Rhein

all photos © Gert Weigelt

Editing:
 Therese Condit