"Exquisite Corpse Extra" (episode 2)
Ballet of the State Theater Nuremberg
State Theater
Nuremberg, Germany
April 17, 2021 (online)
by Ilona Landgraf
Copyright © 2021 by Ilona Landgraf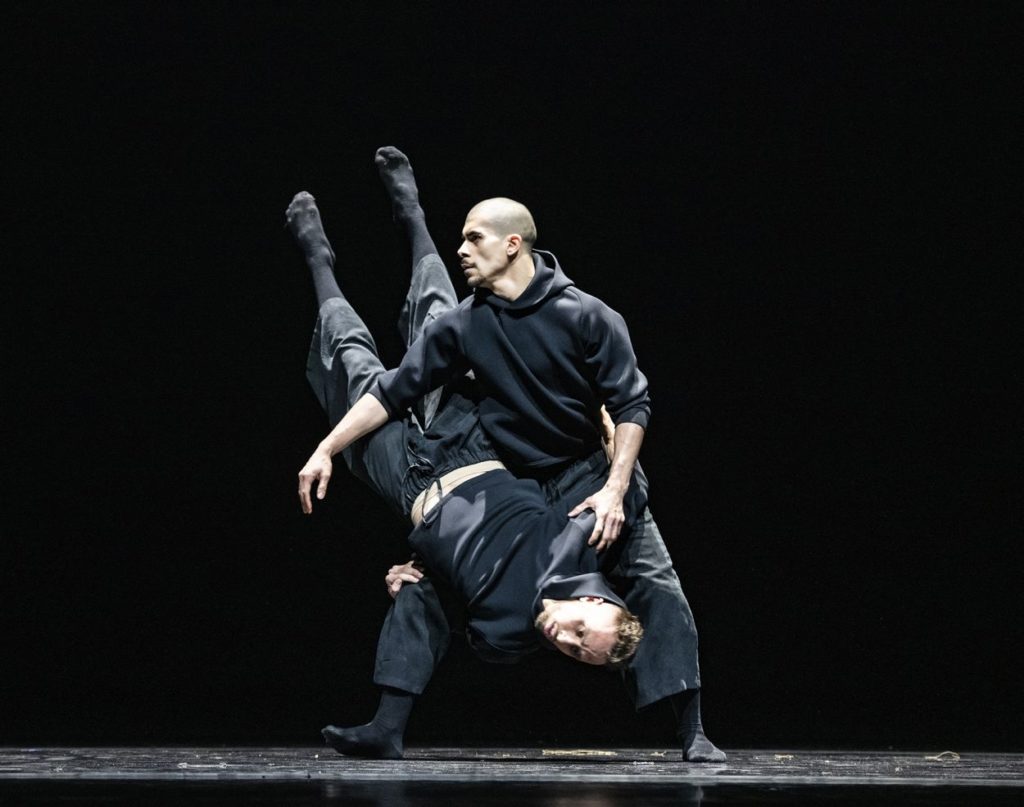 The second part of the State Ballet Nuremberg's "Exquisite Corpse Extra" project featured works by four aspiring choreographers: Lucas Axel, Sarah-Lee Chapman, Kate Gee, and Sofie Vervaecke. As with the first part, the program lasted for around a half hour and was accompanied by videos of the dancers commenting on their work.
The opening piece was by Brazilian-born Axel, who received his training at the Bolshoi Theater School in Joinville/Brazil and danced with three companies in São Paulo before moving to Germany. There, he joined the ballet of the State Theater Augsburg, later moving to Nuremberg's company. He describes himself as having struggled with anxiety since the age of ten. This experience was one grounding focus of his choreography – depression, anxiety, and death. Additionally, the work responses to the pandemic and to music by Agnes Obel and Icelandic multi-instrumentalist Ólafur Arnalds that, as Axel says, "chose" him. His piece, "Indoor", is a male duet, danced by Edward Nunes and Axel himself.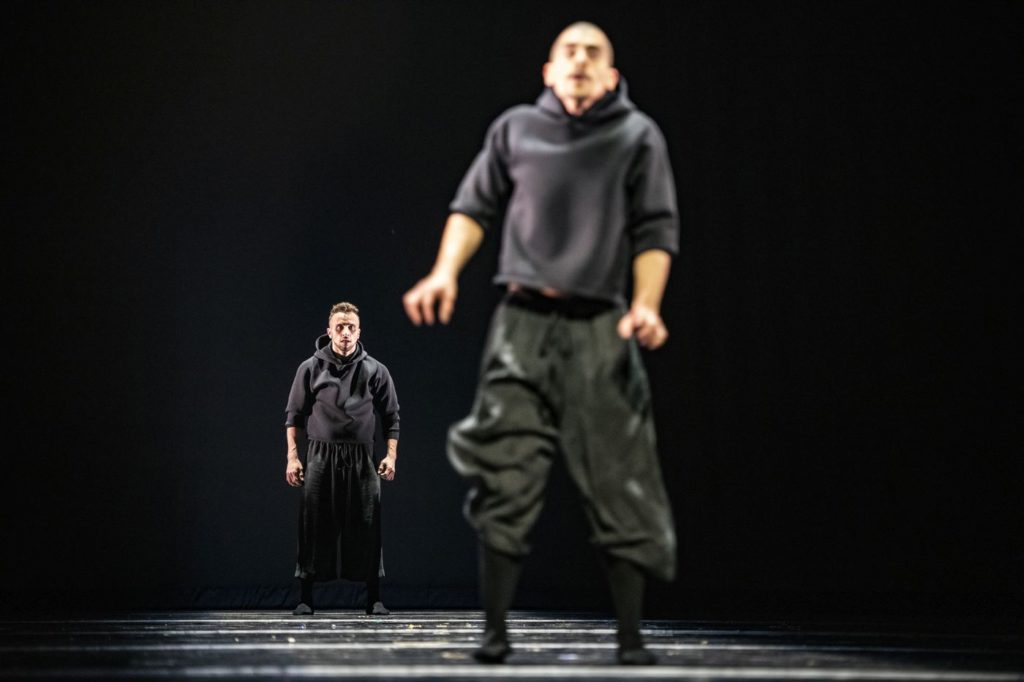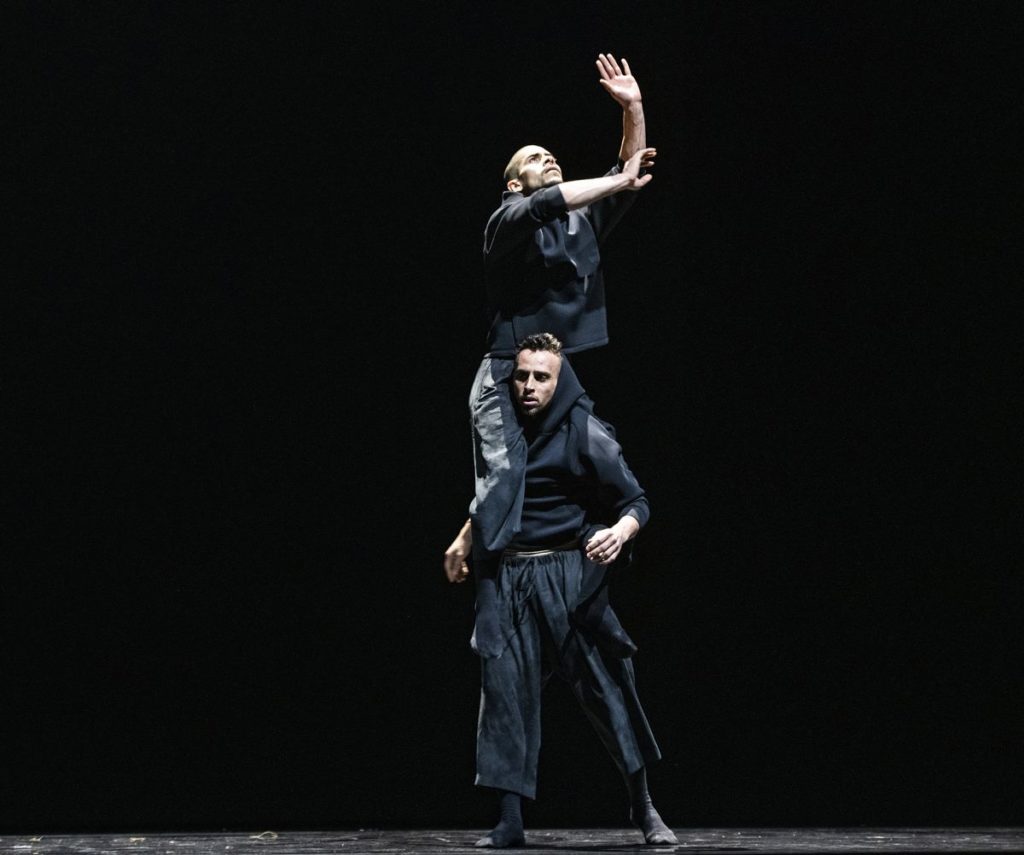 At first, black silhouettes stand in front of a bronze backcloth but once the tense pair steps forward, hands jittery, the curtain closes behind them, leaving them in an all-black enclosure clad entirely in black. Shifting lighting defines the dimensions of the space and at one point separates out two rectangular spaces to which each man is confined. Only once do both briefly return to the bronze light. Though their dancing is initially flowing and supple, it becomes more and more floor-bound and entangled the longer Obel sings about death and dying. In one scene, Nunes clutches Axel's leg, resembling a stumbling block of sorts. Their movements become nervy and ruptured, responding to scratching computer-like sounds. Though some sequences still look limber, they are tainted with the gloomy will to persevere. At the end, Axel stands alone, scratching at himself frenziedly, while Nunes staggers to the back.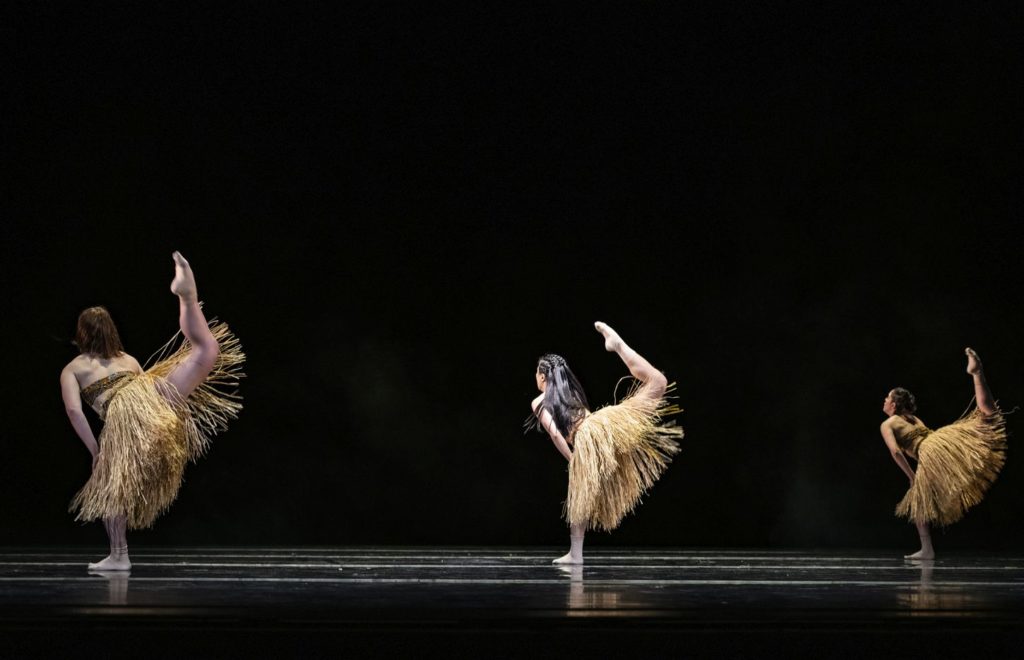 "Matumaini" by Sarah-Lee Chapman is a ritual dance – a rain dance, she explains – performed by three women in hula skirts and wrapped bras. To rhythmic percussion – a new composition by the South-African composer Dane Taylor – they swing their arms and upper bodies, bob up and down, flutter their hands, turn and hop, stomp their feet, and clasp their hands as if begging – until it finally thunders and we hear the pattering of rain. The women finish their ritual dance accompanied by the Lord's Prayer spoken in Swahili, kneeling down with their hands folded in prayer.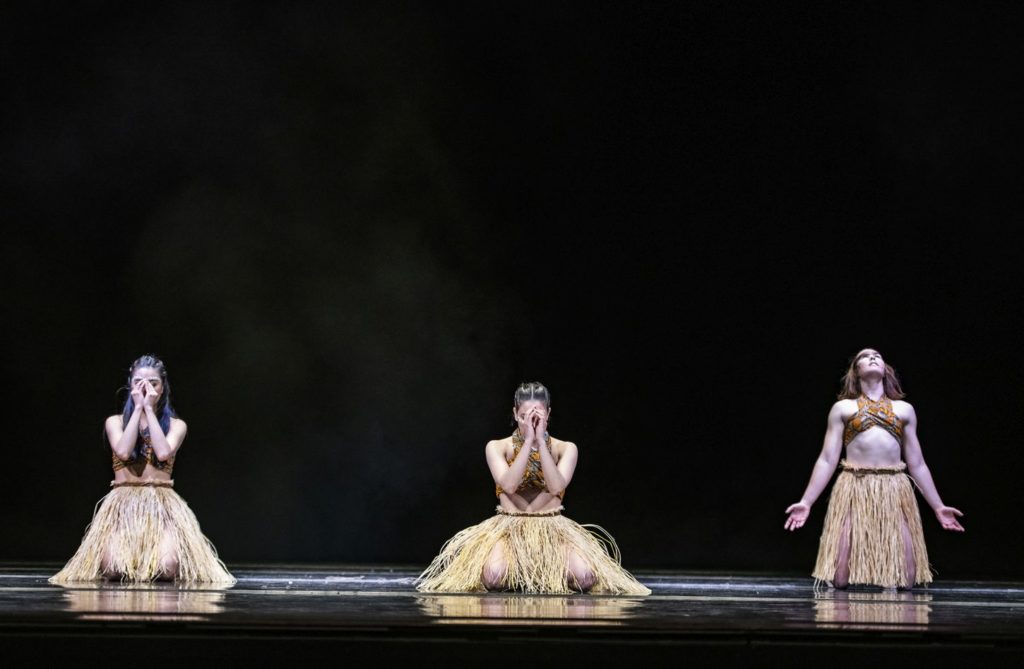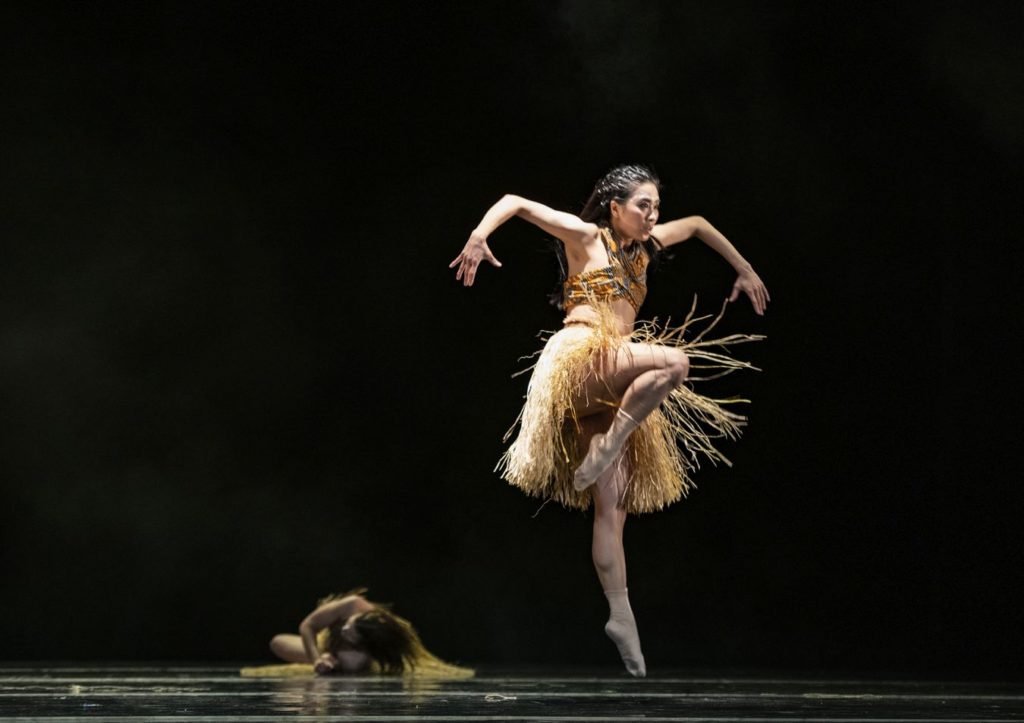 Chapman is from Cape Town and the travel restrictions during the pandemic have made her feel homesick. Introducing a part of South African culture to far-away Nuremberg was, for her, the dawning of hope for better times. Hence the title "Matumaini," meaning hope in Swahili. Hope was found, too, in the story of the composer Taylor's successful battle against cancer. He is Chapman's cousin and the piece is dedicated to him.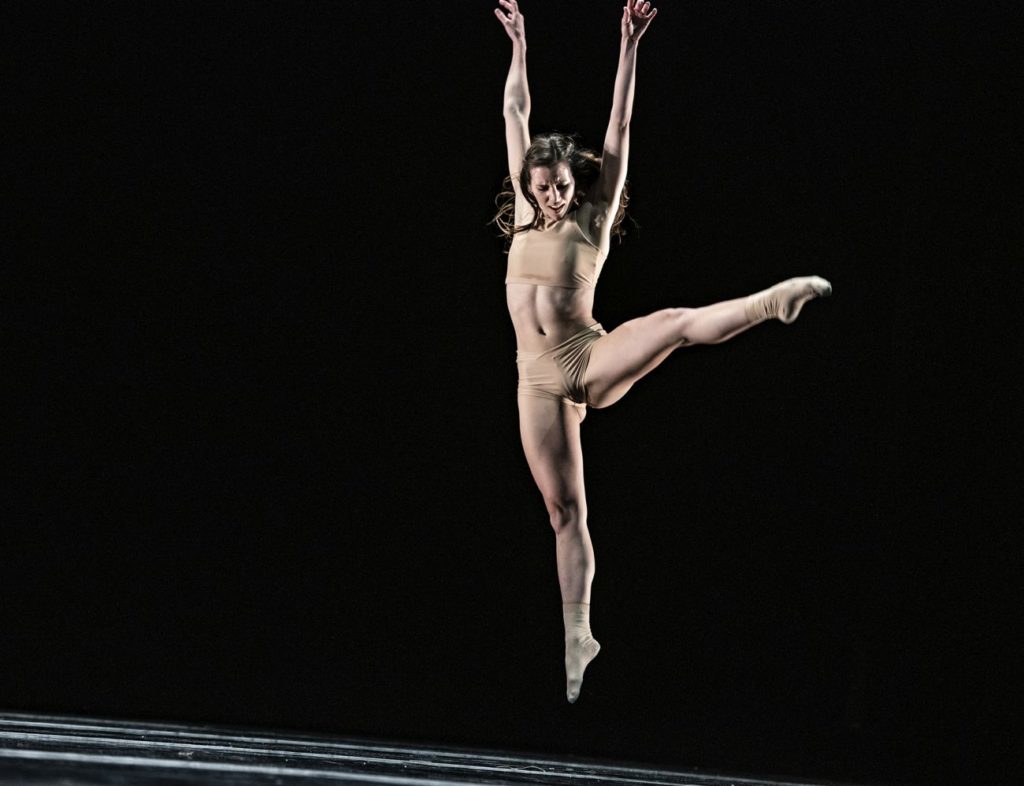 In "The Undoing" by Kate Gee, one woman (Sarah-Lee Chapman) wearing a skin-colored bikini stands center stage in a narrow strip of light, her hands groping at the darkness around her. Slowly, the dim lighting expands and Chapman starts to run here and there, occasionally sliding her feet across the floor as if wanting to try something new – but what? She reaches out (wherefore?), but doesn't get what she wants; her face distorts in desperation, her fist clenches, and she starts to scratch at herself wildly. (Why is the choreographic tool scratch at yourself wildly so popular?) Suddenly, Chapman is bathed in a golden spotlight and sinks to her knees, as if experiencing an epiphany. She hops, jumps playfully, throws her arms in the air, and laughs.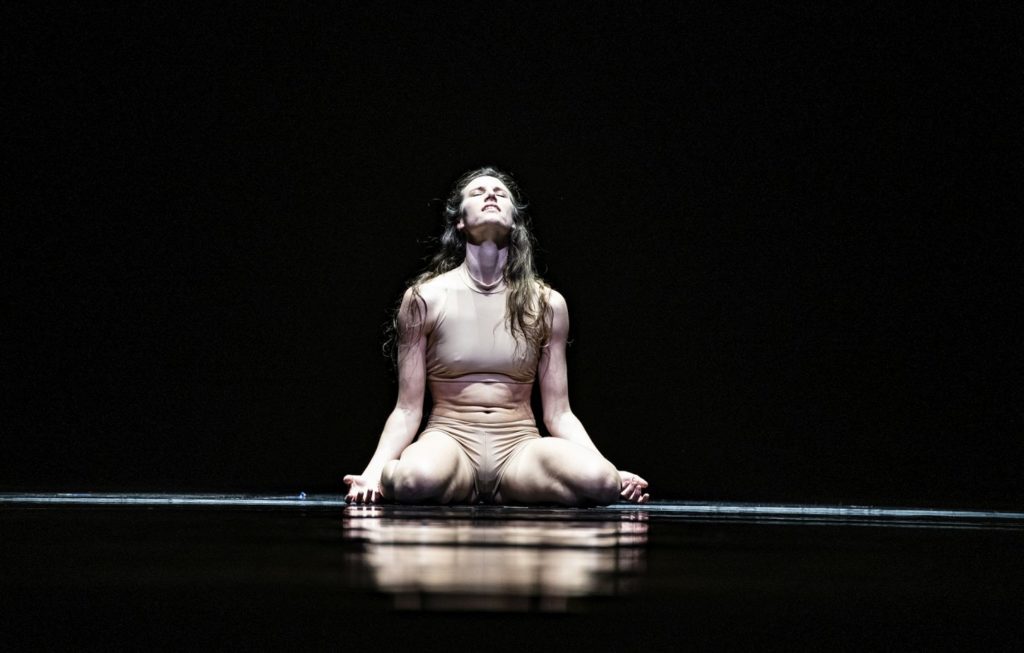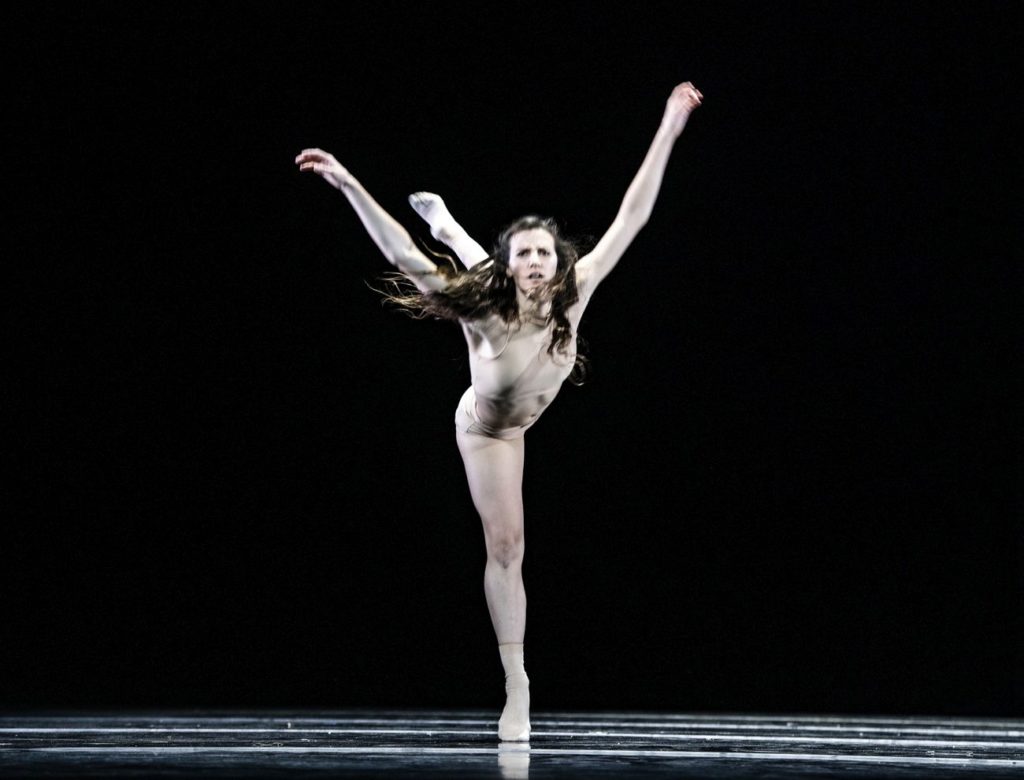 Twenty-two-year-old Gee explains that in "The Undoing" she wanted to tell a very personal story about her experience during the pandemic of having many familiar things taken away from her. When all those things that you hold on to are undone, she concludes, "there's actually a lot of freedom and there can be a new beginning."
I find the piece to be labored rather than authentic, displaying a sort of femininity that has been laundered with too much fabric softener. Where is the urgency of the emotions that Gee wanted to "get out"? Together with Justin Nielson's and Jóhann Jóhannsson's music – singsong to piano tinkling – it's a bland melange.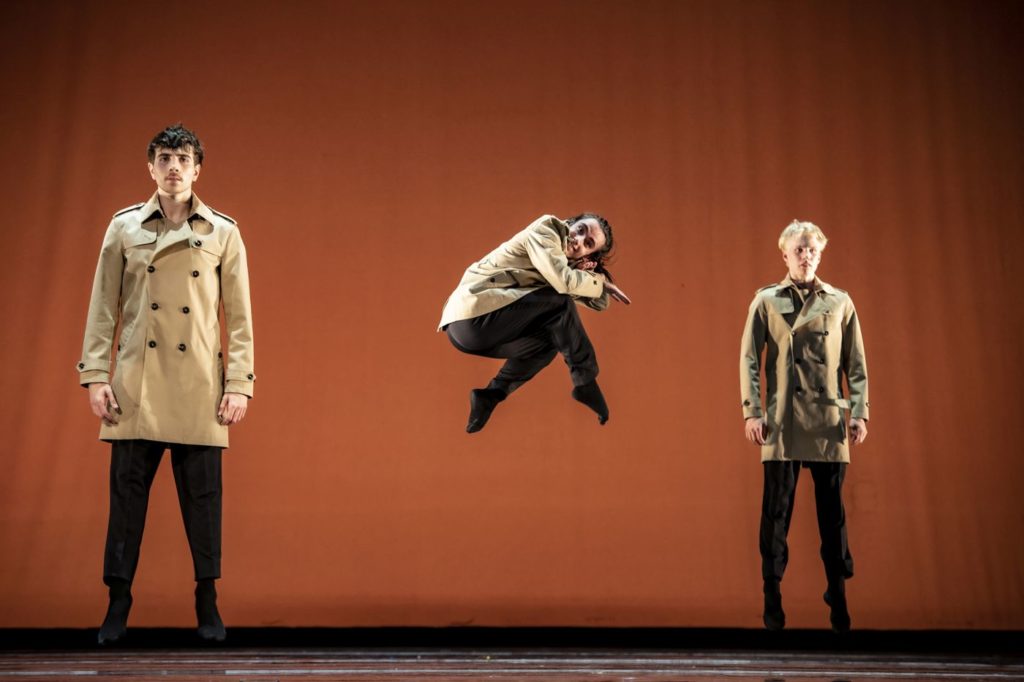 "No, no, I don't want you to kill it; I just want you to radically discourage it." Such are the comments by Rinde Eckert that – together with amusing jazz music by Jerry Granelli – accompany eight men and a single woman (Ana Tavares) in Sofie Vervaecke's "Peculiar Mortals". Decked out in beige trench coats, they translate Eckert's mix of humor and menace into pointed mime, acting, and dance – a witty and entertaining opening! Over the course of an extended yodeling section (additional music by MeMoo Cherri), Tavares achieves dominance as a coat-swirling leader amidst the men as they lie flat on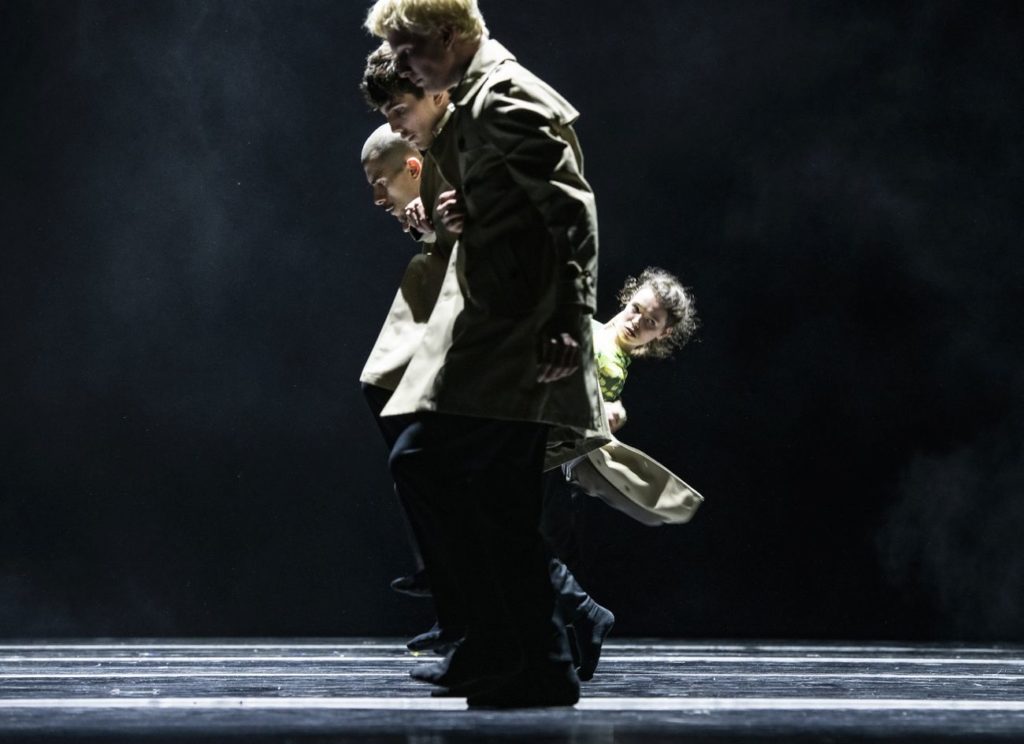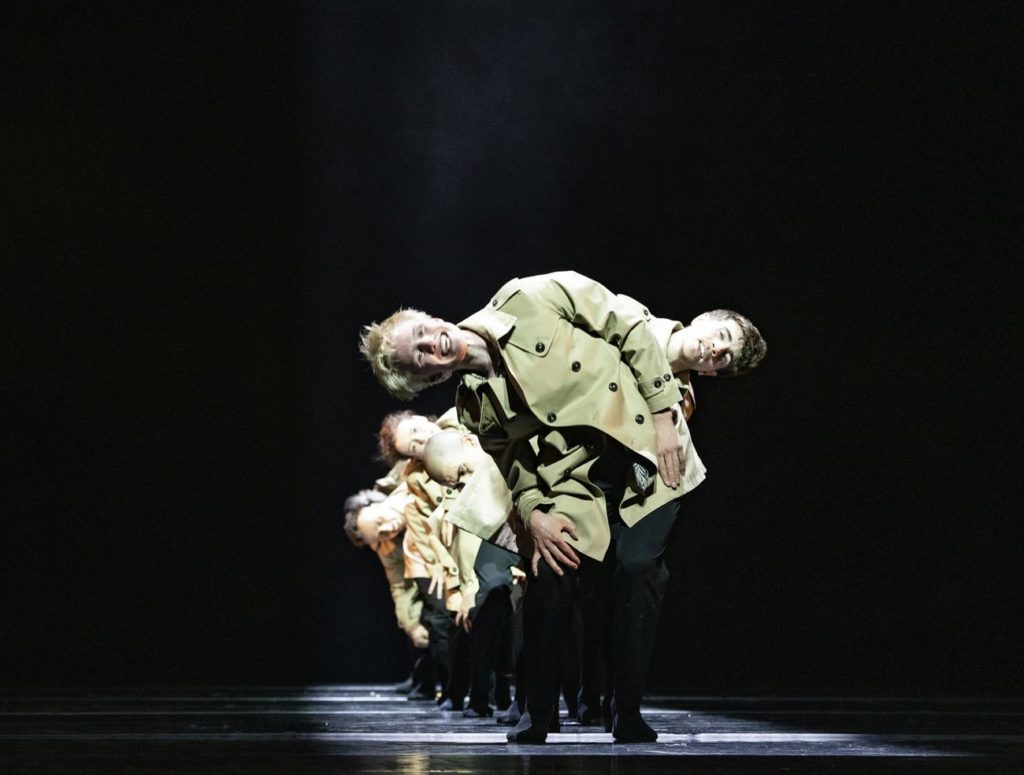 their bellies. When a techno pulse takes over, the dancers scream in horror. They walk between small, moving spotlights, their chests pulsing as if the music has amplified their heart-beats. The piece's second half quotes a few moments from its first, but apart from that it reminds me of a busy techno party.
Belgian-born Vervaecke loves techno vibes and wanted to create a funny, playful, and meaningful piece that would set an example for female power in a world dominated by men. She believes that "when you hear techno" – even if it's not your preferred style of music – "it will make you laugh." Well, that's not exactly true – but the idea of universally potent feel-good music is a compelling one.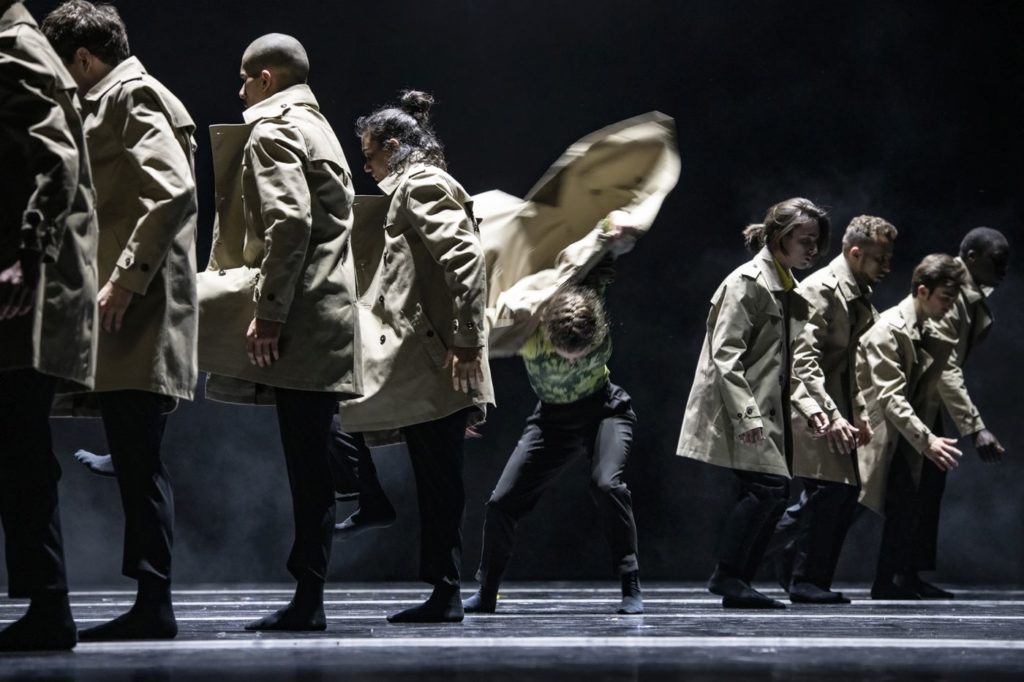 Links:
Website of the State Theater Nuremberg
"Exquisite Corpse Extra" episode 2 (video)
Meet the artist: Lucas Axel (video)
Meet the artist: Sarah-Lee Chapman (video)
Meet the artist: Kate Gee (video)

Meet the artist: Sofie Vervaecke (video)


Photos:

1.

Edward Nunes and Lucas Axel, "Indoor" by Lucas Axel

, Ballet of the State Theater Nuremberg 2021

2.

Edward Nunes and Lucas Axel, "Indoor" by Lucas Axel

, Ballet of the State Theater Nuremberg 2021

3.

Edward Nunes and Lucas Axel, "Indoor" by Lucas Axel

, Ballet of the State Theater Nuremberg 2021

4.

Kate Gee, Natsu Sasaki, and Karen Mesquita, "Matumaini" by Sarah-Lee Chapman, Ballet of the State Theater Nuremberg 2021

5.

Natsu Sasaki and Kate Gee, "Matumaini" by Sarah-Lee Chapman, Ballet of the State Theater Nuremberg 2021

6.

Natsu Sasaki, Karen Mesquita, and Kate Gee, "Matumaini" by Sarah-Lee Chapman, Ballet of the State Theater Nuremberg 2021

7.

Sarah-Lee Chapman, "The Undoing" by Kate Gee, Ballet of the State Theater Nuremberg 2021

8.

Sarah-Lee Chapman, "The Undoing" by Kate Gee, Ballet of the State Theater Nuremberg 2021

9.

Sarah-Lee Chapman, "The Undoing" by Kate Gee, Ballet of the State Theater Nuremberg 2021

10.

Michael Garcia, Ana Tavares, and Victor Ketelslegers, "Peculiar Mortals" by Sofie Vervaecke, Ballet of the State Theater Nuremberg 2021

11.

Victor Ketelslegers and ensemble, "Peculiar Mortals" by Sofie Vervaecke, Ballet of the State Theater Nuremberg 2021

12.

Ana Tavares and ensemble, "Peculiar Mortals" by Sofie Vervaecke, Ballet of the State Theater Nuremberg 2021

13.

Ana Tavares and ensemble, "Peculiar Mortals" by Sofie Vervaecke, Ballet of the State Theater Nuremberg 2021

all photos © Bettina Stöß

Editing:
Jake Stepansky