"Sleeping Woman"
Tanztheater Wuppertal Pina Bausch
Opera House
Wuppertal, Germany
July 02, 2021 (online)
by Ilona Landgraf
Copyright © 2021 by Ilona Landgraf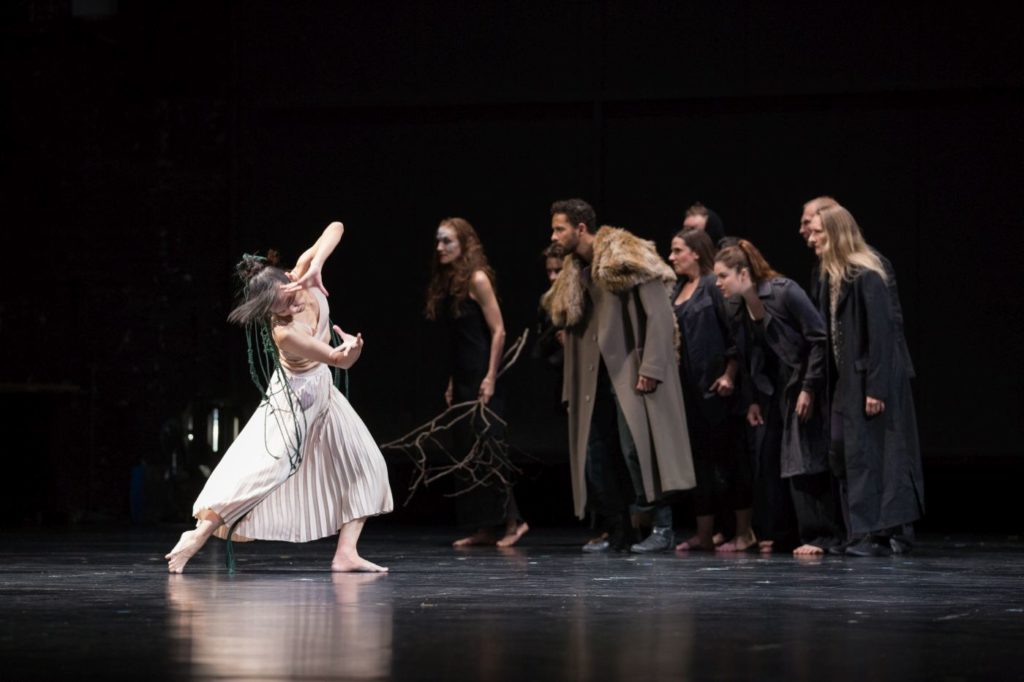 Pina Bausch was the heart of Tanztheater Wuppertal – and since her premature death in 2009, the company has struggled to find new leadership to shape its artistic future. The termination of Adolphe Binder's contract as intendant and artistic director in 2018 – after only one year in office – was followed by a two-year lawsuit between her and the theater. Although Binder won the suit (and the matter was settled out of court), Binder waived her claim to the post, making way for Bettina Wagner-Bergelt. Formerly the right hand of Ivan Liška during his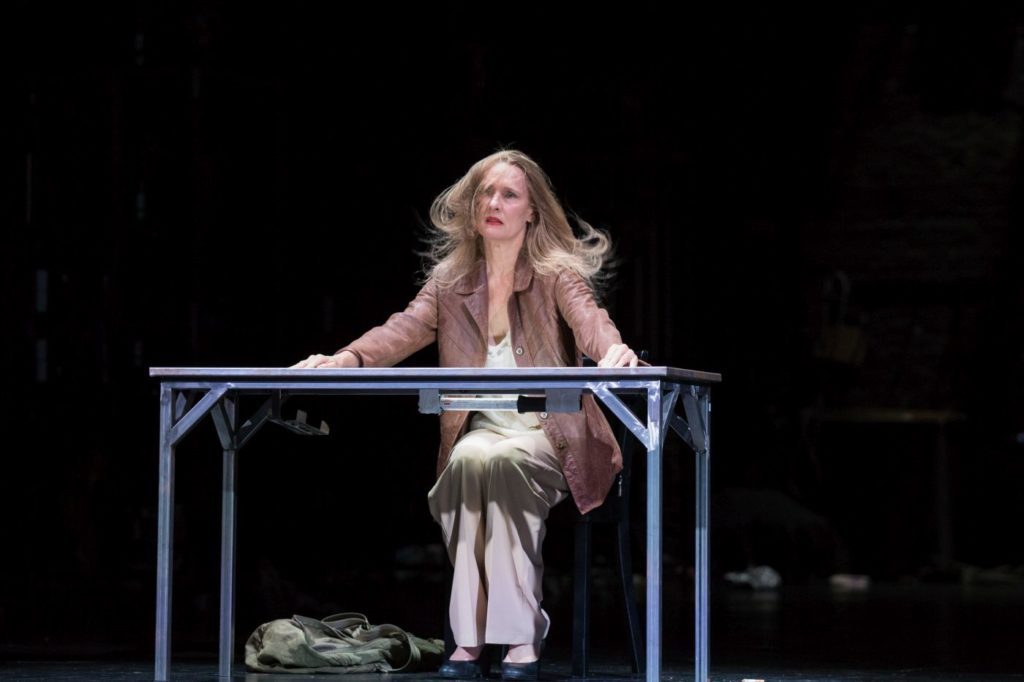 tenure at the helm of the Bavarian State Ballet in Munich, Wagner-Bergelt was a driving force behind BSB's production of Bausch's "Für die Kinder von gestern, heute und morgen" ("For the children of yesterday, today and tomorrow"). This extraordinary premiere – part of Liška's final season in 2016 – marked the first time that a piece by Bausch was staged by another company.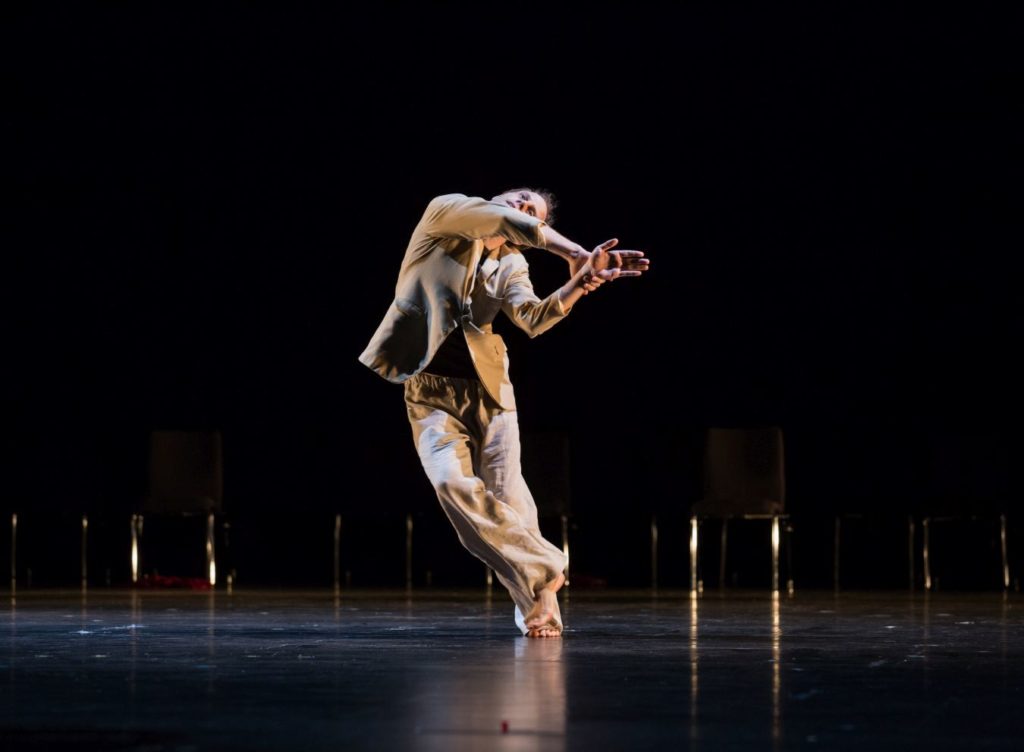 In her role at the helm of Tanztheater Wuppertal, Wagner-Bergelt has experimented with adding new choreographies to the Bausch-repertory to nurture the ensemble's artistic development. Last November, they premiered a piece by Richard Siegal. In January 2022, they will premiere "Sleeping Woman", the first full-length piece by Rainer Behr (a company dancer-cum-choreographer), which will be shown to a live audience. This July, a preview video was launched on Vimeo for one week.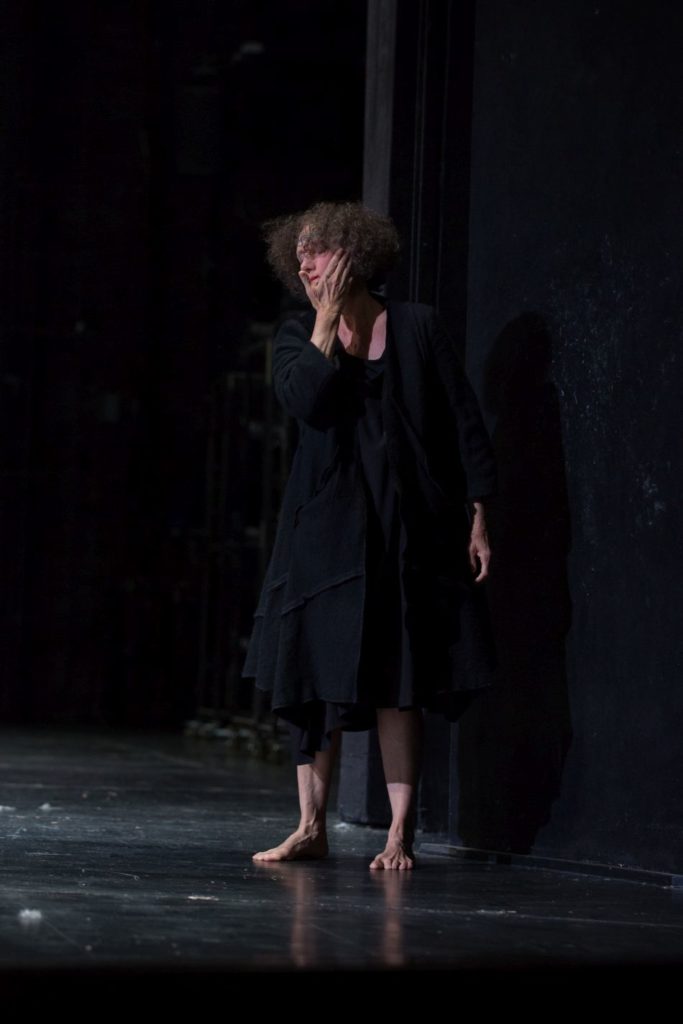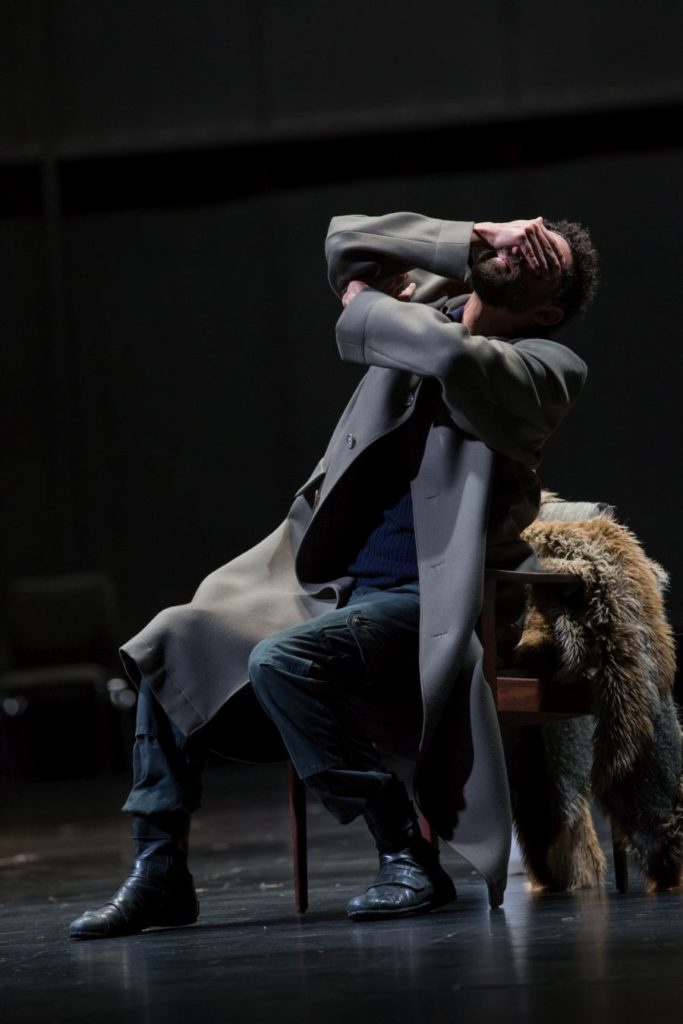 It begins with a dismal prelude that introduces the stubbly-bearded Andrey Berezin in his bleak workshop (set by Michael Simon and Rainer Behr) grinding stone, writing in the dust on his crooked workbench, and pretending to drink out of a wattlework metal bowl. At the back of the room, a woman sleeps on a low daybed. She remains still when he transports her and the bed to center stage on a sack barrow. As Berezin strokes her back, she briefly wakes up, falling back into sleep only moments later. Berezin's movements grow increasingly aggressive as he toys with the tools around him, blowing air from an air-compressor beneath his gray housecoat, moving his arm like a robot, and brandishing a level like a samurai sword.
As stagehands whisk away the scenic elements that create the workshop, Berezin and the woman leave, clearing the stage for the first act – which, it seems, will be no less gloomy. We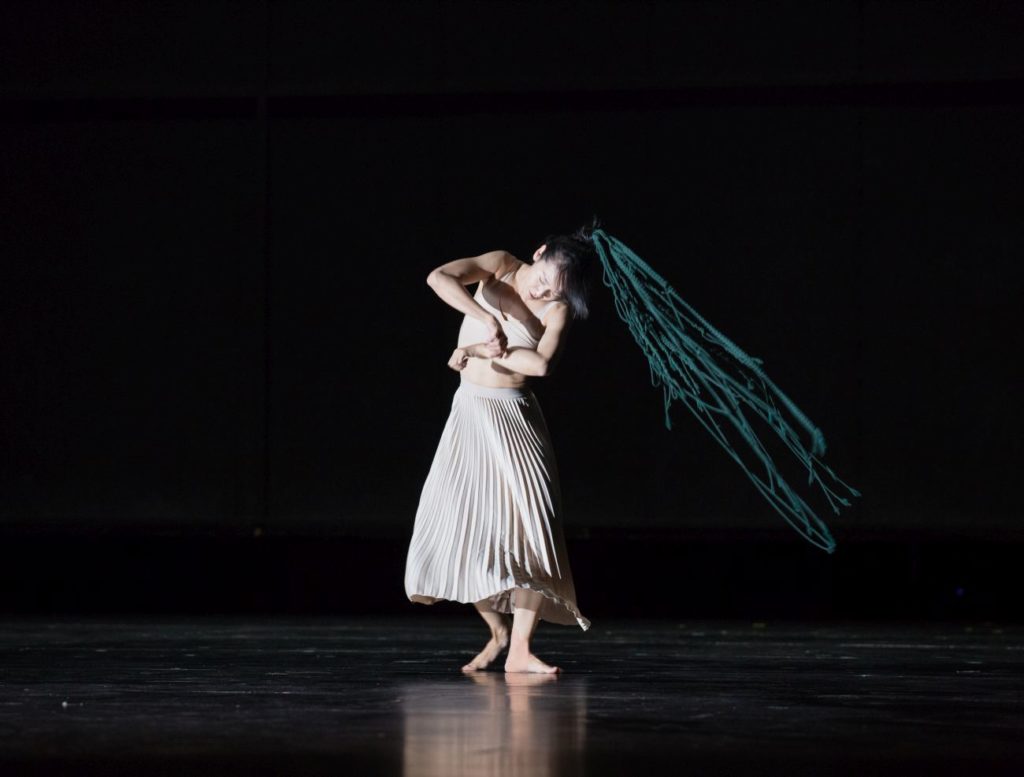 watch as a person decked out in a gas mask and an orange protective suit walks, flashlight in hand, through murky concrete corridors (perhaps a chemical plant or nuclear reactor). The music by Andreas Eisenschneider anticipates calamity. Heavy fog pours like a waterfall into a rectangular abyss. Suddenly, a group of people crawl across the floor as if escaping their extinction, limbs trembling and convulsing. In consecutive solos, Julie Anne Stanzak intersperses tensed movements with a few fluid gestures, Tsai-Chin Yu flings about extra-long Rasta pigtails, Emma Barrowman rolls and crawls across the floor, and Stephanie Troyak tries to walk by maneuvering her robot-like legs. The choreography is unimaginative and features the women flinging their long hair this way and that.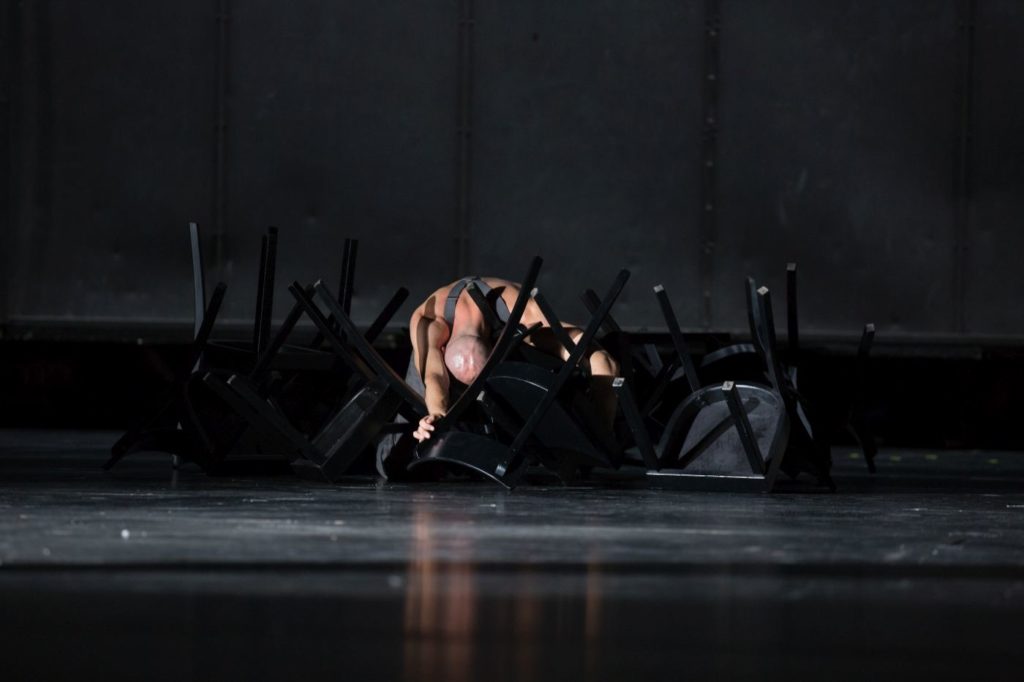 Meanwhile, the electronic music takes an intensely aggressive turn. Two computers play out a fake dialogue; Barrowman and Jonathan Fredrickson torment one another in a combination of monologue and dialogue. The group of people reappears, this time running frantically, trembling, covering their ears as if under attack by an excruciating noise (perhaps … the music). Chairs are pushed aggressively across the stage amidst the debris – garbage, cardboard boxes, plastic sheets, buckets, shabby pillows, and an upturned table – as if the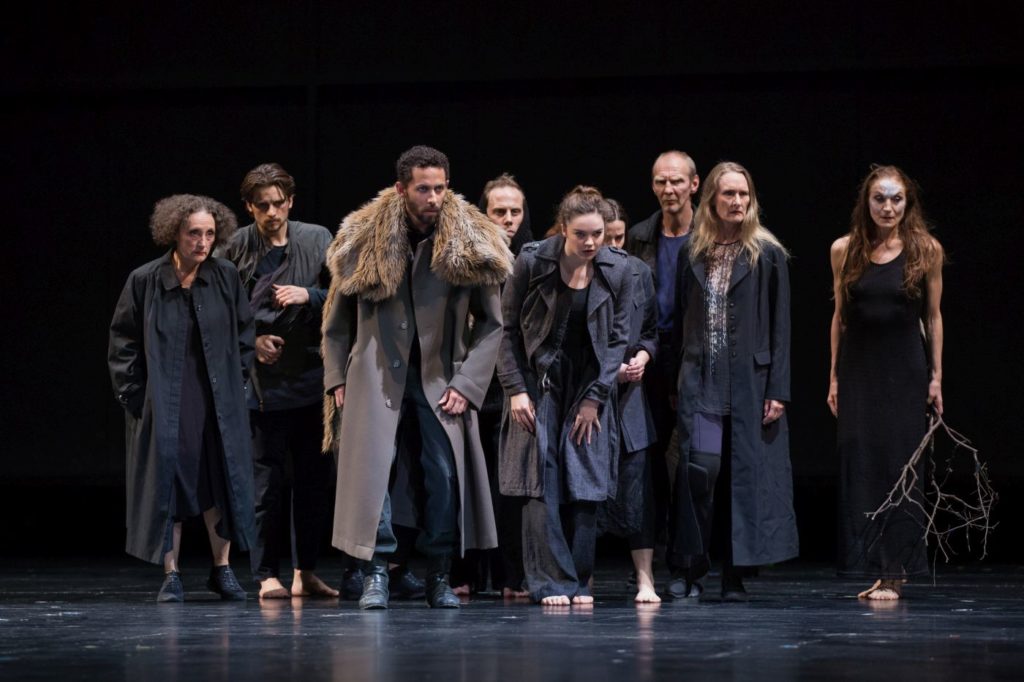 stage has become a squalid refugee camp. In further solos, Stanzak, resembling a parchment-like mummy, shakes off a cloud of white dust. Fredrickson frantically shouts out from a steel balcony, sprays the floor with disinfectant, and works to control his arbitrary limbs in one of the few well-made solos. A woman hiding behind a feminine mannequin lectures about the presence of beauty, which – alas! – continues to be mostly absent from the remainder of the piece.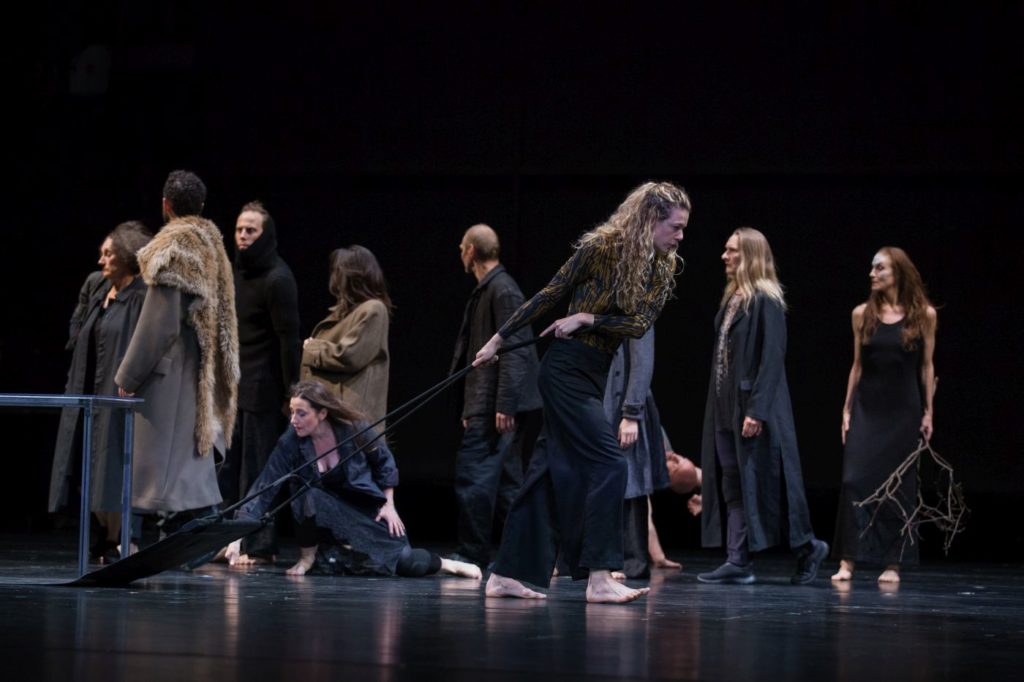 Apparently, Behr aimed to make an inventory of today's problematic issues: COVID-19, distancing regulations, loneliness, desperation, grief, social coarsening, alienation via digitization, hecticness, emotional numbing, ecocide, broken families, domestic abuse, and loss of loved ones, jobs, savings and houses. Bret (Milan Nowoitnick Kampfer) and Brenda (Stephanie Troyak), advertised by Fredrickson as "a happy couple in happy land" are in fact in "mad-land" ("mad is the new happy; mad-land is where we're supposed to be") where Bret brutally beats his on-edge wife. Apart from a few spots of color (like the red boxing gloves worn by Brenda), costume designer Susanne Stehle chose a drab color palette.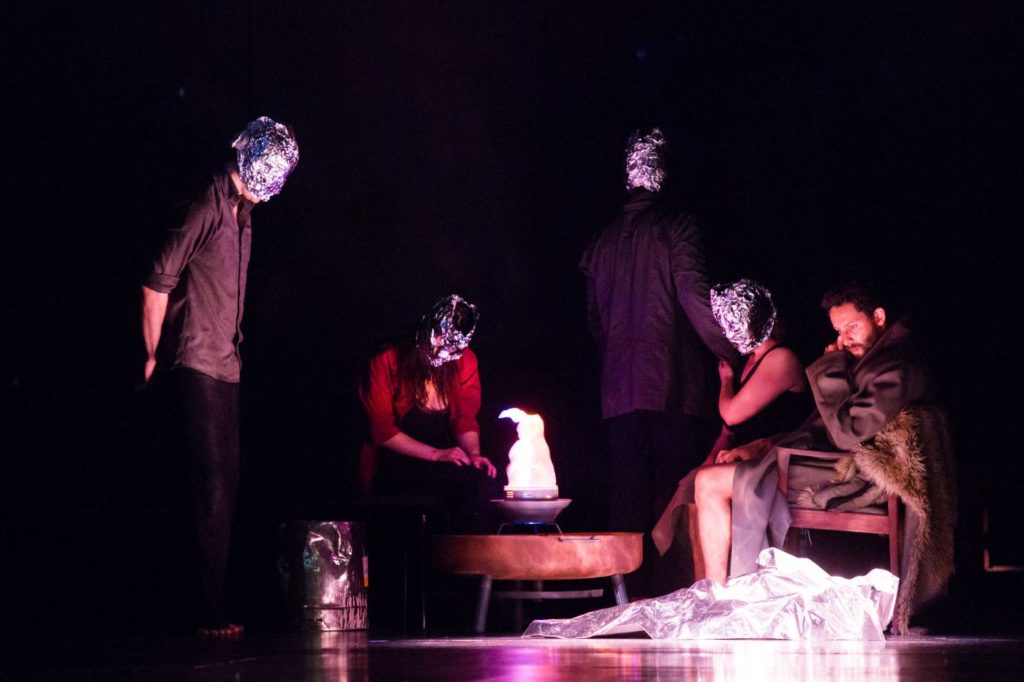 The second act is padded by lengthy and repetitive group scenes and the strange consultation of – perhaps – an oracle. At one point, the dancers escape through a small gap from beneath a threateningly monumental metal wall. Fredrickson rejoices like a child over a large bundle of spotlights that hang down from the ceiling, Barrowman delivers a vulgar speech at an oversized grave, veteran dancer Nazareth Panadero calmly eats cheese-cake, and Berezin returns with the drowsy woman.
Panadero delivers the central monologue of the piece, angrily shouting "And I have so much to say, but I don't say anything. I just urgh – urgh – urgh!" – whereupon she plunges her head into a red cardboard box. Whether this is in reference to the bleak choreography or to its depressing contents is open to interpretation.
Links:

Website of the

Tanztheater Wuppertal Pina Bausch

Photos:

1.

Tsai-Chin Yu and ensemble, "Sleeping Woman" by Rainer Behr, Tanztheater Wuppertal Pina Bausch 2021

2.

Julie Shanahan, "Sleeping Woman" by Rainer Behr, Tanztheater Wuppertal Pina Bausch 2021

3.

Julian Stierle, "Sleeping Woman" by Rainer Behr, Tanztheater Wuppertal Pina Bausch 2021

4.

Jonathan Fredrickson, "Sleeping Woman" by Rainer Behr, Tanztheater Wuppertal Pina Bausch 2021

5.

Nazareth Panadero, "Sleeping Woman" by Rainer Behr, Tanztheater Wuppertal Pina Bausch 2021

6.

Tsai-Chin Yu, "Sleeping Woman" by Rainer Behr, Tanztheater Wuppertal Pina Bausch 2021

7.

Christopher Tandy, "Sleeping Woman" by Rainer Behr, Tanztheater Wuppertal Pina Bausch 2021

8.

Ensemble, "Sleeping Woman" by Rainer Behr, Tanztheater Wuppertal Pina Bausch 2021

9.

Ensemble, "Sleeping Woman" by Rainer Behr, Tanztheater Wuppertal Pina Bausch 2021

10.

Jonathan Fredrickson and ensemble, "Sleeping Woman" by Rainer Behr, Tanztheater Wuppertal Pina Bausch 2021

all photos

©

Evangelos Rodoulis

Editing:
Jake Stepansky