"Romeo and Juliet"
Croatian National Theatre Ivan pl. Zajc Rijeka
Forum Ludwigsburg
Ludwigsburg, Germany
December 03, 2022
by Ilona Landgraf
Copyright © 2022 by Ilona Landgraf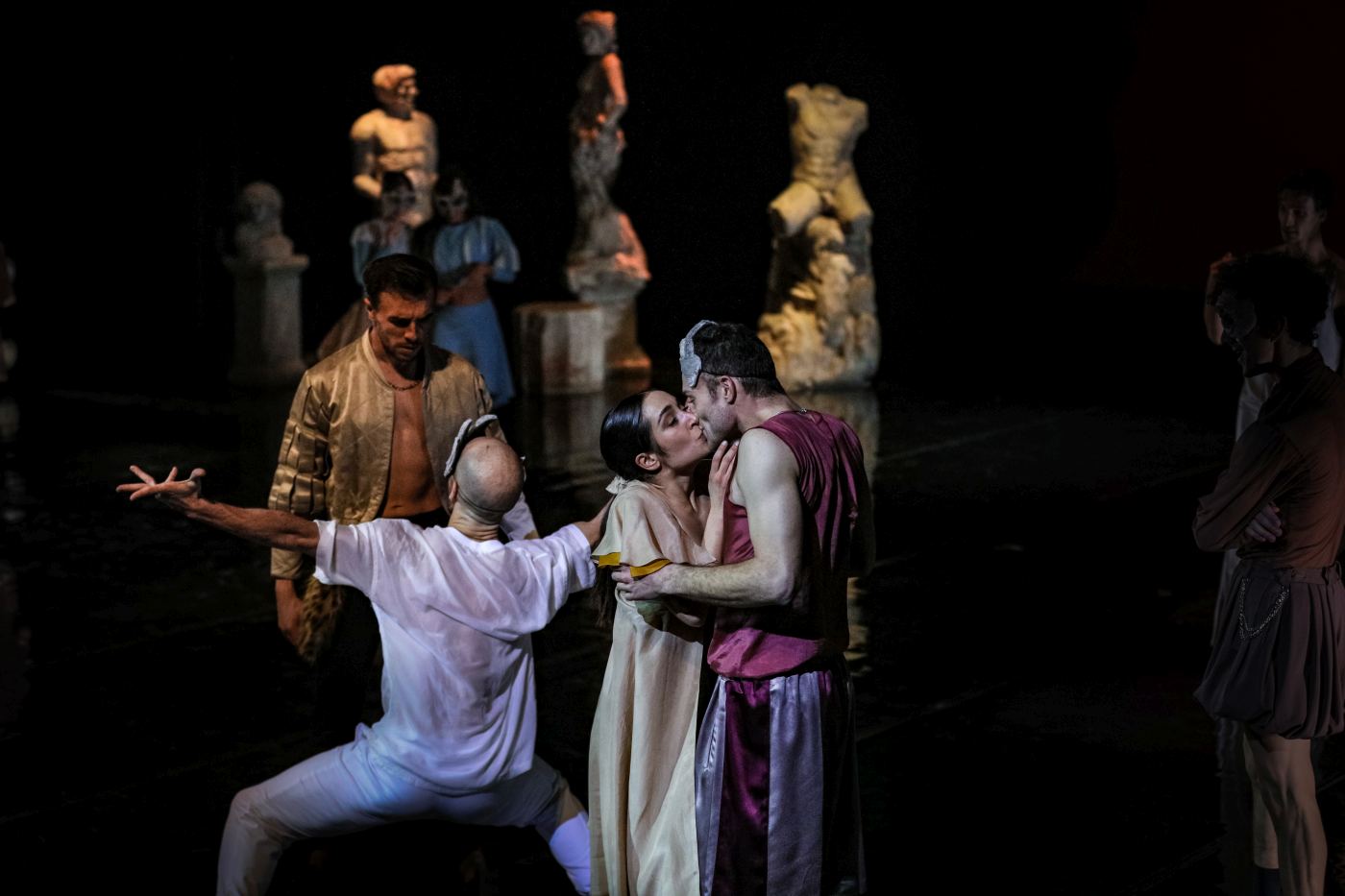 This season, the Forum Ludwigsburg has attracted an audience by offering an alluring variety of dance. Two weeks ago, it welcomed the Maribor Slovene National Theatre. This weekend, the Croatian National Theatre presented Jiří Bubeníček's "Romeo and Juliet", which premiered this April at the company's home base in Rijeka.
While the quarrelsome Capulets and Montagues vociferously bumped heads in Verona's marketplace, I thought back to a performance in which Bubeníček himself danced Romeo. Back in 2014, the Belgian Stijn Celis choreographed "Romeo and Juliet" for the Semperoper Ballet, tailoring the leading role to Bubeníček. The ballet was meant to be a feature for the company's most prominent male dancer, but turned out to be disappointingly banal. Michele Pastorini's performance as the title's hero of Ludwigsburg felt like a depiction of how Bubeníček might have wished to dance the role himself. The duo of Romeo and his buddy Benvolio (Leonardo De Santis) even occasionally reminded me of performances that Jiří gave together with his twin brother Otto.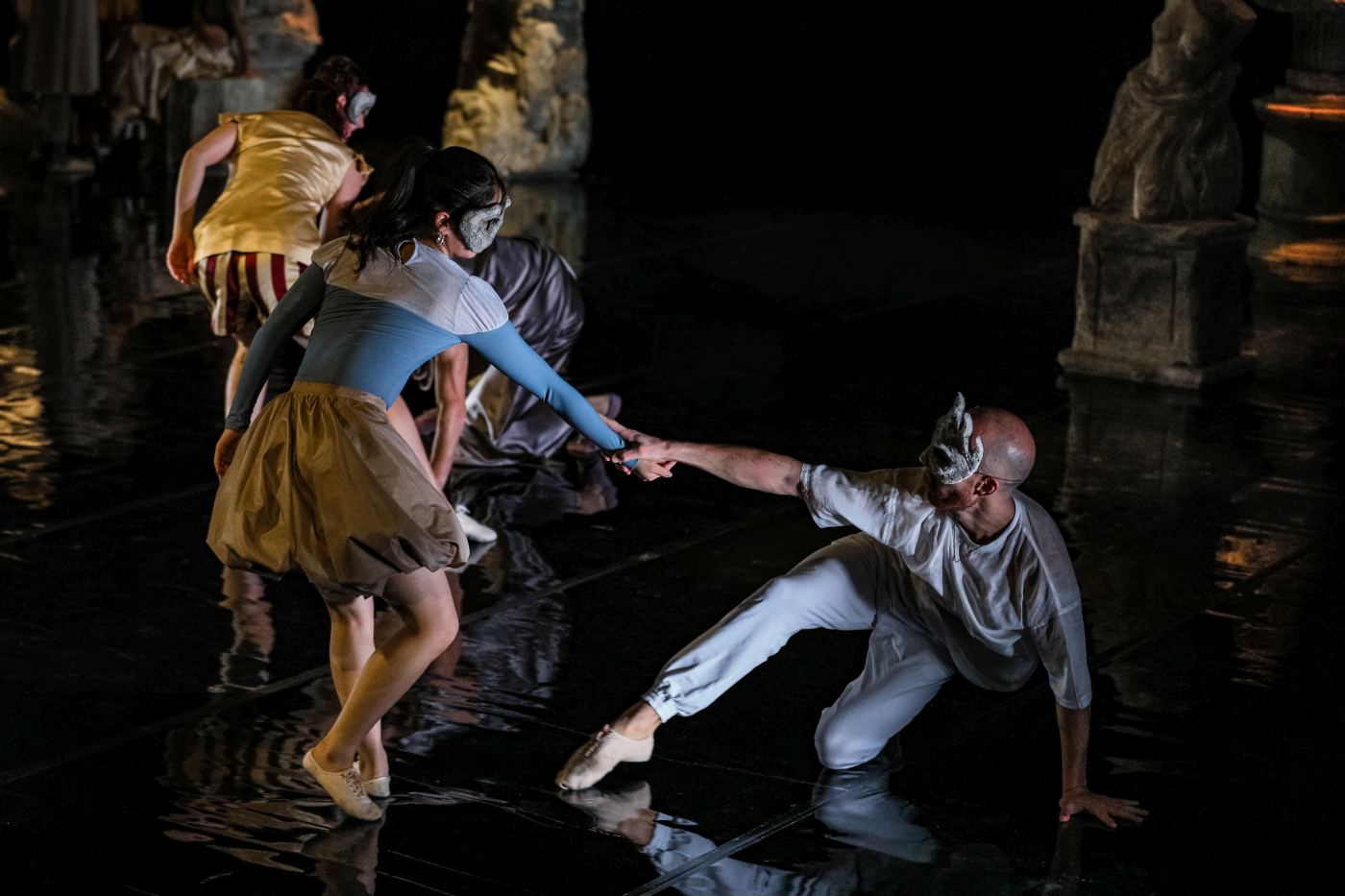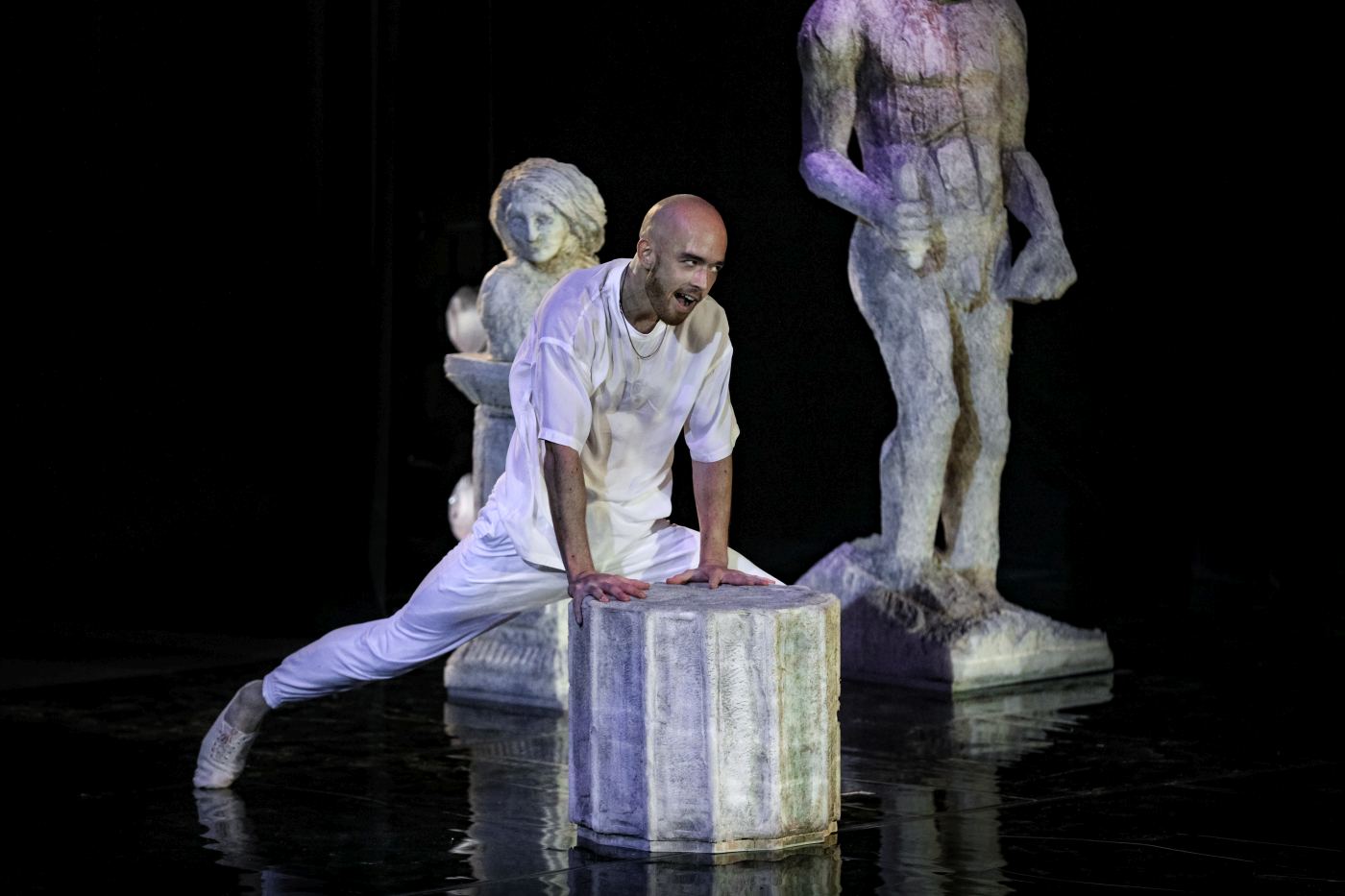 As in previous productions, Bubeníček expanded the performance space by utilizing as playspace a lowered front stage, a side stage, and the auditorium itself – through which the madly furious Romeo chased Tybalt (Antoine Salle) in an effort to avenge the murder of Mercutio (Valentin Chou). His search for Juliet (Maria Matarranz de las Heras) brought him through the aisles as well.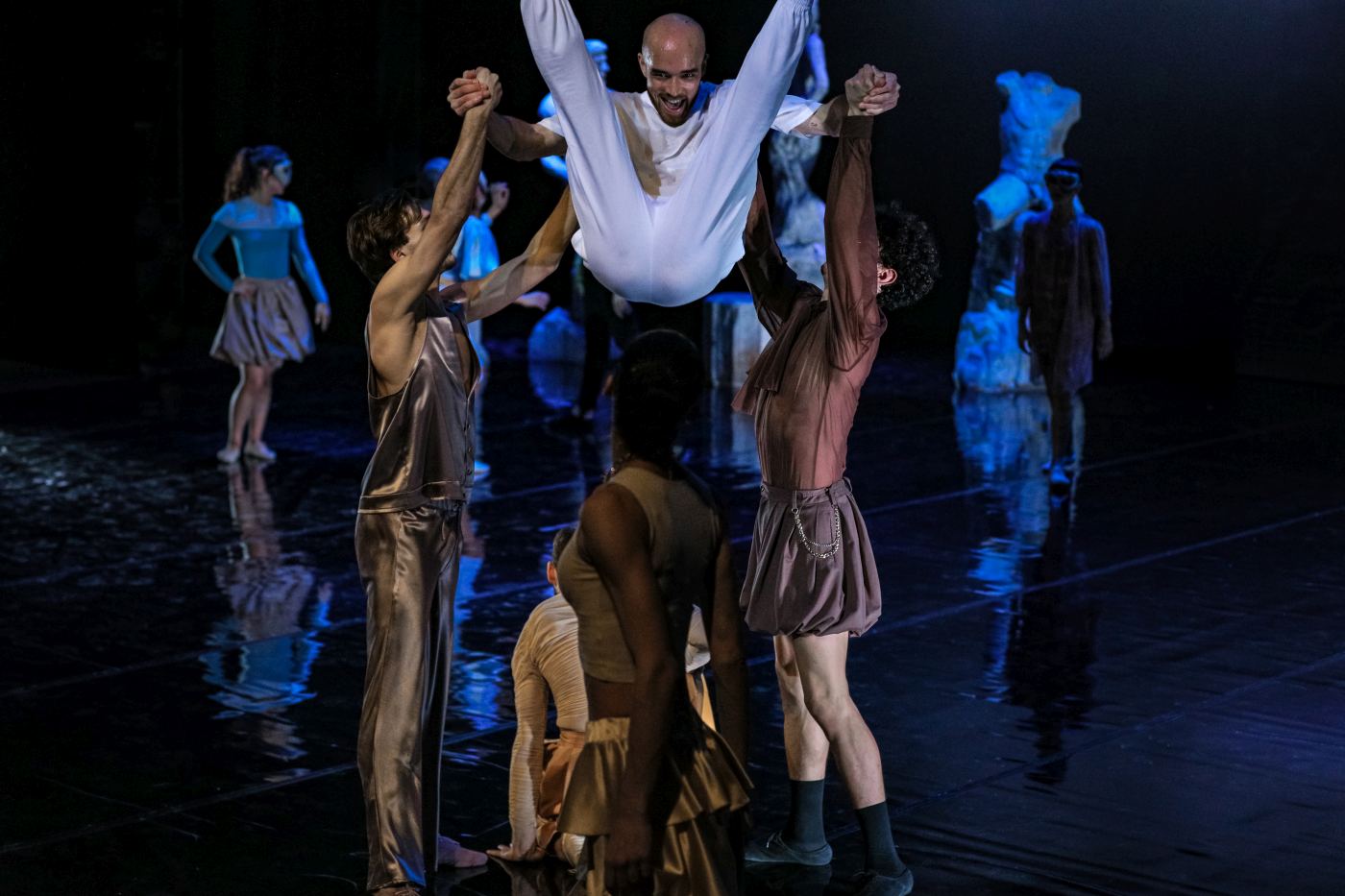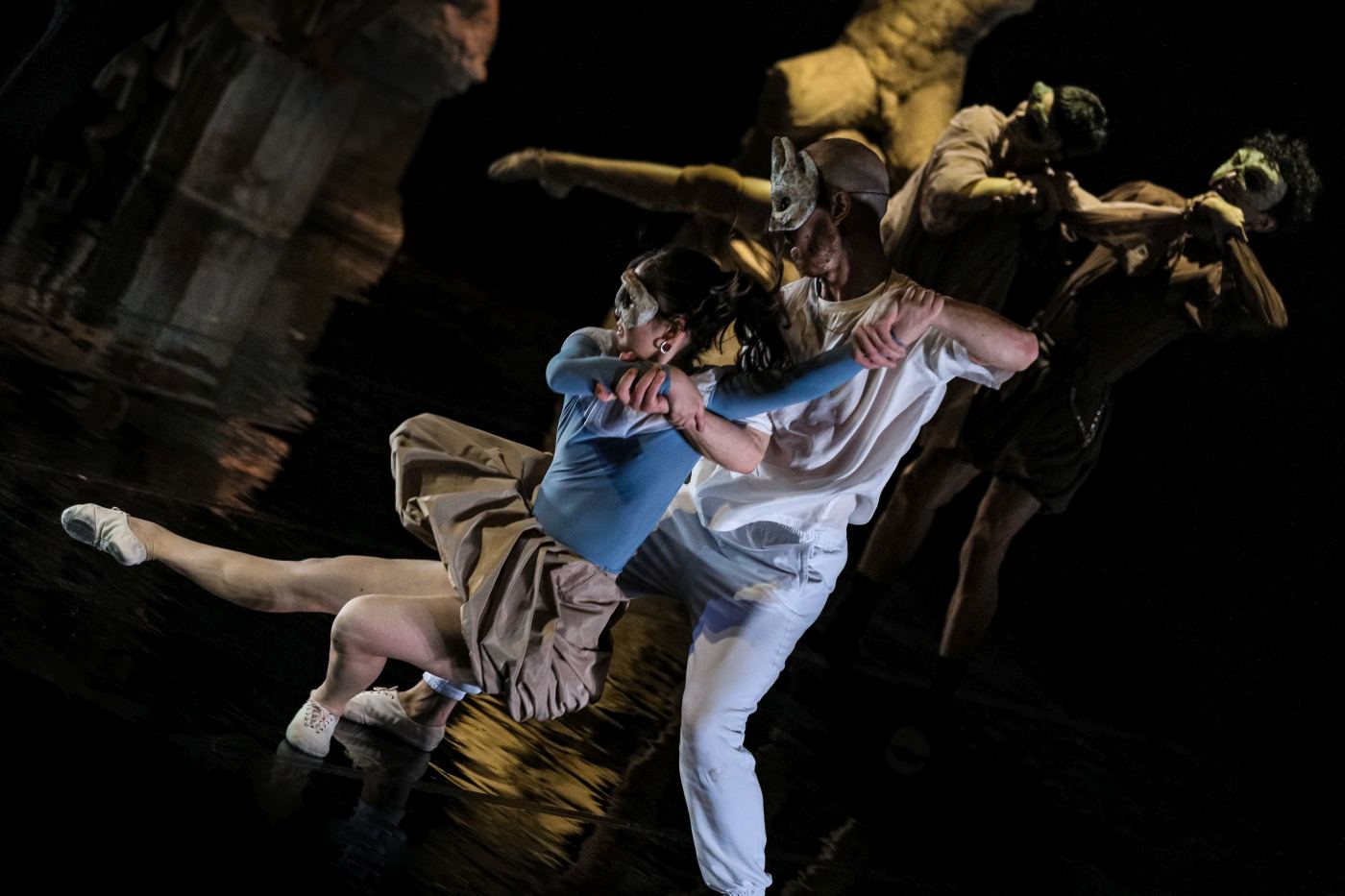 Bubeníček has a habit of branching out into different genres. He kept Prokofiev's music and augmented it with excerpts of Shakespeare's source text spoken by two actors (Irena Tereza Prpić and Mario Jovev). Surtitles offered German translations of the passages they recited. At times Prpić and Jovev mingled among the dancers, commenting on the happenings; at times the stage was all theirs. Jovev also played live music – his animated lute-playing and tongue-clonking bringing the tipsily loitering Romeo, Benvolio, and Mercutio back to their feet.
Videos by Fanni Tutek-Hajnal and Nadina Cojocaru projected onto an otherwise blank backdrop showed various other perspectives on the action. Videos were also used to highlight the impact of the potion given by Friar Laurence (Janne Boere) to Juliet, to cast pale moonlight over the lovers' nightly tête-á-tête, and to make visible the hot anger of Tybalt that ultimately boiled into the deadly stabbing of Mercutio.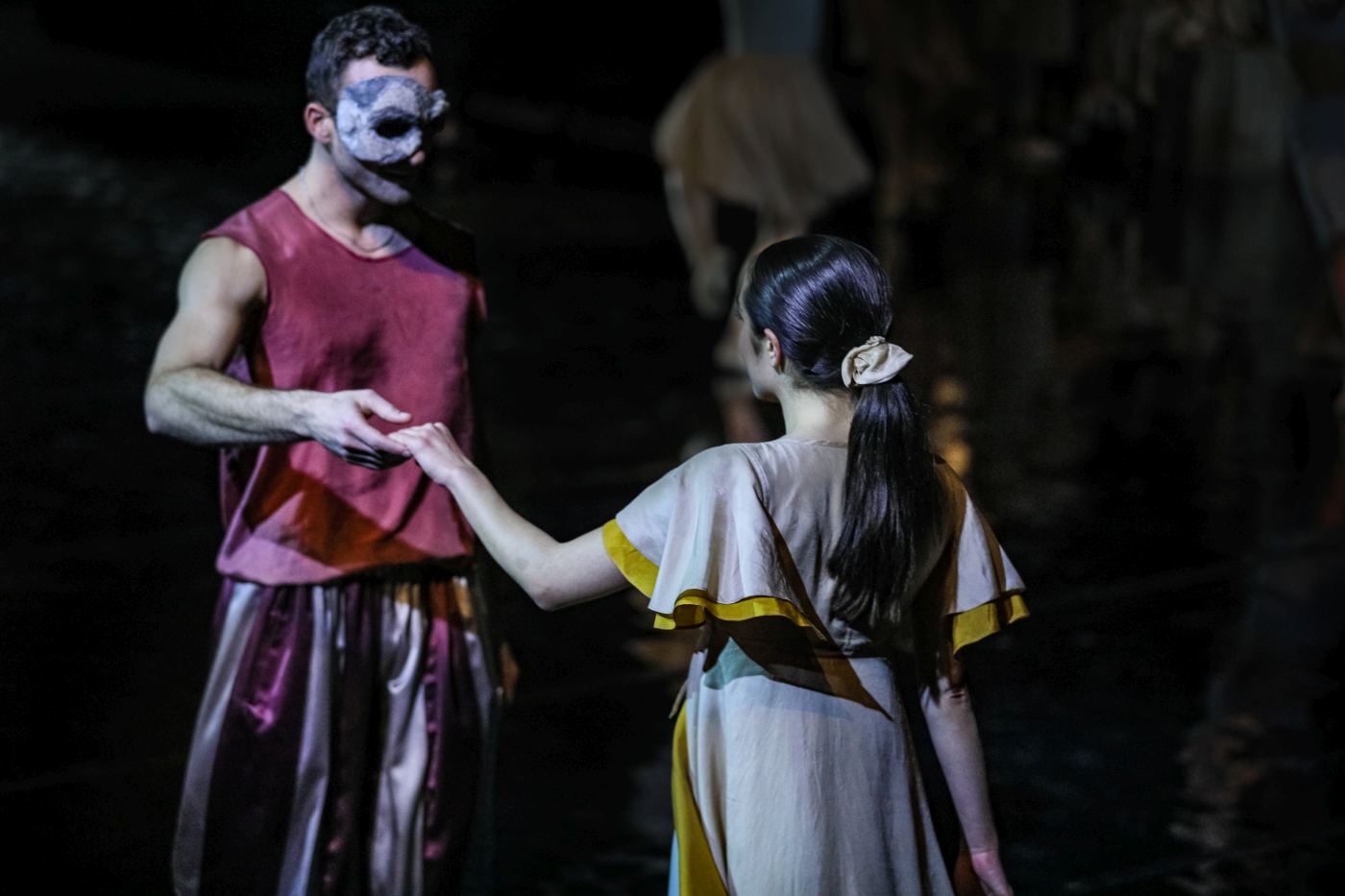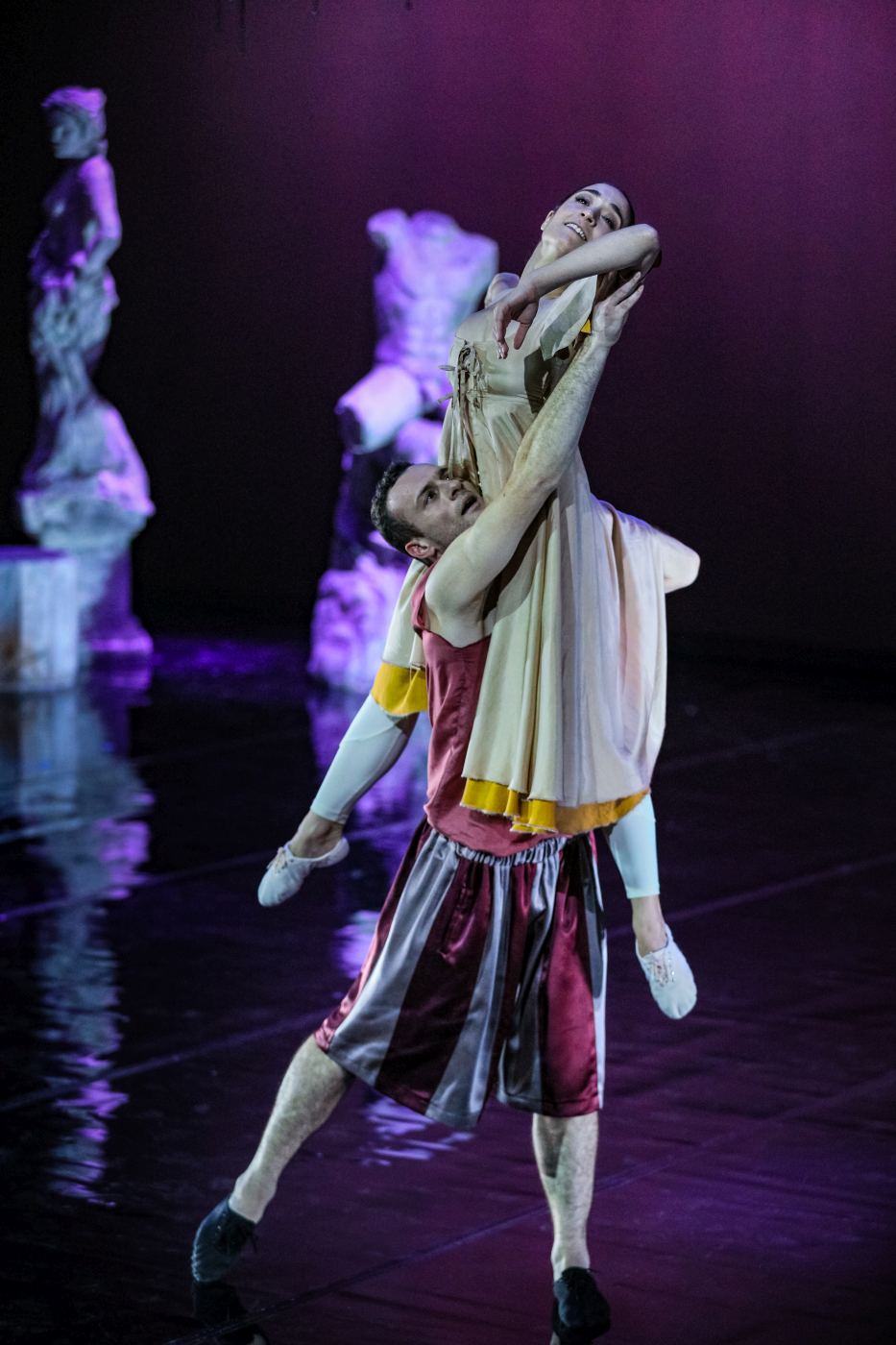 Set designer Aleksandra Ana Buković chose (fake) stone as the sole material defining the setting. Italian sculptures decorated the Capulets' home; half reliefs, a bell, and a cross marked the enclave of Friar Laurence. Of the famous balcony, we only saw a broken-off (yet still enormous) edge laying on the ground. The four-poster bed in which the lovers spent their first – and only – night together had been weathered by time – as were the broken stone pillars hanging from above. Juliet's snail-shell-like tomb, which she shared with Tybalt, was hewn from stone as well. She was lain out like Princess Aurora, slumbering placidly -but while time heals the damage in "The Sleeping Beauty", the tragedy of Bubeníček's lovers unfolds amongst the wreckage of previous Romeos and Juliets. History, we know, repeats itself.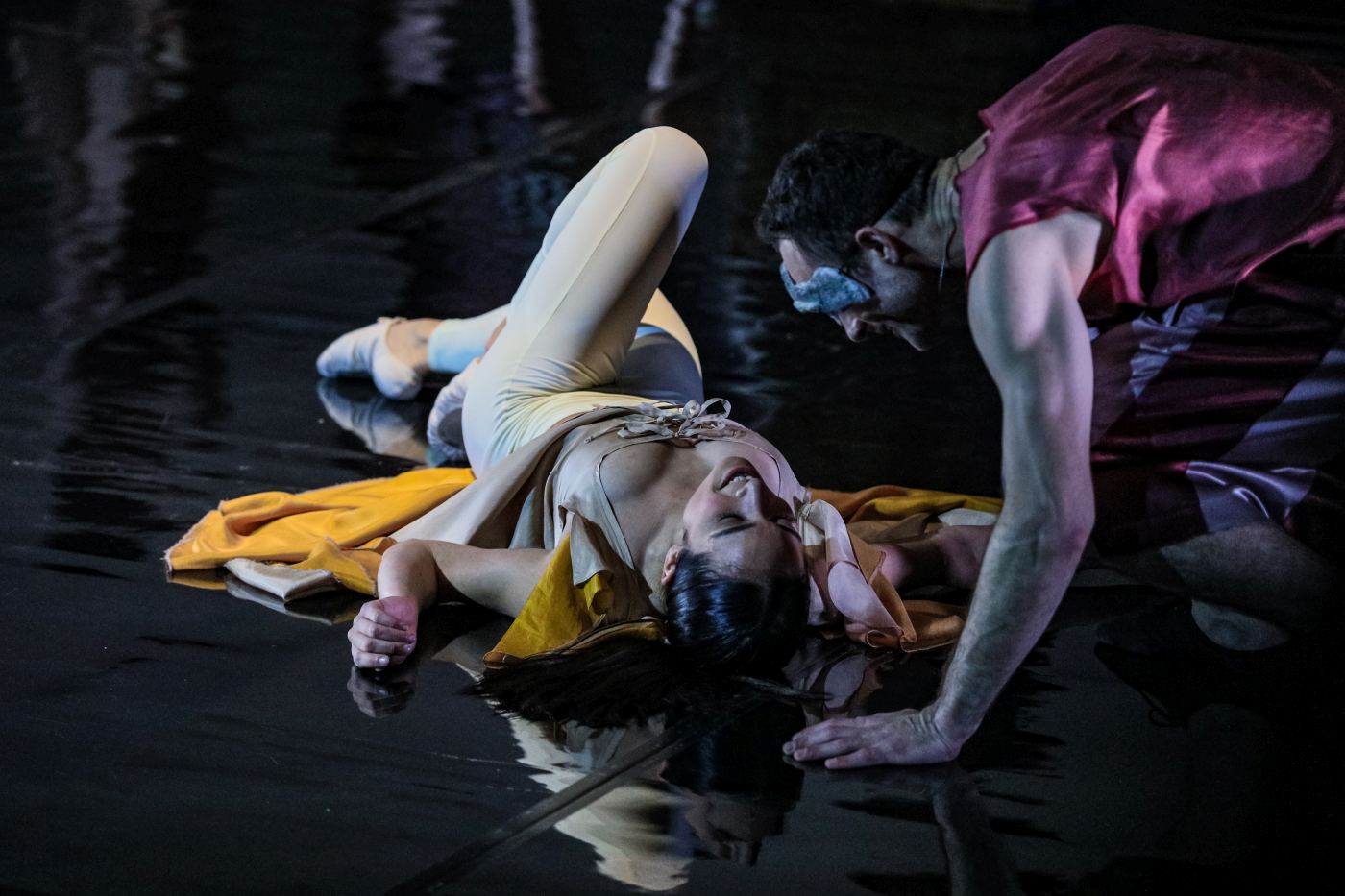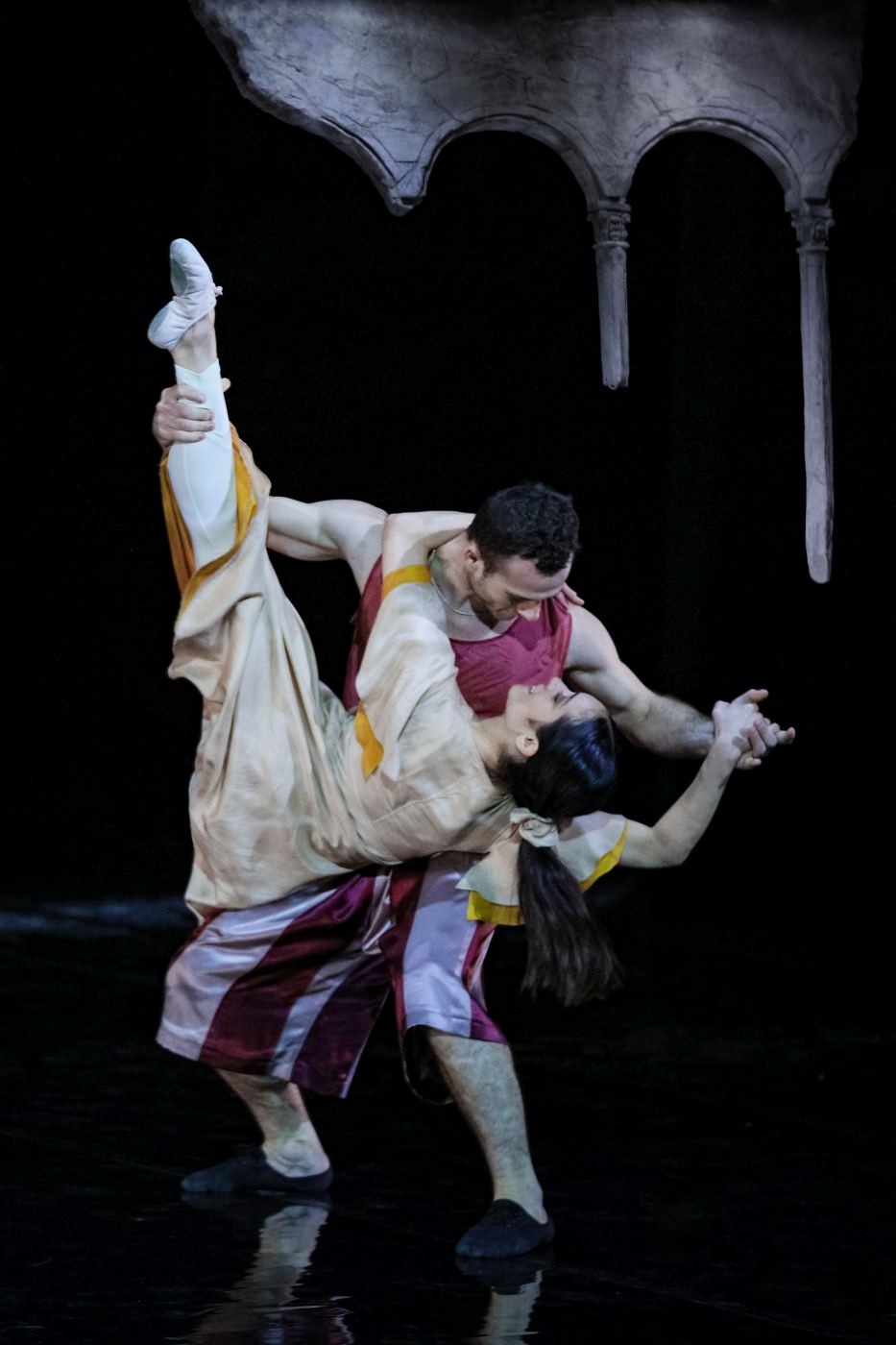 Maša Kolar, the company's artistic director, confirmed during the break that Bubeníček is a demanding choreographer who knows exactly what he wants. My impression is that he is also simultaneously guided by a desire to show off the dancers' strengths favorably. His fluid, space-taking choreography seems entirely aligned with the Rijeka company's strengths. He favors natural flow and organic momentum over exact lines, is refreshingly unconventional at times, and provides ample space for intense emotion.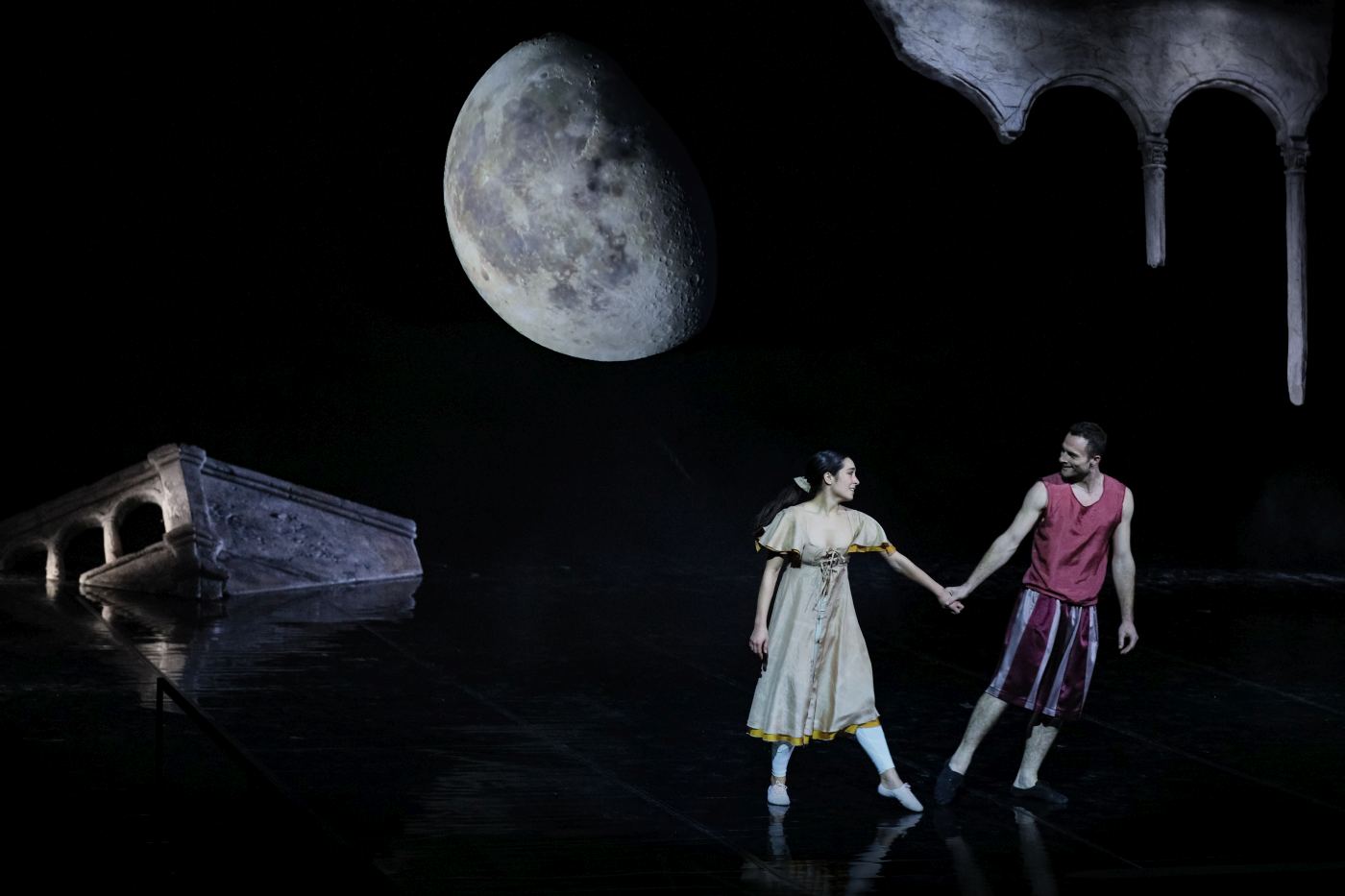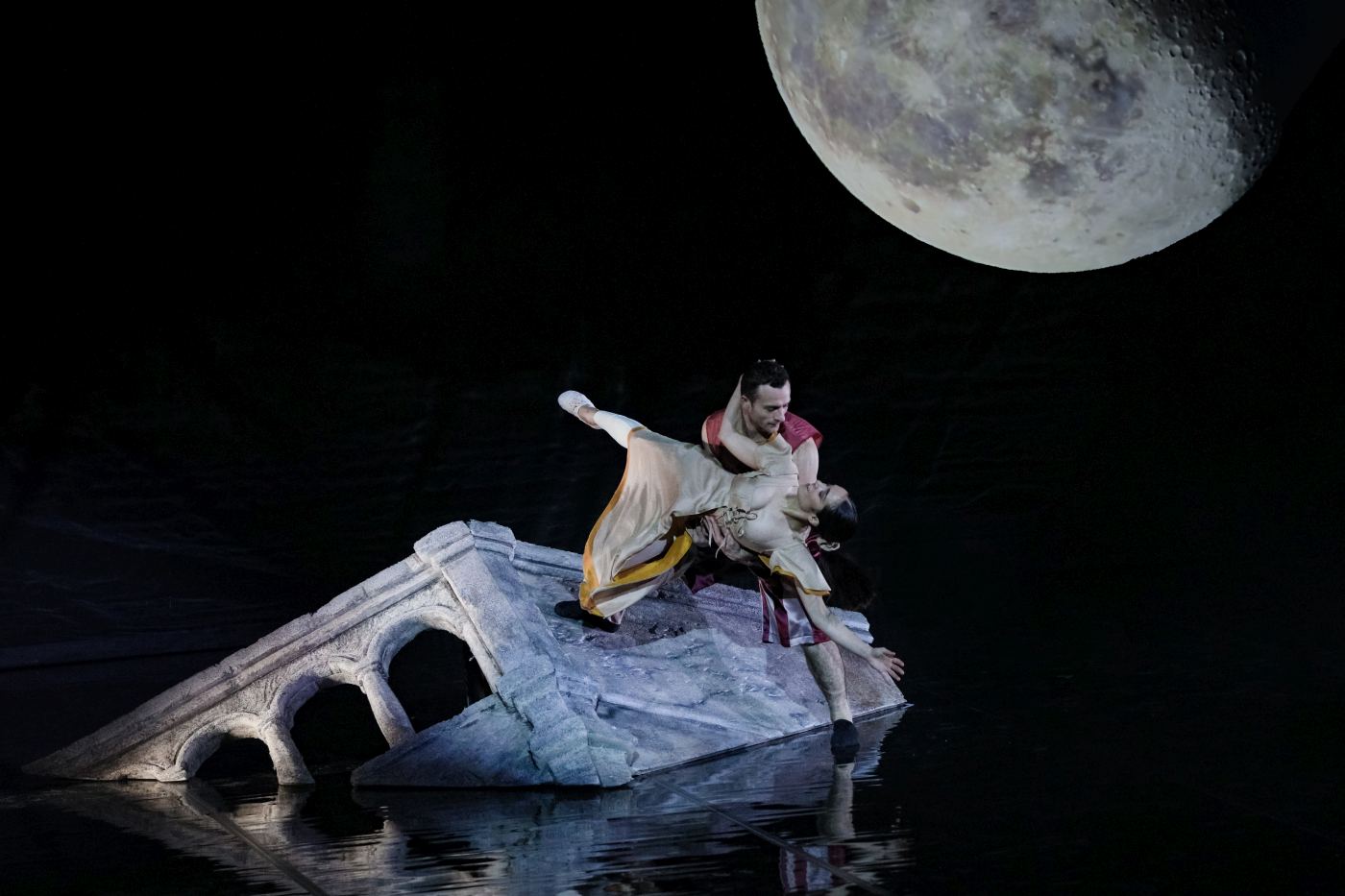 Matarranz de las Heras is a strong-willed Juliet – passionate but clear-headed enough to deceive her parents (Marta Voinea Čavrak and Ali Tabbouch), Count Paris (Jody Bet), and her nurse (Marta Kanazir) into believing in her subordination. Matarranz de las Heras is a petite dancer with an impressive stage presence. What struck me most was the determination with which she rejected Friar Laurence's effort to draw her away from Romeo's corpse.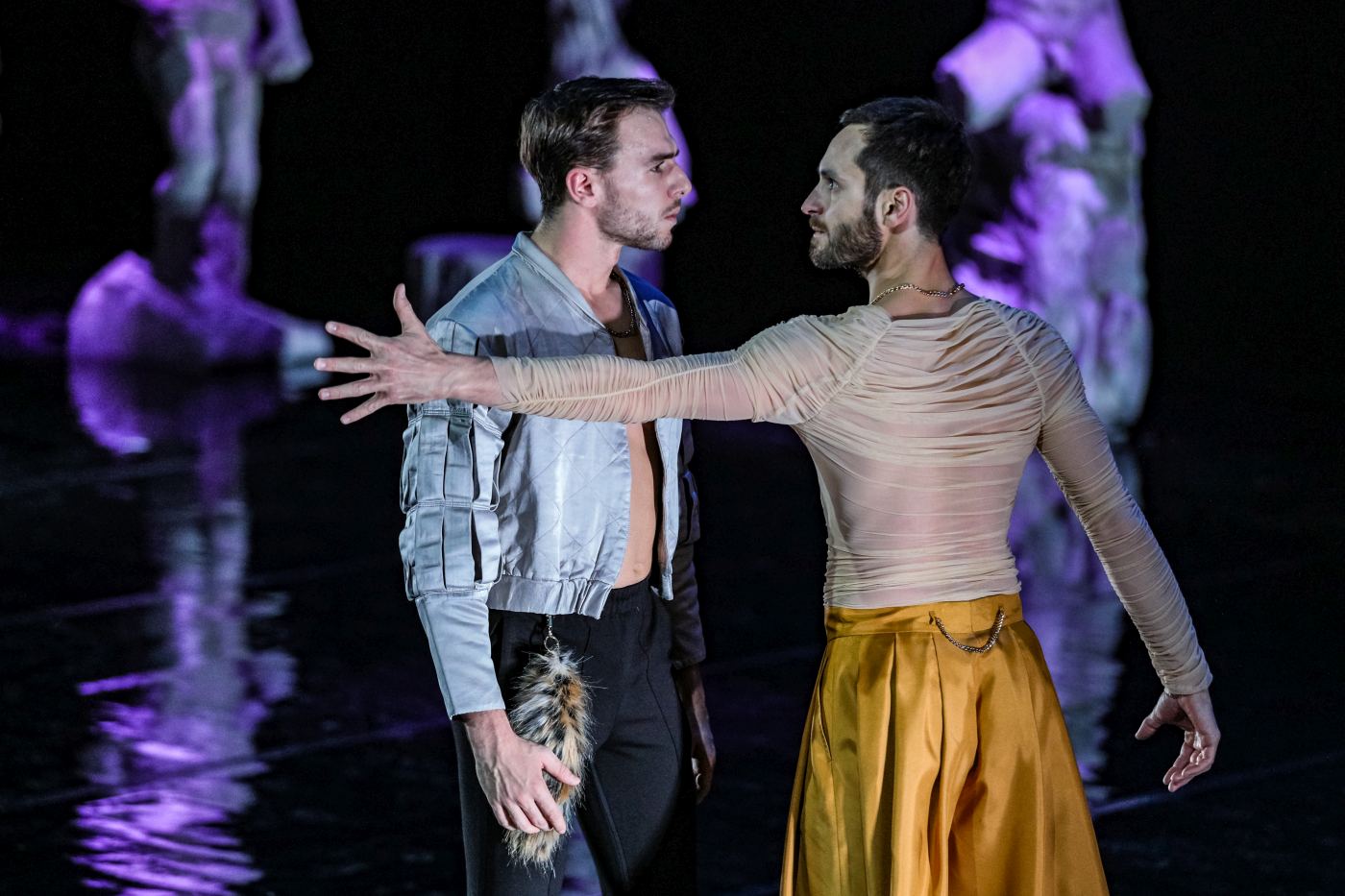 Destiny worked its magic on Pastorini's Romeo from the moment he met Juliet. (For every Romeo, events unreel inexorably from this moment onward.) Pastorini has hurled himself wholeheartedly into the emotional roller coaster ride of this role, allowing us to watch his soul mature.
Tybalt, wearing a silver bolero jacket with a foxtail dangling at his waist (costumes by Nadina Cojocaru), belongs to the class of people that combine wealth and arrogance with a strong inclination towards violence. His superiority complex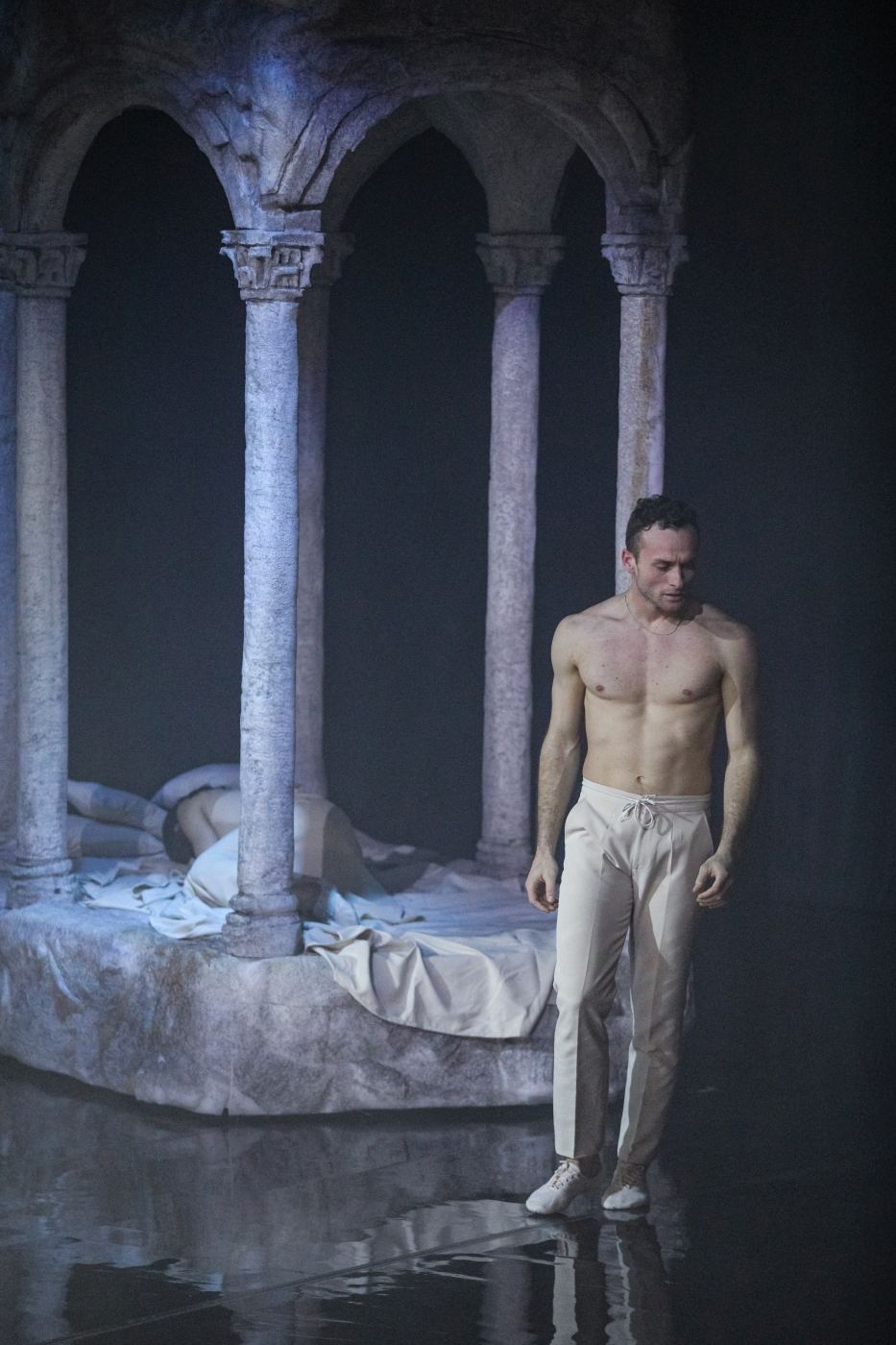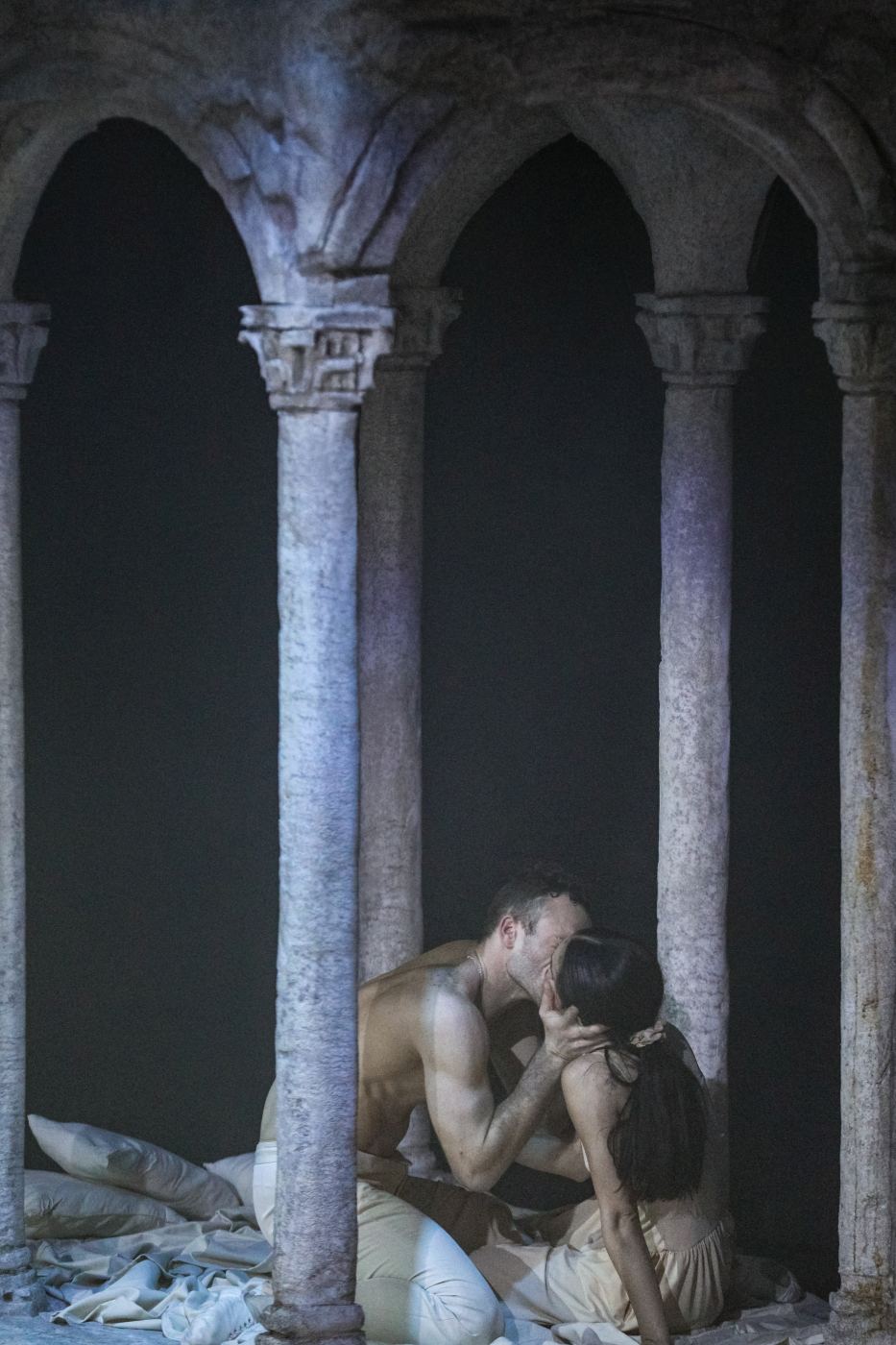 gets ticked off by Lord Capulet, who – at least for the moment – has the upper hand against his nephew. Voinea Čavrak's Lady Capulet, by contrast, openly displays her lust for Tybalt. Her haughty egocentricity leaves no space for tender feelings. Her dominance appears unassailable, but she clings weakly to Tybalt regardless.
The all-lilac satin robe of Bet's Count Paris (accompanied by a very low-cut top and lilac slippers) spoke volumes about his character. A brief solo at Juliet's tomb revealed, however, that strong feelings seethed beneath his sleek exterior.
Tea Rušin and Alejandro Polo portrayed the heads of the Montague family. As Prince Escalus, Andrei Köteles tried to chasten the hostile families.
Links:
Website of the Croatian National Theatre Ivan pl. Zajc Rijeka
Website of Jiří Bubeníček
Trailer "Romeo and Juliet"

Photos:

1.

Maria Matarranz de las Heras

(Juliet), Michele Pastorini (Romeo), Antoine Salle (Tybalt), and Valentin Chou (Mercutio), "Romeo and Juliet" by

Jiří Bubeníček, Croatian National Theatre Ivan pl. Zajc Rijeka

2022

2.

Valentin Chou (Mercutio), "Romeo and Juliet" by

Jiří Bubeníček, Croatian National Theatre Ivan pl. Zajc Rijeka

2022

3.

Soyoka Iwata (member of the Montague family) and

Valentin Chou (Mercutio), "Romeo and Juliet" by

Jiří Bubeníček, Croatian National Theatre Ivan pl. Zajc Rijeka

2022

4.

Jody Bet (Count Paris),

Valentin Chou (Mercutio), Leonardo De Santis (Benvolio), and Marta Vionea

Č

avrak (Lady Capulet), "Romeo and Juliet" by

Jiří Bubeníček, Croatian National Theatre Ivan pl. Zajc Rijeka

2022

5.

Soyoka Iwata (member of the Montague family) and

Valentin Chou (Mercutio), "Romeo and Juliet" by

Jiří Bubeníček, Croatian National Theatre Ivan pl. Zajc Rijeka

2022

6.

Michele Pastorini (Romeo) and

Maria Matarranz de las Heras

(Juliet), "Romeo and Juliet" by

Jiří Bubeníček, Croatian National Theatre Ivan pl. Zajc Rijeka

2022

7.

Michele Pastorini (Romeo) and

Maria Matarranz de las Heras

(Juliet), "Romeo and Juliet" by

Jiří Bubeníček, Croatian National Theatre Ivan pl. Zajc Rijeka

2022

8.

Maria Matarranz de las Heras

(Juliet)

and

Michele Pastorini (Romeo), "Romeo and Juliet" by

Jiří Bubeníček, Croatian National Theatre Ivan pl. Zajc Rijeka

2022

9.

Maria Matarranz de las Heras

(Juliet)

and

Michele Pastorini (Romeo), "Romeo and Juliet" by

Jiří Bubeníček, Croatian National Theatre Ivan pl. Zajc Rijeka

2022

10.

Maria Matarranz de las Heras

(Juliet)

and

Michele Pastorini (Romeo), "Romeo and Juliet" by

Jiří Bubeníček, Croatian National Theatre Ivan pl. Zajc Rijeka

2022



11.

Maria Matarranz de las Heras

(Juliet)

and

Michele Pastorini (Romeo), "Romeo and Juliet" by

Jiří Bubeníček, Croatian National Theatre Ivan pl. Zajc Rijeka

2022

12.

Antoine Salle (Tybalt)

and

Marta Vionea

Č

avrak (Lady Capulet), "Romeo and Juliet" by

Jiří Bubeníček, Croatian National Theatre Ivan pl. Zajc Rijeka

2022

13.

Antoine Salle (Tybalt)

and Ali Tabbouch (Lord Capulet),

"Romeo and Juliet" by

Jiří Bubeníček, Croatian National Theatre Ivan pl. Zajc Rijeka

2022

14.

Michele Pastorini (Romeo) and

Maria Matarranz de las Heras

(Juliet), "Romeo and Juliet" by

Jiří Bubeníček, Croatian National Theatre Ivan pl. Zajc Rijeka

2022

15.

Maria Matarranz de las Heras

(Juliet)

and

Michele Pastorini (Romeo), "Romeo and Juliet" by

Jiří Bubeníček, Croatian National Theatre Ivan pl. Zajc Rijeka

2022




all photos

© Fanni Tutek-Hajnal

Editing:
Jake Stepansky