"Nachtträume"
Ballet Zurich
Opernhaus Zurich
Zurich, Switzerland
September 30, 2022
by Ilona Landgraf
Copyright © 2022 by Ilona Landgraf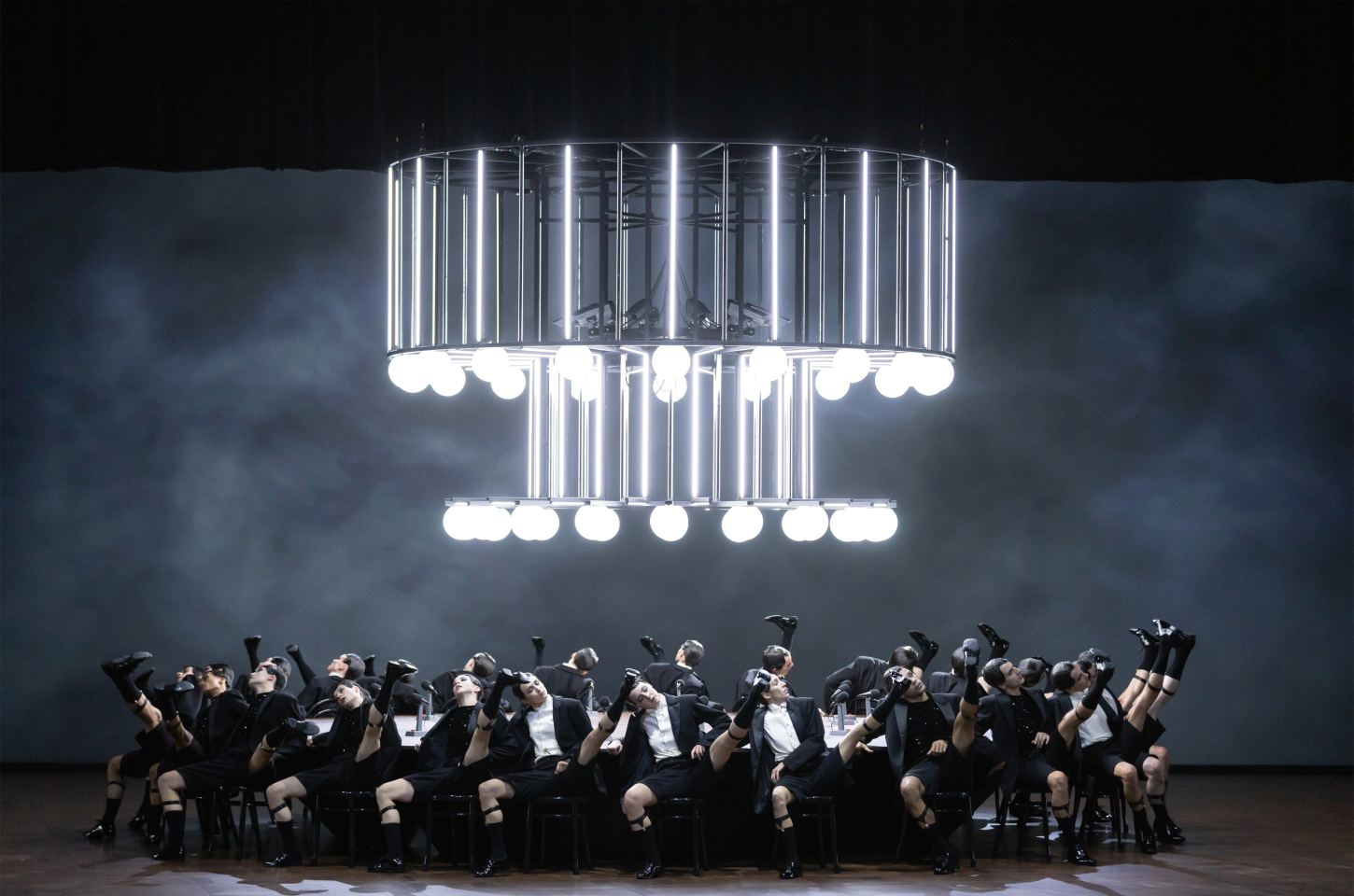 While many companies revive earlier ballets to warm up for a new season, the Ballet Zurich offered a premiere right away. The new one-act piece – "Nachtträume" – is Marcos Morau's first creation for the company. The Spanish-born Morau has never danced professionally, but studied choreography, photography, dramaturgy and theory of the drama and runs the Barcelona-based company "La Veronal".
Hidden desires, dark fantasies, and – above all – themes of power and subordination make up the fabric of Morau's gloomy dreams. His point of reference is Kurt Jooss's "The Green Table", a piece from 1932 that depicts ten diplomats bargaining about peace and war. It is a timely choice. Like Jooss, Morau uses a table – but his is round, much larger, and able to rotate, allowing for huge meetings. However, the office workers that tentatively crawl out from under the table are not string-pullers but underlings.
Their uniform outfits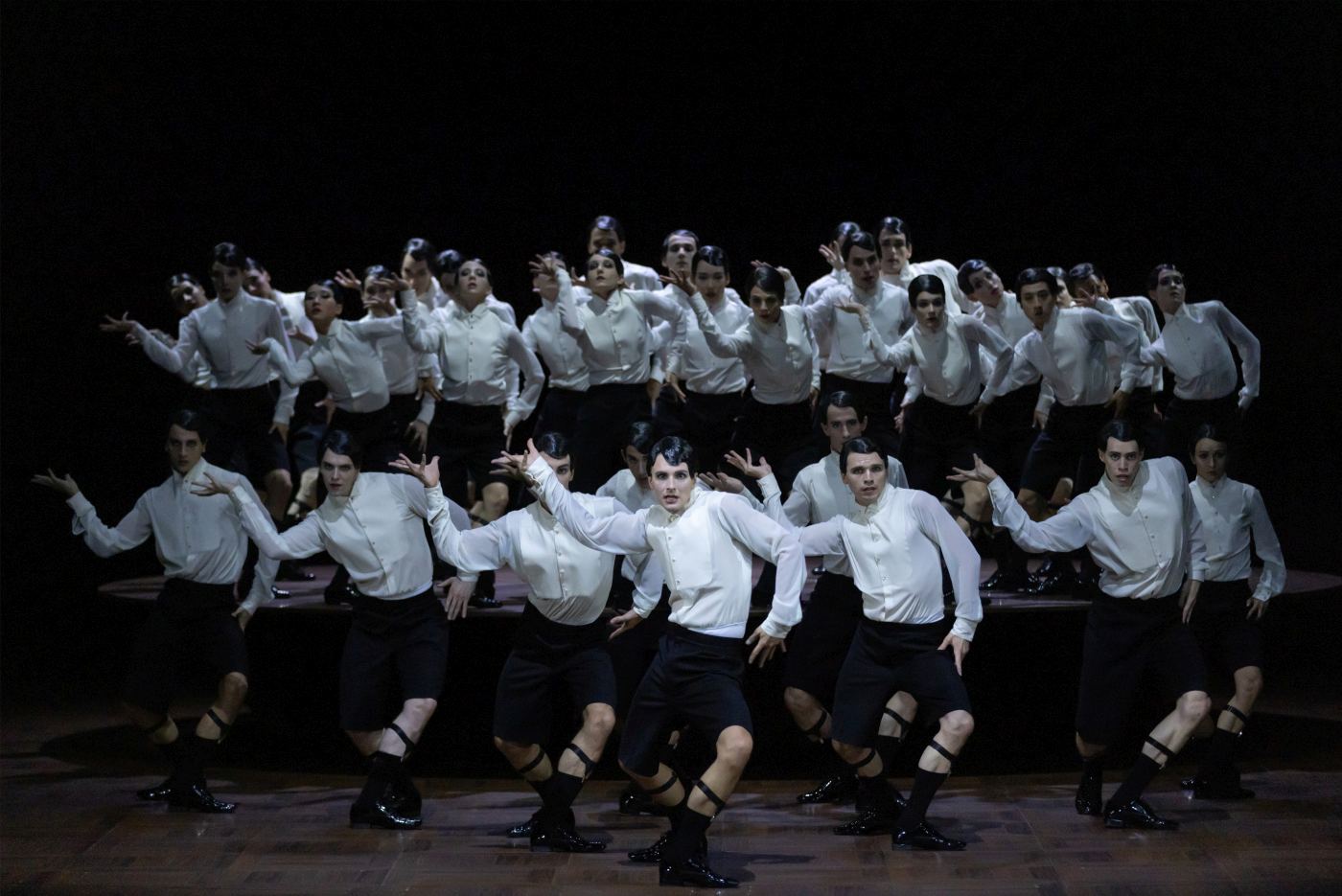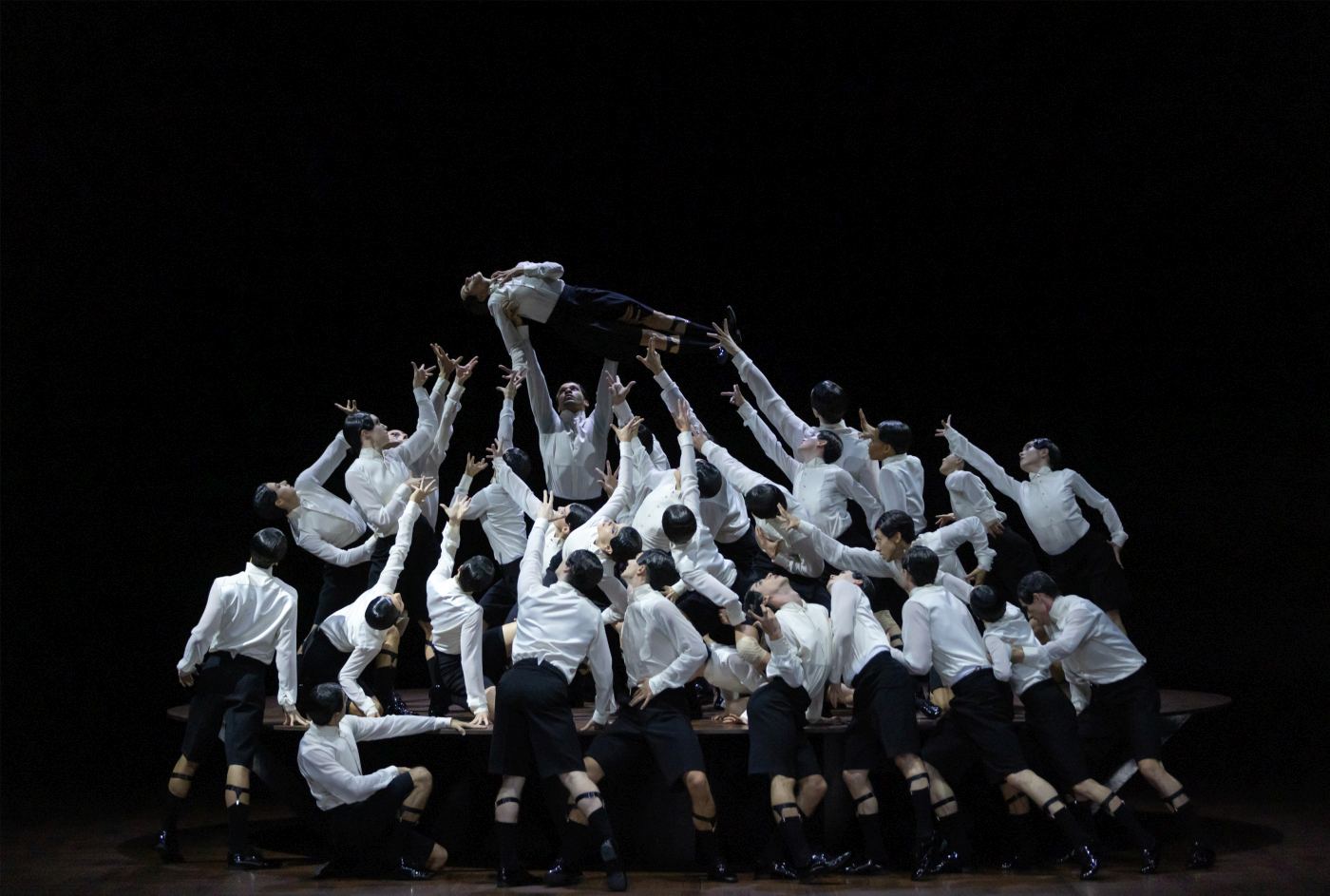 (white shirts, black shorts and socks, shiny black shoes, and strap sock garters; costumes by Silvia Delagneau) and hairdos render them gender-neutral. The holder of power here is a drag queen (bass-baritone Ruben Drole) who oozes self-importance. Wearing a sparkling little (and later floor-length) black dress, an opulent tiara and collar, and familiar sock garters, Drole is an arrogant, sardonic ruler reminiscent of a Bond villain. While pretending to guide us through the dark night – the "wonderful world of fear and treason" – Drole demands love ("Love me like the dreams love the night, like Alice loves the Wonderland"), lectures us about power ("Power only seeks for its own benefit" – "Power isn't the means, isn't the end; no one seizes power to give it away again"), and proclaims that "life will last as long as one needs to understand it" and "freedom will be to have nothing" (a quote from Klaus Schwab?).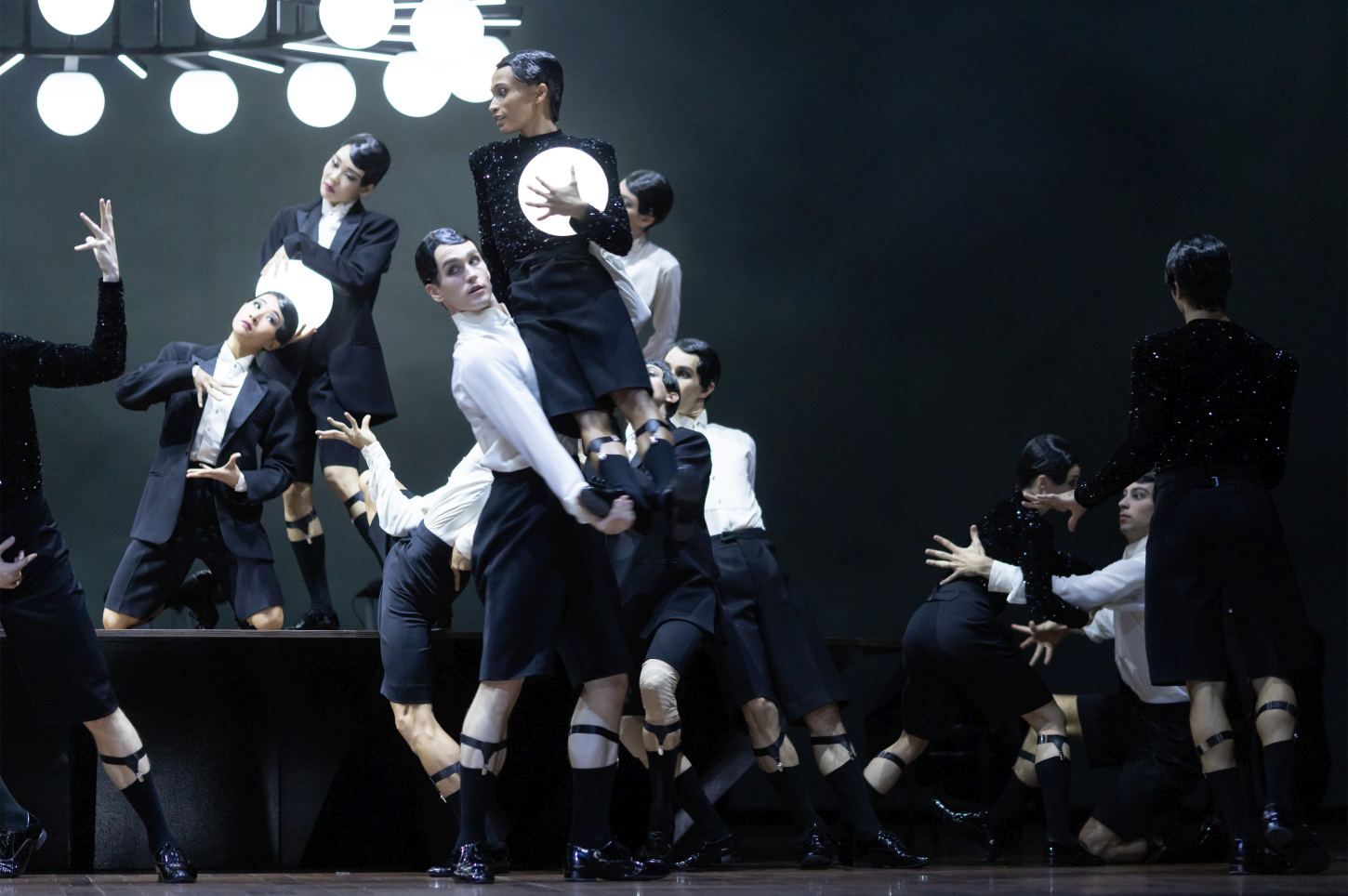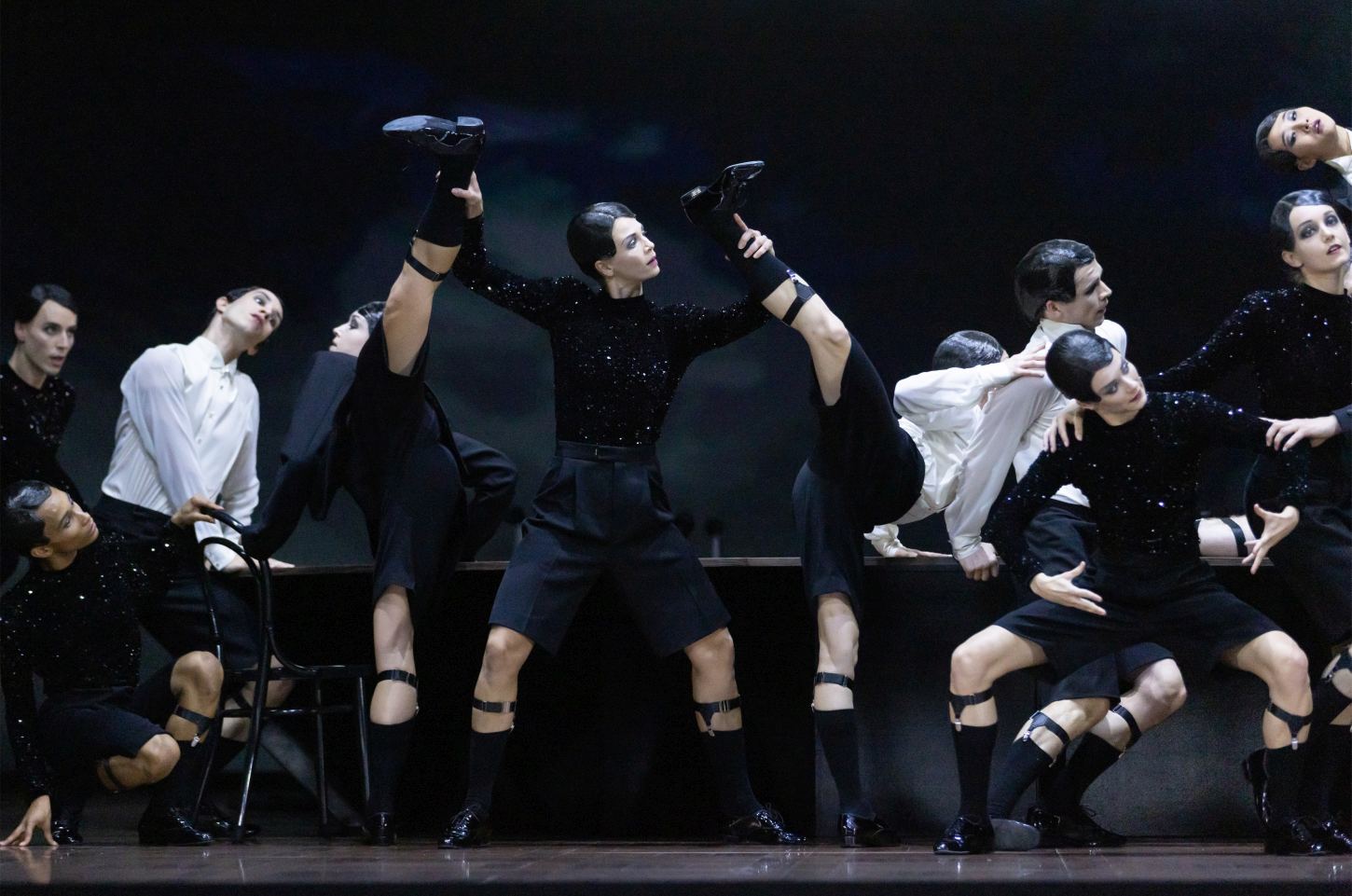 Drole recites Pedro Calderón' de la Barca's "Life is a Dream" and, surrounded by a flock of toy sheep carried by dancers, sings Schubert's "Night and Dreams". Alongside a great deal of spoken text, the patchwork quilt of a soundtrack composed by Clara Aguilar includes a song by Kurt Weill, piano music played live by Luigi Largo, trumpet solos played on-stage by Heinz Della Torre, aroused breathing, and melodies whose music-hall and cabaret charm temper the oppressive atmosphere.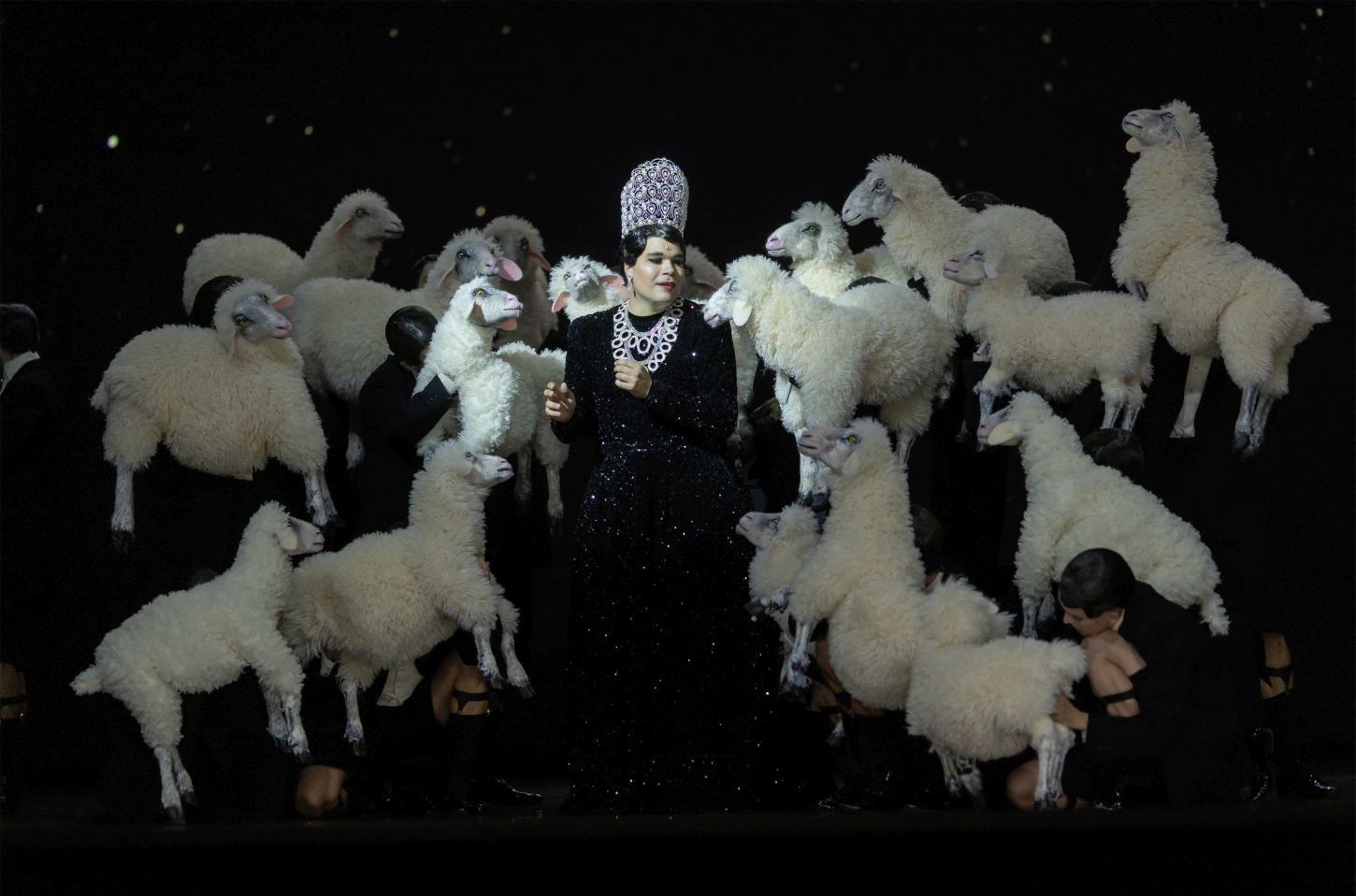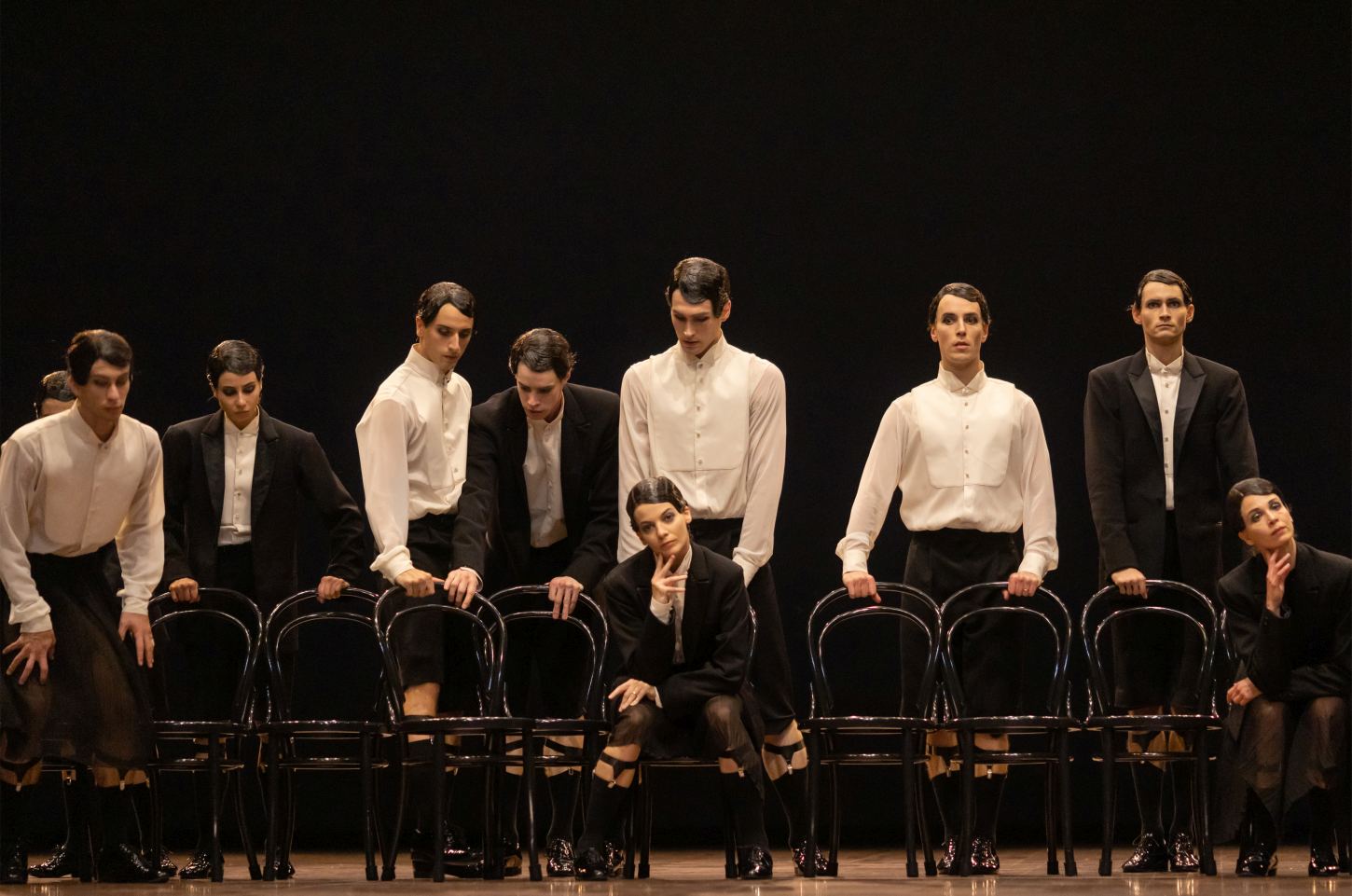 Perhaps intimidated by the drag queen's announcement that "an old world is dying and a new one will be born," her subordinates creep warily around the table, clinging tightly like rock climbers to its edge. They arrange themselves in rows as if posing for group photos and cycle repeatedly through brusque and simple movement sequences (perhaps a nod to Hofesh Shechter's "Luxury Guilt"?) while the music hammers angrily behind. The conference turns chaotic when, having swapped white shirts for sparkling black tops, they assemble at the mic-studded table.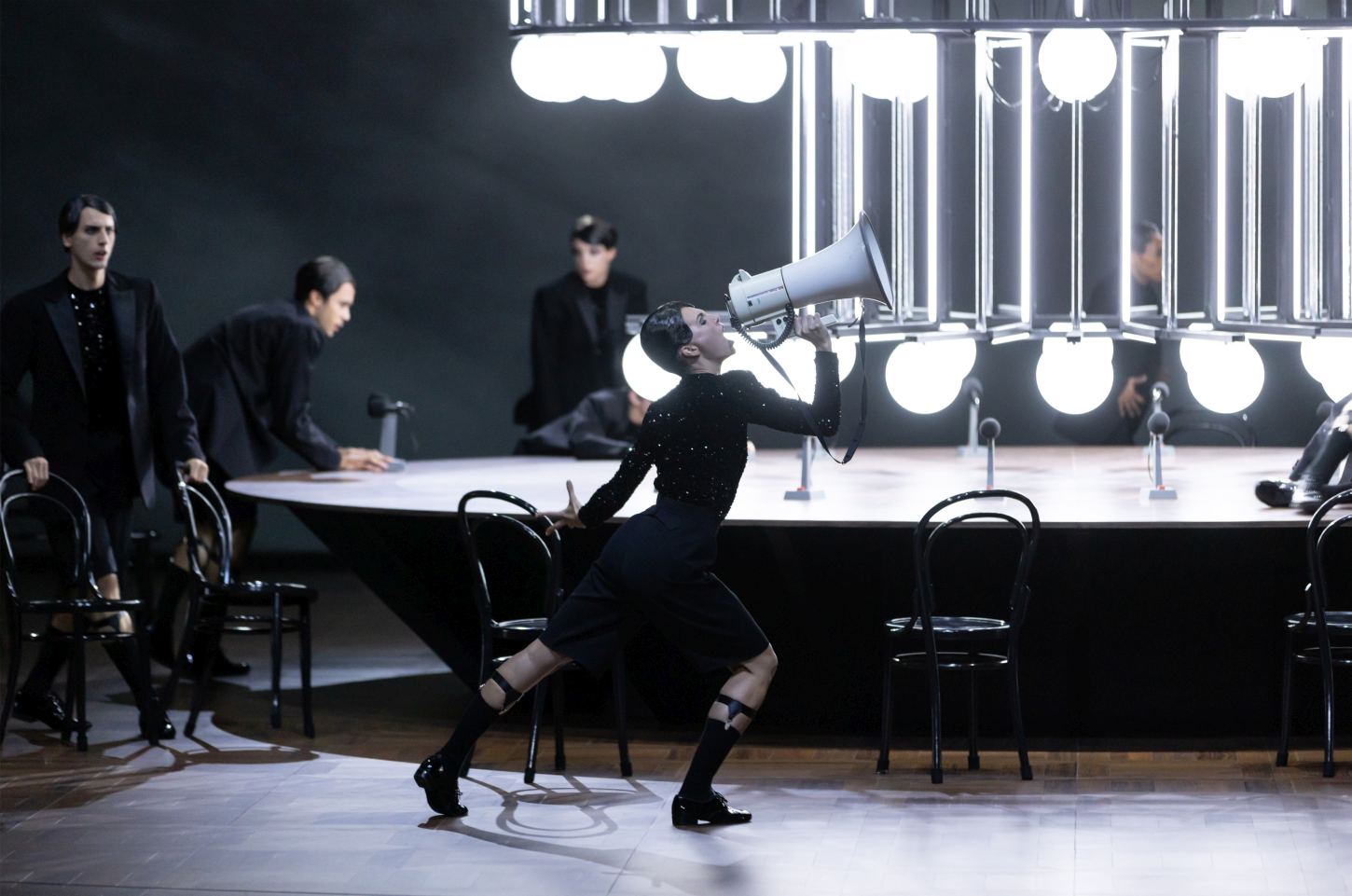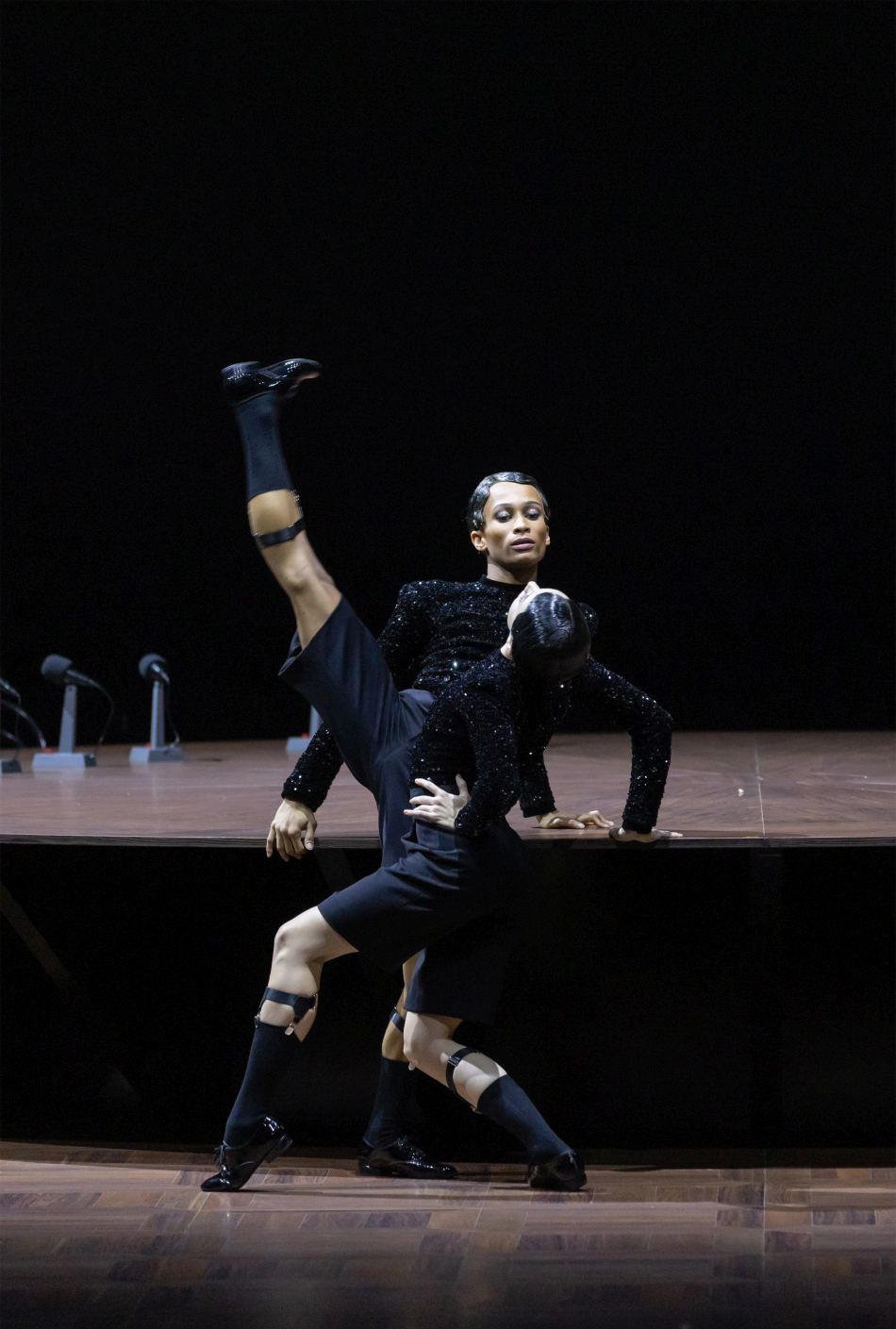 The long arc of uniformly clad dancers sitting on chairs and moving in sync reminded me of Ohad Naharin's "Minus 16" (except no one fell off their chair and no clothing was shed). Instead, chairs are thumped onto the table or shuffled across the stage like wheelchairs, crossing paths with Largo as his piano is pushed from one side of the stage to the other. Incomprehensible commands bellowed through a megaphone are answered with edgy routines that look like clumsy attempts by amateurs to imitate dance.
In front of a video of floating black-and-white patterns (the kind used as wallpaper in the 1960s), the dancers spin and spin and – after letting down their long skirts for a brief moment, revealing short underskirts – continue to spin. Military-like, they obey sharp instructions. As if at the Black Stone at Mecca, they reverently surround a metallic chandelier (which for me looked like the head of an enormous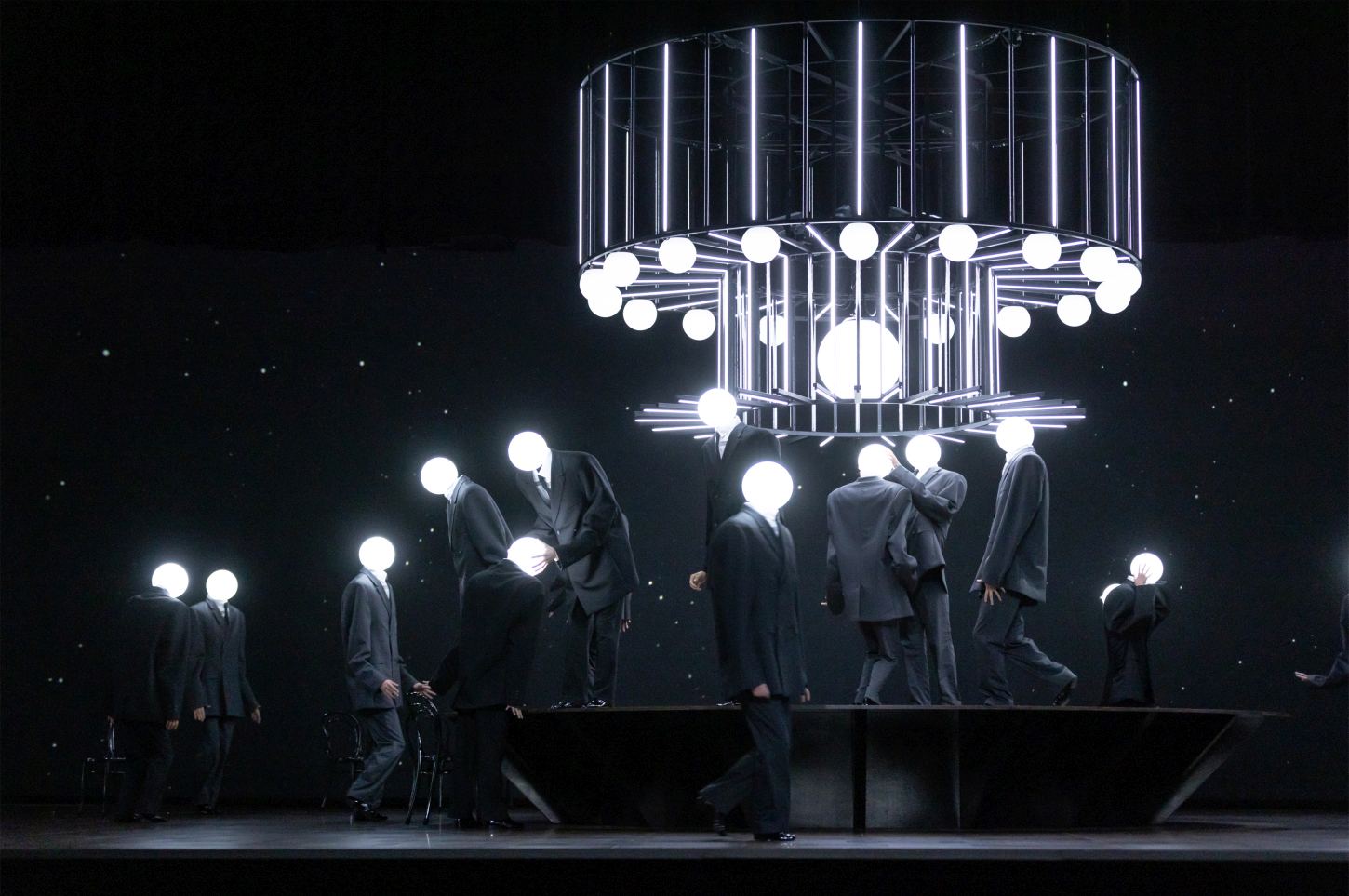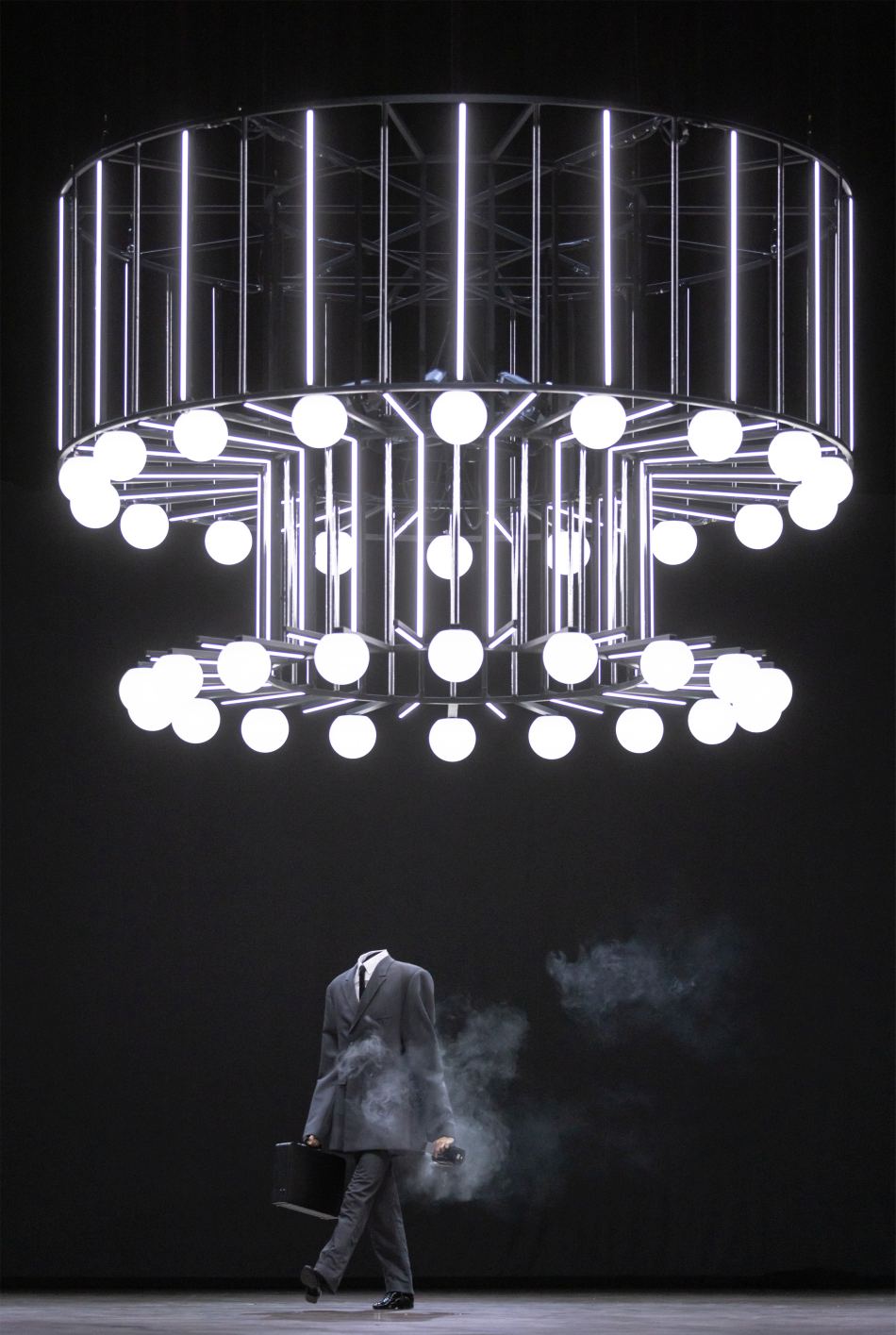 fraise) that contains a battery of surveillance cameras (set design by Max Glaenzel). A similar camera was mounted onto a body in suits in place of the missing head. When the camera was torn from the collar, it gave off clouds of smoke. Other headless business people yank spherical lamps off the chandelier and use them as surrogate heads. Their briefcases – whose content shines mysteriously upon opening – seem borrowed from Sidi Larbi Cherkaoui's "Corrupt". Morau appeared to have also taken inspiration from Cherkaoui for the finale. In "Corrupt", a heap of dollar bills goes up in smoke; in "Nachtträume", the drag queen ends up on a smoldering stake of chairs, howling: "Love me!" Having gathered on the hydraulic lift, her subjects sink slowly down into the orchestra pit, singing about the next power to which they've devoted themselves.
When I saw a huge table in a gloomy underground location and listened to Drole's monologue, my mind did not go first to "The Green Table", but rather to Crystal Pite's "The Statement". Unfortunately, Morau has neither Pite's sharpness nor ingenuity in terms of dance. Instead, he resorts to tedious repetitions and – at least in my impression – ideas from colleagues. The Zurich audience nevertheless celebrated the premiere with standing ovations.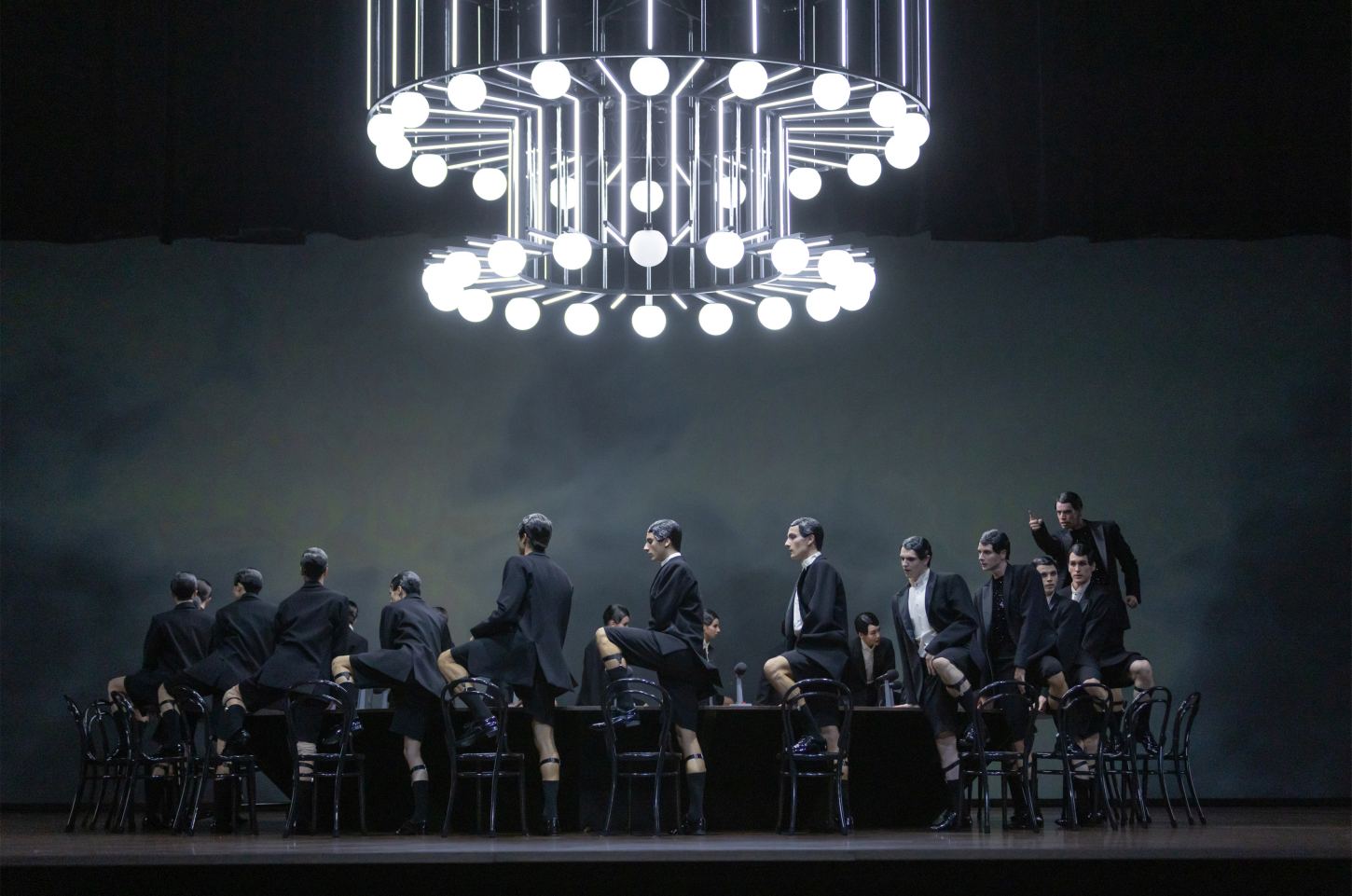 Links:
Website of the Ballet Zurich
Trailer "Nachtträume"
"Nachtträume" – inspirations (video)
"Nachtträume" – work in progress (video)
Marcos Morau on "Nachtträume" (video)

Photos:

1.

Ensemble, "Nachtträume" by Marcos Morau, Ballet Zurich

2022

2.

Ensemble, "Nachtträume" by Marcos Morau, Ballet Zurich

2022

3.

Ensemble, "Nachtträume" by Marcos Morau, Ballet Zurich

2022

4.

Meiri Maeda, Sujung Lim, Cohen Aitchison-Dugas, Leroy Mokgatle, and ensemble, "Nachtträume" by Marcos Morau, Ballet Zurich

2022

5.

Francesca Dell'Aria and ensemble, "Nachtträume" by Marcos Morau, Ballet Zurich

2022

6.

Luca D'Amato, Rafaelle Queiroz, Riccardo Mambelli, Jesse Fraser, Mélissa Ligurgo,

Cohen Aitchison-Dugas,

Daniel Mulligan, Dominik White Slavkovský, and

Francesca Dell'Aria, "Nachtträume" by Marcos Morau, Ballet Zurich

2022

7.

Ruben Drole and ensemble,

"Nachtträume" by Marcos Morau, Ballet Zurich

2022

8.

Riccardo Mambelli, Lucas Valente, Chandler Hammond, and Francesca Dell'Aria,

"Nachtträume" by Marcos Morau, Ballet Zurich

2022

9.

Leroy Mokgatle and Michelle Willems,

"Nachtträume" by Marcos Morau, Ballet Zurich

2022

10.

Dominik White Slavkovský,

"Nachtträume" by Marcos Morau, Ballet Zurich

2022

11.

Ensemble, "Nachtträume" by Marcos Morau, Ballet Zurich

2022

12.

Ensemble, "Nachtträume" by Marcos Morau, Ballet Zurich

2022

all photos © Gregory Batardon

Editing:
Jake Stepansky